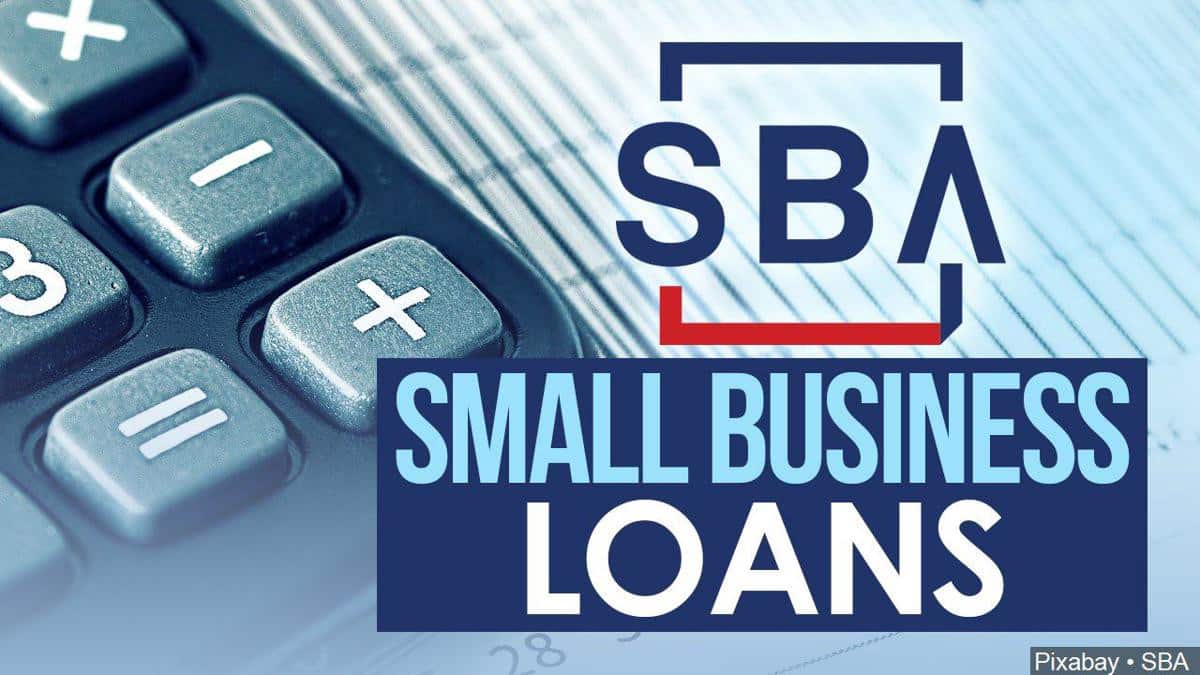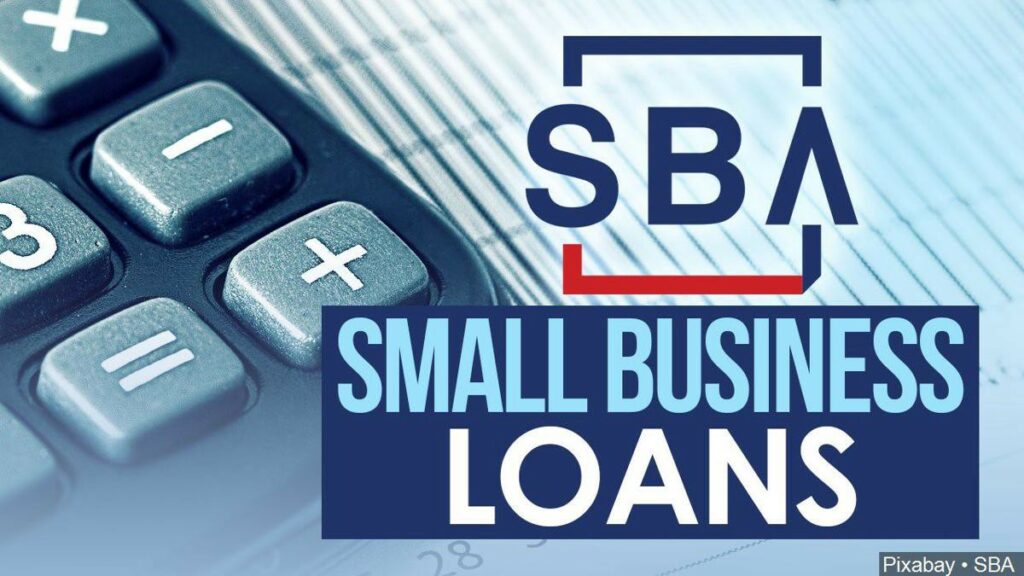 SBA Loans: How To Apply For Your Startup? Full Guide
If you are looking for a source of funding for your startup, you should consider to apply for one of the various SBA loans available. Yet, not all SBA loans are designed for startups, and more importantly, the eligibility criteria are notoriously strict. In the end, very few startups succeed in obtaining a SBA loan.
If you are looking to apply for a SBA loan, look not further. In this article we explain you everything you should know about how to apply for SBA loans for your startup. We will cover:
What is a SBA loan?
A SBA loan is a type of loan from a financial institution (e.g. a bank) which is partially guaranteed by the government.
The SBA is an initiative by the SBA (U.S. Small Business Administration), a U.S. government agency. The agency created these loans to simplify access to capital for small businesses. Because SBA loans are guaranteed by the government, banks and other lenders are indeed less reluctant to grant loans to small businesses with higher default risk.
There are a number of SBA loans out there which you can apply for. The most popular SBA loan is the 7(a) loan: it has low-interest rates, long repayment terms, and a very flexible use of loans clause. Yet, for a full list of the different SBA loans and their eligibility criteria, refer to the SBA website here.
However, as the US government guarantees SBA loans (often up to 85%), the eligibility criteria are rather stringent, and the process notoriously thorough.
One of the most important document you will have to provide is a set of financial projections for your business.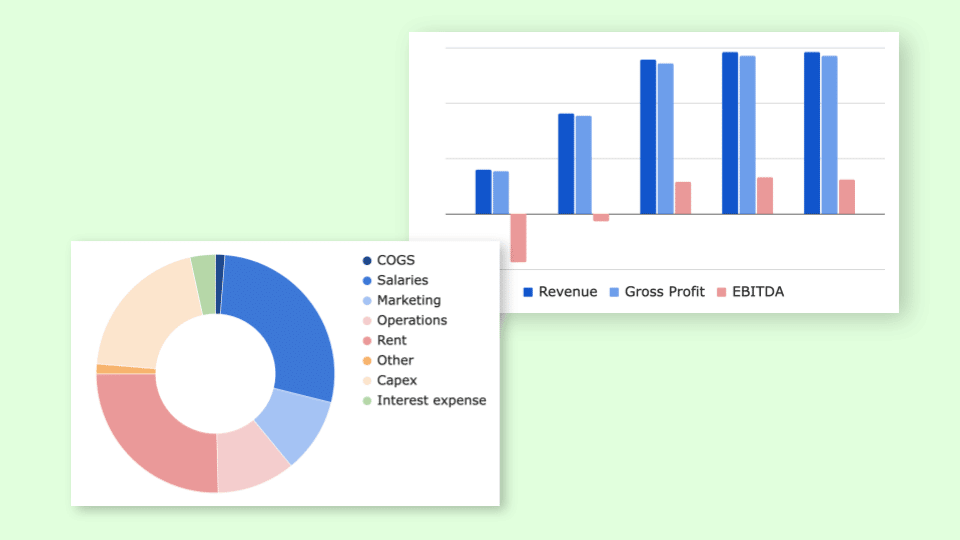 Expert-built templates for tech startups
Investor-friendly

Easy-to-use Excel & PPT templates

CPA-developed financials

30+ charts and metrics
Why are SBA loans so attractive?
There are a number of advantages for SBA loans vs. common forms of debt, among which:
Highly competitive rates
Because SBA loans are partially guaranteed by the US government, institutions (banks) are more willing to grant startups loans with lower interest rates. Indeed, in an event of default, they can recover up to 85% their investment (see more on that above).
As per federal rules, SBA lenders are offering SBA loan interest rates as the sum of the prime rate plus a markup rate known as the spread. The prime rate is set by the government and fluctuates over time. As of the date of this article (September 2021), the prime rate was 3.25%. For the current rate applicable, refer to this page here.
Low fees
For the same reasons mentioned above, SBA loan fees are often much lower vs. bank debt fees. The upfront fee is also referred to as the guarantee fee. For instance the guarantee fee is limited to 2% for loans under $150,000.
Longer repayment terms
SBA loans typically have longer maturity dates (repayment terms). The maturities depends on the type of use of funds for the loan. Currently, the maximum maturities are:
Working capital or inventory: 10 years
Equipment: 10 years
Real estate: 25 years
What are the different SBA loans?
There are a number of different SBA loans, each come with its own terms, eligibility criteria and conditions. We have summed up below the different types with their principal characteristics:
SBA loan
Size (up to)
Use of funds
SBA 7(a) loans
$5 million
Working capital, expansion and equipment purchases
SBA Express loans
$1 million
($500,000 from Oct-21)
Fast funding for working capital, expansion and real estate and equipment purchases
SBA 504 loans
$5.5 million
Purchase long-term, fixed assets like land, machinery and facilities
SBA microloans
$50,000
Working capital, inventory, supplies, equipment and machinery
SBA disaster loans
$2 million
Repair physical damage due to a declared disaster and cover operating expenses
SBA Community Advantage loans
$250,000
Normal business purposes; cannot be used for revolving credit
SBA export working capital loans
$5 million
Working capital to support export sales
SBA export express loans
$500,000
Expedited funding to enhance a business's export development
SBA international trade loans
$5 million
Long-term funding to increase export sales
The different types of SBA loans (source)
Are you eligible for a SBA loan?
SBA loans are a great source of funding for startups. Yet, they aren't designed for any startup either.
Why? SBA loans are a form of debt like any other. This means that you will have to repay it in the future. As most startups are loss-making in their early years, most startups cannot really raise debt but instead equity.
If you need a refresher on debt vs. equity for startups, and which one is best for you, make sure to read our article here.
So, before you apply for one of the the different SBA loans out there for your startup, make sure you are eligible. First, you will need to show your startup generates positive cash flows, or will do so soon in the future (so it can support debt repayment).
What SBA loans are best for startups?
Among all the SBA loans available out there, the 7(m) Microloan Program is undeniably the most startup-friendly. Indeed, all new businesses are eligible to apply, which makes it far more accessible than any other SBA loan.
The Microloan program loan is intended to provide "small" loans of up to $50,000 that can be used for a broad range of purposes to start and grow a business. Unlike most SBA loans, the Microloan isn't lent by financial institutions but the SBA itself.
Of course, the catch is that you'll be limited to $50,000 maximum (actually, the average amount is $10,000).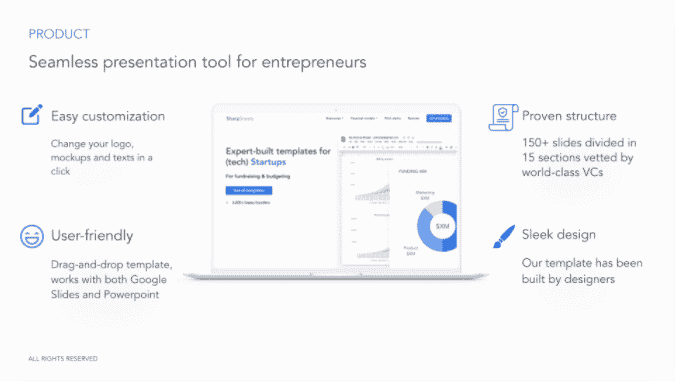 Need a Pitch Deck?
What if you are looking for more than $50,000?
Luckily, you may be able to borrow far more than $50,000. As said earlier, you will have to demonstrate you will be able to repay the loan. Also, most lenders require you to provide 2 years of your financial accounts.
If you can provide these documents, you may eligible for a number of SBA loans. Choose the one you need based on the expected use of funds. In other words, what are you going to do with this loan? This will determine the type of SBA loan you can apply for.
For example, if you plan to spend the funds in inventory and/or working capital, you can choose many options, for up to $5.5 million maximum. Refer to our table for a detail of the use of funds per SBA loan.
How to apply for a SBA loan for your startup?
1. Check if you are eligible
As explained earlier, to qualify for a SBA loan you will need to meet certain criteria. Most lenders require at least:
2 years of financial accounts
Strong financial momentum (increasing revenues and margins)
Good credit score (690 minimum)
2. Gather your documents
Make sure to review the loan application checklist on the SBA website and start to gather all the documents you need to apply. A few examples of documents you will need include:
SBA's borrower information form
SBA's lender application form
Income tax returns
Business tax returns
Financial projections
Have a look at our complete guide on how to create a rock-solid business plan and financial projections for your SBA loan application below:
3. Choose a lender
Browse through the SBA's Lender Match to find a lender within less than 2 days.
If you choose to go to your local bank branch, make sure they have experience with SBA loans, as otherwise it can seriously delay your application. The more experienced the lender is with SBA loans, the more likely they will be able to guide you and offer you the best terms for your business.
4. Wait
Once you have submitted your application to a lender, you will need to wait for an answer (whether your application is approved or not). SBA loans are notorious for having long turnaround times: the entire process from application to loan disbursement can take anywhere from 30 days to a couple of months.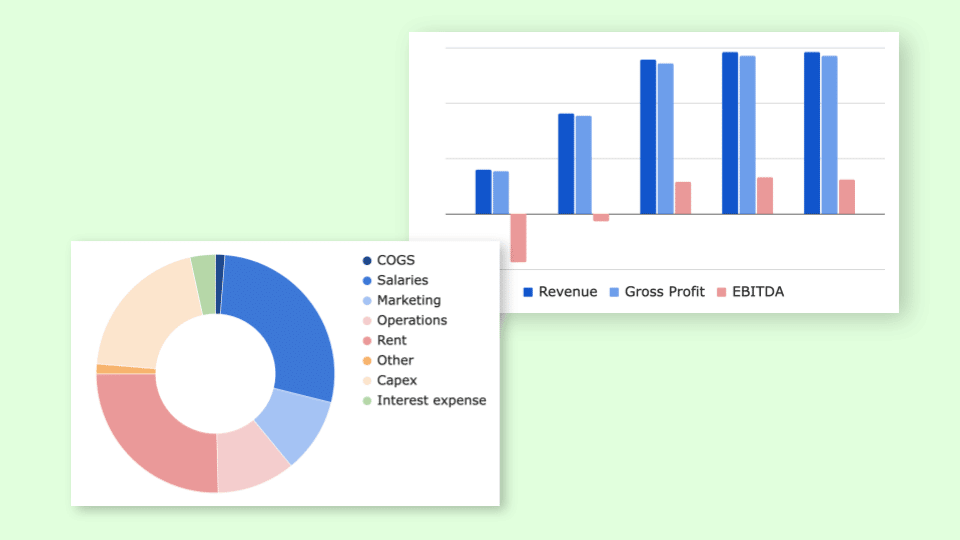 Expert-built templates for tech startups
Investor-friendly

Easy-to-use Excel & PPT templates

CPA-developed financials

30+ charts and metrics