Are you looking to start your own pizzeria? As part of your business plan, make sure to consider the total startup and operating cost to open and run a pizzeria.
We've identified that it costs anywhere from $89,000 to $266,000 to start a casual 1,500 sq. ft. pizzeria plus $33,000 to $41,000 in operating costs per month to run the business the first few months.
Want to know more? In this article we'll go through all the different costs you will need to incur to start your own restaurant. Read on!
For more information on pizza shops, make sure to check our guides below:
How To Open a Pizzeria in 9 Steps: Complete Guide
How To Build a Financial Model for a Pizzeria
How to Write a Business Plan for a Pizzeria: Complete Guide
Pizzeria Startup Costs
To figure out how much it will cost to open a pizzeria, you'll have to examine a variety of criteria, some of which apply to any restaurant and other businesses specific to pizzerias.
Will you create a stand-alone store or join a franchise? Are you starting from scratch or purchasing an existing pizzeria? Whatever path you choose, you'll need to create a business plan and a budget so you can begin putting together the restaurant startup costs you'll need to get up and running.
| Startup cost | Amount |
| --- | --- |
| Lease security deposit or loan down payment | $11,000 (lease) – $50,000 (buy) |
| Interior Design & Renovation | $20,000 – $40,000 |
| Equipment | $50,000 – $150,000 |
| Point-of-Sale system (POS) | $2,000 – $5,000 |
| Legal fees & Licensing | $1,000 |
| Initial inventory | $5,000 – $20,000 |
| Total | $89,000 – $266,000 |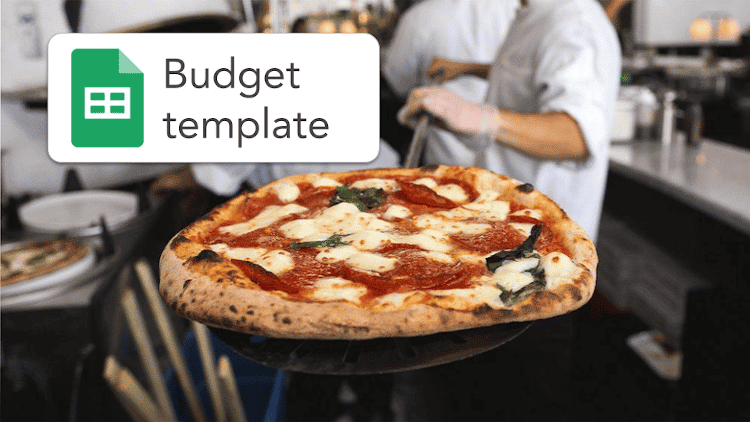 Download the Pizzeria financial model template
Lender & investor-friendly

Easy-to-use Excel template

CPA-developed financials

30+ charts and metrics
Lease security deposit (or loan downpayment)
An important startup cost to open a pizzeria is the lease security deposit for the space you will rent (or the loan down payment).
If you decide to lease a property, you must commit to occupying it for a few years and pay a security deposit (refundable). This will vary depending on location and the size of the property. For instance, in downtown Los Angeles, the average rent you must pay for a restaurant space is $2.95 per square foot.
Assuming you lease a 1,500 square foot space, you can expect to pay a rent of $3,750. With that calculation, if you are required to provide a security deposit worth 3 months of rent, you have to set aside $11,250 (in line with the average lease security deposit as per this source).
Instead of leasing a place, if you want to buy a commercial place, you will need to provide a down payment for the loan for at least 10%. So, assuming the commercial space costs $500,000, you would have to spend $50,000 upfront payment with a 10% deposit instead.
Pizzeria interior design & renovation cost
Your pizza restaurant requires furniture and interior design to make customers feel welcomed and relaxed. You'll need to buy certain kitchen items and equipment to manage your shop.
To improve the ambiance of your pizza business, you'll also need signage, lighting, and a music system. Assuming the commercial space is already in good quality, the design furniture would cost between $20,000 to $40,000.
Pizzeria equipment cost
In addition to the design and renovation cost, you will need to acquire some essential kitchen equipment to open a pizzeria. A few examples for a pizzeria are: a pizza oven, dough mixer and roller, fridge, commercial dishwasher, etc.
All of the cooking and kitchen ware usually can cost between $50,000 to $150,000.
Also, don't forget to include tableware, such as forks, glasses, spoons, plates, and so on, in your budget. If you operate a sit-in pizzeria restaurant, the cost of tableware is around $20,000 to $80,000. Instead, if your pizzeria only offers delivery or pick-up pizzas, you can probably reduce that cost down to zero.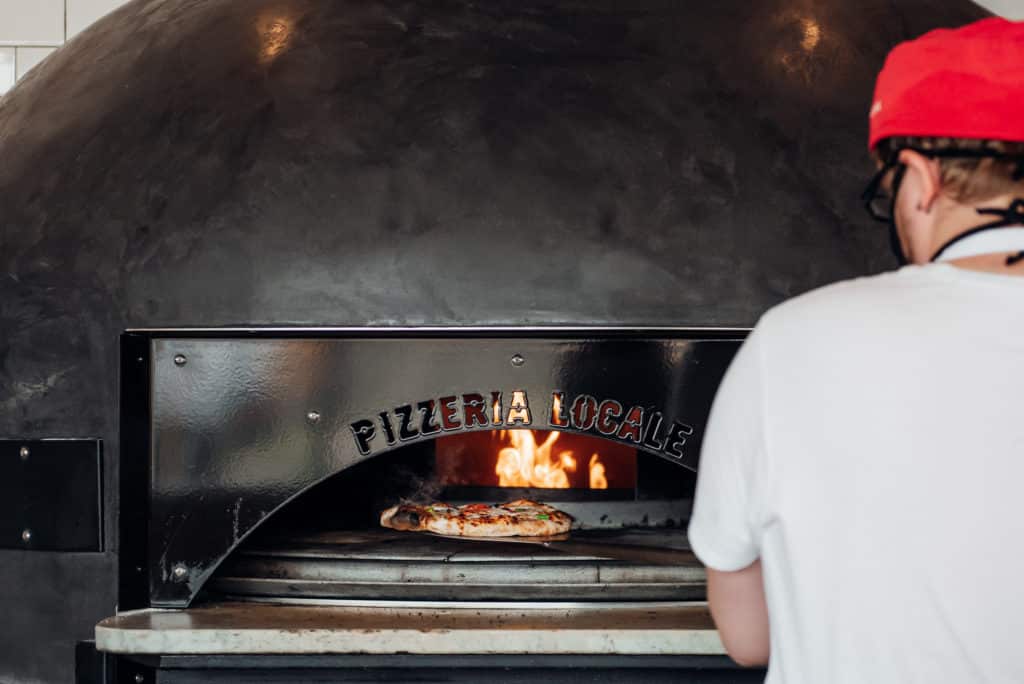 Point-of-Sale System (POS)
A POS system helps you to get paid easily, track your inventory, and track your orders. You will need one!
According to Cost Owl, a small restaurant can expect the following expenses for a POS system:
$1,500 to $5,000 for the hardware
$60 to $400 per month for software licensing
$200 to $500 for installation
These prices can definitely vary depending on the type of POS system you are settling for and the total scale of the operation.
For instance, if you need one terminal bundle, one kitchen display, two handhelds for servers, and one ticket printer, the hardware cost will be between $4,400 and $5,000.
In case you are opting for a cloud-based POS system offering discounted hardware, you need to pay $1,500 for the hardware for a single-register restaurant.
Pizzeria initial inventory cost
Before you create your first pizza, you'll need to stock up on all the necessary components; flour, tomato sauce, cheese, meats, veggies, and other items. Depending on how big your menu is, your inventory startup costs will range from $5,000 to $20,000.
Pizzeria Legal fees & licensing startup cost
To legally operate your pizza restaurant, you'll need the following paperwork and fees: licenses, health and safety compliance permits, insurance, and any other fees that may be required. This documentation and expenses are usually around $1,000 but depending on your state, they might be much more or less, so do your research.
You should also hire an attorney to review contracts and ensure that your store complies with the law and has no undue commitments. Although this will cost you more upfront, it will save you money in the long run by preventing complications.
Pizzeria Operating Costs
In addition to the one-off startup costs before you can open your pizzeria, you must also consider the total recurring cost of running the business. These costs include marketing and advertising, salaries, maintenance fees, and power bills.
| Operating cost | Amount |
| --- | --- |
| COGS | $9,000 |
| Rent & utility bills | $4,000 – $5,000 |
| Staff costs | $16,000 – $20,000 |
| Marketing | $2,000 – $4,000 |
| Other (tableware, software, bookkeeping etc.) | $2,000 – $3,000 |
| Total | $33,000 – $41,000 |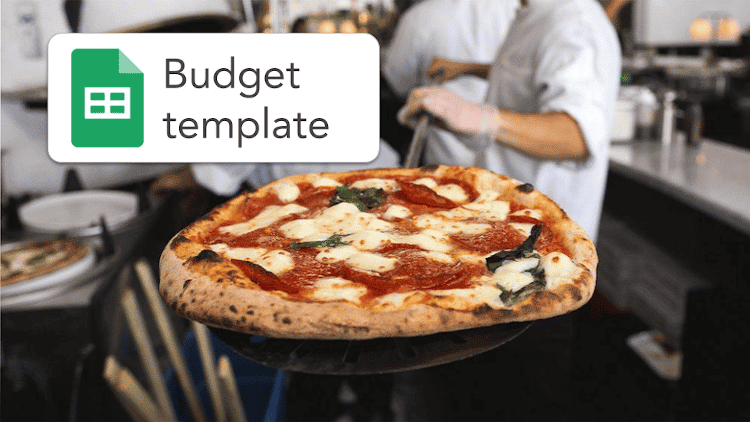 Download the Pizzeria financial model template
Lender & investor-friendly

Easy-to-use Excel template

CPA-developed financials

30+ charts and metrics
Pizzeria Cost of Goods Sold (COGS)
The Cost of Goods Sold (COGS) are the costs you incur to purchase your inventory such as the food supplies that go into the pizza itself e.g. the dough, tomato, ham etc.
The COGS for restaurants is usually between 28% and 35% of monthly revenue, but it can be as high as 40% for high-end restaurants. Of course, the cost will depend on the type of food you serve. Luckily for pizzerias, COGS are more on the lower end (around 25% of sales).
For example, if you sell 100 pizzas on average in a day, this results in 2,500 pizzas a month (assuming 6 days a week). With an average order value of $15 (assuming drinks, etc.), the total monthly revenue would be $37,500. The COGS in that case will be around $9,000.
Pizzeria staff cost
Staff costs are probably the biggest expense for pizzeria restaurants. Here is a quick list of hourly salaries that you must consider if you're opening a casual pizzeria:
Pizza Cooks: Average hourly salary: $14.74
Restaurant Manager: Average annual salary: $51,180
Server (only if you offer table service which fast food / casual pizzerias usually don't): Average hourly salary: $15.72
While table-service restaurants typically spend 30-40% of their revenues in staff expenses.
Assuming the same $37,500 monthly revenue pizzeria example above, this would require around $12,000 – $15,000 in staff costs (4 to 5 full time employees). Adding up a manager's salary, this would represent $16,000 to $20,000 total per month.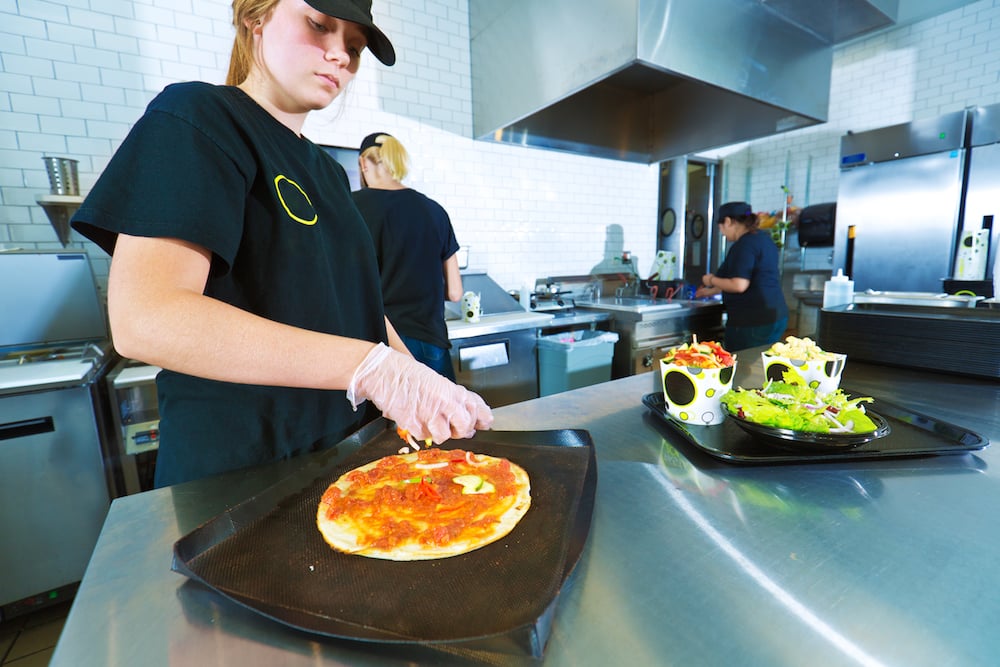 Pizzeria rent & utility cost
If you are leasing a commercial space, you will need to pay monthly rent expenses. Using the same example above, assuming you pay $2.95 sq. ft. per month for a 1,500 commercial space, you'd have to incur $3,750 in rental costs each month.
In addition to the rent itself, you'll have to pay for utility bills (electricity, gas, water).
Pizzerias and restaurants spend on average $2.90 per sq. ft. per year on electricity and $0.85 per sq. ft. per year on gas costs. Add in the variables of water, internet access, and waste collection, which can all vary substantially from one location to the other.
So assuming a 1,500 sq. ft. pizzeria, you'd spend on average $500 to $750 in utility bills per month.
Pizzeria marketing cost
Marketing is a large part of the cost of running a pizzeria, and the amount you pay depends on whether you hire an agency or handle it yourself. There are many alternatives for promoting your pizza business, ranging from more traditional means like television, newspapers, magazines, and radio to more current outlets like social media.
Also, public relations firms can help you expand your advertising channels and manage your social media accounts, but they are also the most expensive alternative.
The Small Business Administration (SBA) recommends spending between 2% and 3% of your revenue on marketing when you're just starting.
However, if you're pursuing larger brand awareness campaigns or cooperating with an advertising agency, you can increase your spending to up to 10%-12% of overall sales. Indeed, you'll logically have to spend more in the first few months as you try to gain new customers. Hopefully with time you will benefit from organic growth (word-of-mouth) and can reduce your marketing spend.