Despite a very strong brand name and over 1,700 locations worldwide, Applebee's is a very expensive franchise. Indeed, with an average investment cost of $5,137,966, it's far more than the average investment for fast food franchises at $1.6 million as per our analysis.
So should you really invest in a Applebee's franchise? Is this a profitable venture?
In this article we'll look how much you can make with a Applebee's franchise, how much it costs and whether you go ahead and why. Let's find out!
Applebee's franchises: key figures
| | |
| --- | --- |
| Franchise fee | $35,000 |
| Royalty fee | 4.0% |
| Marketing fee | 4.25% |
| Investment (mid-point) | $5,137,966 |
| Average annual sales | $2,356,965 |
| Investment to sales ratio | 0.5x |
| Investment payback* | 14.5 years (mediocre) |
| Minimum net worth | $1,000,000 |
| Minimum liquid capital | $500,000 |
* using 15% net profit margin
Applebee's franchises: a brief introduction
Applebee's is an American international restaurant chain focusing on mainstream American dishes such as salads, chicken, pasta, burgers, and "riblets" (Applebee's signature dish).
Applebee's was founded by Bill and T. J. Palmer in 1980 and opened its first store in Atlanta, Georgia.
On top of its American dishes menu, it serves steak and tacos, and most locations offer a full bar for alcoholic beverages. Applebee's concept is casual dining, but it also provides catering, pick-ups, and online deliveries.
It began franchising in 1983 under the brand name "Applebee's Neighborhood Grill + Bar". The chain is owned by Dine Brands Global Inc., headquartered in Glendale, California.
Today, the chain has over 1,700 units in the US and other countries worldwide.
Applebee's franchise pros and cons
Operating an Applebee's franchise has its pros and cons.
Pros
Brand popularity: Applebee's is a famous brand, especially because of its culture of main American dishes. Customers who know Applebee's will flock to any newly launched restaurant to enjoy its popular menu.
Franchise support: franchisees benefit from the franchisor's support on site selection, construction, and restaurant design
Comprehensive training: to make sure that franchisees understand and implement Applebee's concept correctly, the franchisor offers a detailed 10–12 weeks of training. The training program covers basic restaurant management and operations programs for the directors, general managers, supervisory employees, and kitchen managers.
Expansion plans: The brand has established its presence in the domestic and international markets. It also has solid plans to accelerate its international growth. Franchisees looking to be part of the chain's restaurants can easily venture into new markets.
Cons
No financing: the franchisor does not provide any direct or indirect financing. Franchisees have to resort to third-party financing, for instance, through the SBA, to fund their restaurant establishment or expansion.
Limited menu for vegetarians: the Applebee's franchise may not be a good option for customers looking for healthy and vegetarian eating options.
No exclusive territory protection: the franchisor does not offer their franchisees exclusive territories. It grants franchisees the right to operate their restaurants at a single, specific location. Therefore, franchisees may face competition from franchises granted by the franchisor or from competitive brands that the franchisor controls.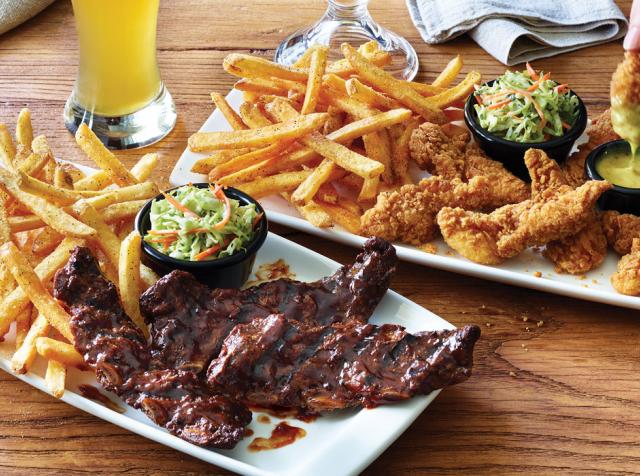 How much do you need to invest for a Applebee's franchise?
You have to invest around $5,137,966 to open a Applebee's franchise restaurant.
The investment amount is an estimated average: indeed, it varies based on many factors such as land and building size, location and development needs; construction, equipment specifications etc.
In addition to the initial franchise fee of $35,000 which you must pay to the franchisor, you would pay for the building costs, furniture and fixtures, signage, equipment, initial inventory, kitchen display system, business supplies, training expenses, liquor licenses, etc.
Further, the cost to purchase land varies because of geographical location. dditionally, the investment cost covers
| | |
| --- | --- |
| Expense | Amount |
| Initial franchise fee | $35,000 |
| Building cost | $556,000 – $2,600,000 |
| Site work | $50,000 – $800,000 |
| Furniture, fixtures, equipment and signage | $410,000 – $825,000 |
| Kitchen display system | $12,000 – $18,000 |
| Pre-opening expenses* | $55,000 – $350,000 |
| Liquor license(s) | $500 – $1,000,000 |
| Other | $925,701 – $2,638,730 |
| Total | $2,009,201 – $8,266,730 |
* insurance, legal, training expenses, etc.) // Source: 2022 FDD
How much can you make with a Applebee's franchise?
On average, Applebee's franchises made $2,356,965 in sales per year in 2021. This is a major increase vs. 2020 (+58%, $1,494,002), a strong rebound from COVID-19.
Unfortunately, Applebee's doesn't provide much information about its franchise restaurants financial performance in its latest Franchise Disclosure Document.
Instead, we obtained this number by dividing the $865 million total franchise revenue of the franchisor (Applebee's Franchisor LLC) by the number of franchised restaurants it owns the rights of (367 as of 2021).
| | 2019 | 2020 | 2021 |
| --- | --- | --- | --- |
| Total franchisor revenue | $865 million | $504 million | $436 million |
| Number of franchises* | 367 | 337 | 278 |
| Revenue per franchise | $2,356,965 | $1,494,002 | $1,531,022 |
* franchises that opened after Sept. 2014 as per the FDD
How profitable is a Applebee's franchise?
On average, a Applebee's franchise makes $748,336 in profits per year. This represents a 32% adjusted EBITDA margin (see our calculation below). This is higher than the industry average (25-27% as per our analysis).
As you may know EBITDA is a profit margin we use to assess the true profitability of a business, by deducting from sales costs of sales (COGS), labor costs, and other operating expenses (rent, etc.).
Unfortunately, and as for most franchises, Applebee's doesn't provide much information in its Franchise Disclosure Document when it comes to costs. So we need to estimate instead, which we did using industry benchmarks instead:
| Profit-and-loss | Amount ($) | As % of sales |
| --- | --- | --- |
| Sales | $2,356,965 | 100% |
| COGS | $(589,241) | 25%* |
| Labor | $(683,520) | 29%* |
| Rent | $(141,418) | 6% as per FDD |
| Royalty + marketing fees | $(194,450) | 8.25% as per FDD |
| Adjusted EBITDA | $748,336 | ~32% |
* industry average
Is a Applebee's franchise a good investment?
Before you go ahead and pay the initial franchise fee, you may want to know whether Applebee's is a good investment opportunity.
Hence you would need to know whether the investment cost is worth the profits. For profits here, we need to estimate net profits (revenues minus all expenses, unlike EBITDA which doesn't include certain costs like debt interest, corporate taxes, etc.).
Knowing that Applebee's are rather profitable businesses with 32% adjusted EBITDA margin, we can reasonably assume they reach a 15% net profit margin.
Now, when we compare the investment cost of $5,137,966 (average) to net profits, we find that Applebee's have a payback period of 14.5 years! In other words, you would have to wait 15 years before you can make profits on your initial investment. This is not a great investment.
Keep in mind this is based on the average investment cost of $5 million. Assuming your franchise costs you less, the payback period may be very different. In order to visualise your financial projections and reports like breakeven point, payback period and more, download the business plan for Applebee's franchises below.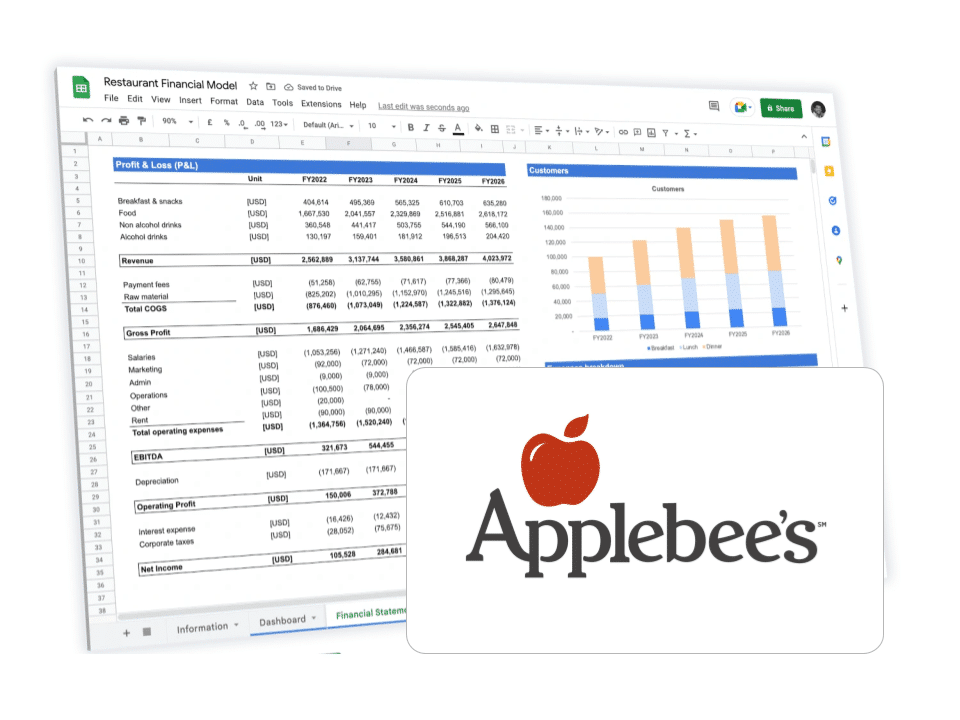 Download the Applebee's business plan and get your franchise funded
Including a 5-year financial plan built with the latest Franchise Disclosure Document numbers