Auntie Anne's Franchise Costs $421K (+ 2023 Costs & Profits)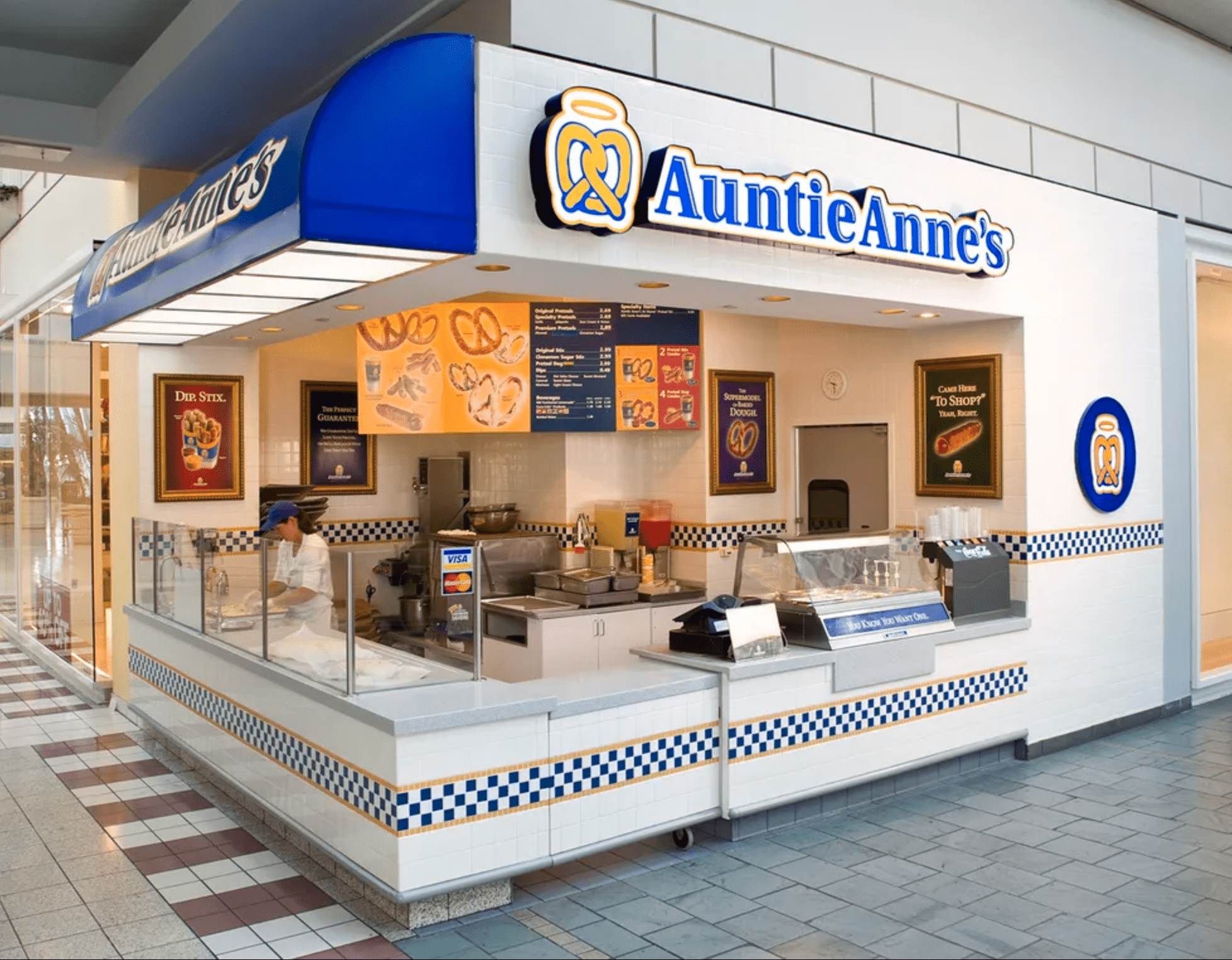 This article was updated with the 2023 Franchise Disclosure Document
With over 2,000 stores worldwide, Auntie Anne's is undeniably one of the most famous pretzels franchises. With annual sales of $737,000 on average in the US, is it worth investing in a Auntie Anne's franchise?
The good news: as a franchisee it would cost you (only) $421,000 to start a new Auntie Anne's franchise on average.
So is this really worth it? How much profits can you really make with this business? Are Auntie Anne's franchises good investments for a franchisee? Let's find out!
Key stats
| | |
| --- | --- |
| Franchise fee | $35,500 |
| Royalty fee | 7.0% |
| Marketing fee | 5.0% |
| Investment (mid-point) | $421,000 |
| Average sales | $737,000 |
| Sales to investment ratio | 1.7x |
| Payback period | [franchise_value_investment_payback] |
| Minimum net worth | $300,000 |
| Minimum liquid capital | $100,000 |
Source: Franchise Disclosure Document 2023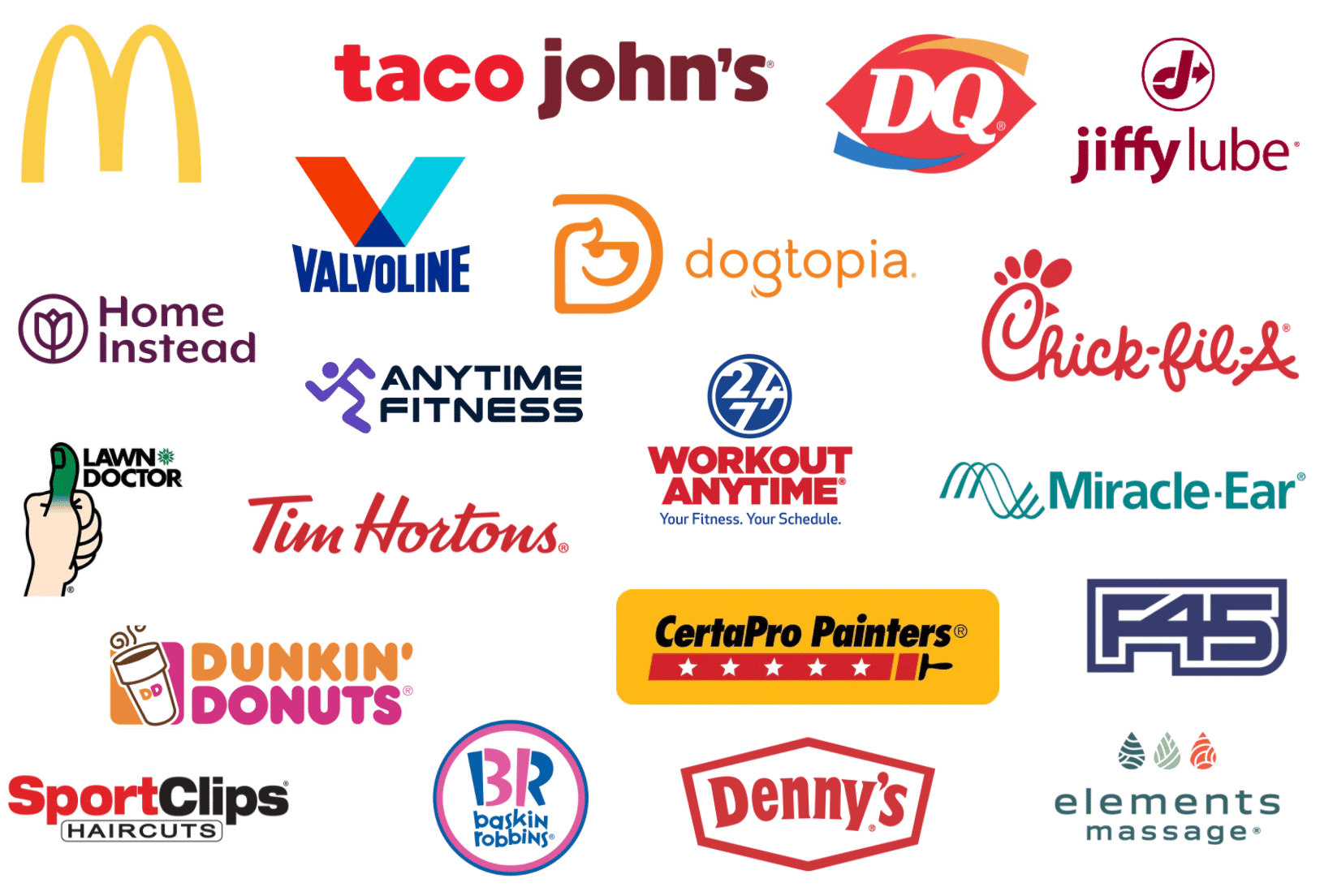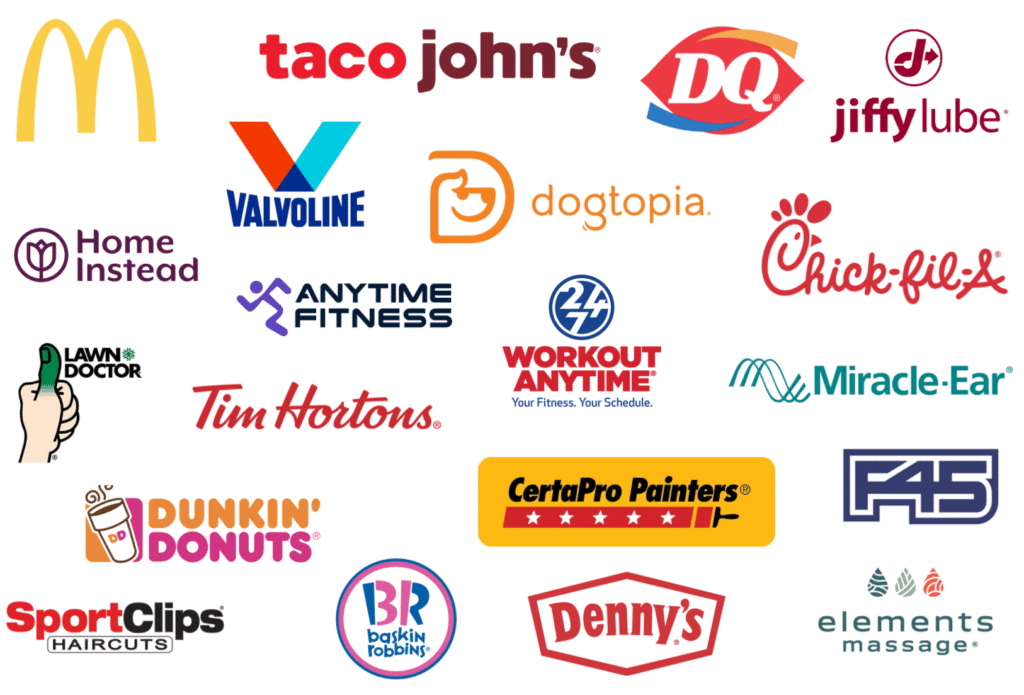 Compare Auntie Anne's vs. 1,000+ franchises
Investment, turnover, royalties, profits and more
What is Auntie Anne's?
Auntie Anne's is an American chain of pretzel shops with over 2,000 stores in the US and 30 other countries. It serves freshly baked soft pretzels, dips, and other related foods and beverages.
A subsidiary of Focus Brands Inc., headquartered in Atlanta, Georgia, the chain was founded in 1988 in Pennsylvania when Anne F. Beiler (Auntie Anne) and her husband bought a stand in a Pennsylvania farmer's market.
Auntie Anne's began franchising in 1989, with its first international location opening in Jakarta, Indonesia, in 1995.
Auntie Anne's franchise: pros and cons
Operating an Auntie Anne's franchise has its advantages and disadvantages.
Pros
Comprehensive Training: The franchisor offers extensive training to franchisees and their employees consisting of 48 hours of classroom training and 24 to 64 hours of on-the-job training. The training includes operations training, marketing, HR, general business practices, and pretzel rolling skills. The franchisor trains franchisees at the same level to ensure a consistent and uniform brand.
Unique and evolving products: To differentiate itself from its competitors, the brand makes freshly hand-rolled pretzels from scratch on the site and sells them within 30 minutes of being baked. The brand also keeps innovating and creating new products to keep up with industry trends and customer tastes.
Solid franchise support: To help new franchisees grow and become profitable, Auntie Anne offers them maximum support. Franchisees get support in various fields, such as food and beverage operations, administration, and finance.
Strong Brand Recognition: Auntie Anne's brand has stores in all 50 states of the US and globally. In addition, its restaurants are located in high-traffic places such as malls, airports, train stations, and universities.
Strategic marketing and advertising: The franchisor offers its franchises superb support in research and innovation, as well as professional marketing and promotional campaigns.
Growth opportunity: The Auntie Anne's franchise has steadily grown in the last 30 years, currently having over 2,000 stores globally. Franchisees can join a fast-growing brand and easily penetrate new markets. Currently, the brand has opportunities for expansion in locations such as Bristol, Central London, and Scotland.
Central supply chain: To make sure franchisees enjoy controlled and regulated supplies, the franchisor ensures food products, packaging, cleaning products, and small wares are ordered online from one supply chain at competitive commercial rates.
Cons
No financial assistance: Auntie Anne's does not offer any direct or indirect financing to its franchisees for trade fixtures, opening inventory, or any other purpose. It also does not guarantee them any lease, grant, or note.
No territory protection: The franchisor does not offer franchisees any exclusive territory protection. It only grants franchisees the right to manufacture and sell the franchisor's products from a specific shop and location approved by the franchisor.
No absentee ownership: Auntie Anne's is not a good option for investors looking for absentee business management. Franchisees must be involved or appoint a representative to undertake decision-making and daily restaurant operations.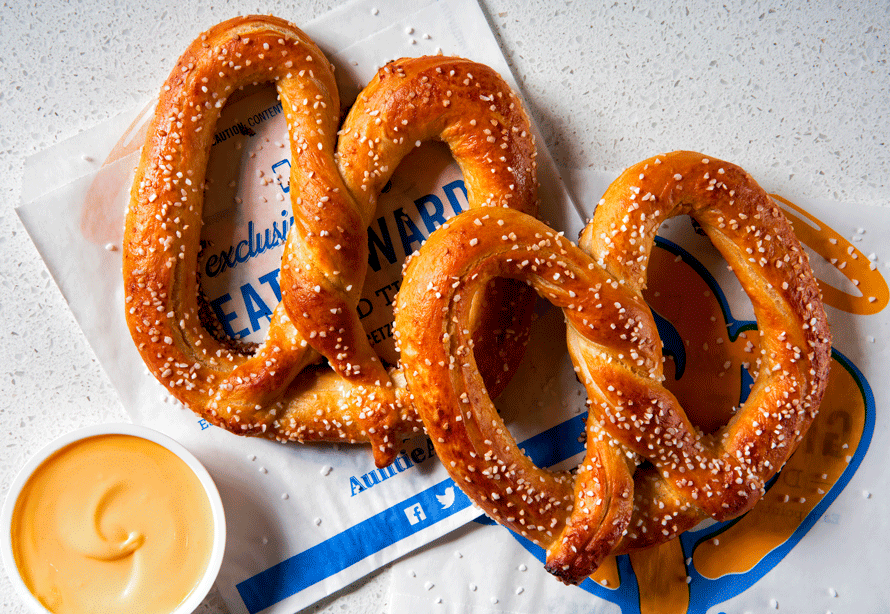 How much does an Auntie Anne's franchise cost?
You would need to invest around $421,000 to open an Auntie Anne's franchise.
This investment amount is an average that can vary based on the type of restaurant. For example, you would pay twice as much for a Auntie Anne's shop vs. a concession shop: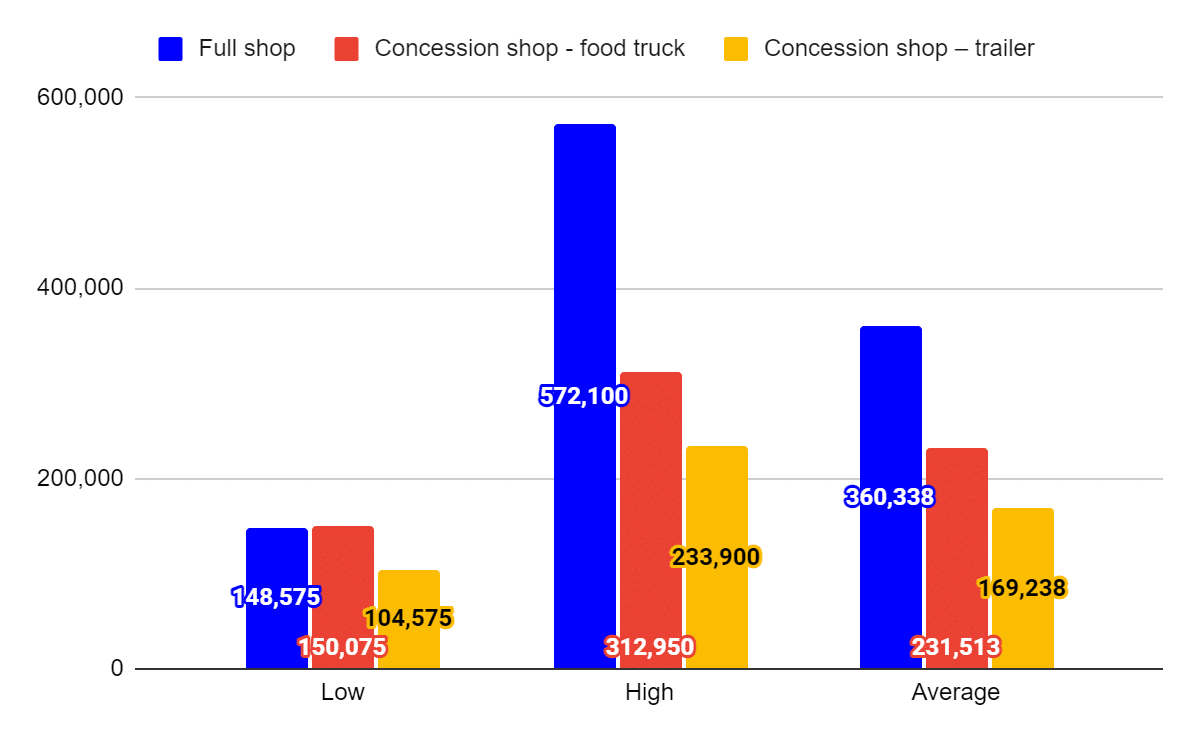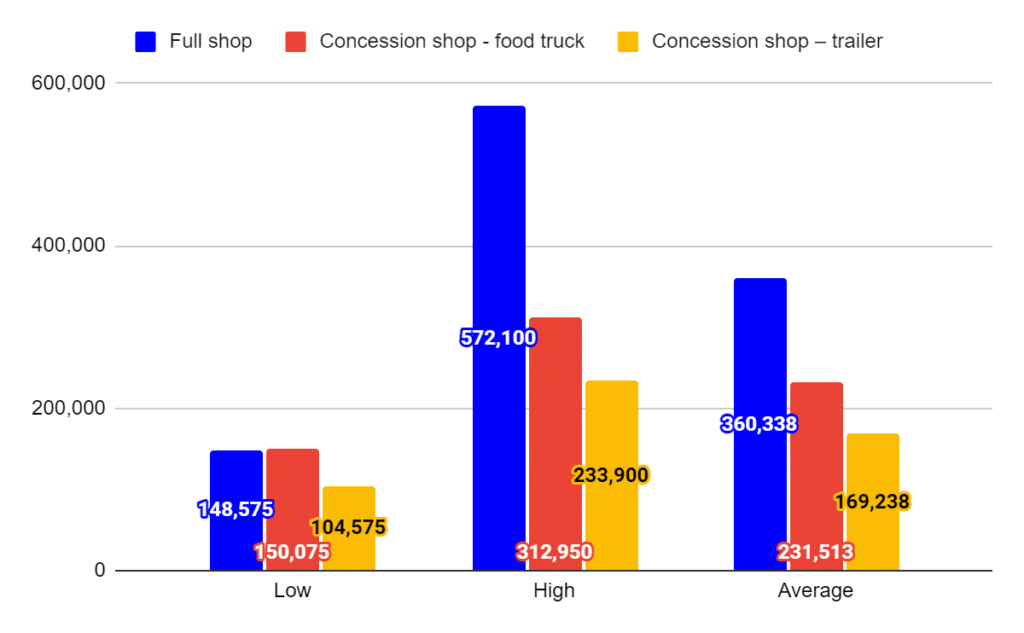 In addition to the initial franchise fee ($10,500-$35,500), the investment covers a number of startup costs such as:
Build costs: construction (truck or trailer in case of concession shop), permitting, millwork, equipment, furniture, menu board, graphics, interior signage, exterior signage, computer system, architect/engineer, legal and accounting fees, etc.
Operating expenses: opening inventory, miscellaneous opening costs, insurance, travel & living expenses while training, additional funds for 3 months as working capital, etc.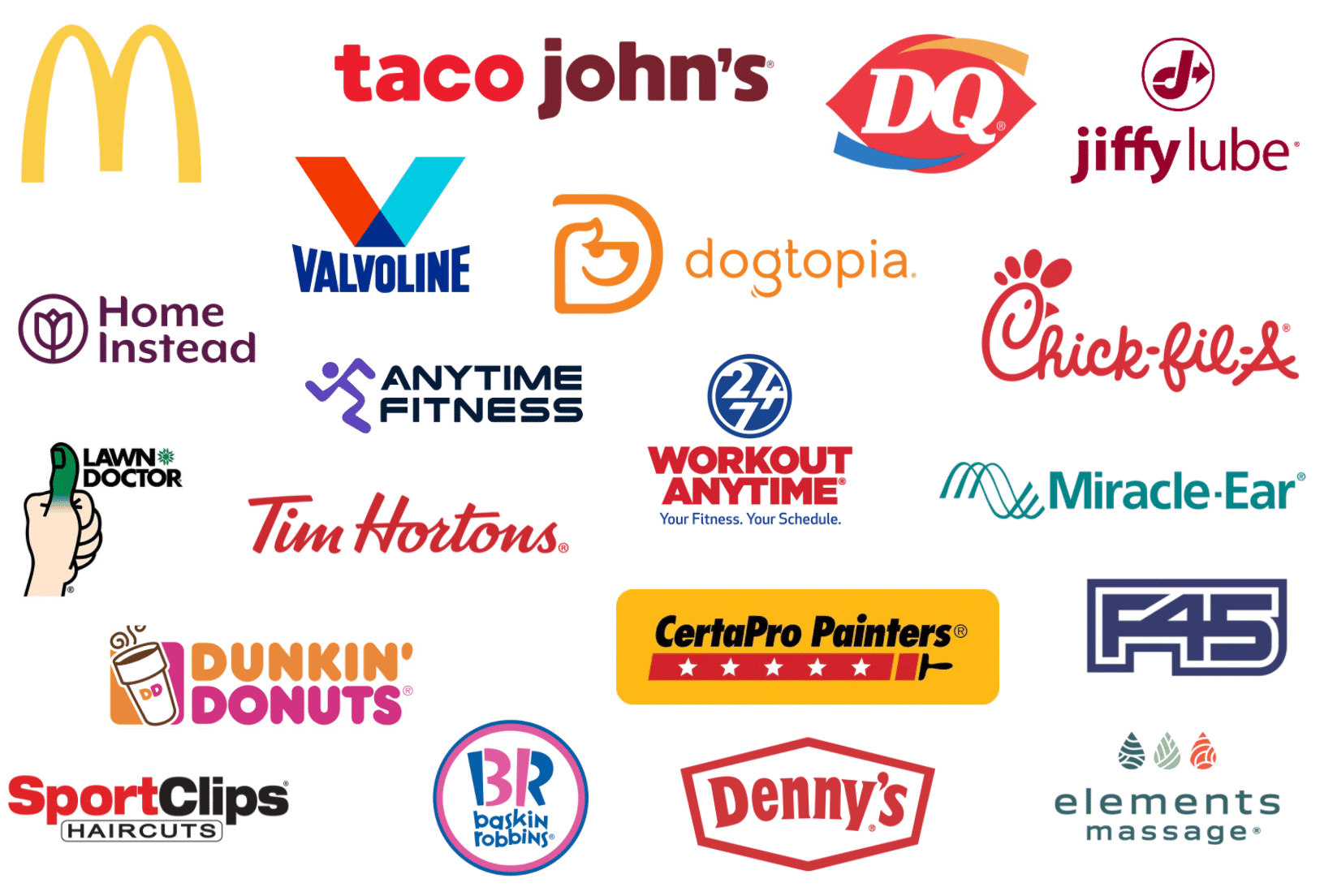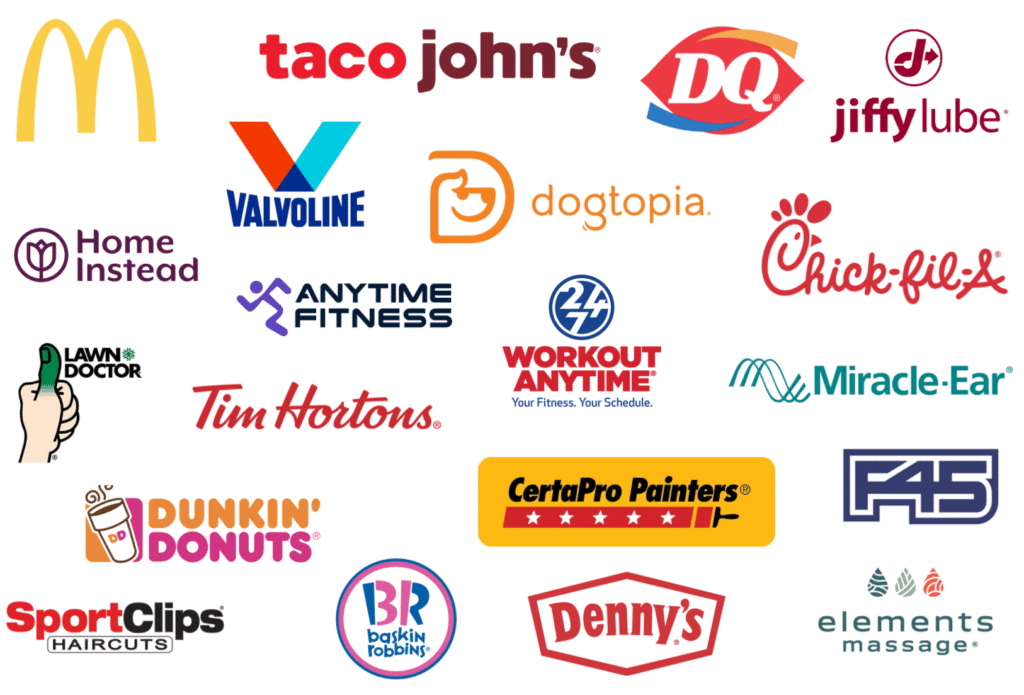 Compare Auntie Anne's vs. 1,000+ franchises
Investment, turnover, royalties, profits and more
How much can you make with a Auntie Anne's franchise?
On average, an Auntie Anne's franchise makes $737,000 in sales per year. This is the weighted average of median sales for all enclosed mall franchises (493), outlet center franchises (96), airport franchises (30), and Cinnabon co-branded franchises (54).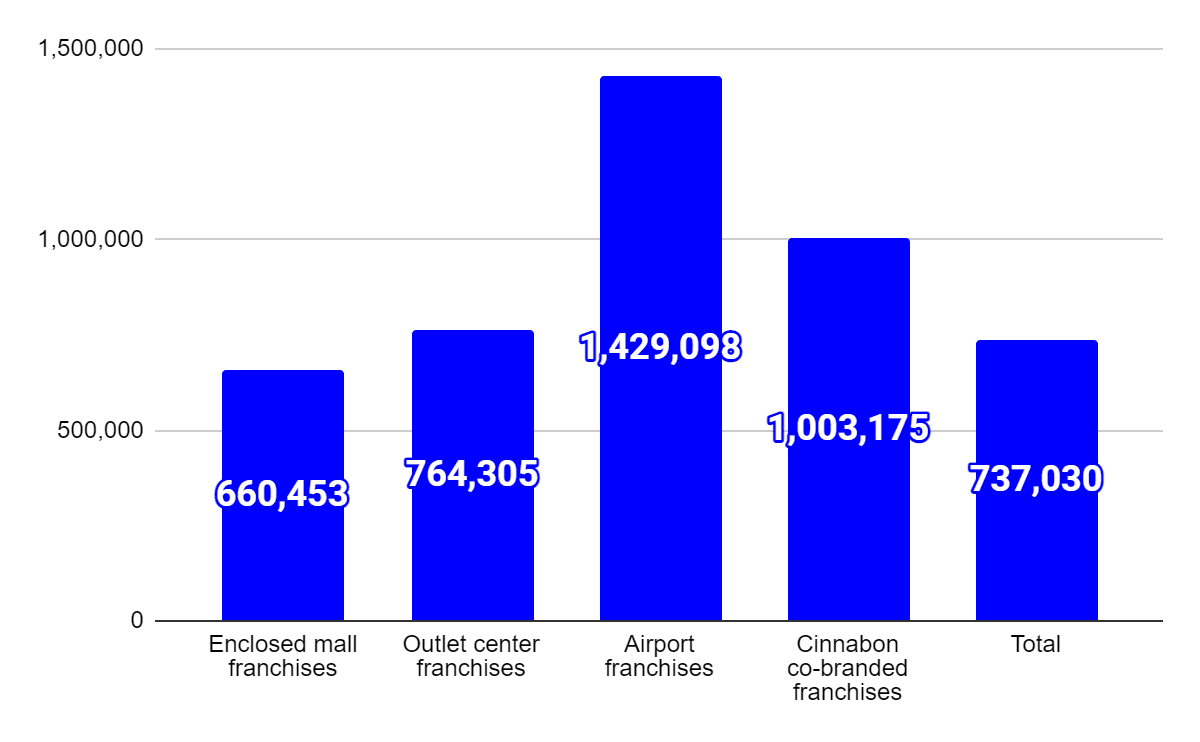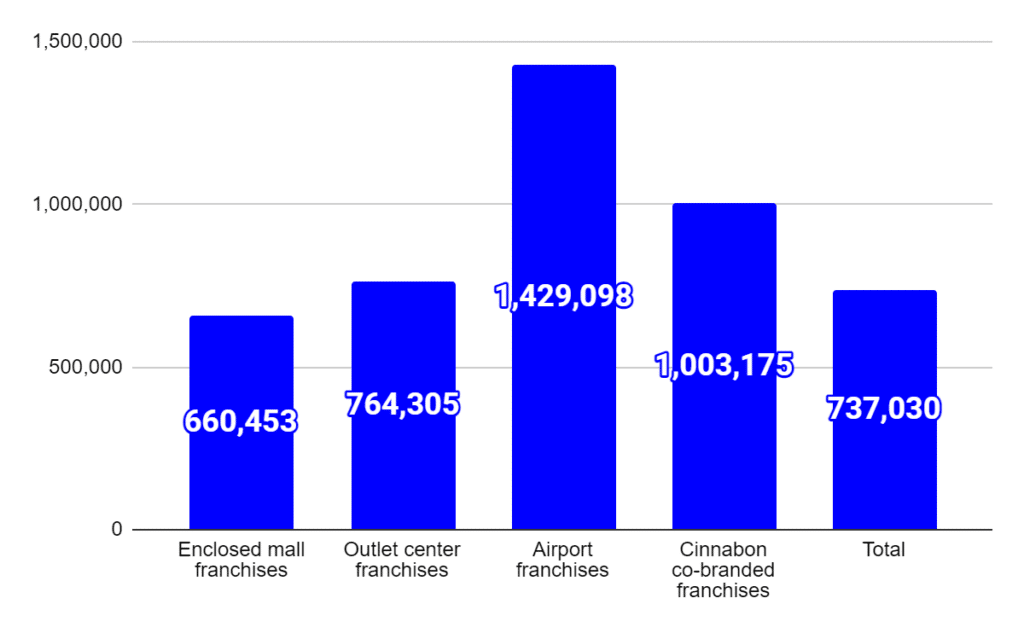 How profitable is a Auntie Anne's franchise?
On average, a Auntie Anne's franchised restaurant makes $96,000 in profits per year (13% EBITDA margin).
Note that Auntie Anne's doesn't provide any detailed information about the financial performance of its franchises in its latest Franchise Disclosure Document. Instead we had to make assumptions which we have summarized below.
| Profit and loss | Amount | % Sales |
| --- | --- | --- |
| Sales | $737,030 | 100% |
| COGS | $(184,257) | 25% |
| Gross Profit | $552,772 | 75% |
| Labor | $(213,739) | 29% |
| Marketing and royalty costs | $(88,444) | 12% |
| Occupancy | $(66,333) | 9% |
| Other OpEx | $(88,444) | 12% |
| EBITDA | $95,814 | 13% |
Source: Estimates
Is Auntie Anne's franchise a good investment?
Auntie Anne's is a great investment from a financial standpoint (to us at least).
Why? We estimate that Auntie Anne's franchises have a 4 years payback (on average). In other words, you would repay the initial investment of $421,000 within 4 years on average by using the profits generated by the business.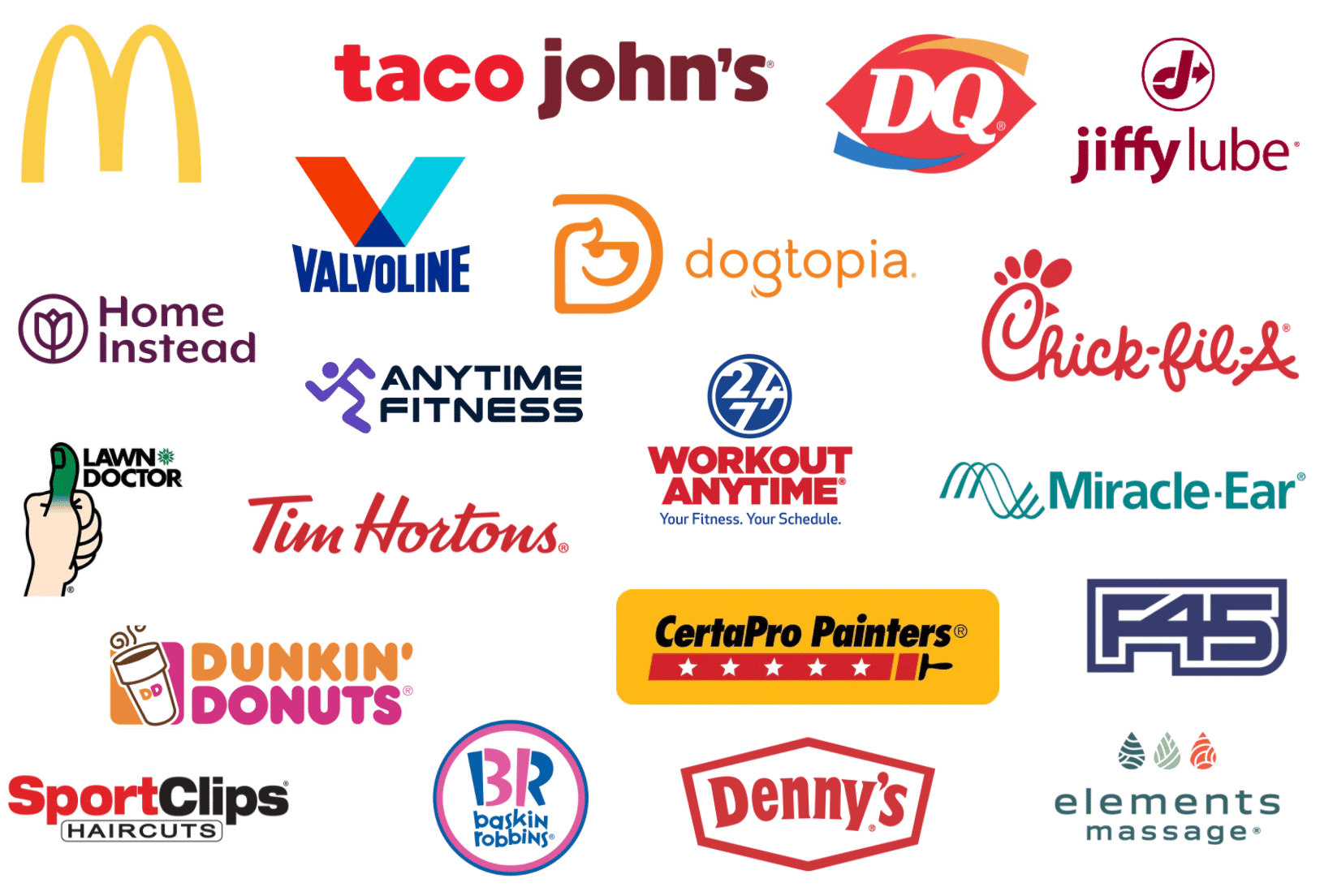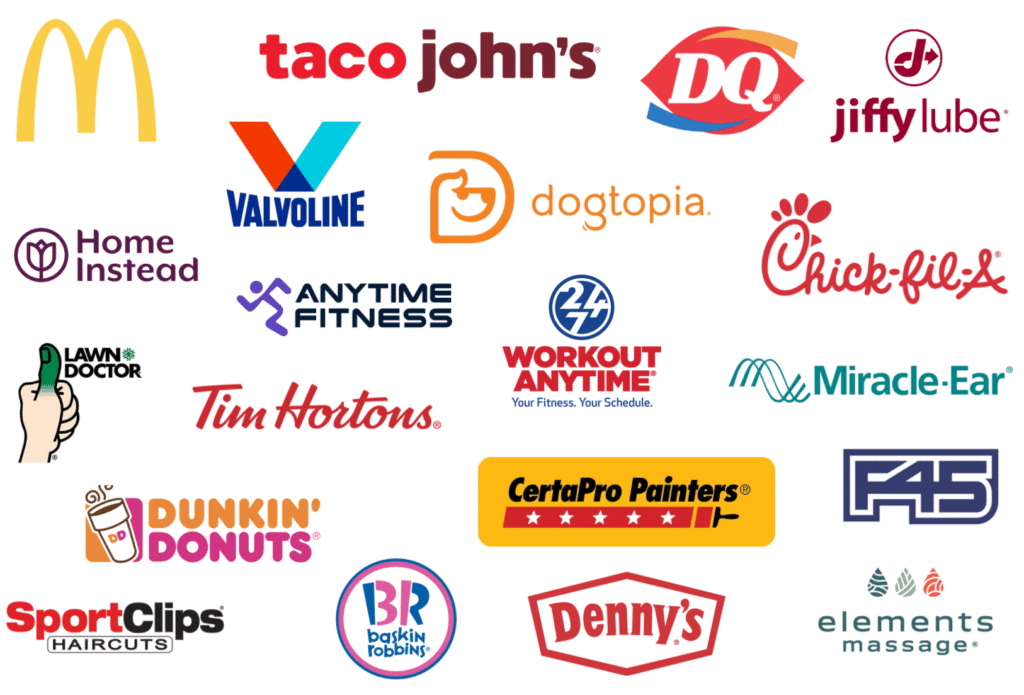 Compare Auntie Anne's vs. 1,000+ franchises
Investment, turnover, royalties, profits and more
Disclaimer
Disclaimer: This content has been made for informational and educational purposes only. We do not make any representation or warranties with respect to the accuracy, applicability, fitness, or completeness of the information presented in the article. You should not construe any such information or other material as legal, tax, investment, financial, or other professional advice. Nothing contained in this article constitutes a solicitation, recommendation, endorsement, advertisement, or offer to buy or sell any franchises, securities, or other financial instruments in this or in any other jurisdiction in which such solicitation or offer would be unlawful under the franchise and/or securities laws of such jurisdiction.
All content in this article is information of a general nature and does not address the detailed circumstances of any particular individual or entity. Nothing in the article constitutes professional and/or financial and/or legal advice, nor does any information in the article constitute a comprehensive or complete statement of the matters discussed or the law relating thereto. You alone assume the sole responsibility of evaluating the merits and risks associated with the use of any information or other content in this article before making any decisions based on such information or other content.