With its varied menu, from breakfast to dinner, from its famous biscuits to Bojangles to fried chicken and steaks, Bojangles is an iconic restaurant franchise in the US. It's also very popular among franchisees: they were 760 restaurants across 14 states in the US in 2021.
Yet, Bojangles isn't the most affordable franchise either: on average you would have to spend $1,658,000 to own a Bojangles restaurant. Even though in line with other restaurant franchises (we found that $1.6 million investment was indeed the average investment point), does it really justify the profits?
In this article we're looking at how much profits you can really make with a Bojangles franchised restaurant and how much it really costs. Let's dive in!
Bojangles franchises: key figures
| | |
| --- | --- |
| Franchise fee | $27,500* |
| Royalty fee | 4.0% |
| Marketing fee | 6.0% |
| Investment (mid-point) | $1,658,000 |
| Median annual sales | $1,801,057 |
| Sales to investment ratio | 1.1x |
| Investment payback** | 6.1 years (average) |
| Minimum net worth | $1,000,000 |
| Minimum liquid capital | $500,000 |
* $35,000 for Traditional and $20,000 for Express restaurants
** using 15% net profit margin
Bojangles: a brief introduction
Bojangles' Famous Chicken 'n Biscuits (also referred to as "Bojangles") is an American fast food chain of restaurants that offers Cajun-seasoned fried chicken and buttermilk biscuits.
The chain was founded in 1977 by Jack Fulk and Richard Thomas in Charlotte, North Carolina, where it is headquartered.
It offers biscuit sandwiches, Cajun chicken filet biscuits, country ham, eggs, cheese, bacon, country-fried steak, bone-in-fried chicken, French fries, dirty rice, coleslaw, and green beans.
The brand began franchising in 1978, and today it has more than 760 units in 14 US states. Out of these, 400 stores are franchise-owned.
What are the pros and cons of a Bojangles franchise?
The Pros:
Marketing and PR support: Bojangles' Famous Chicken 'n Biscuits offers its franchisees experienced in-store marketing planning and support. The brand's strategies include social media marketing, national media, purchasing co-ops, SEO, email marketing, regional advertising, local store marketing, and promotional campaigns.
All-day sales: The brand serves delicious foods during all three parts of the day, i.e. breakfast, lunch, and dinner.
Franchise support: The brand provides world-class and valuable support for the franchisee to grow and be profitable. It helps the franchisees with real estate advice, site selection, restaurant construction, equipment selection, menu and signage, purchasing, POS, grand opening marketing, and advertising.
Comprehensive training: The franchise offers franchisees extensive training on establishing and operating a successful restaurant. Its current training consists of 520–1,040 hours of on-the-job and 30 hours of classroom training.
Menu variety: The brand has a diversified daypart mix and famous breakfast menu items. Franchisees become part of a strong brand with healthy menu options that cater to all types of customers.
Exclusive territory protection: The brand provides its franchisees with protected territory to operate their businesses. The brand does not grant other franchises in the territory. Also, it does not operate competing units in the agreed-upon area.
Cons
Not a passive investment: The franchise does not provide a passive investment opportunity. Franchisees must be fully involved in the daily operations of their restaurants. Franchisees are also required to work full-time.
Not a mobile unit: The brand requires franchisees to establish an office facility or a fixed premise from where to operate their businesses.
No financing: The brand does not offer direct or indirect franchise financing for the franchise fee, trade fixtures, or inventory. Franchisees need to approach third-party lenders not affiliated with the franchisor.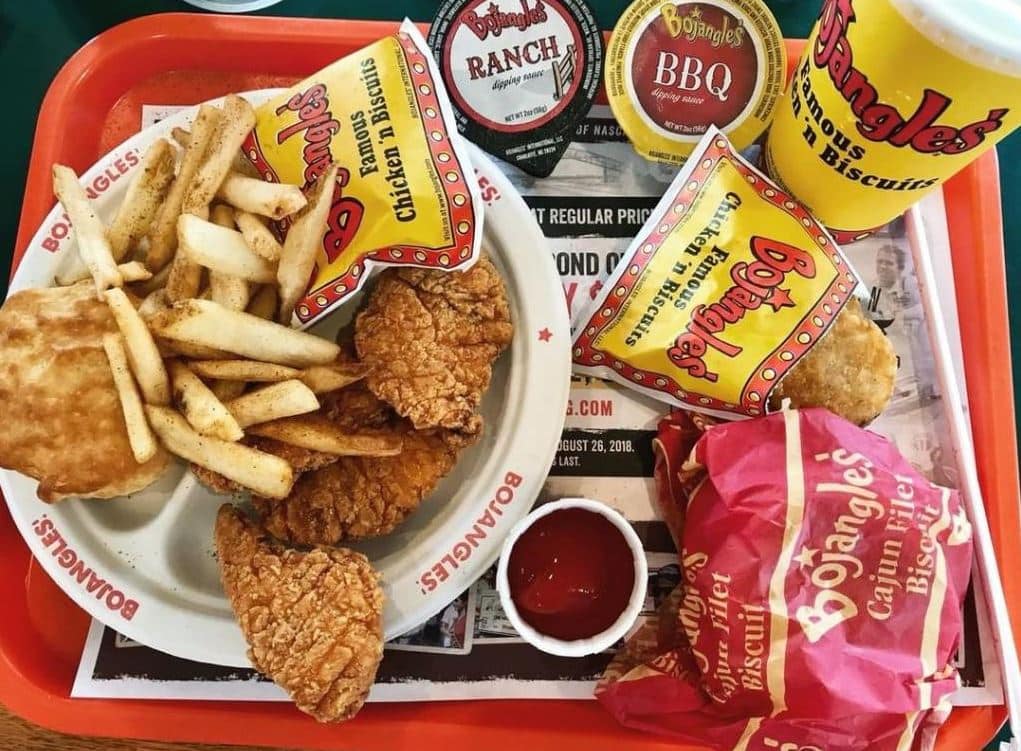 How much does a Bojangles' franchise cost?
You would have to invest on average $1,658,000 to open a new Bojangles franchise restaurant. This is the average investment for a traditional and Express restaurants.
Indeed, there are 2 kinds of formats of restaurants you can choose i.e.:,
Traditional are freestanding restaurants
Express restaurants are located in or attached to a convenience store or other structure such as shopping mall, food court, travel plaza, grocery or department store , or other non-traditional restaurants
Here's the full breakdown of costs per restaurant format:
Bojangles standard format
| Type of cost | Low – high |
| --- | --- |
| Building costs | $770,000 – $900,000 |
| Initial franchise fee | $35,000 – $35,000 |
| Site work | $462,000 – $850,000 |
| Equipment, furniture, signage and fixtures | $440,000 – $550,000 |
| Additional funds | $15,000 – $150,000 |
| Other | $191,600 – $343,500 |
| Total | $1,913,600 – $2,828,500 |
Source: 2022 Franchise Disclosure Document
Bojangles express format
| Type of cost | Low – high |
| --- | --- |
| Upfitting costs | $290,000-$582,000 |
| Initial franchise fee | $20,000-$20,000 |
| Pre-opening salaries, travel, living expenses | $113,000-$168,000 |
| Equipment, furniture, signage and fixtures | $150,000-$434,000 |
| Additional funds | $5,000-$50,000 |
| Other | $12,100-$45,800 |
| Total | $590,100-$1,299,800 |
Source: 2022 Franchise Disclosure Document
How much turnover does a Bojangles franchise make?
On average, a Bojangles franchise makes $1,801,057 in sales per year.
This number is the average of the traditional ($1,967,505) and Express restaurants ($1,634,609) in 2020. This is a slight increase of 4.7% year-on-year vs. 2019 ($1,719,660). Also note that this number is calculated using 409 of the 432 franchised restaurants operating in for all weeks of 2020.
How profitable is a Bojangles franchise?
On average, a Bojangles franchised restaurant makes $425,719 in profits per year. This corresponds to a 24% profit margin (EBITDA margin).
We estimated this number by looking at the information available in Bojangles' Franchise Disclosure Document. What's great about Bojangles is that, unlike most other franchises, they do provide some real insights into the profitability of their restaurants. Yet, do keep in mind that these numbers are for company-owned restaurants only (326 restaurants to be exact).
The other good news here is that we found the 24% profit margin is in line with the industry as per our analysis (25-27% on average).
| Profit-and-loss | Amount ($) | As % of sales |
| --- | --- | --- |
| Sales | $1,801,057 | 100% |
| COGS | $(560,129) | 31.1% |
| Labor | $(516,903) | 28.7% |
| Rent | $(118,200) | 6.5% |
| Royalty + marketing fees | $(180,106) | 10.0% |
| Adjusted EBITDA | $425,719 | 24% |
Source: 2022 Franchise Disclosure Document
Is a Bojangles franchise a good investment?
So is this really profitable to own a Bojangles? In order for you to make money as a franchisee, you need to be able to reimburse your original investment. In this case, as we have seen earlier, the investment required to start a Bojangles restaurant is $1,658,000 on average.
As per our analysis, it would take on average 6.1 years to recoup your investment. This is a good payback, and an average number for similar restaurant franchises. As such we can argue Bojangles is a good investment from a financial perspective.
Note that we calculated this payback period using a net profit margin of 15%, which makes sense given the adjusted EBITDA we calculated above is 24%. As a refresher, EBITDA isn't the true profits you earn as a a franchisee: from EBITDA you also need to deduct other expenses like depreciation, corporate taxes, debt interest expenses to get to net profit.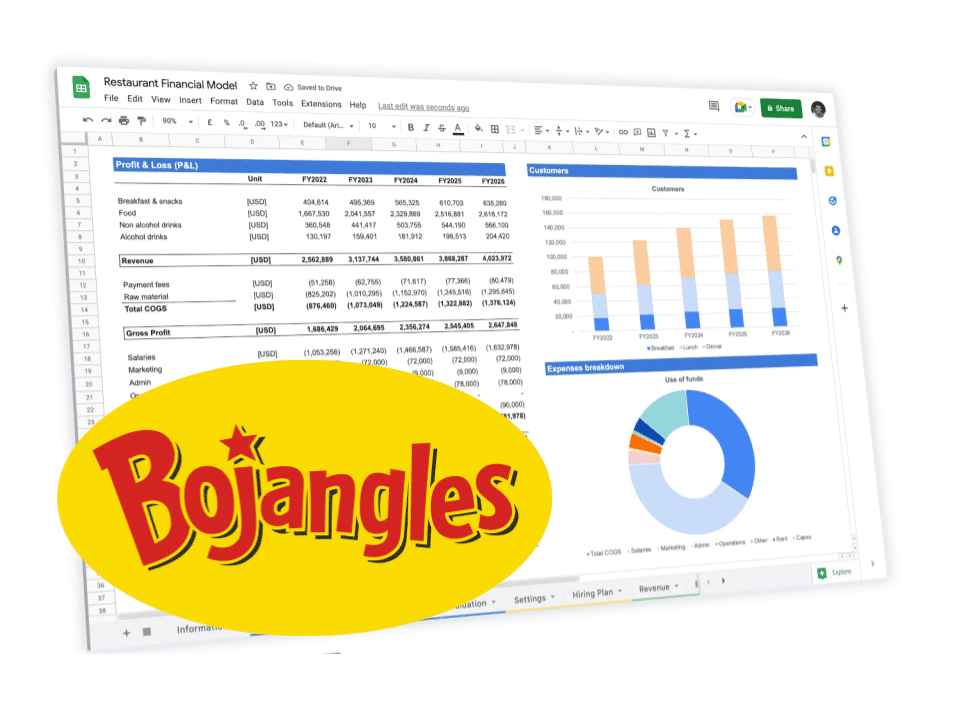 Download the Bojangles business plan and get your franchise funded
Including a 5-year financial plan built with the latest Franchise Disclosure Document numbers