BrightStar Care Franchise Sales, Costs & Profits (2023)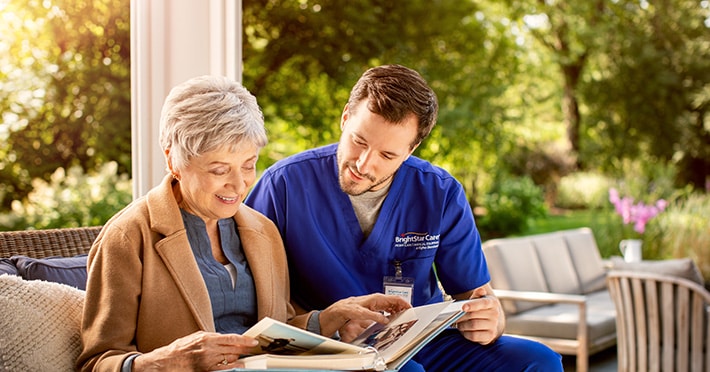 This article was updated with the 2023 Franchise Disclosure Document
With 362 franchised businesses in the US today, BrightStar Care is one of the leading senior home care franchises along with Visiting Angels, Comfort Keepers and the like.
At $153,000 BrightStar Care also has one of the most affordable initial investment cost. But what about the profits you can make as the franchisee?
This is where it gets interesting: we found that BrightStar Care has one of the highest revenue in the industry with $2,282,000 per year.
In this article we're looking at BrightStar Care franchises and their FDD to find out how much they (really) cost, and how much profits you can realistically make. Let's dive in!
Key stats
| | |
| --- | --- |
| Franchise fee | $50,000 |
| Royalty fee | 5.25-6.25% |
| Marketing fee | 2.5% |
| Investment (mid-point) | $153,000 |
| Average sales | $2,282,000 |
| Sales to investment ratio | 15x |
| Payback period | 3-4 years |
| Minimum net worth | $500,000 |
| Minimum liquid capital | $100,000 |
Source: Franchise Disclosure Document 2022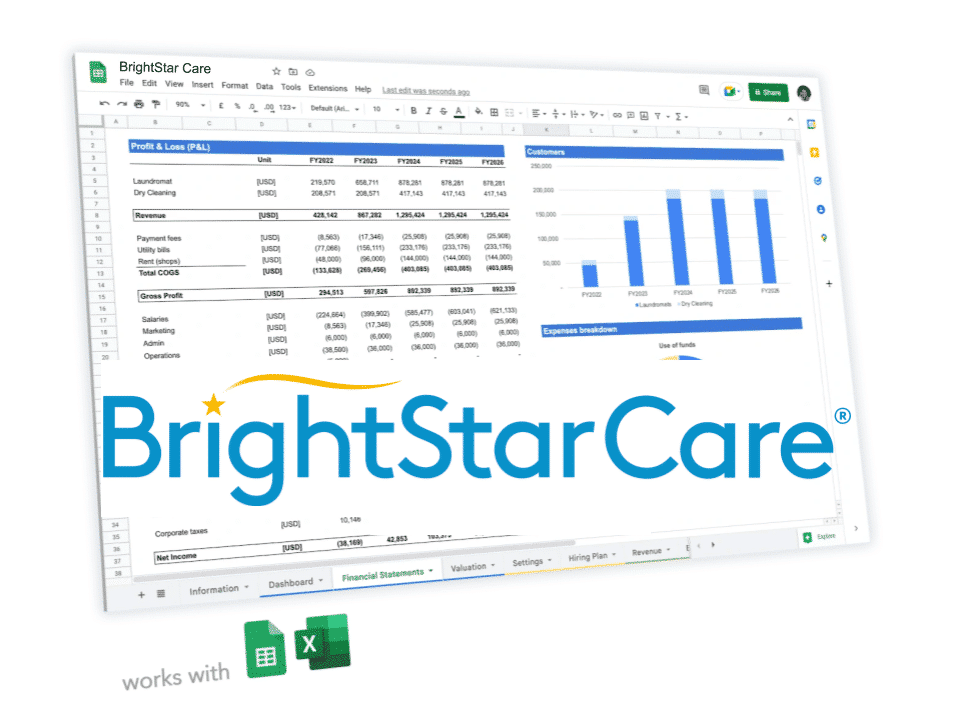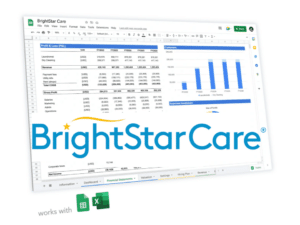 BrightStar Care Franchise Business Plan
All the stats: startup costs, profits, breakeven, etc.
5-year financial projections built with the FDD

Excellent 4.8/5 based on 70 reviews
Excellent 4.8/5 based on 70 reviews

About BrightStar Care
BrightStar Care is a chain of in-home care clinics headquartered in Gurnee, Illinois.
BrightStar Care was founded by Shelly Sun and her husband in 2002 to provide more dependable, supportive and complete in-home care to family members in the comfort and familiarity of home. The company began franchising in 2005 and by 2022, it had 362 franchises in the US.
BrightStar Care is now a well-recognized franchise in the provision of in-home care services such as companionship, hygiene, mobility assistance, in-home blood draws and skilled nursing care for people of all ages.
Today, BrightStar is an attractive business concept for franchisees and entrepreneurs, which sets it apart from the competition by having Joint Commission accreditation and offering continuum care to any age group, both infants and seniors.
BrightStar Care franchise: pros and cons
The Pros:
Multiple revenue streams: BrightStar Care provides its franchisees with multiple channels to maximize their revenues, such as home health care, companion care, skilled services, staffing, senior care, childcare and others.
Flexible business models: The franchise offers its franchisees the freedom to choose from its models, such as BrightStar Care, BrightStar Senior Living or BrightStar Care Homes, which gives them the freedom to operate what fits the available real estate and budgets.
Exclusive territory protection: The franchisor grants the franchisees the right to operate in a protected territory. Under the agreement, it does not authorize any other franchise or operate another BrightStar Care business in the designated area.
Third-party financing: The franchisor provides its franchisee with third-party financing for the franchise fee, startup costs, equipment, inventory, accounts receivable and payroll.
Pre-opening training and support: The franchisor offers its franchisees 20–40 hours of classroom training and 112 hours of on-the-job training to equip them with basics about BrightStar Care operations, sales and clinical business processes and compliance. In addition, it trains on a successful grand opening as well as field operations.
Marketing and publicity: BrightStar Care has detailed marketing systems to help franchisees with lead generation and record-high client retention rates. These include national media, web development, SEO, email marketing, social media, regional advertising and local market advertising campaigns.
The cons:
No absentee ownership: The franchise does not present a passive investment opportunity. Franchisees must take part in the day-to-day operations and running of their centers.
Not a part-time business: The franchise is required to open full-time following the standard business hours.
Not a mobile business: The franchise cannot be operated from home or a vehicle. The franchisees must have a fixed office space, retail facility or warehouse to operate from.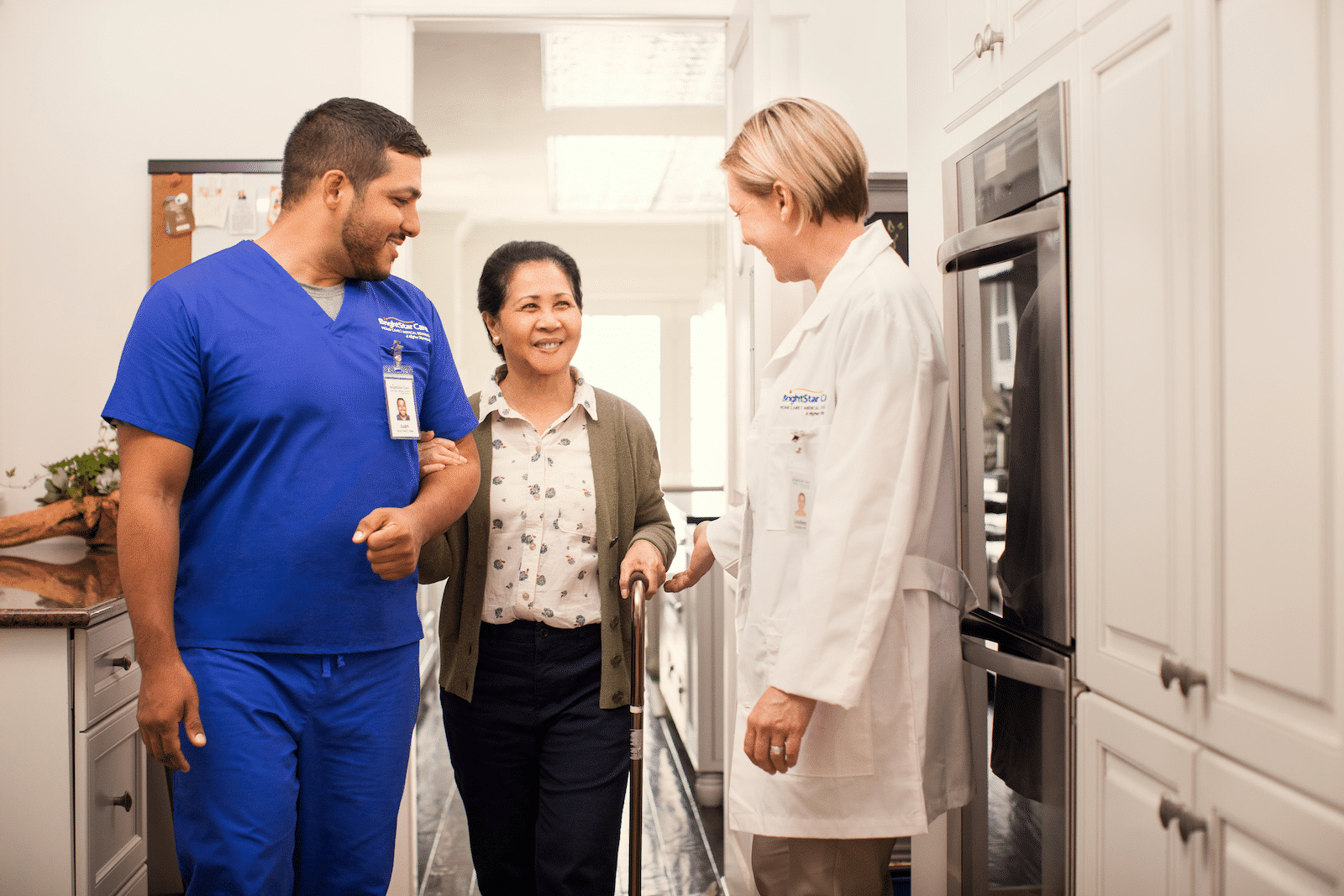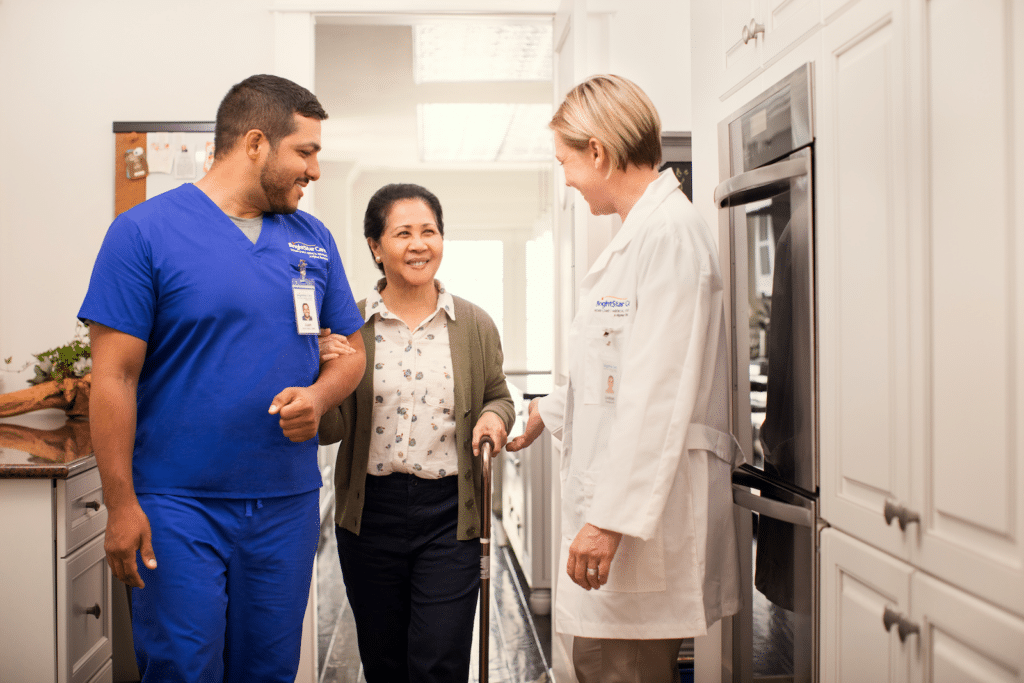 BrightStar Care franchise costs
You would have to invest an average of $153,000 to open a BrightStar Care franchised business.
The investment covers all the start-up costs you may need to open a BrightStar Care franchise business. You must pay the franchisor an initial franchise fee of $50,000.
In addition to this franchise fee, the investment also covers:
Formulation costs: utility deposit, furnishings, signage, business licenses, state licensure assistance, state electronic visit verification, director of nursing, legal fees, Joint Commission accreditation, etc.
Equipment: Computer infrastructure package
Initial marketing fees: marketing materials, local marketing spend
Operating costs: leased space for the agency, office supplies, printing, insurance, financial acumen training, recruitment spend, insurance, workers' compensation insurance, employee travel and living expenses, additional funds for 3 months, etc.
Startup costs
Here's the full breakdown of costs:
| Type of Expenditure | Amount |
| --- | --- |
| Initial franchise fee | $50,000 |
| Formulation costs | $4,900 – $39,517 |
| Equipment | $4,000 – $9,500 |
| Initial Marketing | $3,500 – $5,750 |
| Operating costs | $48,695 – $91,108 |
| Total | $111,095 – $195,875 |
Source: Franchise Disclosure Document 2023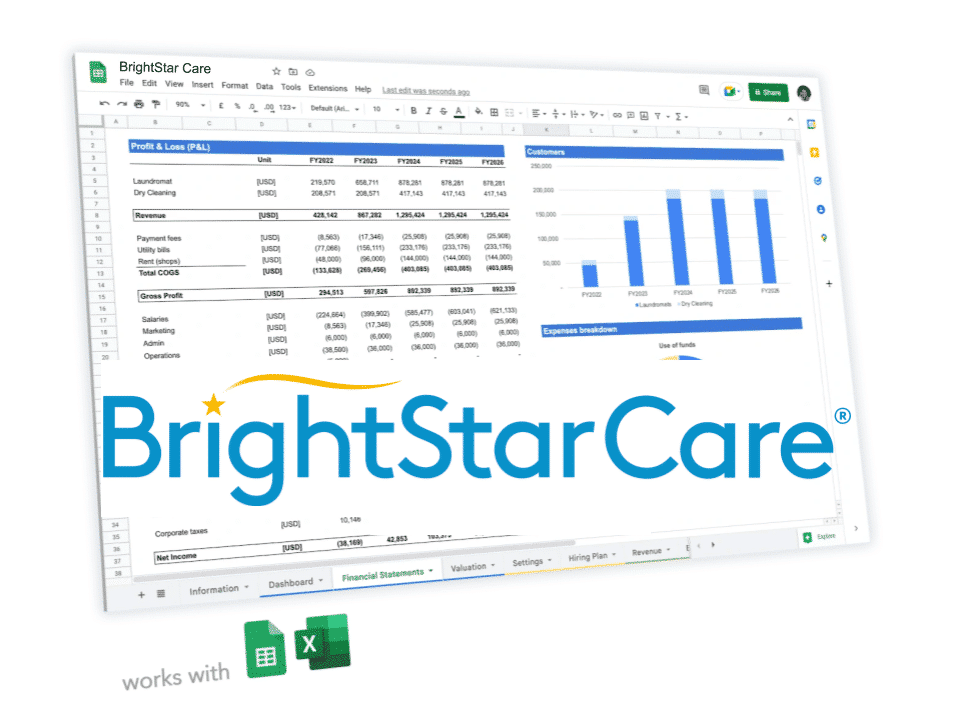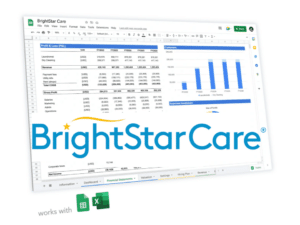 BrightStar Care Franchise Business Plan
All the stats: startup costs, profits, breakeven, etc.
5-year financial projections built with the FDD

Excellent 4.8/5 based on 70 reviews
Excellent 4.8/5 based on 70 reviews

BrightStar Care franchise fees
The initial franchise fee for a BrightStar Care franchise is $50,000
In addition to the initial franchise fee, you must pay to the franchisor a royalty fee of 5.25-6.25% of revenues, as well as a variable marketing fee of 2.5% of revenues.
BrightStar Care franchise revenue
On average, a BrightStar Care franchise makes $2,282,000 in sales per year.
This number is the average sales per franchised business for 185 of the 348 franchised businesses that operated in all of 2022.
However, note that revenue can vary significantly, ranging from $121,000 up to $11 million for the most successful franchises..! Here's the breakdown by quartile: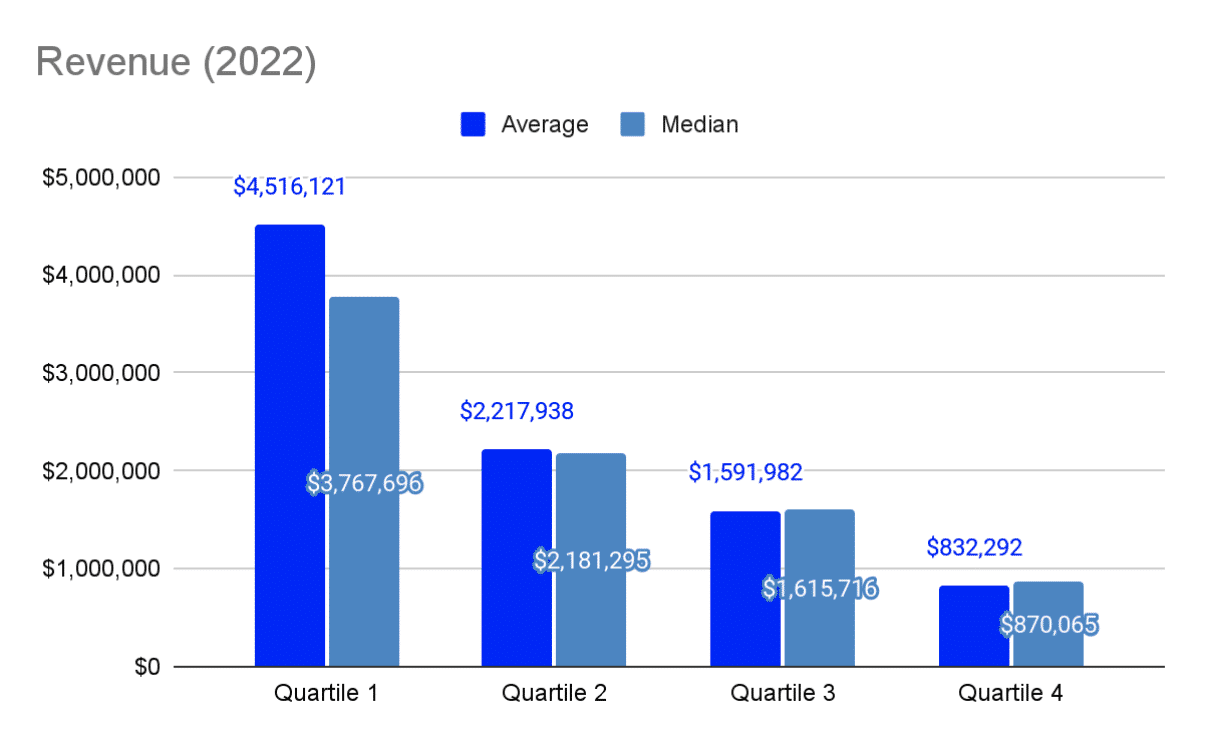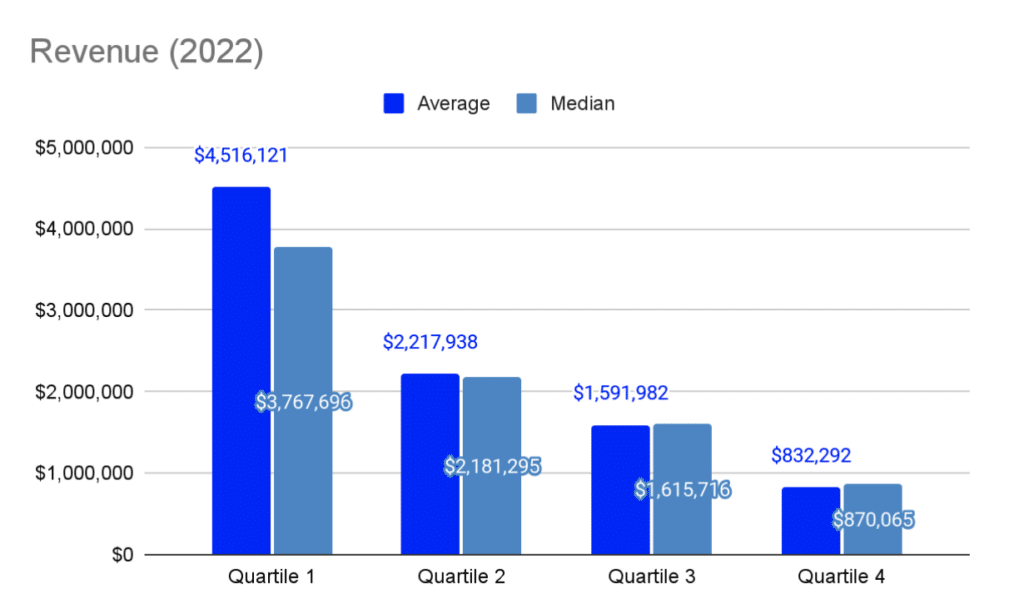 Is BrightStar Care a good franchise investment?
When we compare the initial investment you would have to make as the franchisee ($153,000 on average) to the future expected profits of the business (assuming 10% net profit margin), we find that BrightStar Care has an excellent payback of 3 to 4 years.
This is in line with most senior home care franchises.
This means that, on average, you would repay investors and creditors (banks) within 3 to 4 years by using the profits generated by the business. After that, you can reap the profits of your franchise.
Note that we also assumed a 2-year revenue ramp-up: indeed we conservatively assume you wouldn't reach the $2,282,000 average revenue on day one.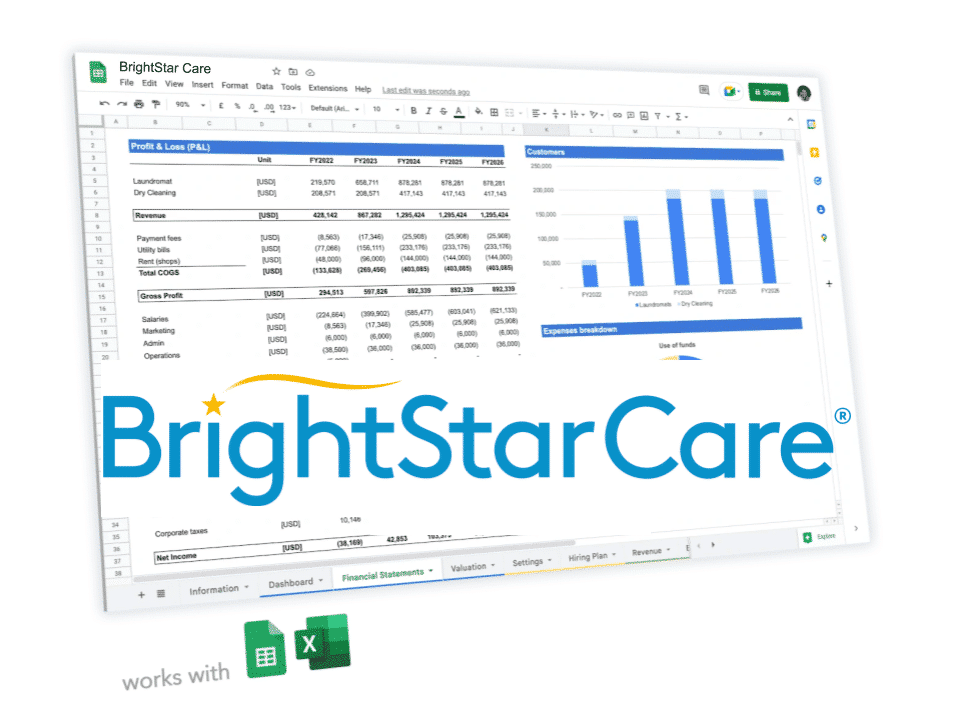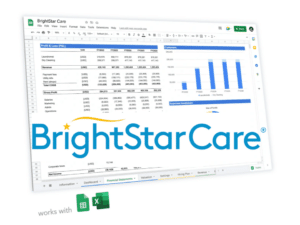 BrightStar Care Franchise Business Plan
All the stats: startup costs, profits, breakeven, etc.
5-year financial projections built with the FDD

Excellent 4.8/5 based on 70 reviews
Excellent 4.8/5 based on 70 reviews

Disclaimer
Disclaimer: This content has been made for informational and educational purposes only. We do not make any representation or warranties with respect to the accuracy, applicability, fitness, or completeness of the information presented in the article. You should not construe any such information or other material as legal, tax, investment, financial, or other professional advice. Nothing contained in this article constitutes a solicitation, recommendation, endorsement, advertisement, or offer to buy or sell any franchises, securities, or other financial instruments in this or in any other jurisdiction in which such solicitation or offer would be unlawful under the franchise and/or securities laws of such jurisdiction.
All content in this article is information of a general nature and does not address the detailed circumstances of any particular individual or entity. Nothing in the article constitutes professional and/or financial and/or legal advice, nor does any information in the article constitute a comprehensive or complete statement of the matters discussed or the law relating thereto. You alone assume the sole responsibility of evaluating the merits and risks associated with the use of any information or other content in this article before making any decisions based on such information or other content.