One of the very few seafood franchises, Captain D's is also one of the most popular: since they started to franchise in 1969 they have expanded to 540 restaurants across the US today.
With a relatively low competition and such a strong brand name, investing in a Captain D's franchise seems like a good idea. But before you go ahead, make sure to understand the financials.
Don't worry: we did the work for you in this article. With an average annual turnover of $1,067,816 and a 25% profit margin, it does seem like it's worth investing the initial required investment of $982,778. Want to know more? Let's dive in!
Captain D's franchises: key figures
| | |
| --- | --- |
| Franchise fee | $35,000 |
| Royalty fee | 4.5% |
| Marketing fee | 7.1% |
| Investment (mid-point) | $982,778 |
| Median annual sales | $1,067,816 |
| Investment to sales ratio | 1.1x |
| Investment payback* | 6.1 years (average) |
| Minimum net worth | $1,000,000 |
| Minimum liquid capital | $350,000 |
* using 15% net profit margin
🔎 How does Captain D's compare vs. other franchises? Check the ranking
What is Captain D's?
Captain D's is an American fast-food chain owned by private equity firm Sentinel Capital Partners, headquartered in Nashville, Tennessee.
The chain was founded on August 15, 1969, in Donelson, Tennessee, by Raymond L. Danner Sr. It began as Mr. D's Seafood and Hamburgers and changed into Captain D's in 1974.
It specializes in seafood and serves fried fish, shrimp, lobster, crab, and chicken meals, platters, and sandwiches. Captain D's began franchising in 1969 and has over 540 restaurants in the US.
Captain D's franchises: pros and cons
Pros
Pre-opening training: The franchisor offers franchisees comprehensive training on the business concept, products, operations, customer service, and staff management. It also trains the franchisees to carry out a successful grand opening and provides ongoing online training for staff to run their restaurants smoothly.
Real estate support: With an experienced real estate team, the brand offers franchisees expert real estate assistance whether building from scratch or converting an existing restaurant. Franchisees get expert advice on viable business locations, site selection, restaurant plans and approval, construction, and branding.
Multiple franchise options: The brand combines market-smart prototypes with its conversion efficiency, making restaurant development easy. It offers franchisees the drive-through and carryout-only format or the dine-in and drive-thru options to deliver sales-to-investment ratios.
Streamlined supply chain: The brand has a central supply chain. Franchisees can order supplies and inventory online and from a universal supply chain controlled by the franchisor. This guarantees the franchisees consistent, high-quality, and affordable seafood products that add value to their restaurants and customers.
Corporate and management support: The brand offers solid and continuous support to its franchisees to establish and operate their restaurants successfully. Also, franchisees get constant guidance from qualified brand managers and successful industry leaders. This is in form of meetings and conventions, safety and security procedures, seminars, and field operations.
Passive investment: The franchise allows for absentee ownership. Franchisees can run their restaurant alongside other investment ventures.
Cons
No exclusive territory protection: The franchisor does not grant the franchisees an exclusive territory to operate in. Franchisees can face competition from franchises granted by the parent company or from competitive channels it controls.
No franchise financing: The brand does not offer direct or indirect financing to franchisees. Also, it does not guarantee any lease, note, or grant for any lender.
How much does a Captain D's franchise cost?
To open a Captain D's franchise you would pay around $982,778 as the initial required investment, including an initial franchise fee of $35,000.
As the investment amount is an average, it may vary depending on the type of restaurant you choose. Indeed Captain D's offers different types of restaurants as a franchise:
44-seat Prototype ($1,052,700 – $1,231,400)
22-seat Prototype ($935,900 – 0$1,107,790)
Express Prototype ($709,800 – $859,080)
How does the payment help you to open a new restaurant? Well, the initial investment helps you as a kick-start for your new business. This means the investment amount covers all types of startup costs needed to begin a restaurant.
Indeed, in addition to the $35,000 initial franchise fee you would also pay for:
Formation costs: real estate, building, leasehold improvements, training expenses, equipment, computer systems, etc.
Pre-opening costs: incorporation fees, legal fees, business license fees, utility deposits, etc.
Operating costs: inventory, insurance, and working capital for the first 3 months.
| Type of cost | Low | High |
| --- | --- | --- |
| Initial Franchise Fee | $35,000 | $35,000 |
| Formation Costs | $838,900 | $940,790 |
| Pre-Opening Costs | $5,000 | $9,000 |
| Operating Costs | $57,000 | $123,000 |
| Total | $935,900 | $1,107,790 |
Source: Franchise Disclosure Document
What's the turnover of a Captain D's restaurant?
On average, a Captain D's franchise makes $1,067,816 in sales per year.
The sales number is the annual average sales of all franchised restaurants operating in 2021.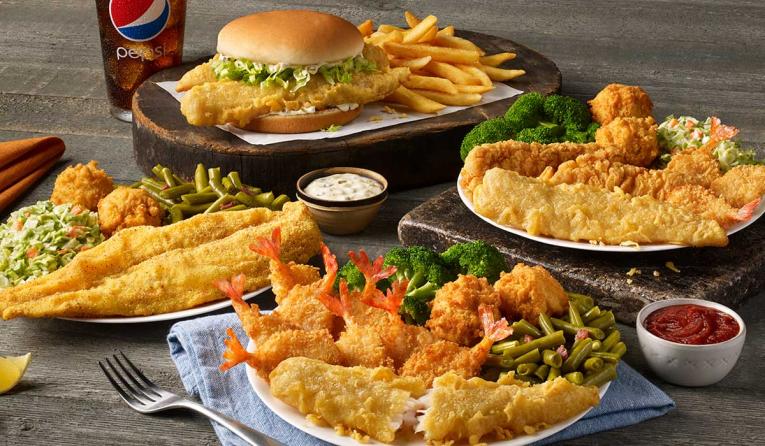 How profitable is a Captain D's franchise?
An average Captain D's franchise makes $271,225 in profits per year. This represents an adjusted EBITDA margin of 25% of sales.
The 25% adjusted EBITDA margin is in line compared to similar franchises as per our intelligence (~25-27% industry average). Although the labor cost is lower (25% sales vs 29% industry average), but the COGS is higher (30% vs 25%), and as a result, the margin is in line.
Note that Captain D's doesn't disclose any financial information about franchised restaurants regarding costs, neither they disclose any information on rent. Indeed, we had to use the industry average for rent (8%) and company-owned restaurant data for COGS and labor costs.
| Profit-and-loss | Amount ($) | % sales |
| --- | --- | --- |
| Sales | $1,067,816 | 100% |
| COGS | $(320,345) | 30.0% |
| Labor | $(266,954) | 25.0% |
| Rent | $(85,425) | 8.0%* |
| Royalty + marketing fees | $(123,867) | 11.6% |
| Adjusted EBITDA | $271,225 | ~25% |
Source: Franchise Disclosure Document
Is a Captain D's franchise a good investment?
So with that in mind, should you invest in a Captain D's franchised restaurant? Are the future profits worth investing $982,778 upfront?
To answer this question, we must look at the payback period: the number of years it takes for an investment (like buying a franchise) to repay itself with the profits.
We found that the payback period for Captain D's is 6.1 years on average. This is a good payback and therefore a good investment. Think about it: it would take you only 6 years to reimburse your investors, the bank and/or yourself with the future profits of the business.
Want to start your own Captain D's franchised restaurant? When applying, make sure to prepare a set of pro forma financial statements. Save time and download our business plan template below, including 5-year financial projections with all you need to get your franchise funded.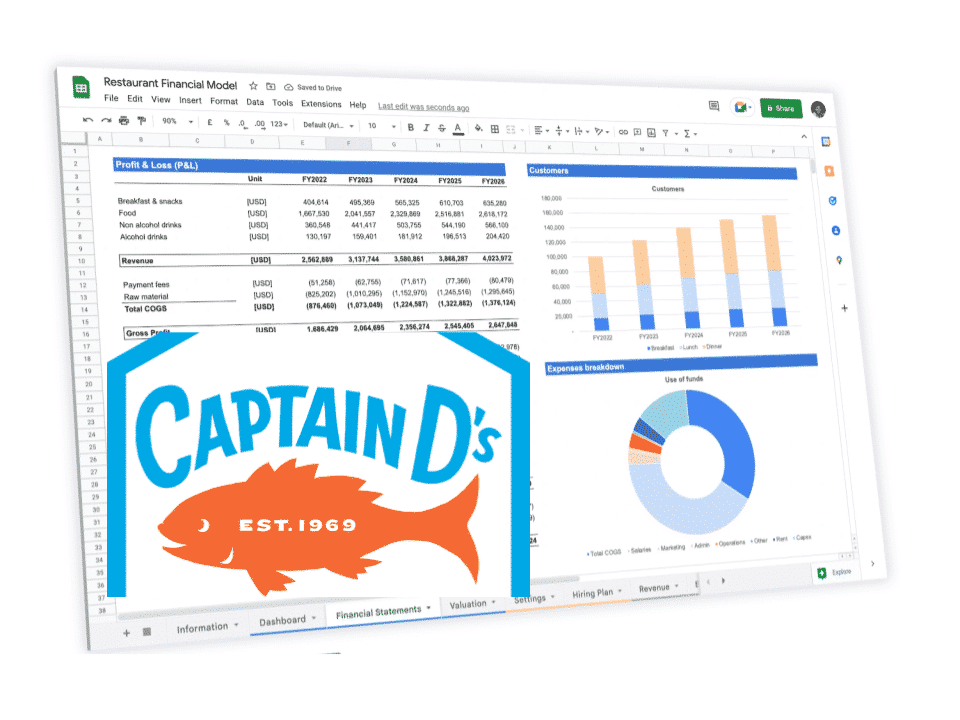 Download the Captain D's franchise business plan and get your franchise funded
Including a 5-year financial plan built with the latest Franchise Disclosure Document numbers
How does it compare vs. other franchises?
Franchise
Investment ($)
Sales ($)
S/I Ratio
Payback (years)
Min. net worth ($)
Min. liquid capital ($)
Chick-Fil-A
https://sharpsheets.io/blog/chick-fil-a-franchise-costs-profits/
Chicken
1,363,510
4,227,417
3.1
2.2
-
-
Dunkin' Donuts
https://sharpsheets.io/blog/dunkin-donuts-franchise-costs-profits/
Donuts
779,000
1,056,521
1.4
4.9
500,000
250,000
Domino's
https://sharpsheets.io/blog/dominos-franchise-profits-costs/
Pizza
398,725
1,286,428
3.2
3.9
250,000
75,000
Krispy Kreme
https://sharpsheets.io/blog/krispy-kreme-franchise-costs-profits/
Donuts
824,000
3,400,000
4.1
1.6
2,000,000
300,000
Little Caesars
https://sharpsheets.io/blog/little-caesars-franchise-costs-profits/
Pizza
1,022,850
798,113
0.8
8.5
350,000
150,000
Wingstop
https://sharpsheets.io/blog/wingstop-franchise-costs-profits/
Chicken
631,695
1,460,459
2.3
2.9
1,200,000
600,000
Steak 'n Shake
https://sharpsheets.io/blog/steak-n-shake-franchise-costs-profits/
Burger, Milshakes
815,626
1,346,332
1.7
4.0
1,500,000
500,000
Crumbl Cookies
https://sharpsheets.io/blog/crumbl-cookie-franchise-cost-profits/
Sweets
507,224
1,582,090
3.1
2.1
300,000
150,000
Taco Bell
https://sharpsheets.io/blog/taco-bell-franchise-costs-profits/
Mexican
462,413
1,650,000
3.6
1.9
1,500,000
750,000
Popeyes
https://sharpsheets.io/blog/popeyes-franchise-costs-profits/
Chicken
1,095,783
1,444,617
1.3
5.1
1,000,000
500,000
Smoothie King
https://sharpsheets.io/blog/smoothie-king-franchise-costs-profits/
Smoothie
688,108
573,269
0.8
8.0
300,000
100,000
Jersey Mike's
https://sharpsheets.io/blog/jersey-mikes-franchise-costs-profits/
Sandwich
574,323
1,220,586
2.1
4.7
300,000
100,000
Nothing Bundt Cakes
https://sharpsheets.io/blog/nothing-bundt-cakes-franchise-costs-profits/
Sweets
538,650
1,307,280
2.4
2.7
600,000
150,000
Jimmy John's
https://sharpsheets.io/blog/jimmy-johns-franchise-costs-profits/
Sandwich
513,650
874,845
1.7
3.9
300,000
80,000
Texas Roadhouse
https://sharpsheets.io/blog/texas-roadhouse-franchise-costs-profits/
Steakhouse
4,209,500
2,955,534
0.7
9.5
n.a.
200,000
Kung Fu Tea
https://sharpsheets.io/blog/kung-fu-tea-franchise-costs-profits/
Bubble tea
250,125
353,237
1.4
4.7
n.a.
25,000
Wendy's
https://sharpsheets.io/blog/wendys-franchise-cost-profits/
Burger
1,374,833
1,791,231
1.3
5.1
1,000,000
500,000
Burger King
https://sharpsheets.io/blog/burger-king-franchise-costs-profits/
Burger
1,242,950
1,215,970
1.0
6.8
1,500,000
500,000
Sonic Drive-In
https://sharpsheets.io/blog/sonic-drive-in-franchise-costs-profits/
Burger
1,467,083
1,617,000
1.1
6.0
1,000,000
500,000
Panera Bread
https://sharpsheets.io/blog/panera-bread-franchise-costs-profits/
Sandwich
2,290,500
2,599,432
1.1
5.9
7,500,000
3,000,000
Pizza Hut
https://sharpsheets.io/blog/pizza-hut-franchise-costs-profits/
Pizza
935,575
906,911
1.0
6.9
700,000
350,000
KFC
https://sharpsheets.io/blog/kfc-franchise-costs-profits/
Chicken
1,802,050
1,567,474
0.9
7.7
1,500,000
750,000
Arby's
https://sharpsheets.io/blog/arbys-franchise-costs-profits/
Sandwich
1,184,975
1,126,263
1.0
7.0
1,000,000
500,000
Dairy Queen
https://sharpsheets.io/blog/dairy-queen-franchise-costs-profits/
Ice Cream
1,404,220
1,143,180
0.8
8.2
750,000
400,000
Jack in the Box
https://sharpsheets.io/blog/jack-in-the-box-franchise-costs-profits/
Burger
2,195,800
1,755,503
0.8
12.5
1,000,000
250,000
Papa John's
https://sharpsheets.io/blog/papa-johns-franchise-costs-profits/
Pizza
353,695
1,101,127
3.1
2.1
750,000
250,000
Zaxby's
https://sharpsheets.io/blog/zaxbys-franchise-costs-profits/
Chicken
534,750
2,229,187
4.2
2.4
1,000,000
500,000
Hardee's
https://sharpsheets.io/blog/hardees-franchise-costs-profits/
Burger
1,759,000
1,147,975
0.7
10.2
1,000,000
300,000
Culver's
https://sharpsheets.io/blog/culvers-franchise-costs-profits/
Burger
4,044,500
3,051,762
0.8
8.8
2,000,000
350,000
Five Guys
https://sharpsheets.io/blog/five-guys-franchise-costs-profits/
Burger
511,225
1,203,366
2.4
2.8
500,000
250,000
Carl's Jr.
https://sharpsheets.io/blog/carls-jr-franchise-costs-profits/
Burger
1,860,335
1,419,516
0.8
8.7
1,000,000
500,000
Baskin-Robbins
https://sharpsheets.io/blog/baskin-robbins-franchise-costs-profits/
Ice Cream
465,100
316,815
0.7
9.8
250,000
125,000
IHOP
https://sharpsheets.io/blog/ihop-franchise-costs-profits/
Pancakes
2,058,302
1,553,311
0.8
8.8
1,500,000
500,000
Applebee's
https://sharpsheets.io/blog/applebees-franchise-costs-profits/
Casual American
5,137,966
2,356,965
0.5
14.5
1,000,000
500,000
Denny's
https://sharpsheets.io/blog/dennys-franchise-costs-profits/
Casual American
3,785,459
1,639,549
0.4
15.4
1,000,000
500,000
Papa Murphy's
https://sharpsheets.io/blog/papa-murphys-franchise-costs-profits/
Pizza
433,174
580,441
1.3
5.0
275,000
125,000
Auntie Anne's
https://sharpsheets.io/blog/auntie-annes-franchise-costs-profits/
Pretzels
229,692
343,135
1.5
5.6
300,000
100,000
Firehouse Subs
https://sharpsheets.io/blog/firehouse-subs-franchise-costs-profits/
Sandwich
613,186
888,356
1.4
4.6
350,000
100,000
Tropical Smoothie Cafe
https://sharpsheets.io/blog/tropical-smoothie-cafe-franchise-costs-profits/
Smoothie
430,500
961,969
2.2
3.0
350,000
125,000
Marco's Pizza
https://sharpsheets.io/blog/marcos-pizza-franchises-costs-profits/
Pizza
437,625
895,523
2.0
3.3
400,000
100,000
Cinnabon
https://sharpsheets.io/blog/cinnabon-franchises-costs-profits/
Sweets
276,062
394,897
1.4
5.8
300,000
120,000
Cold Stone Creamery
https://sharpsheets.io/blog/cold-stone-creamery-franchise-costs-profits/
Ice Cream
310,956
417,588
1.3
5.0
250,000
100,000
Jamba
https://sharpsheets.io/blog/jamba-franchise-costs-profits/
Smoothie
414,562
597,028
1.4
7.7
300,000
100,000
Church's Chicken
https://sharpsheets.io/blog/churchs-texas-chicken-fees-sales-costs/
Chicken
1,195,147
1,395,088
1.2
5.7
1,000,000
300,000
Moe's Southwest Grill
https://sharpsheets.io/blog/moes-southwest-grill-franchises-costs-profits/
Mexican
792,370
1,013,361
1.3
5.2
1,000,000
100,000
Tim Hortons
https://sharpsheets.io/blog/tim-hortons-franchises-costs-profits/
Coffee
1,242,750
1,188,240
1.0
7.0
500,000
100,000
Checkers & Rally's
https://sharpsheets.io/blog/checkers-franchises-profits-sales-costs/
Burger
837,847
1,039,773
1.2
5.4
750,000
250,000
Charleys Philly Steaks
https://sharpsheets.io/blog/charleys-philly-steaks-costs-profits/
Sandwich
509,806
786,233
1.5
4.3
500,000
100,000
Buffalo Wild Wings
https://sharpsheets.io/blog/buffalo-wild-wings-costs-profits/
Chicken
3,546,900
2,534,148
0.7
9.3
1,500,000
750,000
Rita's Ice
https://sharpsheets.io/blog/ritas-ice-franchise-costs-profits/
Ice Cream
215,839
248,340
1.2
5.8
300,000
100,000
A&W Restaurants
https://sharpsheets.io/blog/aw-restaurants-franchises-costs-profits/
Burger
786,750
851,212
1.1
6.2
350,000
150,000
Hungry Howie's Pizza
https://sharpsheets.io/blog/hungry-howies-pizza-franchise-costs-profits/
Pizza
419,682
806,899
1.9
3.5
750,000
200,000
Bojangles
https://sharpsheets.io/blog/bojangles-franchise-costs-profits/
Chicken
1,658,000
1,801,057
1.1
6.1
1,000,000
500,000
McAlister's Deli
https://sharpsheets.io/blog/mcalister-deli-franchise-costs-profits/
Sandwich
1,424,963
1,865,861
1.3
5.1
1,000,000
500,000
Round Table Pizza
https://sharpsheets.io/blog/round-table-pizza-franchise-costs-profits/
Pizza
783,250
1,037,816
1.3
5.0
500,000
200,000
Qdoba Mexican Eats
https://sharpsheets.io/blog/qdoba-mexican-eats-franchise-costs-profits/
Mexican
659,250
972,962
1.5
4.5
Freddy's
https://sharpsheets.io/blog/freddys-franchise-costs-profits/
Burger
1,453,040
1,792,929
1.2
5.4
1,000,000
400,000
Taco John's
https://sharpsheets.io/blog/taco-johns-franchise-costs-profits/
Mexican
1,119,000
1,124,980
1.0
6.6
1,000,000
400,000
Scooter's Coffee
https://sharpsheets.io/blog/scooters-coffee-franchise-costs-profits/
Coffee
1,143,250
797,101
0.7
9.6
500,000
200,000
Einstein Bros. Bagels
https://sharpsheets.io/blog/einstein-bros-bagels-franchise-costs-profits/
Sandwich
750,075
885,011
1.2
5.7
1,000,000
536,500
Great American Cookies
https://sharpsheets.io/blog/great-american-cookies-franchise-costs-profits/
Sweets
385,275
452,771
1.2
5.7
250,000
100,000
Wienerschnitzel
https://sharpsheets.io/blog/wienerschnitzel-franchise-costs-profits/
Hot dogs
873,300
880,980
1.0
6.6
600,000
250,000
Blaze Pizza
https://sharpsheets.io/blog/blaze-pizza-franchise-costs-profits/
Pizza
865,450
1,096,432
1.3
7.9
500,000
300,000
Wetzel's Pretzels
https://sharpsheets.io/blog/wetzels-pretzels-franchise-costs-profits/
Pretzels
377,571
748,857
2.0
3.4
300,000
50,000
Pizza Ranch
https://sharpsheets.io/blog/pizza-ranch-franchise-costs-profits/
Pizza
3,268,300
1,174,088
0.4
18.6
1,000,000
297,000
Del Taco
https://sharpsheets.io/blog/del-taco-franchise-costs-profits/
Mexican
1,406,850
1,345,341
1.0
7.0
2,000,000
500,000
Schlotzsky's
https://sharpsheets.io/blog/schlotzskys-franchises-costs-profits/
Healthy, Salads
1,102,933
1,053,333
0.3
22.2
1,000,000
300,000
Captain D's
https://sharpsheets.io/blog/captain-ds-franchise-profits-costs/
Seafood
982,778
1,067,816
0.4
19.0
1,000,000
350,000
Biggby Coffee
https://sharpsheets.io/blog/biggby-coffee-franchise-profits-costs/
Coffee
310,575
648,352
0.3
20.0
300,000
100,000
Which Wich
https://sharpsheets.io/blog/which-wich-franchises-profits-costs/
Sandwich
330,375
281,886
0.3
22.2
500,000
150,000
Marble Slab Creamery
https://sharpsheets.io/blog/marble-slab-franchises-costs-profits/
Ice Cream
407,360
251,052
0.4
16.7
250,000
100,000
Mountain Mike's Pizza
https://sharpsheets.io/blog/mountain-mikes-franchise-profits-costs/
Pizza
410,900
865,713
0.3
20.0
300,000
100,000
Huddle House
https://sharpsheets.io/blog/huddle-house-franchise-cost-profits/
Diner
988,743
712,428
0.5
13.3
600,000
300,000
L&L Hawaiian Barbecue
https://sharpsheets.io/blog/ll-hawaiian-barbecue-franchises-costs-profits/
BBQ
334,350
612,921
0.3
33.3
500,000
150,000
Chicken Salad Chick
https://sharpsheets.io/blog/chicken-salad-chick-franchises-costs-profits/
Healthy, Salads
651,000
1,202,020
0.3
20.0
750,000
250,000
Golden Chick
https://sharpsheets.io/blog/golden-chick-franchises-costs-profits/
Chicken
362,975
917,609
2.5
2.6
2,000,000
425,000
Perkins
https://sharpsheets.io/blog/perkins-franchise-costs-profits/
Diner
1,922,728
1,729,246
0.9
7.4
1,500,000
500,000
Waba Grill
https://sharpsheets.io/blog/waba-grill-franchises-costs-profits/
Teryaki
454,000
466,536
1.0
6.5
1,000,000
250,000
Bruster's Ice Cream
https://sharpsheets.io/blog/brusters-franchises-profits-costs/
Ice Cream
663,925
466,696
0.7
9.5
375,000
150,000