Chick-Fil-A Franchises: Sales, Costs & Profits (2023)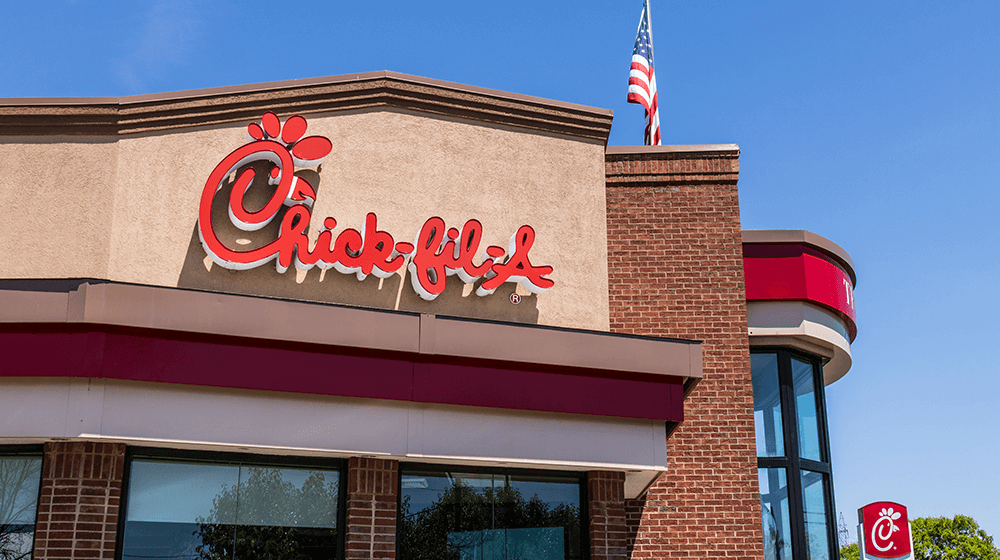 This article was updated with the 2023 Franchise Disclosure Document
With 1,976 franchise restaurants across the US and Canada, yet one of the most difficult application process, you may wonder whether opening a Chick-Fil-A franchise is a good investment.
In this article we'll look at the financials of Chick-Fil-A franchises by using the latest FDD numbers. We'll look into questions like: how much sales you can expect to make, and more importantly, how profitable this franchise really is.
Key stats
| | |
| --- | --- |
| Franchise fee | $10,000 |
| Royalty fee | 15.0% |
| Marketing fee | 3.25% |
| Investment (mid-point) | $1,661,000 |
| Average sales | $8,072,000 |
| Sales to investment ratio | 4.9x |
| Payback period* | 2-3 years |
| Minimum net worth | - |
| Minimum liquid capital | - |
* using 15% net profit margin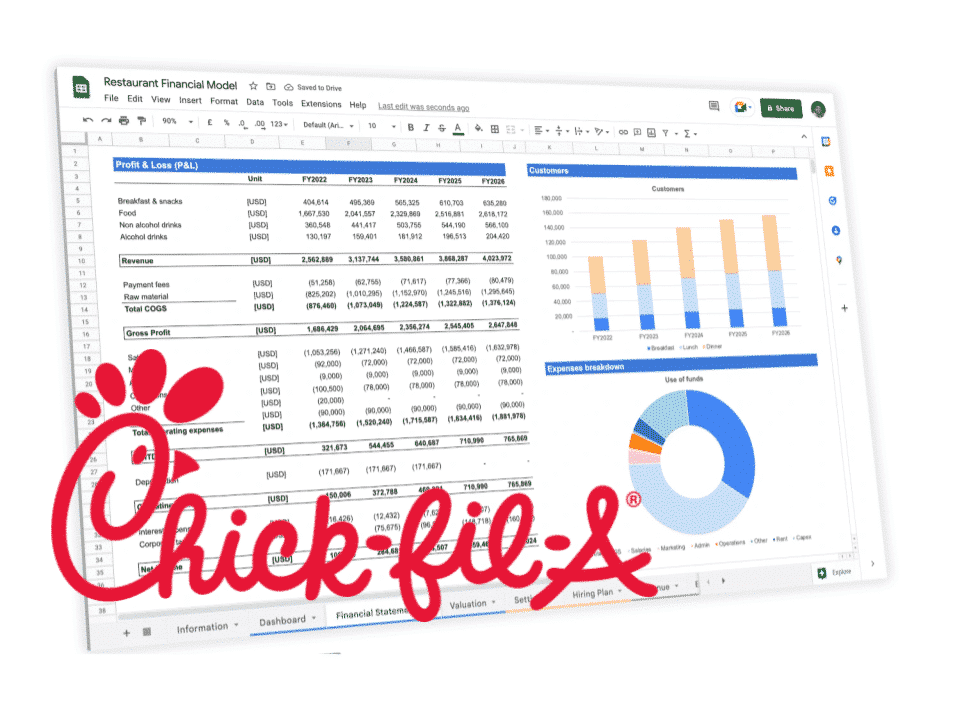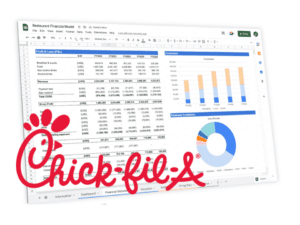 Chick-Fil-A Franchise Business Plan
All the stats: startup costs, profits, breakeven, etc.
5-year financial projections built with the FDD

Excellent 4.8/5 based on 70 reviews
Excellent 4.8/5 based on 70 reviews

Chick-Fil-A: a brief introduction
Chick-fil-A is an American fast food restaurant chain. It is one of the largest and the largest fast food restaurant chain specializing in chicken sandwiches. There are 2,873 restaurants operated by the brand, most of which are located in the United States.
Except for Alaska, Vermont, and Hawaii, Chick-fil-A operates in 47 US states and Washington D.C. Outside of America, the company has several restaurants operating in Canada.
Before Chick-fil-A came into existence, the founder S. Truett Cathy founded Dwarf House in 1946, which primarily focused on steaks and hamburgers. Today, there are 12 Dwarf House restaurants operational in the US. Chick-fil-A was founded in 1967 after Dwarf House became a success. The first Chick-fil-A restaurant was opened in Atlanta.
Apart from chicken sandwich, grilled nuggets are one of the most popular menu items of Chick-fil-A, and the company spent a whopping $50 million dollars and 7 years to perfect the recipe. Most of the money went into designing a special grill by Chick-fil-A scientists.
Chick-fil-A is a privately owned company, and it will never go public because of the last wish of the founder. Cathy actually signed a contract with his children which dictates that the chain will remain a private company, but his children have the freedom to sell off the company.
According to Zippia, Chick-fil-A has 35,574 employees and the company clocked a revenue of $11.3 billion in 2021.
Chick-Fil-A franchise: pros and cons
Chick-fil-A franchise comes with various advantages and disadvantages. Here is a quick rundown of the pros and cons you must be aware of:
Pros
Offers development courses and multi-week training program to provide support to their franchisees
Franchise fee is much lower than the competitors
Chick-fil-A takes care of the startup costs such as real estate, construction, etc.
The company will provide all equipment you will need to run your franchise efficiently
You don't need to have any prior restaurant experience
You must keep the store closed on Sundays to maintain a proper work-life balance
Cons
You cannot select the restaurant site. The company will do that for you. The company will not even entertain suggestions from you
You cannot run multiple units (stores) at once
The real estate and all property will be owned by Chick-fil-A, which means you cannot sell it and you cannot hand it over to your next generation
You must be a hands-on-operator, which means, you cannot open a Chick-fil-A restaurant as a passive investor
You cannot pursue other business ventures while running a Chick-fil-A franchise. You must give your full commitment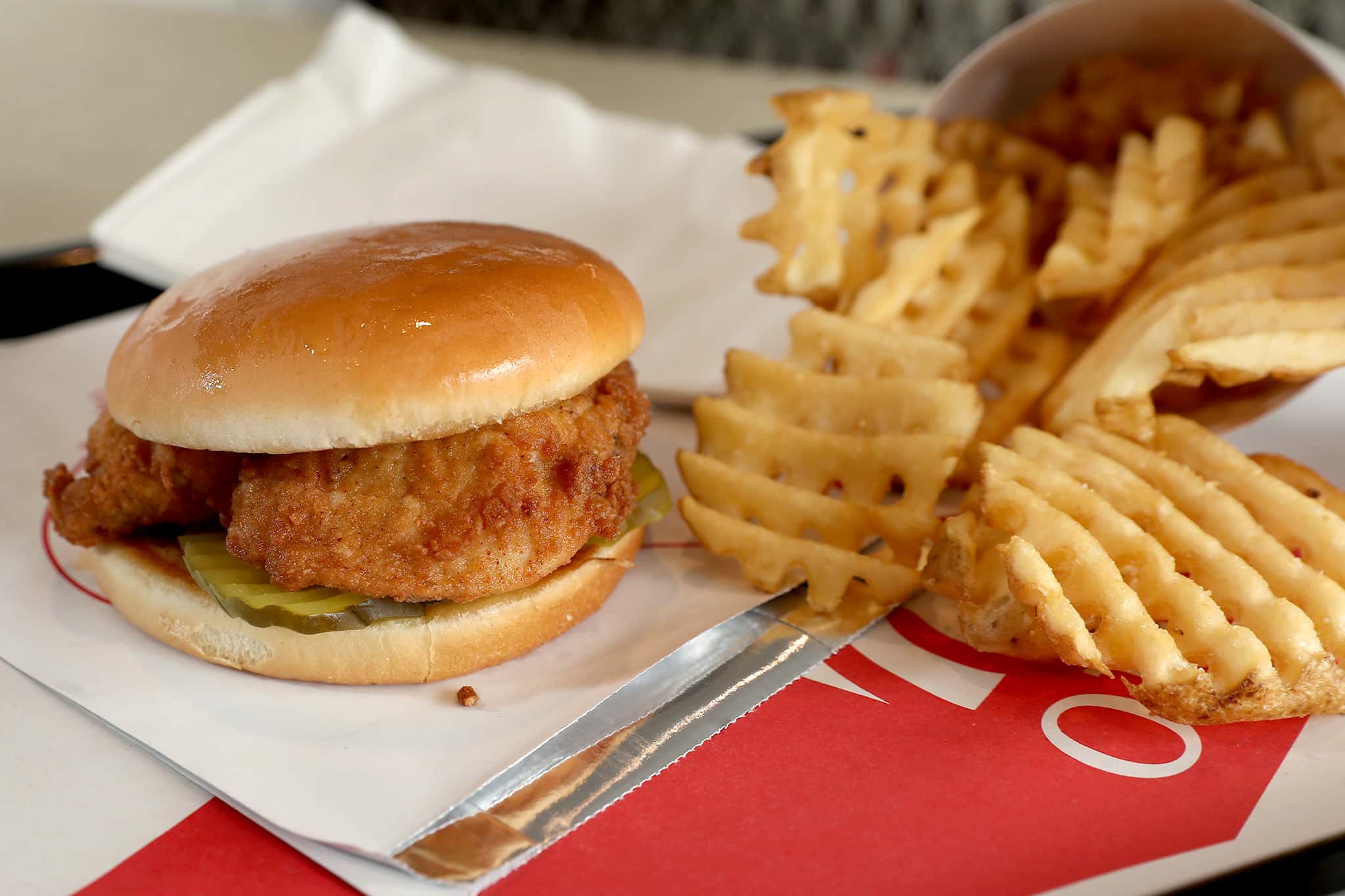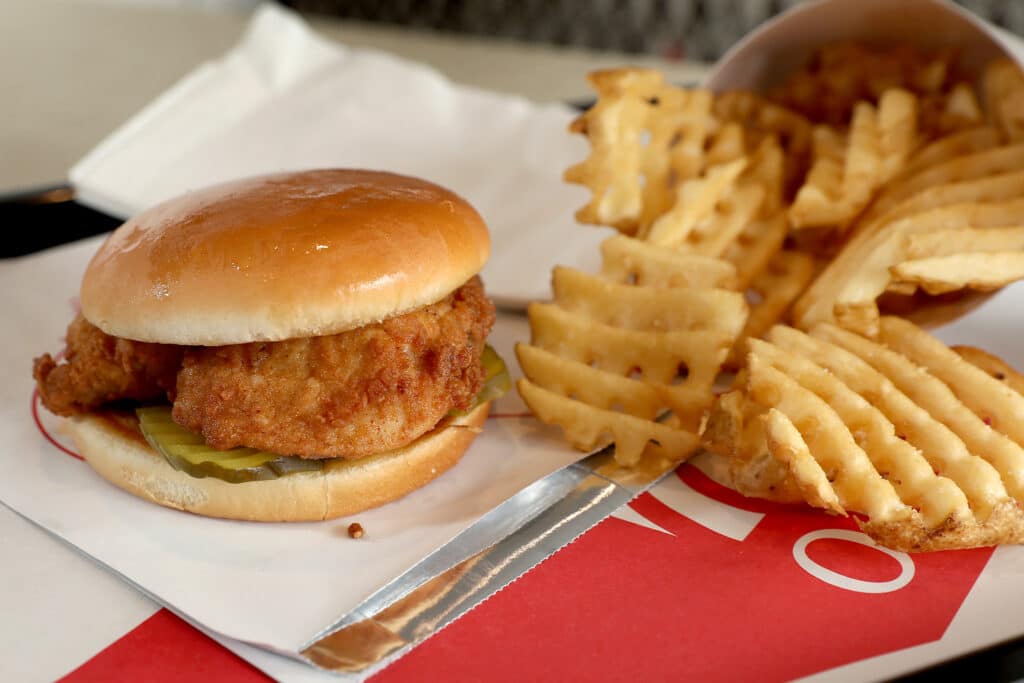 How much does it cost to open a Chick-Fil-A franchise?
The franchise fee you must pay to Chick-Fil-A to open a new franchise is quite low vs. other quick-service restaurants. Indeed, the franchise fee only costs $10,000 to the franchisee.
How much you need to invest?
The average amount you need to invest as the franchisee is $1,661,000, which also includes the initial franchise fee of $10,000.
Although, it is just an average, the amount can vary based on many reasons such as: location, size or type of the restaurant, etc. As per the latest FDD, the investment ranges from a minimum of $518,000 to a maximum of $2,804,000.
This investment amount reflects everything a business needs at the start. It is the sum of expenses like opening inventory, the first month's rental of equipment, lease, insurance, and additional funds for operations to sustain losses the first few months.
Source: Franchise Disclosure Document 2023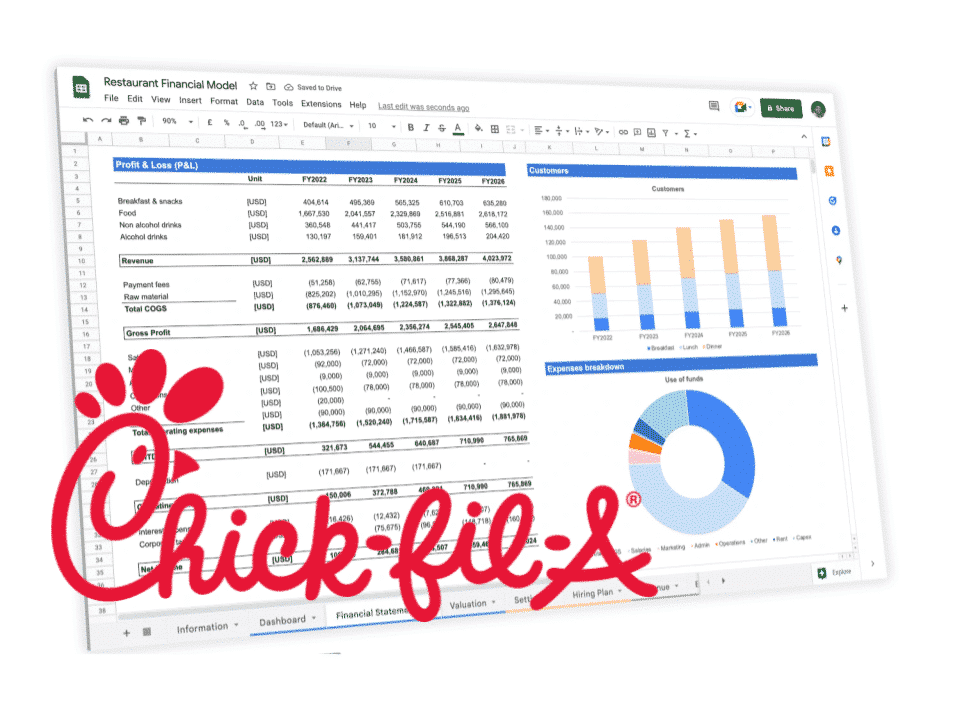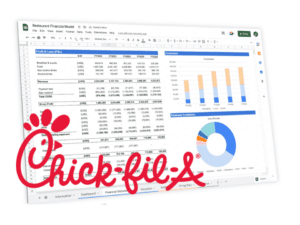 Chick-Fil-A Franchise Business Plan
All the stats: startup costs, profits, breakeven, etc.
5-year financial projections built with the FDD

Excellent 4.8/5 based on 70 reviews
Excellent 4.8/5 based on 70 reviews

What is the turnover of a Chick-Fil-A franchise?
On average, a Chick-Fil-A franchise makes $8,072,000 in sales per year.
This number vary depending on whether the restaurant is located within a mall ($2,694,000) or not ($8,581,000). In other words, restaurants that aren't located in a mall tend to have a turnover 4x times higher vs. mall units.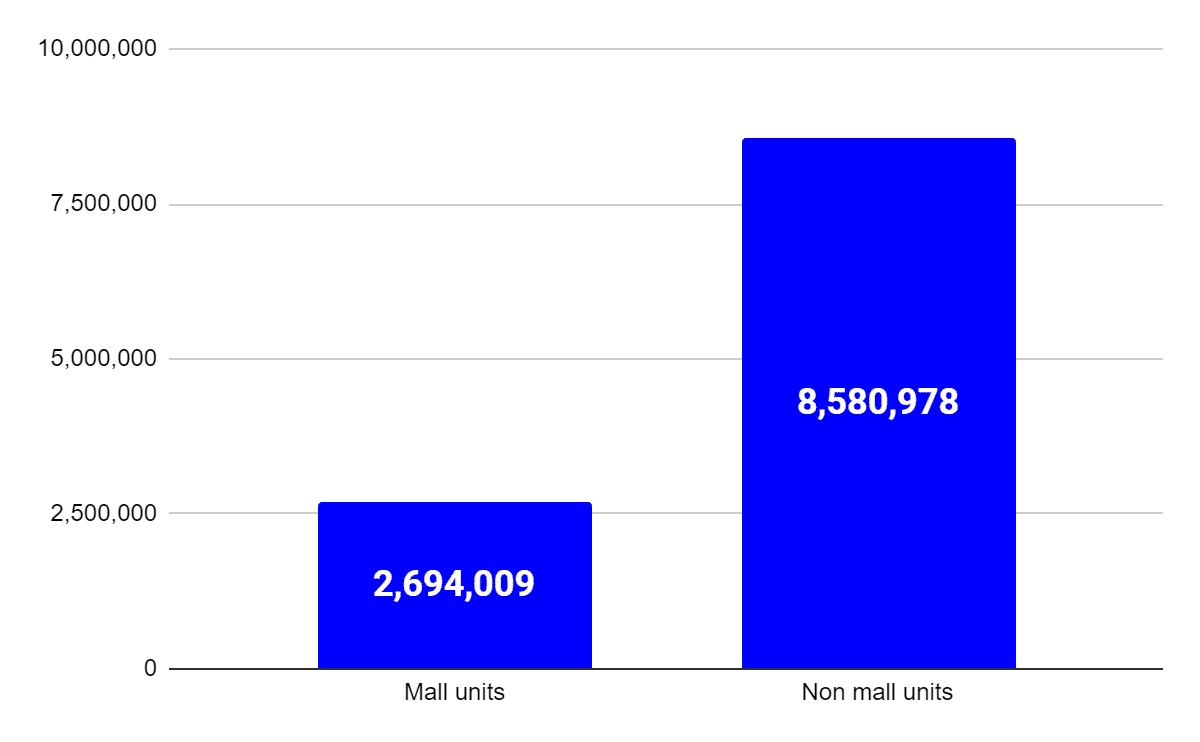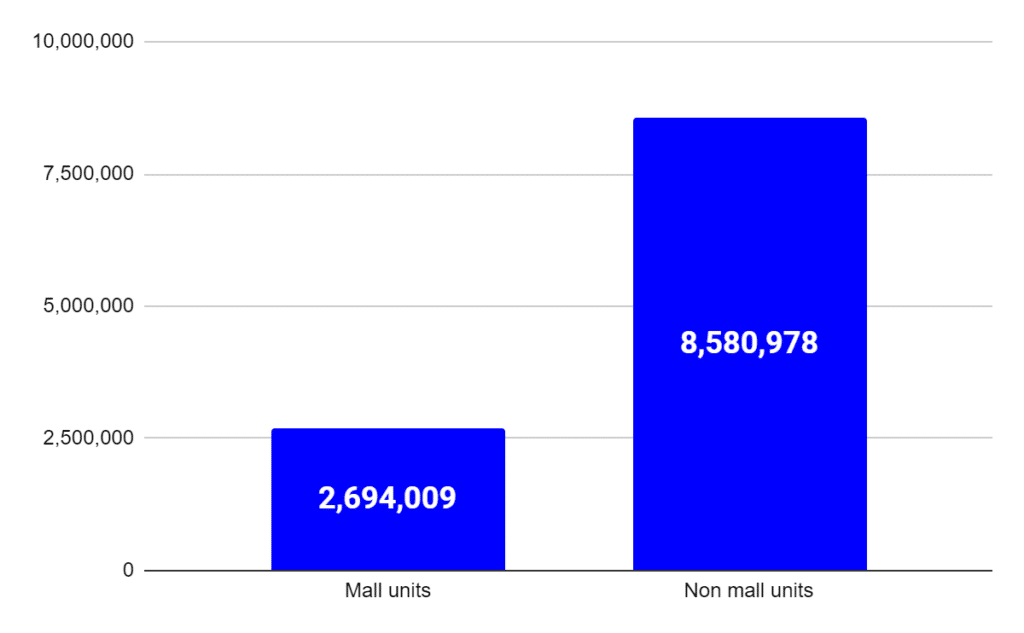 | | Mall units | Non mall units | Total |
| --- | --- | --- | --- |
| Revenue | $2,694,009 | $8,580,978 | $8,072,469 |
| Restaurants | 182 | 1,985 | 2,107 |
Source: Franchise Disclosure Document 2023
How profitable is a Chick-Fil-A franchise?
Using the average annual sales of $8,580,978 for non-mall units, we estimate that the average Chick-Fil-A makes $1,277,000 in profits per year (EBITDA). This is a 15% EBITDA margin.
Note this operating profit only includes COGS, labor, rent and royalty and marketing fees paid to the franchisor. To obtain this number, we used the royalty fees as well as the rent expense provided in the FDD.
Note that Chick-Fil-A doesn't provide COGS nor labor costs in its FDD. Therefore we used cost information from the FDD (royalties, rent, etc.) and made assumptions for COGS and labor costs.
| Profit and loss | Amount | % revenue |
| --- | --- | --- |
| Sales | $8,580,978 | 100% |
| COGS | $(2,145,245) | 25% |
| Gross Profit | $6,435,734 | 75% |
| Labor | $(2,488,484) | 29% |
| Rent | $(525,000) | 6% |
| Royalties | $(1,287,147) | 15% |
| Other operating costs | $(858,098) | 10% |
| EBITDA | $1,277,005 | 15% |
Source: Franchise Disclosure Document 2023
Is a Chick-Fil-A franchise a good investment?
The profitability of a business doesn't tell us much about whether it's a good investment. Indeed, in order to know whether you should invest in a Chick-Fil-A franchise, you must compare the profits you earn vs. the investment cost you pay upfront (the payback period).
Payback period = Investment / Average annual net profit
We know that the average investment to open a Chick-Fil-A franchise is $1,661,000.
We estimate that the payback period for a Chick-Fil-A is about 2-3 years, which is exceptional for a restaurant franchise in general. In other words, it takes a franchisee 2 to 3 years to recoup her/his original investment.
So from this standpoint we can argue that Chick-Fil-A franchises are very good investments. Indeed, anything below 5 years is excellent.
Of course, these numbers are averages, and your franchise payback period may be different based on various factors. In order to assess whether your franchise is a good investment, download our financial plan template below.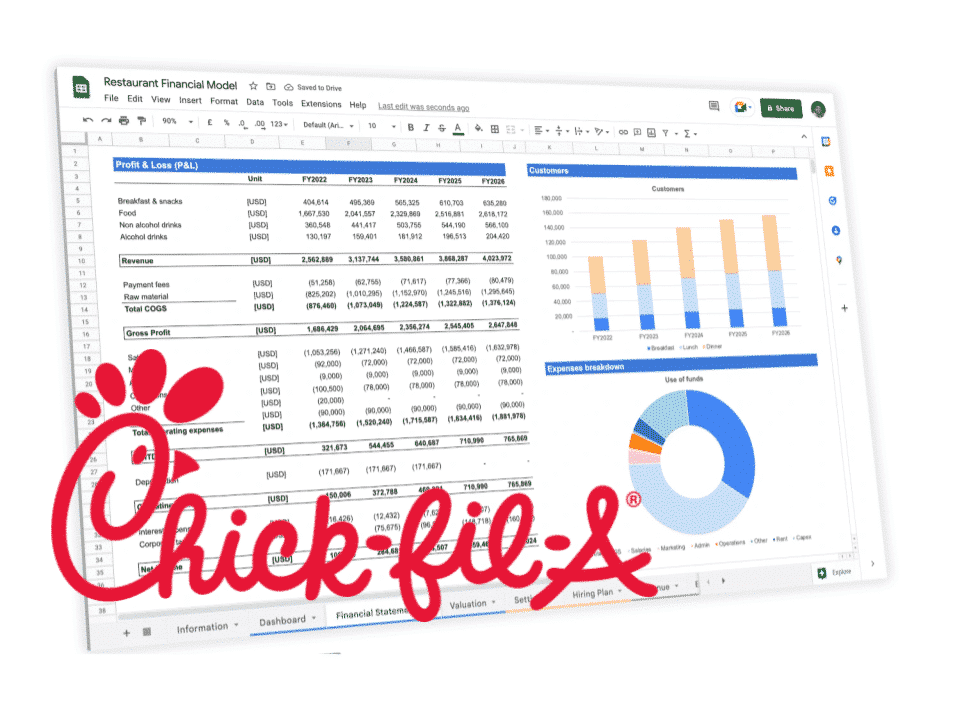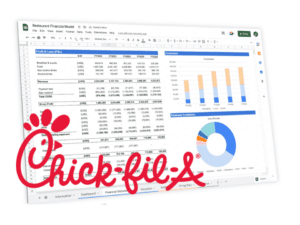 Chick-Fil-A Franchise Business Plan
All the stats: startup costs, profits, breakeven, etc.
5-year financial projections built with the FDD

Excellent 4.8/5 based on 70 reviews
Excellent 4.8/5 based on 70 reviews

Disclaimer
Disclaimer: This content has been made for informational and educational purposes only. We do not make any representation or warranties with respect to the accuracy, applicability, fitness, or completeness of the information presented in the article. You should not construe any such information or other material as legal, tax, investment, financial, or other professional advice. Nothing contained in this article constitutes a solicitation, recommendation, endorsement, advertisement, or offer to buy or sell any franchises, securities, or other financial instruments in this or in any other jurisdiction in which such solicitation or offer would be unlawful under the franchise and/or securities laws of such jurisdiction.
All content in this article is information of a general nature and does not address the detailed circumstances of any particular individual or entity. Nothing in the article constitutes professional and/or financial and/or legal advice, nor does any information in the article constitute a comprehensive or complete statement of the matters discussed or the law relating thereto. You alone assume the sole responsibility of evaluating the merits and risks associated with the use of any information or other content in this article before making any decisions based on such information or other content.