One of the most popular fried chicken franchises with KFC, Church's Texas Chicken as over 1,500 locations worldwide. Yet, opening a Church's Chicken also comes at a cost: you would have to invest on average $1,195,147 to start a new franchise restaurant.
Is this a good investment? With an average turnover of $1.4 million per year, it isn't so obvious. Instead, we would have to look at how profitable a Church's Chicken really is.
In this article we're looking at Church's Texas and the data from its latest Franchise Disclosure Document to find out whether you should invest in this franchise. Let's find out!
Church's Texas Chicken Franchise: key figures
| | |
| --- | --- |
| Franchise fee | $15,000 |
| Royalty fee | 5.0% |
| Marketing fee | 5.0% |
| Investment (mid-point) | $1,195,147 |
| Average annual sales | $1,395,088 |
| Investment to sales ratio | 1.2x |
| Investment payback* | 7.1 years (mediocre) |
| Minimum net worth | $1,000,000 |
| Minimum liquid capital | $300,000 |
* assuming 12% net profit margin
What is Church's Texas Chicken?
Church's Chicken is an American fast-food fried chicken chain with over 1,500 locations in the US and 25 countries globally.
Church's Chicken serves chicken combos, family meals, and tenders. It also offers a limited menu of lunch and dinner meals, such as flavorful chicken, both original and spicy, "Tender Strips," and southern-style chicken sandwiches with classic sides and hand-made from scratch biscuits.
The chain was founded in 1952 by George W. Church Sr., who opened its first restaurant in San Antonio, Texas.
It started franchising in 1967, and its first international locations were in Canada, Mexico, Japan, and Puerto Rico. The brand is known as "Texas Chicken" outside the US.
Church's Chicken Franchise: pros and cons
Exclusive territory protection: The franchisor offers franchisees an exclusive protected area, the geographic area around the restaurant. The franchisor doesn't open competing channels or grant any other Church's Chicken franchises in the agreed-upon geographic area.
Franchise training: To help its franchisees establish, build, and operate a successful Church's Chicken franchise, the brand offers extensive training to its franchisees and their employees. This is in the form of 13–17 classroom hours and 116–154 hours of on-the-job training programs, as well as advanced operations and leadership training programs, employee management, and food handling procedures.
Operations support: The brand offers franchisees comprehensive corporate support to correctly implement the restaurant's concept. This comprises the grand opening support, security and safety procedures, monthly newsletters, and field operational and evaluation support.
Marketing support: The brand employs fundamental marketing and promotional campaigns that create excellent brand awareness. Franchisees benefit from regional advertising, ad templates, national media, social media, and email marketing promotions to optimize growth and customer loyalty.
Product development: Church's Chicken has a diverse quality menu with fresh fried chicken, signature Homestyle sides, hand-crafted tenders, and other delicious food items. The brand is evolving its menu to meet consumers' changing needs and trends, which differentiates the franchisees from the competition.
Real estate and construction. The brand assists the franchisees in site selection, restaurant design, and construction. With an in-house real estate and construction team, franchisees can select convenient locations and significantly reduce the cost of establishing their restaurants.
Appropriate locations: The brand locations are strategically located in high-traffic areas such as malls, supermarkets, convenience stores, sales plazas, and learning institutions. The brand also employs different restaurant options such as drive-thrus, deliveries, take-outs, catering, and sit-in locations. All these help franchisees scale their income streams.
Cons
No financing: The brand or its affiliates do not directly or indirectly finance its franchisees. It also does not guarantee any lease, obligation, or note from any lender on the franchisee's behalf.
Not a passive investment: Church's chicken is not a passive investment. Franchisees must be involved in the daily operations of the restaurant.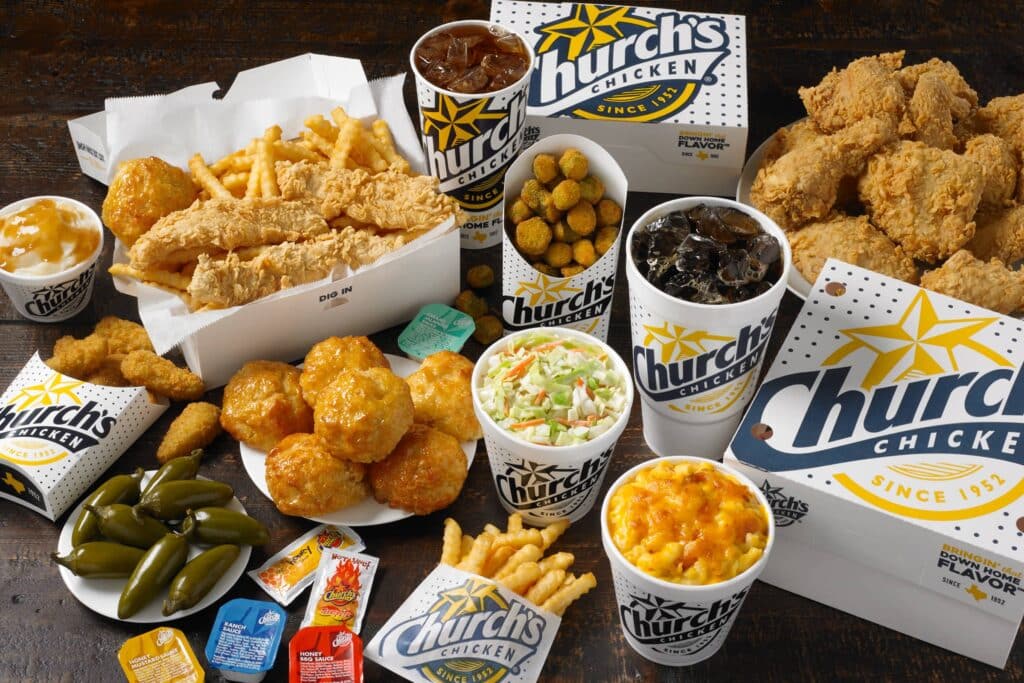 How much does a Church's Chicken franchise cost?
You would have to invest on average $1,367,660 to open a new Chicken's Church franchise restaurant. This is the investment for a ground-up construction of a 1400 Blaze Model.
Indeed, there are 3 different formats of restaurants you can choose from:
1400 Blaze Model: $1,367,660
1700 Blaze Model: $1,387,080
End Cap Restaurant: $830,700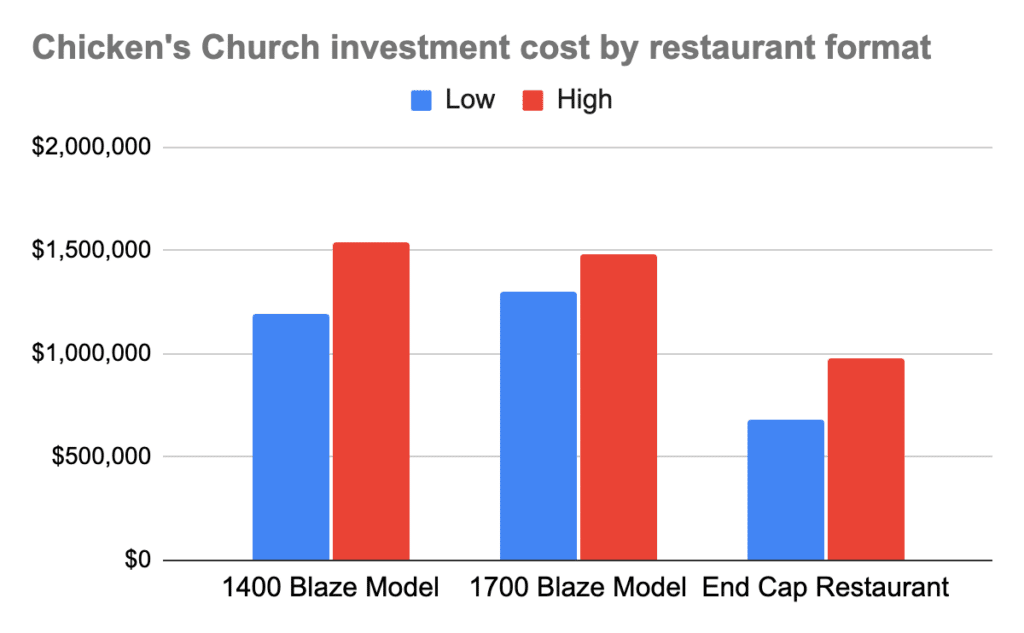 The investment amount is an average: it varies based on many factors such as land and building size, location and development needs, construction, equipment specifications etc.
For example, see below the cost breakdown for the most popular format: the 1400 Blaze Model.
| Expense | Amount |
| --- | --- |
| Building and improvements | $526,196 – $656,828 |
| Initial franchise fee | $15,000 – $15,000 |
| Site work | $202,957 – $257,490 |
| Equipment and signs | $358,899 – $372,499 |
| Additional funds 3 months | $10,000 – $20,000 |
| Other | $79,150 – $221,300 |
| Total | $1,192,202 – $1,543,117 |
Source: 2022 Franchise Disclosure Document
How much sales can you make with a Church's Chicken franchise?
On average, a Chicken's Church franchise makes $1,395,088 in revenue per year. This is a +9% year-on-year increase vs. 2020 ($1,279,495) as the chain recovered from the COVID-19 pandemic.
Note that we estimated this revenue by dividing the total revenue of all franchises in 2021 ($1.02 billion) by the number of restaurants operated by franchisees in the US in the same year (737).
| | 2020 | 2021 |
| --- | --- | --- |
| Total franchises revenue | $963 million | $1,028 million |
| Number of franchise-owned units in the US* | 753 | 737 |
| Revenue per franchise | $1,279,495 | $1,395,088 |
* within Cajun Global LLC perimeter (franchisor)
How profitable is a Church's Chicken franchise?
On average, a Church's Texas Chicken franchise makes $200,893 in profits per year. This represents a 14.4% EBITDA margin.
| Profit-and-loss | $ | % sales |
| --- | --- | --- |
| Sales | 1,395,088 | 100% |
| COGS | (419,922) | 30.1% |
| Labor costs | (390,625) | 28.0% |
| Gross margin | 584,542 | 41.9% |
| Marketing | (69,754) | 5.0% |
| Royalty | (69,754) | 5.0% |
| Other operating costs | (244,140) | 17.5% |
| EBITDA | 200,893 | 14.4% |
Source: 2022 Franchise Disclosure Document
Is a Church's Chicken franchise a good investment?
Even though the Franchise Disclosure Document of Church's Texas Chicken is detailed when it comes to costs (see above), there is no information on net profit.
Therefore, by assuming a 12% net profit margin (considering EBITDA margin already stands at 14.4%), we obtain a payback period of 7.1 years which isn't great.
Indeed, any payback period above 5 years is mediocre. Indeed, this means you would have to wait on average 7 years before you can recoup your initial investment of $1,195,147.
Note that this is based on the average performance of 44 franchise restaurants (the ones for which the franchisor provides costs and profits data). So it's possible that your restaurant performs better ie. is more profitable, and as such, a better investment.
Prepare a solid business plan for a Church Texas Chicken franchise with our template below and visualize your pro forma financial statements and reports like breakeven, return on investment, payback period and more.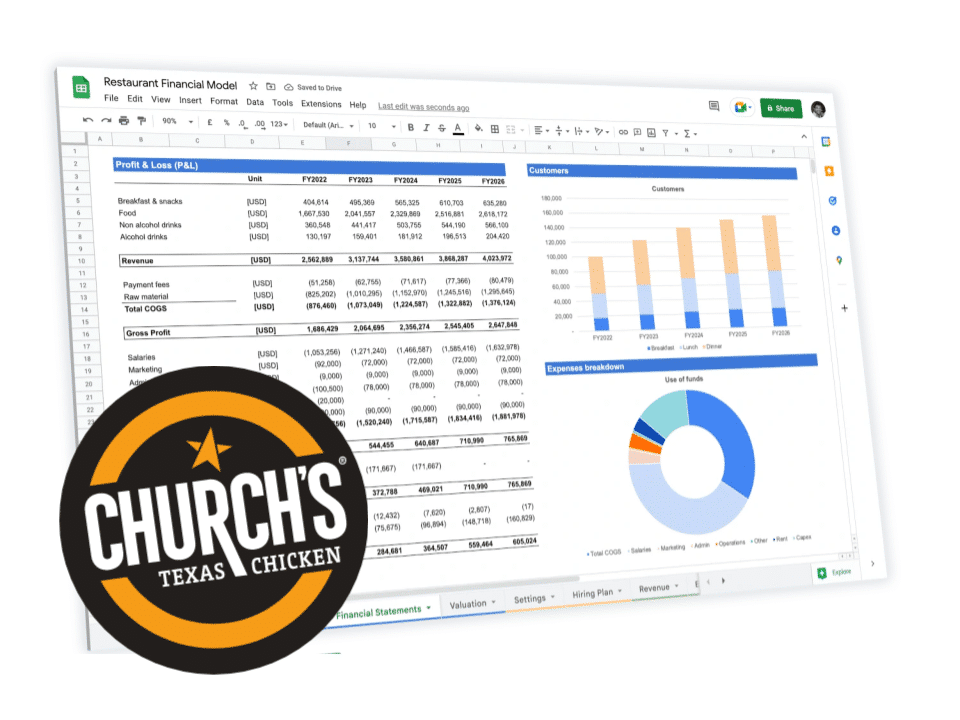 Download the Church's Texas Chicken business plan and get your franchise funded
Including a 5-year financial plan built with the latest Franchise Disclosure Document numbers