Are you considering opening a new Cold Stone Creamery franchise? With 1,300 stores, no wonder it's one of the most popular ice cream franchises in the US.
But before you go ahead and invest in a new franchise ice cream franchise like Cold Stone, you may want to know how profitable the business really is. Indeed, even though the startup costs are relatively low ($310,956), you will have to make enough profits to recoup your investment.
In this article we'll look at how much you can realistically make with a Cold Stone Creamery shop, how much it costs, and whether you should invest as a franchisee. Let's find out!
Cold Stone Creamery franchise: revenue, costs & profits
| | |
| --- | --- |
| Franchise fee | $27,000 |
| Royalty fee | 6.0% |
| Marketing fee | 3.0% |
| Investment (mid-point) | $310,956 |
| Average annual sales | $417,588 |
| Sales to investment ratio | 1.3x |
| Investment payback* | 5.0 years (average) |
| Minimum net worth | $250,000 |
| Minimum liquid capital | $100,000 |
* using 15% net profit margin
What is Cold Stone Creamery?
Cold Stone Creamery is a leading American chain of ice cream parlors.
Headquartered in Scottsdale, Arizona, the chain was founded in 1988 by Donald and Susan Sutherland.
The brand serves premium ice cream made-to-order at the restaurant. In addition, it offers ice cream-related products such as ice cream cakes, pies, cookie sandwiches, smoothies, shakes, and iced or blended coffee drinks.
Cold Stone Creamery began its franchising journey in 1994. It is operated and franchised by Kahala Brands.
Currently, the brand has more than 1,300 locations in the US and 20 other countries.
Cold Stone Creamery franchises pros and cons
Pros
Franchise training: The franchisor offers the franchisees a comprehensive 120 hours of initial training to get a good overview of the business and industry. The training covers store operations, customer service insights, financial management, and products. The training also helps franchisees master the store opening steps, food handling, sanitation, back-office practices, equipment handling, and inventory management.
Solid operational support: The brand offers its franchisees extensive support ranging from site selection to restaurant design and construction. Franchisees are advised on the best grand opening plans by a highly experienced and qualified team of experts, allowing them to incur fewer costs and begin on a profitable note.
Strong marketing support: Cold Stone Creamery has an incredible in-house marketing team to help franchisees with their regional marketing plans, social media, digital advertising, and promotional campaigns. Franchisees can build awareness of their local stores and publicize their products by leveraging the strong brand identity and experienced marketing strategy of the parent company to improve revenues and profit margins.
Growth opportunity: The brand has grown for the last 35 years with multiple locations in and outside the US. Their development initiative seeks to grow the brand domestically and internationally, giving interested franchisees great opportunities to enter new markets.
Multi-unit stores: The brand offers franchisees locations of every size, from multi-story locations to smaller kiosks. It gives them flexibility in operating within their budget and expanding with time.
Menu variety: The brand boasts a diverse and quality menu that appeals to customers of all types. For instance, the brand has 10–12 ice cream varieties and keeps working on new flavors and trends. It also offers seasonal favorites as well as tailored flavors for certain specific regions, such as Irish cream or cinnamon buns.
Cons
No exclusive territory: Cold Stone Creamery does not offer the franchisee an exclusive territory for their restaurants. Franchisees face competition from franchises granted by the franchisor or from other competitive channels it controls.
No absentee ownership: The brand does not offer passive investment business opportunities. Franchisees are required to be actively involved in the operations of the restaurants.
No financing: Cold Stone creamery does not offer direct or indirect financing to its franchisees. In addition, it does not guarantee any lease, note, or obligation of any lender.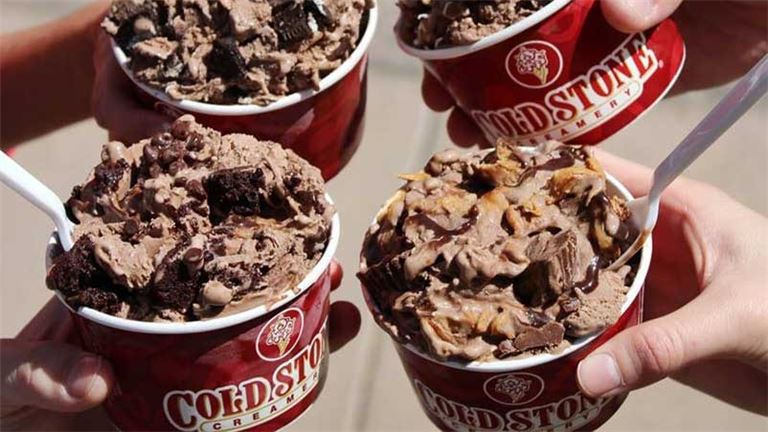 How much does a Cold Stone Creamery franchise cost?
You would invest around $310,956 to open a new Cold Stone Creamery franchise.
This number is the average for both traditional and non-traditional locations. Indeed, the investment cost varies based on the format of restaurant you choose:
Traditional locations: Cold Stone Creamery bakeries located in malls, shopping centers, outlet malls and streetside locations
Non-traditional locations: bakeries located in airports, colleges, casinos, convenience stores, military bases, train stations, etc.
In addition to the initial franchise fee ($8,000 – $27,000), the investment cost you would pay covers leasehold improvement, equipment, opening inventory, architectural fees, exterior signage, grand opening advertising, permits and licenses, working capital for the first 3 months, etc.
| Type of cost | Traditional | Non-traditional |
| --- | --- | --- |
| Initial franchise fee | $12,000 – $27,000 | $8,000 – $20,000 |
| Formation costs | $259,875 – $409,475 | $18,700 – $347,775 |
| Marketing fees | $10,000 | $5,000 |
| Operating costs | $28,500 – $30,500 | $21,500 – $30,500 |
| Total | $310,375 – $476,975 | $53,200 – $403,275 |
Source: 2022 FDD
What is a the turnover of a Cold Stone Creamery franchise?
On average, a Cold Stone Creamery franchise makes $417,588 in sales annually. This number is the median annual sales of the 869 franchised restaurants operating in 2021.
Here's the quarter to quarter median sales evolution of Cold Stone Creamery franchises. The cyclicality of sales over summer can be attributed both to the pandemic lockdowns and demand seasonality.
How profitable is a Cold Stone Creamery franchise?
On average, a Cold Stone Creamery franchise makes $96,008 in profits per year. This represents a 23% adjusted EBITDA margin.
Yet, you can't keep 23% of the total revenue in your pocket as this adjusted EBITDA is not equivalent to net profit. Rather, you may need to deduct taxes, debt interest expenses, and other costs before you can pay yourself dividends as the franchisee (or to calculate the payback period for example, see below).
The 23% adjusted EBITDA margin is on the lower end compared to similar franchises as per our intelligence (~25-27% industry average). This is due to the high rent costs (14% sales vs. ~8% industry average).
Yet, note that the franchisor doesn't provide any financial information regarding costs. Indeed, we had to use benchmarks for COGS (25% sales) and labor costs (29%) instead.
| Profit-and-loss | Amount ($) | As % of sales |
| --- | --- | --- |
| Sales | $417,588 | 100% |
| COGS | $(104,397) | 25.0%* |
| Labor | $(121,101) | 29.0%* |
| Rent | $(58,500) | 14.0% |
| Royalty + marketing fees | $(37,583) | 9.0% |
| Adjusted EBITDA | $96,008 | ~23% |
* industry average
Is a Cold Stone Creamery franchise a good investment?
Assuming a 15% net profit margin, we calculated the payback period for a Cold Stone Creamery franchise is 5.0 years. This means you would have to wait 5 years so you could reimburse your initial investment of $310,956.
This is a good payback period, and therefore a good investment: only after 5 years you would finally make profits on your initial investment.
Keep in mind this doesn't take into account time value of money which may add another year to payback period.
Applying to a Cold Stone Creamery franchise? Download our pre-built business plan and visualise your 5-year financial projections and reports like breakeven point, return on investment and more.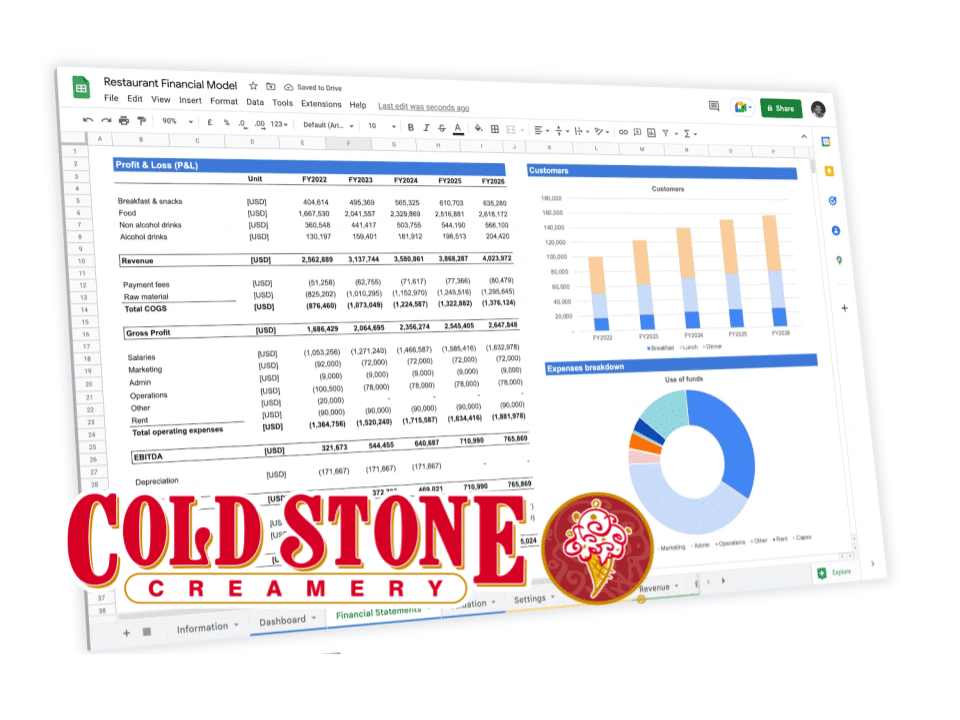 Download the Cold Stone Creamery business plan and get your franchise funded
Including a 5-year financial plan built with the latest Franchise Disclosure Document numbers