Crumbl Cookies Franchise AUV, Cost & Profits (2023)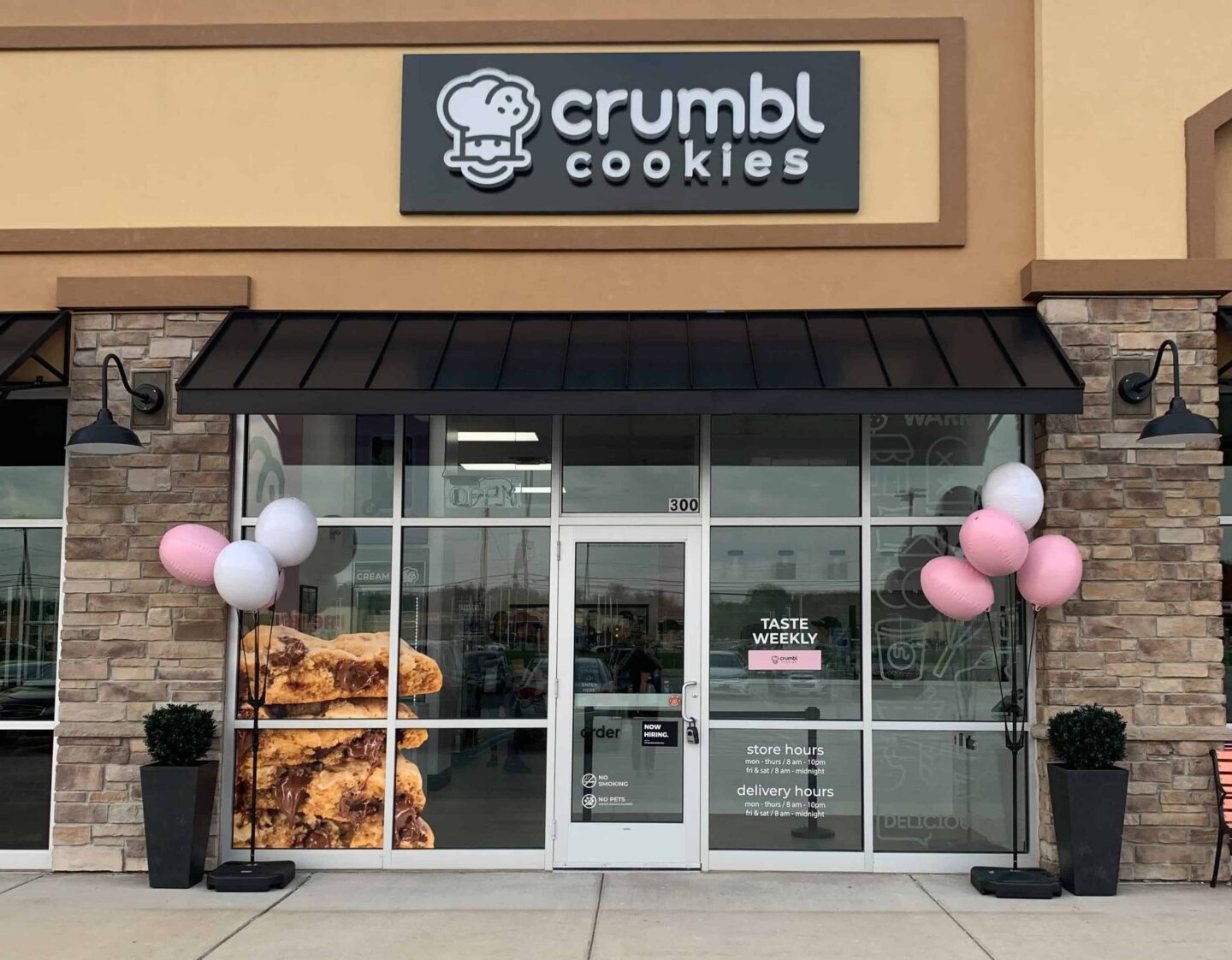 This article was updated with the 2023 Franchise Disclosure Document
Crumbl Cookies is one of the most popular quick-service restaurant franchise: it opened over 180 units over the past 4 years and the hype around its cookies and sweets keeps getting stronger, especially thanks to its solid social media following.
With average annual sales of $1,796,000 and an investment cost of (only) $886,000, Crumbl Cookies seems to be a great investment for franchisees. Is this really the case?
In this article we'll have a look at how much you can make with a Crumbl Cookies franchise, how profitable the business really is and, more importantly, whether it's a good investment. Let's dive in!
Key stats
| | |
| --- | --- |
| Franchise fee | $50,000 |
| Royalty fee | 8.0% |
| Marketing fee | 3.5% |
| Investment (mid-point) | $886,000 |
| Average sales | $1,796,000 |
| Sales to investment ratio | 2x |
| Payback period | 3-5 years |
| Minimum net worth | $300,000 |
| Minimum liquid capital | $150,000 |
Source: Franchise Disclosure Document 2023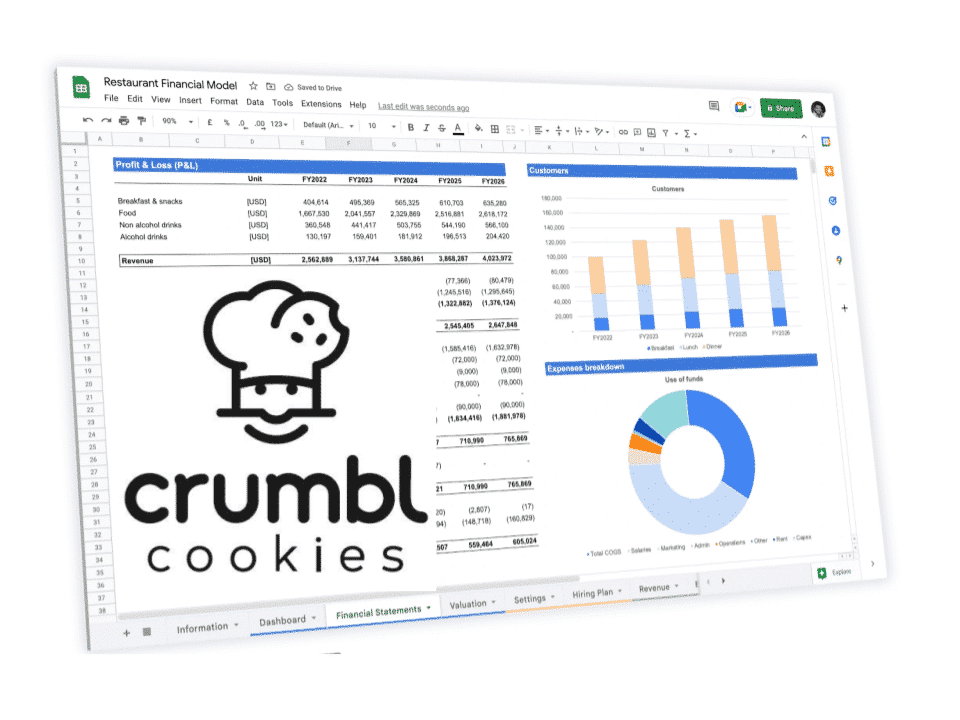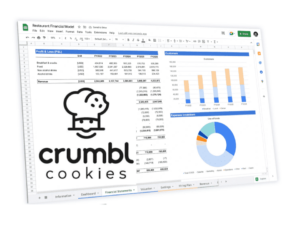 Crumbl Cookies Franchise Business Plan
All the stats: startup costs, profits, breakeven, etc.
5-year financial projections built with the FDD

Excellent 4.8/5 based on 70 reviews
Excellent 4.8/5 based on 70 reviews

About Crumbl Cookies
Crumbl Cookies is a fast-growing gourmet cookie chain with over 600 stores in 47 states in the US.
Headquartered in Orem, Utah, Crumbl Cookies was founded by two cousins, Sawyer Hemsley and Jason McGowan, in 2017.
The cookie franchise specializes in making large cookies and ice cream and is best known for its award-winning milk chocolate chip cookie.
The Crumbl Cookies franchising journey began in 2018 under the brand name Crumbl LLC.
The chain store has taken the market by storm, and as of 2022, it had 689 bakeries in the US. It is one of the fastest-growing cookie franchises with a unique social media marketing strategy.
Crumbl Cookies franchise: pros and cons
Operating a Crumbl Cookies franchise has some advantages and disadvantages.
Pros
Fast-growing brand: The Crumbl Cookies has grown very fast. Launched just months before the COVID-19 pandemic, many would have expected its growth to dive. But this was not the case. In the four years since its inception, Crumbl Cookies has opened over 180 units across the US. This shows how popular the brand is becoming among cookie enthusiasts. And from the look of things, the trend will just get better.
Social media following: One special fact about Crumbl Cookies is its social media presence. Since 2020, it has gained over 1 million followers on TikTok, a milestone not achieved by many franchisors. They share viral videos of their savory cookie flavors and reach a huge audience, mostly young people. Their unique adoption of social media marketing is a real game changer in converting leads into loyal customers.
Weekly rotating menu: Since its launch, Crumbl Cookies has adopted its trademark one-week rotating menu. Every Sunday, there's a new menu for the coming week, but its award-winning milk chocolate chip cookie always remains a favorite. This is fun and has always kept customers anxious to visit the chain store to enjoy new flavors.
Many varieties: Crumbl Cookies has a rich and diversified menu. With its weekly rotating menu, Crumbl offers more than 170 flavors, including themed cookie lineups, e.g., breakfast cookies such as waffle and berry crunch. This keeps customers coming back to taste new flavors, restock, or rediscover new products each week.
Cons
Still a new brand: The Crumbl Cookies brand has only been there for four years. Though it has achieved robust growth and its sales have been very promising, it is still very young. Many entrepreneurs may feel that, despite posting positive success, it has not stood the test of time. Who knows whether competition will pop up and dwindle its growth? Only time can tell.
Quality challenge: The constant change of their menu every week can compromise the quality of their products. Therefore, franchisees may overlook the quality of the cookies in the process of accommodating the following week's menu.
Training challenges: Maintaining the constant weekly menu rotation routine may not be easy. It requires franchise owners and employees to keep training. This is tiresome, expensive, and, to some extent, boring.
Weekly menu rotation challenge: Though it's a fun marketing method, changing its menu every week can be very hectic. It requires the franchisee to have consistently trained staff, which may not be practical. In addition, it may cause a lot of waste when inventories are not fully utilized within the week.
How much does it cost to open a Crumbl Cookies franchise?
You must invest on average a total of $886,000 to open a Crumbl Cookies franchise, which includes the initial franchise fee of $50,000.
The latest FDD gives us a detailed breakdown of the various investment costs. For example, the investment amount covers everything to open a bakery business; for example, training fees, real estate improvements, furniture, equipment, opening inventory, rent for the first 3 months, etc.
Here's a summary of the different costs you should pay for: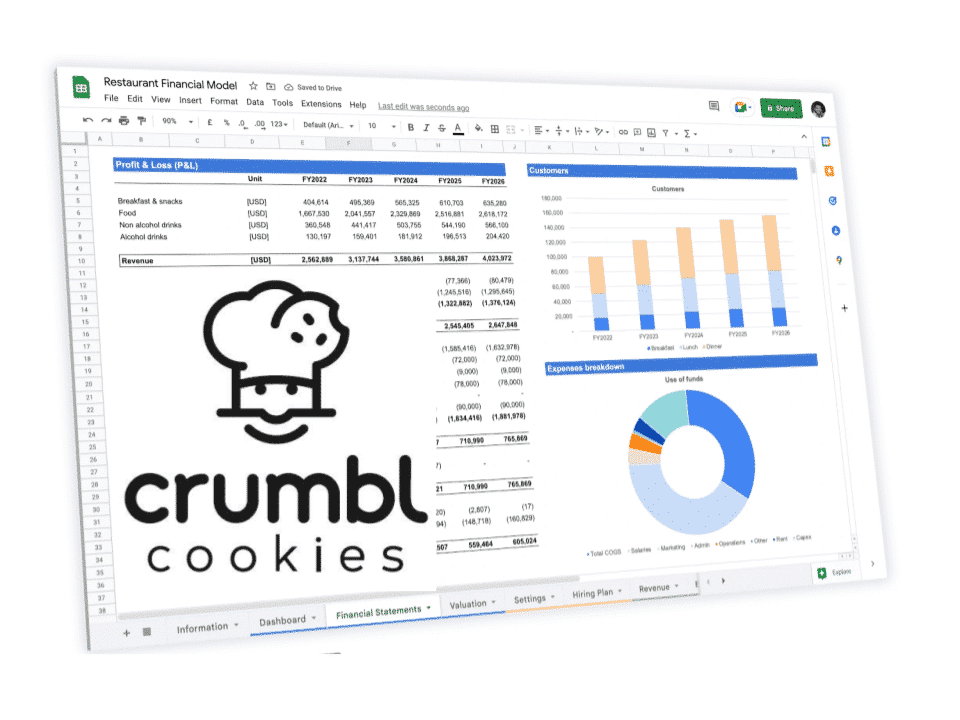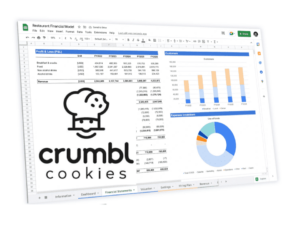 Crumbl Cookies Franchise Business Plan
All the stats: startup costs, profits, breakeven, etc.
5-year financial projections built with the FDD

Excellent 4.8/5 based on 70 reviews
Excellent 4.8/5 based on 70 reviews

What is the average turnover of a Crumbl Cookies franchise?
A Crumbl Cookies restaurant makes on average $1,796,000 in sales per year (+13.5% year on year growth vs. 2021).
This number represents the median annual sales value of 324 Crumbl Cookies franchisees operated in 2022. Of course this is purely an average and the annual sales your franchise can generate depends on various factors like location, size of the restaurant, competition, etc.
Indeed, in 2022 the lowest annual sales was $589,000 vs. up to $4,022,000 for the most successful restaurant.
How profitable is a Crumbl Cookies franchise?
We estimate that the average Crumbl Cookies franchise makes $314,000 in profits per year (18% EBITDA margin).
Note that Crumbl Cookies doesn't provide any detailed information about the financial performance of its franchises in its latest Franchise Disclosure Document. Instead we had to make assumptions which we have summarized below.
| Profit and loss | Amount | % sales |
| --- | --- | --- |
| Sales | $1,796,340 | 100% |
| COGS | $(449,085) | 25% |
| Gross Profit | $1,347,255 | 75% |
| Labor | $(520,939) | 29% |
| Royalty fee | $(143,707) | 8% |
| Marketing fee | $(62,872) | 4% |
| Occupancy | $(89,817) | 5% |
| Other OpEx | $(215,561) | 12% |
| EBITDA | $314,360 | 18% |
Source: Estimates
How much do Crumbl Cookies franchisees make?
Adjusted EBITDA isn't net profit. The amount you can expect to earn as a shareholder (the franchisee) is net profit instead.
Unfortunately, as for most franchises, the Franchise Disclosure Document is quite limited when it comes to the financial information it discloses. Therefore we have to make some assumptions here instead.
As per our analysis, the average net profit margin for a Crumbl Cookies is 10-15% of sales. This means that franchisees can earn on average up to $270,000 per year.
Assuming a 10-15% net profit margin, here's what we would obtain for the owner's compensation:
| Net profit | 10% | 15% |
| --- | --- | --- |
| Owner's compensation* | $180,000 | $269,000 |
* Assuming paid out of dividends
Yet bear in mind this number doesn't include any potential debt repayment you must make if you took on a loan to pay for the investment cost.
For example, assuming you took on a $400,000 loan (like a SBA loan) over 10 years, you would earn around $190,000 per year instead.
Is a Crumbl Cookies franchise a good investment?
Profits don't tell us much about whether opening a Crumbl Cookies franchise is a good investment. Instead we need to look at the investment payback period: the number of years it takes for a franchisee to recoup her/his original investment.
As per our calculations, Crumbl Cookies franchises have an excellent payback period: it takes 3 to 5 years to recoup your initial investment.
Therefore we can argue that Crumbl Cookies franchises are very good investment from a financial standpoint.
Of course, these numbers are average and based on the latest FDD. Your franchise may have a different payback period: your store may be more or less profitable than the average for example. Indeed, turnover and profits vary based on a number of factors like location, competition, efficiency, costs, etc.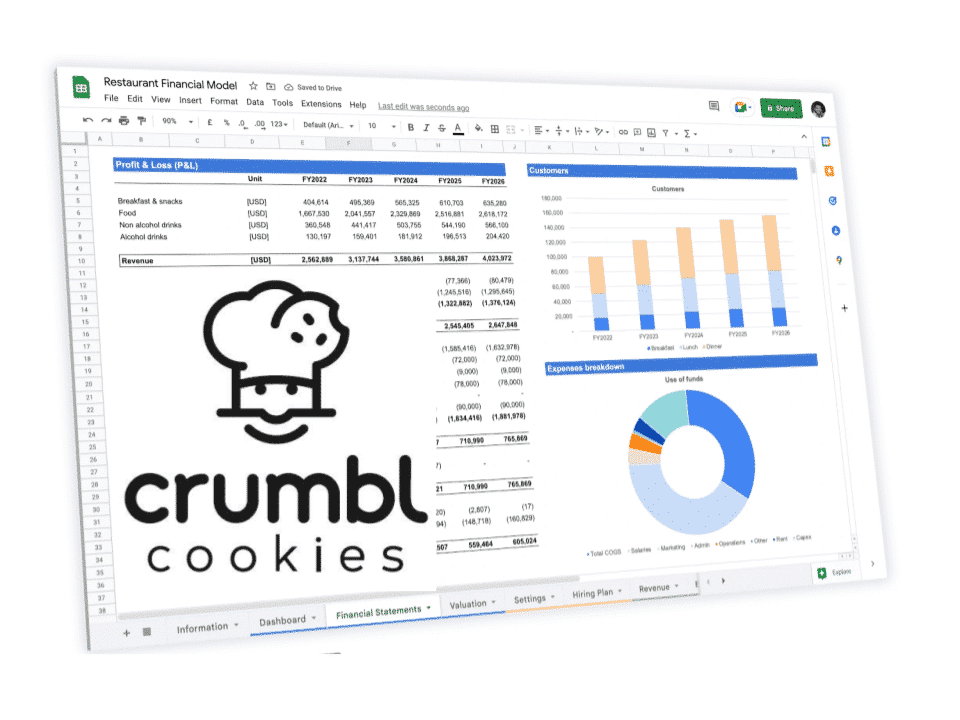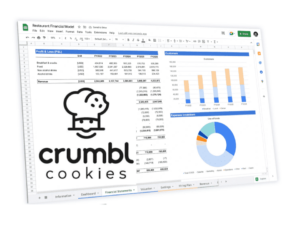 Crumbl Cookies Franchise Business Plan
All the stats: startup costs, profits, breakeven, etc.
5-year financial projections built with the FDD

Excellent 4.8/5 based on 70 reviews
Excellent 4.8/5 based on 70 reviews

Disclaimer
Disclaimer: This content has been made for informational and educational purposes only. We do not make any representation or warranties with respect to the accuracy, applicability, fitness, or completeness of the information presented in the article. You should not construe any such information or other material as legal, tax, investment, financial, or other professional advice. Nothing contained in this article constitutes a solicitation, recommendation, endorsement, advertisement, or offer to buy or sell any franchises, securities, or other financial instruments in this or in any other jurisdiction in which such solicitation or offer would be unlawful under the franchise and/or securities laws of such jurisdiction.
All content in this article is information of a general nature and does not address the detailed circumstances of any particular individual or entity. Nothing in the article constitutes professional and/or financial and/or legal advice, nor does any information in the article constitute a comprehensive or complete statement of the matters discussed or the law relating thereto. You alone assume the sole responsibility of evaluating the merits and risks associated with the use of any information or other content in this article before making any decisions based on such information or other content.