Culver's Franchise AUV, Profits vs. $4.9M Cost (2023)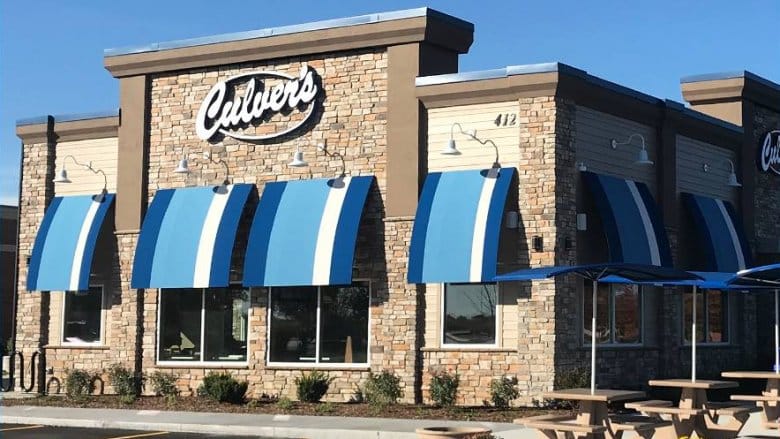 Another popular fast food chain in the Midwest, Culver's franchisees can rely on a strong brand awareness and the 893 restaurants the chain operates across the country. Yet, opening a Culver's franchise isn't for everyone.
Indeed, it comes at a hefty price tag: you would have to spend over $4 million on average to start a Culver's franchise..! Is this worth the profits? How profitable is a Culver's franchise?
In this article we'll looking at Culver's franchises: how much profits they make, how much they cost and whether it's a good investment as a franchisee. Let's dive in!
Key stats
| | |
| --- | --- |
| Franchise fee | $55,000 |
| Royalty fee | 4.0% |
| Marketing fee | 6.5% |
| Investment (mid-point) | $4,876,000 |
| Average sales | $3,217,000 |
| Sales to investment ratio | 0.7x |
| Payback period | 10 years |
| Minimum net worth | $2,000,000 |
| Minimum liquid capital | $350,000 |
Source: Franchise Disclosure Document 2023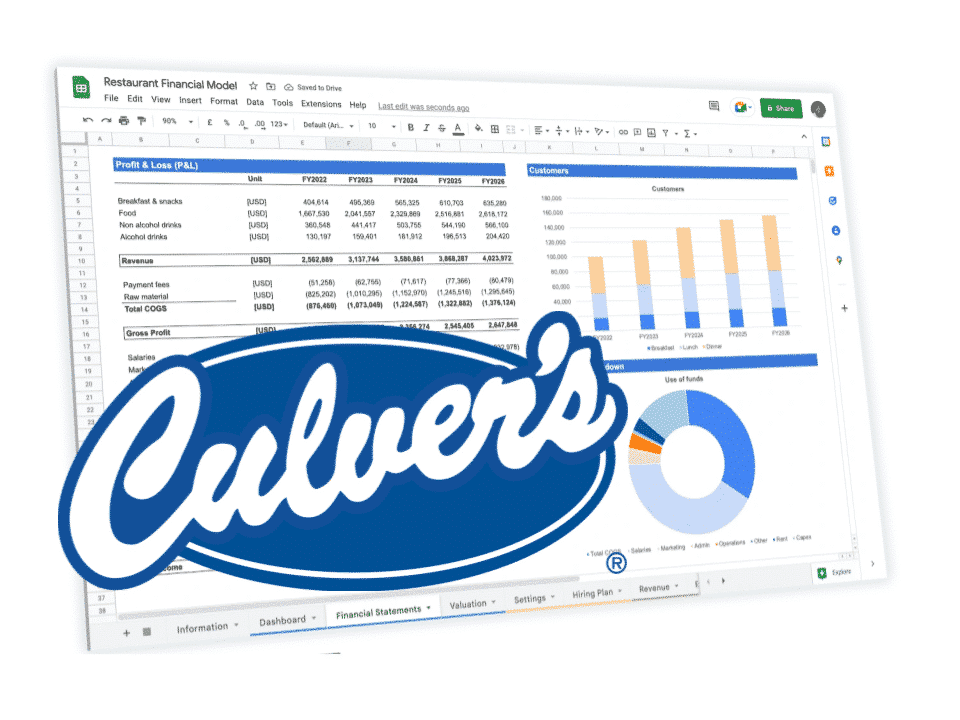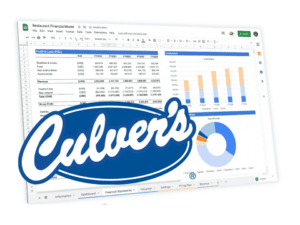 Culver's Franchise Business Plan
All the stats: startup costs, profits, breakeven, etc.
5-year financial projections built with the FDD

Excellent 4.8/5 based on 70 reviews
Excellent 4.8/5 based on 70 reviews

About Culver's
Culver's is a leading American casual fast-food chain, primarily located in the Midwestern United States with 893 restaurants across 26 states in the US.
It was founded in 1984 by George, Ruth, Craig, and Lea Culver, and its first restaurant was in Sauk City, Wisconsin.
Culver's serves mainly butter burgers and frozen custard and also offers cheese curds, chicken, fish, and salads.
Its franchising journey started in 1990, and its first franchise was located in Baraboo, WI. The Culver's franchise is run by the privately held Culver's Franchising System, LLC, which is based in Prairie du Sac, Wisconsin.
Culver's franchise pros and cons
Before starting a Culver's franchise, it is important to know its advantages and disadvantages.
Pros
Strategic marketing and advertising: To differentiate itself from its competitors, Culver's has put in place effective marketing strategies. New franchisees can promote their products to a wide market and loyal customers through well-crafted television commercials and excellent brand awareness.
Training and support: The Culver's franchise offers excellent support and training to its franchisees. As a new franchisee, you benefit from site selection, construction, operations, food handling, finances, and management training to get started in successful franchising. In addition, Culver's also provides on-the-job training and consultation on how franchisees can best operate their businesses and increase profitability.
Quality food supplies: Quality foods are one of Culver's brands' strengths. And to achieve the required standards, they employ strict obligations and restrictions on suppliers. This way, franchisees can guarantee to offer quality food to their loyal customers.
Fast Growth: The chain store has experienced rapid expansion in recent years. Having excellent sales and revenue as well as restaurants in most of the states shows how popular the brand is becoming. Therefore, new franchisees can be assured of a brand with a lot of potential for growth and profitability.
Customer loyalty: Culver's enjoys a huge customer following for its tasty and quality burgers. As new franchisees open, customers will flock to any Culver's restaurant. This makes it easy and cheap for newly launched franchisees to market and advertise their products.
Franchisee community: Culver's began as a family-oriented restaurant to financially support their growing family. As it grows, it continues to bring together a big family of like-minded franchisees. New franchisees benefit from joining a network that offers much-needed consultations on how to run their businesses properly and shares success ideas.
Popular brand: Culver's brand is well known, especially in the Midwestern US. As a result, the brand has a ready market for its casual fast food. With a large following, especially in these territories, franchisees have great potential for the growth of their restaurants.
Cons
Not a passive investment: If you're looking for a passive investment, then Culver's franchise is not a good option. This is because it requires franchisees to be fully in charge of the operations and management of their restaurants.
Competition: With changing customer tastes and trends, many people are considering healthy eating habits. In addition, customers have more options as other major brands enter the market. This makes fast food less attractive and Culver's franchises less profitable.
No financing: The franchisor does not offer financial assistance to interested franchisees, directly or indirectly. It also does not guarantee any lease, note, or obligation by its franchisees. In addition, it does not receive any payment or consideration for the financing of franchisees.
No global presence: The brand does not have locations outside the US, where it first started operations. New franchisees can find it difficult to market and make reasonable sales, especially in other areas.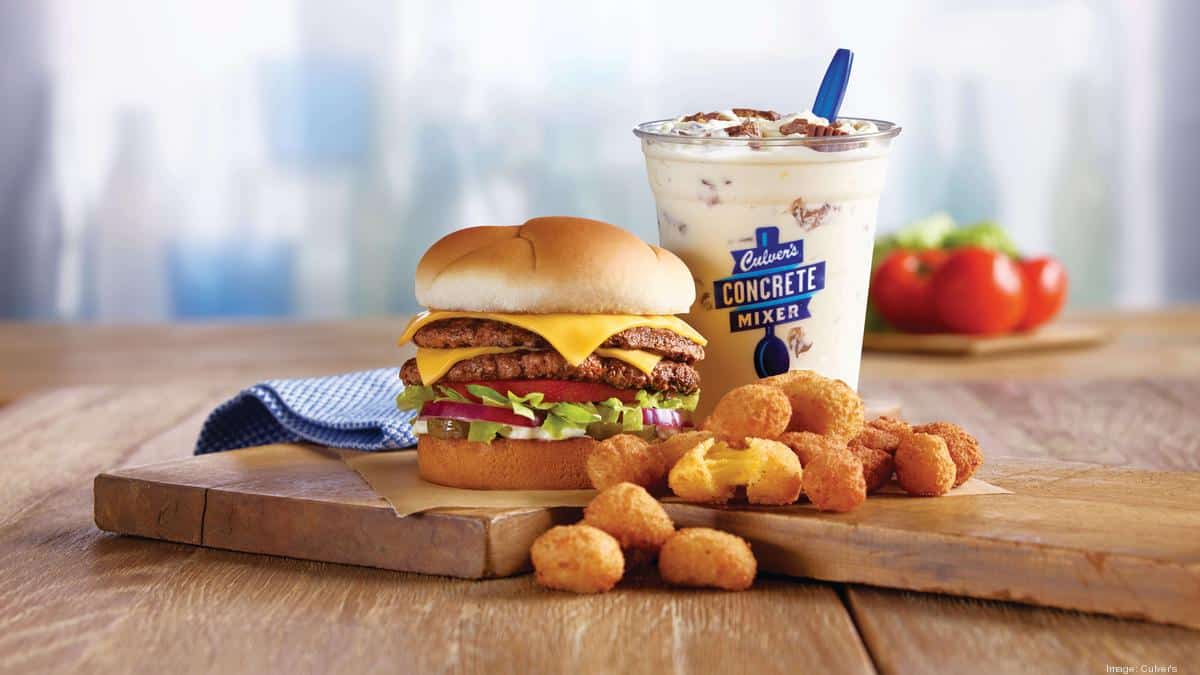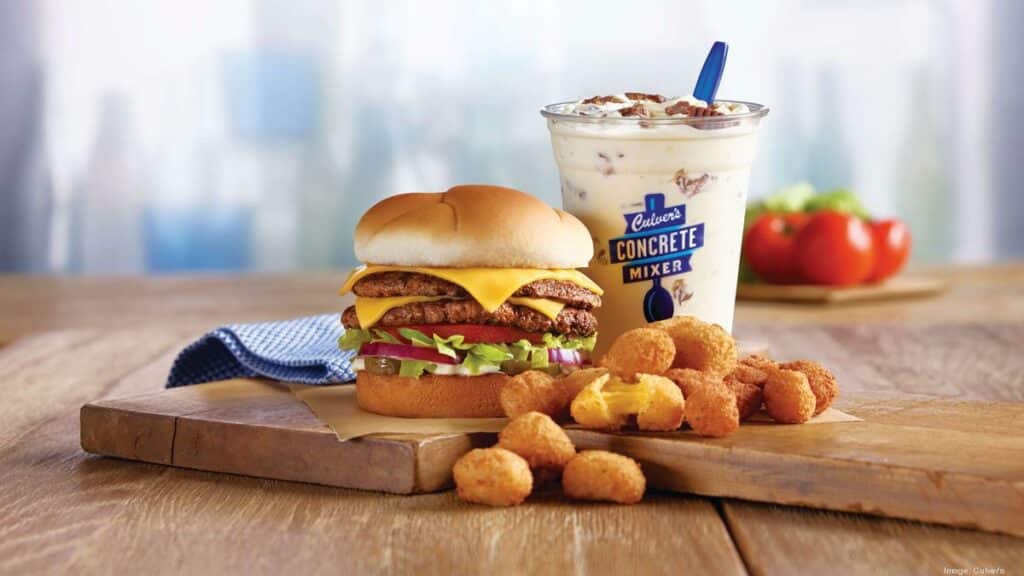 How much does a Culver's franchise cost?
To own a Culver's franchise, you must invest $4,876,000 on average. This amount includes the initial franchise fee of $55,000.
As the investment amount is an estimated average, it can change depending on your location and other factors. According to the latest FDD, this amount can be as low as $2,524,000 and as high as $7,228,000.
The investment amount should cover all types of expenditures that may incur at the beginning of a fast-food restaurant.
For instance, you will pay for both the build-out costs (like land, site work, building, travel & living expenses during training, furniture, fixtures, sign package, pos system, equipment, etc.) as well as operating expenses (like initial inventory, and additional funds as working capital to cover the first three months' losses, etc.).
| Type of Expenditure | Low | Average | High |
| --- | --- | --- | --- |
| Initial franchise fee | $20,000 | $37,500 | $55,000 |
| Build-out costs | $2,409,000 | $4,711,000 | $7,013,000 |
| Operating expenses | $95,000 | $127,500 | $160,000 |
| Total | $2,524,000 | $4,876,000 | $7,228,000 |
Source: FDD 2023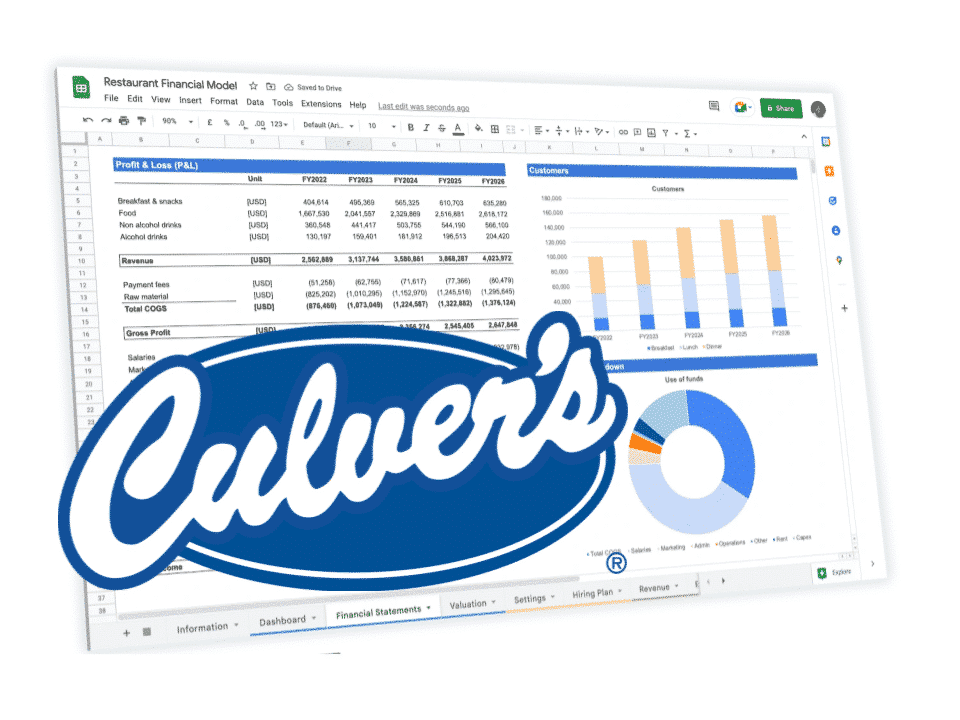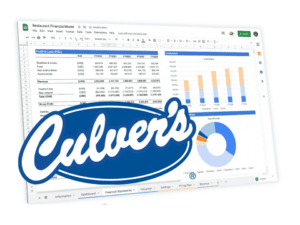 Culver's Franchise Business Plan
All the stats: startup costs, profits, breakeven, etc.
5-year financial projections built with the FDD

Excellent 4.8/5 based on 70 reviews
Excellent 4.8/5 based on 70 reviews

What is the turnover of a Culver's franchise?
On average, a Culver's franchise makes $3,217,000 in sales annually (the "Average Unit Volume"). That's a +5.4% increase vs. 2021.
This number is the annual median sales of 815 Culver's franchises operating in 2022 in the USA.
As this number is an average, it can vary depending on the location of a restaurant. For example, a restaurant located in a metropolitan area makes slightly greater sales compared to a restaurant in a non-metropolitan area: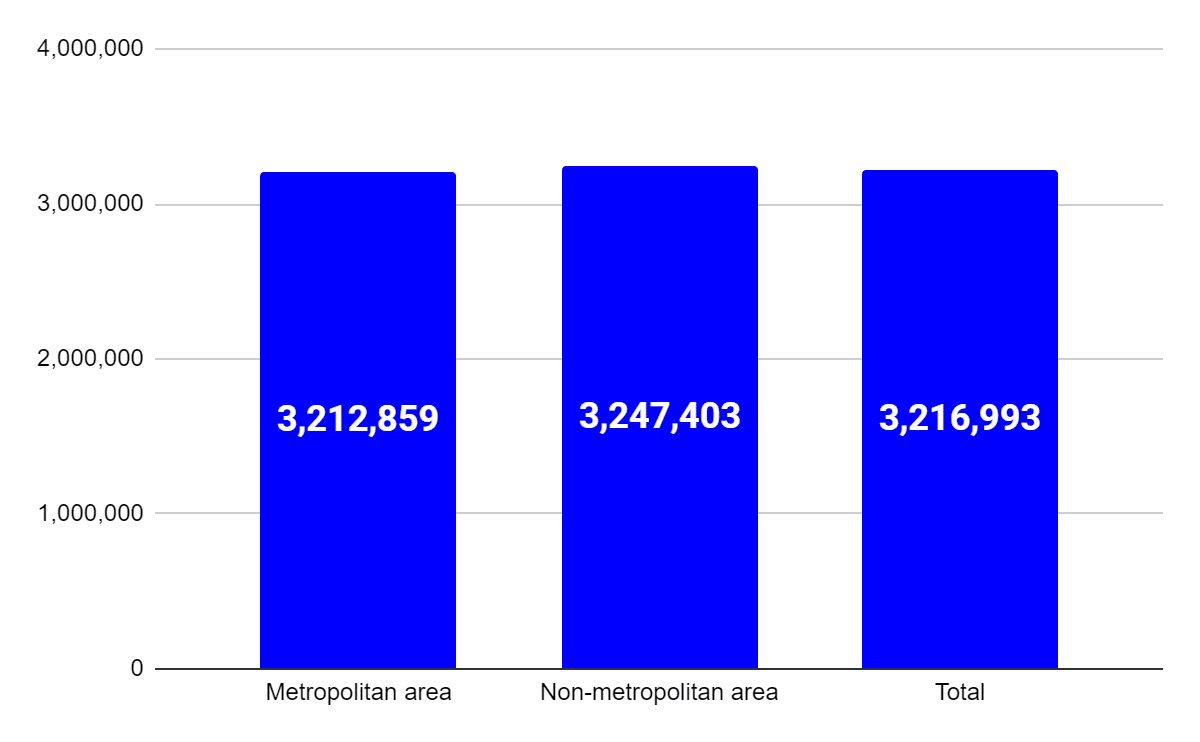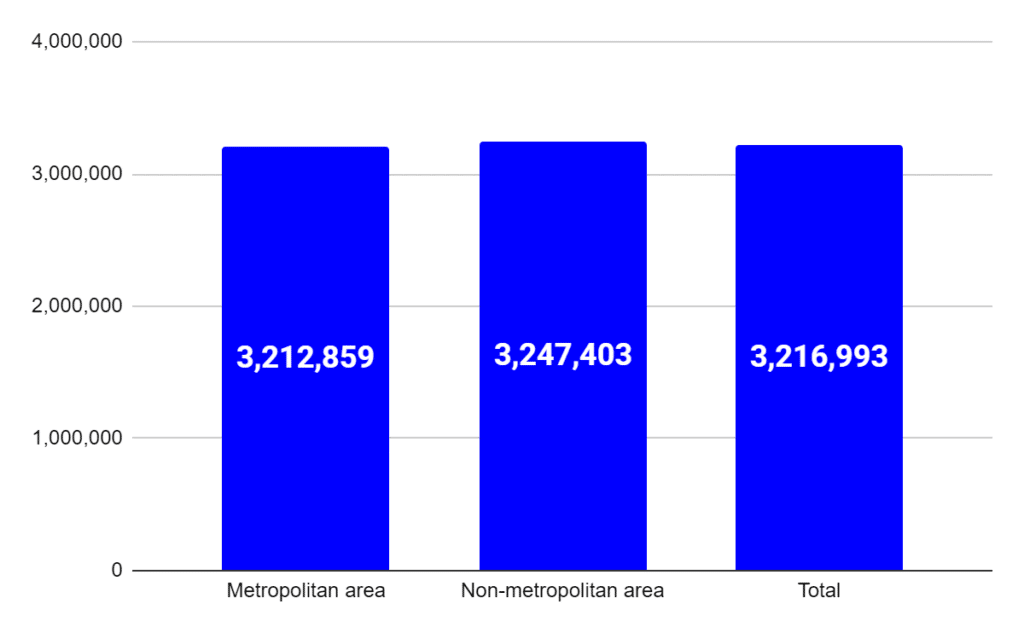 How profitable is a Culver's franchise?
Fortunately Culver's provides a lot of information on the profitability of its restaurants. It does provide in its FDD a detailed profit and loss for its company-owned restaurants which we are including below.
On average, Culver's restaurants make $261,000 in profits per year (8.6% EBITDA margin).
| Profit and loss | $ | % Sales |
| --- | --- | --- |
| Sales | 3,046,129 | 100% |
| Food costs | 1,015,767 | 33.3% |
| Paper costs | 95,774 | 3.1% |
| Salaries and wages | 1,008,072 | 33.1% |
| Employee benifits | 163,595 | 5.4% |
| Direct operating expenses | 13,370 | 0.4% |
| Supplies and chemicals | 35,917 | 1.2% |
| Utilities | 64,943 | 2.1% |
| General and adminstrative | 95,300 | 3.1% |
| Repairs and maintenance | 63,427 | 2.1% |
| Advertising royalty | 76,153 | 2.5% |
| Local advertising | 30,461 | 1.0% |
| Royalty | 121,845 | 4.0% |
| EBITDA | 261,505 | 8.6% |
Source: Franchise Disclosure Document 2023
Is a Culver's franchise a good investment?
Culver's has a very high initial investment. So naturally, as a franchisee you might wonder whether Culver's is a good investment.
When we compare investment cost to profits, we estimate that the payback period is rather long: 15 years on average.
This means you would need to wait almost 15 years before you can reimburse your initial investment of $4 million using the profits generated by your franchised restaurant.
Of course, this is an average. So it's possible that your franchise is more profitable than the average and fares better vs. others.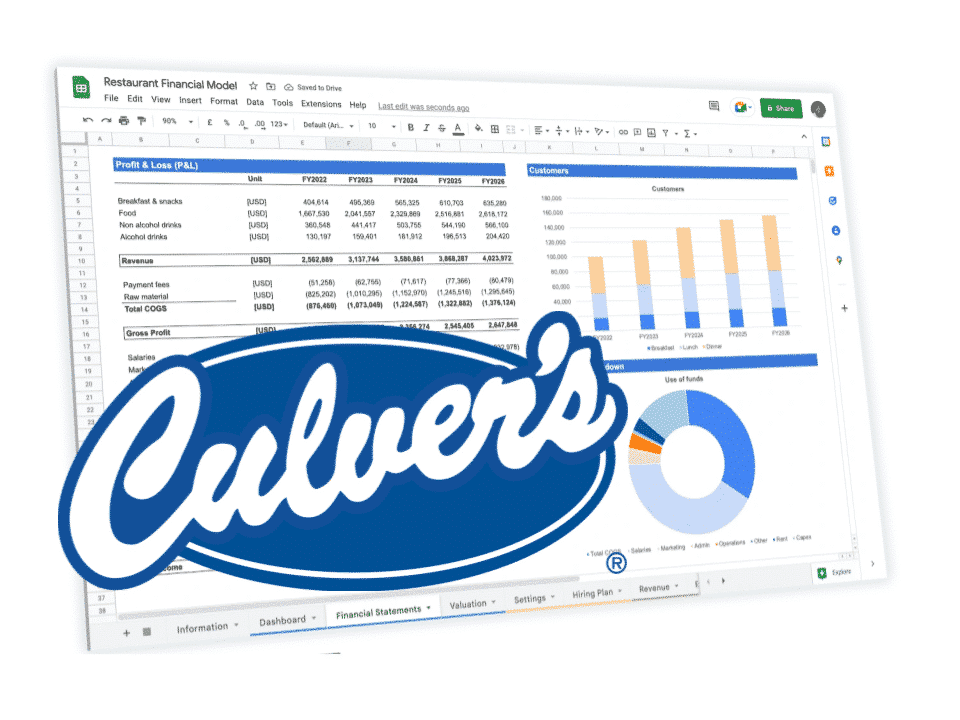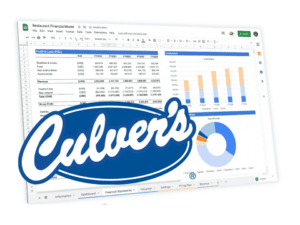 Culver's Franchise Business Plan
All the stats: startup costs, profits, breakeven, etc.
5-year financial projections built with the FDD

Excellent 4.8/5 based on 70 reviews
Excellent 4.8/5 based on 70 reviews

Disclaimer
Disclaimer: This content has been made for informational and educational purposes only. We do not make any representation or warranties with respect to the accuracy, applicability, fitness, or completeness of the information presented in the article. You should not construe any such information or other material as legal, tax, investment, financial, or other professional advice. Nothing contained in this article constitutes a solicitation, recommendation, endorsement, advertisement, or offer to buy or sell any franchises, securities, or other financial instruments in this or in any other jurisdiction in which such solicitation or offer would be unlawful under the franchise and/or securities laws of such jurisdiction.
All content in this article is information of a general nature and does not address the detailed circumstances of any particular individual or entity. Nothing in the article constitutes professional and/or financial and/or legal advice, nor does any information in the article constitute a comprehensive or complete statement of the matters discussed or the law relating thereto. You alone assume the sole responsibility of evaluating the merits and risks associated with the use of any information or other content in this article before making any decisions based on such information or other content.