Del Taco is one of the popular Mexican food franchises in the US and globally, alongside brands like Taco Bell, Taco John's or even QDOBA. A smaller franchise than the giant Taco Bell though, Del Taco has a very large presence in the US with 600 restaurants in the US.
A strong brand name is great, but should you really invest in a new Del Taco franchise? Before you go ahead, you should first understand the financials of Del Taco restaurants.
As per the latest Franchise Disclosure Document, Del Taco franchises have average turnover of $1,345,341 per year. Yet you would also have to invest $1,406,850 upfront. Is this a profitable business? Let's find out!
Del Taco franchises: key figures
| | |
| --- | --- |
| Franchise fee | $35,000 |
| Royalty fee | 5.0% |
| Marketing fee | 4.0% |
| Investment (mid-point) | $1,406,850 |
| Average sales | $1,345,341 |
| Sales to investment ratio | 1.0x |
| Payback period* | 7.0 years (average) |
| Minimum net worth | $2,000,000 |
| Minimum liquid capital | $500,000 |
* assuming 15% net profit margin
What is Del Taco?
Del Taco is an American fast-food restaurant chain that primarily operates in the western and southern US.
The chain was founded in 1964 by Ed Hackbarth and David Jameson in Yermo, California, where it is headquartered. The chain was recently acquired by Jack-in-the-Box in 2022.
Del Taco serves American-style Mexican cuisine such as tacos and mission burritos as well as American foods such as burgers, salads, fries, and shakes.
It started franchising in 1967 and has over 600 restaurants in 16 US states today.
Del Taco franchises pros and cons
Pros
Training and support: Del Taco has a strong and extensive training program that equips its franchisees with the basic foundation to establish and grow their restaurants. This includes management, operations, ongoing training, and support. The initial on-the-job training program consists of 240 hours.
Management support: Del Taco offers its franchisees solid management support and mentorship to be successful in their businesses. Franchisees get guidance on restaurant operations from the brand's top leadership
Customized marketing department: The brand has creative and customized marketing strategies. It has a dedicated marketing team to offer franchisees successful restaurant openings, targeted marketing, and promotional campaigns to create awareness of their local stores and reach a wider geographical market.
Real estate support: Franchisees get access to an experienced in-house real estate team that helps identify a viable business location in terms of traffic assessment and future growth possibilities. Also, franchisees get help with design and construction plans, as well as lease negotiations.
Multiple income channels: The brand employs a drive-through design and a mobile app to boost franchisees' sales. Franchisees can provide their customers with flexible on- and off-premises dining options, build loyalty, and improve their bottom lines.
Exclusive territory protection: The franchisor provides its franchisees with an exclusive development area to operate their restaurants. It does not grant any other franchises or operate a competitive channel in the designated area.
Incentive development program: Del Taco offers incentives to selected groups such as veterans, minorities, and multi-unit franchisees. Franchisees benefit from the opportunity to operate and expand into multi-unit restaurants, riding on well-established infrastructure and resources.
Cons
No absentee ownership: The franchise is not a passive investment opportunity. The franchisees need to be fully involved in the decision-making and daily operations of the restaurant.
Not a part-time venture: Del Taco is not a part-time business. Franchisees are required to keep the restaurant open full-time or as per the franchisor's set hours of business.
No financing: The brand does not offer direct or indirect financing to franchisees for the franchise fee, startup costs, equipment, inventory, accounts receivable, or payroll.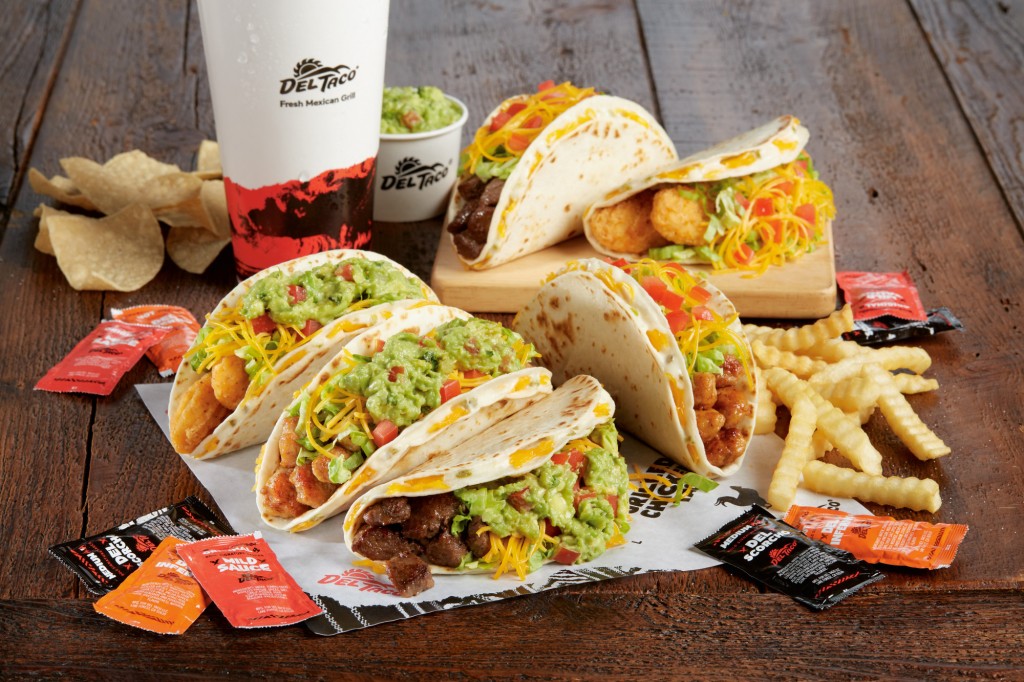 How much does a Del Taco franchise cost?
The amount you are about to pay as the initial investment will cover all the startup costs a restaurant needs in the beginning. In addition to the initial franchise fee of $35,000, you would also pay for:
Formation costs: professional fees, leasehold payment, building, site work, architect/engineering fees, furnishings, fixtures, equipment, computer systems, technical support fee, initial training, crew training, licenses, fees and deposits, etc.
Promotional fee: initial advertising
Operating costs: insurance, inventory, minimum working capital, etc.
| Type of cost | Low | High |
| --- | --- | --- |
| Initial franchise fee | $35,000 | $35,000 |
| Formation costs | $979,700 | $1,999,500 |
| Promotional fee | $10,000 | $10,000 |
| Operating costs | $35,000 | $72,000 |
| Total | $1,059,700 | $2,116,500 |
Source: 2022 Franchise Disclosure Document
How much can you make with a Del Taco franchise?
On average, a Del Taco franchise makes $1,345,341 in sales per year.
The sales number is the annual median gross sales of all Del Taco franchised restaurants.
Sales numbers are steadily growing over the year (+30.39% revenue growth in 2020 vs 2013). Although the growth rate became somewhat slower due to COVID-19.
| Fiscal Year | Median Gross Sales | % yoy change |
| --- | --- | --- |
| 2013 | $1,031,810 | – |
| 2014 | $1,086,258 | 5.28% |
| 2015 | $1,158,999 | 6.70% |
| 2016 | $1,240,928 | 7.07% |
| 2017 | $1,256,983 | 1.29% |
| 2018 | $1,323,469 | 5.29% |
| 2019 | $1,335,895 | 0.94% |
| 2020 | $1,345,341 | 0.71% |
Source: 2022 Franchise Disclosure Document
How profitable is a Del Taco franchise?
On average, a Del Taco franchise makes $310,774 in profits per year. This represents a 23% profit margin (adjusted EBITDA). 
The 23% adjusted EBITDA margin is on the lower end compared to similar franchises as per our intelligence (~25-27% industry average).
Indeed, despite standard marketing & royalty fees (9% sales vs. 10% industry average), the higher prime costs (59.9% vs 54%) cause the lower profit margin. Prime cost is the total of COGS (27.3%) and labor costs (32.6%).
Note that we used COGS, labor, and other cost information from company-owned restaurant data. Indeed, unfortunately, Del Taco doesn't provide any financial information on its franchised restaurants regarding costs. 
| Profit-and-loss | Amount ($) | As % of sales |
| --- | --- | --- |
| Sales | $1,345,341 | 100% |
| COGS | $(367,278) | 27.3% |
| Labor | $(438,581) | 32.6% |
| Rent | $(107,627) | 8.0%* |
| Royalty + marketing fees | $(121,081) | 9.0% |
| Adjusted EBITDA | $310,774 | ~23% |
Source: 2022 Franchise Disclosure Document
Is a Del Taco franchise a good investment?
To answer this question, we need to look at the payback period: the time it takes for an investment (like buying a franchise) to repay itself.
We found that it takes on average 7 years for a Del Taco franchise to repay the original investment (the $1,406,850) with the future profits. This is an average payback period we found vs. similar franchise (most restaurant franchises have payback periods of about 5-7 years).
To calculate this number, we used a 15% net profit margin instead of the 23% adjusted EBITDA above. Indeed, from EBTIDA you would need to expenses like non-operating costs, corporate taxes, debt interest, etc. Only from net profits you can pay yourself with the dividends and reap the profits of your new franchise.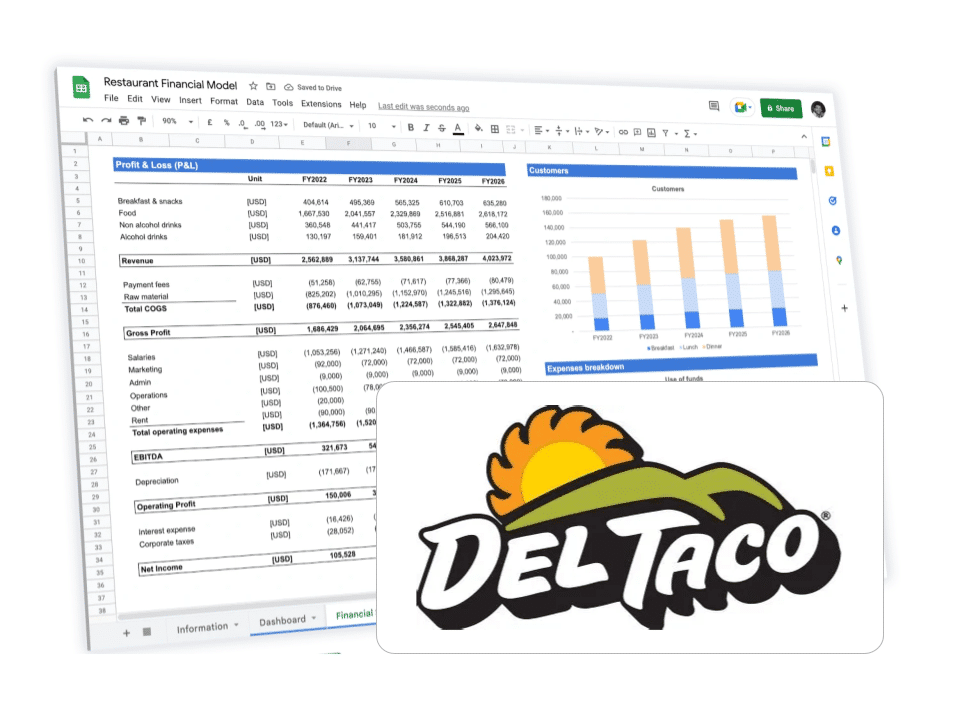 Download the Del Taco franchise business plan and get your franchise funded
Including a 5-year financial plan built with the latest Franchise Disclosure Document numbers