With over 15,000 restaurants worldwide and a relatively affordable cost ($10,000 franchise fee and $400,000 investment), Domino's franchises are very popular globally, not just in the US.
But does the price reflect the profit potential? That's what we will look into in this article. We will have a look at how much it costs to open a Domino's franchise, how much you can expect to make with this business and how profitable this franchise really is. Let's dive in!
Domino's franchise: key figures
| | |
| --- | --- |
| Franchise fee | $10,000 |
| Royalty fee | 5.5% |
| Marketing fee | 4.0% |
| Investment (mid-point) | $398,725 |
| Average sales | $1,286,428 |
| Sales to investment ratio | 3.2 |
| Payback period* | 3.9 years (very good) |
| Minimum net worth | $250,000 |
| Minimum liquid capital | $75,000 |
* suing 15% net profit margin
🔎 How does Domino's compare vs. other franchises? Check the ranking
Domino's franchise: a brief introduction
Domino's is an American multinational pizza restaurant chain that operates more than 15,000 stores globally with over 5,650 stores in the US, 1,500 in India, and 1,250 in the UK.
While Pizza is the mainstay of their business, they also sell bread bowls, pasta, and oven-baked sandwiches along with chicken products, beverages, and desserts.
Domino's took over the operations of another small pizza restaurant chain named DomiNick's in 1960. After the takeover, the DomiNick's was renamed as Domino's and then the chain saw exponential growth, reaching 200 stores as soon as 1976.
Domino's started its international expansion in 1983, and in the same year Domino's opened in 1,000th store. The company kept growing and today it operates across 5,701 cities in 83 countries.
Domino's franchise: pros and cons
There are several advantages and disadvantages of buying a Domino's franchise and they include:
Pros
Domino's franchise comes with low capital requirements because most stores follow carry-out delivery model which requires a small location, and hence small investment and maintenance
Domino's uses technology to its advantage and since they have a mobile app with over 5.6 million downloads in the US alone, a franchisee can quickly ramp up sales through online ordering
The primary product offered by the chain does fairly well in harsh macroeconomic conditions (example: for less than $25 including tip, a pizza can feed a family of four)
Domino's offers discounts on their franchise fee and investment costs for women, veterans, and minority groups
Cons
There is a tough competition in the US market from players like Papa John's, Yum Brands' and Little Caesar Pizza
Raw materials used by Domino's are subject to random price hikes, which can increase the operational costs and reduce profits
There is no territory protection provided by Domino's, which means that there can be multiple Domino's stores in the same location. This will lead to profit sharing by the franchisees
How much does it cost to open a Domino's franchise?
You must invest on average $398,725 including a $10,000 initial franchise fee to open a Domino's franchise.
Of course, this is simply an average and varies based on a number of criteria (size of the restaurant, location, etc.). As per the latest FDD, the amount the franchisee must invest ranges from $107,450 to $682,500.
This amount covers everything from formation to operation costs; such as leasehold improvements, furniture, equipment, 3 months' rent, a security deposit, insurance, marketing fee, etc.
Here's a summary of the different costs you should pay for:
| | |
| --- | --- |
| Type of cost | Investment |
| Initial Franchise Fee | $0 – $10,000 |
| Formation costs | $73,200 – $490,000 |
| Operating expenses | $34,250 – $182,500 |
| Total | $107,450 – $682,500 |
Source: FDD 2022
The amount also depends on the type of Domino's franchise you are opening.
To give you an idea, you would invest much less for a non-traditional store than a traditional store.
Traditional stores are retail outlets located in shopping malls and strip centers. Instead, non-traditional stores are located in office buildings, airports, gas stations, toll roads, etc.
| | |
| --- | --- |
| Type of restaurant | Investment |
| Non-traditional store | $107,450 to $648,500 |
| Traditional store | $156,450 to $682,500 |
Source: FDD 2022
What is the turnover of a Domino's franchise?
A Domino's franchise makes $1,286,428 in sales per year.
Domino's franchises' median sales have been steadily growing over time, here's the trend in revenue from 2017 to 2021: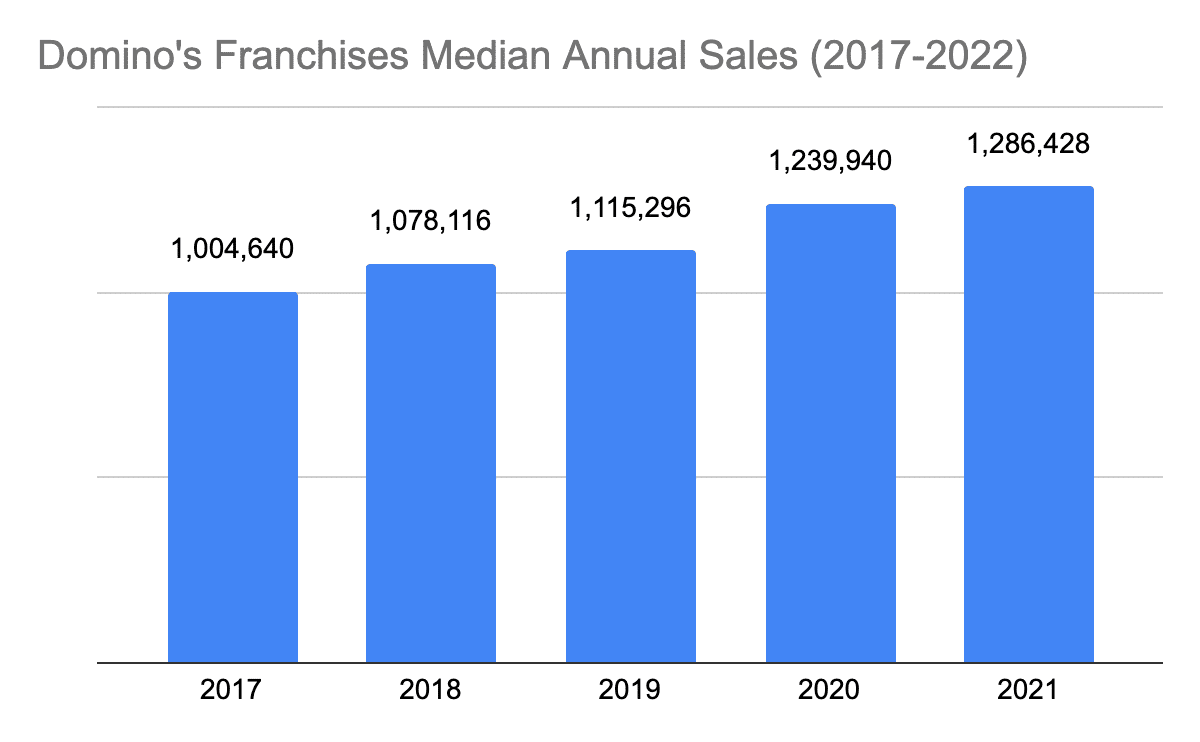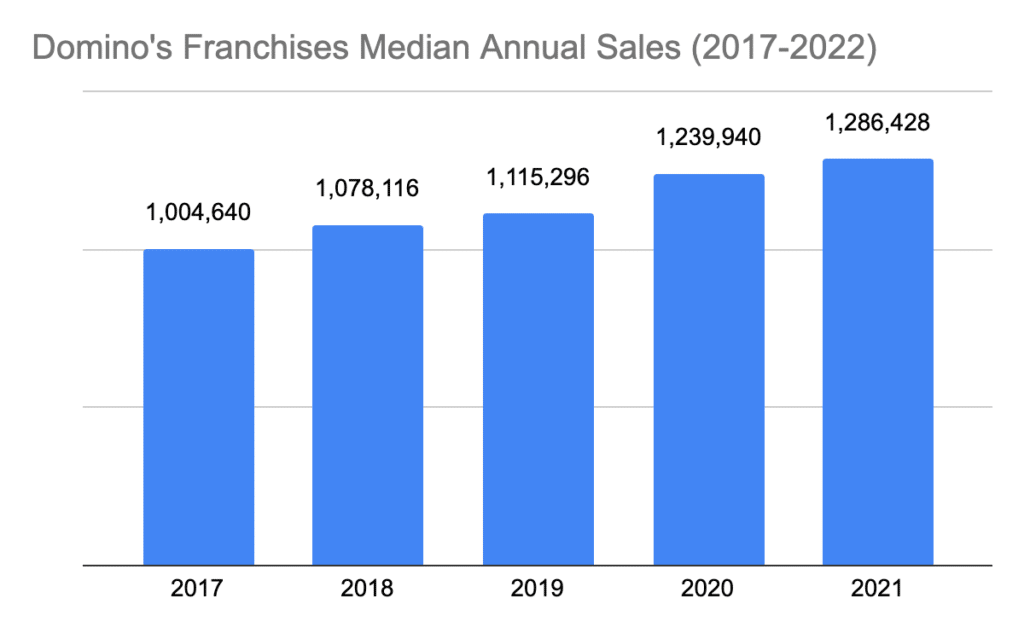 How profitable is a Domino's franchise?
Unlike most other quick-service restaurant franchises, Domino's provides a lot of insights into the profitability of its franchises.
Of course, profits increase with scale: the more sales you can generate with your franchise, the higher the profits. That's simply because of operating leverage: although variable costs grow in line with revenue, fixed costs do not.
For example, whilst gross margin varies between 16% to 25% for stores with annual sales under $520k and above $1.3M respectively, EBITDA margin jump from -9% to 15% instead.
You're heard that right: the most profitable Domino's franchises have EBITDA margins of up to 15.1%.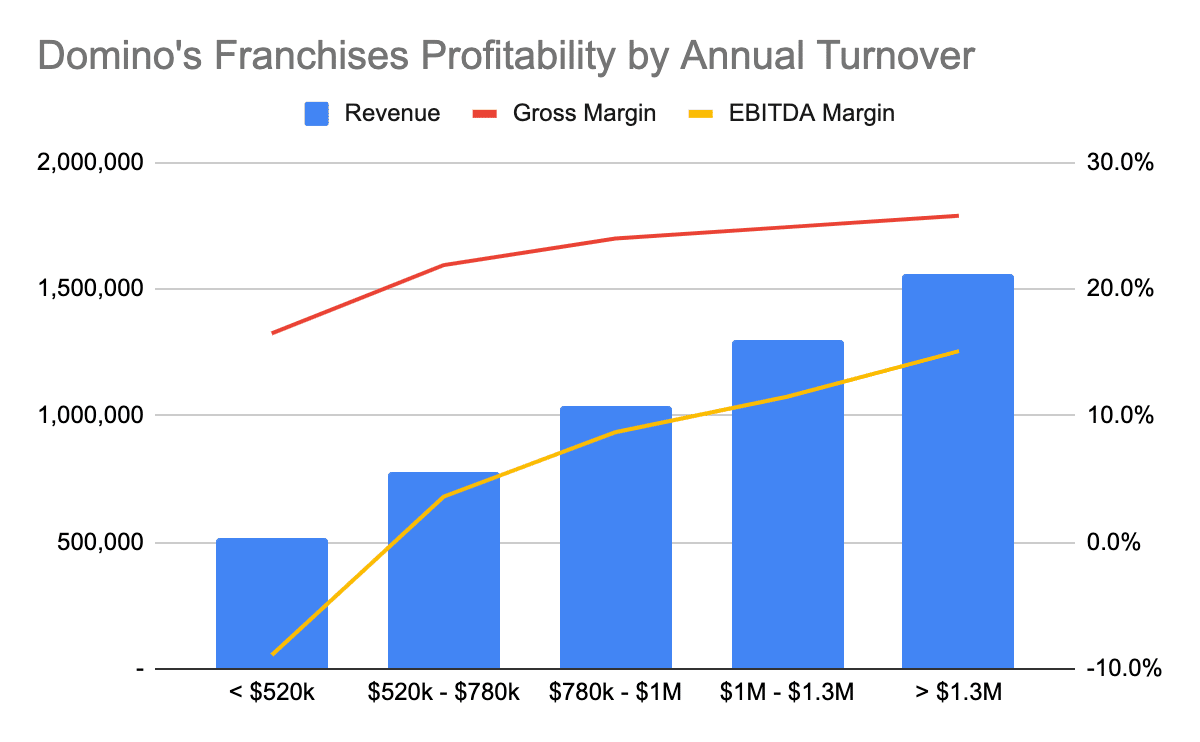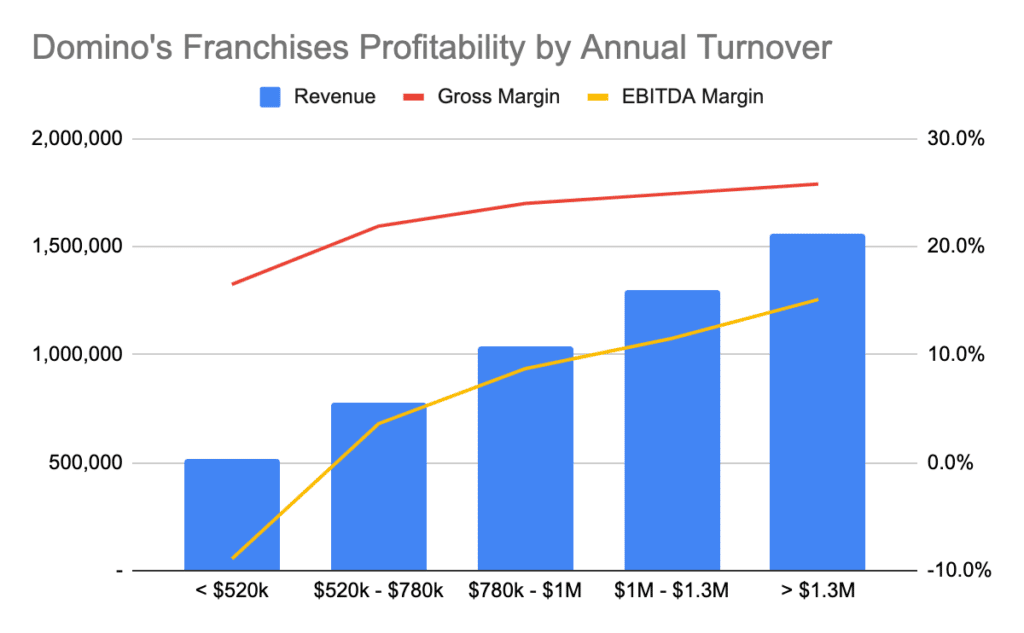 Is a Domino's franchise a good investment?
We just saw that Domino's franchises can reach EBITDA margins of up to 15%. The higher the sales, the higher the profits. But does this mean that Domino's franchises are good investments? Do the profits justify the $398,725 investment upfront?
In order to answer that question, we need to look at the payback period: how long does it take you to recoup your original investment?
In order to calculate payback period, we divide the investment by net profits. As per our analysis, the average net profit margin for a Domino's franchise is around 8% of revenues (12% EBITDA margin).
Therefore, using the average annual sales per store ($1,286,428), we obtain an average net profit of $102,000 per franchise and a payback period of 3.9 years, in line with the average payback period for quick-service franchise restaurants.
Looking at it from the payback angle, even though net profit margin is lower than most other franchises (~8% vs. 15% as per our analysis), the payback period is still under 4 years, which is very good.
As such, we could argue that Domino's franchises are great investments as it takes 4 years to recoup your investment. Anything below 4 years is pretty good, and anything above 7 years is mediocre.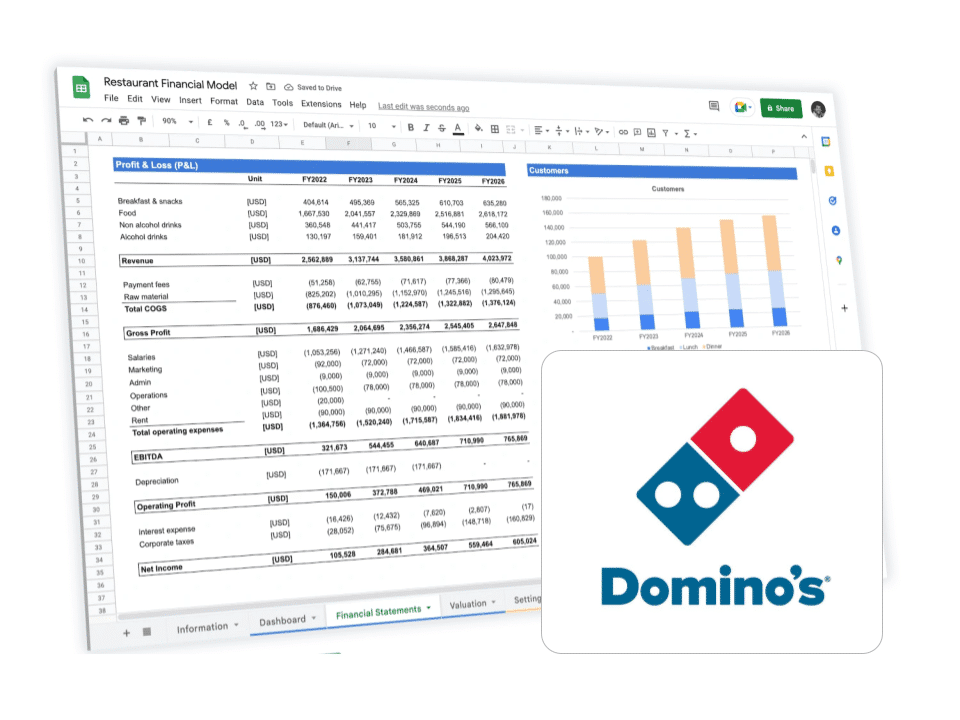 Download the Domino's business plan and get your franchise funded
Including a 5-year financial plan built with the latest Franchise Disclosure Document numbers
How does Domino's compare vs. other franchises?
Franchise
Investment ($)
Sales ($)
S/I Ratio
Payback (years)
Min. net worth ($)
Min. liquid capital ($)
Chick-Fil-A
https://sharpsheets.io/blog/chick-fil-a-franchise-costs-profits/
Chicken
1,363,510
4,227,417
3.1
2.2
-
-
Dunkin' Donuts
https://sharpsheets.io/blog/dunkin-donuts-franchise-costs-profits/
Donuts
779,000
1,056,521
1.4
4.9
500,000
250,000
Domino's
https://sharpsheets.io/blog/dominos-franchise-profits-costs/
Pizza
398,725
1,286,428
3.2
3.9
250,000
75,000
Krispy Kreme
https://sharpsheets.io/blog/krispy-kreme-franchise-costs-profits/
Donuts
824,000
3,400,000
4.1
1.6
2,000,000
300,000
Little Caesars
https://sharpsheets.io/blog/little-caesars-franchise-costs-profits/
Pizza
1,022,850
798,113
0.8
8.5
350,000
150,000
Wingstop
https://sharpsheets.io/blog/wingstop-franchise-costs-profits/
Chicken
631,695
1,460,459
2.3
2.9
1,200,000
600,000
Steak 'n Shake
https://sharpsheets.io/blog/steak-n-shake-franchise-costs-profits/
Burger, Milshakes
815,626
1,346,332
1.7
4.0
1,500,000
500,000
Crumbl Cookies
https://sharpsheets.io/blog/crumbl-cookie-franchise-cost-profits/
Sweets
507,224
1,582,090
3.1
2.1
300,000
150,000
Taco Bell
https://sharpsheets.io/blog/taco-bell-franchise-costs-profits/
Mexican
462,413
1,650,000
3.6
1.9
1,500,000
750,000
Popeyes
https://sharpsheets.io/blog/popeyes-franchise-costs-profits/
Chicken
1,095,783
1,444,617
1.3
5.1
1,000,000
500,000
Smoothie King
https://sharpsheets.io/blog/smoothie-king-franchise-costs-profits/
Smoothie
688,108
573,269
0.8
8.0
300,000
100,000
Jersey Mike's
https://sharpsheets.io/blog/jersey-mikes-franchise-costs-profits/
Sandwich
574,323
1,220,586
2.1
4.7
300,000
100,000
Nothing Bundt Cakes
https://sharpsheets.io/blog/nothing-bundt-cakes-franchise-costs-profits/
Sweets
538,650
1,307,280
2.4
2.7
600,000
150,000
Jimmy John's
https://sharpsheets.io/blog/jimmy-johns-franchise-costs-profits/
Sandwich
513,650
874,845
1.7
3.9
300,000
80,000
Texas Roadhouse
https://sharpsheets.io/blog/texas-roadhouse-franchise-costs-profits/
Steakhouse
4,209,500
2,955,534
0.7
9.5
n.a.
200,000
Kung Fu Tea
https://sharpsheets.io/blog/kung-fu-tea-franchise-costs-profits/
Bubble tea
250,125
353,237
1.4
4.7
n.a.
25,000
Wendy's
https://sharpsheets.io/blog/wendys-franchise-cost-profits/
Burger
1,374,833
1,791,231
1.3
5.1
1,000,000
500,000
Burger King
https://sharpsheets.io/blog/burger-king-franchise-costs-profits/
Burger
1,242,950
1,215,970
1.0
6.8
1,500,000
500,000
Sonic Drive-In
https://sharpsheets.io/blog/sonic-drive-in-franchise-costs-profits/
Burger
1,467,083
1,617,000
1.1
6.0
1,000,000
500,000
Panera Bread
https://sharpsheets.io/blog/panera-bread-franchise-costs-profits/
Sandwich
2,290,500
2,599,432
1.1
5.9
7,500,000
3,000,000
Pizza Hut
https://sharpsheets.io/blog/pizza-hut-franchise-costs-profits/
Pizza
935,575
906,911
1.0
6.9
700,000
350,000
KFC
https://sharpsheets.io/blog/kfc-franchise-costs-profits/
Chicken
1,802,050
1,567,474
0.9
7.7
1,500,000
750,000
Arby's
https://sharpsheets.io/blog/arbys-franchise-costs-profits/
Sandwich
1,184,975
1,126,263
1.0
7.0
1,000,000
500,000
Dairy Queen
https://sharpsheets.io/blog/dairy-queen-franchise-costs-profits/
Ice Cream
1,404,220
1,143,180
0.8
8.2
750,000
400,000
Jack in the Box
https://sharpsheets.io/blog/jack-in-the-box-franchise-costs-profits/
Burger
2,195,800
1,755,503
0.8
12.5
1,000,000
250,000
Papa John's
https://sharpsheets.io/blog/papa-johns-franchise-costs-profits/
Pizza
353,695
1,101,127
3.1
2.1
750,000
250,000
Zaxby's
https://sharpsheets.io/blog/zaxbys-franchise-costs-profits/
Chicken
534,750
2,229,187
4.2
2.4
1,000,000
500,000
Hardee's
https://sharpsheets.io/blog/hardees-franchise-costs-profits/
Burger
1,759,000
1,147,975
0.7
10.2
1,000,000
300,000
Culver's
https://sharpsheets.io/blog/culvers-franchise-costs-profits/
Burger
4,044,500
3,051,762
0.8
8.8
2,000,000
350,000
Five Guys
https://sharpsheets.io/blog/five-guys-franchise-costs-profits/
Burger
511,225
1,203,366
2.4
2.8
500,000
250,000
Carl's Jr.
https://sharpsheets.io/blog/carls-jr-franchise-costs-profits/
Burger
1,860,335
1,419,516
0.8
8.7
1,000,000
500,000
Baskin-Robbins
https://sharpsheets.io/blog/baskin-robbins-franchise-costs-profits/
Ice Cream
465,100
316,815
0.7
9.8
250,000
125,000
IHOP
https://sharpsheets.io/blog/ihop-franchise-costs-profits/
Pancakes
2,058,302
1,553,311
0.8
8.8
1,500,000
500,000
Applebee's
https://sharpsheets.io/blog/applebees-franchise-costs-profits/
Casual American
5,137,966
2,356,965
0.5
14.5
1,000,000
500,000
Denny's
https://sharpsheets.io/blog/dennys-franchise-costs-profits/
Casual American
3,785,459
1,639,549
0.4
15.4
1,000,000
500,000
Papa Murphy's
https://sharpsheets.io/blog/papa-murphys-franchise-costs-profits/
Pizza
433,174
580,441
1.3
5.0
275,000
125,000
Auntie Anne's
https://sharpsheets.io/blog/auntie-annes-franchise-costs-profits/
Pretzels
229,692
343,135
1.5
5.6
300,000
100,000
Firehouse Subs
https://sharpsheets.io/blog/firehouse-subs-franchise-costs-profits/
Sandwich
613,186
888,356
1.4
4.6
350,000
100,000
Tropical Smoothie Cafe
https://sharpsheets.io/blog/tropical-smoothie-cafe-franchise-costs-profits/
Smoothie
430,500
961,969
2.2
3.0
350,000
125,000
Marco's Pizza
https://sharpsheets.io/blog/marcos-pizza-franchises-costs-profits/
Pizza
437,625
895,523
2.0
3.3
400,000
100,000
Cinnabon
https://sharpsheets.io/blog/cinnabon-franchises-costs-profits/
Sweets
276,062
394,897
1.4
5.8
300,000
120,000
Cold Stone Creamery
https://sharpsheets.io/blog/cold-stone-creamery-franchise-costs-profits/
Ice Cream
310,956
417,588
1.3
5.0
250,000
100,000
Jamba
https://sharpsheets.io/blog/jamba-franchise-costs-profits/
Smoothie
414,562
597,028
1.4
7.7
300,000
100,000
Church's Chicken
https://sharpsheets.io/blog/churchs-texas-chicken-fees-sales-costs/
Chicken
1,195,147
1,395,088
1.2
5.7
1,000,000
300,000
Moe's Southwest Grill
https://sharpsheets.io/blog/moes-southwest-grill-franchises-costs-profits/
Mexican
792,370
1,013,361
1.3
5.2
1,000,000
100,000
Tim Hortons
https://sharpsheets.io/blog/tim-hortons-franchises-costs-profits/
Coffee
1,242,750
1,188,240
1.0
7.0
500,000
100,000
Checkers & Rally's
https://sharpsheets.io/blog/checkers-franchises-profits-sales-costs/
Burger
837,847
1,039,773
1.2
5.4
750,000
250,000
Charleys Philly Steaks
https://sharpsheets.io/blog/charleys-philly-steaks-costs-profits/
Sandwich
509,806
786,233
1.5
4.3
500,000
100,000
Buffalo Wild Wings
https://sharpsheets.io/blog/buffalo-wild-wings-costs-profits/
Chicken
3,546,900
2,534,148
0.7
9.3
1,500,000
750,000
Rita's Ice
https://sharpsheets.io/blog/ritas-ice-franchise-costs-profits/
Ice Cream
215,839
248,340
1.2
5.8
300,000
100,000
A&W Restaurants
https://sharpsheets.io/blog/aw-restaurants-franchises-costs-profits/
Burger
786,750
851,212
1.1
6.2
350,000
150,000
Hungry Howie's Pizza
https://sharpsheets.io/blog/hungry-howies-pizza-franchise-costs-profits/
Pizza
419,682
806,899
1.9
3.5
750,000
200,000
Bojangles
https://sharpsheets.io/blog/bojangles-franchise-costs-profits/
Chicken
1,658,000
1,801,057
1.1
6.1
1,000,000
500,000
McAlister's Deli
https://sharpsheets.io/blog/mcalister-deli-franchise-costs-profits/
Sandwich
1,424,963
1,865,861
1.3
5.1
1,000,000
500,000
Round Table Pizza
https://sharpsheets.io/blog/round-table-pizza-franchise-costs-profits/
Pizza
783,250
1,037,816
1.3
5.0
500,000
200,000
Qdoba Mexican Eats
https://sharpsheets.io/blog/qdoba-mexican-eats-franchise-costs-profits/
Mexican
659,250
972,962
1.5
4.5
Freddy's
https://sharpsheets.io/blog/freddys-franchise-costs-profits/
Burger
1,453,040
1,792,929
1.2
5.4
1,000,000
400,000
Taco John's
https://sharpsheets.io/blog/taco-johns-franchise-costs-profits/
Mexican
1,119,000
1,124,980
1.0
6.6
1,000,000
400,000
Scooter's Coffee
https://sharpsheets.io/blog/scooters-coffee-franchise-costs-profits/
Coffee
1,143,250
797,101
0.7
9.6
500,000
200,000
Einstein Bros. Bagels
https://sharpsheets.io/blog/einstein-bros-bagels-franchise-costs-profits/
Sandwich
750,075
885,011
1.2
5.7
1,000,000
536,500
Great American Cookies
https://sharpsheets.io/blog/great-american-cookies-franchise-costs-profits/
Sweets
385,275
452,771
1.2
5.7
250,000
100,000
Wienerschnitzel
https://sharpsheets.io/blog/wienerschnitzel-franchise-costs-profits/
Hot dogs
873,300
880,980
1.0
6.6
600,000
250,000
Blaze Pizza
https://sharpsheets.io/blog/blaze-pizza-franchise-costs-profits/
Pizza
865,450
1,096,432
1.3
7.9
500,000
300,000
Wetzel's Pretzels
https://sharpsheets.io/blog/wetzels-pretzels-franchise-costs-profits/
Pretzels
377,571
748,857
2.0
3.4
300,000
50,000
Pizza Ranch
https://sharpsheets.io/blog/pizza-ranch-franchise-costs-profits/
Pizza
3,268,300
1,174,088
0.4
18.6
1,000,000
297,000
Del Taco
https://sharpsheets.io/blog/del-taco-franchise-costs-profits/
Mexican
1,406,850
1,345,341
1.0
7.0
2,000,000
500,000
Schlotzsky's
https://sharpsheets.io/blog/schlotzskys-franchises-costs-profits/
Healthy, Salads
1,102,933
1,053,333
0.3
22.2
1,000,000
300,000
Captain D's
https://sharpsheets.io/blog/captain-ds-franchise-profits-costs/
Seafood
982,778
1,067,816
0.4
19.0
1,000,000
350,000
Biggby Coffee
https://sharpsheets.io/blog/biggby-coffee-franchise-profits-costs/
Coffee
310,575
648,352
0.3
20.0
300,000
100,000
Which Wich
https://sharpsheets.io/blog/which-wich-franchises-profits-costs/
Sandwich
330,375
281,886
0.3
22.2
500,000
150,000
Marble Slab Creamery
https://sharpsheets.io/blog/marble-slab-franchises-costs-profits/
Ice Cream
407,360
251,052
0.4
16.7
250,000
100,000
Mountain Mike's Pizza
https://sharpsheets.io/blog/mountain-mikes-franchise-profits-costs/
Pizza
410,900
865,713
0.3
20.0
300,000
100,000
Huddle House
https://sharpsheets.io/blog/huddle-house-franchise-cost-profits/
Diner
988,743
712,428
0.5
13.3
600,000
300,000
L&L Hawaiian Barbecue
https://sharpsheets.io/blog/ll-hawaiian-barbecue-franchises-costs-profits/
BBQ
334,350
612,921
0.3
33.3
500,000
150,000
Chicken Salad Chick
https://sharpsheets.io/blog/chicken-salad-chick-franchises-costs-profits/
Healthy, Salads
651,000
1,202,020
0.3
20.0
750,000
250,000
Golden Chick
https://sharpsheets.io/blog/golden-chick-franchises-costs-profits/
Chicken
362,975
917,609
2.5
2.6
2,000,000
425,000
Perkins
https://sharpsheets.io/blog/perkins-franchise-costs-profits/
Diner
1,922,728
1,729,246
0.9
7.4
1,500,000
500,000
Waba Grill
https://sharpsheets.io/blog/waba-grill-franchises-costs-profits/
Teryaki
454,000
466,536
1.0
6.5
1,000,000
250,000
Bruster's Ice Cream
https://sharpsheets.io/blog/brusters-franchises-profits-costs/
Ice Cream
663,925
466,696
0.7
9.5
375,000
150,000