Every business needs a financial model. Whether you want to understand what's your breakeven, your valuation or create a budget for your coffee shop business plan, you've come the right way.
In this article we'll explain you how to create powerful and accurate financial projections for a coffee shop.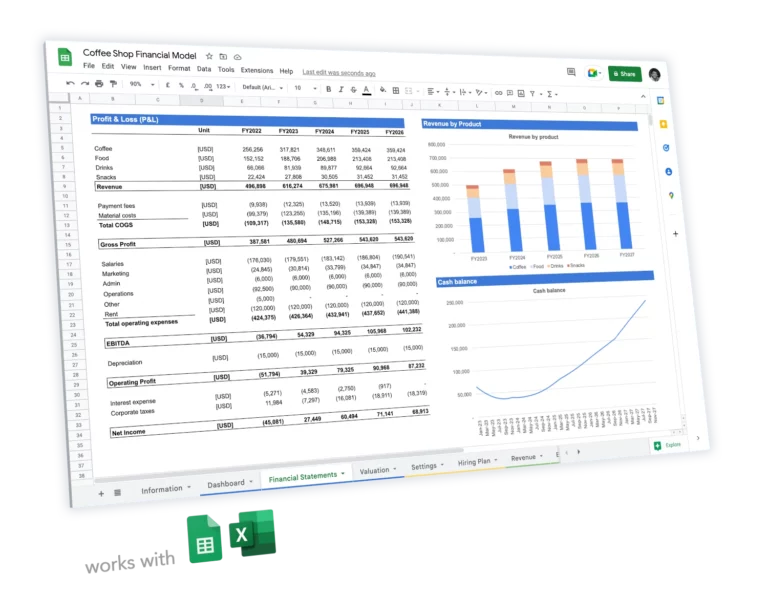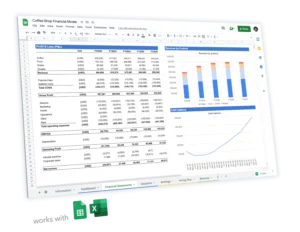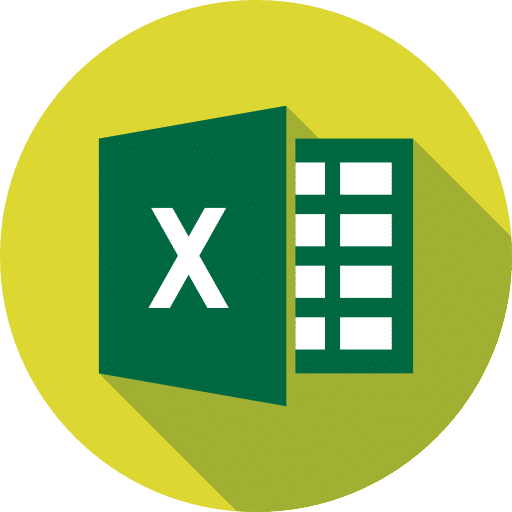 Coffee Shop Financial Model
Download an expert-built 5-year Excel financial model for your business plan
Coffee Shop Financial Model
Download an expert-built 5-year Excel financial model for your business plan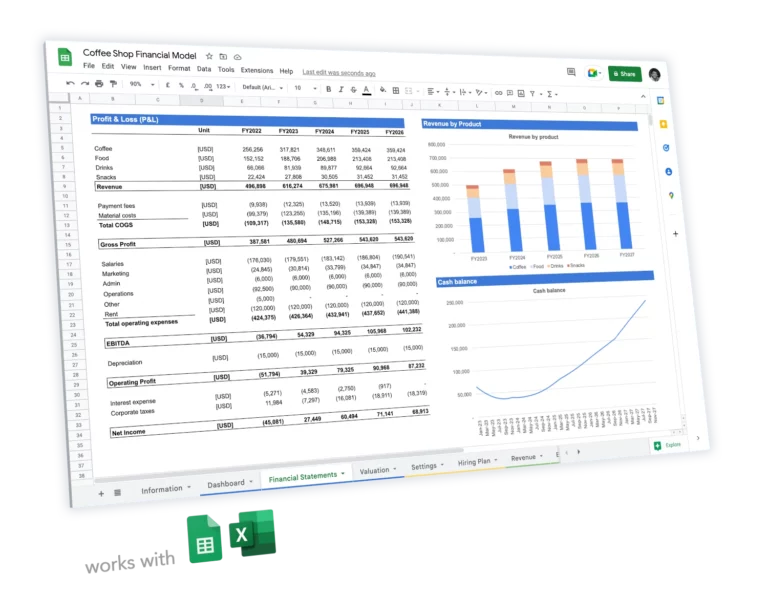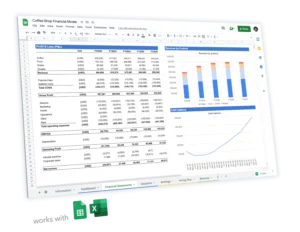 1. Forecast Customers
The first thing you must do to create a financial model for your coffee shop is to forecast the number of customers you will serve over time.
Forecasting customers can be done as follows. You must set the number of:
Customers you expect to serve on average on a weekday
Customers on a weekend day instead
Days you are open in a week on average (for example 5 weekdays and 2 weekend days if you are open 7/7)
Tip: the values you enter can be set over time, for example for each year as shown in the example below.


That way, you will be able to forecast accurately the number of customers you can serve over time, and so the revenues which we will now see.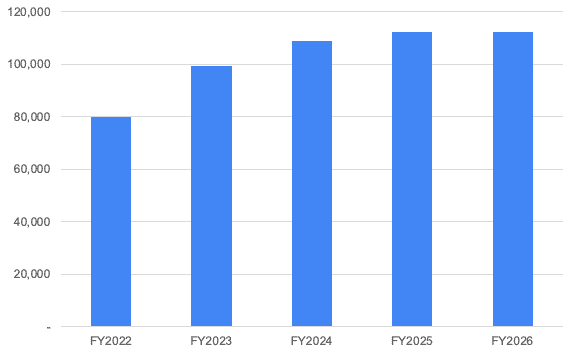 2. Forecast Revenue
Now that we have the number of customers, we can calculate revenue easily.
Yet, before we do so, we must break down the number of customers into the different products they may buy. Indeed, most of you customers may buy a coffee at an average price of $4.00, yet some may also buy snacks for a average price of $5.50 and so on…
It's very important to break it down right. Indeed, as you know all these products have very different unit economics (prices and profit margins) you need to forecast accurately. Let's see now how.
First, break down the products into a percentage of your total customers. For example:
80% of the customers may choose to buy a coffee at an average price of $4.00;
another 20% buy food to go at an average price of $9.50
In addition, 15% of customers also buy drinks for an average price of $5.50
Finally, 8% of customers buy snacks too, for $3.50 on average
That way, you can now multiply the number of customers for each product by their respective price to obtain revenue.
Now you can obtain your revenue projections broken down by the type of product as shown below: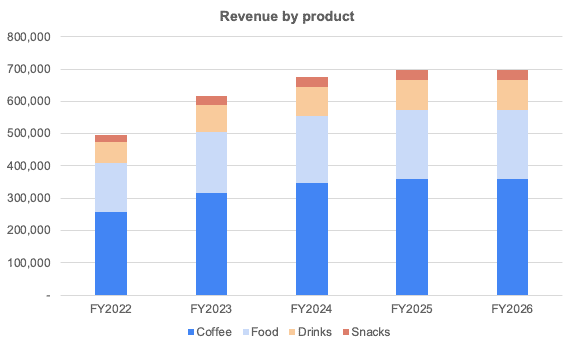 3. Forecast Expenses
In addition to the one-off startup costs, you must also budget for all the operating costs of running a coffee shop.
We have laid out below the key expenses you can expect as well as their amount. Please note that these costs are for illustrative purposes and depend on a number of factors which may not fully be relevant to you.
Let's break down the key costs incurred by all coffee shops below:
COGS (Cost of Goods Sold)
The COGS are by definition variable costs. For a coffee shop, they can include the cost of sugar, coffee beans, milk, water, etc. On average, you should spend anywhere from 20% to 30% of your revenues in COGS.
Assuming 200 customers per day on average, and an average order value of $6.20, you should expect to pay between $14,000 to $21,000 in COGS each month (see above).
Staff
With COGS and rent, payroll is undeniably one of the most important expense for coffee shops. According to salary.com, the average hourly wage for as of April 2022 ranges between $11 and $13, while a coffee shop manager earns between $31 and $44. However, the hourly rates vary based on the education level, additional skills, years of experience, among other factors.
Assuming you need 4 baristas full time ($30,000 yearly salary) plus a manager ($75,000), you should be looking at $19,500 in salaries each month (including 20% taxes and benefits).
Rent
Another high operating cost are the premises of which the cost depends very much on the location. As an example, the average asking rate to rent commercial space in midtown NYC is around $86 per square foot.
So assuming you rent a 1,000 SF commercial space for $86 SF per year in Midtown NYC, the rent will represent over $7,000 per month.
Marketing and paid advertising
You need to ensure proper marketing to attract reliable customers. Therefore, make sure you set aside a marketing and advertising budget. The total customer acquisition cost (CAC) will depend on the medium used and the target audience.
Typically, marketing and paid advertising will cost more in the first 6 months of operation. Indeed, as you're opening up the business, you'll need a significant budget to promote your coffee shop before you can rely on organic growth (word-of-mouth).
Because coffee shops are local businesses, marketing will mostly be offline (posters, billboards, etc.) but should also include some online spending (especially social media).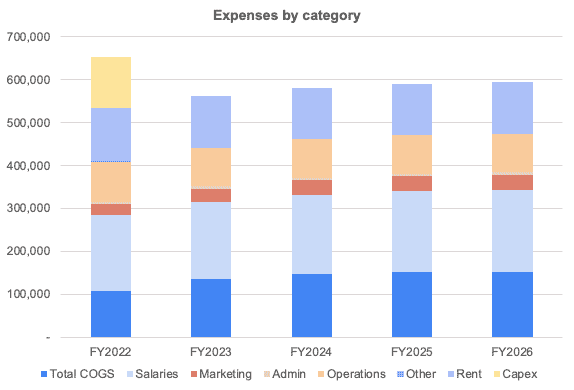 4. Build your P&L And Cash flow
Once we have forecasted revenues and expenses, we can easily build the profit-and-loss (P&L) from revenues down to net profit. This will help you to visualise key financial metrics such as Gross Profit or EBITDA margin as shown below: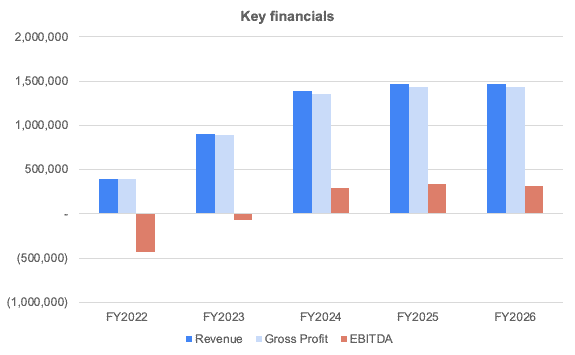 The cash flow statement, in comparison, needs to include all cash items from the P&L and other cash movements such as capital investments (also referred as "Capex"), fundraising, debt, etc.
Cash flow is vital as it will help you understand how much funding you should get, either from investors or the bank (SBA loan for example) to start and run your own coffee shop.
In this chart below, we're showing you an example of a typical cost structure a coffee shop business would incur. Unsurprisingly, salaries, rent and COGS represent ~65% of total expenses