A sandwich franchise icon, the Firehouse Subs franchise has over 1,200 restaurants across the US and North America. If you've ever considered starting a Firehouse Subs franchise, you may want to know how much money you can make with this franchise.
The good news is that Firehouse Subs does seem like a great investment. Indeed, with annual sales of $888,356 per year but with a (mere) $613,186 investment upfront, your payback period is rather short.
Want to know more? In this article we're looking at Firehouse Subs and the numbers from its latest Franchise Disclosure Document.
We will see how much you can realistically make with this business, how profitable it really is, and whether you should invest in a Firehouse Subs franchise. Let's dive in!
Firehouse Subs franchise: revenues, fees & profits
| | |
| --- | --- |
| Franchise fee | $17,500 |
| Royalty fee | 6.0% |
| Marketing fee | 5.0% |
| Investment (mid-point) | $613,186 |
| Average annual sales | $888,356 |
| Investment to sales ratio | 1.4x |
| Investment payback* | 4.6 years (good) |
| Minimum net worth | $350,000 |
| Minimum liquid capital | $100,000 |
* using 15% net profit margin
What is Firehouse Subs?
Firehouse Subs is a leading fast-casual food chain restaurant with over 1,200 stores in the USA, Puerto Rico, and Canada.
The chain was founded in 1994 in Jacksonville, Florida, by firefighter brothers Chris and Robin Sorensen.
It serves hot specialty subs, salads, and other seasonal items. The subs are made with meats and cheeses and served on toasted sub rolls "Fully Involved" with vegetables and condiments.
Firehouse Subs began franchising in 1995 and is owned by Restaurant Brands International (RBI).
Firehouse Subs franchise: pros and cons
Pros
Extensive training: The brand offers franchisees comprehensive training programs and operating systems to help them run a successful business. Its team of experts trains franchisees on site selection, restaurant design and construction, operations, and restaurant management.
Aggressive marketing: Best known for its famous slogan, "Our way beats their way," Firehouse Subs has a compelling marketing strategy that helps franchisees promote their local stores to a wide range of demographics.
Operational excellence: The brand has a varied, innovative, and evolving menu that caters to changing market trends and customer preferences. In addition, it has excellent customer service and utilizes a specific menu for each day, appealing to all types of customers.
Unique brand: Firehouse Subs is a unique brand that steams its meats and cheese to preserve its flavors. It also features authentic firefighting décor in its restaurants, which sets it apart from the competition.
Growth opportunities: The brand has more than 1,200 stores in the US and is still growing. With upcoming international opportunities, such as Canada, that are well planned to ensure franchisee success, franchisees are guaranteed growth potential.
Territory protection: The franchisor grants the franchisees the right to carry out business within a specific trade area approved and protected by it. It, therefore, does not grant other franchises or operate competitive businesses within the trade area.
Community involvement: The chain was founded by firefighters, and therefore it is very conscious of firefighters and emergency medical services (EMS) in the local communities. It supports local firefighters and funds first responders, making it attractive to customers.
Cons
No financing: The franchisor or its affiliates do not offer direct or indirect financing to franchisees. Besides, it doesn't guarantee any notes, obligations, or leases on behalf of its franchisees.
Competition: Despite being a fast-growing brand in the sandwich industry, Firehouse faces a lot of competition from well-established players such as Subway and Jimmy John's.
No global presence: The brand has a minimal global presence. Therefore, a Firehouse Subs franchise may not be a viable investment in some locations.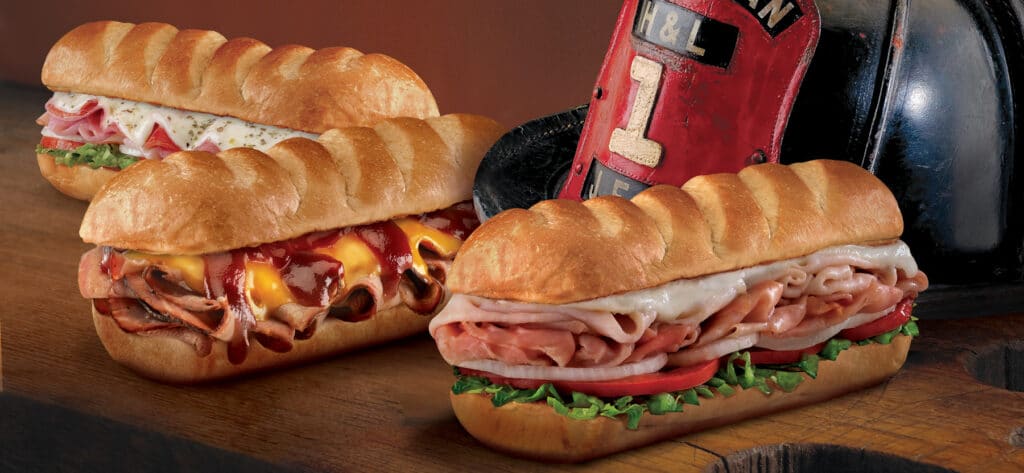 How much does a Firehouse Subs franchise cost?
On average, you would invest around $888,356 to open a Firehouse Subs franchise restaurant. This amount includes an initial franchise fee of $17,500.
This investment amount is an average, indeed, it will vary depending on your choice of restaurant type. As you can see, you would need more investment for a non-traditional restaurant than a traditional one.
According to the latest Franchise Disclosure Document, the investment range is as follows:
Traditional: $181,371 – $1,030,235
End-Cap Strip Center: $497,133 – $704,672
Free-Standing: $482,813 – $878,070
You will pay this amount to cover the startup costs of your restaurant business. Here's an example breakdown of your estimated initial investment:
| | | |
| --- | --- | --- |
| Cost | Low | High |
| Deposit | – | $2,500 |
| Initial franchise fee | – | $17,500 |
| Advertising | $5,000 | $11,170 |
| Rent* | $4,800 | $12,200 |
| Real property improvements | – | $25,000 |
| Leasehold improvements | $120,000 | $388,997 |
| Signs, equipment and fixtures | $28,371 | $160,041 |
| Opening inventory | $5,000 | $35,000 |
| Development fee | $10,000 | $60,000 |
| Vehicle | $12,000 | $18,000 |
| Other | $185,171 | $297,943 |
| Working capital* | – | $65,000 |
| Total | $188,671 | $1,028,351 |
Source: 2022 FDD
How much can you make with a Firehouse Subs franchise?
On average, a Firehouse Subs franchise makes $888,356 in sales annually. The number is the annual median sales of 1,109 franchised restaurants (traditional and non-traditional) operating in 2021.
On average, non-traditional restaurants generate more revenue than traditional restaurants.
Also, most of non-traditional restaurants' sales are in the higher range compared to traditional restaurants (over $884,000 sales per year).
How profitable is a Firehouse Subs franchise?
On average, a Firehouse Subs franchise makes $229,234 in profits per year (26% adjusted EBITDA margin).
As per our analysis, a 26% adjusted EBITDA margin is in line with similar franchises (~25-27% industry average).
Yet, that does not mean your net profit would be 26%. Rather, EBITDA is a profit margin before non-operating expenses like corporate taxes and debt interest costs.
Please note that, to calculate the adjusted EBITDA margin we used company-operated restaurant data for COGS (32% sales) and labor costs (28%). Indeed, as for most franchises, Firehouse Subs doesn't provide any financial information whatsoever when it comes to costs unfortunately.
| Profit-and-loss | Amount ($) | As % of sales |
| --- | --- | --- |
| Sales | $888,356 | 100% |
| COGS | $(284,274) | 32.0% |
| Labor | $(248,740) | 28.0% |
| Rent | $(37,273) | 4.2% |
| Royalty + marketing fees | $(88,836) | 10.0% |
| Adjusted EBITDA | $229,234 | ~26% |
Source: 2022 FDD
Is a Firehouse Subs franchise a good investment?
When comparing the investment upfront of $613,186 to the net profits (which we estimate at 15% of sales), we obtain a payback period of 4.6 years, which is good.
This means that, on average, you would need to wait less than 5 years to reimburse your initial investment. This is a good investment and in line with similar franchises: we consider that anything below 5 years is considered good.
If you're applying for a Firehouse Subs franchise, download our business plan template and get a pre-built financial plan with all your key metrics (breakeven, return on investment, payback period).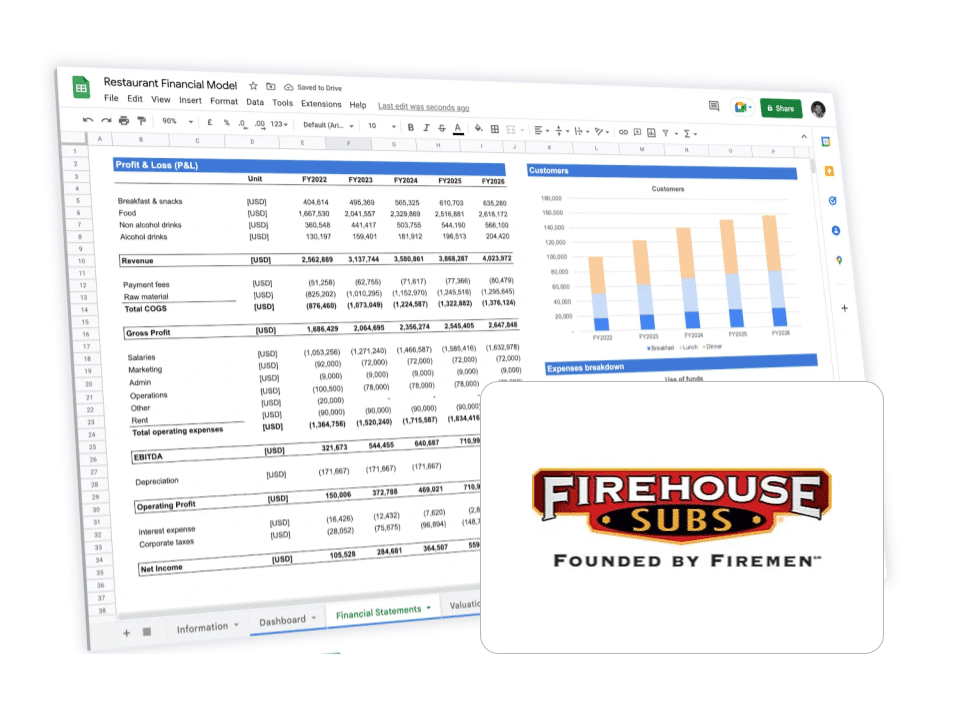 Download the Firehouse Subs business plan and get your franchise funded
Including a 5-year financial plan built with the latest Franchise Disclosure Document numbers