With over 910 franchise-owned restaurants in the US alone, Five Guys is one of the most popular fast food franchises. Even though less famous than the giants McDonald's and Burger King, Five Guys has established a strong brand with a high-quality and unique burger menu.
Should you start a Five Guys franchise? Looking at the financials, Five Guys seems a very attractive franchise opportunity. Indeed, with average sales of $1.2 million a year but (only) $511,000 investment, it does seem like it. Is this really true?
In this article we'll look at how much you can make with a Five Guys franchise, how profitable it really is and whether you should invest in this business considering the upfront costs. Let's dive in!
Five Guys franchises: revenues, costs & profits
| | |
| --- | --- |
| Franchise fee | $62,500 |
| Royalty fee | 6.0% |
| Marketing fee | 5.5% |
| Investment (mid-point) | $511,225 |
| Average annual sales | $1,203,366 |
| Investment to sales ratio | 2.4x |
| Investment payback* | 2.8 years (excellent) |
| Minimum net worth | $500,000 |
| Minimum liquid capital | $250,000 |
* using 15% net profit margin
Five Guys: a brief introduction
Five Guys is an American fast-food chain that is best known for its bulky hamburgers, loaded French fries, hot dogs, and thick milkshakes.
It was founded in 1986 by Janie and Jerry Murrell, with its first restaurant in Arlington County, Virginia. Jerry, alongside the couple's four sons, Jim, Matt, Chad, and Ben, were the original "Five Guys."
Five Guys serves hamburgers with Kraft American cheese, hotdogs, grilled cheese, and vegetable sandwiches, as well as fresh-cut French fries. In addition, it offers milkshakes with traditional vanilla and strawberry flavors.
The Five Guys franchising journey began in 2003, and within 18 months the chain had sold over 300 units. It is a subsidiary of Five Guys Enterprise LLC, with its headquarters in Lorton, Virginia.
Today, Five Guys is one of the fastest-growing fast-food restaurants, with over 1,500 locations in 16 countries as of today of which 1,390 in the US alone.
Five Guys franchises: pros and cons
There are some benefits and challenges associated with a Five Guys franchise.
Pros
Comprehensive training and support: Five Guys provides a comprehensive training package to its franchisees. This is in the form of on-site pre-opening and opening training, supervision, and management assistance. In addition, the franchisor gives detailed on-site remedial training to restaurant personnel to help franchisees grow and succeed.
Absentee ownership is permitted: If you're looking for a passive investment, the Five Guys franchise is a good option. It is a semi-absentee franchise and allows for passive ownership. As the owner, you can operate the franchise as you pursue your job and other interests.
Territory protection: The Five Guys franchise may offer new franchisees territory protection. It grants franchisees the right to operate a restaurant at a single location selected by the franchisees and approved by the franchisor as their primary area of responsibility.
Quality menu: The Five Guys franchise strives to offer quality food in all its restaurants. They only use ground beef for their made-to-order burgers. In addition, they don't freeze their ingredients and only use peanut oil for their cooking, so their foods are trans-fat-free. Customers are assured of product excellence and quality.
Fastest-growing brand: Though still new in the quick-serve industry, Five Guys has experienced very steady growth, becoming one of the hottest franchises in the US. As a new franchisee, you'll get a brand that is well-recognized in the QSR sector and compete against well-known giants such as Burger King, Taco Bell, and Subway.
Cons
Strict franchising requirements: One of the drawbacks of the Five Guys franchise is its restrictions and obligations. For instance, they require franchisees to look for a building with outdoor patio seating. This can be a limiting factor in location choice and is also costly.
No franchise financing: The franchisor does not offer direct or indirect financing for new franchisees. This leaves would-be franchises with no option other than third-party financing, like applying for SBA loans.
Competition: Although the Five Guys franchise has grown very fast and has great growth potential, it faces a lot of competition from industry giants like Burger King, Wendy's, Taco Bell, and Subway. This means new franchisees may record low sales and profitability, resulting in costly product promotions.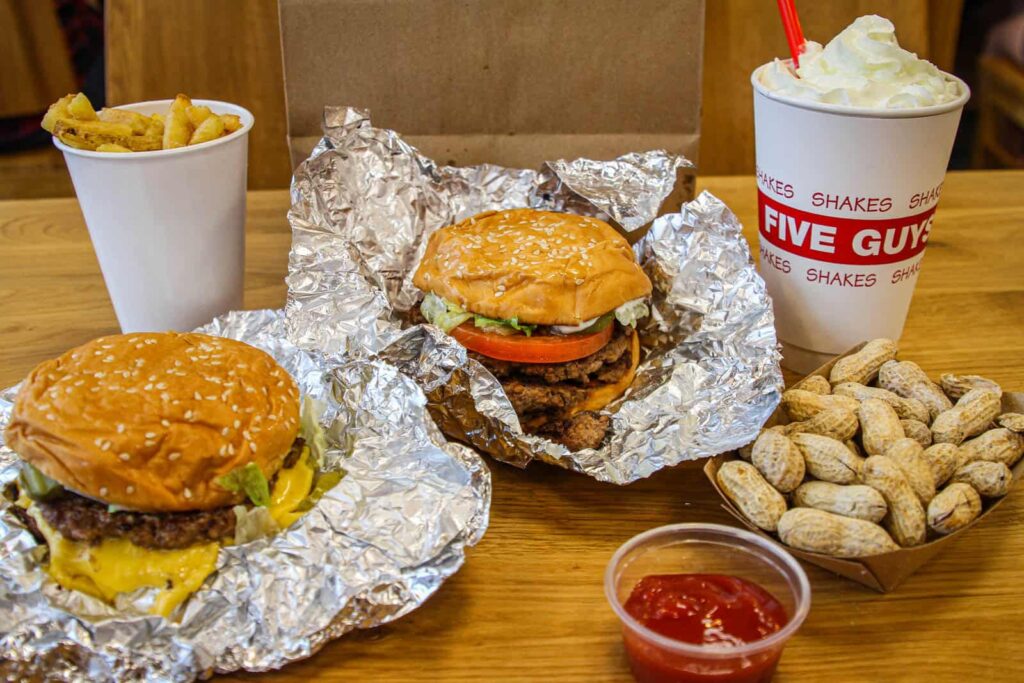 How much does a Five Guys franchise cost?
You have to invest around $511,225 to open a Five Guys franchise restaurant.
The investment amount is an estimated average: indeed, it varies based on your location. For example, whilst the investment cost is around $473,000 in continental US, it's more expensive in Alaska, Hawaii, and Puerto Rico ($548,700).
In addition to the initial franchise fee of $25,000 which you must pay to the franchisor, the investment cost covers the first 3 month's rent, leasehold improvement, equipment, initial inventory, facsimile machine, business supplies, training expenses, business licenses, permits, etc.
| Expense | Amount |
| --- | --- |
| Development fee | $50,000 |
| Leasehold improvements | $100,000 – $300,000 |
| Equipment | $55,000 – $105,000 |
| Licenses, permits | $5,000 – $15,000 |
| Working capital (first 3 months) | $20,000 – $25,000 |
| Initial inventory | $10,000 – $15,000 |
| Other | $66,200 – $131,250 |
| Total | $306,200 – $641,250 |
Source: 2022 FDD
How much sales can a Five Guys franchise make?
On average, a Five Guys franchise makes $1,203,366 in sales per year.
As Five Guys does not disclose its sales per franchise in its FDD, we derived these numbers from the franchisor's financial statements.
Indeed, we obtained this number by dividing the total revenue of all the Five Guys franchises ($1.2 billion) by the number of franchise-owned restaurants (979 as of 2021).
Despite a decrease in sales in 2020 due to the COVID-19 pandemic, Five Guys bounced back in 2021 (+33% year-on-year revenue growth).
| | Number of restaurants | Revenue |
| --- | --- | --- |
| 2019 | 941 | $1,000,231 |
| 2020 | 1008 | $904,417 |
| 2021 | 979 | $1,203,366 |
Source: 2022 FDD
How profitable is a Five Guys franchise?
On average, a Five Guys franchise makes $352,000 in profits per year. This corresponds to a 29% adjusted EBITDA margin.
Yet, this adjusted EBITDA does not mean you can keep 29% of the total revenue in your pocket. Rather, you may need to deduct taxes, debt interest expenses, and other costs.
The 29% adjusted EBITDA margin is on the higher end compared to similar franchises as per our intelligence (~25-27% industry average).
Note that to calculate this number we had to use industry average for COGS (25% sales) and labor costs (29%). Indeed, unfortunately Five Guys doesn't provide any financial information whatsoever when it comes to costs.
| Profit-and-loss | Amount ($) | As % of sales |
| --- | --- | --- |
| Sales | $1,203,366 | |
| COGS | $(300,842) | 25%* |
| Labor | $(348,976) | 29%* |
| Rent | $(62,500) | 5.2% |
| Royalty + marketing fees | $(138,387) | 11.5% |
| Adjusted EBITDA | $352,661 | ~29% |
* industry average
Is a Five Guys franchise a good investment?
What's great with Five Guys is that from a financial standpoint, the franchise is a pretty good investment.
Indeed, as we saw you would invest on average $511,225 to open a Five Guys franchise and this would yield $352,661 in profits per year. That's an impressive ratio. But as we mentioned earlier, EBITDA isn't net profits. If we were to look at how much you would actually get in dividends (as the franchisee) then we'd indeed consider net profit.
Assuming you would earn 15% net profit (which makes a lot of sense given adjusted EBITDA is 29%), then you would actually earn $180,505 per year (as a salary if you will).
By comparing the investment cost to the net profits, we calculate what we call the payback period: the time it takes for you to reimburse your initial invesment.
This is where it gets exciting: Five Guys has an impressive payback period of 2.8 years. This means that you would wait only 3 years to recoup your investment. No need to tell you this is a great investment opportunity.
Of course, this assumes your restaurant performs in line with the average of all franchise-owned Five Guys restaurants. Want to apply for a Five Guys franchise? Download our business plan and visualize your financial plan and important metrics like breakeven, payback period, return on investment and more.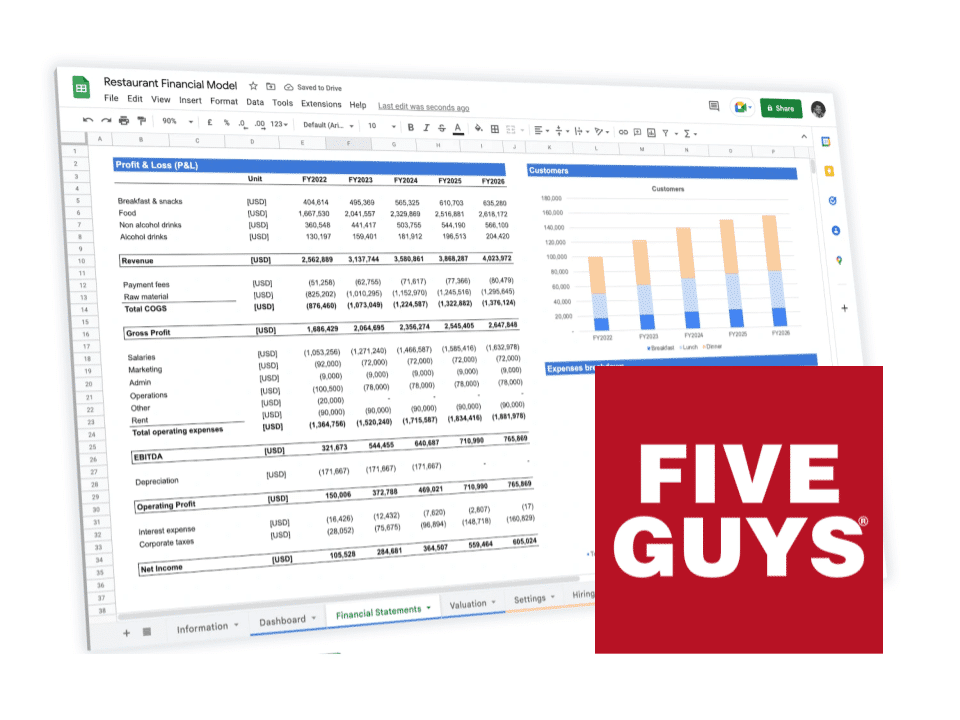 Download the Five Guys business plan and get your franchise funded
Including a 5-year financial plan built with the latest Franchise Disclosure Document numbers