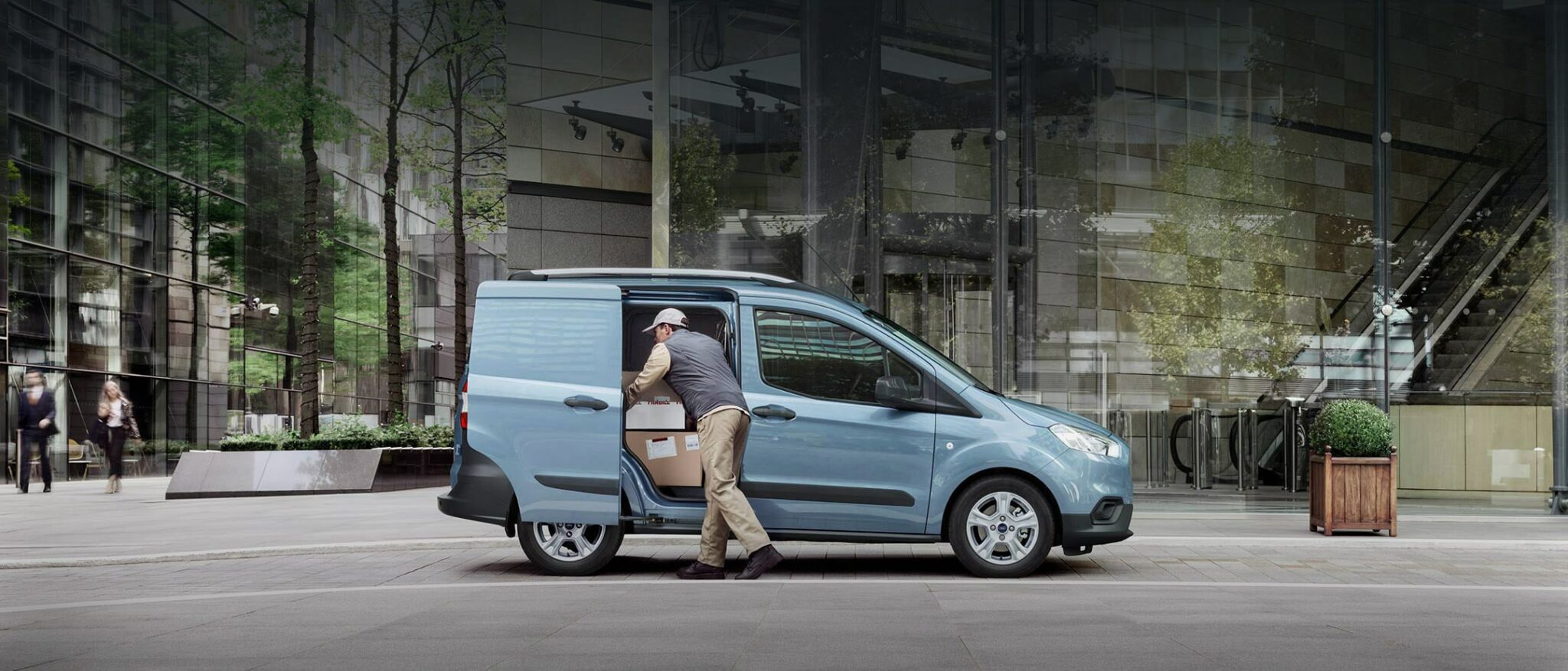 If you are planning to start a courier business, you may want to know how much profits you can make with this business. In other words, you must know how much revenue you must generate to reach break-even and make profits.
With a market size of $151.6 billion and over 415,850 courier businesses in the US, the average courier company has an annual turnover of over $1 million..!
What does this mean for your business? How much revenues can you expect to generate? More importantly: how much profits can you realistically make with a courier company?
In this article we'll look into the average revenues and profit margins of courier companies in the US. We'll also look into how you can accurately forecast your turnover and break-even point.
Let's dive in!
What is the average turnover for a courier business?
According to a survey by IBIS, the average turnover for a courier business in the US is approximately $364,550 per year. Indeed, as explained earlier there are 15,850 courier businesses in the US generating a total turnover of $151.6 billion.
According to ZipRecruiter, the average salary of a courier owner-operator in the US is $167,258 per year.
What is the average profit margin for a courier business?
It's very difficult to find average profit margins for courier and short-distance delivery businesses online.
According to Camino Financial, the average net profit margin for the transport industry is 19%. Yet, transport encompasses many different businesses, including trucking businesses and long-distance transportation companies.
However, you need to understand that the profit margin will vary depending on the type of couriers/packages you carry & deliver, your cost structure and whether you have employees or whether you are operating an owner-operator courier business model.
How much does it cost to run a courier business?
There are certain recurring costs involved in running a courier business and they include:
Wages: The drivers you will hire will not only drive but also deliver parcels hence, their salaries are high, and you must compensate them according to industry standards
Fuel: You need to use vehicles for your business that will require fuel to run
Maintenance: You must proactively maintain your vehicles to prevent costly breakdowns
Other salaries: includes salaries paid to personnel other than the drivers (managers, CEO, CFO, receptionists, etc.)
Other operating expenses: includes operating leases for the vehicles (if you lease them), the rent for the office and warehouse, bookkeeping and legal costs, etc.
Depreciation & amortization expenses (D&A): the depreciation of your assets (the vehicles) over time
Interest & tax: the debt interest expenses (if you took a loan to acquire the vehicles for example) as well as corporate taxes
In general, it costs between $40,500 and $42,500 per month to run a courier business with 5 vans. For more information on how much it costs to run a courier business, read our article here.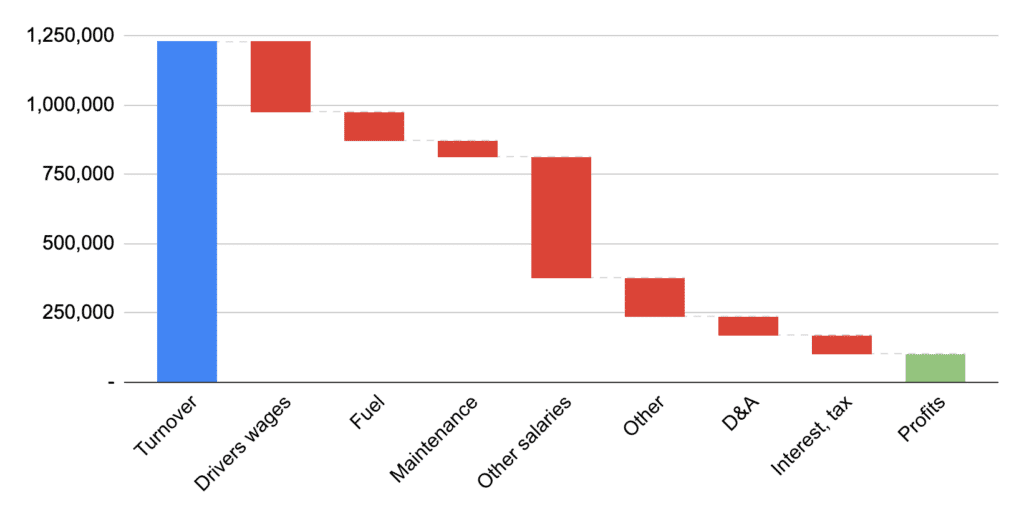 How to forecast profits for a courier business?
In order to calculate profits for a courier business, you must first forecast revenues and expenses.
Profits = Revenue – Expenses
Forecasting revenue for courier businesses
Forecasting sales for such a business requires a few assumptions:
the number of vehicles you have
the average revenue per mile
the average number of miles per vehicle
Revenue =
Vehicles x Revenue per mile x Avg. number of miles per vehicle
For example, if you have 10 vans that drive 3,500 miles on average per month and at a revenue per mile of $3.50, monthly revenue is ~$122,500
Revenue = 10 vans x 3,500 miles x $3.50 = $122,500
For more information on how to build financial forecasts for a courier company, read our article here.
Forecasting expenses for courier businesses
There are 2 types of expenses for a courier company:
Variable expenses: these are the COGS as explained earlier. They grow in line with your revenue: if your turnover increases by 10%, variable expenses grow by 10% as well
Fixed expenses: salaries, rent, debt interest (or leasing) costs to acquire the vehicles (vans, ebikes, etc.), marketing and all the other operating costs listed above
Calculating profits for courier businesses
When we refer to profits, we usually refer to EBITDA (Earnings before interests, taxes, depreciation and amortization) as it represents the core profitability of the business, excluding things such as debt interests, non cash expenses and other non-core expenses.
In order to get to EBITDA, we use the following formula:
EBITDA = Revenue – COGS – Operating Expenses
We've included below the illustrative profit-and-loss of a courier business (from our financial model template for courier businesses).
Whilst EBITDA margin can reach 20-25% at scale depending on the business, Net Profit margin can go up to 15-20% for the most profitable businesses.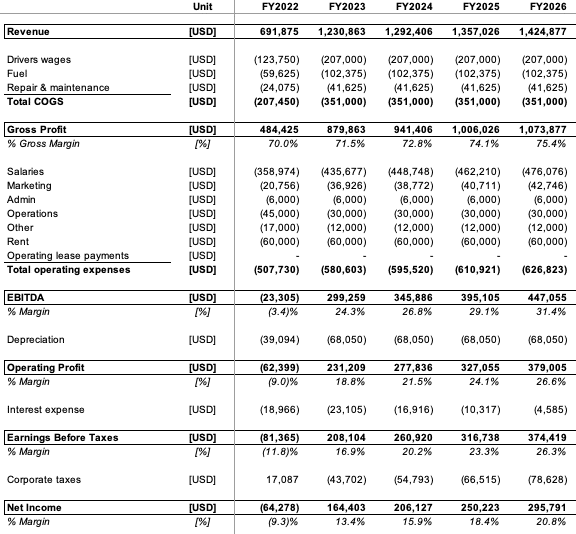 How to increase profits for a courier business?
There are various strategies to increase the profits of a courier business such as:
Streamline process: Speed matters and optimizing your entire process and workflow is important. Use a backend process streamlining software
Optimize route: Route optimization helps to minimize fuel costs, speed up delivery, and receive payments faster
Automate rate card and invoicing: Use software for the automatic sending of rate cards and invoicing. This reduces data entry time, hastens the backend process, and saves time that can be used to service additional clients
Fleet maintenance: Maintaining your vehicles is important to prevent expensive breakdowns and down times. Use sensor-based electronic control modules to receive alerts on failing components
Increase visibility: Use SMS marketing, email marketing, social media marketing, search engine marketing, etc. to increase your online visibility. Considering registering your business to Google My Business for local visibility. Use TV, radio, and newspaper ads as well