How Much Profits can you Make with a Donut Shop?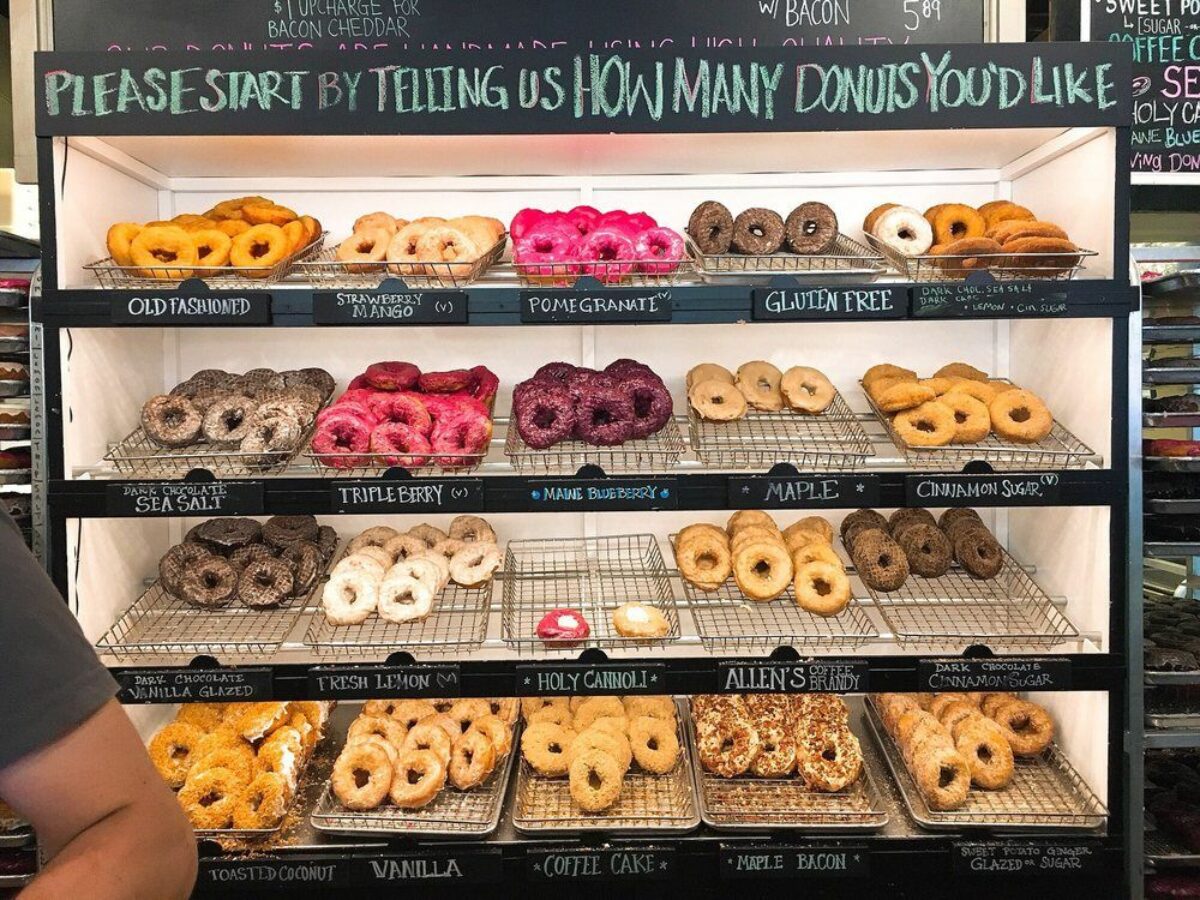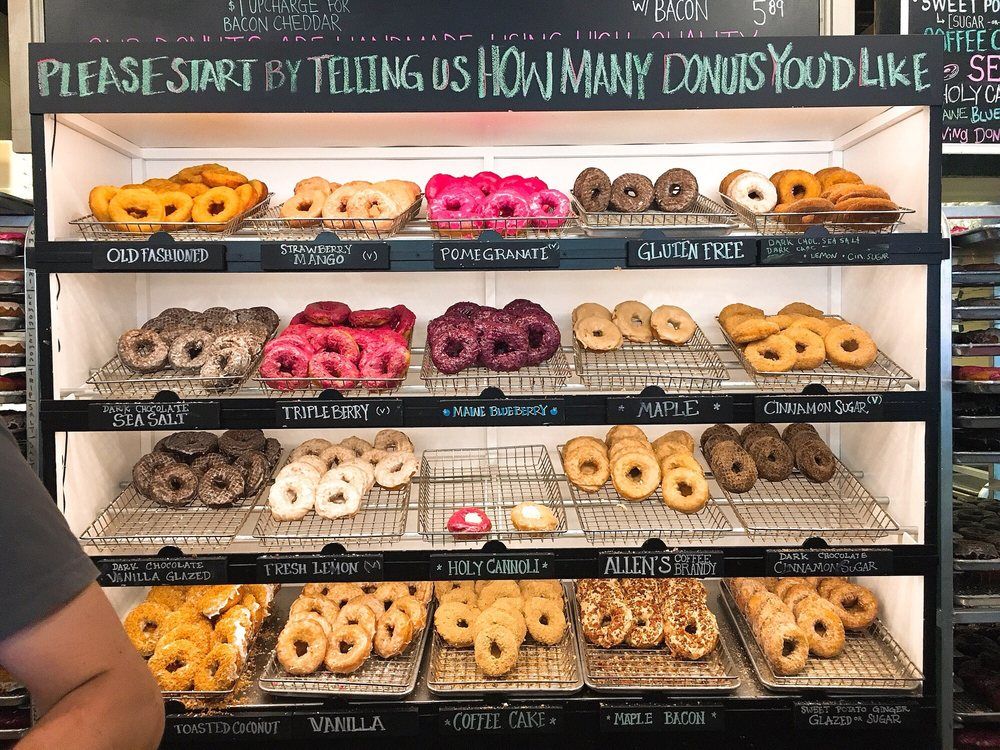 Before you jump into opening a donut shop, it is important to understand how you can turn your shop into a profitable business. You must know how you increase your revenues so that you can reach break-even and then move into profits.
The donut shop sector has recently become a very popular venture for aspiring and established entrepreneurs. Indeed, as per IBIS World, the donut industry in the US was worth $9 billion in 2022 and grew by +6.5% CAGR between 2017 and 2022..!
So, how can you forecast the amount of profits you can generate with a donut shop? What's the amount of sales you must make to break even? We'll look into all these questions and more in this article, using public benchmarks as well as our own intelligence. Let's dive in!
What is the average turnover for a donut shop?
Considering the US retail donut industry is worth $9 billion, and there are over 13,500 donut shops across the country, the average turnover for a donut shop is $663,472.
When it comes to pay, the average annual salary of a donut shop owner in the US is $43,854 as per Salary.com.
What is the average profit margin of a donut shop?
According to AZ Central, the (gross) profit margin of the Krispy Crème franchise is over 70%.
Now, this is a gross margin, so it only includes variable costs (COGS) like the cost to source the donuts, their ingredients, the packaging, etc. In other words, it doesn't tell us anything about the net profit margin: the profit after all expenses have been paid for (salaries, marketing, rent, etc.).
In order to do so, we must look at how much it costs to run a donut shop, let's have a look at it now.
How much does it cost to run a donut shop?
To operate, there are a number of operating costs a donut shop must budget for, they are:
COGS (15 – 20% sales): You need to continuously keep sourcing raw materials for making donuts. This is the one of the most important costs
Rent (15 – 25% sales): You need to pay a monthly rent for the commercial property where you will operate. Donut shops are usually rather small, so you may be able to get away with $5,000 to $6,000 a month for a small store in a prime location. This includes utility bills and other property taxes.
Staff costs (35-40% sales): salaries, bonuses and any taxes and benefits you must pay to your employees. For 1 small donut shop, count at least 3 full-time employees (if no double shifts) for a total of $7,500 a month (approximately)
Marketing (5%): You need to constantly advertise and market your donut shop to attract new customers
Other (10%): there are a number of operating costs you will need to pay for (e.g. bookkeeping, insurance, software costs, etc.)
In general, the monthly cost of operating a donut shop is anywhere between $34,200 and $41,400. To learn more about the cost breakdown, read our detailed analysis here.
We are including below the sales to net profit breakdown of a donut shop chain with 2 stores (yearly revenue is ~$900,000 and net profit margin ~5%). The numbers comes from our financial plan template for donut shop businesses.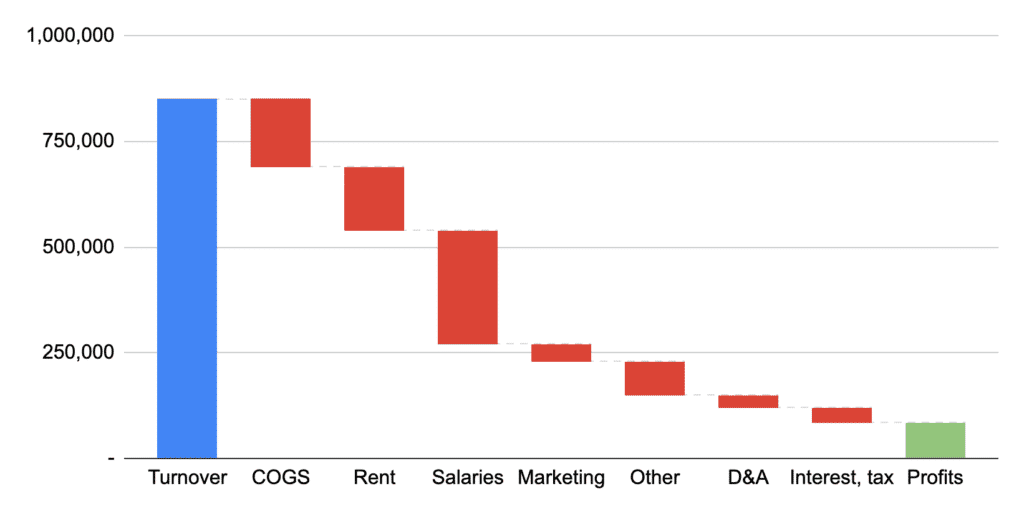 How to forecast profits for a donut shop?
In order to calculate profits for a donut shop, you must first forecast turnover and expenses.
Profits = Turnover – Expenses
Forecasting turnover for a donut shop
Forecasting sales for such a business requires 2 assumptions:
the number of orders (customers)
the average order value (the average value of a purchase)
Revenue = # orders x Average order value
For example, if you make 300 sales in a day with an average order value of $6.50, daily turnover is:
Revenue = 300 orders x $6.50 = $1,950
In other words, your monthly revenue is about $42,000 if you operate 5 days a week.
For more information on how to build financial forecasts for a donut shop, read our article here.
Forecasting expenses for a donut shop
There are 2 types of expenses for a donut shop company:
Variable expenses: these are the COGS as explained earlier (the cost to source the ingredients for the donuts, the packaging, etc.). They grow in line with your revenue: if your turnover increases by 10%, variable expenses grow by 10% as well
Fixed expenses: salaries, rent, marketing and all the other operating costs listed above
Calculating profits for a donut shop
When we refer to profits, we usually refer to EBITDA (Earnings before interests, taxes, depreciation and amortization) as it represents the core profitability of the business, excluding things such as debt interests, non cash expenses and other non-core expenses.
In order to get to EBITDA, we use the following formula:
We've included below the illustrative profit-and-loss of a donut shop with 3 stores (from our financial model template for donut shops).
Whilst gross margin reach 80% on average, EBITDA and net profit margins then vary significantly from one donut shop company to another. In general, donut shop companies that operate multiple stores tend to have higher margins vs. single shops.
That's why in our example below a chain with 3 stores can have EBITDA margin of 20-30% at scale and Net Profit margin can even reach 15-20%. Instead, a single store would typically have a lower net profit margin (~5% at scale). That's because some of the fixed expenses (e.g. salaries) can be shared across stores to generate economies of scale.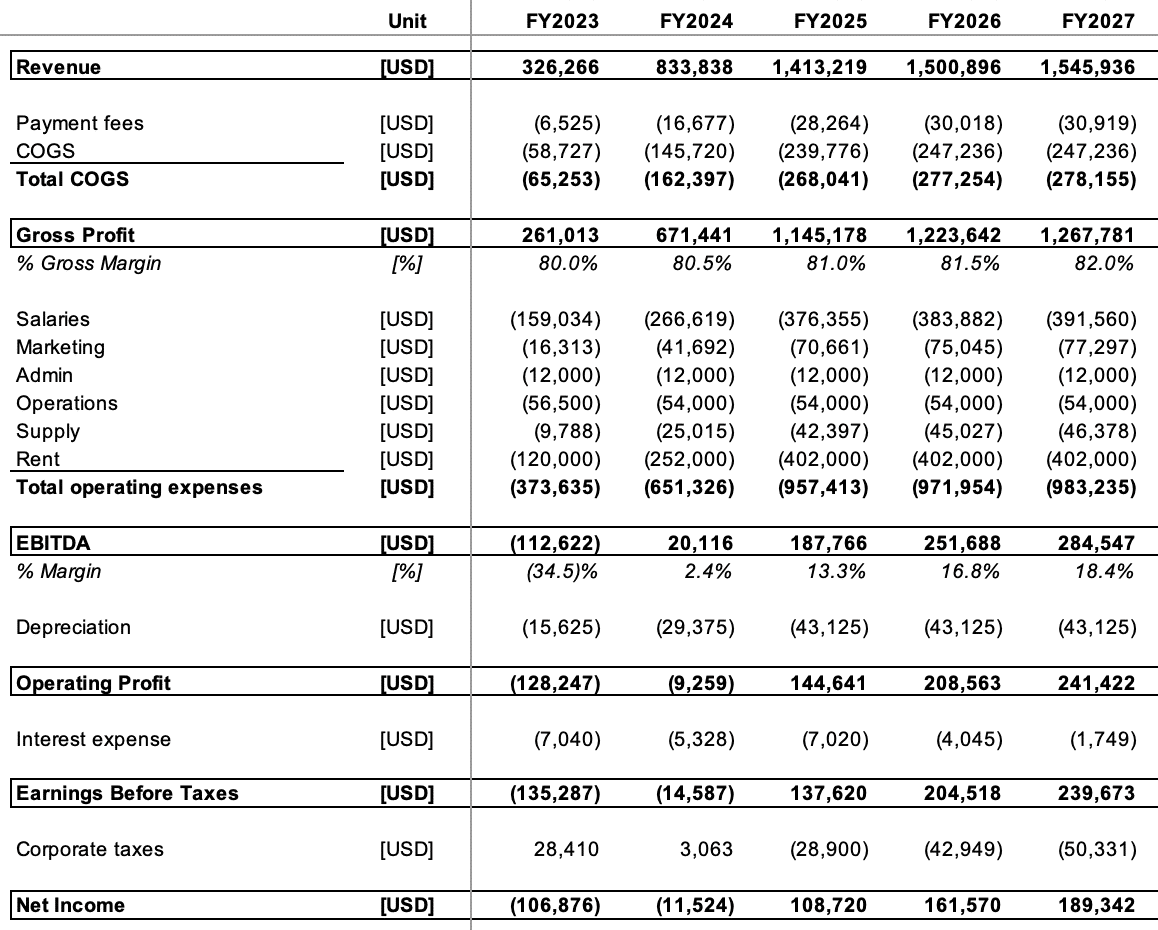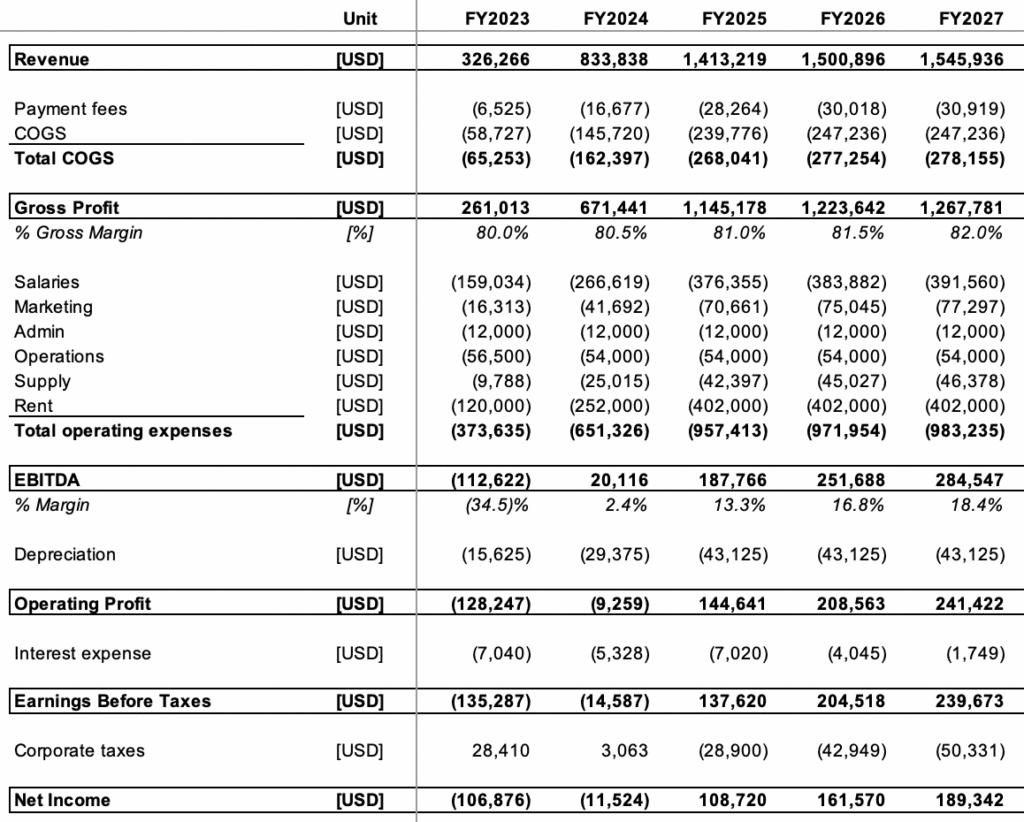 How to increase profits for a donut shop?
Business tie-ups: You can contact local businesses and tie up with them to supply donuts for office meetings and parties
Loyalty programs: Introduce loyalty programs for your customers to not only earn their loyalty but also increase their lifetime value
Introduce gift cards: Gift cards are a great way to open a new revenue stream and you can just earn the money upfront
Happy hours: Certain times of the day will be slow. Introduce happy hours for those durations and offer combos at a lower price
Improve packaging: Print advertisements on your donut packaging material to constantly remind people of your business offerings
Reduce overhead: Revisit your expense and see which expenses can be reduced or eliminated completely
Reduce waste: Both pre-production and post-production food wastage can reduce profits. Implement processes that can reduce wastage
Upsell: Teach your employees to upsell more expensive and profitable products
Use locally sourced ingredients: There is an increase in demand for locally sourced ingredients. Consider using local ingredients and advertise according
Digital media: Use social media ads and search engine ads to gain visibility. Utilize platforms like Instagram, YouTube, etc., to share tips and tricks
Google listing: List your business on Google My Business to increase visibility
Online ordering: Either partner with third-party delivery services or introduce your own mechanism to allow online ordering