How Profitable is a Nursing Home? Revenue & Profits Analysis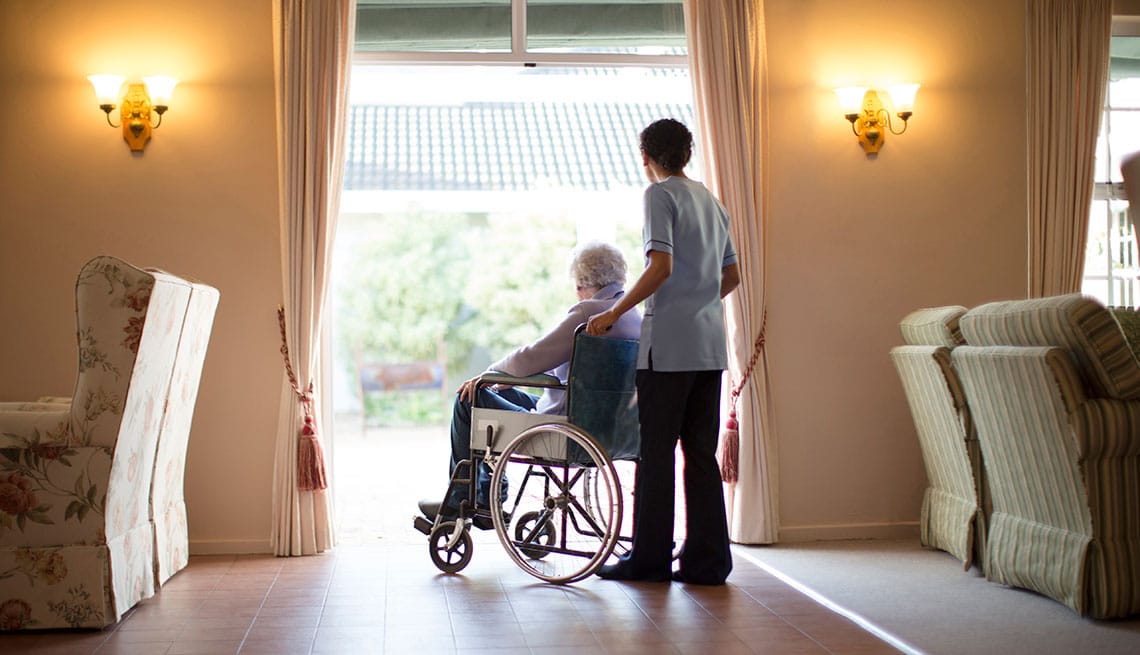 If you want to start a nursing home, you may want to know when you can break-even and how much profits you can make with this business.
With a total market size of $141.8 billion in 2022, the US nursing care and assisted living industry is a very large market with lots of opportunities for entrepreneurs. Yet with over 36,195 facilities across the country, it's also very competitive.
That's why you must conduct thorough research on the expenses you will incur, the level of revenue you can generate and eventually the profits you can earn.
In this article we'll look at public benchmarks as well as our own analysis to understand how much profits you can make with a nursing home business. Let's dive in!
What is the average turnover of a nursing home?
As per the data provided by IBIS World, the total US nursing home industry is worth $141.8 billion and has over 36,195 facilities. This means the average annual revenue of a nursing care facility is $3,918,000.
When it comes to pay, the average annual salary of a nursing home's owner-administrator is $124,066.
What is the average profit margin of a nursing home?
As per a 2020 study by Fierce Healthcare, the vast majority of nursing homes and assisted living facilities in the US operate at a profit margin of 3% or less.
The survey looked at 463 nursing homes and 193 assisted living facilities. This is what they found:
89% of nursing homes have profit margins of 3% or less (73% for assisted living facilities)
55% of nursing home are operating at a loss (50% for assisted living facilities)
Yet, the study was conducted in the middle of the Covid pandemic, which had significant impact on costs and profits.
Therefore, in order to look at how much profits a nursing home can make, we need to look at its profit-and-loss, and specifically how much it costs to run a nursing home.
How much does it cost to run a nursing home?
Running a nursing home invites some recurring costs, they include:
Cost of Goods Sold (20-25% sales): these are food and medical supplies
Staff (40-50%): this is by far the biggest chunk of costs. Salaries include the medical staff (doctors, nurses, etc.) as well as operations (receptionists, manager, etc.)
Housekeeping (5-10%): It is essential to maintain hygiene, and hence, you will need regular housekeeping and laundry services, for which you need to pay every month. This can be done in-house or outsourced to an external supplier
Other (5-10%): includes rent (if you rent the real estate), utility bills, marketing and other operating costs (security, bookkeeping, legal, etc.)
On average, it costs $278,000 to $293,000 per month to run a nursing home with 40 units in the US. For more information on how much it costs to start and operate a nursing home, make sure to read our complete guide here.
We've included below the sales-to-profits breakdown of a 40-units nursing home. Please note these numbers come from our financial plan template for nursing homes, yet they are illustrative and may not fully apply to your business.
How to forecast profits for a nursing home?
In order to know ho much profits a nursing home can generate, we need to forecast sales and expenses.
Profits = Sales – Expenses
Forecasting sales for a nursing home
In order to forecast sales for a nursing home, we simply multiply the number of residents by the average revenue per resident (per month for example):
Revenue = # residents x revenue per resident
For example, assuming you have 40 units, your nursing home is at full capacity (40 residents) and the average revenue per room is $7,500 per month, then annual revenue is $3,600,000. As you may have noticed, this is in line with the national average turnover for a nursing home.
Revenue = 12 months x 40 residents x $7,500 = $3,600,000
Forecasting expenses for a nursing home
There are 2 types of expenses for a nursing home:
Variable expenses: these are the COGS as explained earlier (medical and food supplies). They grow in line with your revenue: if your turnover increases by 10%, variable expenses grow by 10% as well
Fixed expenses: staff costs, operations and all the other costs listed above
Calculating profits for a nursing home
When we refer to profits, we usually refer to EBITDA (Earnings before interests, taxes, depreciation and amortization) as it represents the core profitability of the business, excluding things such as debt interests, non cash expenses and other non-core expenses.
In order to get to EBITDA, we use the following formula:
We've included below the profit-and-loss of a nursing home (from our financial model template). EBITDA can reach 20-25% for the most successful businesses. Instead, net profit can reach 5-10% maximum (after taxes and debt interest expenses).
Typically, net profit is much lower vs. EBITDA for nursing homes as most facilities own the real estate and must take on substantial debt to build the facilities, the furniture and equipment at first. That's why interest expenses can be quite high for nursing homes.
Yet, this doesn't include other cash items like debt repayment (the actual repayment of the debt principal) which is included in your cash flow statement instead.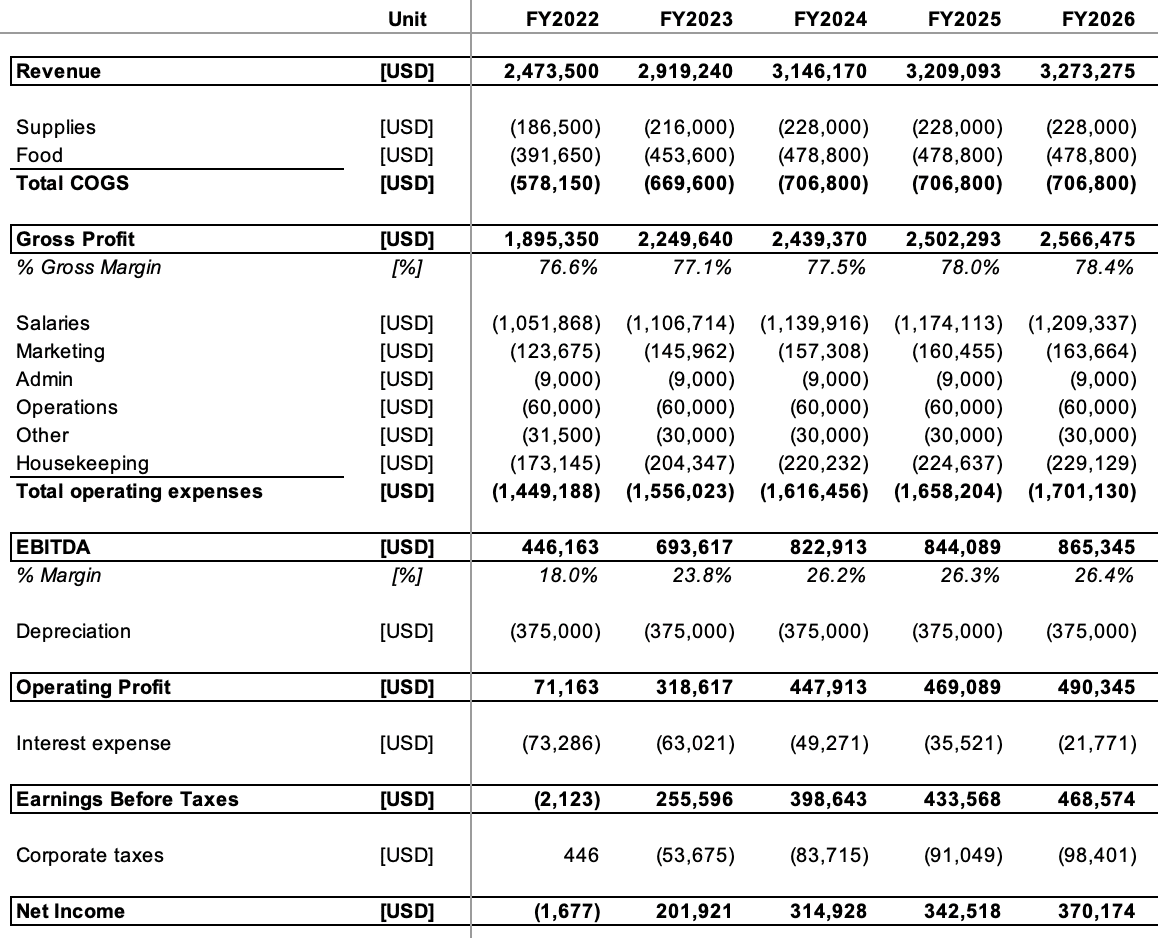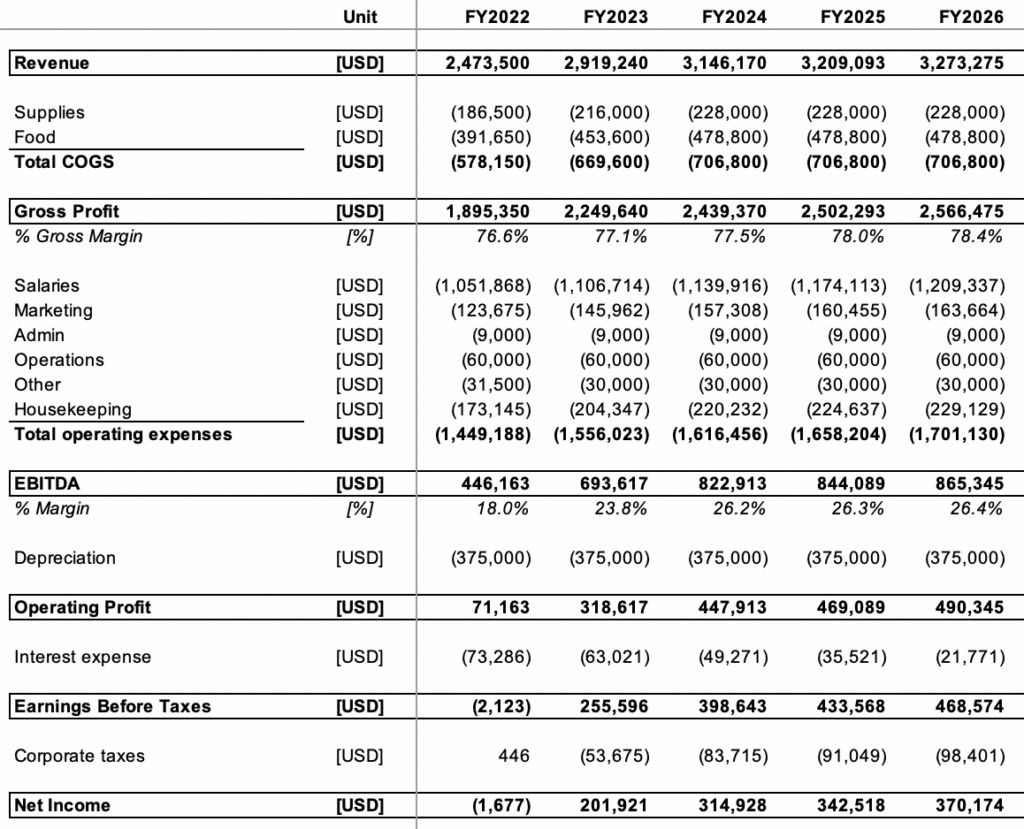 How to increase the profitability of a nursing home?
Online channels: Maintain a strong online presence because most of the decision-makers are younger people who search for such nursing home facilities online
Diversify services: Assess the needs and desires of your prospective clients and introduce additional services. Be vocal about the services you provide. Many people don't ask for a service because they don't know that the service is available. Additional services can increase the revenue
Time management: Understanding how much time you need to deliver specific services can help you develop a clear forecast based on occupancy rates. This also brings transparency because the families will know the depth and degree of services the residents will receive
Smart energy management systems: Use smart HVAC and smart lighting to reduce energy consumption
Partner with hospitals: This will help you with infection control because hospitals can provide the necessary testing and expertise, and hence prevent major breakouts
Reduce isolation: Social isolation is one of the major problems that lead to mental and physical health problems. Introduce technology (such as video chat facilities) to help the occupants communicate with friends and family members
Use telemedicine technology: Telemedicine technology like smart wearables allows healthcare specialists to deliver care remotely. You can use this as a USP to attract more customers