With more than 800 stores across the US and abroad, Jamba (previously known as "Jamba Juice") is one of the most popular smoothie franchises. It's also quite popular among franchisees thanks to the low required investment of $414,562.
But is this really a good business? How much profits can you make with a Jamba franchise?
In this article we're looking at Jamba and the information available in its latest Franchise Disclosure Document. More importantly, we will look at how much sales you can make, how much it really costs, and whether you should invest in a Jamba franchise. Let's find out!
Jamba revenue, costs & profits
| | |
| --- | --- |
| Franchise fee | $35,500 ($10,500 food truck) |
| Royalty fee | 6.0% |
| Marketing fee | 8.0% |
| Investment (mid-point) | $414,562 |
| Average annual sales | $597,028 |
| Investment to sales ratio | 1.4x |
| Investment payback* | 7.7 years (good) |
| Minimum net worth | $300,000 |
| Minimum liquid capital | $100,000 |
* using 15% net profit margin
What is Jamba?
Jamba's is a leading American restaurant chain that focuses on blended fruit and vegetable juices and smoothies. Today the chain has over 800 locations in 35 states and 6 countries around the world.
Founded in 1990 by Kirk Perron in California, Jamba offers freshly blended fruit and vegetable smoothies on the go, as well as made-to-order bowls, freshly squeezed juices and shots, boosts, and bites.
The brand started franchising in 1993 and is headquartered in Sandy Springs, Georgia. It is a subsidiary of Focus Brands, which also owns Auntie Anne's, Cinnabon, Carvel, and McAlister's Deli.
Jamba franchises pros and cons
Pros
Real estate and construction: Jamba's has an experienced team of real estate experts to help its franchisees build the right Jamba's restaurant for their market. It assists with site selection, restaurant design, and construction
Higher purchasing power: Jamba's is owned by Focus Brands, which controls over 6,000 restaurants. Franchisees can leverage the brand's strength and gain higher purchasing power. They can get all the supplies from one international supply chain at reasonable commercial rates
Experienced marketing team: Jamba's has an experienced and dedicated marketing team to help its franchisees create awareness and market their local stores. Through data-driven marketing plans, review and performance analysis, regional advertising, social media, and email marketing campaigns, franchisees can reach a wide domestic and international market
Multiple revenue streams: Franchisees get access to customer loyalty apps, delivery and takeout, and online ordering to attract more customers, upsell, and maximize their sales. This gives them income streams to increase revenue
Franchise training: One benefit of starting a Jamba's franchise is its comprehensive training. It offers 66 hours of on-the-job training and 22 hours of classroom training to franchisees, managers, and employees on how to successfully run a Jamba's franchise
Flexible store formats: Jamba's offers franchisees the flexibility to operate a format store of their choice. Franchisees can choose a traditional store, a non-traditional store, a food truck, a robotic kiosk, or an Auntie Anne's co-branded store
Cons
No exclusive territory: The franchisor doesn't offer franchisees exclusive territory. Franchisees face competition from franchises granted by the parent company or from competitive channels that the franchisor controls
No franchise financing: The franchise does not offer direct or indirect financing to franchisees. It also does not guarantee any franchisee's lease, obligation, or note
No absentee ownership: Franchisees need to be actively involved in the day-to-day operations of their restaurants
Competition: The juice industry is still growing. Jamba's franchise faces a lot of competition from Smoothie King and Tropical Smoothie Cafe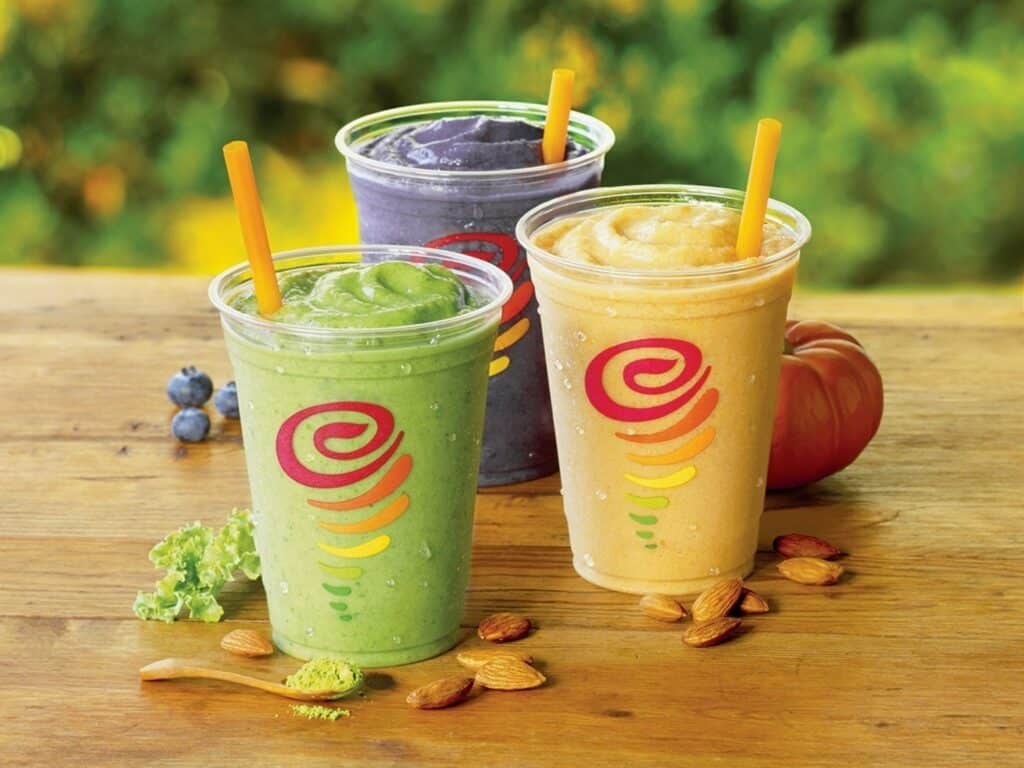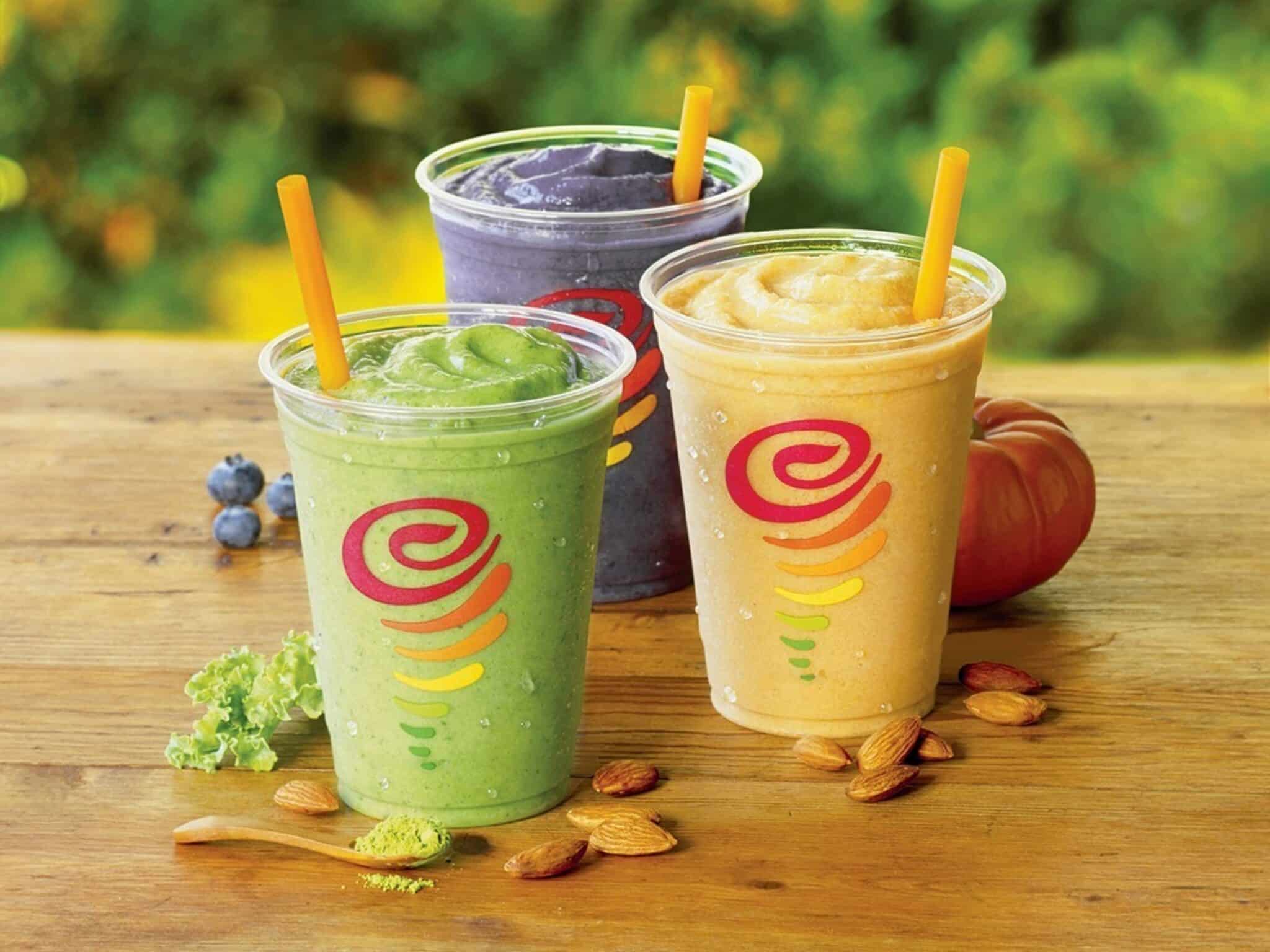 How much does a Jamba franchise cost?
You would invest on average $414,562 to open a Jamba franchised restaurant. This includes the initial franchise fee of $35,500 ($10,500 for a food truck).
The investment presented here is an average for all types of Jamba restaurants, as such it varies. To give you an idea, you would need to invest 3 times as much for a traditional Jamba restaurant than for a Jamba food truck.
So, what are you paying for? Well, the investment covers things like construction and build-out costs, leasehold improvement, equipment, millwork, opening inventory, architectural fees,signage, insurance, business supplies, training expenses, etc.
| Expense | Amount |
| --- | --- |
| Initial franchise fee | $35,500 |
| Construction and build-out costs | $101,500 – $227,000 |
| Equipment | $47,500 – $90,000 |
| Licenses, permits | $500 – $5,700 |
| Working capital (first 3 months) | $15,000 – $40,000 |
| Initial inventory | $5,000 – $10,000 |
| Other | $90,050 – $193,400 |
| Total | $290,050 – $596,600 |
Source: 2022 FDD
How much can you make with a Jamba franchise?
On average, a Jamba franchise makes $597,028 in sales per year. This number is the annual median sales of 570 franchises (only traditional stores) operating in 2020.
Notwithstanding the COVID-19 pandemic, Jamba franchises' sales have been relatively stable over 2019-2020 (most recent numbers) as you can see in the quarterly sales chart below.
How profitable is a Jamba franchise?
A Jamba franchise makes $89,137 in profits per year on average. This corresponds to a 12% EBITDA margin.
Yet, EBITDA means Earnings Before Interest, Taxes, Depreciation, and Amortization. Indeed, you can't keep 12% of the total revenue in your pockets. Instead, you may need to deduct taxes, debt interest expenses, and other costs from this amount to calculate net earnings.
| Profit-and-loss | Amount ($) | As % of sales |
| --- | --- | --- |
| Sales | $731,285 | 100.0% |
| COGS | $152,546 | 21.0% |
| Staff | $231,196 | 32.0% |
| Advertising | $58,239 | 8.0% |
| Operating expenses | $104,510 | 14.0% |
| Rent | $76,743 | 11.0% |
| General and administrative | $18,913 | 3.0% |
| EBITDA | $89,137 | 12.0% |
Source: 2022 FDD
Is Jamba a good investment?
Now, as EBITDA stands at 12% of sales, we could reasonably assume net profits stands at 8-10%. This is where it gets tricky for Jamba.
Indeed, as per our analysis it would take on average 7.7 years for a franchisee to recoup her / his initial investment of $414,562. This is a long time and higher than the average for similar franchises.
Of course, the payback given above is an average of all Jamba franchises. So it's possible that yours performs better than the average. Also, there are other considerations at play when choosing a franchise (like brand name, location & territory protection, experience, etc.).
Therefore, before you open a new Jamba franchise and invest the required $414,562 (average), make sure to prepare a financial plan. Download our template below and visualise your pro forma financial statements, your breakeven point and more.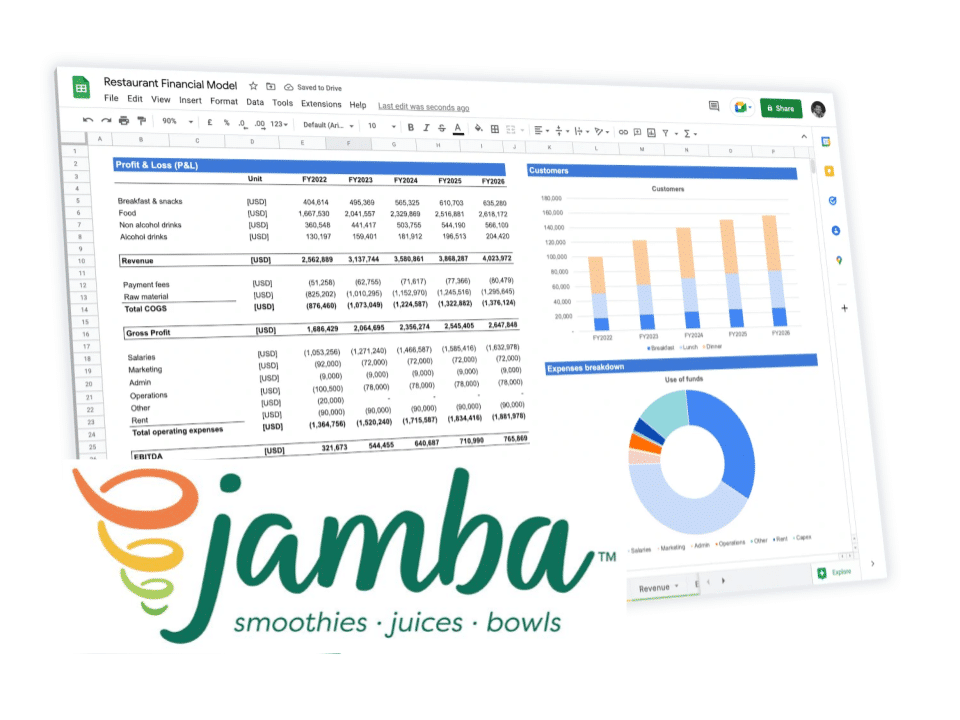 Download the Jamba business plan and get your franchise funded
Including a 5-year financial plan built with the latest Franchise Disclosure Document numbers