Jimmy John's Franchise AUV, Costs & Profits (2023)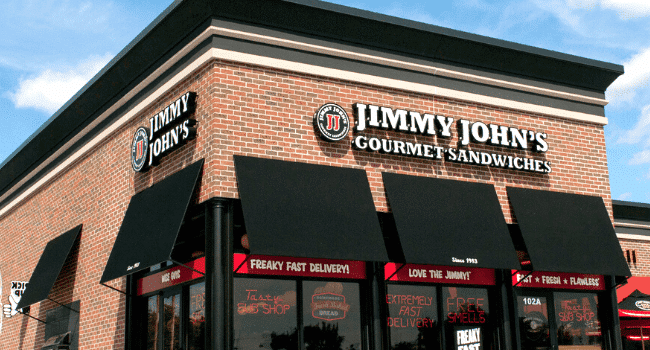 This article was updated with the 2023 Franchise Disclosure Document
With more than 2,700+ stores in the US, Jimmy John's is undeniably one of the most popular sandwich brand in the US. But is owning a Jimmy John's franchise a profitable investment?
With a (mere) $515,000 investment cost and annual sales of $908,000, Jimmy John's does sound like an attractive franchise for franchisees. Is this really true? Is this a profitable franchise?
In this article we're looking at Jimmy John's from a financial standpoint to assess whether the franchise is a good investment. Should you start a Jimmy John's franchise? Are the profits worth the investment cost? Let's dive in!
Key stats
| | |
| --- | --- |
| Franchise fee | $35,000 |
| Royalty fee | 6.0% |
| Marketing fee | 6.5% |
| Investment (mid-point) | $515,000 |
| Average sales | $908,000 |
| Sales to investment ratio | 1.8x |
| Payback period | 4 years |
| Minimum net worth | $300,000 |
| Minimum liquid capital | $80,000 |
Source: Franchise Disclosure Document 2023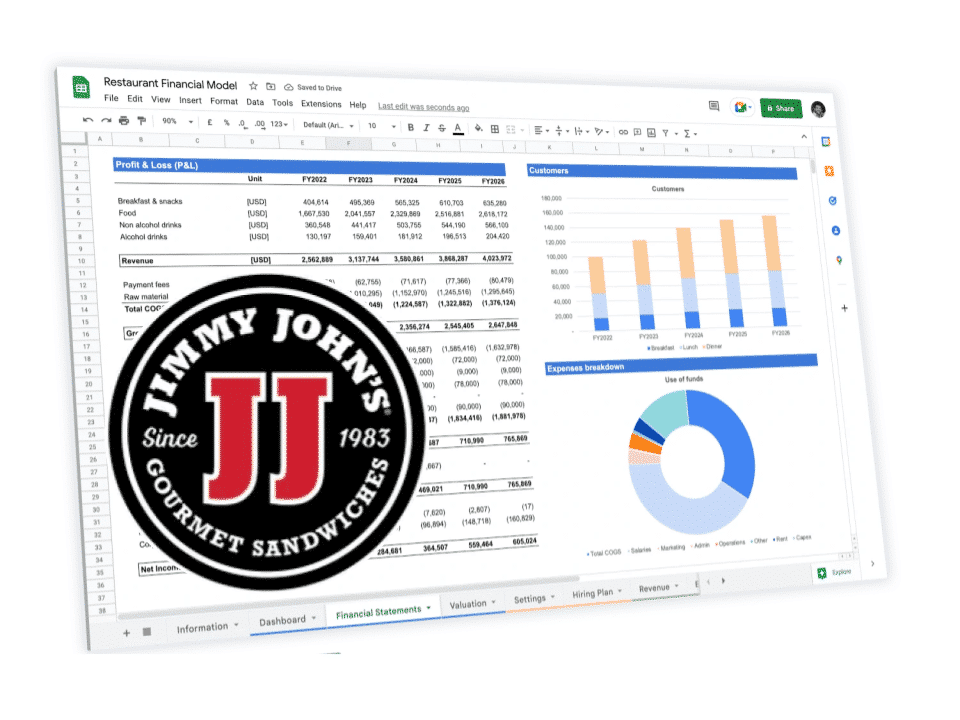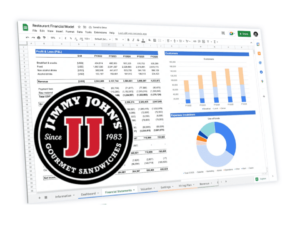 Jimmy John's Franchise Business Plan
All the stats: startup costs, profits, breakeven, etc.
5-year financial projections built with the FDD

Excellent 4.8/5 based on 70 reviews
Excellent 4.8/5 based on 70 reviews

Jimmy Johns: a brief introduction
Jimmy Johns is a fast-growing American gourmet sandwich chain restaurant that serves made-to-order sandwiches, freshly baked bread, and other food and beverage products. Its founder, Jimmy John Liautaud, started the chain store in 1983 with his first store in Charleston, Illinois.
At first, Jimmy wanted to start a hot dog restaurant but later abandoned it as it was very costly. He partnered with his dad, sharing profits equally, but he later bought his dad out and became the sole owner of the business. And by 1993, he had established over 10 stores in the US.
In 1994, Jimmy Johns' franchising journey began with its first franchise in Eau Claire, Wisconsin. And by 2001, it had reached 100 stores.
Today, Jimmy Johns has over 2,700 stores in 43 states in the US, and that number is still growing. Jimmy John SPV LLC and its parent company, Inspire Brands, headquartered in Champaign, Illinois own the Jimmy Johns franchise.
Jimmy Johns franchise: pros and cons
Although the chain store has been consistently successful, it still has pros and cons.
Pros:
Great opportunity for growth: Today, the Jimmy Johns franchise has over 2,800 units, with 98% of them being franchise owned. The chain has a good growth record and gives franchisees a good investment opportunity.
Proven business model: The Jimmy Johns franchise is known for its best-in-class sandwiches made from all-natural meats and vegetables that are hand-sliced in-house every day. And that's not all. Their bread is also freshly baked all day, every day. Customers recognize the brand, love its food, and will connect with new restaurants.
Strong franchise support: The success of a franchisee depends mostly on the support it gets from the parent company. Jimmy Johns franchise offers perfect support to her would-be franchisees. As a new franchisee, you get real estate, construction, marketing, operations, and purchasing training and support from franchise experts to help you operate the business efficiently.
Superior brand recognition: The Jimmy Johns brand, known for its fresh and expertly prepared sandwiches, has grown tremendously in recent years. The brand has been able to compete in a crowded market of sandwich franchisors. Going into business, a new franchise can ride on the brand's popularity to grow fast and make a good income.
Simple but appealing menu: The Jimmy John sandwich menu is pretty simple and quite appealing to customers. This can attract customers and is less costly to the franchisees.
Efficiency: The Jimmy Johns franchise prides itself on offering fast and efficient service. They serve made-to-order fresh sandwiches in under 30 seconds. They also provide deliveries to increase sales. This efficiency attracts a great range of customers.
Cons
There is no exclusive territory protection. The Jimmy John franchise does not offer franchisees exclusive territory protection. New restaurants may face competition from franchises granted by the parent company or from competing sandwich makers controlled by the franchisor.
No financing: Another downside of "the sandwich of sandwiches" maker is the lack of financing. Jimmy Johns does not offer direct or indirect financing to would-be franchisees. It also doesn't guarantee a franchisee's note, lease, or obligation.
Higher franchise fee: To start a Jimmy Johns franchise, you need a franchise fee of at least $35,000 and $200,000 in liquid capital. This franchise fee is on the higher side as compared to its rivals like Panera Bread, and this can put off interested franchisees.
Strict requirements: The Jimmy Johns franchise has some of the most stringent franchise requirements. For instance, they are very strict on the location of the restaurants and the uniforms for staff. This may not be appealing to would-be franchisees.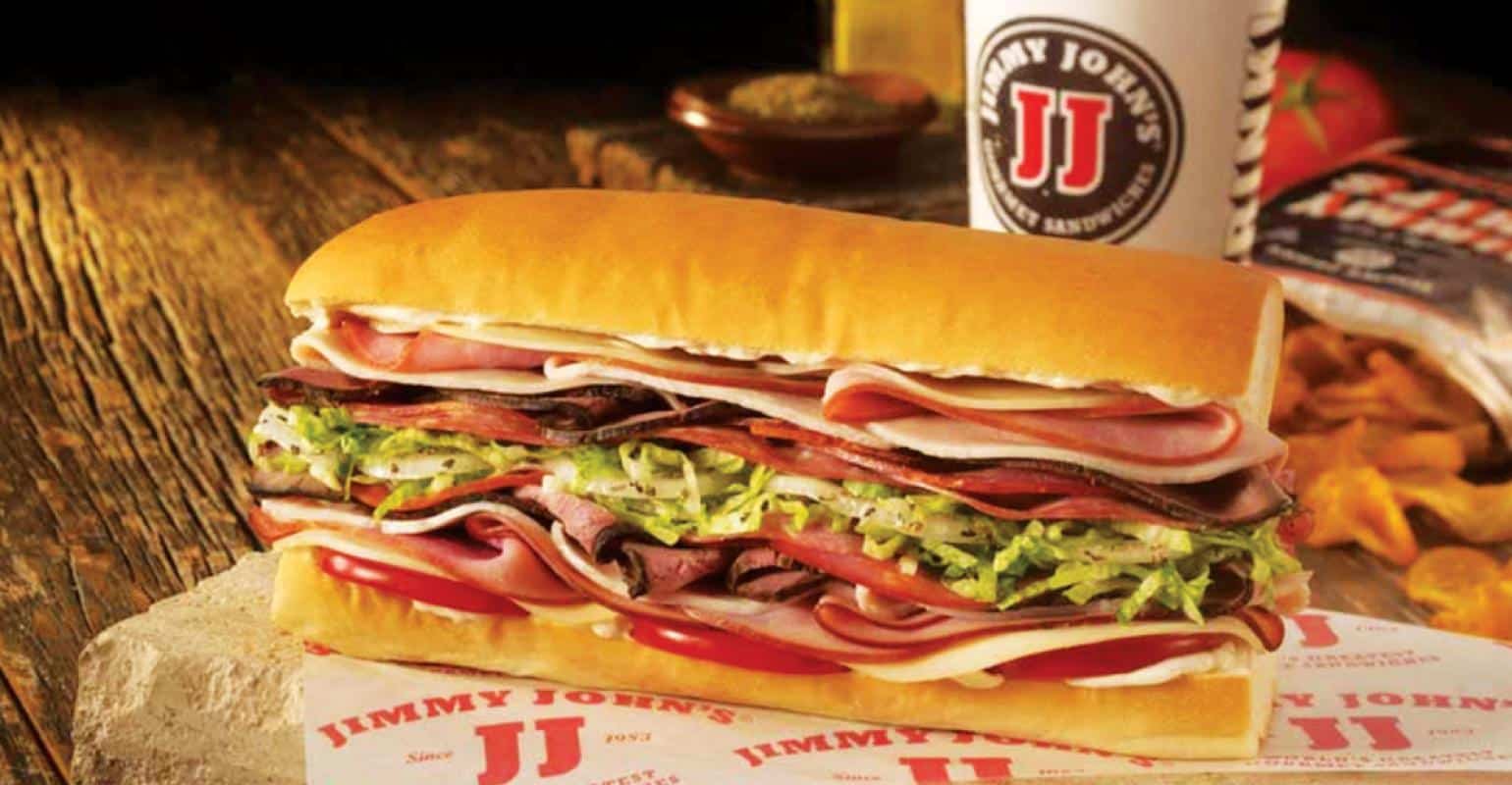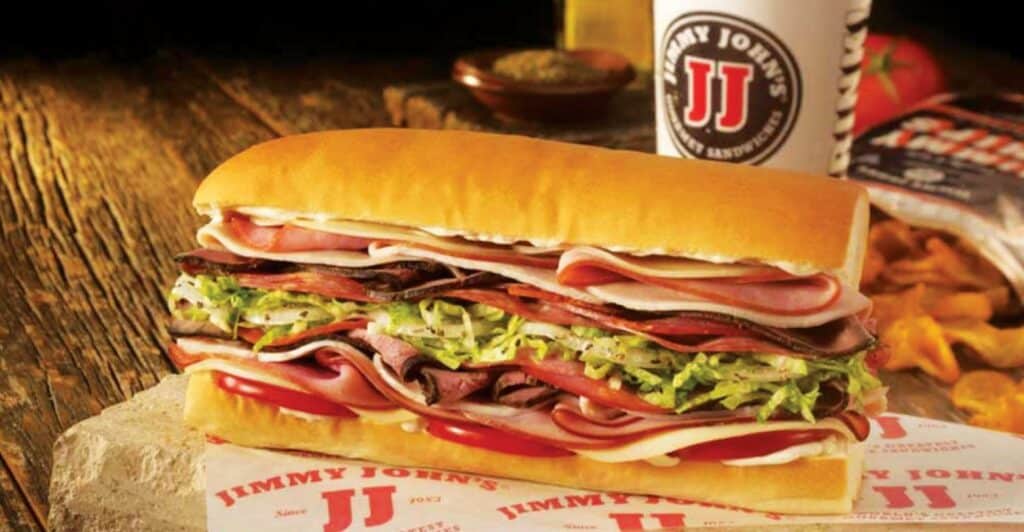 How much does a Jimmy Johns franchise cost?
The total investment necessary to open a Jimmy John's franchise restaurant is $515,000, including the initial franchise fee of $35,000.
Of course, this amount is an average. It varies depending on various factors like the format of your restaurant, its location, its size, etc. As the latest FDD shows, the investment cost ranges from $356,200 to $674,200.
The investment you must pay for as the franchisee covers costs like the first month's rent, leasehold improvement, furniture, equipment, opening inventory and supplies, grand opening event, training expenses, and an additional fund to cover the first 3 months' losses.
Here's a summary of the different costs you should pay for:
Source: Franchise Disclosure Document 2023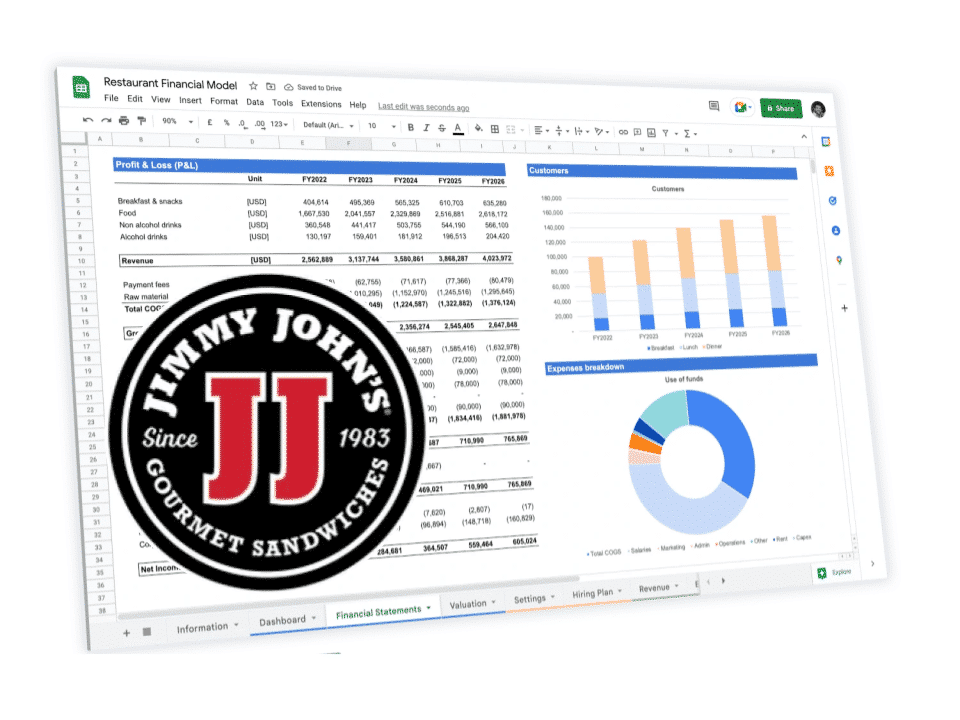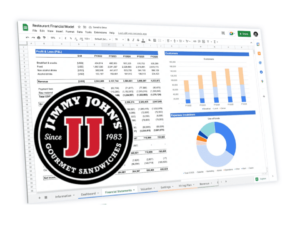 Jimmy John's Franchise Business Plan
All the stats: startup costs, profits, breakeven, etc.
5-year financial projections built with the FDD

Excellent 4.8/5 based on 70 reviews
Excellent 4.8/5 based on 70 reviews

Jimmy John's franchise Average Unit Volume
An average Jimmy John's franchise makes $908,000 in sales per year (the Average Unit Volume).
This number is the median annual sales of both drive-thru and non drive-thru restaurants. Indeed, as the latest FDD, a with drive-thru restaurant ($1,016,000) generates more revenue than a non drive-thru restaurant ($846,600).
When it comes to the evolution of sales over time, they have been consistently increasing over the past 4 years.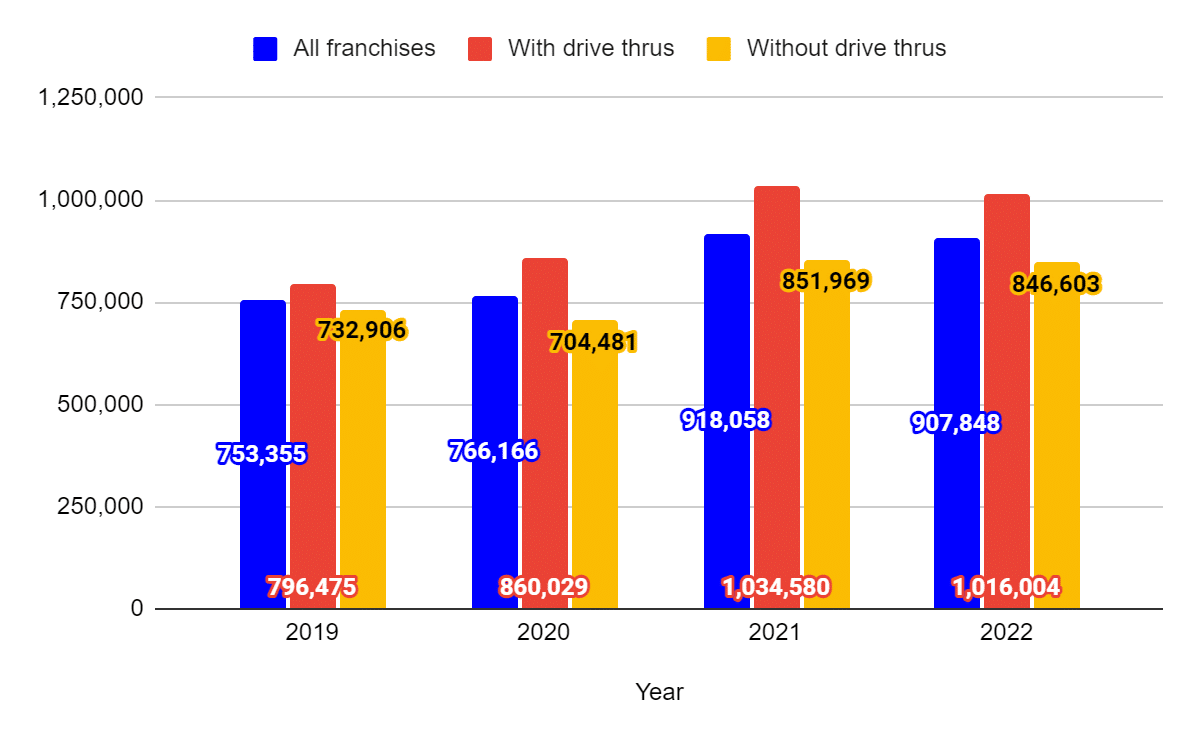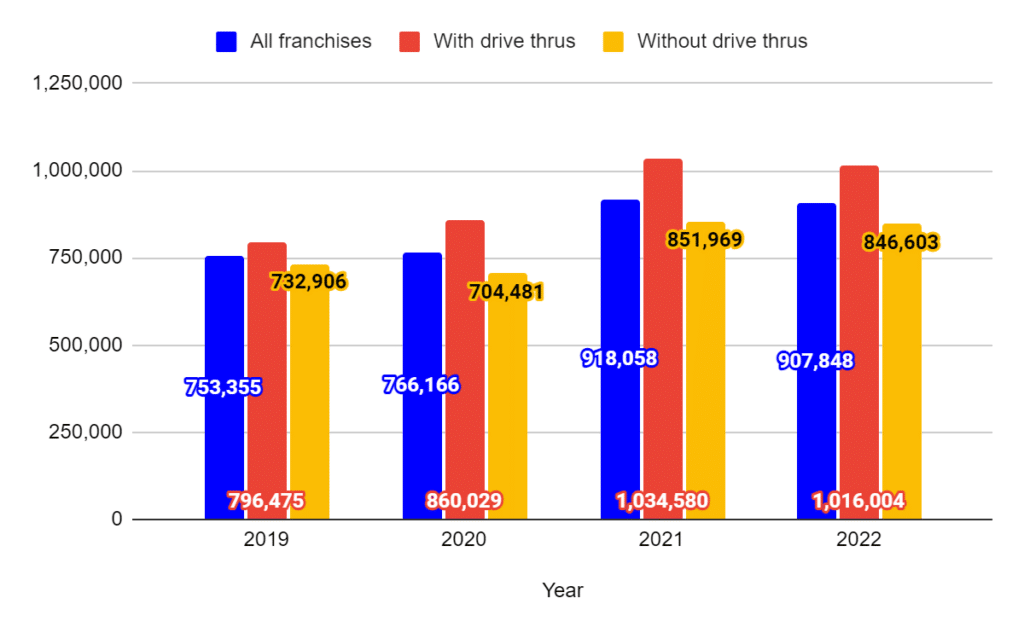 | Year | Drive-Thru | Non Drive-Thru | Total |
| --- | --- | --- | --- |
| 2019 | $796,475 | $732,906 | $753,355 |
| 2020 | $860,029 | $704,481 | $766,166 |
| 2021 | $1,034,580 | $851,969 | $918,058 |
| 2022 | $1,016,004 | $846,603 | $907,848 |
Source: Franchise Disclosure Document 2023
Jimmy John's franchise profits
We estimate that the average Jimmy John's restaurant makes $123,000 in profits per year (14% EBITDA margin).
Note that Jimmy John's doesn't provide any detailed information about the financial performance of its franchises in its latest Franchise Disclosure Document. Instead we had to make assumptions which we have summarized below.
| Profit and loss | Amount | % sales |
| --- | --- | --- |
| Sales | $907,848 | 100% |
| COGS | $(226,962) | 25% |
| Gross Profit | $680,886 | 75% |
| Labor | $(263,276) | 29% |
| Marketing and royalty costs | $(113,481) | 13% |
| Occupancy | $(72,628) | 8% |
| Other OpEx | $(108,942) | 12% |
| EBITDA | $122,559 | 14% |
Source: Estimates
Is a Jimmy John's franchise a good investment?
Now, to assess whether Jimmy John's is a good investment from a financial standpoint, we need to look at the investment payback: how long does it take on average for a franchisee to recoup her/his initial investment?
As per our estimates, the payback period for a Jimmy John's franchise is about 4 years which is excellent for a restaurant franchise.
From that perspective, Jimmy John's is indeed a very good investment. Think about it: it would take you (only) 4 years to recoup your original investment.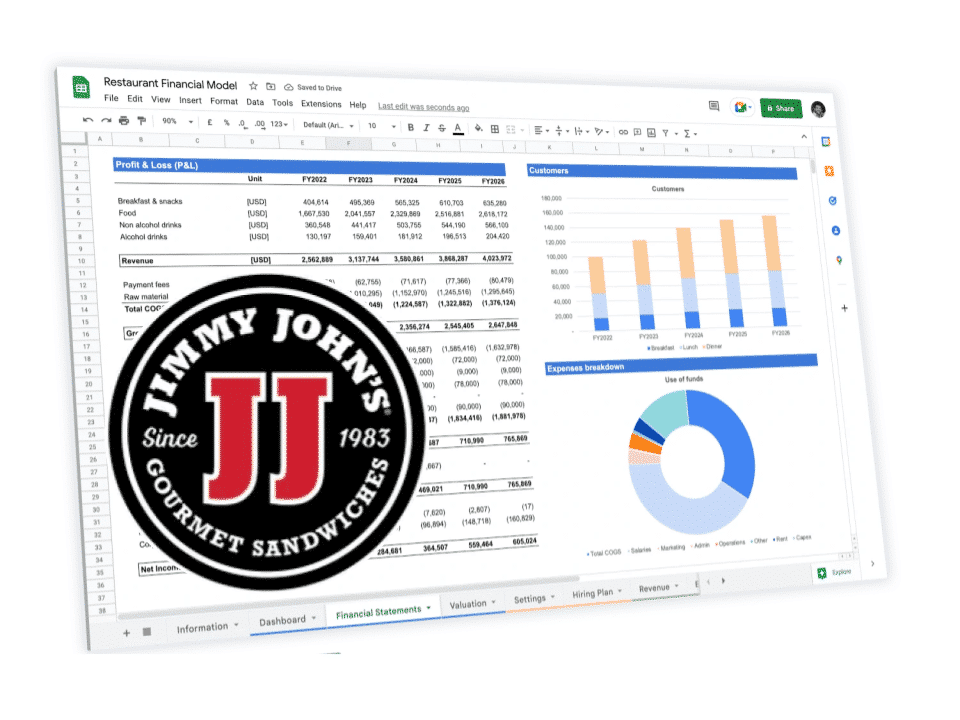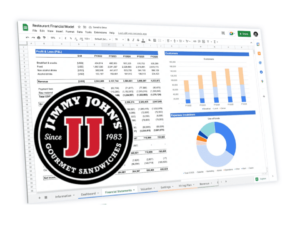 Jimmy John's Franchise Business Plan
All the stats: startup costs, profits, breakeven, etc.
5-year financial projections built with the FDD

Excellent 4.8/5 based on 70 reviews
Excellent 4.8/5 based on 70 reviews

Disclaimer
Disclaimer: This content has been made for informational and educational purposes only. We do not make any representation or warranties with respect to the accuracy, applicability, fitness, or completeness of the information presented in the article. You should not construe any such information or other material as legal, tax, investment, financial, or other professional advice. Nothing contained in this article constitutes a solicitation, recommendation, endorsement, advertisement, or offer to buy or sell any franchises, securities, or other financial instruments in this or in any other jurisdiction in which such solicitation or offer would be unlawful under the franchise and/or securities laws of such jurisdiction.
All content in this article is information of a general nature and does not address the detailed circumstances of any particular individual or entity. Nothing in the article constitutes professional and/or financial and/or legal advice, nor does any information in the article constitute a comprehensive or complete statement of the matters discussed or the law relating thereto. You alone assume the sole responsibility of evaluating the merits and risks associated with the use of any information or other content in this article before making any decisions based on such information or other content.