A recent popular franchise, Kung Fu Tea opened its first store in 2010. With an affordable investment cost of $250,125 and a strong customer demand, opening a Kung Fu Tea may seem like a great idea. Is this really the case?
In this article we're looking at how much it costs to open a Kung Fu Tea franchise, how much profits you can realistically earn with this business and whether it's a good investment.
Note that we are using the latest Franchise Disclosure Document for our analysis as well as benchmark for similar franchises. Should you invest in a Kung Fu Tea franchise? Let's find out!
Kung Fu Tea franchise: key figures
| | |
| --- | --- |
| Franchise fee | $37,000 |
| Royalty fee | 4.0% |
| Marketing fee | 2.0% |
| Investment (mid-point) | $250,125 |
| Average annual sales | $353,237 |
| Investment to sales ratio | 1.4x |
| Investment payback* | 4.7 years (good) |
| Minimum net worth | n.a. |
| Minimum liquid capital | $25,000 |
* using 15% net profit margin
Kung Fu Tea franchise: a brief introduction
Kung Fu Tea is the largest American beverage franchise, with over 350 locations in the US, Canada, Japan, Cambodia, and Taiwan.
The chain store serves a variety of fresh-brewed tea, bubble tea, coffee, juice, smoothies, and other beverages.
The chain was started by three friends, Michael, Allen, and Ray, who, not happy with the bubble tea they once took from a local tea kiosk, opened the first American Kung Fu Tea shop in Queensway, New York, in 2010.
Its franchising journey started in 2013 under Kung Fu USA Inc., and it offers franchises to operate and sell original bubble tea in approved geographical locations worldwide.
Kung Fu Tea: pros and cons
Operating a Kung Fu Tea franchise has its pros and cons.
Pros
Unique Brand: The Kung Fu Tea brand is known for its unique bubble tea made from natural ingredients. Franchisees can benefit from this uniqueness to attract a large group of customers who want this special taste of bubble tea.
Authenticity: To make its unique bubble tea, the Kung Fu Tea franchise uses genuine ingredients from Taiwan. Therefore, they preserve the trademark and genuine flavor of their beverages. This differentiates their drinks from the competition, giving franchisees an upper hand in the market.
Quality drinks: The Kung Fu Tea brand maintains high quality for its products. With a proven business model, they consistently offer quality tea with the right temperature and texture, which keeps customers coming back. New franchisees can effortlessly attract new customers and explore new markets.
Growth opportunities: With changing lifestyles and many people preferring foods from natural ingredients and healthy eating, a Kung Fu Tea franchise stands to benefit due to its preference for natural ingredients. In addition, the demand for non-caffeine drinks is growing among populations. This means that there is a significant opportunity for growth and profitability.
Support: The franchise provides its franchisees with a comprehensive franchise package. This is in the form of training, corporate support, and a business plan. Their simple and easy-to-follow recipes help franchisees with no or little experience master their procedure easily.
Customer loyalty: In its locations, Kung Fu Tea has developed a strong following for its flavored, high-quality bubble tea. New franchisees benefit from this as customers will flock to any Kung Fu Tea restaurant to enjoy their trademark bubble tea.
Cons
Costly: A Kung Fu Tea franchise is quite expensive compared to its rivals. The process of getting the ingredients from Taiwan can be hectic and unappealing to new franchisees.
Competition: Nowadays, the Kung Fu Tea franchise faces a lot of competition from rivals like Starbucks. Additionally, there are many beverage modifications in the United States. This has left customers with many choices and makes a Kung Fu Tea franchise less attractive to invest in.
Tea is not as habitual as coffee. Unlike coffee enthusiasts, who consume several cups per day, bubble tea has yet not become a popular daily beverage. Many tea lovers take it occasionally or as a treat. This trend may affect Kung Fu Tea franchise growth and profitability.
Much effort is needed in preparation. Preparing the Kung Fu tea menu items can be very cumbersome. The brand advocates for the tea to be freshly prepared in their outlets every three hours to keep it fresh. This is costly and time-consuming.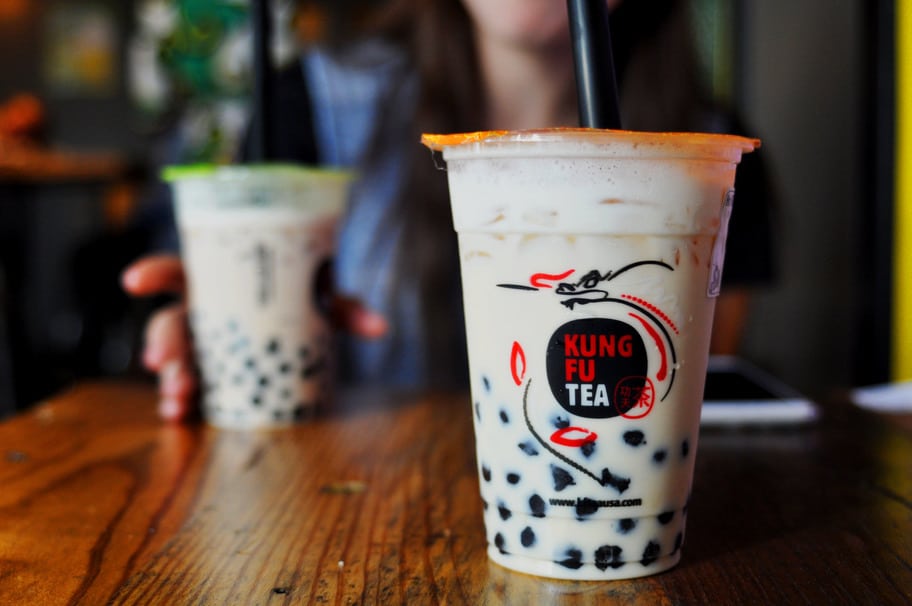 How much does it cost to open a Kung Fu Tea franchise?
In order to open a Kung Fu Tea franchise, you would invest $250,125 on average, including an initial franchise fee of $37,000.
This number is the average investment for both standard and nontraditional units. Whilst a traditional unit is a freestanding shop (mall strip or standalone building), a non-traditional unit is located in a mall, an airport, hotel, resort or a campus for example.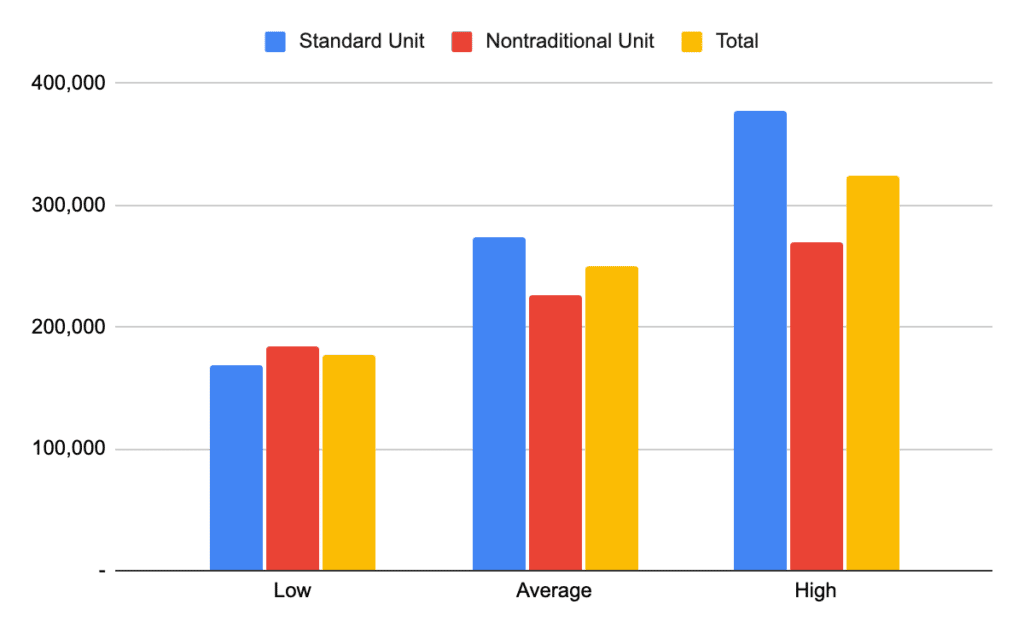 The investment amount covers everything you need from the formation of the business to grand opening.
Formation costs include training fees, equipment, furniture, signage, hardware & business software, prepaid rent & security deposit, leasehold improvements, architectural costs, interior design, initial marketing program, legal and accounting fees, etc.
Instead, Operating expenses refer to the cost of inventory, insurance, and an additional fund as a runway for the first month's losses.
Here's a breakdown of the costs you should pay:
| | Standard Unit | Nontraditional Unit |
| --- | --- | --- |
| Initial franchise fee | $25,000 – $37,000 | $25,000 – $37,000 |
| Formation costs | $114,000 – $276,000 | $124,000 – $199,500 |
| Operating expenses | $30,000 – $65,000 | $35,000 – $45,000 |
| Total | $169,000 – $378,000 | $184,000 – $269,500 |
Source: 2022 FDD
What is the turnover of a Kung Fu Tea franchise?
On average, a Kung Fu Tea franchise makes $353,237 in sales.
This number is an estimate though. As Kung Fu Tea doesn't disclose sales per restaurant in its FDD, we derived the figure by dividing the total revenue ($100 million) by the number of restaurants (285) operating in 2021 in the US.
How profitable is a Kung Fu Tea franchise?
We've run the numbers. As per our estimates, Kung Fu Tea franchisees earn profits of $113,036 per year on average. This corresponds to a 32% adjusted EBITDA margin (as % of sales).
Unfortunately, as for many franchises, Kung Fu Tea doesn't disclose much information regarding the financial performance of its stores. That's why we had to estimate COGS, labor as well as rent expenses using our own benchmarks.
Note that the adjusted EBITDA below isn't net profit: EBITDA doesn't include non-operating expenses that aren't included in our calculation below (for example, taxes, debt interest, etc.).
| Profit-and-loss | Amount ($) | As % of sales |
| --- | --- | --- |
| Sales | $353,237 | 100% |
| COGS | $(88,309) | 25%* |
| Labor | $(102,439) | 29%* |
| Rent | $(28,259) | 8%* |
| Royalty + marketing fees | $(21,194) | 6% as per FDD |
| Adjusted EBITDA | $113,036 | ~32% |
* industry average
Is a Kung Fu Tea franchise a good investment?
Are Kung Fu Tea's profits worth the investment cost? That's something you must look into if you're considering investing in this franchise.
That's what we do when we use the payback period: the time it takes for a franchisee to recoup her/his original investment.
As per our calculations, it takes 4.7 years to reimburse your original investment if you were to invest in a Kung Fu Tea franchise: this is a good investment. For this type of business, anything beyond 7 years is mediocre, around 5 years is good and below 3 years is excellent.
Note that these numbers are calculated using the average financial performance of all Kung Fu Tea franchises (we used 15% net profit margin).
To assess whether you should invest in a Kung Fu Tea franchise, download our business plan and get access to breakeven, return on investment, payback period, your financial statements and more.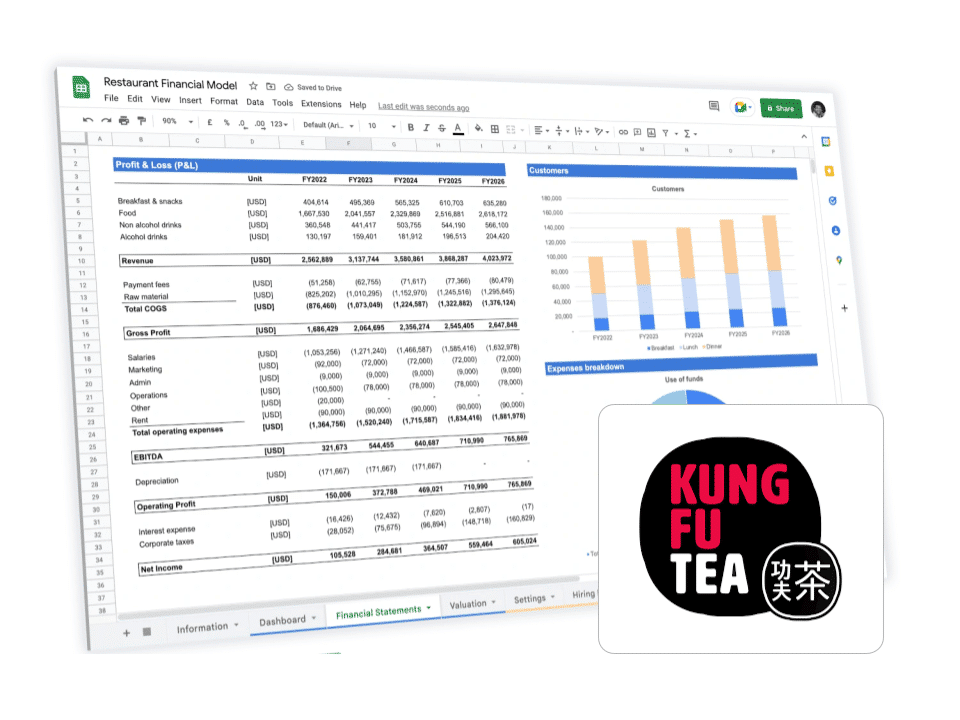 Download the Kung Fu Tea business plan and get your franchise funded
Including a 5-year financial plan built with the latest Franchise Disclosure Document numbers