Minuteman Press Franchise Sales, Costs & Profits (2023)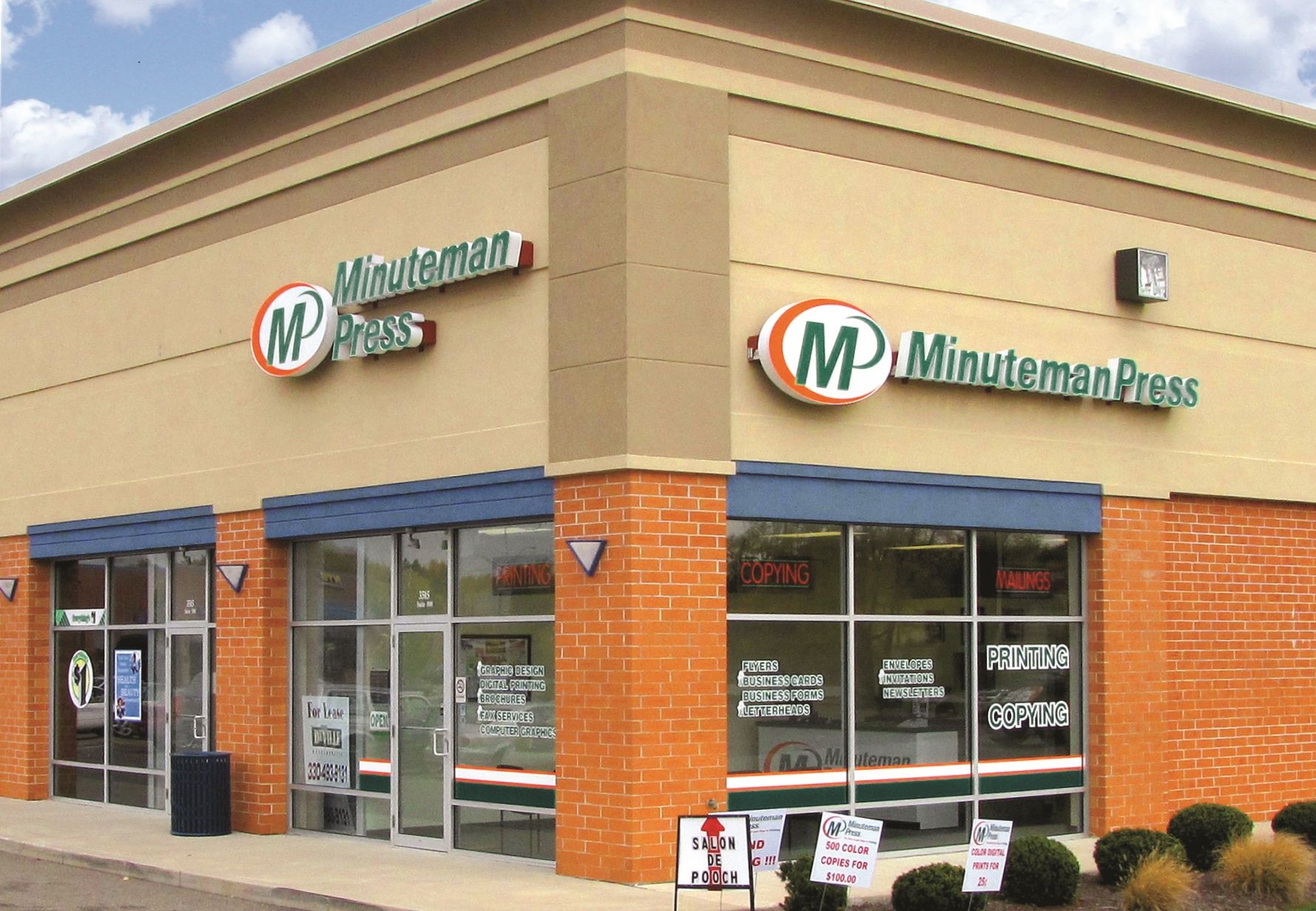 The largest printing shop franchise globally, with more than 700 franchised outlets in the US alone, Minuteman Press needs no introduction. The franchise's footprint has been largely stable over the past 10 years, and for a good reason.
Indeed, among all printing franchises, Minuteman Press is a very popular one among franchisees.
It's not only affordable ($149,000 initial investment on average) but also a very profitable franchise investment (it has an excellent 1 to 2 years payback if you were to invest today).
In this article we dive into Minuteman Press Franchise Disclosure Document to find out how much it really costs and how profitable it really is.
Key stats
| | |
| --- | --- |
| Franchise fee | $40,500 |
| Royalty fee | 6.0% |
| Marketing fee | $15,000 per year (avg.) |
| Investment (mid-point) | $149,000 |
| Average sales | $682,000 |
| Sales to investment ratio | 4.6x |
| Payback period | 1-2 years |
| Minimum net worth | $400,000 |
| Minimum liquid capital | $75,000 |
Source: Franchise Disclosure Document 2023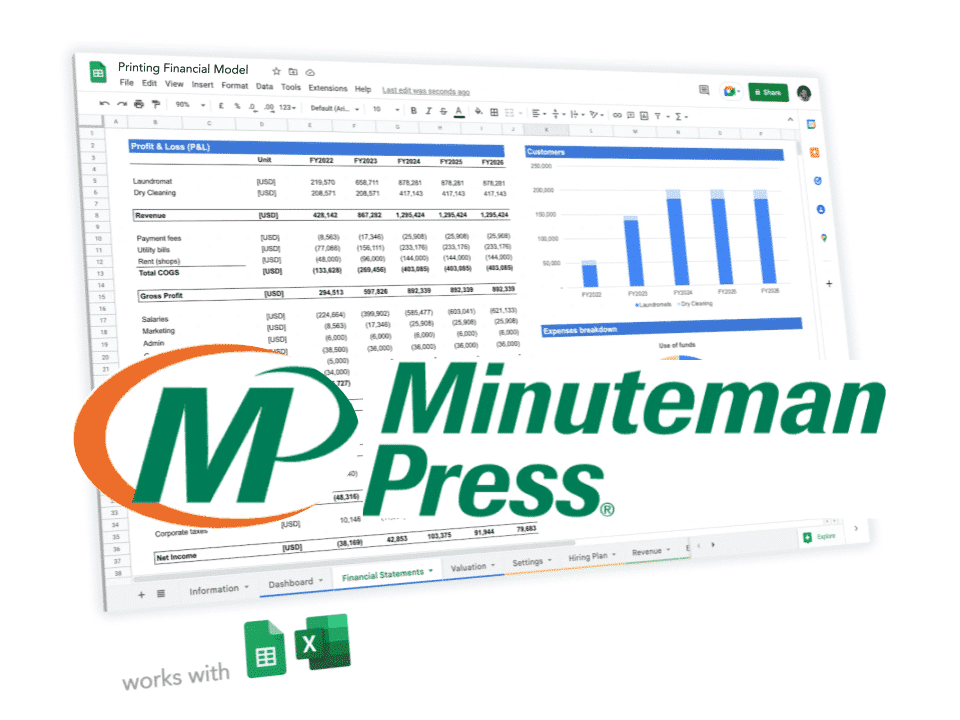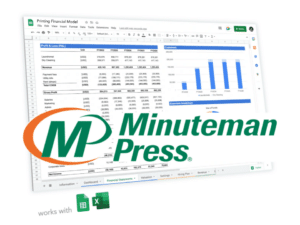 Minuteman Press Franchise Business Plan
All the stats: startup costs, profits, breakeven, etc.
5-year financial projections built with the FDD

Excellent 4.8/5 based on 70 reviews
Excellent 4.8/5 based on 70 reviews

About Minuteman Press
Minuteman Press is a chain of full-service printing centers based in Farmingdale, New York. It offers a wide variety of products and services in the print, branding, marketing and graphic design categories.
Minuteman Press was established in 1973 by Roy Titus and his son Bob, who opened the first Minuteman Press location in Plainview, New York, which was a quick copy center.
Their vision was to solve the long-standing challenges of missed deadlines, poor quality and lack of service through the introduction of fast turnaround, quality printing and friendly customer service. The founders opened a unique concept that provided a one-stop, full-service center that could fulfill the complete printing needs of any business by utilizing new print systems that were developed by the 3M Company.
Minuteman Press picked up quickly, offering quality printing and opening more locations across the Long Island area. It eventually began franchising in 1975, and as of 2022 the brand had 709 US franchised outlets and 258 international locations.
Minuteman Press franchise pros and cons
The pros:
Third-party financing: The franchisor offers its franchisees financing options through third-party relationships. It funds them for franchise fees, startup costs, equipment, inventory and payroll costs.
Pre Opening training and ongoing support: Minuteman Press has a detailed initial training program consisting of 64.25 hours of classroom and 88 hours of on-site instruction. It trains its franchisees on the business concept, products and services, best management practices, customer service, and how to carry out a successful grand opening.
Marketing support: The franchisor provides its franchisees with result-oriented marketing and advertising techniques to help them reach a wide target market. These include national media, regional advertising, social media, email marketing, local store marketing promotions and loyalty programs.
Site selection and development: The franchisor provides its franchisees with site selection guidance to identify suitable locations. It also helps them with the setup and development of their centers.
Shopping convenience: Minuteman Press franchise stores are one-stop, full-service centers, giving guests a convenient shopping experience. Also, it presents franchisees with a unique concept that helps them stand out from the competition and maximize their earning potential.
The Cons:
No exclusive territory protection: Minuteman Press does not allow its franchisees to operate in protected territory. Franchisees may face competition from franchises authorized by the parent company, its affiliates or brands it controls.
Not a home-based opportunity: The franchise cannot be run from home or a mobile unit. Franchisees must have an office space, warehouse or retail facility.
Not a passive investment: The franchise does not allow for absentee ownership. Franchisees must be actively involved in the day-to-day running of their centers.
Not a part-time business: The franchisor requires centers to be open full-time.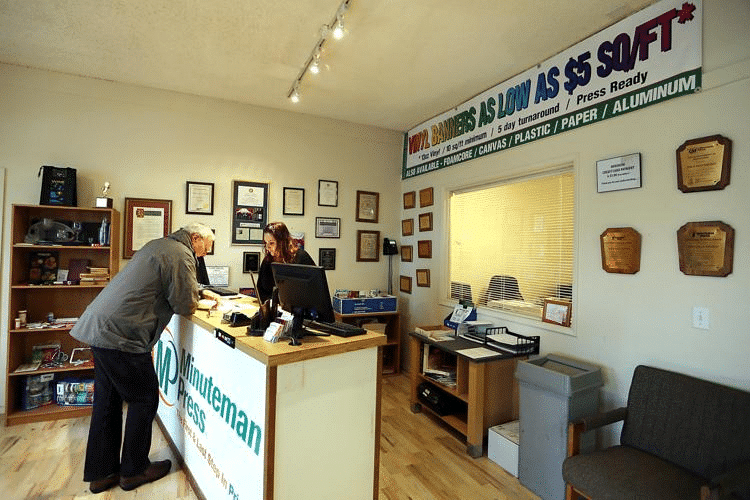 Minuteman Press franchise costs
You would have to invest an average of $149,000 to open a Minuteman Press franchise.
The investment covers all the start-up costs you may need to open a Minuteman Press franchise business. You must pay the franchisor an initial franchise fee of $33,000 to $49,000.
In addition to this franchise fee, the investment also covers:
Formulation costs: real estate security deposit, equipment package deposit, business licenses, utility deposits, and more.
Equipment: equipment package, IT/computer and networking, software, and others.
Operating costs: Xerox-leased equipment, insurance, shipping, professional fees, and additional funds for 6 months.
Startup costs
Here's the full breakdown of costs:
| Type of Expenditure | Amount |
| --- | --- |
| Initial franchise fee | $32,500 – $48,500 |
| Formulation costs | $8,800 – $14,800 |
| Equipment | $91,590 – $102,385 |
| Operating costs | $36,941 – $63,441 |
| Total | $78,241 – $219,526 |
Source: Franchise Disclosure Document 2023
Minuteman Press franchise fees
The initial franchise fee for a Minuteman Press franchise is $40,500
In addition to the initial franchise fee, you must pay to the franchisor a royalty fee of 6.0% of revenues, as well as a variable marketing fee of $15,000 per year (avg.) of revenues.
Minuteman Press franchise sales
On average, a Minuteman Press franchise makes $682,000 in sales per year.
This represents the average sales per franchise business for 579 out of the 718 franchised businesses that operated in 2022 (as disclosed in the latest FDD).
Minuteman Press franchise profits
On average, a Minuteman Press franchise generates $132,000 in profits per year, which corresponds to a 19% EBITDA margin.
This calculation is based on the information available in the Franchise Disclosure Document 2023. Indeed, unlike other franchisors, Minuteman Press provides detailed information on the cost structure of its franchised-owned printing shops which we are summarizing below.
Note that Minuteman Press only provides COGS and labor costs (33% and 22% of sales respectively). For other costs we used the information from the FDD (occupancy, royalties) and make assumptions for other operating costs (14% sales).
| Profit and loss | Amount | % revenue | Source |
| --- | --- | --- | --- |
| Revenue | $681,570 | 100% | as per FDD |
| COGS | $(228,121) | 33% | as per FDD |
| Gross Profit | $453,449 | 67% | |
| Labor | $(150,354) | 22% | as per FDD |
| Occupancy costs | $(36,000) | 5% | as per FDD |
| Royalty | $(40,894) | 6% | as per FDD |
| Other operating costs | $(93,498) | 14% | assumption |
| EBITDA | $132,702 | 19% | |
Source: Franchise Disclosure Document 2023
Is Minuteman Press a good franchise investment
To answer this question, we must compare the profits to the initial investment you would have to make as a franchisee to start a Minuteman Press franchise.
Assuming a 10-15% net profit margin, we estimate that Minuteman Press has one of the best payback in the industry (1-2 years on average).
Indeed, not only Minuteman Press franchises require a relatively low investment ($149,000), they are also very profitable businesses (we estimate they have a ~19% EBITDA margin as explained earlier).
Therefore, we do consider Minuteman Press to be a great franchise investment if you are looking to open a new printing shop business.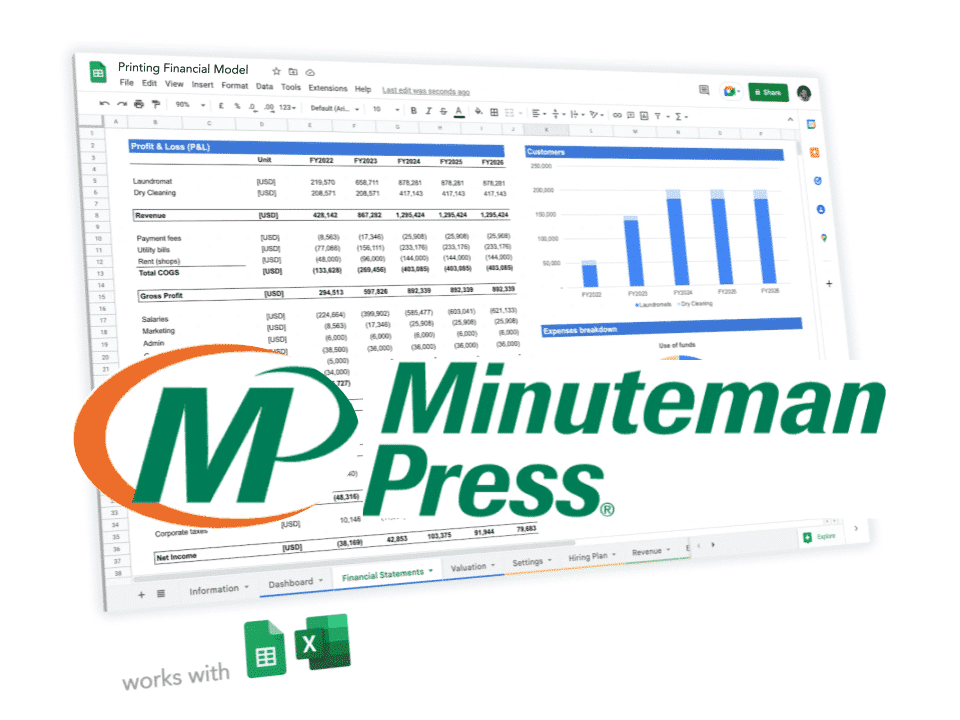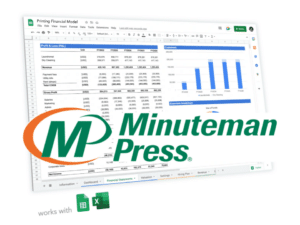 Minuteman Press Franchise Business Plan
All the stats: startup costs, profits, breakeven, etc.
5-year financial projections built with the FDD

Excellent 4.8/5 based on 70 reviews
Excellent 4.8/5 based on 70 reviews

Disclaimer
Disclaimer: This content has been made for informational and educational purposes only. We do not make any representation or warranties with respect to the accuracy, applicability, fitness, or completeness of the information presented in the article. You should not construe any such information or other material as legal, tax, investment, financial, or other professional advice. Nothing contained in this article constitutes a solicitation, recommendation, endorsement, advertisement, or offer to buy or sell any franchises, securities, or other financial instruments in this or in any other jurisdiction in which such solicitation or offer would be unlawful under the franchise and/or securities laws of such jurisdiction.
All content in this article is information of a general nature and does not address the detailed circumstances of any particular individual or entity. Nothing in the article constitutes professional and/or financial and/or legal advice, nor does any information in the article constitute a comprehensive or complete statement of the matters discussed or the law relating thereto. You alone assume the sole responsibility of evaluating the merits and risks associated with the use of any information or other content in this article before making any decisions based on such information or other content.