Mountain Mike's Franchises Profits are Worth Investing $410K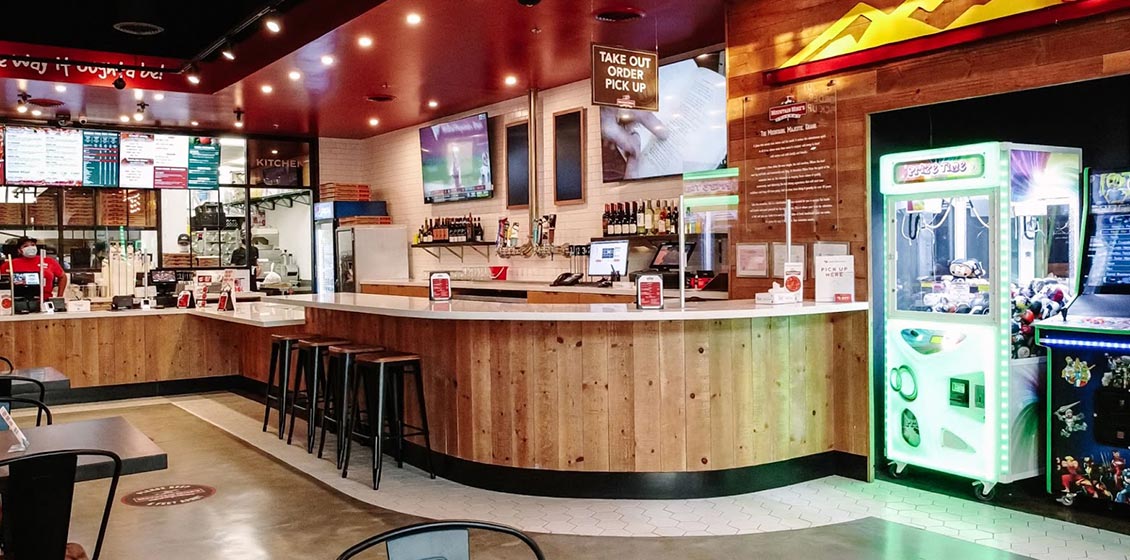 When looking at pizza franchises, there are a lot of options to choose from as a franchisee. From the giants (e.g. Domino's, Little Caesar's) to big players like Blaze Pizza and Papa John's, there is also a lot of competition to say the least.
Therefore, it's very important when choosing a franchise to look at the Franchise Disclosure Documents to find out how profitable each one really is.
The good news is that Mountain Mike's is one of the most profitable pizza franchise you can find. Indeed, with a required initial investment of $410,900 yet over $866,000 turnover per year on average, your payback period would only be 3.2 years, that's excellent.
Want to hear more? We'll tell you everything you should know about Mountain Mike's franchises. Let's dive in!
Key stats
| | |
| --- | --- |
| Franchise fee | $30,000 |
| Royalty fee | 5.0% |
| Marketing fee | 3.0% |
| Investment (mid-point) | $411,000 |
| Average sales | $866,000 |
| Sales to investment ratio | 2.1x |
| Payback period | [franchise_value_investment_payback] |
| Minimum net worth | $300,000 |
| Minimum liquid capital | $100,000 |
Source: FDD 2021
Find the best franchise
Compare Mountain Mike's Pizza vs. 1,000+ franchises on franchiseindx.com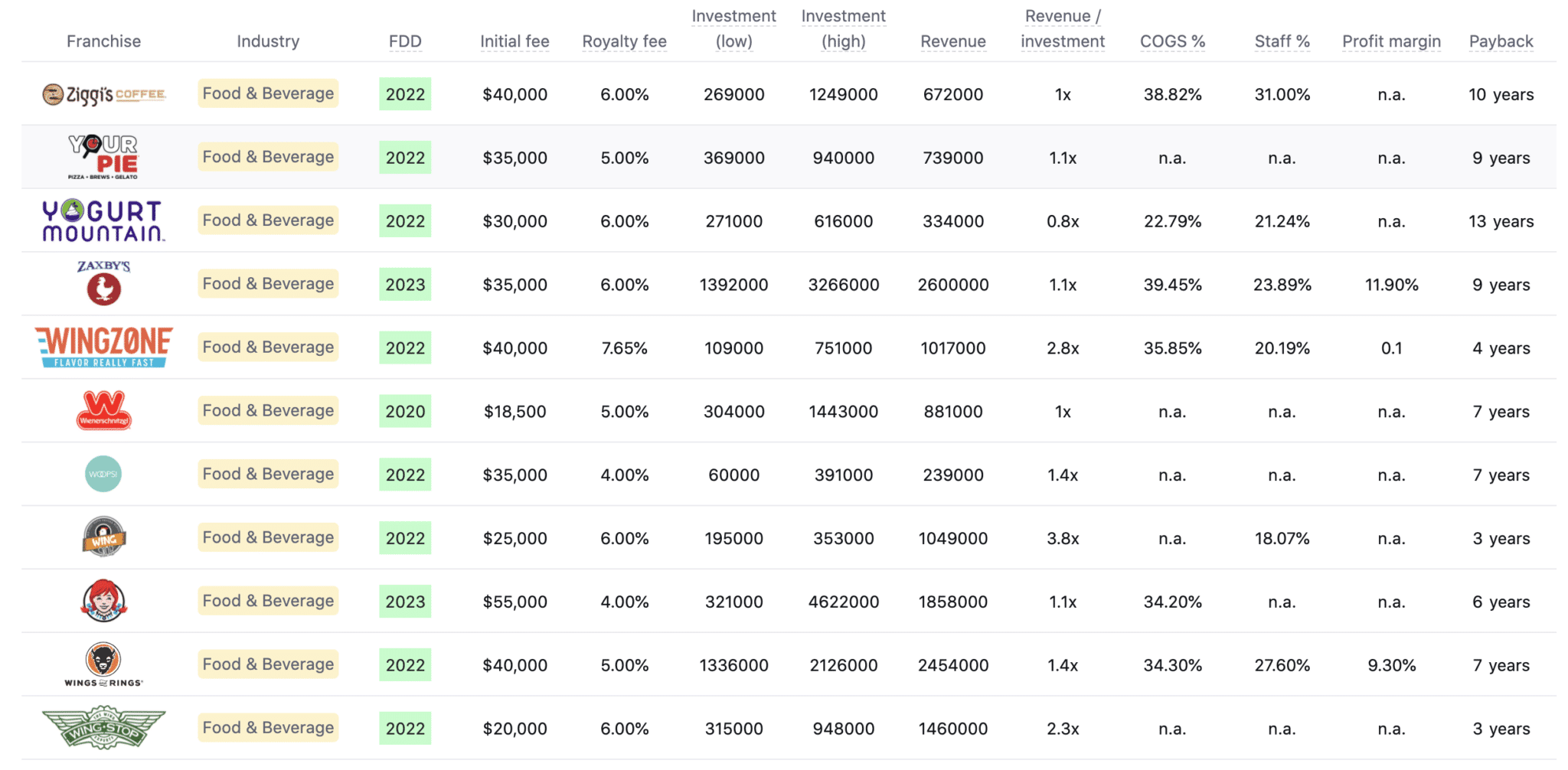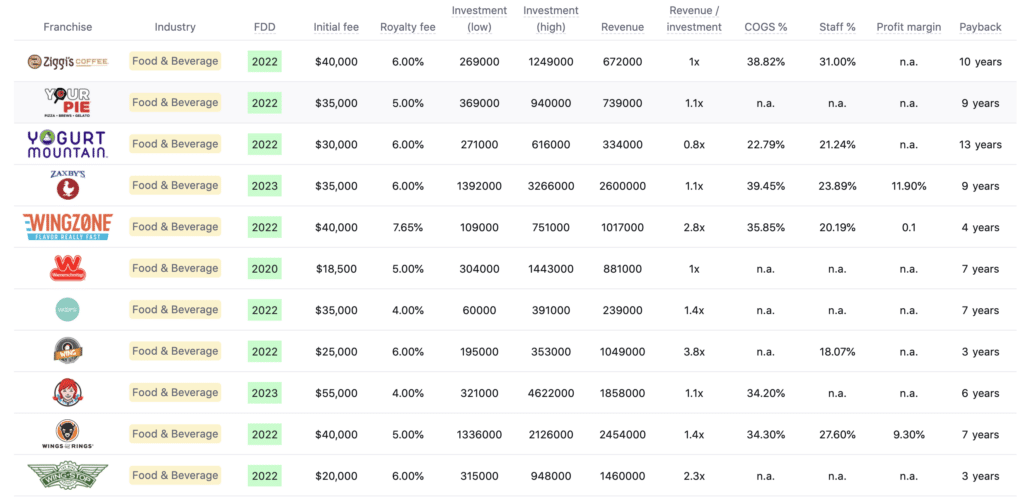 What is Mountain Mike's Pizza?
Mountain Mike's Pizza is an American fast-casual pizza chain headquartered in Newport Beach, California. It offers chicken wings, garlic sticks, dessert pizza, a lunch buffet, and salad bars.
The chain was founded in 1978 by Chris Britt and Ed St. Geme. Mountain Mike's Pizza began franchising in 1981, and now it has more than 270 stores in the US.
Mountain Mike's Pizza franchises: pros and cons
Pros
Extensive training: The brand offers franchisees extensive training, including 122 on-site hours and 10 hours of classroom training, to equip them with the foundations and resources for running a successful Mountain Mike's Pizza restaurant. It trains franchisees on making the products, hiring top-quality staff, handling customers, minimizing waste, and preparing them for a successful grand opening.
Exclusive territory: The franchisor grants the franchisees an exclusive territory to operate their business, which leaves them with a huge room for growth and expansion. It does not authorize any other franchise or operate competing brands in the agreed-upon location.
Marketing strategy: The brand offers the franchisees a results-oriented marketing strategy. Franchisees can leverage the brand's popularity and utilize national media, regional advertising, Google Ads, social media, influencer marketing, and digital promotional campaigns to create awareness about the brand and their local stores among a wider customer audience.
Real estate and construction: The franchisor helps the franchisees identify convenient business locations, restaurant designs, construction, lease negotiations, and branding. Franchisees can utilize the brand's experienced real estate personnel to construct or lease their restaurants at the least cost and shorten their break-even period.
Cons
No franchise financing: The franchisor does not finance the franchisees' start-up or ongoing costs, directly or indirectly. It also does not guarantee any note, lease, or grant on behalf of its franchisees.
No absentee ownership: The franchise is not a passive investment opportunity. The franchisees need to actively participate in the daily operations of the restaurant.
Competition: Mountain Mike's Pizza operates in a growing and competitive industry. The availability of healthy eating options and well-established brands such as Domino's, Marco's Pizza, and Papa Murphy's make the franchise less attractive.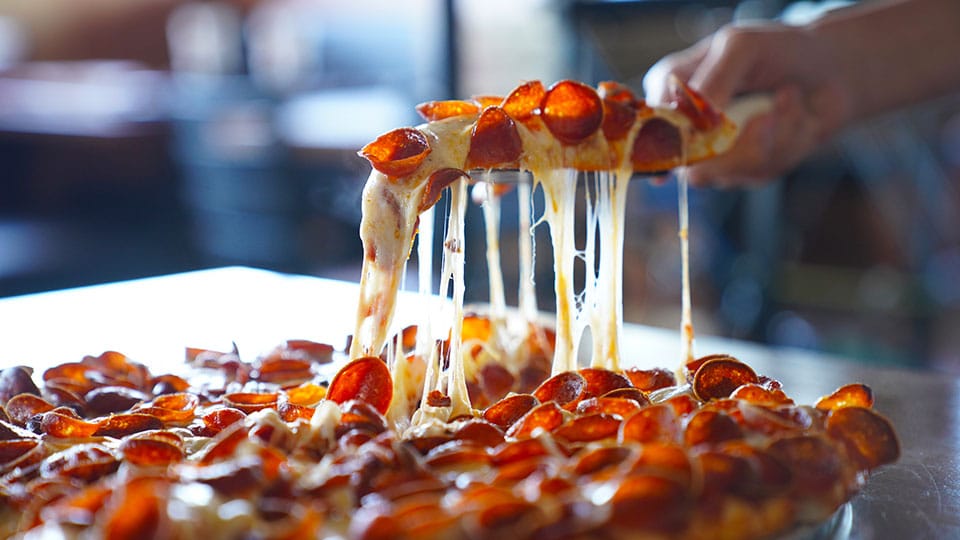 How much does a Mountain Mike's franchise cost?
On average, you may need to invest around $410,900 to open a Mountain Mike's Pizza restaurant.
The investment amount is an average. Indeed, it depends on several factors and conditions. For example, rent is not similar in different areas; as a result, the total investment amount can vary in different locations. Generally, the amount lies between $225,800 and $596,000 (as per the 2021 Franchise Disclosure Document).
Why would you pay the amount, you may ask? Well, the investment amount covers all types of startup costs you would need at the beginning. Some of these are payable to the franchisor and others are to third parties.
In addition to the initial franchise fee ($15,000 – $30,000) payable to the franchisor, you would also pay for:
Formation costs: furniture, fixtures, equipment, pos, electronic information system, architectural & engineering fees, leasehold improvements, signage, security deposit, décor package, training expenses, etc.
Initial marketing: opening advertising expenses
Operating costs: three months' rent, initial opening inventory & supplies, 3 months worth of working capital, etc.
| Type of cost | Low | High |
| --- | --- | --- |
| Initial franchise fee | $15,000 | $30,000 |
| Formation costs | $159,800 | $463,000 |
| Marketing fee | $4,000 | $4,000 |
| Operating costs | $47,000 | $99,000 |
| Total | $225,800 | $596,000 |
Source: FDD 2021
Find the best franchise
Compare Mountain Mike's Pizza vs. 1,000+ franchises on franchiseindx.com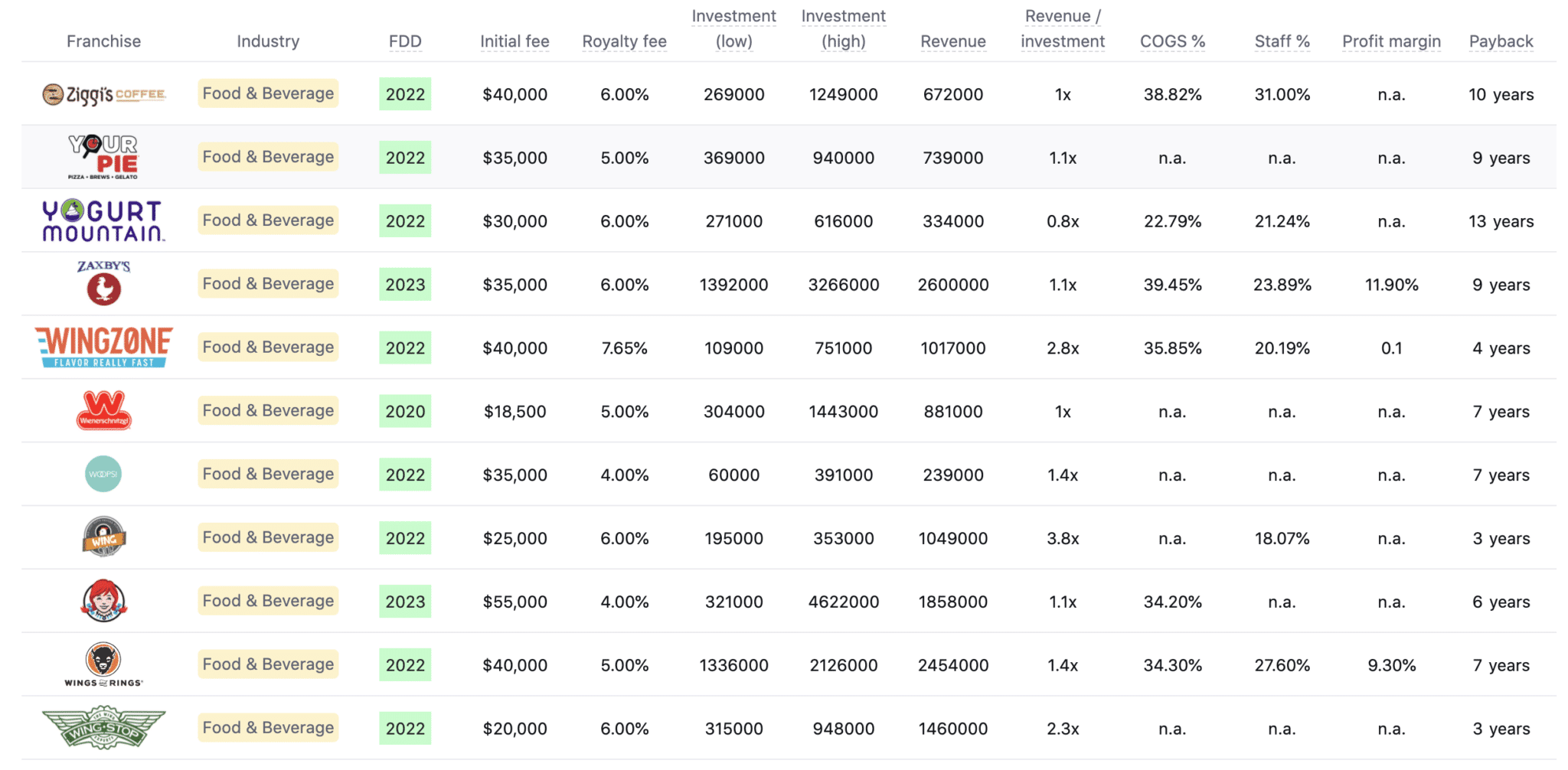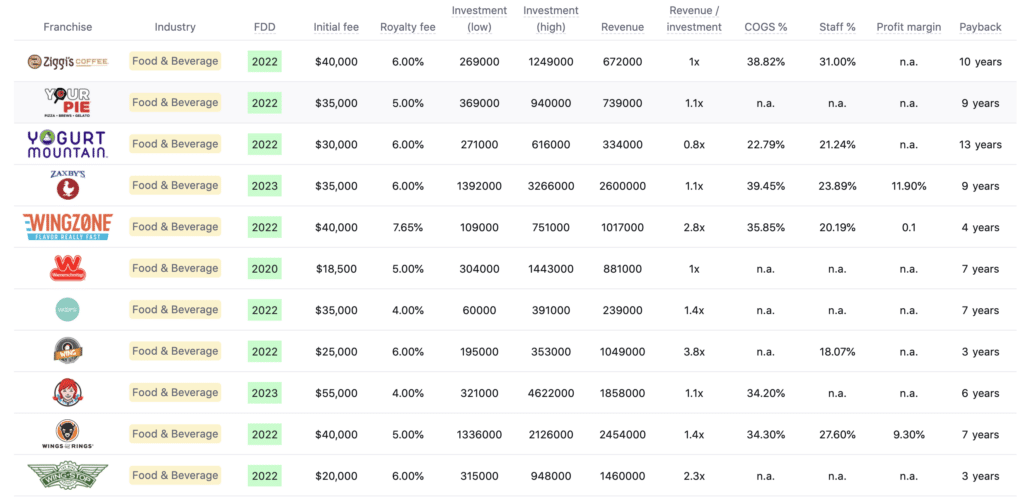 What's the average turnover of a Mountain Mike's restaurant?
On average, a Mountain Mike's Pizza franchise makes $865,713 in sales per year.
This is the annual median sales of 210 restaurants operating in the 2020 fiscal year. Here's the breakdown of the 210 restaurants by annual turnover:
How profitable is a Mountain Mike's franchise?
On average Mountain Mike's Pizza franchise makes $224,971 in profits per year. This represents a 26% profit margin (adjusted EBITDA margin to be exact).
The 26% adjusted EBITDA margin is in line compared to similar franchises as per our intelligence (~25-27% industry average).
Please consider that we could not find the actual cost data for Mountain Mike's Pizza franchises as they don't provide any financial information about their franchises in the FDD. Indeed, we had to use the industry average for COGS (25% sales) and labor costs (29%) to calculate the margin.
| Profit-and-loss | Amount | % sales |
| --- | --- | --- |
| Sales | $865,713 | 100% |
| COGS | $(216,428) | 25.0%* |
| Labor | $(251,057) | 29.0%* |
| Rent | $(104,000) | 12.0% |
| Royalty + marketing fees | $(69,257) | 8.0% |
| Adjusted EBITDA | $224,971 | ~26% |
Source: Franchise Disclosure Document 2021
Yet, this adjusted EBITDA does not mean you can keep 26% of the total revenue in your pocket as your net profit.
Meaning, you would earn less than 26% of total revenue as an owner of a Mountain Mike's Pizza franchise. Indeed, you may need to deduct taxes, debt interest expenses, and other costs from this margin. Instead, we estimate net profits to be at around 10-15% of sales.
Should you invest in a Mountain Mike's franchise?
With a sales to investment ratio of 2.1x, it's no wonder that Mountain Mike's is a great franchise opportunity. Indeed, if we were to even compare profits (assuming a 15% net profit margin), we would obtain a payback of 3.2 years, that's an excellent investment.
Think about it, whether you decide to fund the required initial investment by debt, investors or your own funds, you would repay it within 3.2 years on average. That's a pretty good deal, and one of the best payback period we found for restaurant franchises.
Are you considering buying a Mountain Mike's Pizza franchise? Download our business plan template below and access a pre-built financial model with your 5-year pro forma financial statements, break-even point, return on investment and more.
Find the best franchise
Compare Mountain Mike's Pizza vs. 1,000+ franchises on franchiseindx.com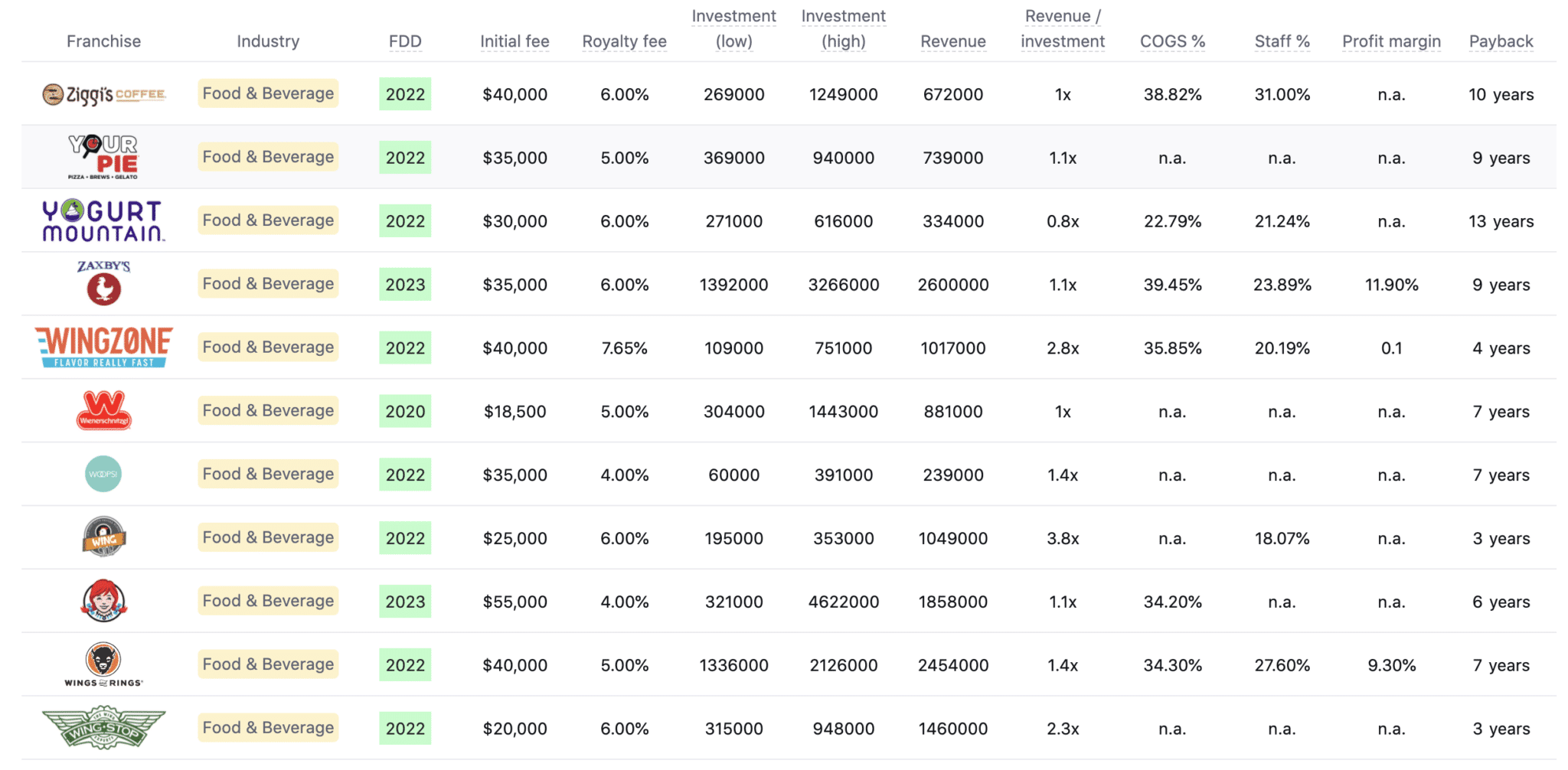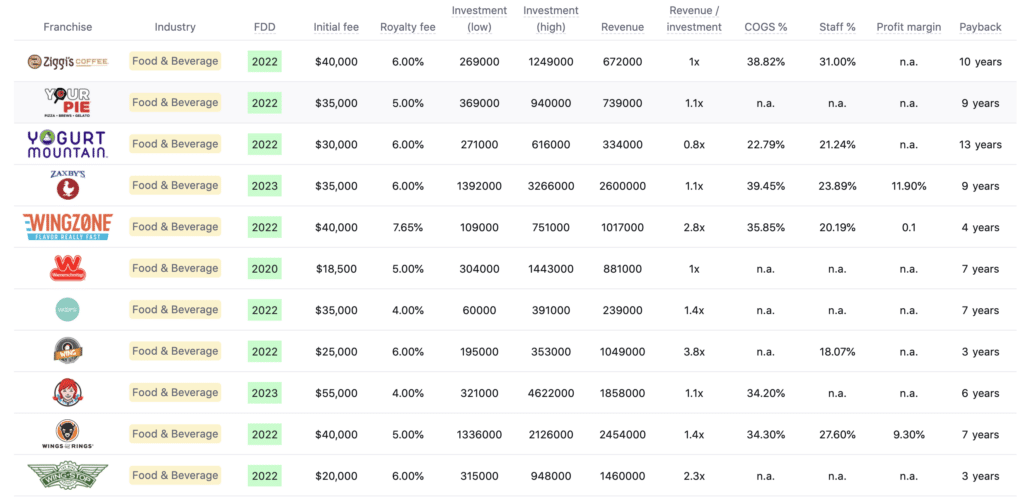 Disclaimer
Disclaimer: This content has been made for informational and educational purposes only. We do not make any representation or warranties with respect to the accuracy, applicability, fitness, or completeness of the information presented in the article. You should not construe any such information or other material as legal, tax, investment, financial, or other professional advice. Nothing contained in this article constitutes a solicitation, recommendation, endorsement, advertisement, or offer to buy or sell any franchises, securities, or other financial instruments in this or in any other jurisdiction in which such solicitation or offer would be unlawful under the franchise and/or securities laws of such jurisdiction.
All content in this article is information of a general nature and does not address the detailed circumstances of any particular individual or entity. Nothing in the article constitutes professional and/or financial and/or legal advice, nor does any information in the article constitute a comprehensive or complete statement of the matters discussed or the law relating thereto. You alone assume the sole responsibility of evaluating the merits and risks associated with the use of any information or other content in this article before making any decisions based on such information or other content.