With an investment of (only) $538,650 and an impressive 2.7 years payback, a Nothing Bundt Cakes franchise seems like a great investment, is this really true?
In this article we're looking at Nothing Bundt Cakes' Franchise Disclosure Document to find out whether this franchise is a good investment for a franchisee.
We'll see how much profits you earn earn with this business, how much does it cost to start a Nothing Bundt Cakes franchise. Finally, we'll look into whether the profits justify the costs. Let's dive in!
Nothing Bundt Cakes franchise: key figures
| | |
| --- | --- |
| Franchise fee | $35,000 |
| Royalty fee | 5.0% |
| Marketing fee | 4.0% |
| Investment (mid-point) | $538,650 |
| Average annual sales | $1,307,280 |
| Investment to sales ratio | 2.4x |
| Investment payback* | 2.7 years (very good) |
| Minimum net worth | $600,000 |
| Minimum liquid capital | $150,000 |
* using 15% net profit margin
Nothing Bundt Cakes: an introduction
Founded in 1997 in Las Vegas, Nothing Bundt Cakes sells handcrafted Bundt Cakes. The company was founded by Dena Tripp and Debra Shwetz.
Apart from Bundt cakes, the bakery also offers various retail items like décor and gift, party supplies, etc., making it a perfect one-stop shop for parties and celebrations.
Today, this baked goods restaurant brand has over 430 bakeries operating in the US and Canada.
Nothing Bundt Cakes franchises: pros and cons
In case you are interested in buying a Bundt Cake franchise, here are the advantages and disadvantages you must be aware of:
Pros
The company helps interested parties in acquiring funding from third-party financing services with which the company has relationships
Nothing Bundt Cakes offers intensive training and ongoing support to all its franchisees
They also offer territory protection to their franchisees
They have a relatively low startup cost ($538,650 mid-point investment cost)
Cons
Their initial franchise fee is on the higher end of the spectrum at $35,000
They have a high 6% royalty fee to which you must add a 5% ad royalty fee
They do not allow absentee ownership. They don't even allow to run a franchise as a part time business
A franchise must have 15-20 employees, which can increase the overhead costs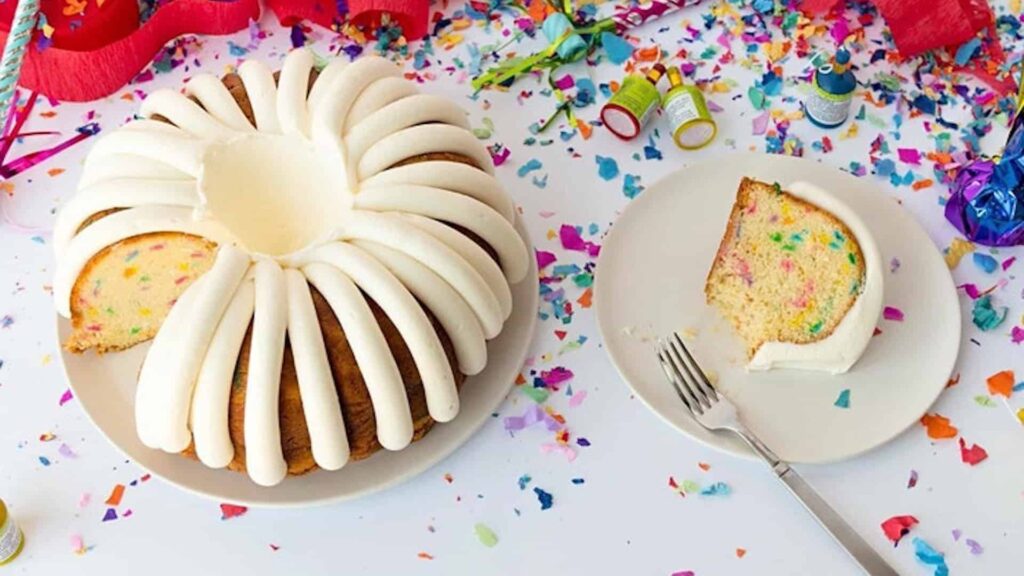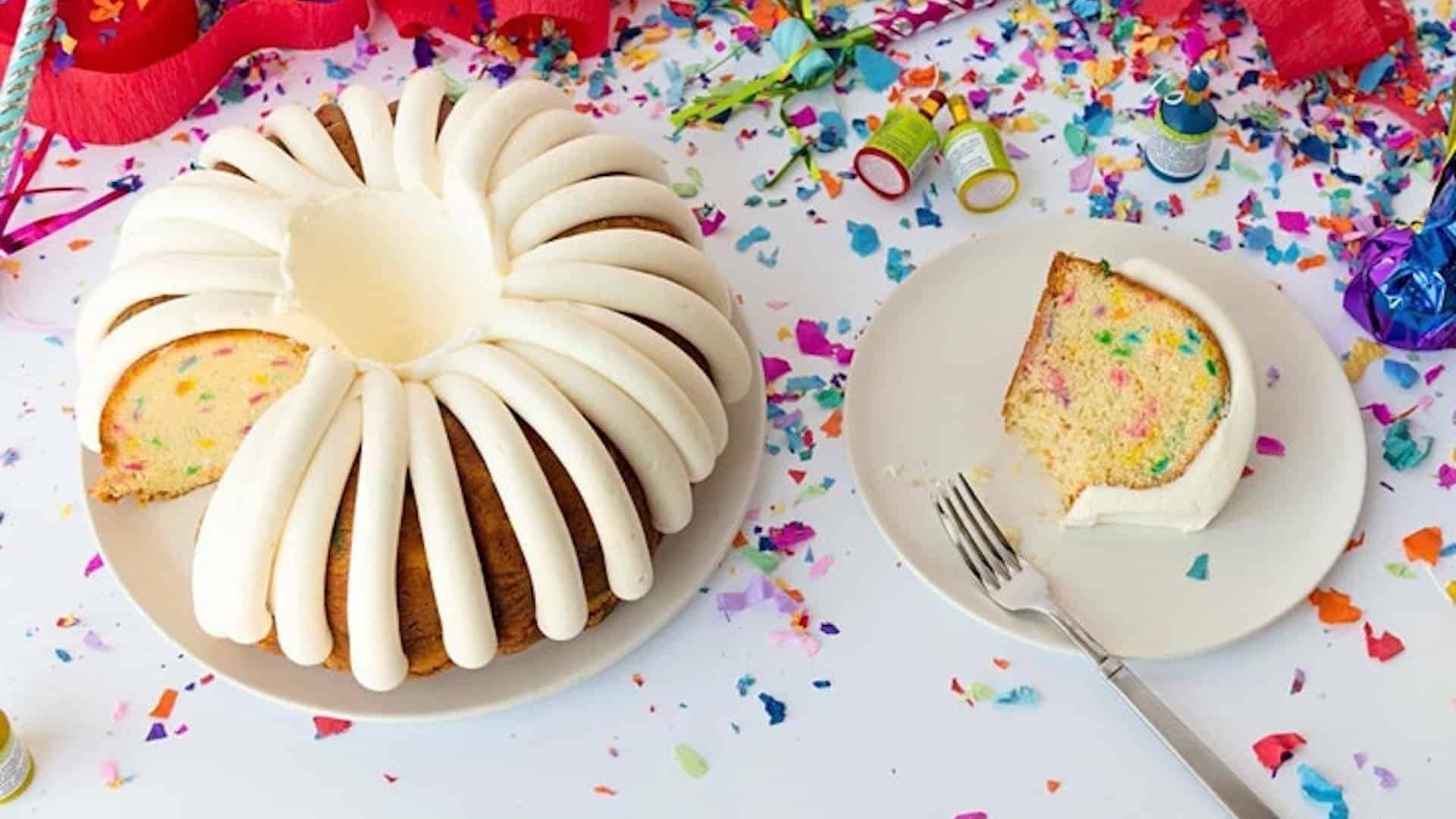 How much does a Nothing Bundt Cakes franchise cost?
You must invest a total of $538,650 to become a Nothing Bundt Cakes franchise.
This number represents the average amount you need to invest. Ideally, the investment amount can be as low as $440,800 to as high as $636,500.
In addition to the $35,000 initial franchise fee, the investment cost includes everything a bakery unit needs in the beginning:
Formation costs: business license & permits, professional fees, training expenses, opening advertising program, bakery improvements, delivery vehicle, equipment, exterior signage, and point of sale system
Operating expenses: rent, insurance, initial inventory, and an additional fund as a runway of the first 3 months' losses
| Type of cost | Investment amount |
| --- | --- |
| Initial Franchise Fee | $35,000 |
| Formation costs | $346,400 – $513,700 |
| Operating expenses | $59,400 – $ 87,800 |
| Total | $440,800 – $636,500 |
Source: 2022 FDD
How much can you make with a Nothing Bundt Cakes franchise?
An average Nothing Bundt Cakes franchise makes $1,307,280 per year.
This number is the average sales of 236 bakeries in 2020. The range is quite wide though: whilst the lowest bakery earned $458,000 in sales in 2020, the most successful franchise grossed a whopping $3,108,000.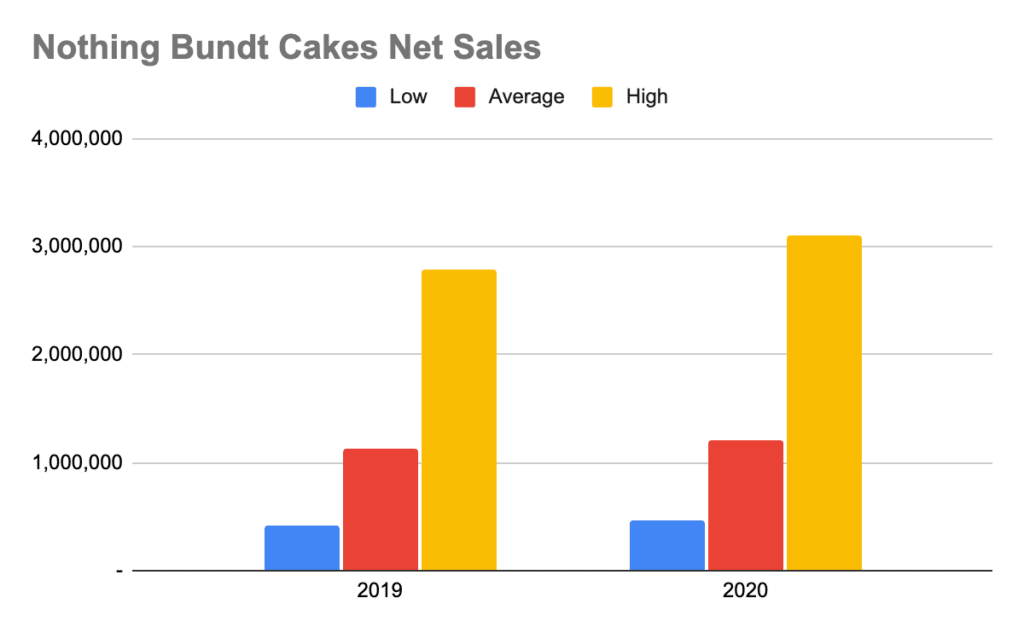 How profitable is a Nothing Bundt Cakes franchise?
Luckily, Nothing Bundt Cakes provides a lot of information in its Franchise Disclosure Document for franchisees to assess the financial performance of its stores.
That's not something we see in most FDDs hence a good news for those who are considering starting a Nothing Bundt Cakes franchise.
Especially, we have access to important financial information like COGS as % of sales (23.3%), labor costs as % of sales (31.8%) and rent ($90,000). Keep in mind these numbers are purely averages of the 430 bakeries. As such, your franchise financials may turn out to be different.
Using these numbers, we estimate that franchisees earn on average profits of $379,314 per year. This represents a 29% adjusted EBITDA margin and is in line with the industry average.
Note that the adjusted EBITDA below only includes COGS, labor costs, rent and fees. As such it doesn't include any other costs (interest, taxes, non-operating expenses) and therefore differ from net profit, which we estimate in the next paragraph.
| Profit-and-loss | Amount ($) | As % of sales |
| --- | --- | --- |
| Sales | $1,307,280 | 100% |
| COGS | $(304,596) | 25%* |
| Labor | $(519,457) | 29%* |
| Rent | $(90,000) | 7% |
| Royalty + marketing fees | $(117,655) | 12.5% |
| Adjusted EBITDA | $379,314 | ~29% |
* industry average
Is a Nothing Bundt Cakes franchise a good investment?
For us to assess whether Nothing Bundt Cakes is a good investment, we need to look at the investment payback period. In other words, we need to look at the number of years it takes you, as the franchisee, to reimburse your original investment (here the average is $538,650).
As per our analysis, owning a Nothing Bundt Cakes franchise is a great investment opportunity: the payback period only is 2.7 years. This means that, on average, you would recoup your original investment of $538,650 only 2.7 years after starting the business. That's clearly a great payback: anything below 3 is excellent and 5 is good / average for this kind of industry.
Again, note that these numbers are based on the average performance of the 430 bakeries. As such, your franchise may turn out to have a very different profitability and investment profile.
Want to apply for a Nothing Bundt Cakes franchise? Download our rock-solid business plan and visualise important metrics like your breakeven point, ROI, payback period and more.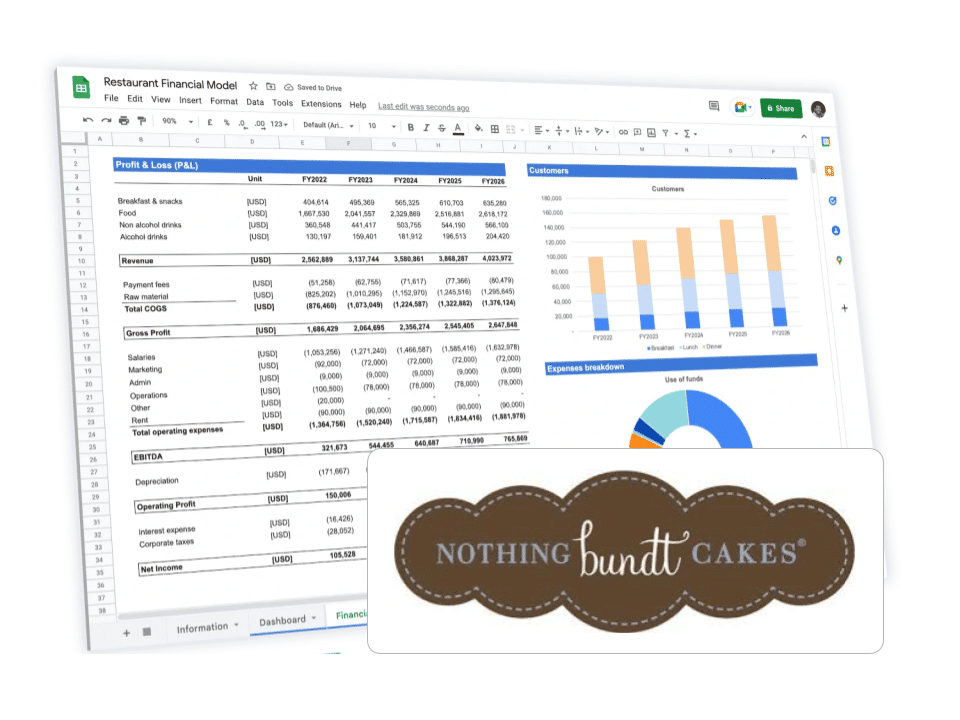 Download the Nothing Bundt Cakes business plan and get your franchise funded
Including a 5-year financial plan built with the latest Franchise Disclosure Document numbers