Are you looking to start your own bike shop? As part of your business plan, make sure to consider the total startup and operating costs to open and run a bike shop.
We've identified that it costs anywhere from $47,500 – $237,500 to open a casual 2,000 sq. ft. bike shop with 3 full-time employees, plus around $43,150 in operating costs per month to run the business the first few months.
Want to know more? In this article we'll go through all the different costs you will need to incur to open your own bike shop. Read on!
For more information on bike shops, make sure to check our guides below:
How to Open a Bike Shop Business in 9 Steps?
How to Write a Bike Shop Business Plan: Complete Guide
How To Build a Financial Model For a Bike Shop
Startup Costs to Open a Bike Shop
The startup costs associated with setting up a bike shop include: upfront inventory, renovation & design, equipment and other expenses. Costs may vary significantly from a business to another, that's why we've given you a clear overview of all the essential startup costs you can expect to start a small bike shop below.
There are 2 types of costs: startup costs and operating costs. Note that these costs are for illustrative purposes and depend on several factors which might not fully apply to you.
Lease security deposit (or loan downpayment)
An important startup cost to open a bike shop is the lease security deposit for the space you rent (or the loan down payment).
If you want to lease a property, you must decide to stay there for a couple of years and pay a security deposit (refundable). The cost will vary depending on the location and the size of the bike shop. For instance, you would spend around $19.5 per square foot for retail and commercial space in a city like Chicago.
Thus, assuming you lease a 2,000-square-feet location, you should expect to pay around $3,000 per month. With that calculation, if you are required to provide a security deposit worth three months of rent, you must set aside $9,000.
If you want to buy a commercial place instead of leasing a place, you will have to provide a down payment for the loan for at least 10%. Thus, assuming the commercial space costs $400,000, you would have to spend $40,000 upfront payment with a 10% deposit.
Bike shop design & renovation costs
One of the most important startup cost is the renovation and design expense. This is especially important if you lease a shop in poor condition or are keen to remodel the shop's general appearance to align with your design ideas.
Renovation expenses depend of the quality of the building itself and can go up to $100,000.
In addition to renovation, your bikes should be strategically positioned to appeal to your potential customers. And the only way to achieve that is to include relevant design that matches the shop's theme to capture the customer's attention.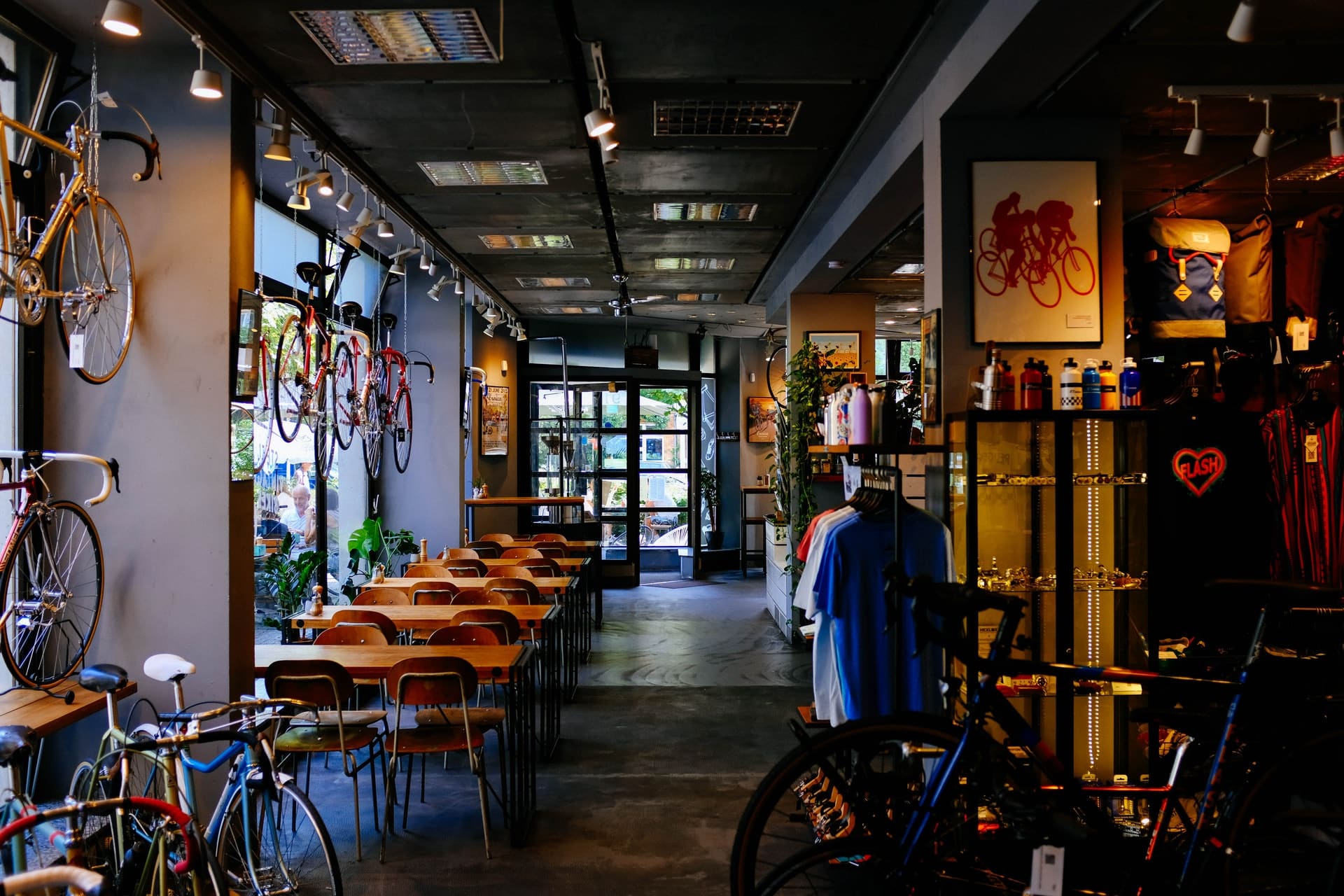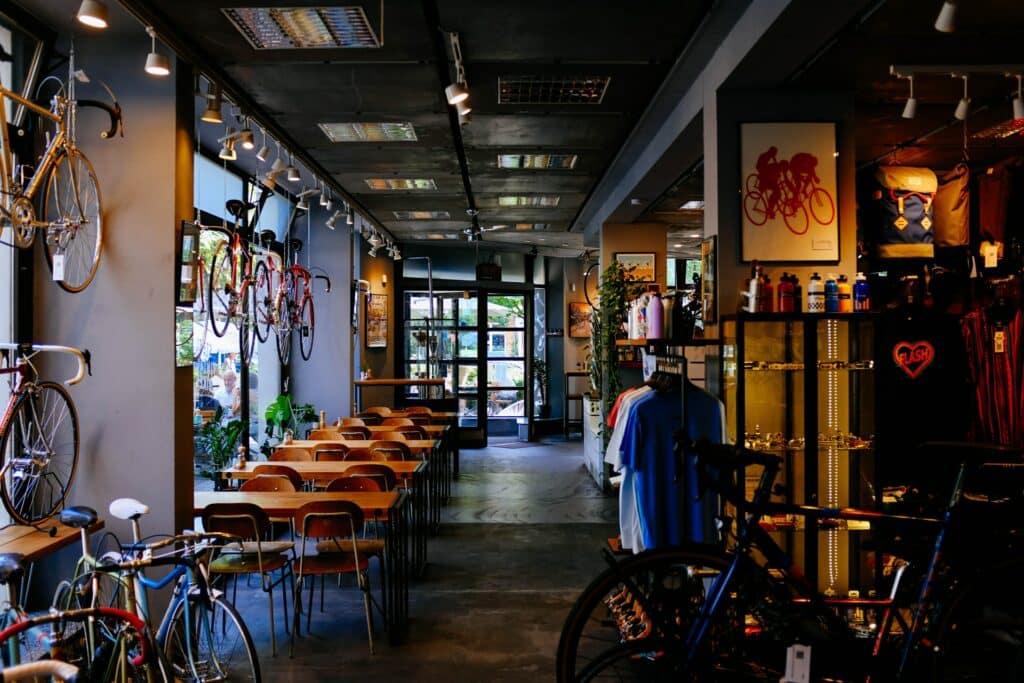 Bike shop initial inventory costs
Setting up the initial inventory is one of the most important costs before you can open your bike shop. And on average, the standard cost can be anything from $25,000 to $75,000.
This isn't a deal-breaker if you know where to source your products because the ultimate cost of setting up the inventory depends on whether you trade brand-new bikes or second-hand ones.
Also, the choice of the brand has a significant impact on the potential profits, and you should be well informed when choosing your products.
Bike shop permits and licenses
With all your products ready, the next item on your list will be the permits and licenses.
This isn't the most interesting part of the operation, but it's one you must complete to legally run your bike shop business in major states and cities.
You will spend about $1,000 to get the documentation you need to run your business. However, it's worth noting that the total amount payable for licenses and permits varies from state to state, so check out with the local bodies before opening your shop.
Again, depending on your location, you may incur some charges on logistics when traveling to acquire your business permits and licenses. For a fully functional bike shop, you should expect to cater to at least three or more permits;
Business Operation License
Retail Seller's Permit
Certificate of Occupancy
Fire certificate
A business operation license for a small bike shop costs about $100. But this can be even higher depending on the nature and size of your shop.
On the other hand, the actual charges for the retail seller permit depend on the statutory laws and can be free or cost about $50 in some regions.
The total charges you are likely to incur on the certificate of occupancy is calculated by the size of the bike shop in square foot and the type of construction, among other factors. Again, such costs won't be the same for all states but can be about $250 on average.
Bike shop equipment startup costs
You need the right equipment to get your bike shop business up and running from the start.
You can always spend less on such equipment, but you face the risk of getting subpar quality gear that may not be as effective. Not to mention the glaring risk of reduced durability.
Other equipment you may need for your bike shop include:
Security system
Cash machine & POS system
Sales counter
Furniture
Bike racks
In total, you should spend around $5,000 to $15,000 for the equipment.
Bike shop website & signage startup costs
If you're handling it alone, website design and development becomes a critical component of your business. These are optional charges that will have a huge impact on the day-to-day running of your business. For example, the cost of designing a website for your bike shop is estimated at $200 and $1,000.
On top of that, you should also set aside some money for signage and initial launch marketing expenses to gain your first customers. Ultimately, the total startup cost for marketing your business will be from $5,000 to $6,000.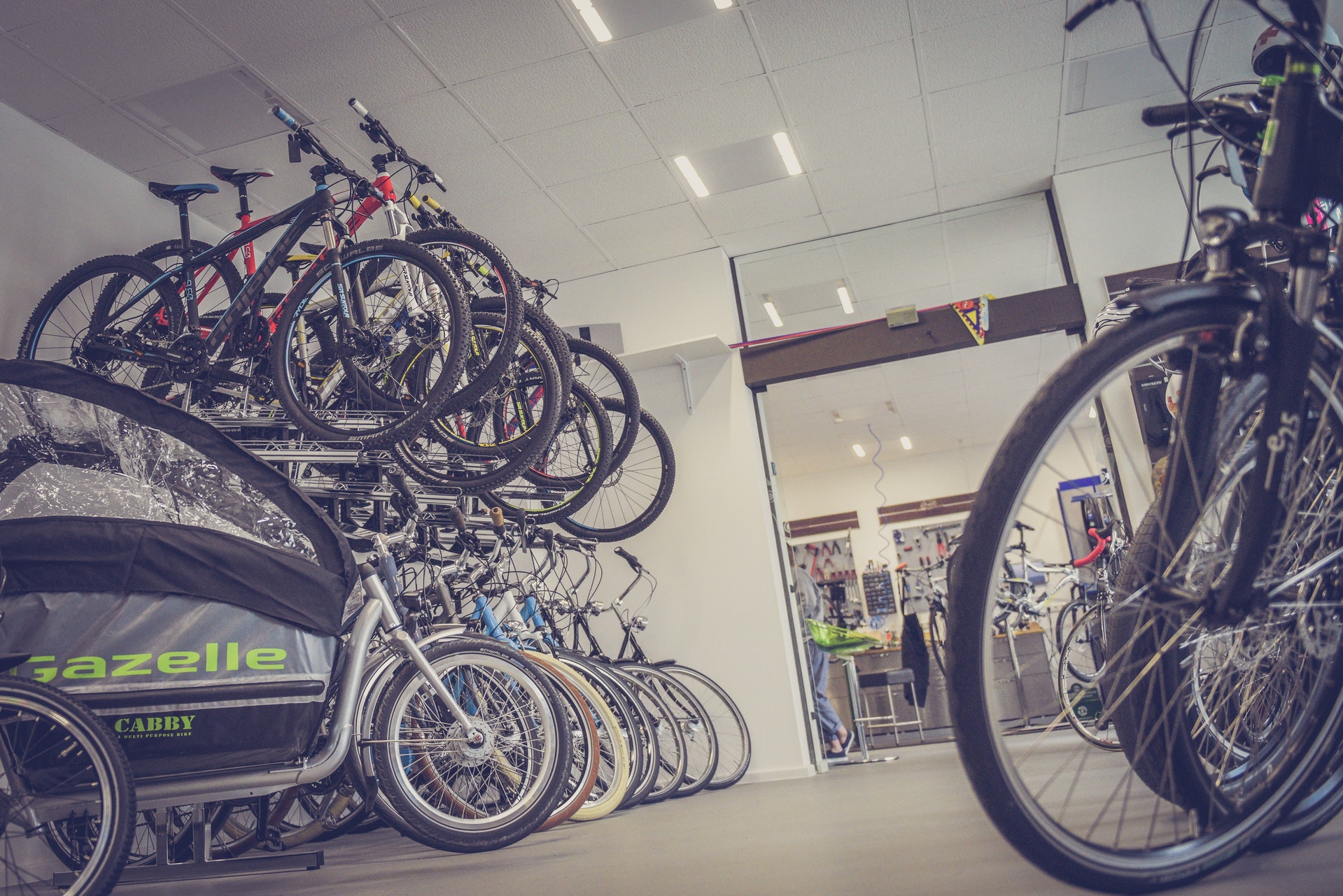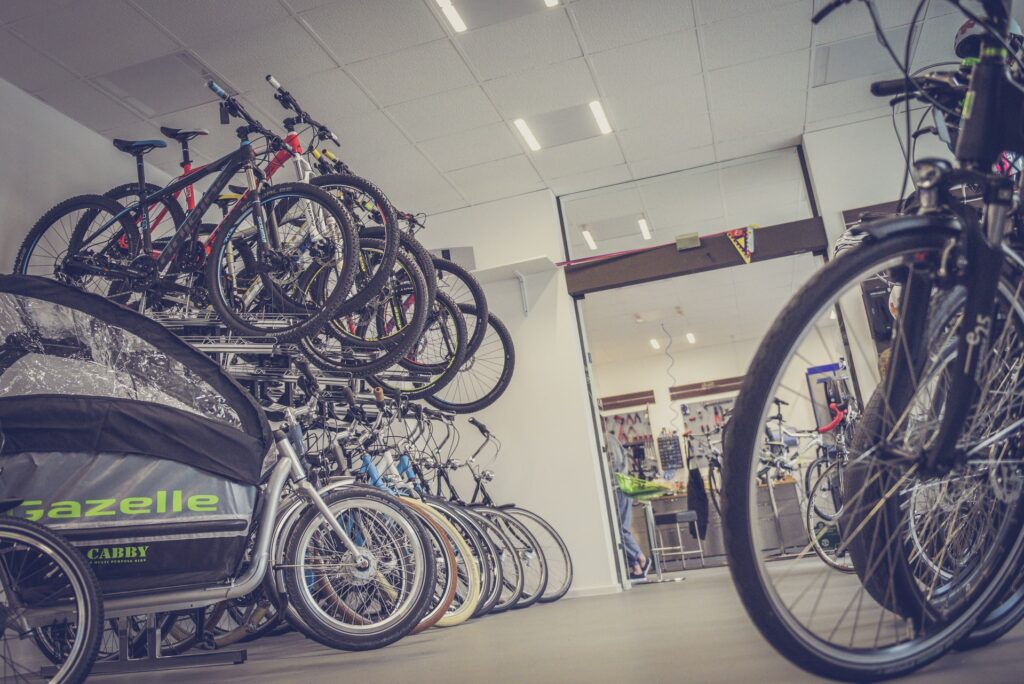 Bike Shop Operating Costs
The startup cost is a one-time amount you pay at the beginning of the business operation. But apart from that, you will also incur additional charges in the form of ongoing costs. This is a monthly or annual estimate that you must pay to run your bike shop business smoothly.
Generally, the operating costs depend on the actual services you offer and the total number of days designated for business operations every month. If you have employees, the operating costs will be even higher, considering you must also cover the workers' salaries.
Here's a brief overview of the operating costs which you can expect for a typical 2,000 sq. ft. bike shop with 3 full-time employees. Note that these costs are purely for illustrative purposes and may not be fully relevant for your business.
Bike shop Cost of Goods Sold (COGS)
COGS (Cost of Goods Sold) are the costs incurred to source the products you sell. For example, if you operate a bike shop that sells bikes, COGS are your costs to purchase the bikes from wholesalers and/or manufacturers.
The National Bicycle Dealers Association's (NBDA) reported that the following gross profit margins:
Bikes: 36%
Clothing: 43%
Other goods: 49.7%
This means that, assuming you only sell bikes, you should expect to spend on average 64% of your revenues in COGS. For example, if you sell a bike to a customer for $1,000, you should spend on average $640 to get it from the supplier, realising a profit margin of 36%.
So, assuming your monthly revenue is $40,000, COGS should be around $25,200.
Bike shop rental costs
If you use a leased space to run your bike shop business, be ready to pay a monthly rent. Again, this is never a constant figure, with many factors such as location, the lease of purchase, and space influencing the total amount payable.
In Chicago for example, the average rent for a commercial space is about $19.5 per square foot. This translates to about $3,000 per month if you operate a 2,000 sq. foot bike shop in this region.
Bike shop staff costs
Are you handling everything yourself or keen to include a few employees to help with managing the business? That's a question best answered after assessing the size of the shop and your preferences.
You can employ one or two individuals to handle the sales part of the business and one expert in bike repair to help with frequent maintenance.
On average, a bike mechanic earns $35,000 per year in the US. So, assuming you have 3 bike mechanic full time employees, you will need about $12,000 to cover monthly salaries (including taxes and benefits).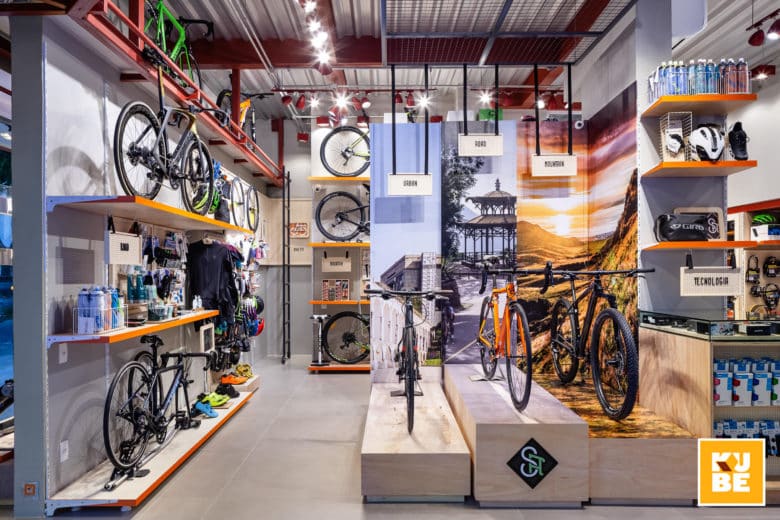 Utility bills
Other expenses you must be aware of as part of the operating charges include utility bills. This includes electricity, water, gas, and internet services.
As a rule of thumb, add another 25% to your rent for utility bills. Therefore, you should be paying an additional $750 per month for a 2,000 sq. ft. store.
Bike shop marketing costs
Marketing is essential to promote your bike shop and build trust with customers. This can either be online (social media, paid ads) and/or offline marketing (billboards, flyers, etc.).
The National Bike Dealers Association (NBDA) recommends spending around 3% of your revenue in marketing expenses.
So assuming your bike shop generates $40,000 in revenues each month, you should spend around $1,200 in marketing per month.
Generally, marketing costs tend to be more expensive in the first few months of your business. As you launch your bike shop, you need to invest a sizeable expenditure before you start expecting organic growth (word-of-mouth).
POS & Software
If you prioritise technology or looking for a more efficient way to run your bike shop business, you will need suitable software. Payroll software becomes increasingly important if you have a few employees on board and need an efficient way to track and pay their monthly salaries. Setting up this tool will cost about $200.
On top of that, you may need the relevant social media management tools that cost about $50 and POS software to help with effortless tracking of financial records. This will cost you about $1,200.
For large startups, project management software is also important to help with effective project planning, tracking, and scheduling and can cost about $200 to set up.
Insurance
You need insurance cover for your business and the staff. The average cost of a general liability policy is estimated to be $65 per month in major states and about $500 annually. On the other hand, the average cost of a Business Owner's Policy (BOP) is about $99 per month.