There were over 148,000 convenience stores throughout the US in 2022. If you're planning to open your own convenience store, make sure to start with a strong business plan and a solid execution.
There are numerous methods to open a convenience store. Whilst starting from scratch can cost up to $341,000, you can also buy an existing store or start a franchise instead.
From research, business plan, budget, hiring staff and equipment, we've laid out below the 11 different steps you must follow to open your own convenience store. Let's dive in!
For more information on convenience store businesses, make sure to read our guides below:
How Much Does It Cost to Open a Convenience Store?
6 Strategies to Increase Your Convenience Store Sales & Profits
How to Write a Business Plan For a Convenience Store: Complete Guide
1. Research the Convenience Store Industry
If you intend to run a successful convenience store business, you must be sure the chosen model works best for the local neighborhood, and the only way to confirm that is through adequate research. Naturally, researching helps with proper analysis of the following facets of the convenience store business;
a) Consumer Trends
Even though a convenience store business is a lesser-known gold mine, it's important to assess the purchasing power and the consumer trends within the selected region before opening your store. The purchasing power will help you identify which products to stock at what prices and the best strategies to adopt to increase the potential revenue.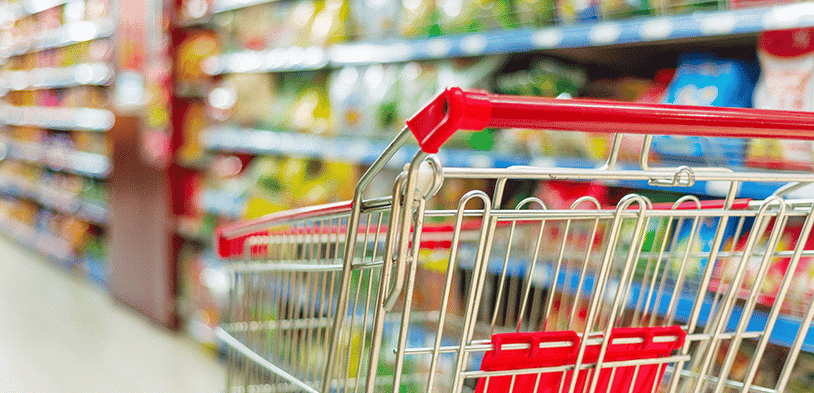 b) Product Selection
Of course, a convenience store carries everything an ordinary man needs for day-to-day living. But to be sure you are on the right track, it's important to know which products to stock. Some of the best items to start with include the following;
Lottery Tickets
Non-Alcoholic Beverages
Gas and Automotive Supplies
Packaged Snacks and Candy
Over-the-Counter Medication
Hot Food
Toiletries
Ice Cream and Dairy Products
Selecting the products you will sell will be very important when preparing your budget and business plan. Indeed, profit margins varies greatly by product: whilst cigarettes only have 15% profit margin, beauty and care products usually reach 50% profit margin instead.
c) Competition
There's no doubt that the level of competition in a region influences the revenue earned by a new company. And before you open your store, you need to find out what's already in the market and what you can do to set yourself apart from your biggest competitors.
"Do they offer any self-serve options? Are they providing any mobile-driven transactions? And where do they source their products?" To beat your competitors, you have to stand out in everything, from product selection to customer service and promotions.
2. Choose a Business Model for your Convenience Store
Do you intend to buy an already established franchise or open your own convenience store? This is one of the first questions you may want to answer before setting up a convenience store.
a) Buying a Convenience Store
Buying a convenience store comes with plenty of advantages, such as an already established market base, useful historical financial information about the brand, and no new expenses related to permits or a new lease.
However, buying a convenience store doesn't necessarily guarantee success: the business could be in losses, or the price asked by the vendor isn't based on realistic financial projections.
b) Buying an Established Franchise
Buying a franchise means the parent company has already established a solid foundation, laying the ground for long-term success if you get the basics right. With this option, you don't have to worry about major expenses such as marketing and advertising or a costly upfront inventory.
However, it never gives you full control over the brand because you have to rely on the parent company to make important business decisions. Besides, business owners must pay ongoing fees to the parent company, making it a costly affair in the long run.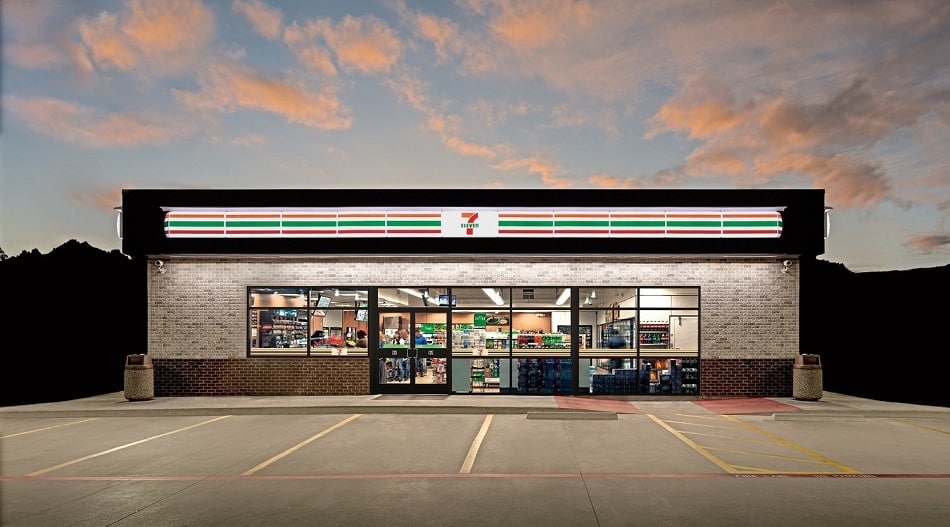 c) Open Your Own Convenience Store
The pros and cons of starting your convenience store are crystal clear.
It gives you complete control over the brand, allowing you to make important decisions regarding the lease negotiation, store layout, product selection, and startup costs, among others.
Yet, starting your own convenience store is often the most expensive option as explained in our article here. Expect to invest anywhere from $290,000 – $351,000 to start your own 2,000 sq. ft. convenience store from renovation, inventory, lease deposit and equipment.
3. Create a Business Plan
As a soaring entrepreneur, creating a solid business plan that covers all the critical aspects of your convenience store business is imperative. A well-crafted business plan identifies the specifics of the convenience store business, helping you address every minor detail before opening your store.
Before crafting the final document, you must analyze the basics of the business, including the products you intend to sell, vehicle and human traffic, and revenue potential.
A larger part of the business plan should highlight the expected startup costs and the operating costs of maintaining your convenience store once it's up and running. And a solid financial forecast puts you in the driver's seat when looking for the possible funding options for your business.
A business plan is like a blueprint to help you establish your landscaping business. It must include important information such as:
Executive summary
Your products and services
Market analysis
Competitive analysis
Marketing strategy
Sales strategy
Operation plan
4. Prepare a Financial Plan / Budget
As part of your business plan, you should also prepare a financial plan (a budget).
The budget should answer questions like: how much revenue do you expect to generate in the future? How much money do you need to borrow today (if you apply for a loan)? When do you expect to be profitable? Etc.
In addition to your revenue expectations, the financial plan should also list all relevant expenses and their expected amount in the future, over a period of 3 to 5 years.
We've identified that it costs anywhere from $290,000 – $351,000 to start from scratch a 2,000 sq. ft. convenience store plus $125,000 in operating costs per month to run the business with 8 employees.
Note that these costs are for illustrative purposes and depend on several factors which might not fully apply to you. Let's first start below with startup costs:
| Startup cost | Amount |
| --- | --- |
| Renovation & equipment | $250,000 – $300,000 |
| Initial inventory | $20,000 |
| Lease deposit | $12,000 – $16,000 |
| POS system | $3,000 – $10,000 |
| Legal expenses and licenses | $2,000 |
| Marketing (Business website) | $1,000 |
| Business insurance | $2,000 |
| Total | $290,000 – $351,000 |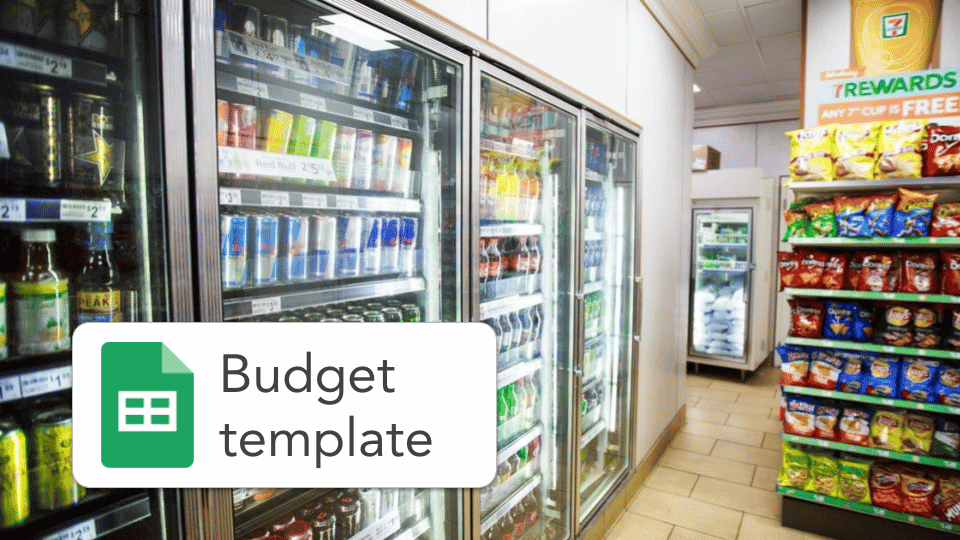 Download the Convenience Store budget template
Lender & investor-friendly

Easy-to-use Excel template

CPA-developed financials

30+ charts and metrics
5. Secure Funding for your Convenience Store
With proper research conducted and the business plan written, it's time to get those funds. A convenience store is a huge investment regardless of the location, and there are good chances you won't have all the cash at hand to meet the startup and operating costs.
For that reason, it's only right that you may want to turn to the relevant funding bodies to help you fund your business. You can get in touch with your local bank to see if they can help you kick start your newly found venture on a high note.
Alternatively, you can turn to the Small Business Administration to see if you can find a suitable SBA loan to help you get started.
For a detailed guide on how to write a solid business plan for a SBA loan, read our article here.
6. Find a Location for your Convenience Store
A convenience store in a high-traffic region is a perfect match. If you get this right, you are guaranteed a steady stream of customers from the first day of operation. When choosing the right location for your convenience store, pay attention to the following;
Visibility
Safety
Parking options
Demand
Budget
Accessibility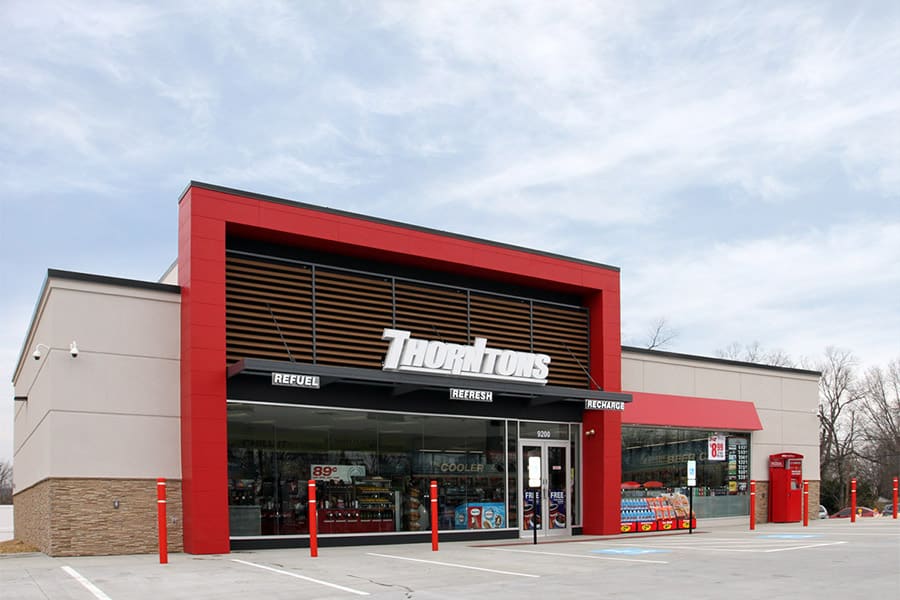 7. Obtain the Necessary Permits and Insurance for your Convenience Store
The next step before opening your convenience store is to ensure it complies with the stipulated regulatory requirements. Business insurance, in particular, shields your business in case of natural disasters such as water damage besides protecting you from potential liabilities involving your employees.
On the other hand, business permits and licenses are legal necessities, ensuring your convenience store operates within the legal parameters of the state or city. The most fundamental permits you need to run this kind of business include;
Health and safety permits
Sales tax permit
Gas permits
Alcohol and tobacco license
City/county business license
Employer identification number (EIN)
Occupancy permit
Lottery license
8. Purchase Convenience Store Equipment
You will need plenty of equipment to help you run your convenience store business. These include a reliable security system fitted with alarms and cameras, a cash register, credit card processing equipment, refrigerators, coolers, and furniture, among the rest.
If you intend to provide printing and lottery services, these must be factored in as part of the startup costs.
According to the National Association of Convenience stores, the average cost of renovation per square feet is around $125 to $150/sq. ft. This cost assumes you rent (or buy) an empty commercial space and include all the necessary equipment: shelves, refrigerators, menu boards, drive-thru ordering systems, etc.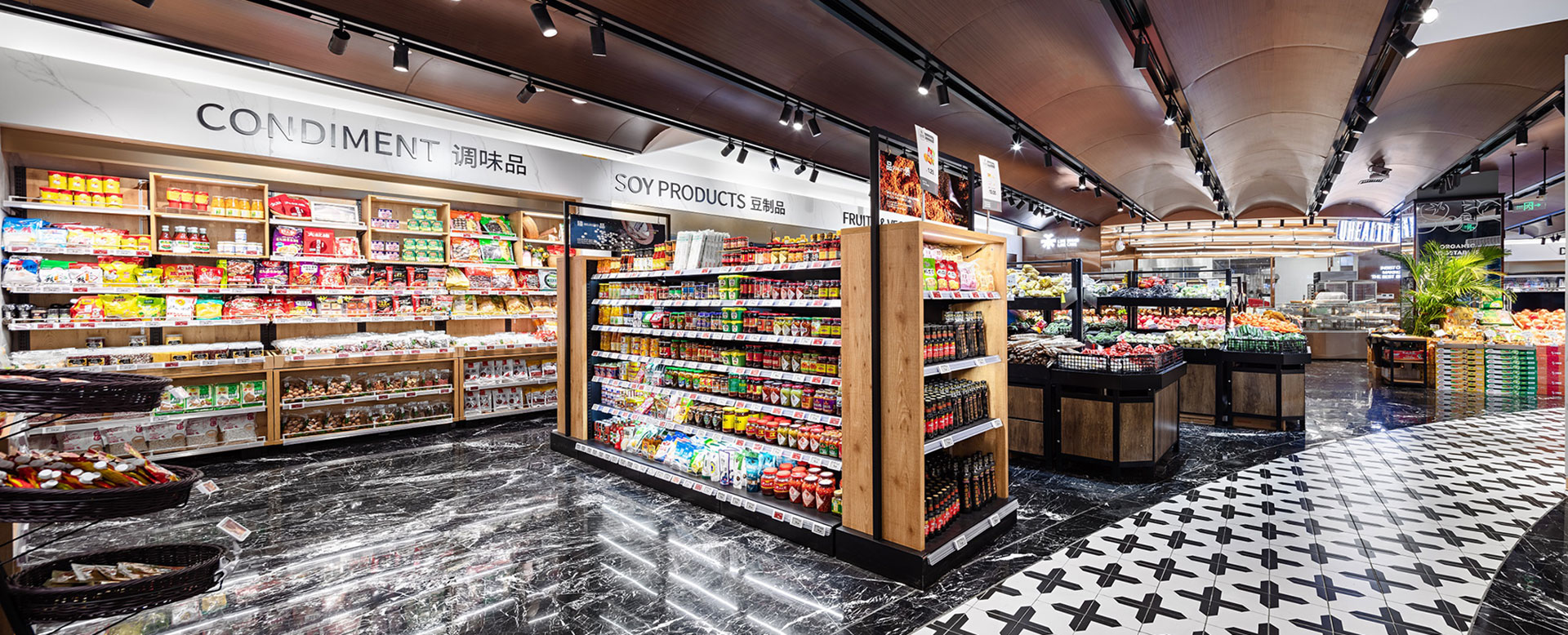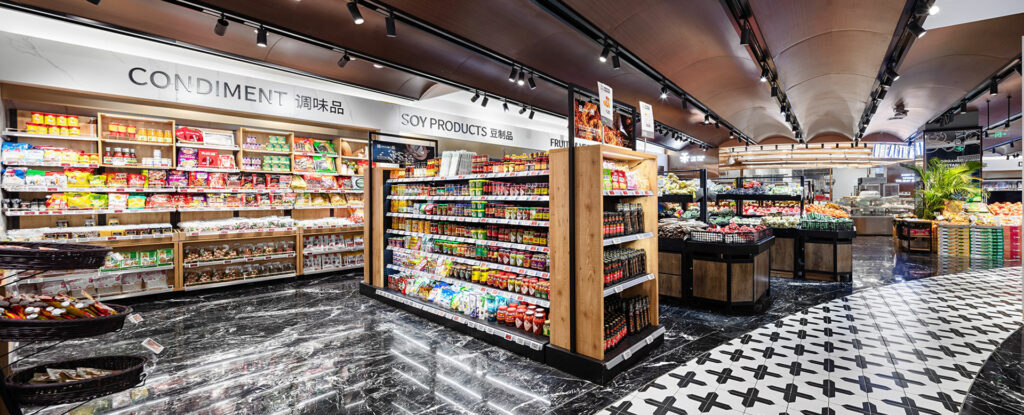 9. Establish Relationships with Suppliers
You don't want to get into the convenience store business if you don't know where to source your products. And for the smooth running of your business operations, you will need wholesalers to constantly supply your store with the required products such as alcohol and drinks, household items, fuel, and cigarettes.
You can choose full-service wholesalers if you set up a large convenience store or multiple, limited function vendors for your small business. Either way, ensure the chosen supplier is reliable enough to guarantee timely delivery while working within your budget.
10. Hire Employees for your Convenience Store
Hiring and training your employees is one of the last steps before you can open your convenience store to potential customers. Here, you need different professionals, from cashiers to accountants and even cleaners.
There's no right or wrong number of employees for your convenience store because everything depends on the size of the shop and the preferred business model.
Yet, note that the average pay for a convenience store clerk in the US is $23,668. So, assuming you have 8 employees, you may spend up to $20,000 to pay the employees' monthly salaries. This assumes 2 shifts per day, 6 days a week as well as 20% in taxes and benefits.
Also, you will need to train your employees and ensure you work with self-motivated individuals with the right passion, experience, and motivation to take your convenience store business to new heights. They should combine effective communication with admirable customer interaction skills to ensure the business goals are fully met.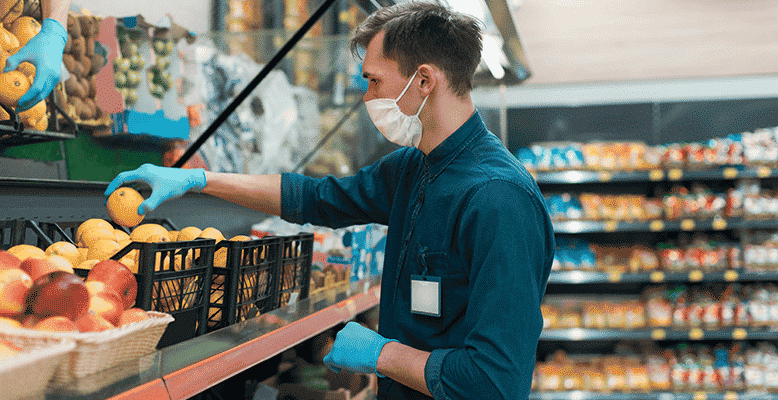 11. Promote your Convenience Store
And just like that, your convenience store will be ready for business. But don't ignore the significance of effective marketing just yet.
There's no harm in scheduling a grand opening with plenty of incentives, special deals, and banners for an investment as huge as a convenience store. Above all, use all possible avenues to spread a clear message that your store is up and ready for business.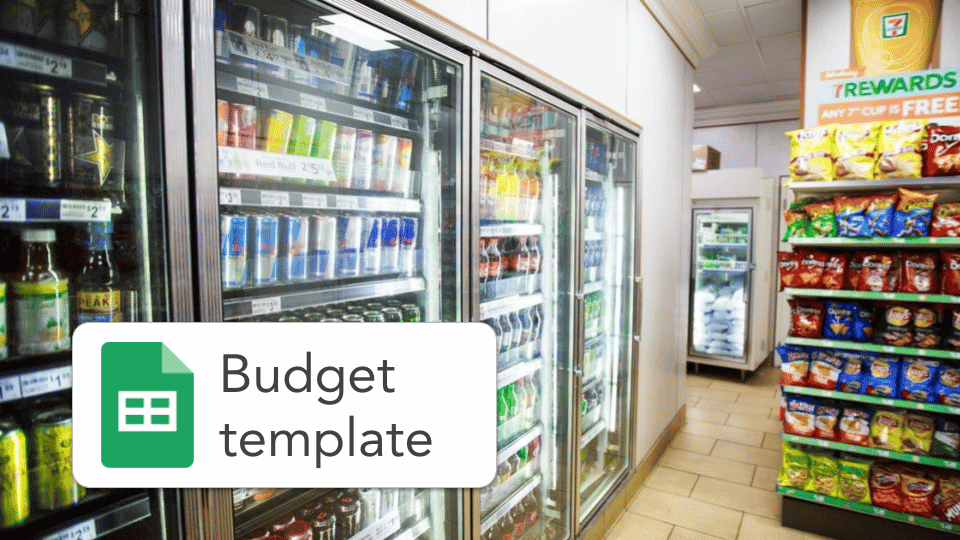 Download the Convenience Store budget template
Lender & investor-friendly

Easy-to-use Excel template

CPA-developed financials

30+ charts and metrics