With 6,614 stores in the US alone and 5,900+ franchise-owned stores, Pizza Hut is one of the most famous and popular pizza shop franchises. If you ever thought about getting into the pizza restaurant business, you must have considered opening a Pizza Hut franchise
Yet with a whopping $935,575 investment cost, is this really a good business? How long would it take you to recoup your original investment?
That's what we're looking in this article. We will see how much profits you can make with this business and whether Pizza Hut is a good franchise investment. Let's dive in!
Pizza hut: key figures
| | |
| --- | --- |
| Franchise fee | $25,000 |
| Royalty fee | 6.0% |
| Marketing fee | 9.5% |
| Investment (mid-point) | $935,575 |
| Average annual sales | $906,911 |
| Investment to sales ratio | 1.0x |
| Investment payback* | 6.9 years (mediocre) |
| Minimum net worth | $700,000 |
| Minimum liquid capital | $350,000 |
* using 15% net profit margin
Pizza hut: an introduction
An American multinational restaurant chain, Pizza Hut has delivery, take-out, and dine-in models. The restaurant chain primarily offers pizza, but it also offers fries, Italian taco, pasta, chicken wings, and breadsticks.
Pizza Hut was founded in 1958, and PepsiCo acquired Pizza Hut in 1977. Later Pizza Hut along with Taco Bell and Kentucky Fried Chicken were spun off by PepsiCo and they became a part of the company named Tricon Global Restaurants, Inc, which was later renamed as Yum! Brands.
The restaurant chain has 18,381 stores worldwide of which 6,614 are in the US.
Pizza Hut franchise: pros and cons
Opening a Pizza Hut franchise is easy. However, there are several pros and cons that you must know if you intend to buy a Pizza Hut franchise.
Pros
Territory protection is provided by Pizza Hut to all its franchisees
They have a low franchise cost of $25,000
The initial investment requirement is also relatively low
Franchisees receive thorough training and ongoing support
Cons
They do not allow absentee ownership, and they also don't allow to run the franchise store as a part time business
They charge a high royalty fee of 6%, and they also have an ad royalty fee of 4.75%
They need franchisees to have a net worth of $700,000, which is very high
How much does a Pizza Hut franchise cost?
Top open a Pizza Hut franchise, you would need to invest $935,575 on average. This amount also includes the $25,000 initial franchise fee.
Of course, this investment amount is an estimated average and can fluctuate depending on many factors and situations like the format or the location of the restaurant.
There are 3 main types of Pizza Hut restaurants:
Restaurant Based Delivery (RBD) for dine-in and carryout consumption
Delivery/Carryout (DelCos) for delivery and carryout consumption only
Delivery Based Restaurant ("DBR" or "FCD") which is a mix of the 2 previous. It's essentially a delivery and carryout consumption restaurant, with limited seating for dine-in as well
According to the latest Franchise Disclosure Document, you would probably invest 3 times more for an RBD vs. a Delco restaurant, which makes sense in light of the smaller space required for delivery and carryout restaurants: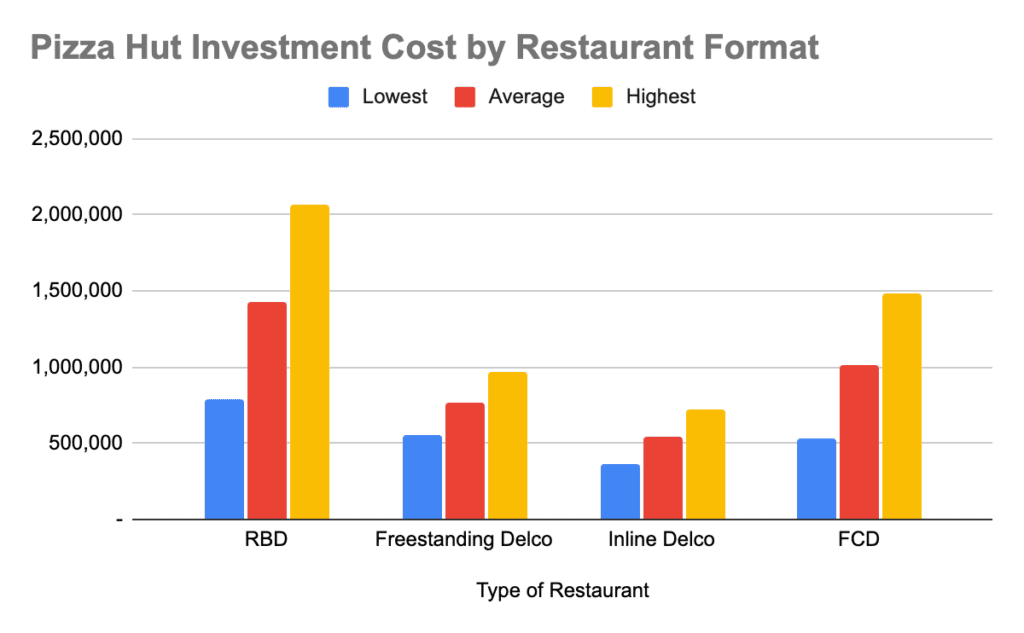 | Restaurant format | Lowest | Average | Highest |
| --- | --- | --- | --- |
| RBD | $787,000 | $1,425,250 | $2,063,500 |
| Freestanding Delco | $552,000 | $761,650 | $971,300 |
| Inline/Endcap Delco | $367,000 | $544,150 | $721,300 |
| FCD | $534,000 | $1,488,500 | $1,011,250 |
Source: FDD 2021
The initial investment includes all types of cost excluding the rent or real estate fees.
For example, you would pay for the initial franchise fee, equipment, opening inventory, building and site improvements, computer system, advertising, training, utility deposits, restaurant set-up, additional funds as a runway of 3 three months' losses, etc.
How much can you make with a Pizza Hut franchise?
An average Pizza Hut franchise makes $906,911 in sales per year. This figure is the annual median sales of the 4,632 "mature" franchises operated in 2020.
The number can vary, but the differences are not that significant between the types of restaurants as you can see below: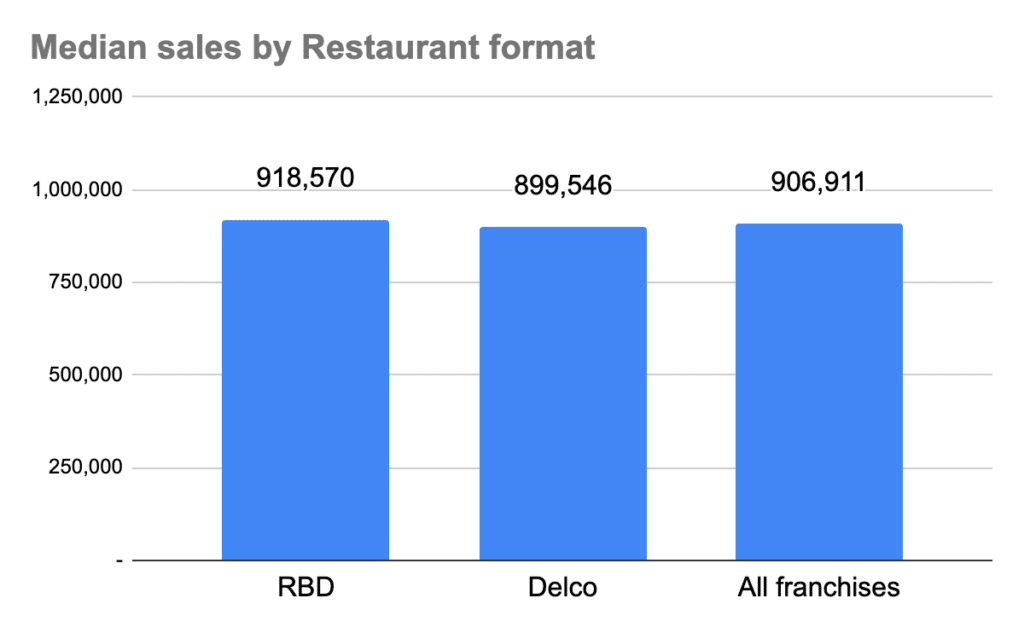 How profitable is a Pizza Hut franchise?
As per our analysis and the data available in the FDD, the average Pizza Hut franchise makes $168,685 in profits per year. This corresponds to a 19% adjusted EBITDA margin, which is on the lower-end of similar fast food franchises.
Luckily, Pizza Hut does provide a lot of information in its Franchise Disclosure Document. Indeed, on average in 2020 franchises spend 26.3% of their sales in COGS, and 32.6% in labor costs.
With the hefty cost of royalty and marketing fees (15.5%) much higher than similar franchises, Pizza Hut has lower-than-average profit margins (19%).
| Profit-and-loss | Amount ($) | As % of sales |
| --- | --- | --- |
| Sales | $906,911 | 100% |
| COGS | $(238,518) | 26.3% as per FDD |
| Labor | $(295,653) | 32.6% as per FDD |
| Rent | $(63,484) | 7%* |
| Royalty + marketing fees | $(140,571) | 15.5% as per FDD |
| Adjusted EBITDA | $168,685 | 19% |
* industry average
Is a Pizza Hut franchise a good investment?
In order for us to assess whether Pizza Hut is a good investment, we need to compare profits vs. the initial investment. Are the profits per year worth the investment cost of $935,575?
For profits, we must estimate net profits instead of EBITDA here. Indeed, net profits, unlike EBITDA, includes all other costs like taxes, debt interest, etc.
As per our analysis, it would take you 6.9 years as a franchisee to recoup your original investment to open a Pizza Hut franchise. This is what we call the investment payback period. Therefore, from a pure financial standpoint, Pizza Hut isn't as good as an investment as you may think.
Yet, keep in mind this number is based on the average of all 4,632 franchise stores. Therefore, it's possible that your store may be more profitable than the average.
To find out metrics like payback, ROI, breakeven and successfully apply for a Pizza Hut franchise, download the Pizza Hut business plan below.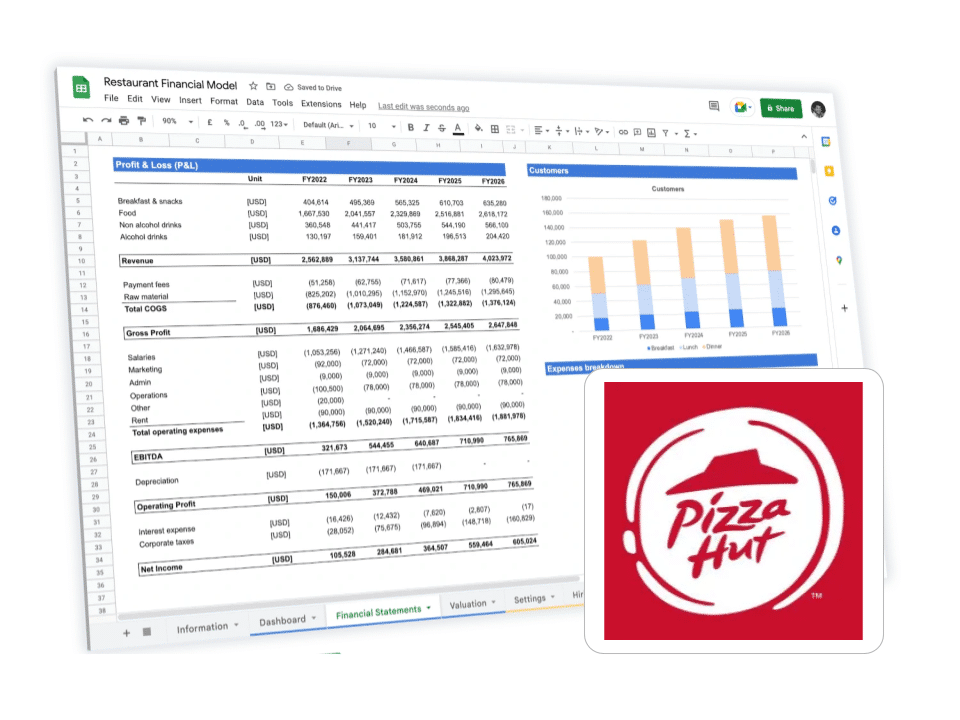 Download the Pizza Hut business plan and get your franchise funded
Including a 5-year financial plan built with the latest Franchise Disclosure Document numbers