This article was updated with the 2023 Franchise Disclosure Document
Unlike its main competitor Wetzel's Pretzels, Pretzelmaker is one franchise that has been on the decline recently: from 350+ locations at the beginning of 2010, it now has 2020 restaurants in 2023. So, naturally, you may wonder whether this is the franchise for you.
But what do the financials say about the business? Is this a profitable franchise?
With an initial investment of $203,000 and a yearly revenue (AUV) of $377,000, it does not look as bad as you may think.
In this article we're looking at Pretzelmaker and its latest FDD to find out how much it (really) costs, and how profitable it really is. Let's dive in!
Key stats
Source: Franchise Disclosure Document 2023
Find the best franchise
Compare Pretzelmaker vs. 1,000+ franchises on franchiseindx.com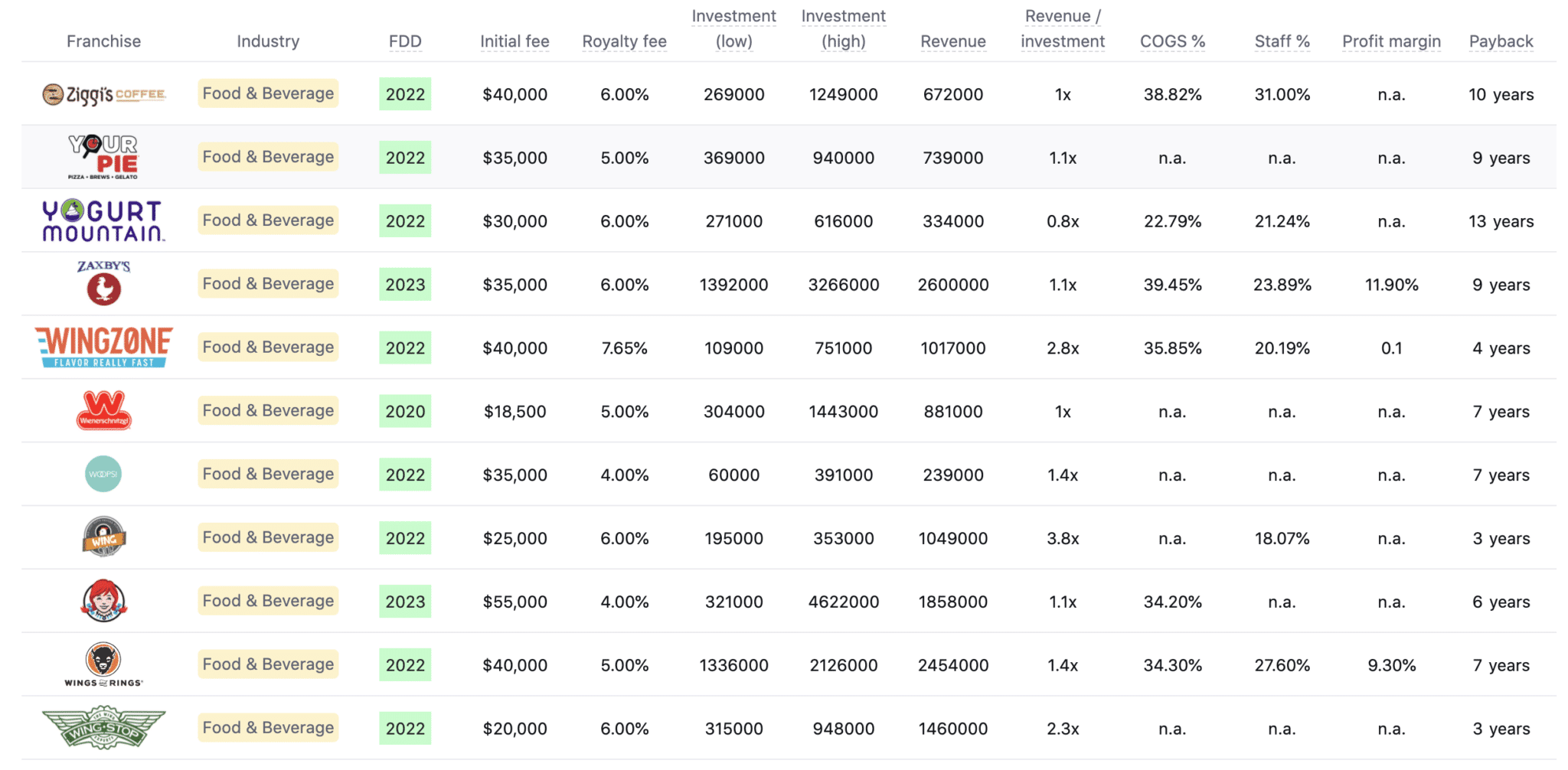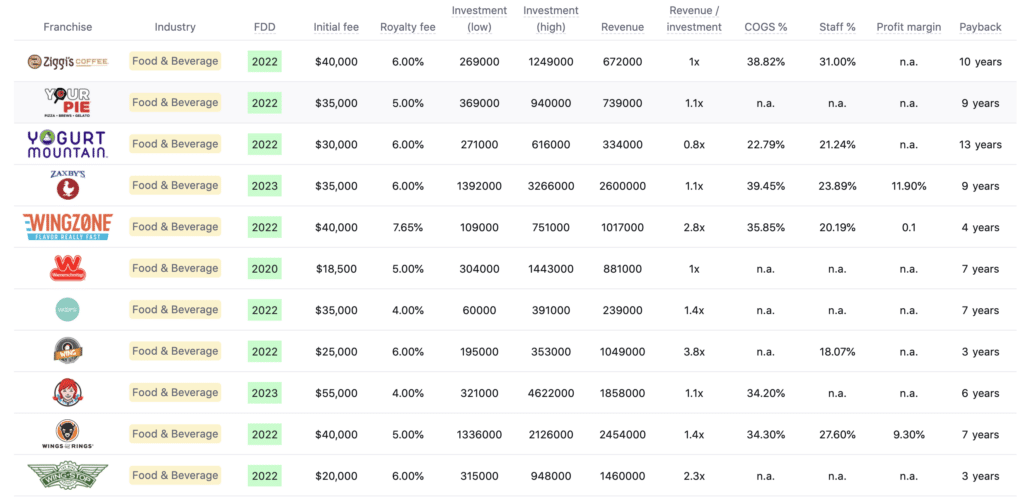 About Pretzelmaker
Pretzelmaker is a Georgia-based restaurant chain that serves hand-rolled pretzels, cold beverages, and smoothies. It is a subsidiary of FAT brands, founded in 1991 by Jeffery Tripp.
Pretzelmaker's menu includes soft pretzel bites, mini pretzel dogs, dipping sauces, blended drinks, lemonades, and mozzarella stuffed bites.
The first ever Pretzelmaker store was launched in 1991 in Trumbull, Connecticut, and incorporated as Mr. Pretzel Inc.
It started franchising in 1992 as its popularity increased, ultimately changing its name to Pretzel Time and, later, Pretzelmaker. Today, the quick service restaurant has 280 stores in the US and other global locations such as Canada, Mexico, Saudi Arabia, and Guam.
Pretzelmaker franchises pros and cons
Pros
Flexible business model: Pretzelmaker allows franchisees to choose the most suitable store model depending on their preferences. The flexible business model allows franchisees to sell soft pretzels from virtually any location. Traditional (for example, a small store in a shopping mall) and non-traditional (for example, a kiosk-sized store in an airport) franchising models ensure franchisees only choose what's best for their target market.
Modern supply chain: the franchisor offers a modern, well-coordinated, and built-in supply chain to reduce costs and maximize efficiency.
An expansive corporate network for comprehensive support: the franchisor has a complete support system to help brand owners launch their stores from the ground. The investment journey starts from the pre-opening phase and won't end until the restaurant owner has opened a successful franchise.
Training: Pretzelmaker offers quality training to help franchisees learn the basics of restaurant management. Franchisees must complete the food training course and at least 3 days of on-the-job training to satisfy the franchisor's requirements for opening a franchise. The franchisor may schedule an advanced training program if they deem it fit.
Cons
Full-time investment: store owners can't run the business part-time. Franchisees must devote their time, skills, and effort to running the business.
No exclusive territory: the franchisor doesn't grant restaurant owners exclusive territories. Franchisees may compete for clients with other brands operating in the same area.
No financial assistance: the franchisor doesn't provide direct or indirect financing. It doesn't arrange for any third-party funding and has no intention to sell, assign, or source any part of the financial arrangement to its affiliates.
No absentee ownership: the franchisor expects restaurant owners to be actively involved in all the practical aspects of the business operation from physical locations.
No part-time operations: Pretzelmaker doesn't allow passive or part-time business operations. Franchisees must demonstrate a solid commitment to running the franchise as a full-time investment, operating within the specified working hours.
Competition: despite its strong brand appeal, Pretzelmaker is rivaled by other competitive pretzels brands such as Wetzel's Pretzels and Auntie Anne's


How much does a Pretzelmaker franchise cost?
You would have to invest on average $203,000 to open a new Pretzelmaker franchise restaurant.
This is the investment required for a single store, which is either a traditional store or a non-traditional store. Indeed, the vast majority of stores are traditional (156 out of the 161 total franchised restaurants).
To clarify, there are 2 kinds of formats of restaurants you can choose: the Single store, and Satellite location.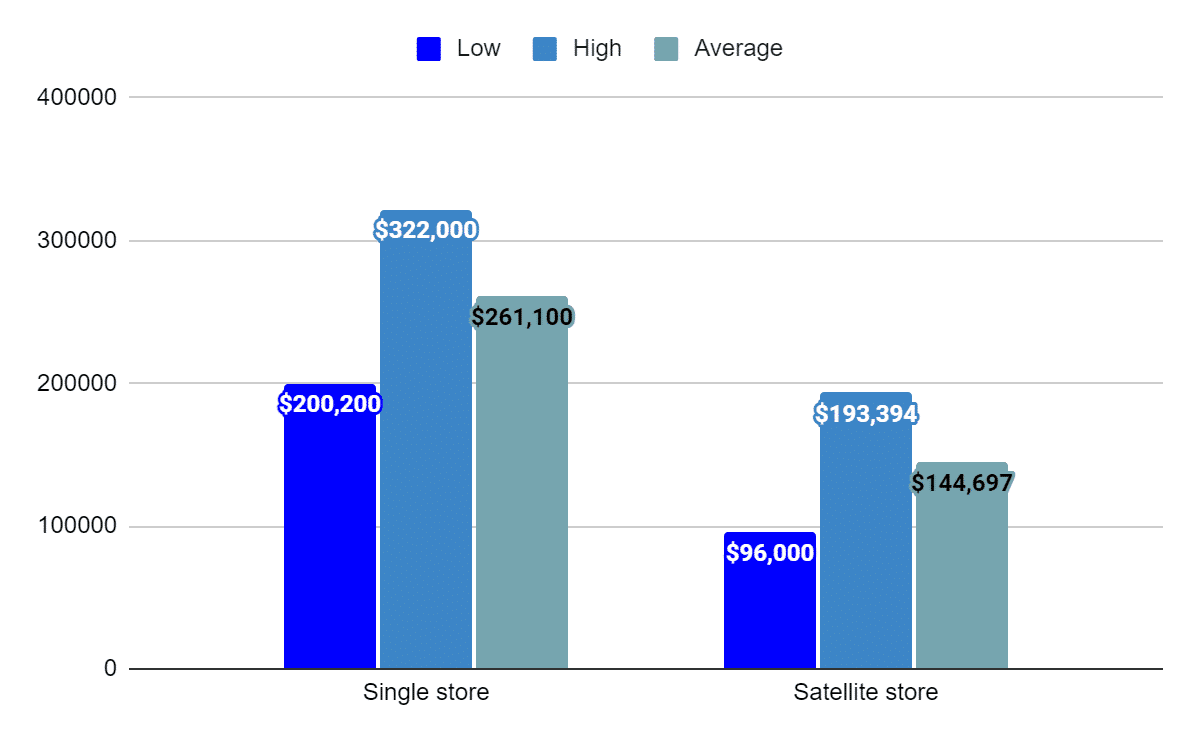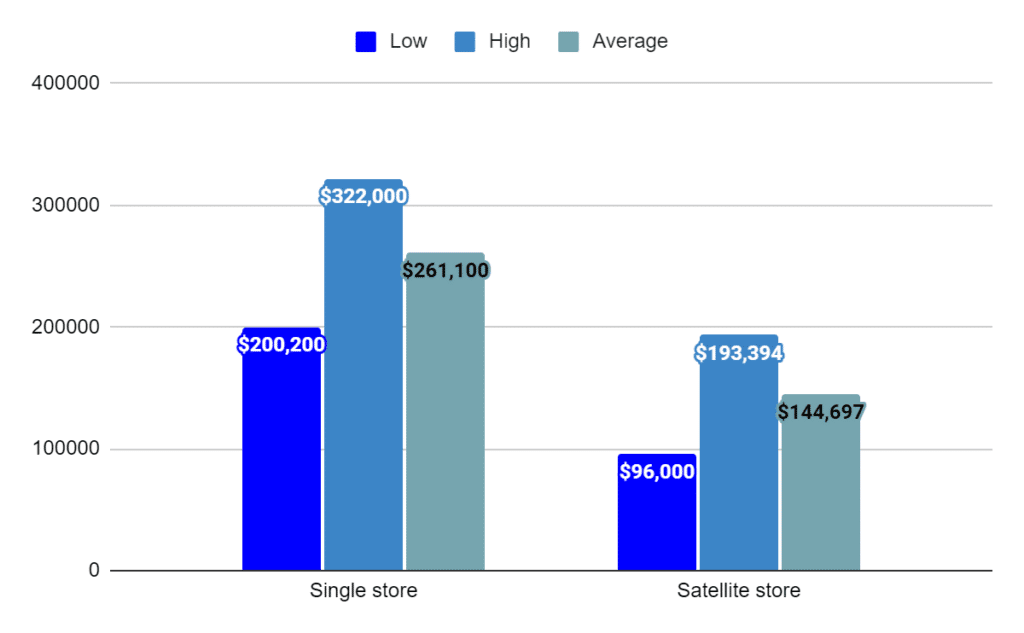 Here's the full breakdown of costs per restaurant format:
Single store
| Type of cost | Amount |
| --- | --- |
| Franchise fee | $15,000 – $25,000 |
| Furniture, fixtures and equipment | $65,000 – $90,000 |
| Leasehold improvements | $85,000 – $140,000 |
| Professional fees | $1,000 – $6,000 |
| 3 months working capital | $8,000 – $12,000 |
| Grand opening marketing | $3,000 – $5,000 |
| Other | $23,200 – $44,000 |
| Total | $200,200 – $322,000 |
Source: Franchise Disclosure Document 2023
Satellite location
| Type of cost | Amount |
| --- | --- |
| Franchise fee | $5,000 |
| Furniture, fixtures and equipment | $25,600-$48,000 |
| Professional fees | $1,000 – $6,000 |
| 3 months working capital | $1,000 – $5,000 |
| Other | $63,400 – $129,394 |
| Total | $96,000 – $193,394 |
Source: Franchise Disclosure Document 2023
Find the best franchise
Compare Pretzelmaker vs. 1,000+ franchises on franchiseindx.com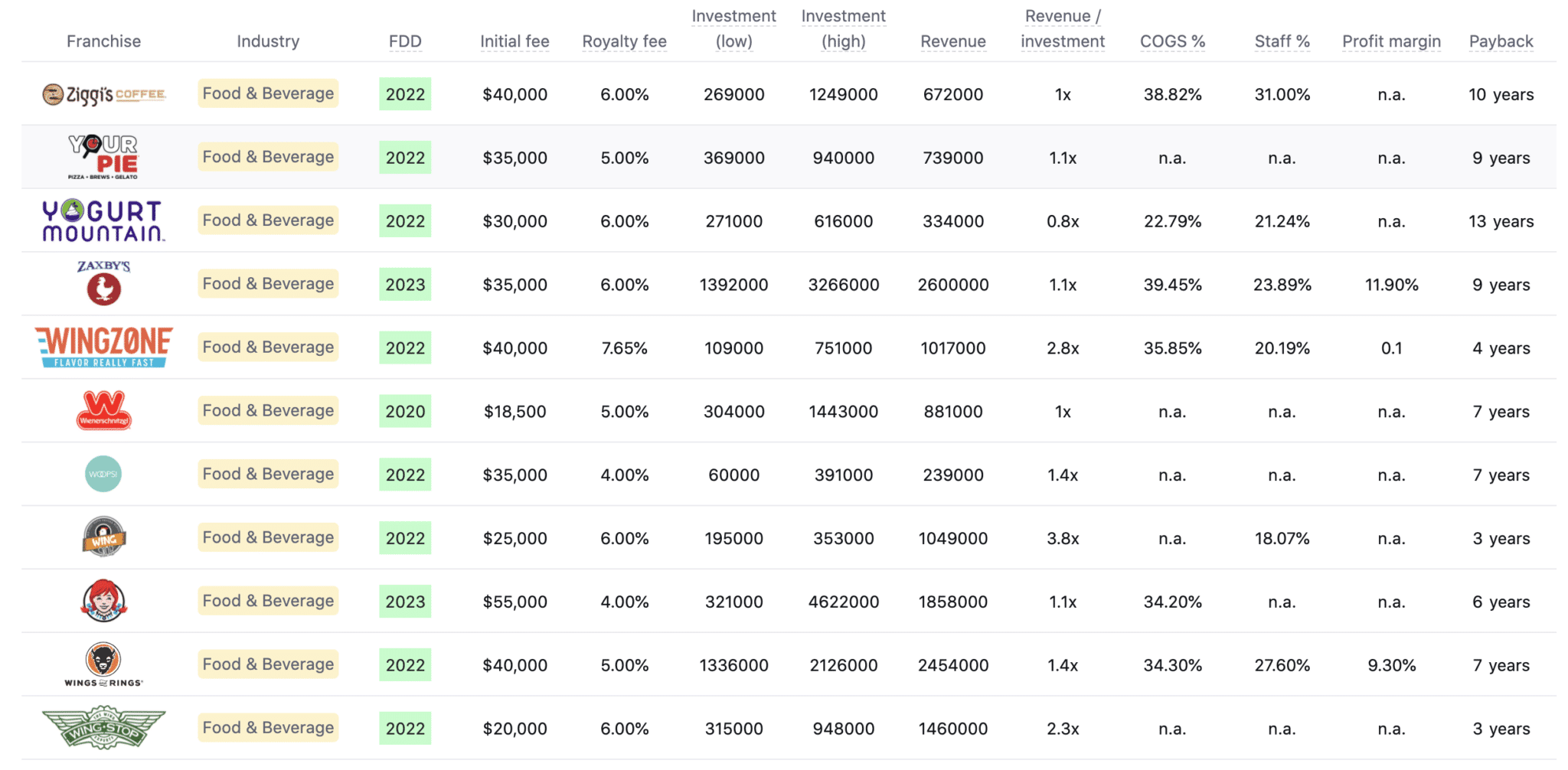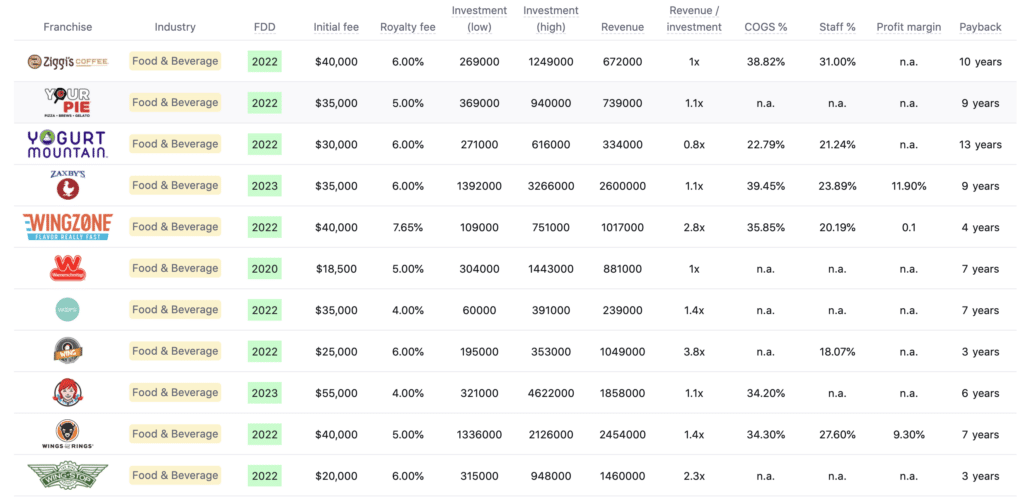 How much sales does a Pretzelmaker franchise make?
On average, a Pretzelmaker franchise makes $377,000 in sales per year.
This is the average sales per traditional store for the 153 of the 161 franchised stores that were open for all of 2021.
How profitable is a Pretzelmaker franchise?
We estimate that a Pretzelmaker franchise makes $55,000 profits per year on average. This corresponds to a 15% EBITDA margin.
Note that Pretzelmaker doesn't provide any detailed information about the financial performance of its franchises in its latest Franchise Disclosure Document. Instead we had to make assumptions which we have summarized below.
| Profit and loss | Amount | % Sales |
| --- | --- | --- |
| Sales | $376,844 | 100% |
| COGS | $(94,211) | 25% |
| Gross Profit | $282,633 | 75% |
| Labor | $(109,285) | 29% |
| Marketing and royalty costs | $(39,569) | 11% |
| Occupancy | $(33,916) | 9% |
| Other OpEx | $(45,221) | 12% |
| EBITDA | $54,642 | 15% |
Source: Franchise Disclosure Document 2023
Is a Pretzelmaker franchise a good investment?
We estimate the payback period for a Pretzelmaker franchise to be about 4 years. This means you would need to wait on average 4 years for profits to repay the startup costs of $203,000.
This is an excellent payback, in line with the payback for Wetzel's Pretzels for example.
Therefore we do consider Pretzelmaker to be a great franchise investment if you want to get into the pretzel industry.
Yet, keep in mind that your decision should not be limited to financials. Factors like training, brand name, competition and others should also be taken into account when choosing your franchise.
Find the best franchise
Compare Pretzelmaker vs. 1,000+ franchises on franchiseindx.com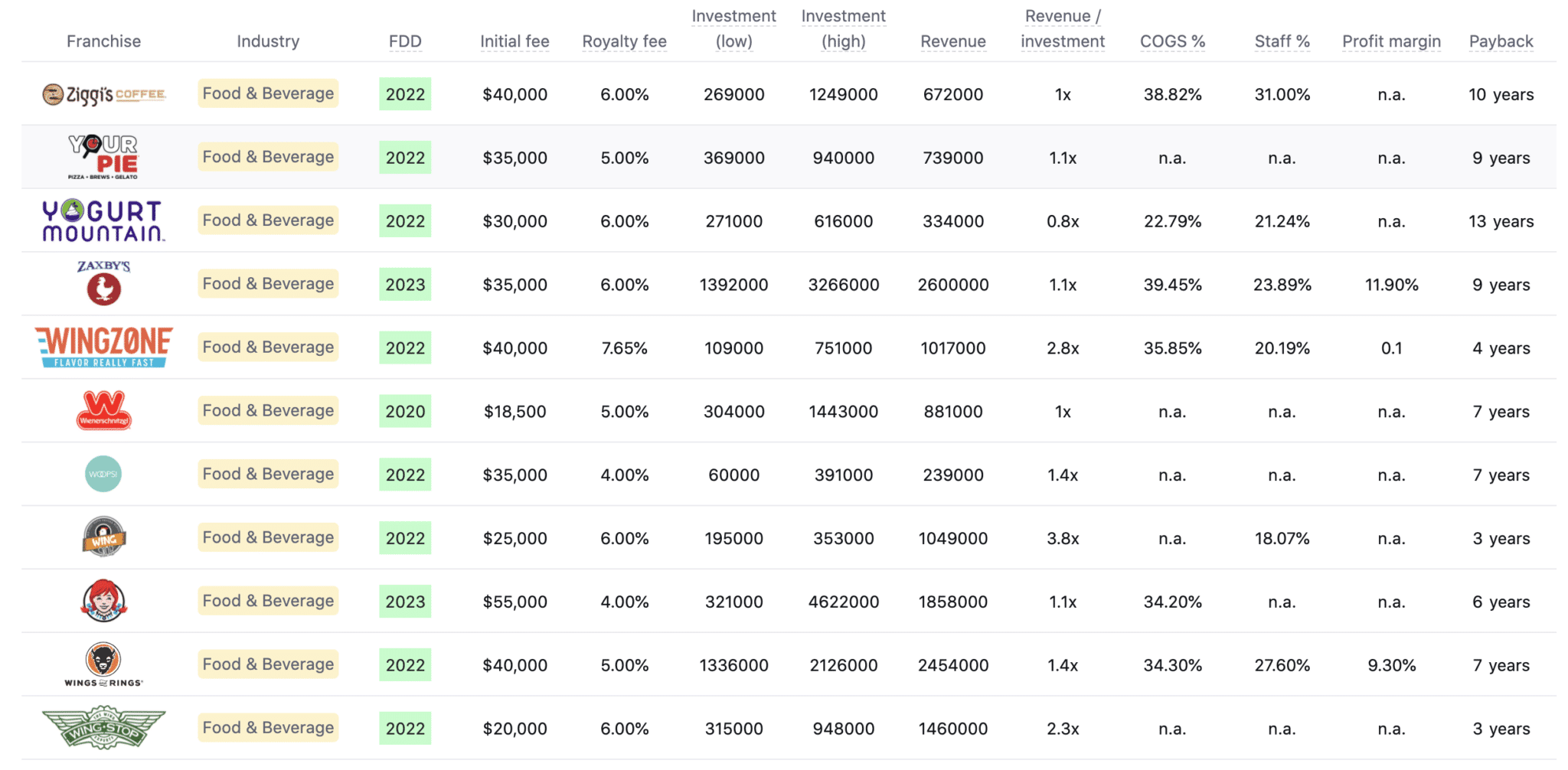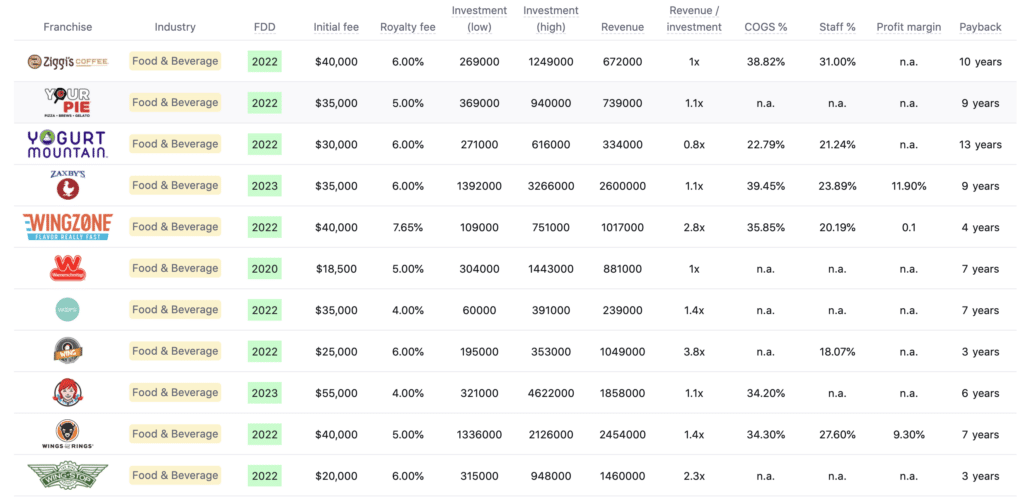 Disclaimer
Disclaimer: This content has been made for informational and educational purposes only. We do not make any representation or warranties with respect to the accuracy, applicability, fitness, or completeness of the information presented in the article. You should not construe any such information or other material as legal, tax, investment, financial, or other professional advice. Nothing contained in this article constitutes a solicitation, recommendation, endorsement, advertisement, or offer to buy or sell any franchises, securities, or other financial instruments in this or in any other jurisdiction in which such solicitation or offer would be unlawful under the franchise and/or securities laws of such jurisdiction.
All content in this article is information of a general nature and does not address the detailed circumstances of any particular individual or entity. Nothing in the article constitutes professional and/or financial and/or legal advice, nor does any information in the article constitute a comprehensive or complete statement of the matters discussed or the law relating thereto. You alone assume the sole responsibility of evaluating the merits and risks associated with the use of any information or other content in this article before making any decisions based on such information or other content.