Rita's Ice is one of our favourite affordable franchise. Indeed, you can own a Rita's Italian Ice franchise by investing only $215,839. This investment will bring you back $58,677 in profits per year on average, not bad.
So if you're considering owning a Rita's Ice franchise, make sure you understand the costs and profit potential. In addition to finances, you'll also want to consider things like territory protection, support and more which we are covering below.
In this article we'll see how much money you can make with a Rita's franchise, how much it really costs and whether you should invest in this business. Let's find out!
Rita's Italian Ice franchise revenue, costs & profits
| | |
| --- | --- |
| Franchise fee | $35,000 |
| Royalty fee | 6.0% |
| Marketing fee | 5.0% |
| Investment (mid-point) | $215,839 |
| Median annual sales | $248,340 |
| Sales to investment ratio | 1.2x |
| Investment payback* | 5.8 years (average) |
* using 15% net profit margin
What is Rita's Italian Ice?
Rita's Italian Ice is an American quick-service restaurant chain best known for its Italian ice, frozen custard, frozen treats, and specialty creations.
Headquartered in Bensalem, Pennsylvania, the chain was founded in 1984 by Bob Tumolo, who named it after his wife, Rita Tumolo.
In addition to its menu, it also serves frozen desserts, frozen yogurt, ice cream, and milkshakes.Rita's began franchising in 1989 and currently has more than 600 units in the US.
Rita's Italian Ice franchises pros and cons
Pros
Extensive Training: Rita's Italian Ice offers franchisees comprehensive training about its business model. It also trains franchisees on how to establish and operate a successful franchise. This includes 40 hours of classroom training and 40 hours of on-the-job training.
Marketing planning and support: Rita's employs substantive marketing and advertising techniques to create awareness and publicize its products. It provides franchisees with promotional campaigns, social media marketing, regional advertising, loyalty programs, etc. to market their products to a wide audience.
Variety and innovative menu: Rita's has a variety of American-Italian menu items and guarantees fresh, quality frozen treats for everybody. In addition, they keep innovating new flavors to cater to a changing market and customer preferences. It is a unique brand and offers customers a great family experience. Franchisees can stand out from the competition and attract a lot of traffic.
Exclusive territory: The brand provides franchisees with a protected exclusive territory in which to operate their businesses. The franchisor does not grant any other franchises or operate competing channels in the area. Franchisees can scale and expand with ease.
Simple business model: Rita's brand has a simple and proven business model. Franchisees can easily operate a Rita's Italian Ice franchise as it requires less equipment and staff, which also provides growth and success.
Multiple franchise formats: The brand provides franchisees with flexible franchise formats. Depending on their budgets, franchisees are at liberty to operate either a standard shop with walk-up or walk-in options as well as outdoor or indoor seating options. Franchisees can expand standard shops through mobile units or satellites to increase their earning capacities.
Cons
Not a passive investment: Rita's requires franchisees to be actively involved in the routine operations of their restaurants. Besides, franchisees should be open all the time since it is not a part-time business.
Seasonal products: Ice is not an all-year-round customer favorite. This may cause franchisees' sales to decline in the winter and force them to introduce alternative menus to remain competitive.
No financing: Rita's Italian Ice does not directly or indirectly finance its franchisees for the franchise fee, trade fixtures, or inventory. Franchisees must approach third-party affiliates that may not be related to the franchisor.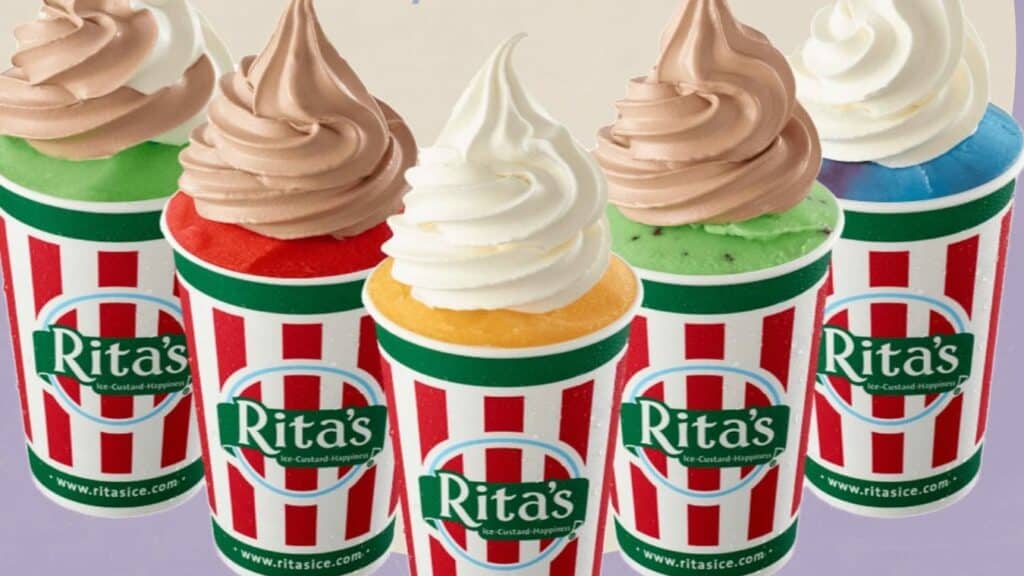 How much does a Rita's Italian Ice franchise cost?
You must invest on average $215,839 to open a new Rita's Italian Ice franchised ice cream shop. This amount includes the initial franchise fee which ranges from $10,000 to $35,000 depending on the format of store you choose.
The investment amount can vary based on factors like: location, the type of shop and more. For example, you need to invest 5 times as much for a standard Rita's shop than a mobile unit.
| Type of shop | Low | Average | High |
| --- | --- | --- | --- |
| Standard Rita's Shop | $194,863 | $361,462 | $528,061 |
| Express Rita's Shop | $121,335 | $216,368 | $311,400 |
| Satellite | $131,550 | $215,225 | $298,900 |
| Mobile Unit | $21,600 | $70,300 | $119,000 |
Source: 2022 Franchise Disclosure Document
The investment covers all type of startup costs like: the lease deposit, leasehold improvements, insurance, architect and attorney fees, etc.
| Type of cost | Investment amount |
| --- | --- |
| Initial franchise fee | $10,000 – $35,000 |
| Formation costs | $10,100 – $430,061 |
| Marketing | $0 – $12,000 |
| Operating expenses | $1,500 – $51,000 |
| Total | $21,600 – $528,061 |
Source: 2022 Franchise Disclosure Document
What's the turnover of a Rita's Italian Ice franchise?
On average, a Rita's Ice franchise makes $248,340 in sales per year. This number is the annual median sales of 464 franchised ice cream shops in the US (+5.2% revenue growth vs. 2019).
Here's a breakdown of these 464 shops by tier, from the bottom to the top performers: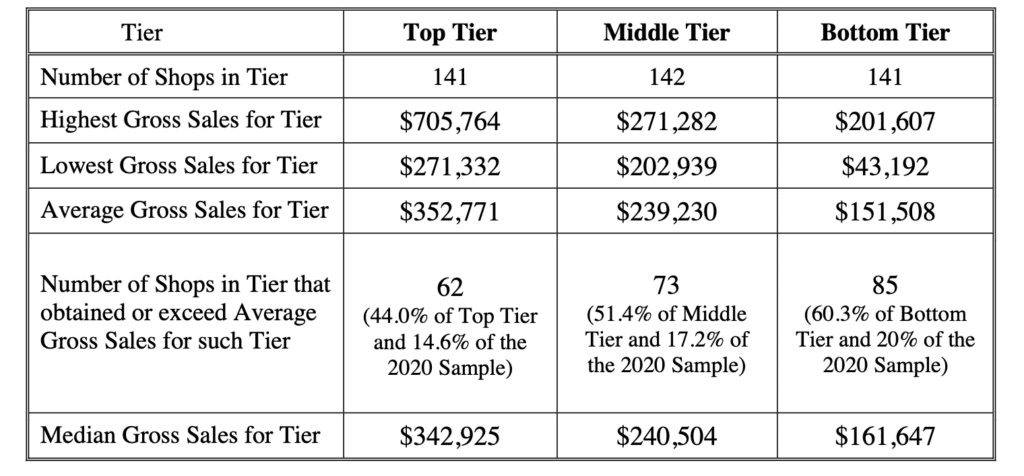 How profitable is a Rita's Italian Ice franchise?
On average, a Rita's Ice franchise makes $58,677 in profits per year. This represents a 24% adjusted EBITDA margin.
Note that adjusted EBITDA is not the same as net income. Rather, you may need to deduct taxes, debt interest expenses, and other costs from it. Only you pay yourself dividends (as the franchisee / shareholder) from net income.
When compared vs. other franchises, Rita's Ice profit margin is in line: 24% adjusted EBITDA margin vs. ~24-27% industry average.
Note that Rita's Ice doesn't report any financial information of franchises regarding costs in its FDD. Instead, we had to use industry average percentages for COGS (25% sales) and labor costs (29%) to estimate adjusted EBITDA (see below).
| Profit-and-loss | Amount ($) | As % of sales |
| --- | --- | --- |
| Sales | $248,340 | 100% |
| COGS | $(62,085) | 25.0%* |
| Labor | $(72,019) | 29.0%* |
| Rent | $(27,000) | 10.9% |
| Royalty + marketing fees | $(28,559) | 11.5% |
| Adjusted EBITDA | $58,677 | ~24% |
* industry average
Is a Rita's Italian Ice franchise a good investment?
So are the profits worth investing the initial investment? Well it depends which format you choose.
Indeed, we saw Rita's Ice has different ice cream shops you can choose from as a franchise: standard shop, satellite, express and mobile unit.
Yet, if we were to consider the average investment cost of $215,839 and the annual turnover of $248,340, we would say this is probably a good investment. Indeed we found that the payback period (as in, the time it takes to recoup your investment) is around 5-6 years.
This means that you would need to wait at least 5 years for your investment to repay itself with the future profits (dividends or your own salary). Even though not excellent, this is a good payback period, and therefore a good investment.
If you're preparing a business plan for a Rita's Ice franchise, download our template below to access your pre-built 5-year financial projections, payback period, breakeven point and more.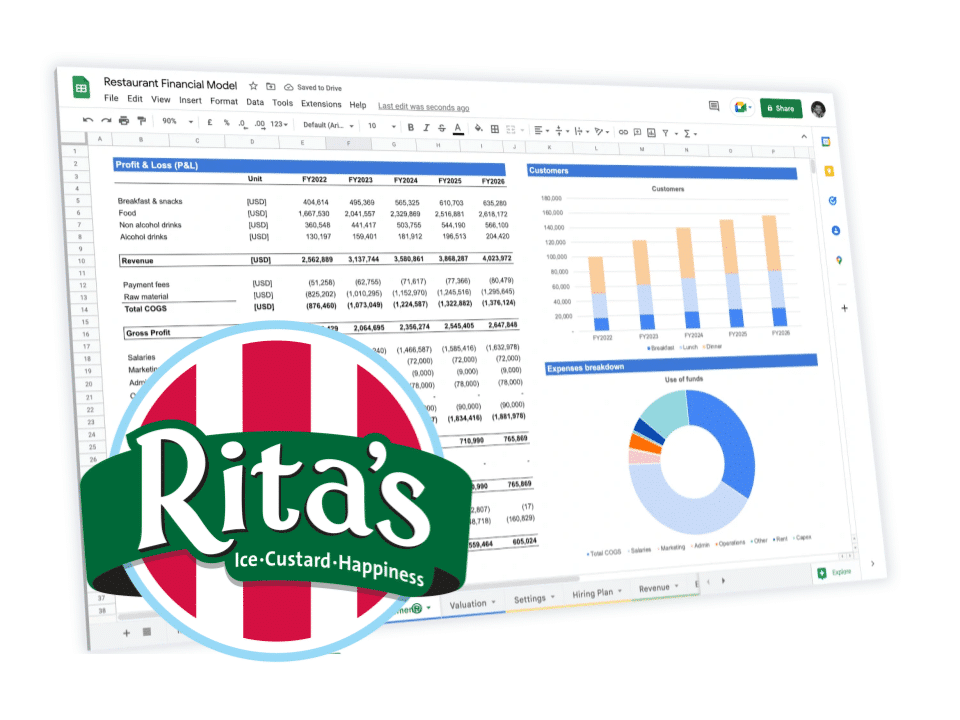 Download the Rita's Italian Ice business plan and get your franchise funded
Including a 5-year financial plan built with the latest Franchise Disclosure Document numbers