Signarama Franchise: Sales, Costs & Profits (2023)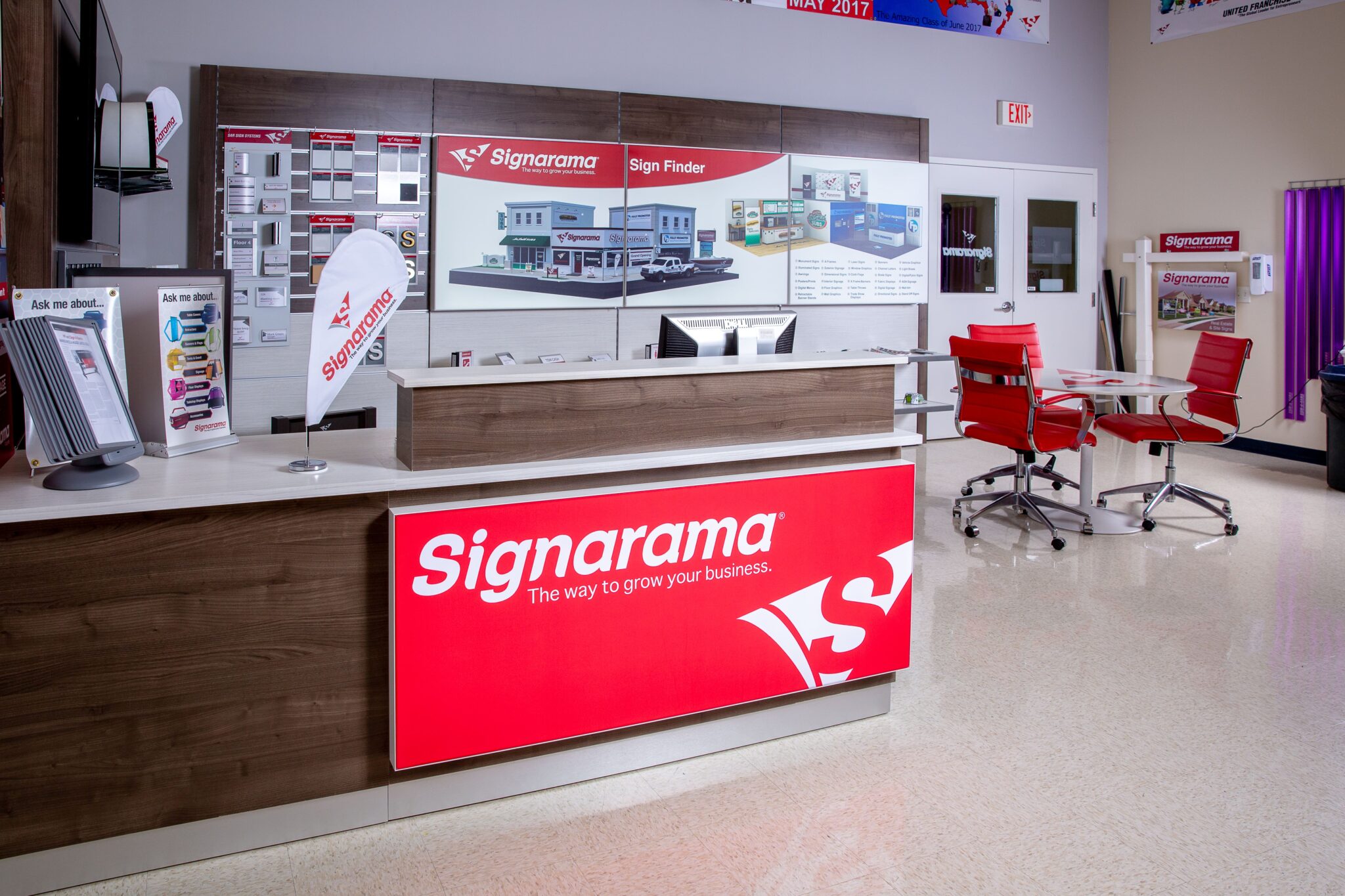 One the leading signage and advertising franchise in the US, Signage has close to 700 outlets in the country as of 2023. So if you're looking to get into the advertising and promotional marketing industry, starting a Signarama franchise is a great alternative.
But what about the costs and profits? How much money can you realistically make as a franchisee if you open a new Signarama franchise?
The good news is that Signarama is a very profitable business: the franchise costs $278,000 yet one outlet makes $659,000 in revenue per year on average, impressive.
Want to know more? In this article we're analysing Signarama and its Franchise Disclosure Document to find out how much it (really) costs and how profitable it is. Let's dive in!
Key stats
| | |
| --- | --- |
| Franchise fee | $49,500 |
| Royalty fee | 4.0% |
| Marketing fee | 1.0% |
| Investment (mid-point) | $278,000 |
| Average sales | $659,000 |
| Sales to investment ratio | 2.4x |
| Payback period | 4 years |
| Minimum net worth | n.a. |
| Minimum liquid capital | $60,000 |
Source: Franchise Disclosure Document 2022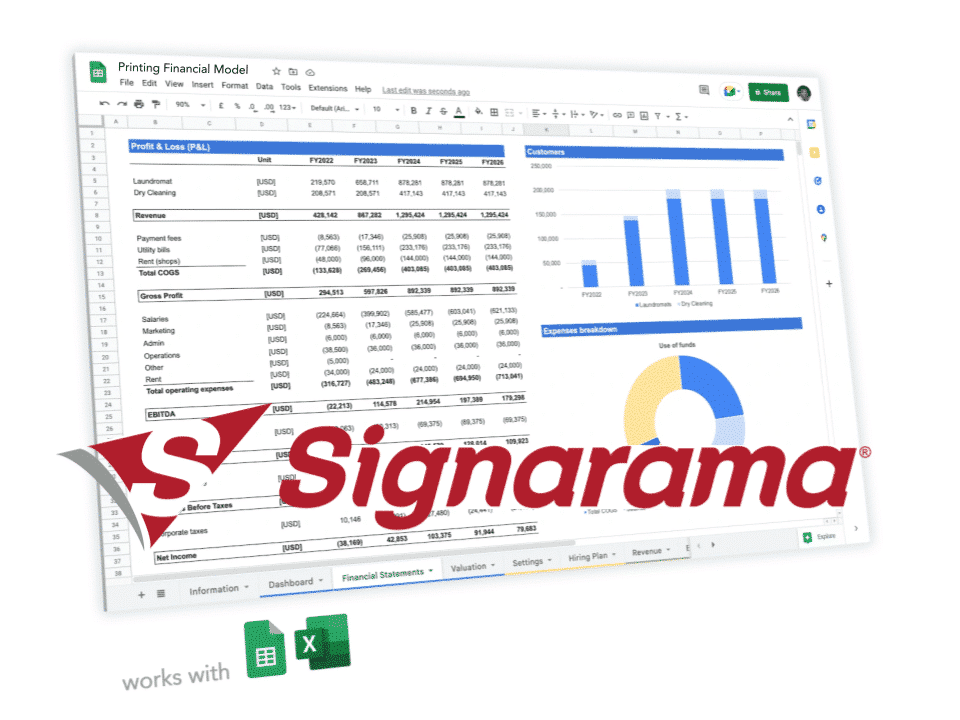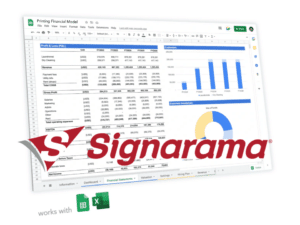 Signarama Franchise Business Plan
All the stats: startup costs, profits, breakeven, etc.
5-year financial projections built with the FDD

Excellent 4.8/5 based on 70 reviews
Excellent 4.8/5 based on 70 reviews

About Signarama
Signarama is a sign and advertising franchise based in West Palm Beach, Florida. It is part of a global franchise system, United Franchise Group, a privately held company that also owns 10 other brands worldwide.
Its locations provide a variety of branding and messaging solutions to organizations and businesses at various levels, such as the production, fabrication, installation and sale of magnetic signs, boat and vehicle lettering, paper and laminated signs, banners and posters, show cards and more.
Signarama was founded in 1986 by Ray and Roy Titus, opening the first location in New York and the second one less than a year later in South Florida. It is a leading innovator in the signs and graphics industry with locations in the US and 13 other countries, with Ray Titus still as CEO and his son, A.J. Titus as the president.
Signarama began franchising in 1987 and currently has 689 locations worldwide, including 402 franchises in the US.
Signarama franchise pros and cons
The Pros:
Co-branding: The franchisor gives the franchisees an opportunity to co-brand with the other UFG-owned brands. This gives franchisees increased brand strength and a wider target market.
Site selection and construction: The franchisor offers franchise site selection guidance to help them identify a viable store location. Also, it helps them with the design, lease negotiations and development of their franchises.
Flexible franchise options: Signarama offers its franchisees flexible franchise options through a well-established franchise model. They can start a new Signarama location or convert an existing print or sign store into a Signarama center.
Comprehensive training program: The franchisor has a detailed classroom and on-the-job training program to equip its franchisees with knowledge about the franchise concept, systems and growth strategies. It trains franchisees to start and run their stores successfully. Also, it offers them ongoing training on sales, marketing and staff management.
Exclusive territory protection: The brand grants the franchisees the right to operate their businesses in a protected location. It does not license any other franchises or operate competing brands in the designated area.
Marketing and advertising: The franchisor helps its franchisees create awareness of their stores and enhance public relations through turnkey marketing and advertising systems. These include social media, website development, email marketing, loyalty program apps and more.
Third-party financing: The franchisor has relationships with third-party lenders to fund franchisees' startup costs, franchise fees, equipment, inventory and payroll costs.
The cons:
No absentee ownership: The franchise does not present a passive investment opportunity. The franchisees must actively take part in the operations and management of their businesses.
Not a home-based investment: Signarama franchises cannot be operated from home or a mobile facility. Franchisees must establish an office space, warehouse or retail facility.
Not a part-time business: The franchisor requires franchisees to have their stores open full-time for at least 40 hours per week.


Signarama franchise costs
You would have to invest an average of $278,000 to open a Signarama franchise.
Note that this is the average initial investment if you decide to purchase the equipment. Instead, you would have to spend less upfront if you decide to lease the equipment ($158,000 on average).
| Equipment | Low | High | Average |
| --- | --- | --- | --- |
| Purchase | $240,604 | $316,244 | $278,424 |
| Lease | $120,205 | $195,845 | $158,025 |
Source: Franchise Disclosure Document 2022
The investment covers all the start-up costs you may need to open a Signarama Signs franchise centre. You must pay the franchisor an initial franchise fee of $50,000. In addition to this franchise fee, the investment also covers:
Formulation costs: leasehold improvements, equipment package initial fees, etc.
Equipment: equipment package, fixtures, etc.
Operating costs: travel and living expenses, insurance deposits, additional funds, etc.
Startup costs
Here's the full breakdown of costs (assuming you purchase the equipment):
| Type of Expenditure | Amount |
| --- | --- |
| Initial franchise fee | $49,500 |
| Formulation costs | $0 – $47,000 |
| Equipment | $150,499 |
| Operating costs | $40,605 – $69,245 |
| Total | $240,604 – $316,244 |
Source: Franchise Disclosure Document 2022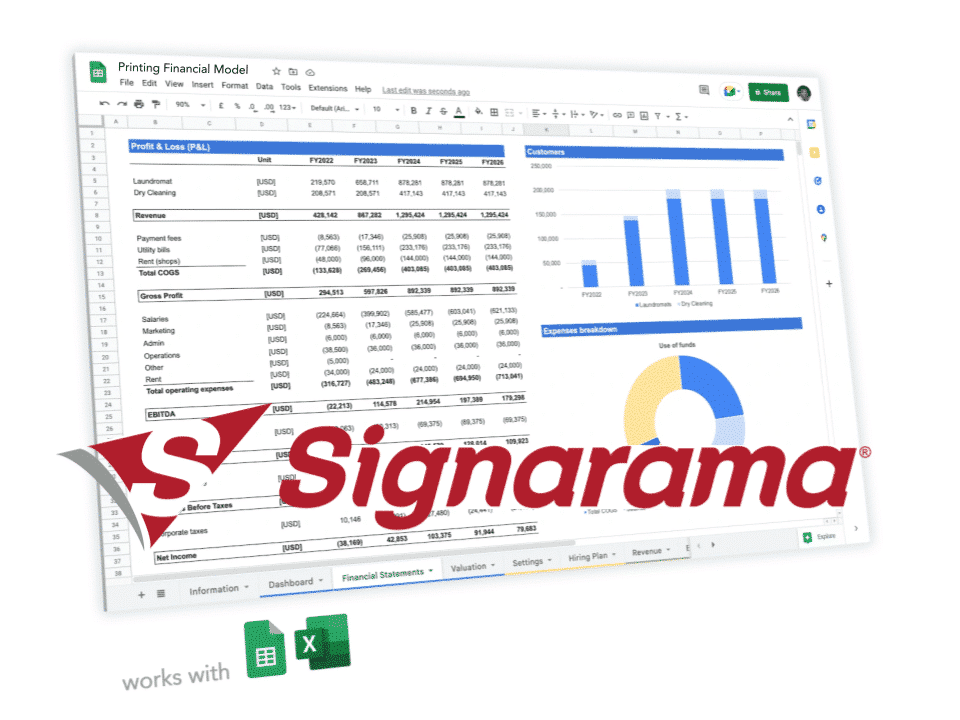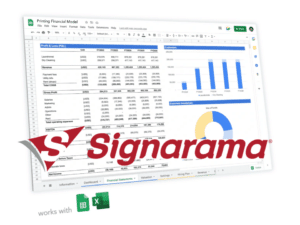 Signarama Franchise Business Plan
All the stats: startup costs, profits, breakeven, etc.
5-year financial projections built with the FDD

Excellent 4.8/5 based on 70 reviews
Excellent 4.8/5 based on 70 reviews

Signarama franchise fees
The initial franchise fee for a Signarama franchise is $49,500
In addition to the initial franchise fee, you must pay to the franchisor a royalty fee of 4.0% of revenues, as well as a variable marketing fee of 1.0% of revenues.
Signarama franchise sales
On average, a Signarama franchise makes $659,000 in sales per year.
Note that this is average sales per centre for 327 of the 703 franchised shops that were operating for 2 years or more.
Actually, as per the FDD there are 2 separate types of shops: those with and without a full-time outside sales person. Indeed, Signarama strongly encourage their franchisees to hire a full-time outside sales person as part of their sales strategy. And for a good reason: shops with a full-time outside sales person perform much better (in terms of revenue) vs. those without.
| Full-time outside sales person | Annual sales per unit (average) |
| --- | --- |
| With | $1,117,000 |
| Without | $420,000 |
Source: Franchise Disclosure Document 2022
Keep in mind that the actual sales may vary depending on factors such as the location of your shop, competition, marketing, etc. There is no guarantee your franchise performs as well as what is presented here.
Signarama franchise profits
We estimate that a Signarama franchise makes $74,000 in profits per year. That's a ~11% EBITDA margin.
Note that Signarama doesn't provide any detailed information as far as its cost structure in its Franchise Disclosure Document. Instead, we had to estimate EBITDA by using industry average percentages (especially for COGS and labor costs) as shown below.
| Profit and loss | Amount | % revenue | Source |
| --- | --- | --- | --- |
| Revenue | $658,661 | 100% | as per FDD |
| COGS | $(190,353) | 29% | industry average* |
| Gross Profit | $468,308 | 71% | |
| Staff | $(235,801) | 36% | industry average* |
| Royalties | $(26,346) | 4% | as per FDD |
| Other OpEx** | $(131,732) | 20% | assumption |
| EBITDA | $74,429 | 11% | |
* printing franchises (AlphaGraphics, FASTSigns, etc.)
** General & administrative expenses, marketing (including 1% marketing fee)
Is Signarama a good franchise investment?
Assuming a 5% net profit margin, Signarama has an excellent 4 years payback period. This is a great payback, and as such, a great investment (from a financial perspective at least).
Indeed, by comparing net profits to the initial investment you would have to fund as the franchisee ($278,000 on average), we obtain a 4 years payback. What does it mean?
In other words, you would be able to reimburse the initial investment within 4 years on average, by using the profits generated by the business itself.
Note that this is in line with commercial printing franchises that have a 3-5 years payback as per our own benchmarks.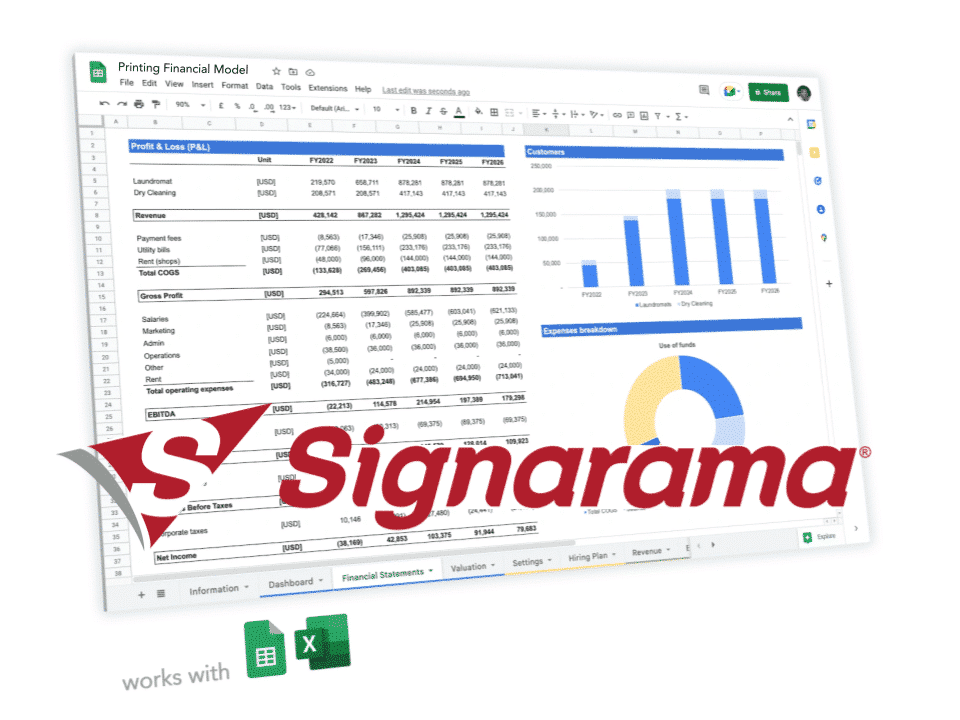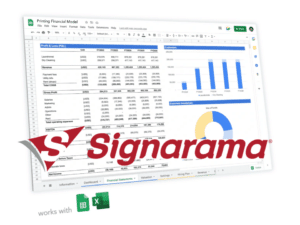 Signarama Franchise Business Plan
All the stats: startup costs, profits, breakeven, etc.
5-year financial projections built with the FDD

Excellent 4.8/5 based on 70 reviews
Excellent 4.8/5 based on 70 reviews

Disclaimer
Disclaimer: This content has been made for informational and educational purposes only. We do not make any representation or warranties with respect to the accuracy, applicability, fitness, or completeness of the information presented in the article. You should not construe any such information or other material as legal, tax, investment, financial, or other professional advice. Nothing contained in this article constitutes a solicitation, recommendation, endorsement, advertisement, or offer to buy or sell any franchises, securities, or other financial instruments in this or in any other jurisdiction in which such solicitation or offer would be unlawful under the franchise and/or securities laws of such jurisdiction.
All content in this article is information of a general nature and does not address the detailed circumstances of any particular individual or entity. Nothing in the article constitutes professional and/or financial and/or legal advice, nor does any information in the article constitute a comprehensive or complete statement of the matters discussed or the law relating thereto. You alone assume the sole responsibility of evaluating the merits and risks associated with the use of any information or other content in this article before making any decisions based on such information or other content.