SpeedPro Franchise Sales, Costs & Profits (2023)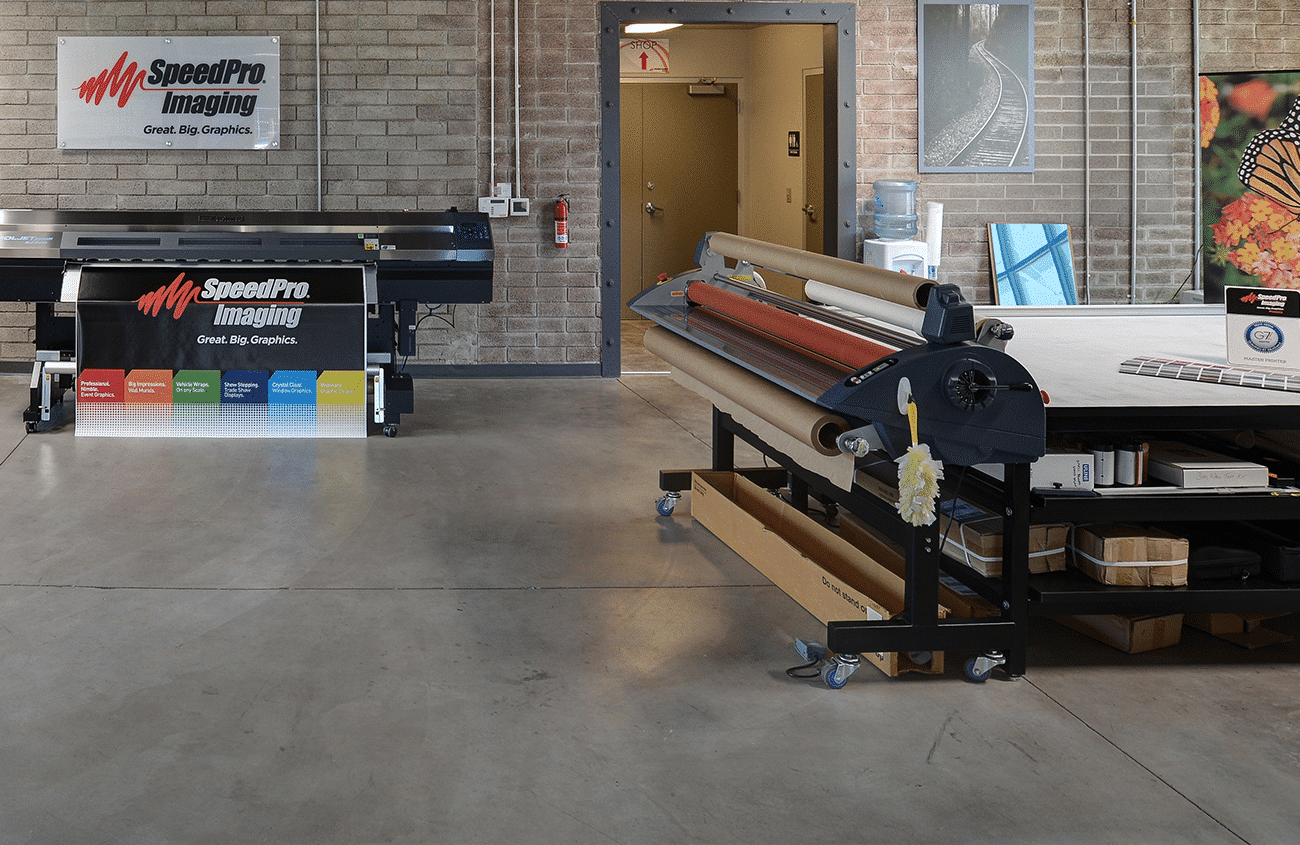 Unlike other mass market printing franchises, SpeedPro is a large-format business-to-business printing franchise with interesting financials.
Indeed, in order to open a new SpeedPro franchise you would have to pay the initial investment of $288,000. Yet, one shop makes on average $878,000 in turnover per year. So is this a profitable business?
In this article we're looking at SpeedPro and its latest Franchise Disclosure Document to find out how much it (really) costs, and how profitable it really is. Let's dive in!
Key stats
| | |
| --- | --- |
| Franchise fee | $49,500 |
| Royalty fee | 5.0% |
| Marketing fee | 2.0% |
| Investment (mid-point) | $288,000 |
| Average sales | $878,000 |
| Sales to investment ratio | 3.0x |
| Payback period | 3 years |
| Minimum net worth | $250,000 |
| Minimum liquid capital | $80,000 |
Source: Franchise Disclosure Document 2023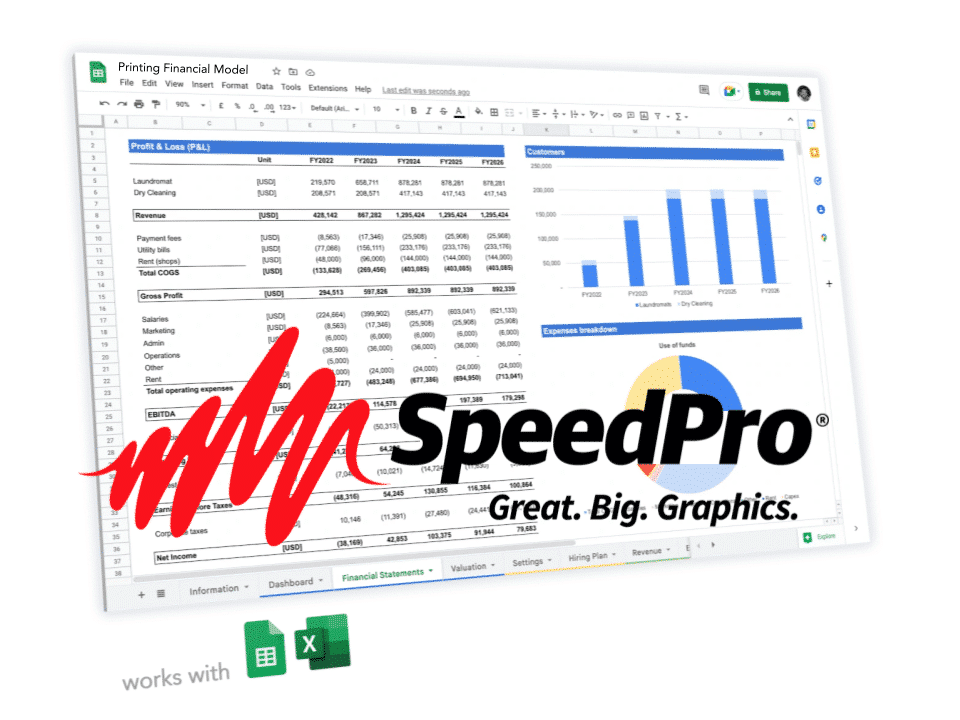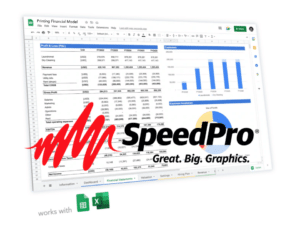 SpeedPro Franchise Business Plan
All the stats: startup costs, profits, breakeven, etc.
5-year financial projections built with the FDD

Excellent 4.8/5 based on 70 reviews
Excellent 4.8/5 based on 70 reviews

About SpeedPro
SpeedPro is a leading large-format printing franchise based in Colorado.
The brand's story began in 1992 when Blair Gran opened the first shop in Alberta, Canada, as SpeedPro Signs.
He changed the company's name to SpeedPro Imaging in 2001 to accommodate additional services after growing to 30 locations throughout Canada.
The brand started franchising in the US in 2003, offering a wide range of innovative marketing solutions, including event graphics, murals, vehicle wraps and window graphics, to mention a few.
Today, SpeedPro has established a global network of franchises with 167 stores worldwide, including 123 in the US.
SpeedPro franchise pros and cons
The Pros:
No mandatory print experience: Franchisees don't need a print background to establish and run successful franchises.
Few employees: A SpeedPro franchise only needs two employees to operate, lowering the operational costs.
Extensive initial training: Comprehensive training at the SpeedPro headquarters covers sales, employee recruitment and retention, financial management, software and hands-on equipment to help aspiring business owners operate successful franchises.
Ongoing support: Continuous support, including online learning materials, one-on-one business planning and coaching, webinars and annual conventions, helps franchisees avoid potential pitfalls in the print industry.
Comprehensive startup package: Franchisees begin their ownership journey with site selection and lease negotiation support, proprietary software, initial inventory, equipment and furnishings.
Corporate support: Franchisees get helpful marketing and advertising support to attract and retain clients.
Financial support: SpeedPro helps franchisees cover the startup costs, franchise fees, cost of equipment and inventory through its excellent relationships with third-party financial sources.
Exclusive territory protection: Exclusive territory rights protect franchisees from competing against other SpeedPro franchises.
The Cons:
Not a part-time investment opportunity: A SpeedPro franchise is a full-time investment.
Not a home-based investment/mobile unit: Franchises must operate from physical locations such as a retail facility, warehouse or office space.
No absentee ownership: Franchisees must participate in the day-to-day operations from the physical locations.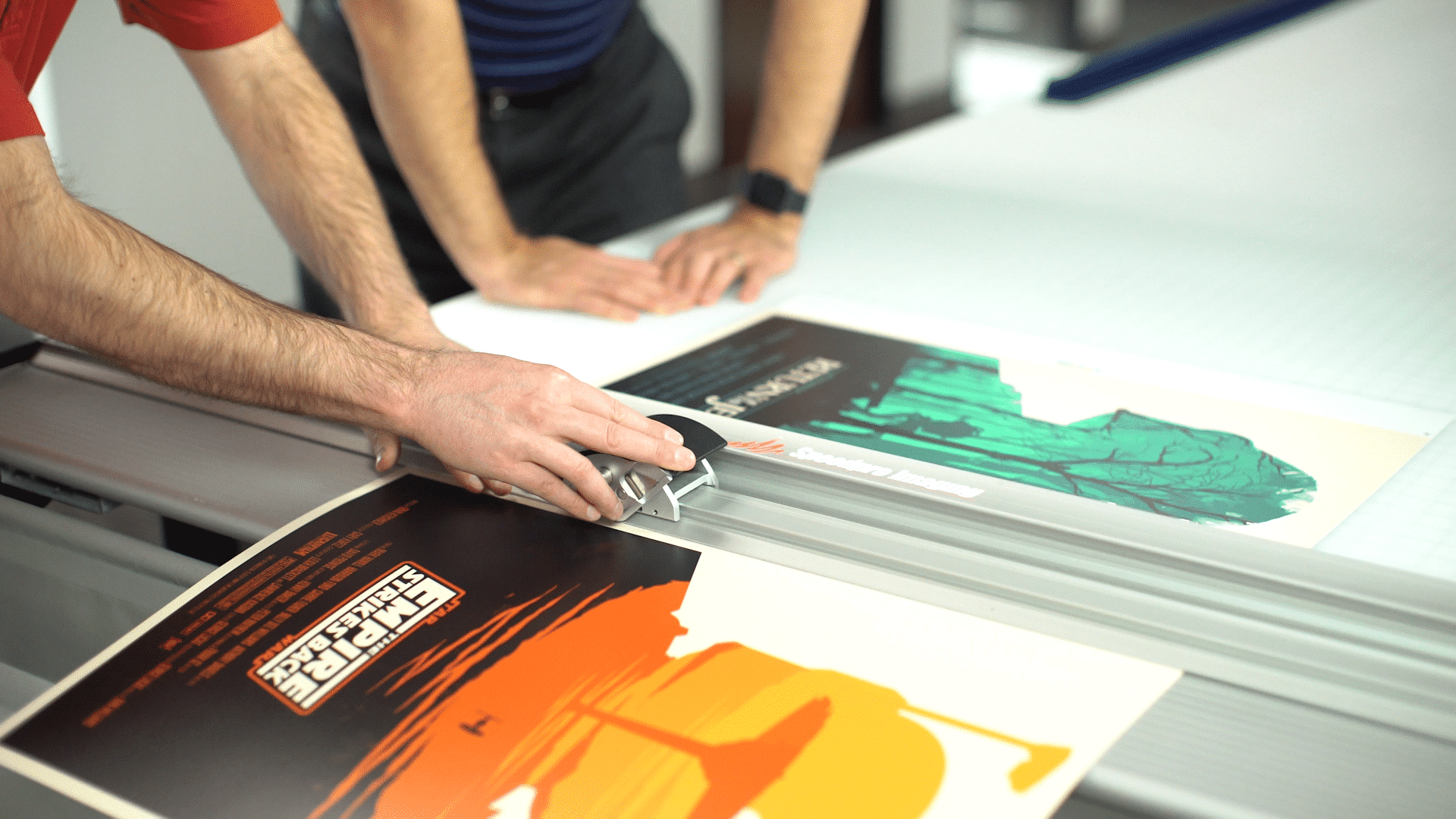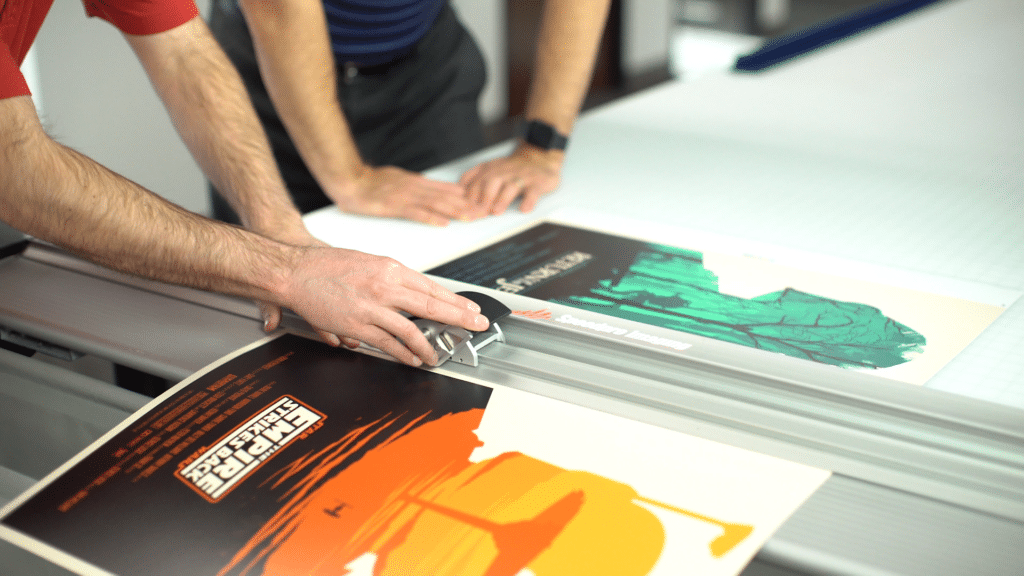 SpeedPro franchise costs
You would have to invest an average of $288,000 to open a SpeedPro franchised store.
The investment covers all the start-up costs you may need to open a SpeedPro franchise studio. You must pay the franchisor an initial franchise fee of $50,000. In addition to this franchise fee, the investment also covers:
Formulation costs: start-up fees, leasehold improvements, rent and security deposits, business permits and licenses, utility deposits, licensing fees, surety bonding, etc.
Furniture and fixtures, equipment
Operating costs: training travel expenses, business insurance premiums, professional fees, additional funds for 6 months, etc.
Startup costs
Here's the full breakdown of startup costs:
| Type of Expenditure | Amount |
| --- | --- |
| Initial franchise fee | $49,500 |
| Formulation costs | $125,950 – $169,900 |
| Furniture and fixtures | $3,632 – $7,264 |
| Initial Marketing fee | $7,500 |
| Operating costs | $59,800 – $94,950 |
| Total | $246,382 – $329,114 |
Source: Franchise Disclosure Document 2023
SpeedPro franchise fees
The initial franchise fee for a SpeedPro franchise is $49,500
In addition to the initial franchise fee, you must pay to the franchisor a royalty fee of 5.0% of revenues, as well as a variable marketing fee of 2.0% of revenues.
SpeedPro franchise sales
On average, a SpeedPro franchise makes $878,000 in sales per year.
This is the weighted average annual sales of 100 franchised studios that were operating in all of 2022.
SpeedPro franchise profits
On average, a SpeedPro franchise makes $95,000 in profits per year. This corresponds to a 11% EBITDA margin.
We obtained this number using the information available in the Franchise Disclosure Document 2023. Fortunately, SpeedPro provides detailed information on the cost structure of its franchised-owned studios which we are summarising below.
| Profit-and-loss | Amount | % sales |
| --- | --- | --- |
| Sales | $877,603 | 100% |
| COGS | $(312,037) | 36.0% |
| Gross Profit | $565,566 | 64.0% |
| Staff | $(241,121) | 27.0% |
| Facility Lease | $(53,026) | 6.0% |
| Advertising and Marketing | $(23,011) | 3.0% |
| Auto | $(9,810) | 1.0% |
| General and Administrative | $(143,385) | 16.0% |
| EBITDA | $95,211 | 11.0% |
Source: Franchise Disclosure Document 2023
Of course, EBITDA varies by store. Here's the breakdown of EBITDA by quartile, from the lowest 25% to the most profitable 25% stores: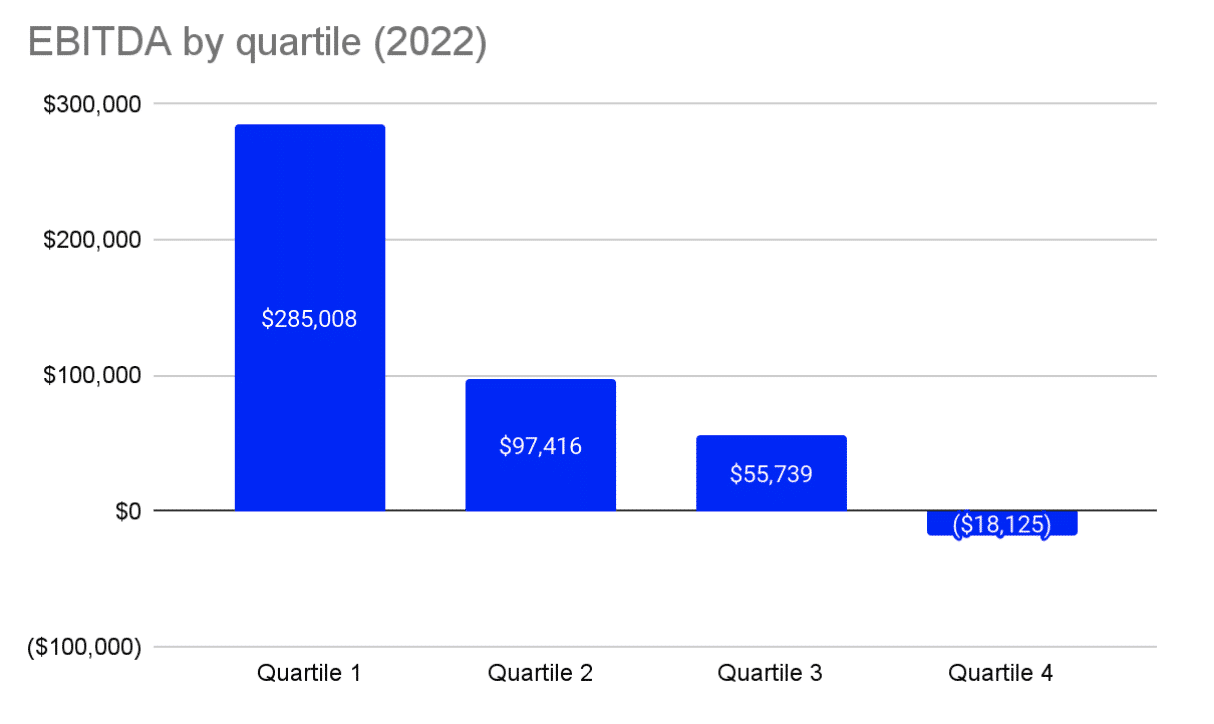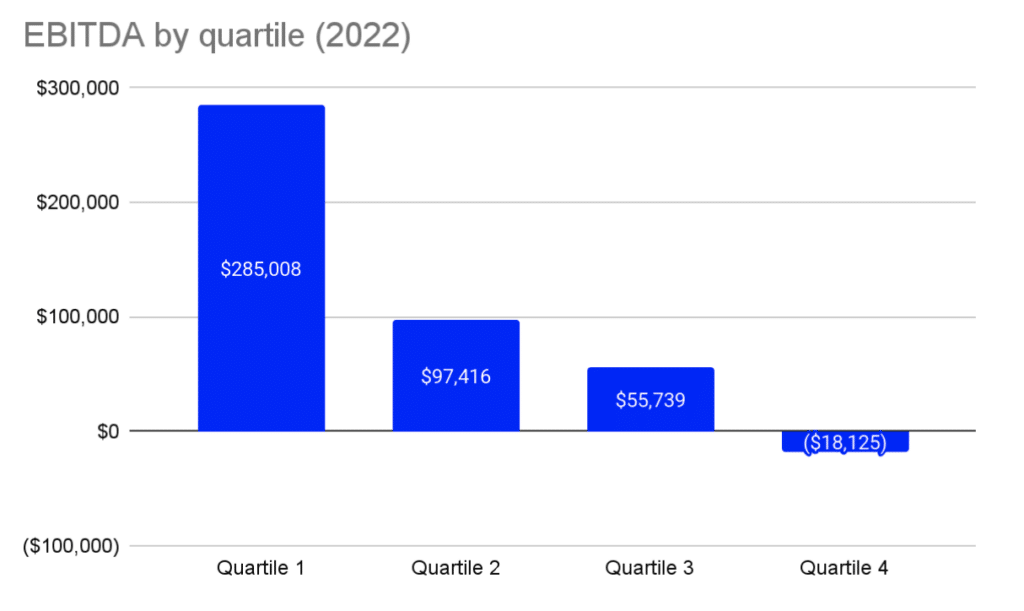 Is SpeedPro a good investment?
If we compare the initial investment cost of $288,000 (on average) to the expected profits of the business, we obtain what we call the payback period: the time it takes for an investment to pay itself with the profits.
Here, we estimate that SpeedPro has a 4 years payback. That's excellent for a commercial printing franchise and in line with similar franchises (printing and promotional marketing franchises).
Therefore, we do consider SpeedPro to be an excellent franchise investment if you're looking to get into the commercial printing franchise industry.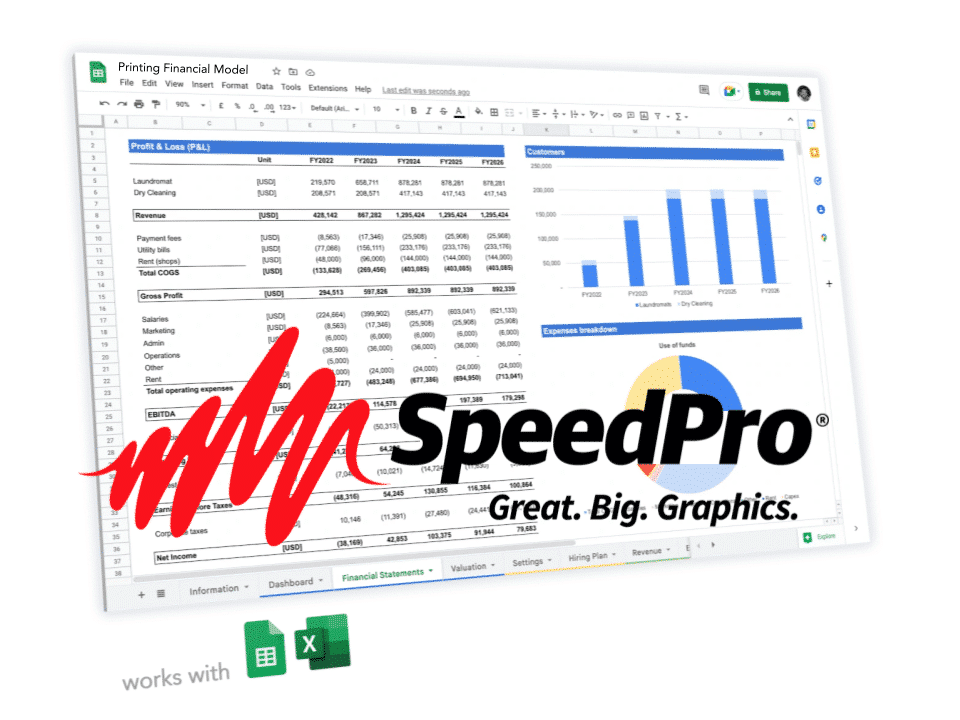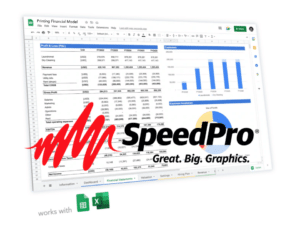 SpeedPro Franchise Business Plan
All the stats: startup costs, profits, breakeven, etc.
5-year financial projections built with the FDD

Excellent 4.8/5 based on 70 reviews
Excellent 4.8/5 based on 70 reviews

Disclaimer
Disclaimer: This content has been made for informational and educational purposes only. We do not make any representation or warranties with respect to the accuracy, applicability, fitness, or completeness of the information presented in the article. You should not construe any such information or other material as legal, tax, investment, financial, or other professional advice. Nothing contained in this article constitutes a solicitation, recommendation, endorsement, advertisement, or offer to buy or sell any franchises, securities, or other financial instruments in this or in any other jurisdiction in which such solicitation or offer would be unlawful under the franchise and/or securities laws of such jurisdiction.
All content in this article is information of a general nature and does not address the detailed circumstances of any particular individual or entity. Nothing in the article constitutes professional and/or financial and/or legal advice, nor does any information in the article constitute a comprehensive or complete statement of the matters discussed or the law relating thereto. You alone assume the sole responsibility of evaluating the merits and risks associated with the use of any information or other content in this article before making any decisions based on such information or other content.