Opening a Beauty Salon Costs $63,500 to $134,000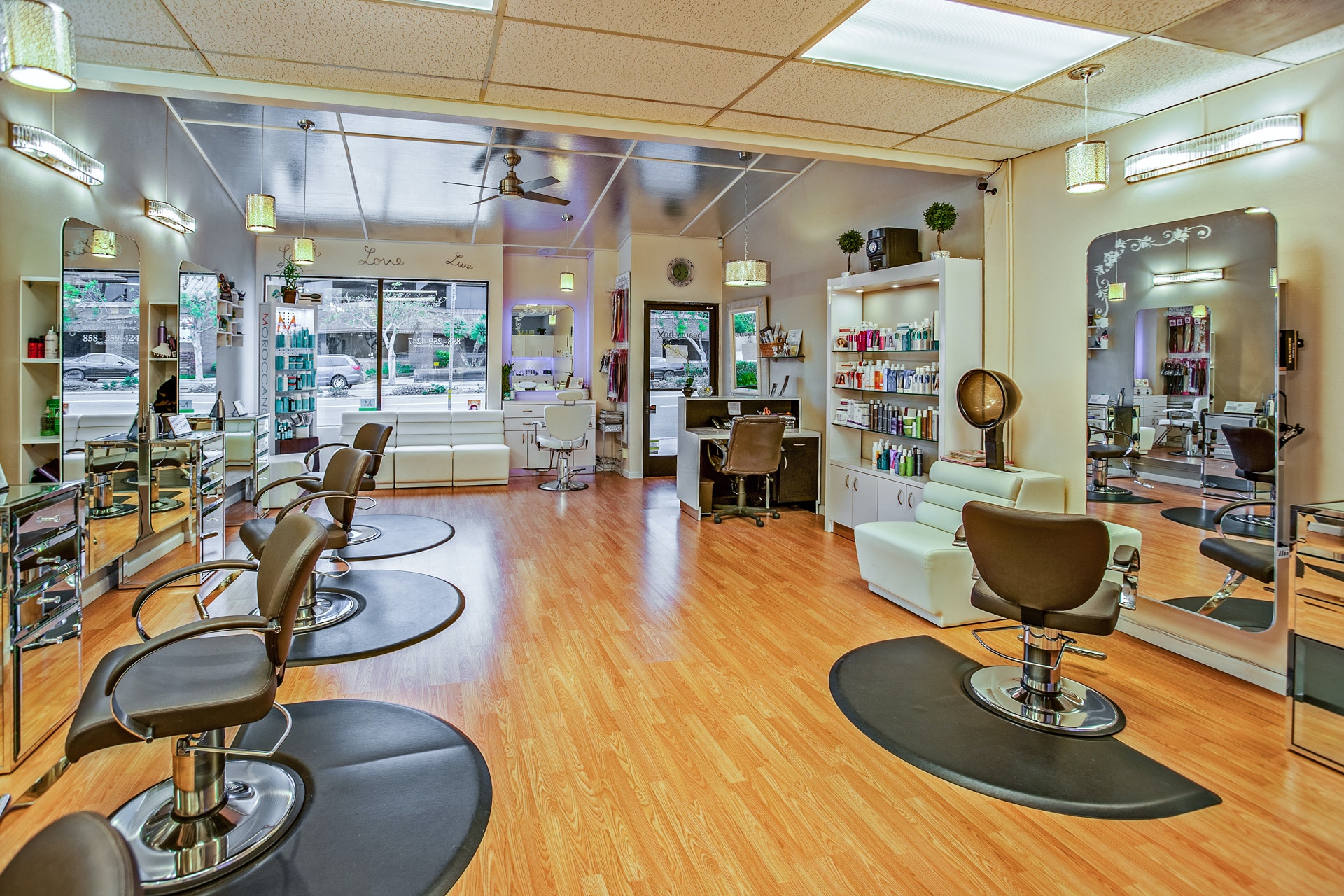 Are you looking to start your own beauty salon? As part of your business plan, make sure to budget for the startup and operating costs to start and run a beauty salon.
We've identified that it costs on average $63,500 to $134,000 to start a beauty salon with 6 aestheticians plus $32,500 to $43,200 in operating costs per month to run the business the first few months.
Want to know more? In this article we'll go through all the different costs you will need to incur to start your own beauty salon. Read on!
For more information on beauty salons, make sure to read our guides below:
How to Write a Beauty Salon Business Plan: Complete Guide
How To Open a Beauty Salon In 11 Steps
How To Build A Financial Model For a Salon?
7 Strategies To Increase Your Beauty Salon Sales & Profits
10 Salon KPIs you Should Track and How to Calculate Them
Beauty Salon Startup Costs
Most beauty salon cost anywhere from $63,500 to $134,000 to start, depending on whether you plan to lease the commercial space or buy it. Indeed, if the latter, you would have to take a loan and make a substantial deposit upfront instead.
So, we have decided to give you a clear overview of all the key costs you can expect to start a small beauty salon below. Note that these costs are for illustrative purposes and depend on a number of factors which might not fully apply to you.
Lease security deposit (or loan downpayment)
If you want to lease a property, you must pledge to stay there for a number of years and provide a refundable security deposit. This will vary based on the property's location and size. In a prime location in a city like Portland, for instance, you would spend around $40 per square foot each year.
Therefore, if you lease a 1,000-square-foot location, you can anticipate paying around $3,500 per month. If you are asked to submit a security deposit equal to three months of rent, you must set aside $10,500.
If you choose to purchase a commercial property rather than lease one, you will need a down payment of at least 10 percent (unless you have a fat wallet). Therefore, if the commercial property costs $1 million, a 10 percent down payment would include an initial payment of $100,000.
If you are acquiring an existing salon rather than constructing one from scratch, you may expect to pay anywhere from $40,000 to $250,000 or more. The price will depend on variables such as the age of the structure, the state of the equipment, the size of the property, its location, etc. Even in this circumstance, you may need to obtain a loan.
Beauty salon renovation costs
After acquiring the beauty salon premises, there will likely be costs involved with renovation. Renovating might involve installing new flooring, window treatments, paint, plumbing, etc.
Assuming you have leased a property, leasehold renovations and repairs might range in price from $5,000 to $25,000. However, this cost might climb dramatically if you buy a new salon space and need to set up everything from scratch.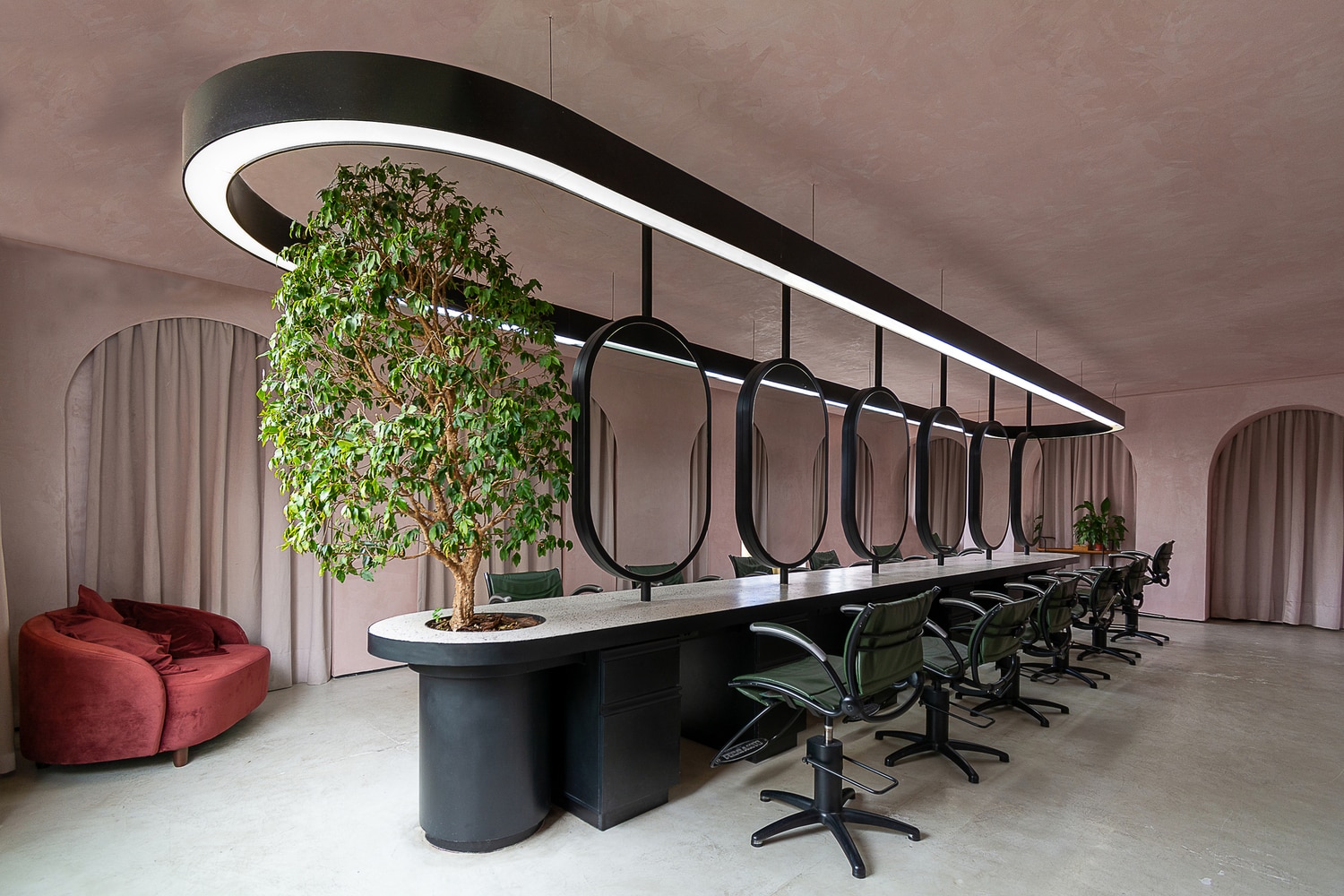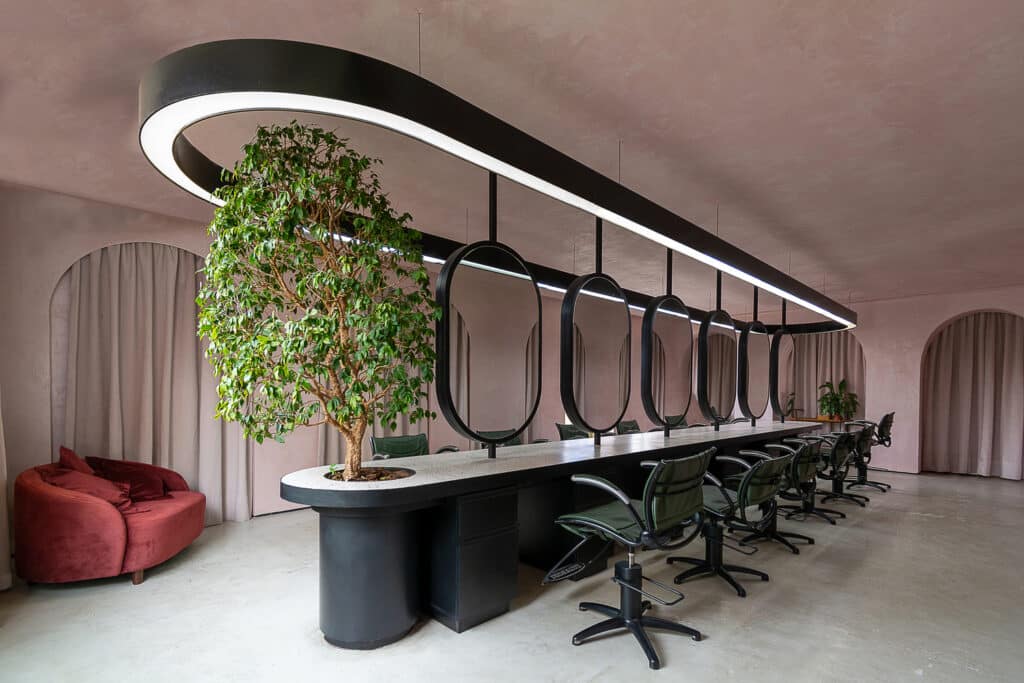 Beauty Salon furniture & equipment costs
Once the salon area is designed, proper equipment must be installed. This pricing will rely heavily on the services you provide. Some of the typical salon equipment you will require are:
Drying stations
Shampoo stations
Styling stations
Supply trollies & carts
Storage and display cabinets
Microdermabrasions & facial equipment
Facial steamers & magnifying lamps
Massage spa treatment tables
Towel warmers & sanitizers
Manicure tables
Pedicure spas & benches
Other essential supplies will include a clippers set, scissors set, clips & caps, brushes & combs, handheld mirrors, styling tools (such as curling iron, diffuser, blow dryer, flat iron), and therapeutic pillows, applicators, manicure & pedicure supplies, tweezers, extractors, micro-needling tools, and more.
If you are purchasing an existing salon, most of these will already be there, but some of them may require replacement.
For a new salon, the cost can be as high as $27,000, but it can exceed well over that mark depending on factors like the services you will offer (you may not offer manicure & pedicure services), number of stations, quality, etc.
To get a fair idea of different furniture & equipment, you can go through this link. Remember, this is not an endorsement or promotion. It is only to help you get a fair idea.
To reduce the startup cost, you may actually go for equipment financing, but that will attract a monthly repayment.
Beauty salon supplies costs
Apart from the equipment, you will need to have an initial stock of cosmetic products such as hair care products, skin care products, and more:
Shampoos & conditioners
Specialty polishes
Perm rods
Sanitizers
Towels
Hair capes
Headbands
Applicators
Waxing strips & rolls
Toe separators & pedicure spa slippers
Tan removal creams, fairness cream bleach, face scrubs, astringents, etc.
Aprons and more.
The cost of these supplies can vary significantly based on the brands you select. However, as a professional beauty salon, you must use high-quality specialty products. These can add another $20,000 more to the startup cost. Of course, the final cost will depend on the stock size you want to maintain, the services you are offering, the brands you are selecting, and other factors.
Even if you are buying an existing salon, you must consider replacing the old supplies.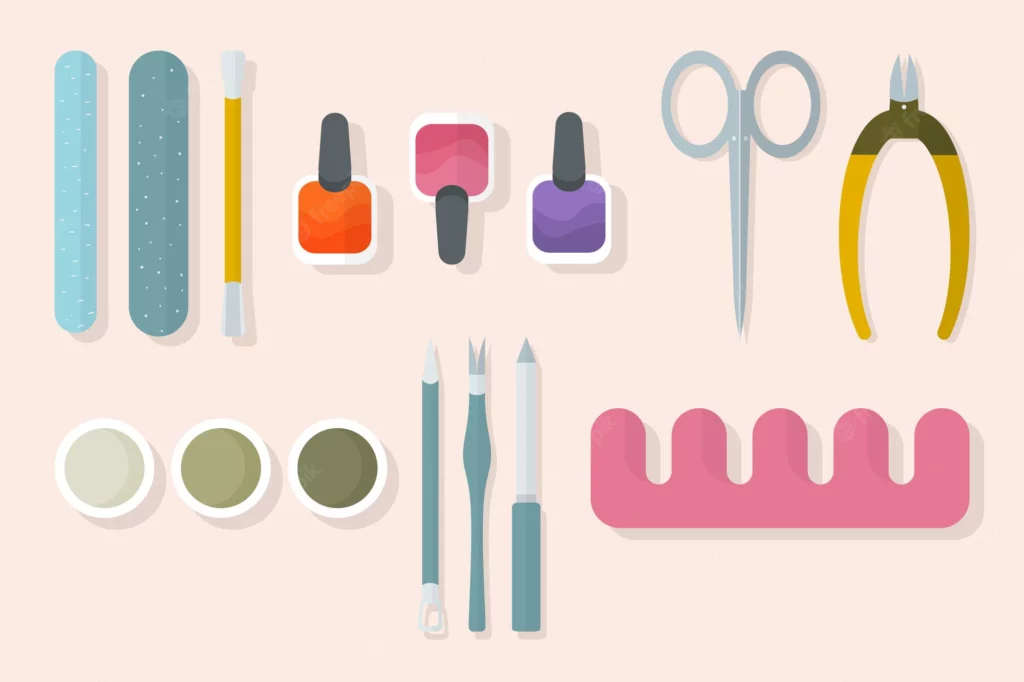 Retail Inventory (Optional)
You may like to add a retail element to your salon and offer several brands of beauty products including hair care, skincare, etc. The total cost will depend on the size of your salon's retail component. This cost is difficult to quantify since it relies on the number of items sold, the brands (costs might vary based on the brands), and, of course, the display used to attract people.
If you decide to engage in retail sales, it is best to start modest and change your inventory (scale up or down) based on demand.
Certification
To operate a beauty salon, a cosmetology license is a must. This is the most critical license you must possess, regardless of state. The most significant requirement is that the license is issued in the same state where the salon will be located.
You must complete several hours of instruction and pass a certification exam.
The license cost differs from one state to another. For instance, here is a quick list of licensing costs in California:
Barbers & cosmetologists: $50
Estheticians: Initial license costs $40, and renewals cost $50.
Manicurists: Initial license costs $35, and renewals cost $50.
You can check the sample form for requesting certification in California.
However, you need to complete a cosmetology course from a reputed and approved school. The cost of the program can be up to $20,000. Here is a complete list of all approved schools in California.
To perform a state-wise search, you can head over to Beauty Schools Directory.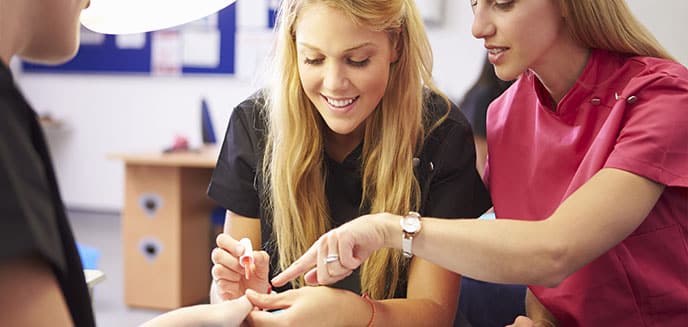 Licenses & Permits
Apart from a cosmetology license, you will need the following licenses to operate a beauty salon:
Salon business operation license
Salon retail seller permit
Employer identification number
Certificate of occupancy & building permits
Typically, a small business license costs around $100, but the price can vary depending on your state of operation. You can learn more about licensing requirements by visiting SBA's reference to state licenses and permits.
Similarly, the retail seller permit (which is also known as resale ID, resell permit, reseller number, permit license, etc.) cost will vary from one state to another. This license can be free or cost less than $50.
For instance, a seller's permit in California doesn't cost anything, but you may need to pay a security deposit to cover unpaid taxes at a later date that may be owed if the business suddenly closes. You need to contact your local state authorities to get this license.
An employer identification number (EIN) is issued by the IRS, and it does not cost anything. You can apply for EIN online.
The certificate of occupancy and building permits will usually depend on the size of the salon, type of construction, square footage, and other factors. There will be inspections to ensure that it is compatible with zoning rules, meets landscape requirements, and more.
The cost of obtaining a certificate of occupancy will vary from one state to another, but the ballpark estimate is $250. You can learn more about the certificate of occupancy here.
In general, you can expect the licensing fees to be around $500.
POS System
Your beauty salon will need a computer and POS system for processing payments including credit & debit cards, Apple Pay, Venmo, etc. You will also need a receipt printer, cash register, etc.
There are many players on the market and many of them offer all-in-one solutions. For instance, Square Register offers hardware, software, and payments for just $799.
Note: Neither do we endorse Square Register and nor are we promoting it. It is only for illustrative purposes.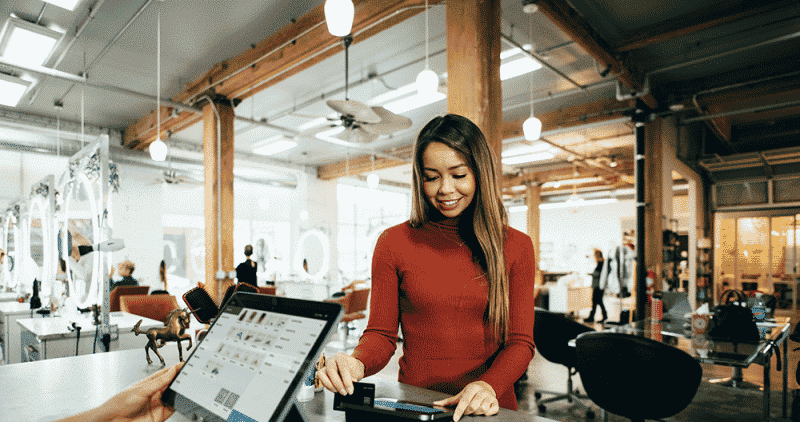 Employee Uniform (optional)
Adding employee uniforms will give your salon a professional boost, but again, that is entirely optional. You can ask your employees to maintain a certain dress code, which happens to be a much cheaper alternative. Also, you can use branded aprons (aprons with your salon name printed on them) and give your employees the freedom to choose their wardrobes.
If you decide to go for a uniform, you can expect to pay anywhere between $15 and $50 per uniform. So, if you have 3 employees, you can end up spending $90 to $300 for uniforms assuming that you are offering two sets for each employee.
Beauty Salon Operating Costs
Now that we have looked at the costs you should expect to start a beauty salon, let's now focus on the operating costs you would have to incur each month to keep the beauty salon running.
Beauty salon operating costs typically include salary costs, supplies, rent and staff.
Beauty Salon Cost of Goods Sold (COGS)
This is one of the most important costs you need to consider. It will cover things like shampoos, conditioners, hair colors, oils, shine sprays, etc.
Unfortunately, beauty and hair supplies aren't cheap. Logically, the cost will depend on your number of clients and the quality of the products you buy.
On average, expect to spend 10% of your sales in COGS.
So assuming that you and your team attend to 30 clients a day with a mix of services like hair styling, pedicure & manicure, facial, etc., with an average order value of $80, the total monthly revenue they would generate is $48,000 (assuming 5 days a week). Therefore COGS would be anywhere around $5,000.
Beauty salon rental costs (or mortgage)
If you leased a beauty salon space, you will need to pay monthly rent. On the other hand, if you took a loan to buy the salon space, there will be monthly mortgage repayment. However, the amount you pay per month will depend on a number of factors including the size of the space, location, lease or purchase, and more.
Assuming an average of $40 per square foot per year in a premium location in a city like Portland, you would be paying around $3,500 per month in rent for a 1,000-square-foot space.
Similarly, if you take out an SBA business loan of $500,000 with a 3% SBA fee, 8% APR, and 15% down payment, you will end up paying around $6,000 per month for a 10-year loan tenure.
Beauty salon staff costs
Employee salaries make up another major cost of operating a beauty salon. Here is a quick list of some of the most important salaries you need to pay:
Assuming that you hire 5 aestheticians, you would be paying a total monthly salary of around $13,000. In addition with a salon manager for another $3,000 a month, the total monthly salary cost (including taxes and benefits) would be around $19,200.
This represents 40% of your total sales, which makes total sense as the service payroll benchmark for the spa and salon industry is about 35% of revenue.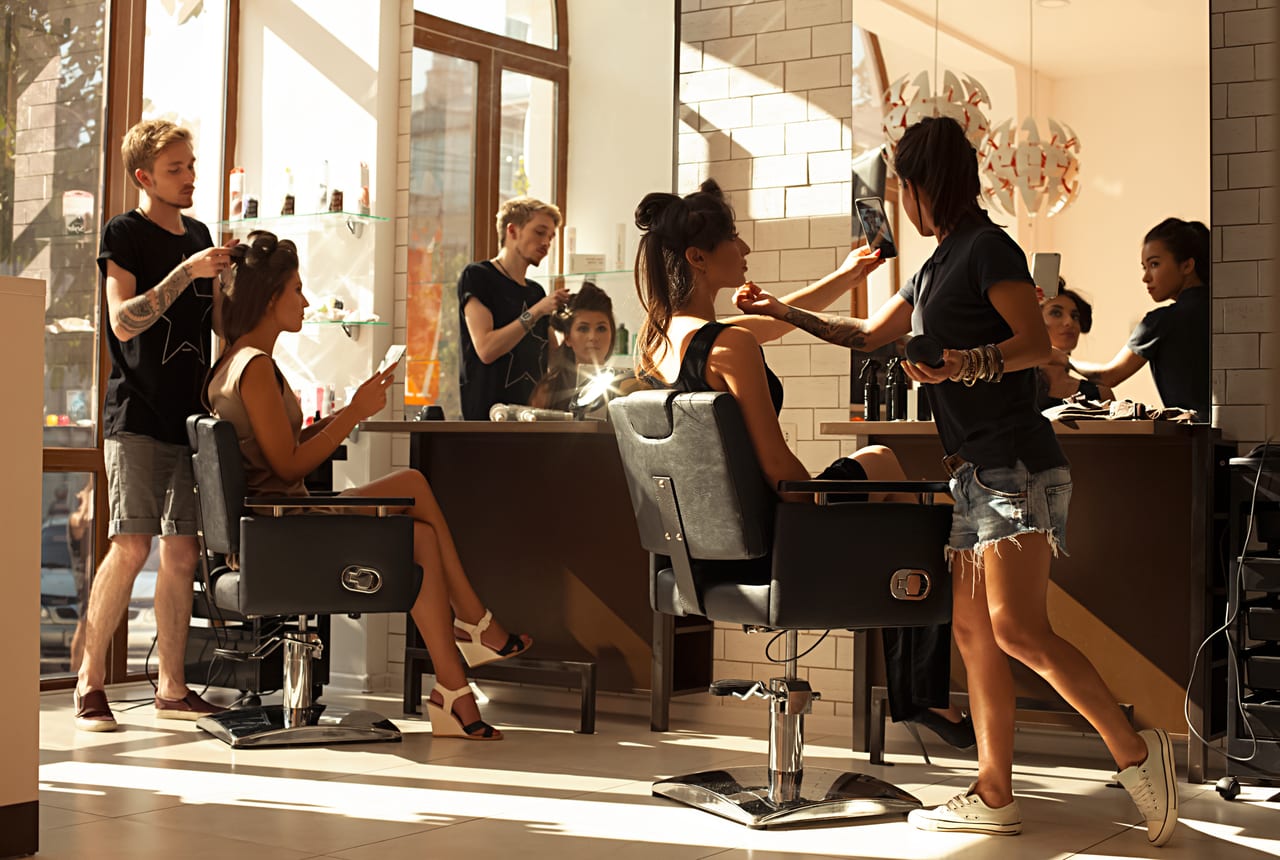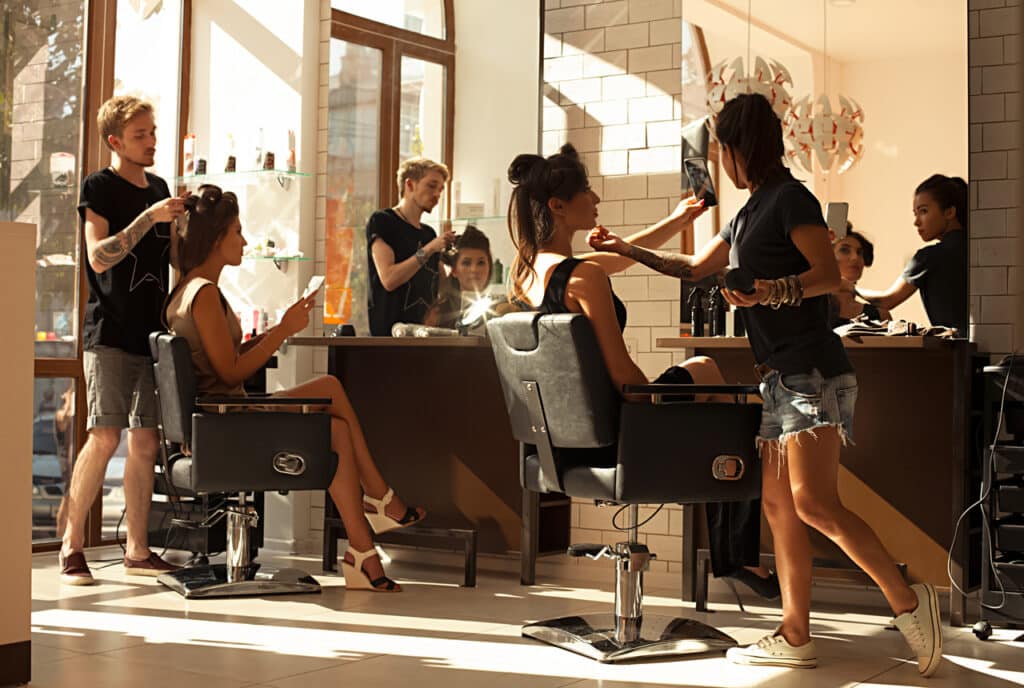 Utilities
A beauty salon, in general, will use electricity, water, and gas to run different types of salon equipment. Plus, there will be lighting decor, AC, a TV to entertain people waiting in line, and more. According to Sage, you can expect the utility bills to be between $1,000 and $4,000. Of course, the exact cost will depend on the scale of your business.
Cleaning Services
You need to keep your beauty salon health-compliant. Regular housekeeping is necessary and that will require vacuums, mops, bleach, toilet paper, wipes, and more. Those supplies can cost you anywhere between $50 and $200 a month.
You can call for professional cleaning services that can charge you up to $200 for a weekly visit. But even if you are taking this route, day-to-day upkeep will be necessary that you and your crew members must take care of.
Assuming that you go for a combination of professional and self-services for cleaning, you can expect a monthly cost of approximately $4,000.
Insurance
A beauty salon belongs to the personal care business industry. The average insurance costs for the industry, according to Insureon, are:
General liability insurance: Median monthly premium – $35
Business owners' policy: Median monthly premium – $70
Professional liability insurance: Median monthly premium – $40
Workers' compensation insurance: Median monthly premium – $80
If you consider buying all types of insurance, you will be paying $225 a month.
Beauty salon marketing costs
To attract loyal consumers to your beauty salon, you must engage in appropriate marketing. Therefore, make sure you put up a marketing and advertising budget. Your beauty salon's marketing expenses will vary based on the media employed and the intended audience.
Marketing and paid advertising will often be more expensive during the first six months of business. Before you can rely on organic growth (word-of-mouth), you will require a sizable expenditure to market your beauty salon as you launch your firm.
Ideally, you should not spend any more than 2% to 5% of your gross revenue on marketing.
So, if we continue with the above example of $54,000 gross revenue, you should typically be spending between $1,000 and $2,700.
You can spend that amount for offline advertising such as billboards, posters, etc., or you can allocate a part of the fund for online advertisements such as PPC ads and social media ads.
For PPC advertisements and social media ad campaigns, you can set a monthly budget. It is totally your choice and budget. Some people spend up to $500, while others can spend up to $2,000 or more.
If you want to run radio campaigns for example, it can cost you anywhere between $20 and $80 per ad spot.