This article was updated with the 2023 Franchise Disclosure Document
Teriyaki Madness is one of the recent franchise success stories: founded in 2003, the chain now has 125 restaurants across 18 states in the US. The brand faces little competition and benefits from a strong demand for Japanese-style teriyaki food in an industry that is still underserved.
Beyond the hype, Teriyaki is also a very profitable franchise: the initial investment required to open a new Teriyaki Madness restaurant is only $519,000 yet it generates on average a $1.0 million turnover per year..!
We found Teriyaki Madness also has one of the best payback period in the restaurant industry: 4 years on average.
Want to hear more? In this article we're looking at Teriyaki Madness financials to see whether you should invest in this business. Read on!
Key stats
| | |
| --- | --- |
| Franchise fee | $45,000 |
| Royalty fee | 6.0% |
| Marketing fee | 3.0% |
| Investment (mid-point) | $519,000 |
| Average sales | $1,024,000 |
| Sales to investment ratio | 2.0x |
| Payback period* | [franchise_value_investment_payback] |
| Minimum net worth | $550,000 |
| Minimum liquid capital | $150,000 |
Source: Franchise Disclosure Document 2023
Find the best franchise
Compare Teriyaki Madness vs. 1,000+ franchises on franchiseindx.com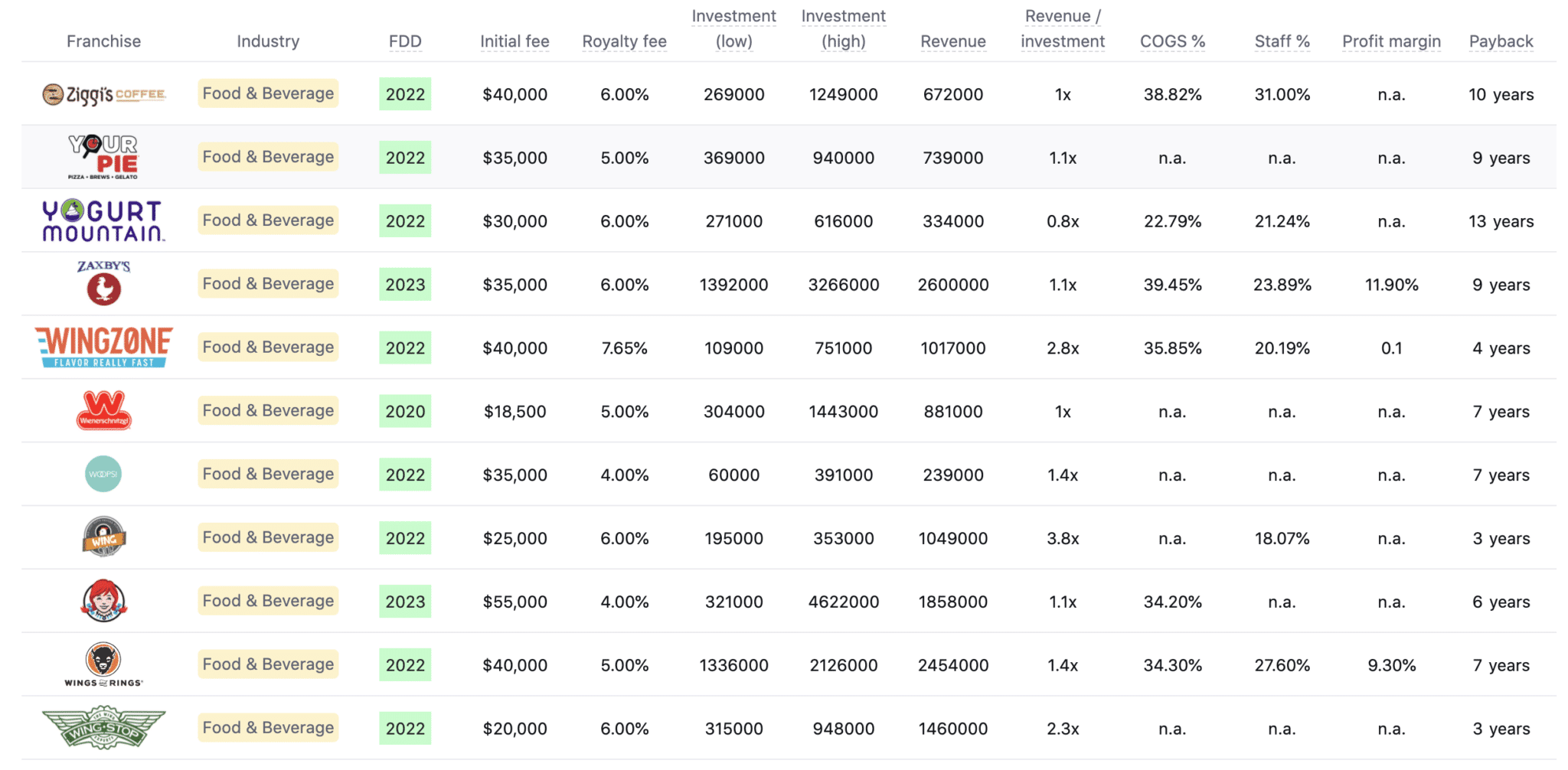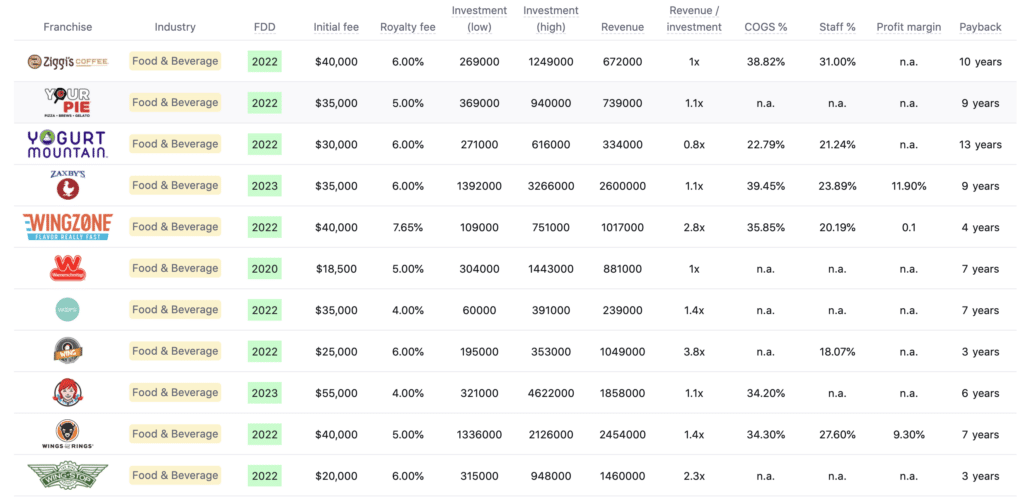 About Teriyaki Madness
Teriyaki Madness is an American fast-casual food chain headquartered in Denver, Colorado.
The brand serves flavorful Asian cuisines, such as Japanese-style teriyaki bowls of grilled meat with your choice of rice, noodles, or vegetables. Also, it offers chicken, salmon, beef, and vegetarian dishes, as well as sauces and sides.
The chain was founded in 2003 by Eric Garma, Rod Arreola, and Allan Arreola in Las Vegas, Nevada.
It began its franchising journey in 2005, and now it has over 125 restaurants in 18 states in the US, Canada, and Mexico.
Teriyaki Madness franchises pros and cons
Pros
Flexible franchise formats: Teriyaki Madness has flexible franchise formats that can fit into different real estate opportunities. Franchisees can make the most of their available locations by using the brand's inline stores and small footprints located in strip malls or power centers, urban or small towns, and new build or retrofit franchise options.
Exclusive territory protection: The brand grants its franchisees the right to operate in a protected location. It does not allow other franchises or itself to operate a parallel business in the agreed-upon area.
Real estate support: The franchisor offers its franchisees an experienced real estate team to help them establish and build their restaurant with minimum costs. It assists them in site selection to identify a viable location regarding vehicle and foot traffic, customer proximity, and other growth potential indicators.
Franchise support: The brand's top leadership offers solid support to the franchisees to start and manage their businesses smoothly. Franchisees get experienced professionals in the industry, access to resources, and helpful consultations so that they can operate and grow their businesses efficiently.
Quality training: The franchisor provides its franchisees comprehensive training about its business concepts, operations, and restaurant management. It also trains them on how to carry out a successful grand opening and hire and train skilled staff.
Simple concept: The brand operates on a simple and easy-to-implement concept for the franchise owners and their employees. Franchisees can get started quickly and stand out from the competition with unique franchise designs and technology to scale their restaurant's growth and profitability.
Cons
No financing: The brand does not directly or indirectly finance its franchisees for start-up costs, inventory, payroll, or trade fixtures. Also, it does not guarantee any lease, note, or grant for its franchisees.
Not a passive investment: The Teriyaki Madness franchise does not present an absentee business ownership opportunity. The franchisees must be actively involved in the restaurant's daily operations.
Competition: The brand faces stiff competition from other Asian cuisine brands such as Panda Express or even Waba Grill
How much does a Teriyaki Madness franchise cost?
On average, you may need to invest around $519,000 to open a Teriyaki Madness restaurant.
The investment amount is an average that depends on conditions like location, restaurant size, etc. Generally, the investment amount ranges between $305,750 and $731,260 (FDD 2023).
The investment amount covers all the initial startup costs that are needed befreo you can open your restaurant. In addition to the franchise fee, the investment amount covers:
Formation Costs: security deposit, shop opening assistant fee, leasehold improvements, construction, furniture, fixtures, equipment, computer system, trio software license fee, liquor license, training expenses, etc.
Initial Marketing: grand opening promotion fee.
Operating Costs: opening inventory, office equipment and supplies, insurance, working capital for first 3 months, etc.
| Type of Expenditure | Low | High |
| --- | --- | --- |
| Initial Franchise Fee | $38,250 | $45,000 |
| Formation Costs | $228,000 | $606,260 |
| Initial Marketing | $10,000 | $10,000 |
| Operating Costs | $29,500 | $70,000 |
| Total | $305,750 | $731,260 |
Source: Franchise Disclosure Document 2023
Find the best franchise
Compare Teriyaki Madness vs. 1,000+ franchises on franchiseindx.com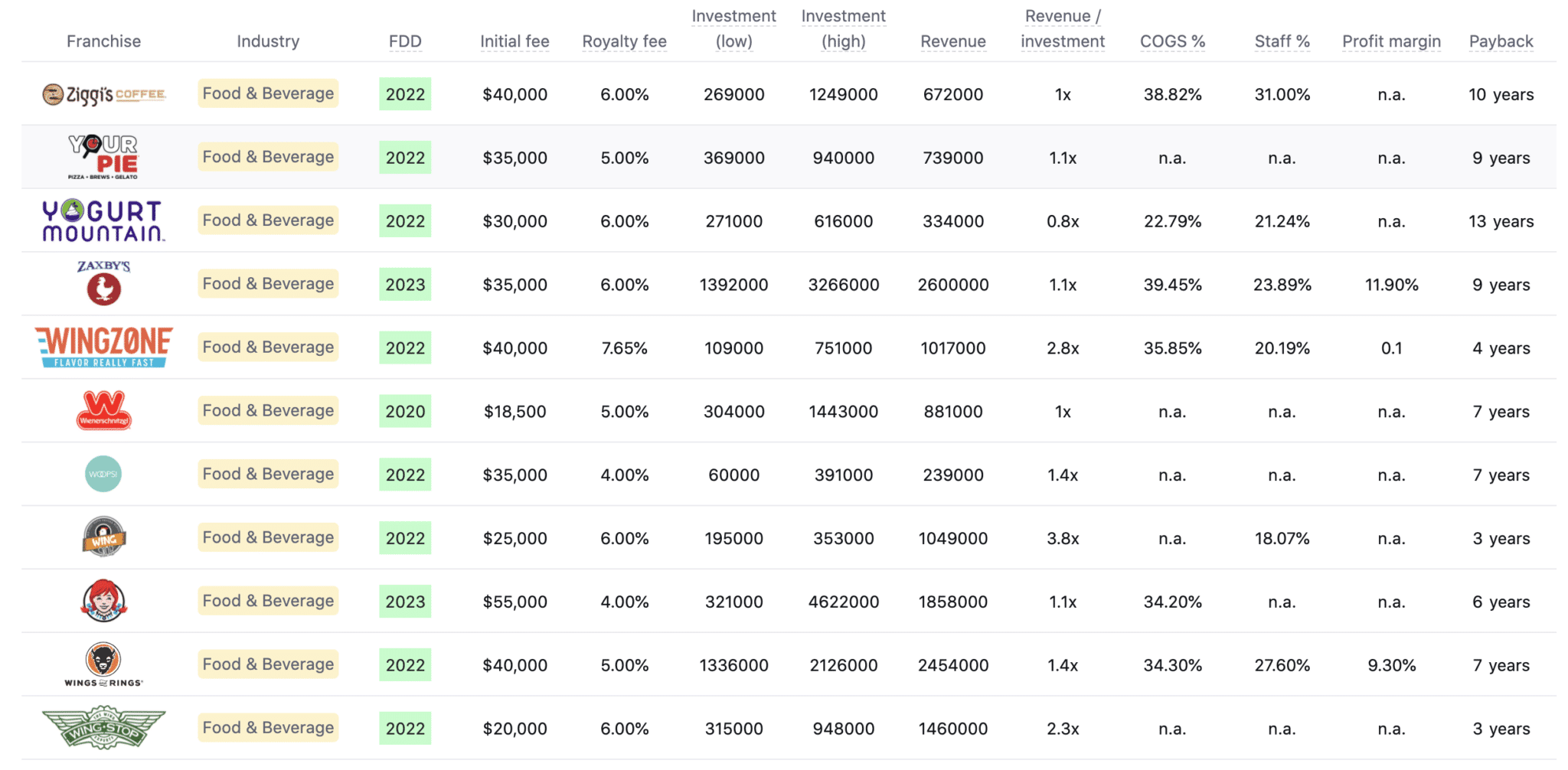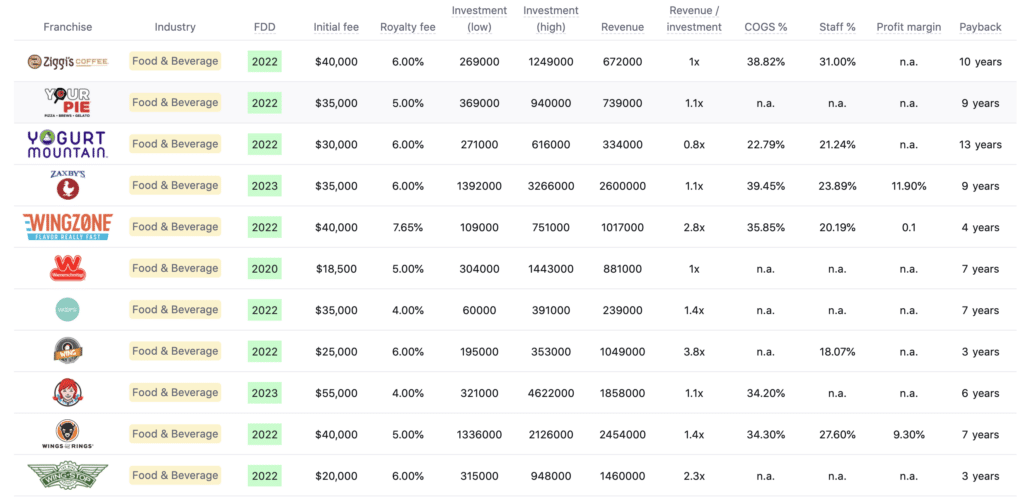 What is the turnover of a Teriyaki Madness franchise?
On average, a Teriyaki Madness franchise makes $1,024,000 in sales per year.
The sales number is the annual average sales of franchised restaurants operating in 2022.
As you can see, the average revenue per restaurant has been more or less stable over the last few years. Despite the impact of COVID-19 in 2020, sales are on a rebound and increased in 2021 and 2022 (+10.37% revenue growth in 2022 vs 2021).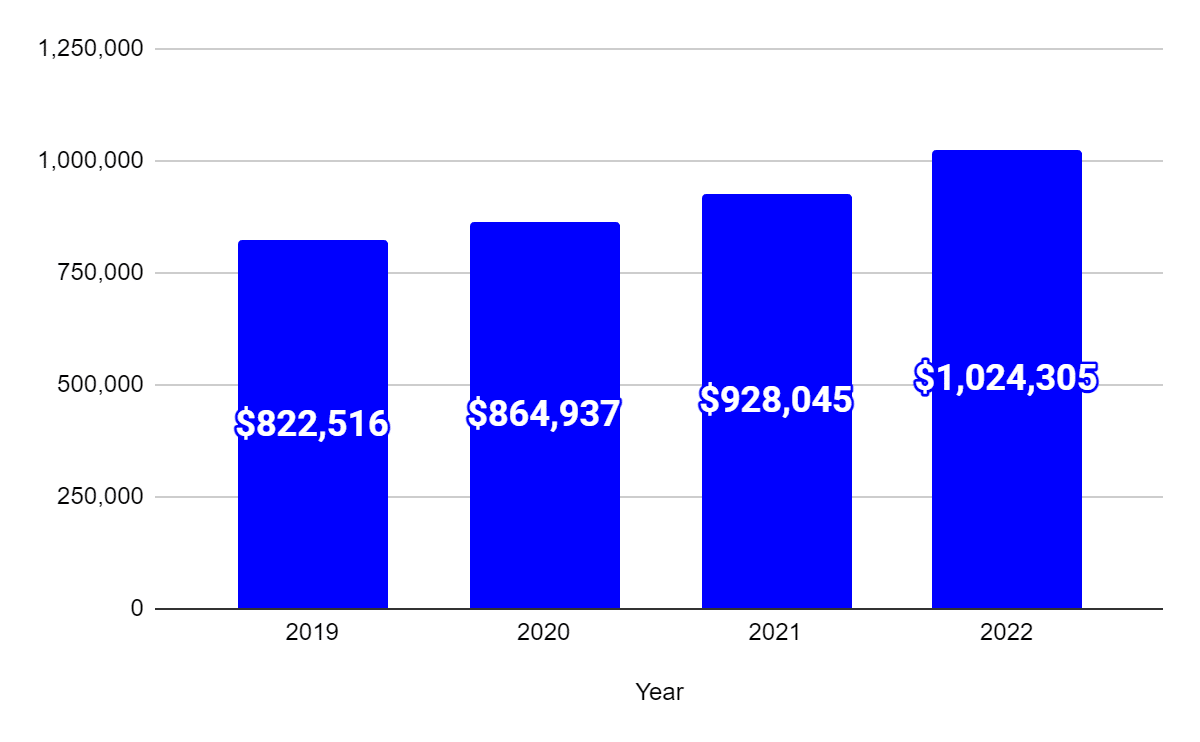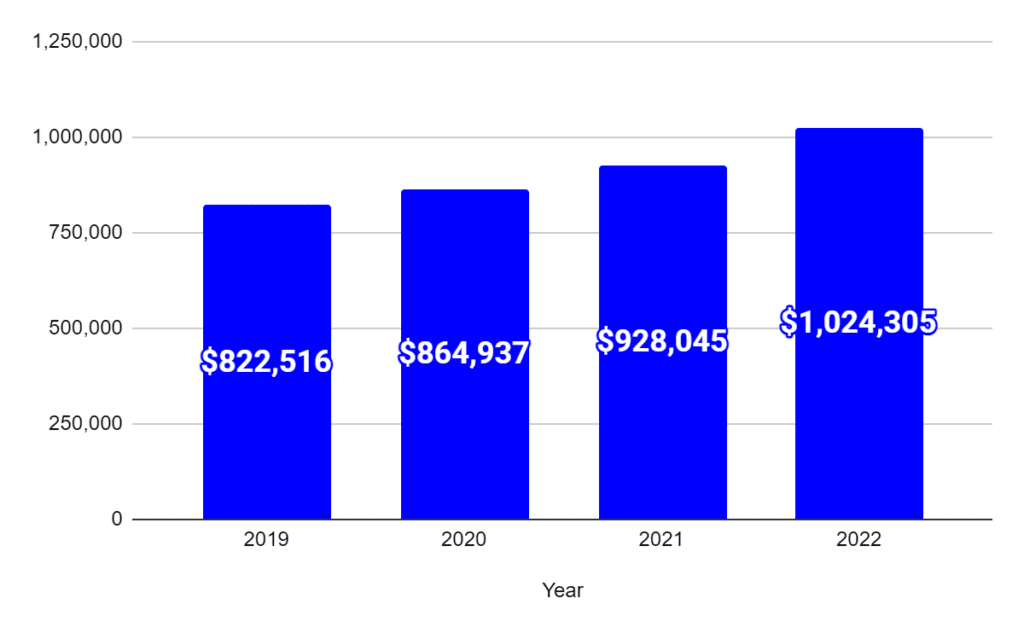 How profitable is a Teriyaki Madness franchise?
We estimate that an average Teriyaki Madness franchise makes $102,000 in profits per year. This represents a 10% EBITDA margin.
Note that the latest (2023) FDD doesn't disclose any information when it comes to costs and profits. Instead, we had to take the information from the 2022 FDD, which we have adjusted to the 2023 AUV as shown below.
| Profit and loss | Amount | % Sales |
| --- | --- | --- |
| Sales | $1,024,305 | 100% |
| COGS | $(348,264) | 34% |
| Gross Profit | $676,041 | 66% |
| Labor | $(307,292) | 30% |
| Marketing and royalty costs | $(92,187) | 9% |
| Occupancy | $(51,215) | 5% |
| Other OpEx | $(122,917) | 12% |
| EBITDA | $102,431 | 10% |
Source: Franchise Disclosure Document 2023, estimates
Is a Teriyaki Madness franchise a good investment?
We estimate that the payback period for a Teriyaki Madness is only 3 to 4 years: it's an excellent payback period.
Indeed, it means it would take on average 3 to 4 years for you as the franchisee to repay the initial startup costs of $519,000 with the profits generated from your restaurant.
Find the best franchise
Compare Teriyaki Madness vs. 1,000+ franchises on franchiseindx.com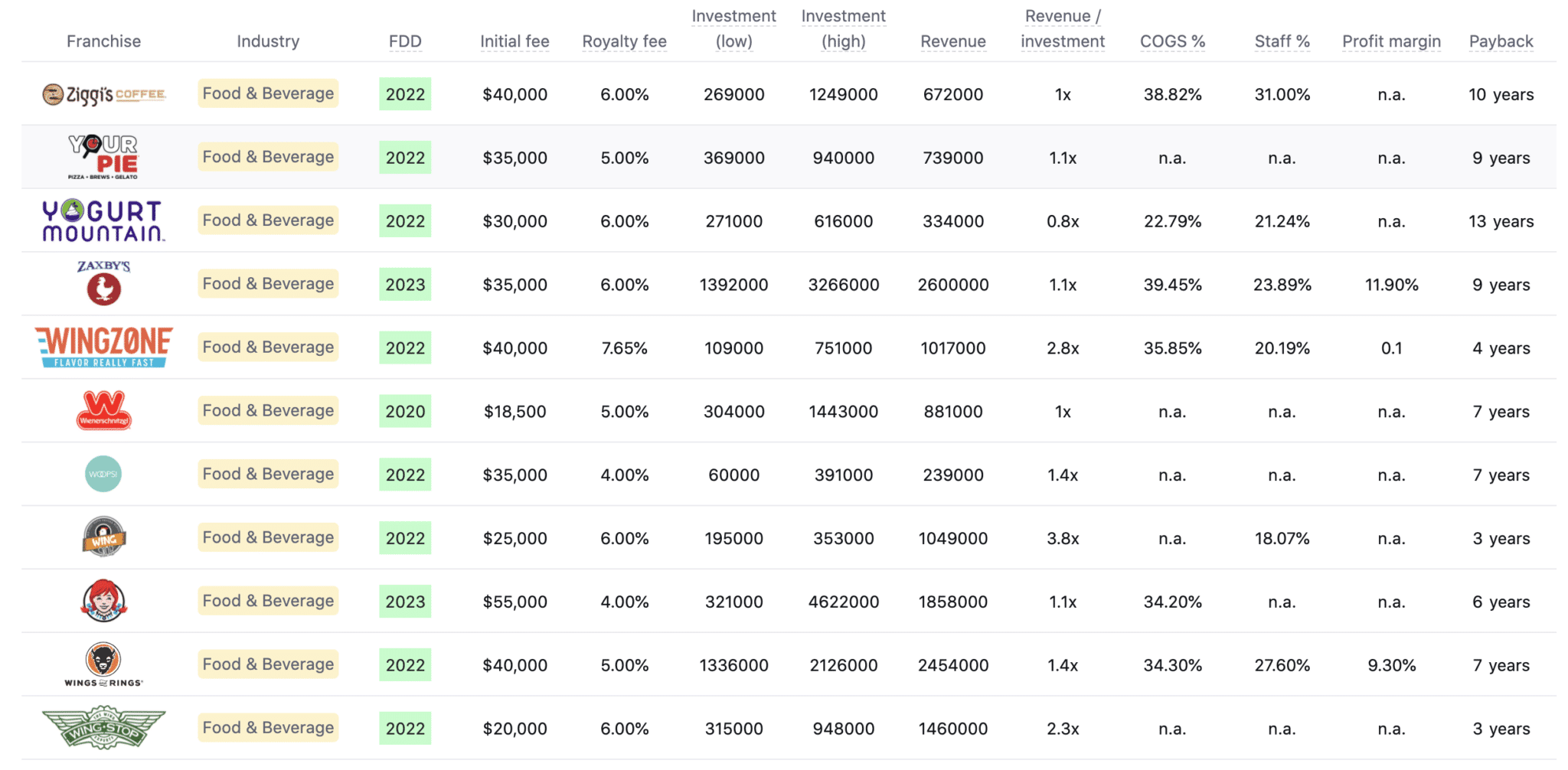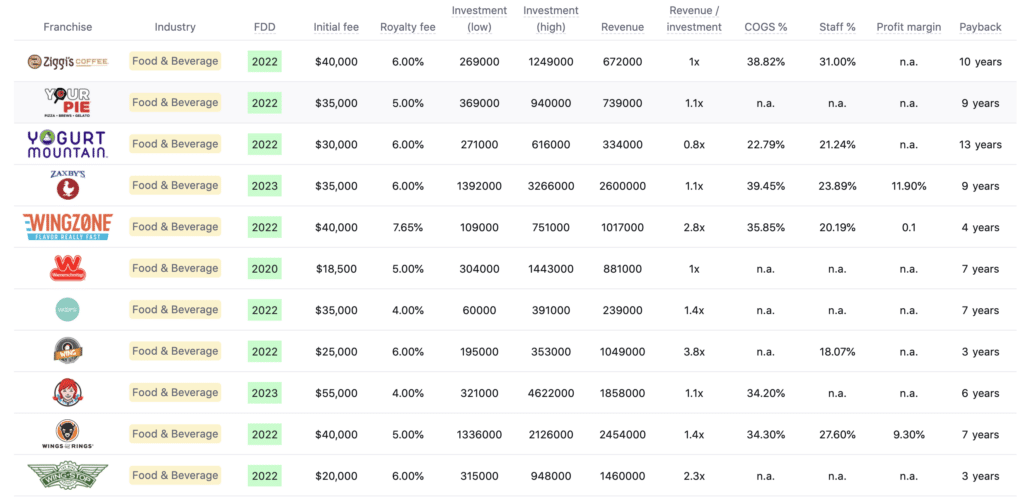 Disclaimer
Disclaimer: This content has been made for informational and educational purposes only. We do not make any representation or warranties with respect to the accuracy, applicability, fitness, or completeness of the information presented in the article. You should not construe any such information or other material as legal, tax, investment, financial, or other professional advice. Nothing contained in this article constitutes a solicitation, recommendation, endorsement, advertisement, or offer to buy or sell any franchises, securities, or other financial instruments in this or in any other jurisdiction in which such solicitation or offer would be unlawful under the franchise and/or securities laws of such jurisdiction.
All content in this article is information of a general nature and does not address the detailed circumstances of any particular individual or entity. Nothing in the article constitutes professional and/or financial and/or legal advice, nor does any information in the article constitute a comprehensive or complete statement of the matters discussed or the law relating thereto. You alone assume the sole responsibility of evaluating the merits and risks associated with the use of any information or other content in this article before making any decisions based on such information or other content.