The Joint Chiropractic Sales, Costs & Profits (2023)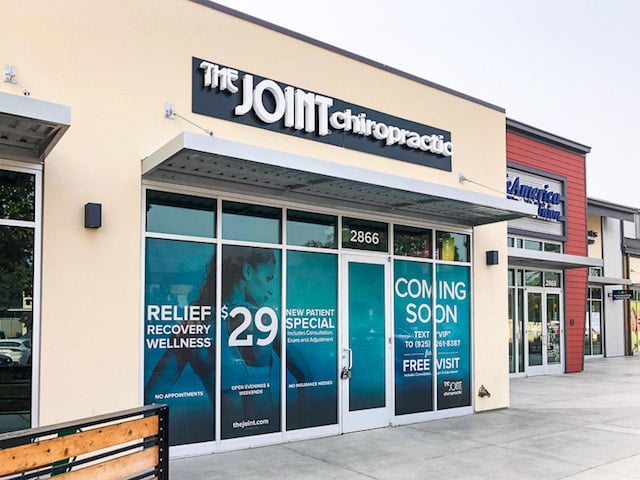 If you're looking for a success story in the medical & healthcare franchise industry, there it is. The Joint Chiropractic is not only the leader in chiropractic care in the US, but it also grew 3x fold in the past 8 years alone…!
Indeed, from 240 franchised businesses in 2015, it now has more than 720 franchises across the US today (2023).
But is this a good investment? Should you start a The Joint Chiropractic franchise?
We've looked at the numbers, and it does look like it: one franchise would cost you on average $346,000 yet make $600,000 in net sales per year and reach 22% EBITDA margin.
Want to know more? In this article we're looking at The Joint Chiropractic and its Franchise Disclosure Document to find out how much it (really) costs and how profitable it really is. Let's dive in!
Key stats
Source: Franchise Disclosure Document 2022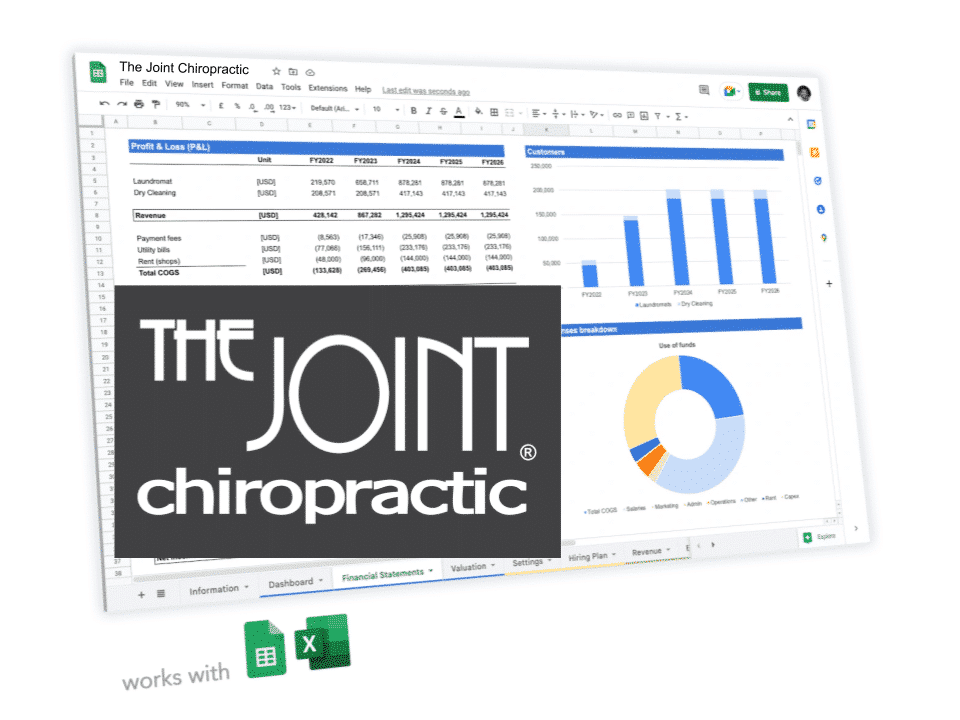 The Joint Chiropractic Franchise Business Plan
All the stats: startup costs, profits, breakeven, etc.
5-year financial projections built with the FDD

Excellent 4.8/5 based on 70 reviews
Excellent 4.8/5 based on 70 reviews

About The Joint Chiropractic
The Joint Chiropractic is a chain of chiropractors headquartered in Scottsdale, Arizona. Its franchisees operate chiropractic clinics that provide chiropractic services and products to the general public.
The Joint Chiropractic was founded in 1999 with the vision of making the traditional, often misunderstood concept of routine more convenient, accessible and affordable.
The Joint Chiropractic began franchising in 2003 and currently it has 724 franchises in the US and 127 company-owned locations.
With a focus on quality, affordable and accessible healthcare for patients and simplified operations for chiropractors and investors, The Joint Chiropractic has revolutionized the $20 billion chiropractic industry. It is an attractive business opportunity for franchisees looking to work with one of the fastest-growing chiropractic providers in the country and continue helping millions of people find holistic relief from chronic back and neck pain.
The Joint Chiropractic franchise pros and cons
The Pros:
Multiple revenue streams: The Joint Chiropractic utilizes a gym-like membership concept that gives franchisees multiple ways to boost their earnings.
Convenience of service: The franchise offers patients convenient membership plans and packages that require cash, so there is no need for an insurance policy. In addition, it offers a no-appointment policy and convenient hours.
Simple operating model: The franchise requires a minimum of 3–4 employees at launch, making it less costly.
Small and flexible real estate: The Joint Chiropractic franchise has simple construction and build-outs with small footprints that can fit into the most available real estate opportunities.
Exclusive territory protection: The franchisor allows the franchisees to operate their clinics in an exclusive territory approved in the franchise agreement and grow without fighting for customers with other The Joint Chiropractic franchises.
Passive investment opportunity: The franchise allows franchise owners to leave the franchise's operations under the care of franchise managers, allowing them time off to be with their families and friends.
Third-party financing: The franchisor has relationships with third-party lenders to help franchisees fund their startup costs, franchise fee, equipment, inventory and ongoing costs.
Marketing: The franchisor provides its franchisees with solid marketing strategies to help them stand out and boost sales. These include national media, regional advertising and social media, among others.
Training and ongoing support: The franchisor offers its franchisees a detailed training program consisting of 26.25 hours of classroom or online training and 35 hours to train them about the systems and best management practices they need to succeed.
Site selection and construction: The franchisor employs the strategies of Global Information systems (GIS) and customer analytics to help franchisees identify suitable clinic locations.
The Cons:
Not a home-based opportunity: The franchise cannot be operated from home or a mobile facility. Franchisees need to have a fixed office to operate from.
Not a part-time business: The franchisor requires the clinics to be open on a full-time basis.
No global presence: The franchise has yet to open an international location. It may be difficult to market to potential franchisees outside the US.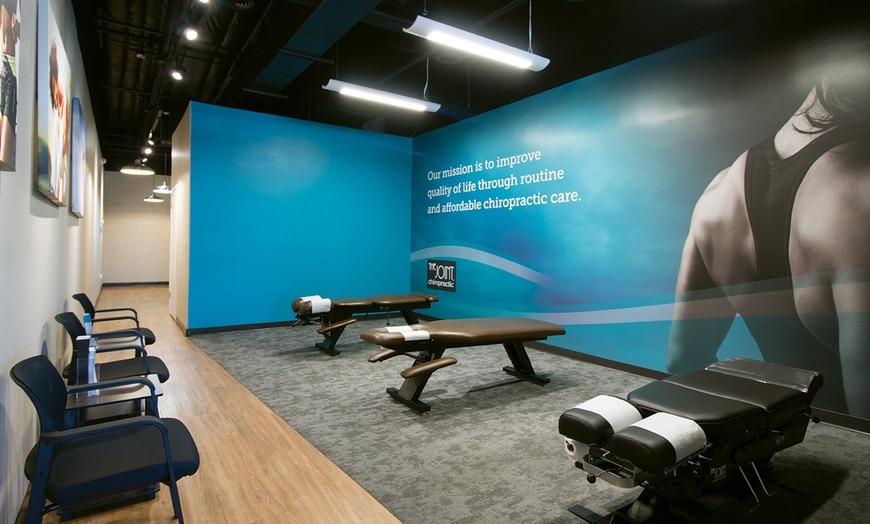 The Joint Chiropractic franchise costs
You would have to invest an average of $346,000 to open The Joint Chiropractic franchise.
The investment covers all the start-up costs you may need to open a The Joint Chiropractic franchised clinic.
In addition to a $40,000 initial franchise fee, the investment also covers:
Formulation costs: security and utility deposits, architectural and leasehold improvements, signage, business licenses and permits, HIPPA compliance, chiropractor credentialing, clinic design fee, grand opening, and more.
Equipment: office equipment, including furniture and fixtures, chiropractic or other professional equipment, computer hardware, tablets, software, supplies, installation, and more.
Operating costs: professional fees and services, base lease rent, insurance, initial training expenses including travel, start-up supplies, office management fees, additional funds for 3 months, and more.
Startup costs
Here's the full breakdown of costs:
| Type of Expenditure | Amount |
| --- | --- |
| Initial franchise fee | $39,900 |
| Formulation costs | $97,850 – $283,600 |
| Equipment | $17,000 – $39,500 |
| Initial marketing costs | $9,000 |
| Operating costs | $51,547 – $104,997 |
| Total | $215,297 – $476,997 |
Source: Franchise Disclosure Document 2022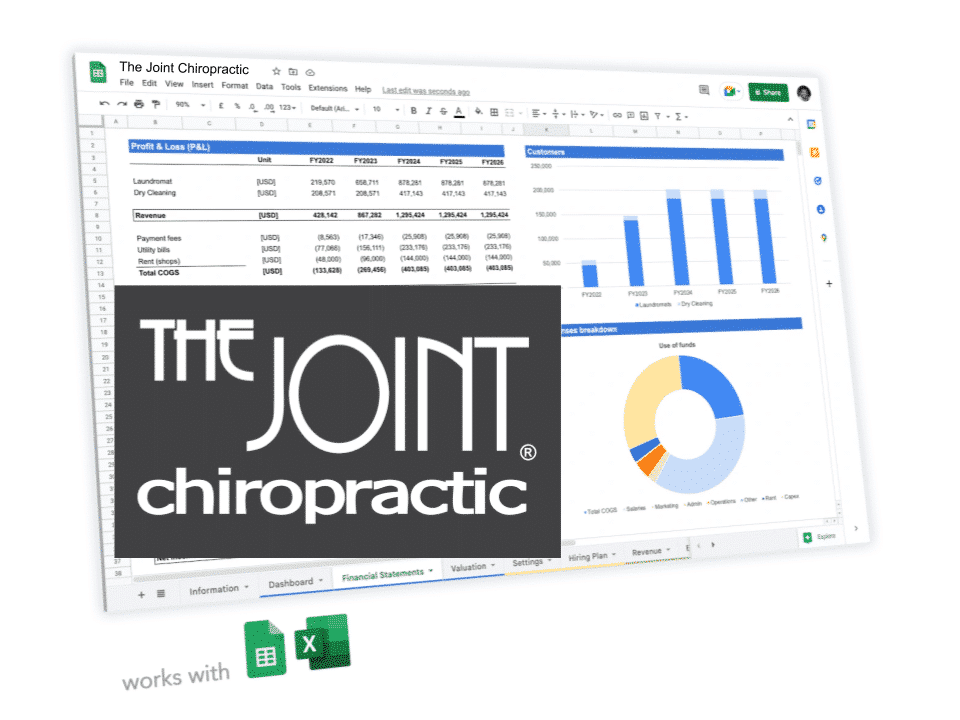 The Joint Chiropractic Franchise Business Plan
All the stats: startup costs, profits, breakeven, etc.
5-year financial projections built with the FDD

Excellent 4.8/5 based on 70 reviews
Excellent 4.8/5 based on 70 reviews

The Joint Chiropractic franchise fees
The initial franchise fee for a The Joint Chiropractic franchise is $39,900
In addition to the initial franchise fee, you must pay to the franchisor a royalty fee of 7.0% of revenues, as well as a variable marketing fee of 2.5% of revenues.
The Joint Chiropractic franchise revenue
On average, The Joint Chiropractic franchises make $599,000 in sales per year.
This represents the average sales per franchise clinic for 504 out of the 610 franchised clinics that operated in 2021. This is a +23% increase vs. 2020 ($489,000, 448 clinics).
The FDD also provides insightful information as far as revenue ramp-up. Here is the weekly revenue ramp-up from 2 to 101 clinics that opened in 2021 for 1 to 12 months: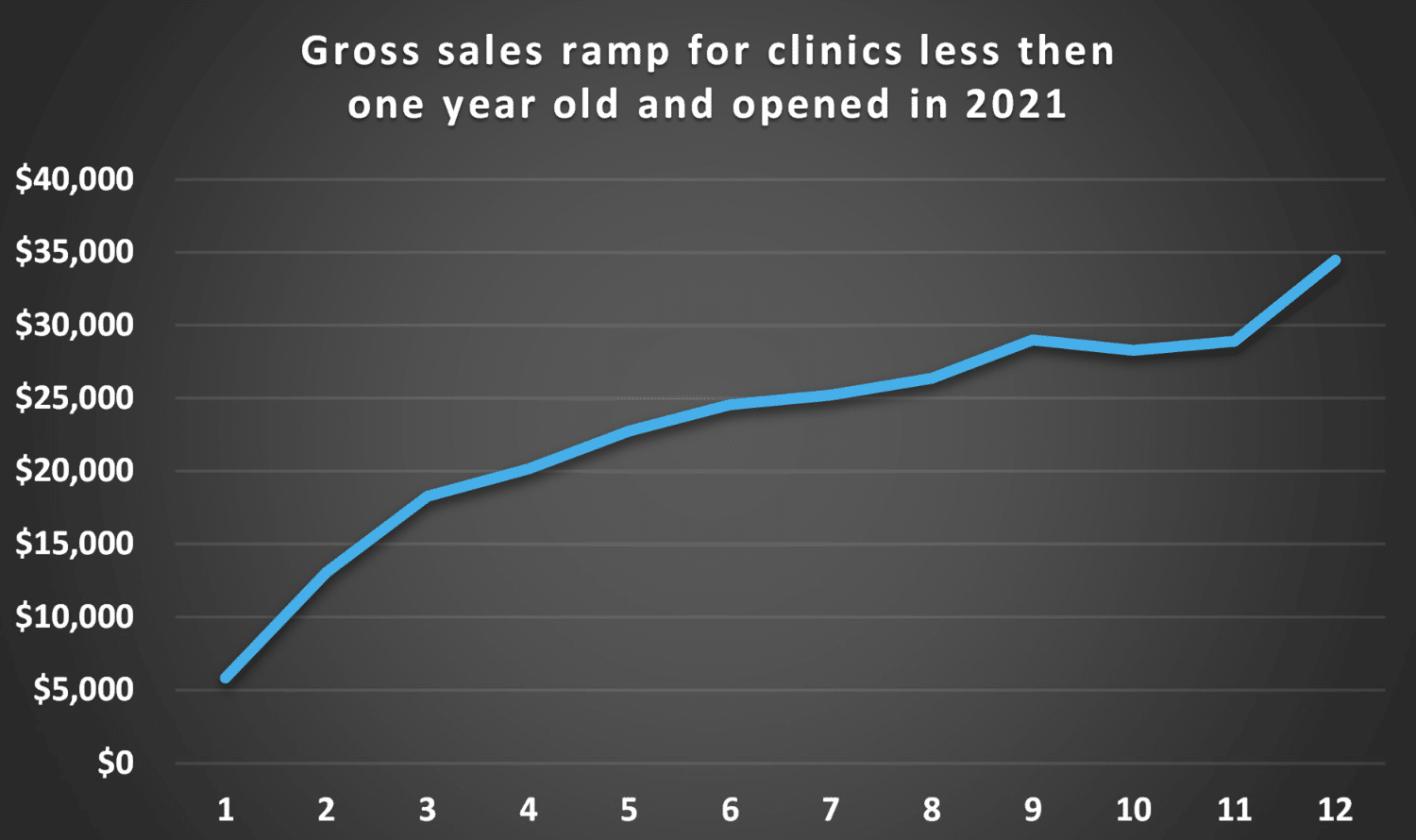 The Joint Chiropractic franchise profits
On average, a Joint Chiropractic franchise makes $130,000 in profits per year.
This represents a 22% EBITDA margin. Note that even though the FDD mentions a "Net Profit" it isn't net profit. Instead it reflects EBITDA (as we have labelled it here): revenue minus all operating expenses before any other non-cash expenses (depreciation), interest expense and corporate taxes. In other words, whilst EBITDA may be 22%, your actual net profit (after all expenses) may be lower.
Note that we didn't invent anything here. We simply calculated EBITDA by using the information available in the Franchise Disclosure Document 2022 which, fortunately, is very detailed. Note that we applied the same cost percentages to the $599,000 average sales per unit (and not the $624,000 as presented in the FDD as it excludes some franchised outlets).
| Profit and loss | Amount ($) | As % of Sales |
| --- | --- | --- |
| Sales | $599,334 | 100% |
| COGS | – | 0% |
| Staff | $(254,118) | 42% |
| Facility lease | $(64,129) | 11% |
| Insurance | $(8,391) | 1% |
| Operating expense | $(88,701) | 15% |
| Royalty | $(41,953) | 7% |
| Advertising fund contribution | $(11,987) | 2% |
| EBITDA | $130,055 | 22% |
Source: Franchise Disclosure Document 2022
Is The Joint Chiropractic a good franchise investment?
We estimate that, on average, The Joint Chiropractic franchises have a 5 to 6 years payback.
This is an excellent payback: you would be able to repay investors and creditors (e.g. banks) who invested in your franchise within 5 to 6 years on average, by using the profits generated by the business itself.
On that basis, we do consider The Joint Chiropractic to be a great franchise investment if you are looking to get into the medical franchise industry.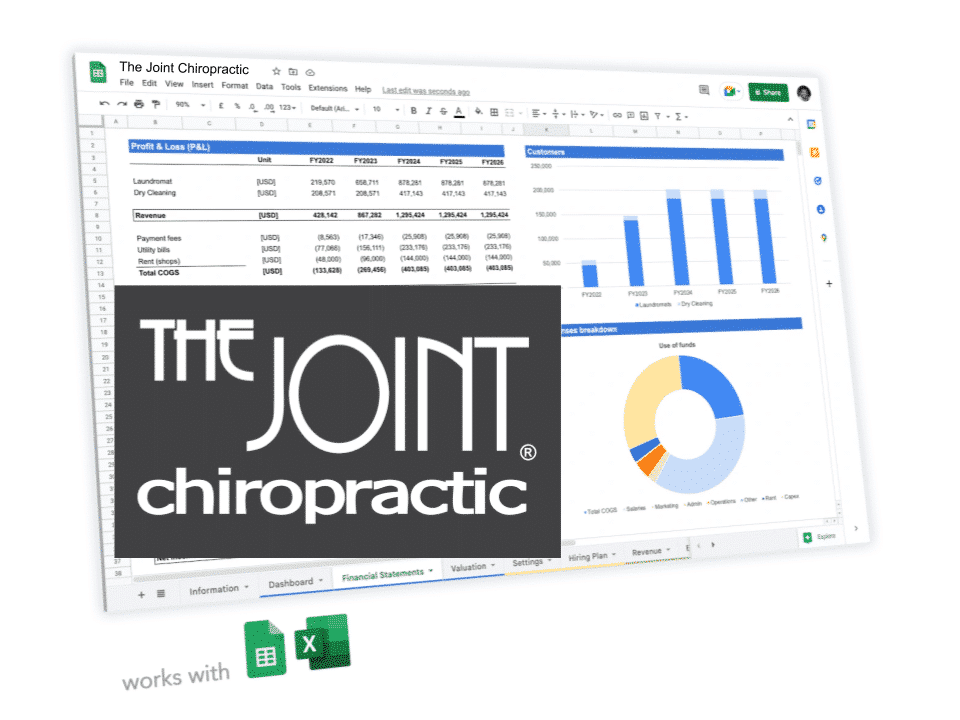 The Joint Chiropractic Franchise Business Plan
All the stats: startup costs, profits, breakeven, etc.
5-year financial projections built with the FDD

Excellent 4.8/5 based on 70 reviews
Excellent 4.8/5 based on 70 reviews

Disclaimer
Disclaimer: This content has been made for informational and educational purposes only. We do not make any representation or warranties with respect to the accuracy, applicability, fitness, or completeness of the information presented in the article. You should not construe any such information or other material as legal, tax, investment, financial, or other professional advice. Nothing contained in this article constitutes a solicitation, recommendation, endorsement, advertisement, or offer to buy or sell any franchises, securities, or other financial instruments in this or in any other jurisdiction in which such solicitation or offer would be unlawful under the franchise and/or securities laws of such jurisdiction.
All content in this article is information of a general nature and does not address the detailed circumstances of any particular individual or entity. Nothing in the article constitutes professional and/or financial and/or legal advice, nor does any information in the article constitute a comprehensive or complete statement of the matters discussed or the law relating thereto. You alone assume the sole responsibility of evaluating the merits and risks associated with the use of any information or other content in this article before making any decisions based on such information or other content.