TITLE Boxing Club: 7 Years Payback Franchise For (Only) $402K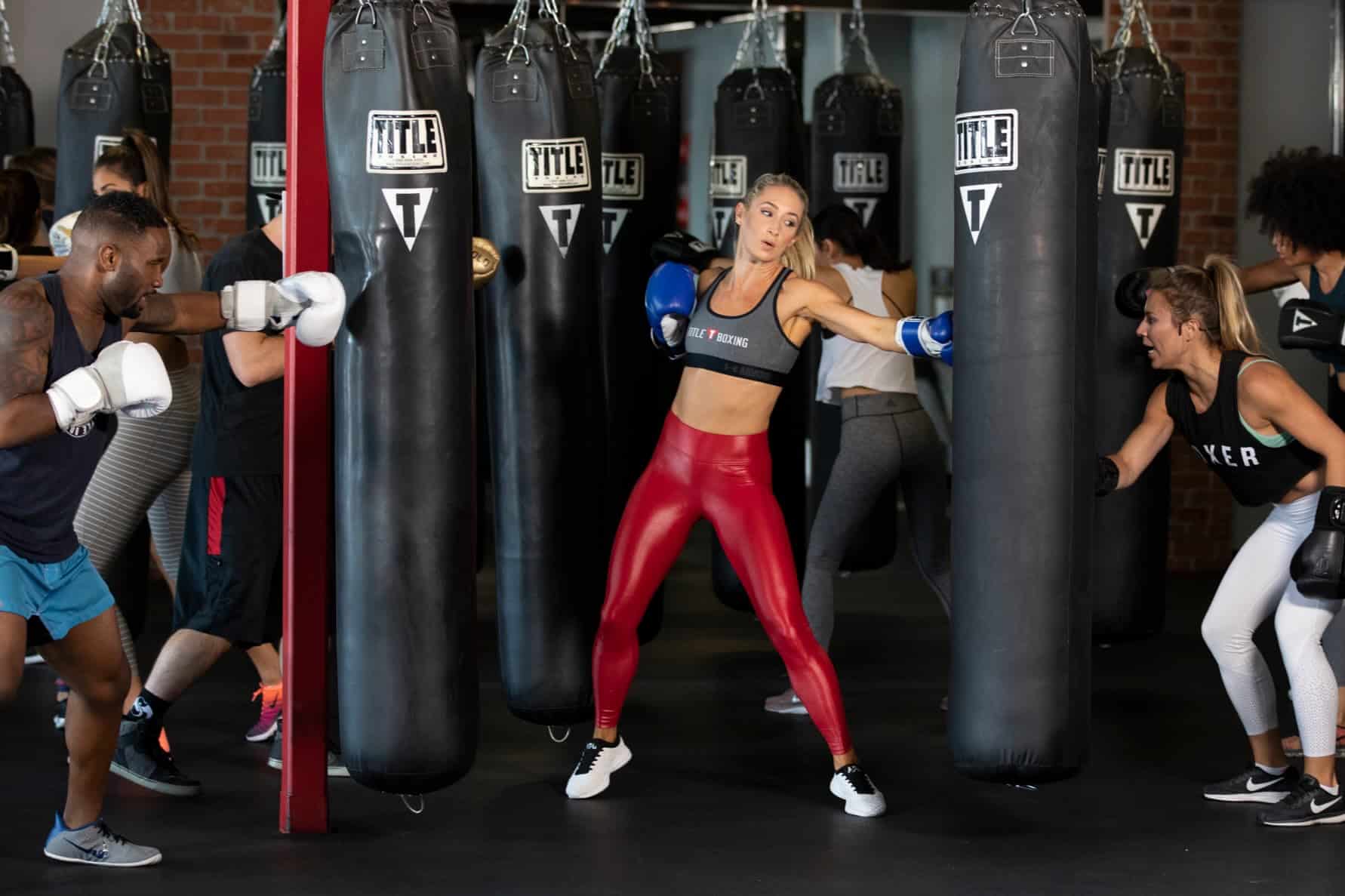 This article was updated with the 2023 Franchise Disclosure Document
Arguably the biggest boxing, kickboxing and MMA gym franchise, TITLE Boxing Club has grown steadily over the years and now has 173 franchised gyms in the US.
In addition to the hype for boxing-related personal training and group classes gyms, there's also a good reason for that: you would invest on average $402,000 for a new TITLE Boxing Club which generates a total turnover of $365,000 per year, not bad.
Should you invest in a TITLE Boxing Club franchised gym? How much profits can you make with this business?
In this guide we are investigating TITLE Boxing Club: we are looking at its Franchise Disclosure Document to find out whether you buy the franchise. Let's dive in!
Key stats
| | |
| --- | --- |
| Franchise fee | $49,500 |
| Royalty fee | 7.5% |
| Marketing fee | 1.0% |
| Investment (mid-point) | $402,000 |
| Revenue | $365,000 per year |
| Revenue per square foot | [franchise_value_revenue_per_sq_ft] |
| Sales to investment ratio | 0.9x |
| Payback period | [franchise_value_investment_payback] |
| Minimum net worth | $400,000 |
| Minimum liquid capital | $100,000 |
Source: FDD 2023
Find the best franchise
Compare Title Boxing Club vs. 1,000+ franchises on franchiseindx.com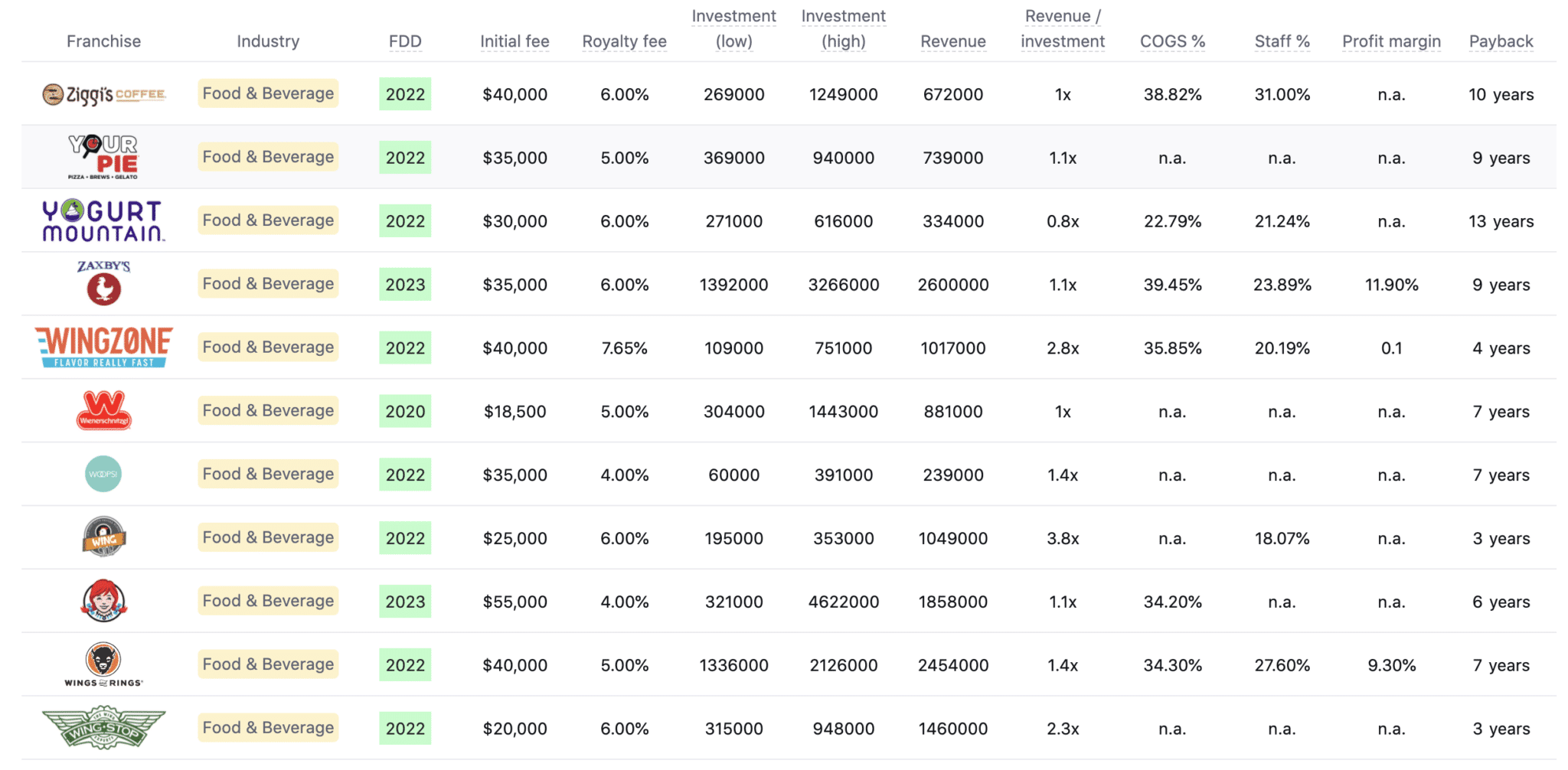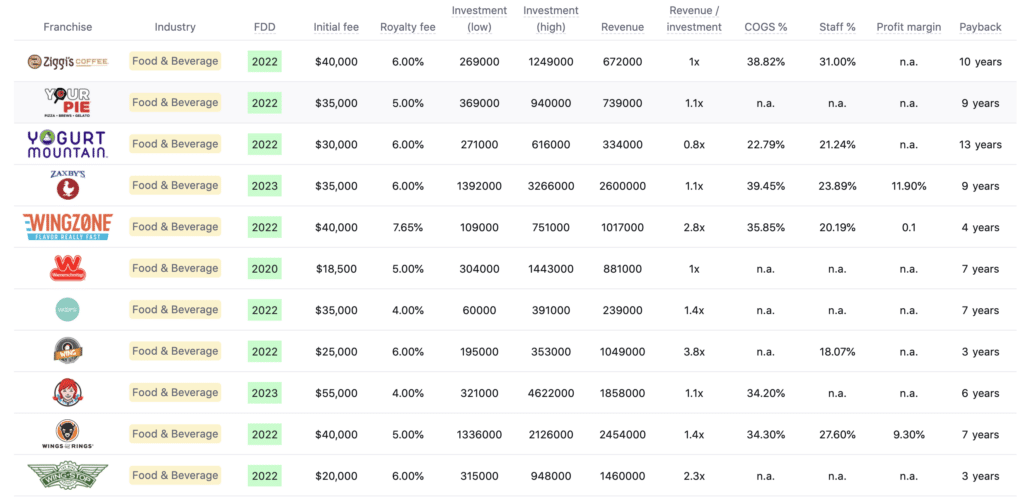 What is TITLE Boxing Club?
TITLE Boxing Club is a leading boutique fitness franchise in the United States that is synonymous with boxing fitness centers that offer high-energy boxing classes.It was founded in 2008 by Danny Campbell in Overland Park, Kansas, where it is headquartered.
The chain began franchising in 2009, and currently, it has over 145 gyms in the US, with 139 being franchise owned.
TITLE Boxing Club franchises pros and cons
The Pros:
Extensive training: The brand offers its franchisees detailed on-the-job and classroom training. Franchisees are trained on the business concept, operations, member training, and how to carry out a successful grand opening.
Multiple income streams: The parent company offers a variety of channels to help franchisees deliver a quality customer experience and increase their earning potential. These include memberships, personal training, class packs, and retail training.
Standout leadership: The franchisor offers its franchises solid corporate advice to help them establish and grow their clubs. It provides them with growth strategies, timely procedural updates, ongoing coaching, and club performance reviews.
Small footprints: The franchisor utilizes small franchise designs for its clubs, making it flexible to fit into the available real estate opportunities. Franchisees can also reduce development costs and improve their bottom lines.
Real estate and construction: The brand has an experienced real estate team to help franchisees with the site selection and construction of their ideal clubs. The franchisor helps the franchisees identify a viable club location as well as handle lease negotiations for those partners unable to own their locations.
Marketing and public relations: Franchisees get help with marketing and creating awareness of their local clubs. They can leverage the brand's unique and growing concept through national media, regional advertising, social media marketing, targeted promotional campaigns, and resources to reach a wider market segment.
Third-party financing: The brand provides its franchisee with financing assistance through third-party lenders. Franchisees get funding for the franchise fee, inventory, equipment, and payroll.
Territory protection granted: The franchisor grants its franchisees the right to operate their clubs in an exclusive location. Under the franchise agreement, it does not authorize any other franchise or operate competing clubs in the granted territory.
The cons:
No absentee ownership: The franchise does not present a passive investment opportunity. Franchisees are required to be actively involved in the decision-making and routine operational activities of their studios.
Not a part-time business: A TITLE Boxing Club cannot be run on a part-time basis. Franchisees must operate as per the franchisor's official hours of business.
Not a home-based business: The franchise is not a home-based or mobile business. It requires franchisees to have a fixed office space, a warehouse, or a retail facility
Competition: The Boxing Club, iLoveKickboxing and Rumble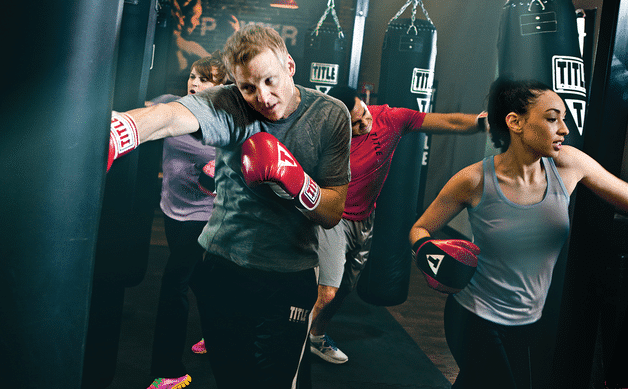 How much does a TITLE Boxing Club franchise cost?
You have to invest around $402,000 to open a Title Boxing Club franchise studio, which is typically 2,500 – 4,500 sq. ft. in size.
This is an average; indeed, it varies based on many factors, such as the location of your fitness studio, its size, market conditions, and other factors.
In addition to the initial franchise fee of $49,500, which you must pay to the franchisor, you would also pay for leasehold improvements, signage, equipment, licenses, training expenses, etc.
Startup costs
Here's the full breakdown of startup costs:
| Type of cost | Amount |
| --- | --- |
| Initial franchise fee | $49,500 |
| Leasehold improvements | $0 – $250,000 |
| Business equipment | $1,500 – $2,500 |
| Signage | $3,500 – $10,000 |
| 3 months working capital | $30,000 – $57,000 |
| Other | $133,100 – $216,700 |
| Total | $217,600 – $585,700 |
Source: Franchise Disclosure Document 2023
Find the best franchise
Compare Title Boxing Club vs. 1,000+ franchises on franchiseindx.com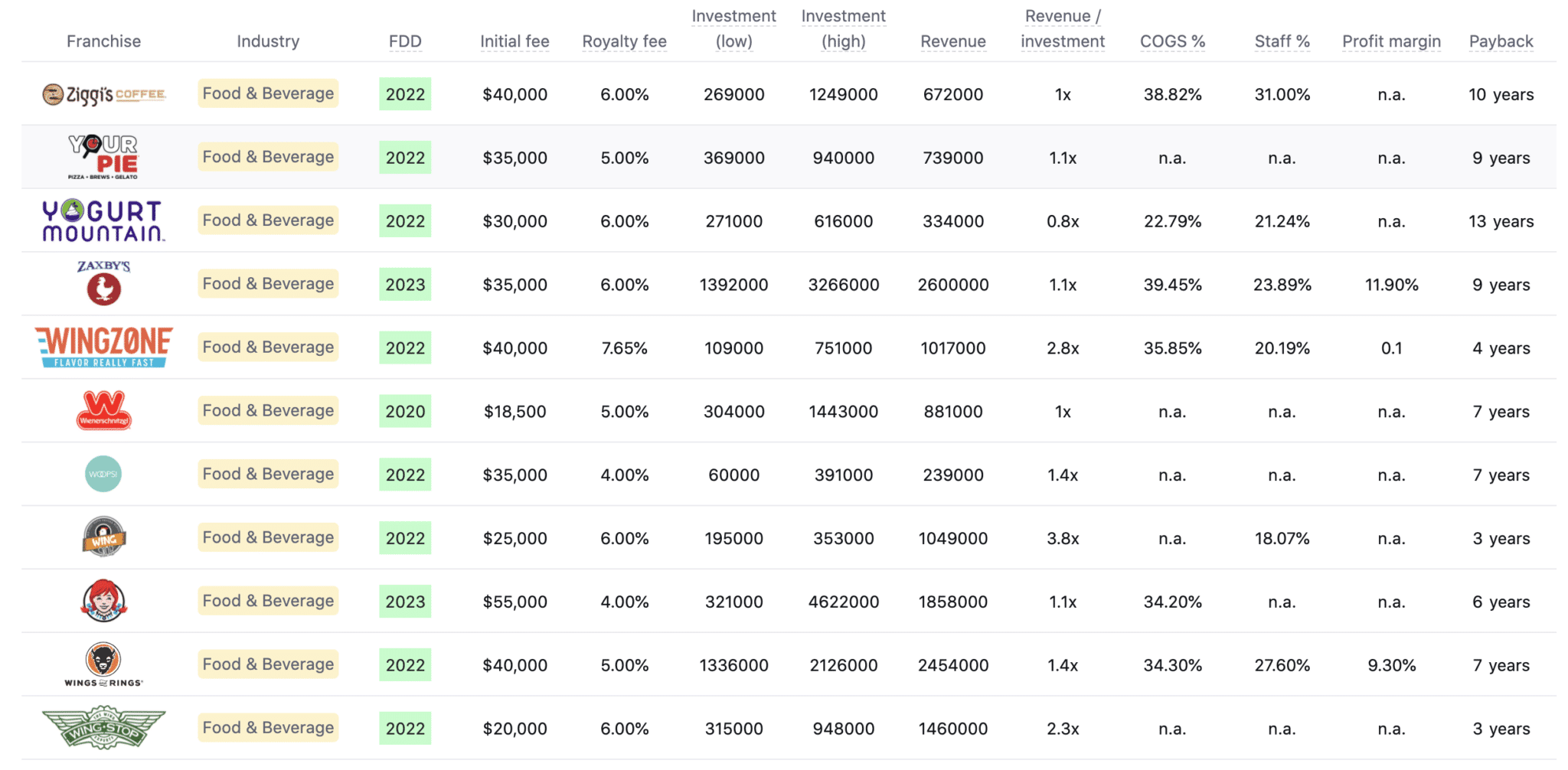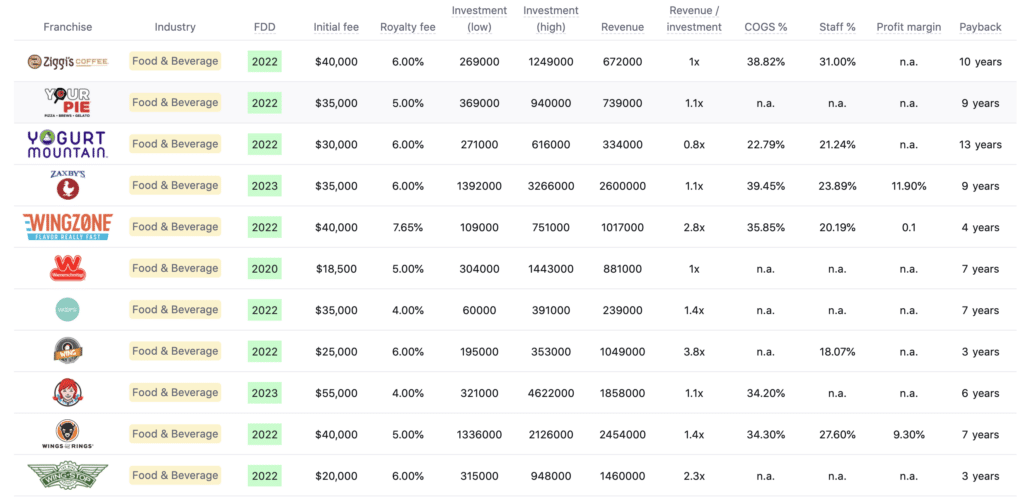 What is the revenue of a TITLE Boxing Club?
On average, a Title Boxing Club franchise makes $365,000 in sales per year, or $104 in revenue per square foot.
This number is the weighted average gross sales by market size with a population over 100,000 ($433,609, 54 units) and under 100,000 ($312,286, 71 units) in 2021.
How profitable is a TITLE Boxing Club franchise?
We estimate the average TITLE Boxing Club franchised gym makes $117,000 in profits per year.
TITLE Boxing Club is a profitable business: indeed the $117,000 corresponds to a 32% profit margin (EBITDA margin), higher than the average for fitness franchises.
Yet, note that TITLE Boxing Club does not make any detailed profit and loss representations in its Franchise Disclosure Document. Apart from royalty and marketing fees as well as rental costs and revenue that are disclosed in the FDD, we had to make assumptions for staff costs and other expenses (see below).
| Profit and loss | Amount | % revenue | Notes |
| --- | --- | --- | --- |
| Revenue | $364,698 | 100% | |
| Staff | $(102,115) | 28% | industry average |
| Rent | $(60,000) | 16% | as per FDD |
| Royalty fee | $(30,999) | 9% | as per FDD |
| Marketing | $(18,235) | 5% | industry average |
| Other operating costs | $(36,470) | 10% | assumption |
| EBITDA | $116,878 | 32% | |
Source: Franchise Disclosure Document 2023, estimates
Should you invest in a TITLE Boxing Club franchise?
It does seem so. In addition to high profit margin (32% EBITDA margin), the profits are well worth investing the required investment of $402,000 upfront.
Indeed we estimate the payback period of a TITLE Boxing Club franchise at 7 years. In other words, it takes on average 7 years for a TITLE Boxing Club to repay the initial investment with the profits it generates.
The good news is that 7 years is in line with the industry: we found that the fitness franchises have an average payback of 8 to 9 years. Therefore, we do consider TITLE Boxing Club to be a great franchise investment opportunity.
Yet, note that these numbers are calculated using both some assumptions and the average performance of the franchises as disclosed in the Franchise Disclosure Document. There is no guarantee your franchise will perform as well as the average TITLE Boxing Club franchise as presented in this article.
Find the best franchise
Compare Title Boxing Club vs. 1,000+ franchises on franchiseindx.com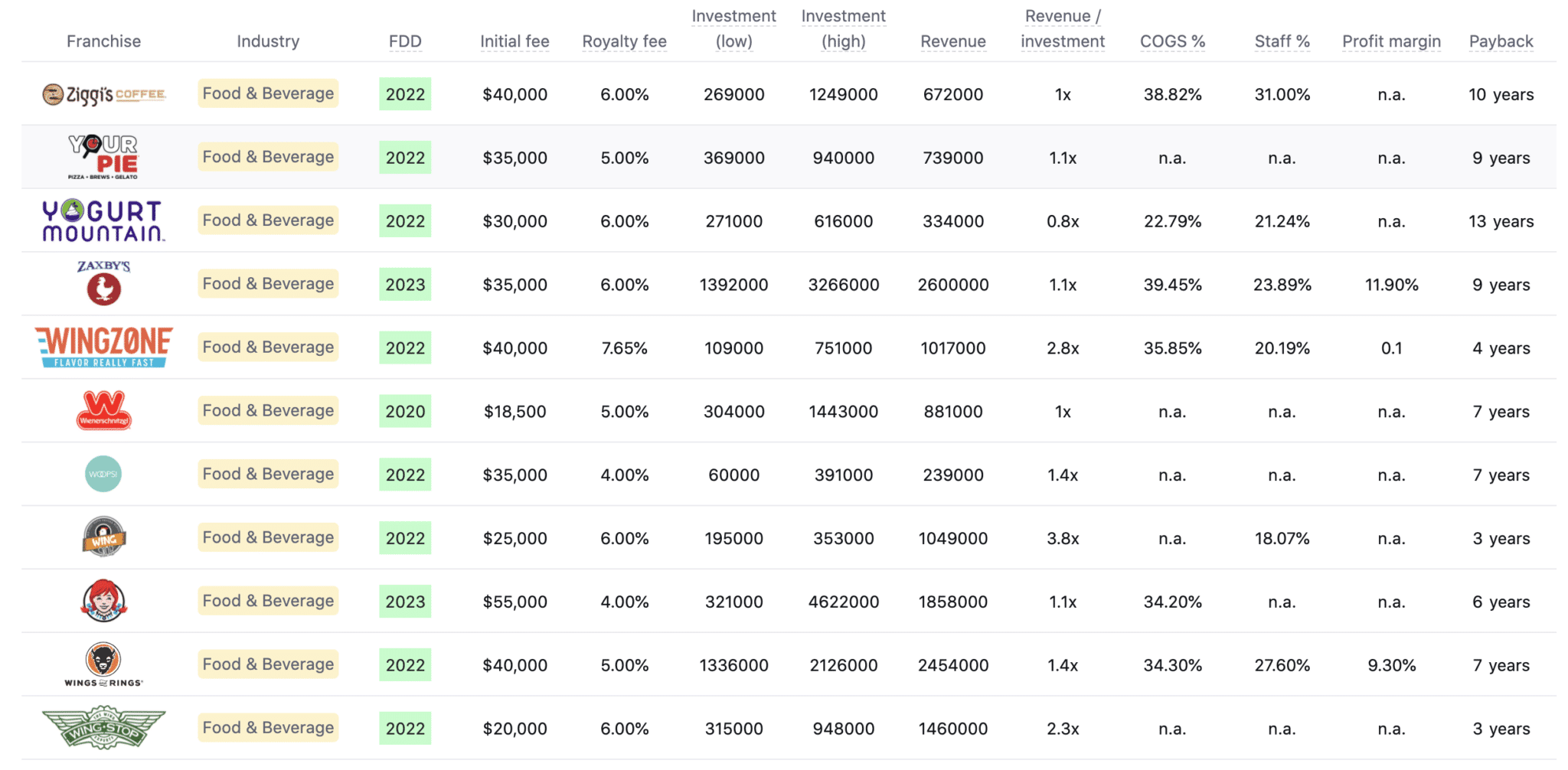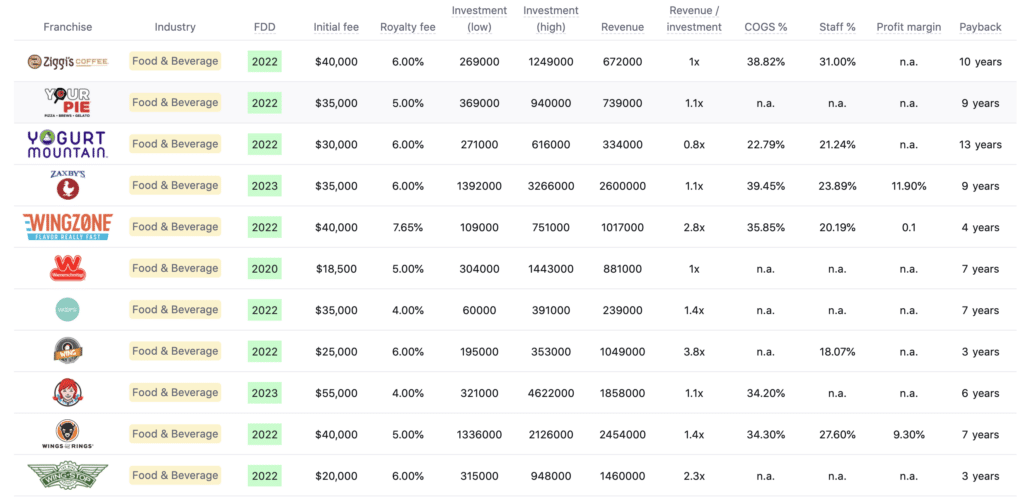 Disclaimer
Disclaimer: This content has been made for informational and educational purposes only. We do not make any representation or warranties with respect to the accuracy, applicability, fitness, or completeness of the information presented in the article. You should not construe any such information or other material as legal, tax, investment, financial, or other professional advice. Nothing contained in this article constitutes a solicitation, recommendation, endorsement, advertisement, or offer to buy or sell any franchises, securities, or other financial instruments in this or in any other jurisdiction in which such solicitation or offer would be unlawful under the franchise and/or securities laws of such jurisdiction.
All content in this article is information of a general nature and does not address the detailed circumstances of any particular individual or entity. Nothing in the article constitutes professional and/or financial and/or legal advice, nor does any information in the article constitute a comprehensive or complete statement of the matters discussed or the law relating thereto. You alone assume the sole responsibility of evaluating the merits and risks associated with the use of any information or other content in this article before making any decisions based on such information or other content.