Visiting Angels Franchise Sales, Costs & Profits (2023)

This article was updated with the 2023 Franchise Disclosure Document
With 566 franchises in the US in 2023, Visiting Angels is one of the leader in the senior home care industry. So if you're looking for a solid franchise to start in the senior care industry, look no further.
But what about profits? Is this a profitable business? It does seem so, let us explain:
With an initial investment of $148,000 (only), Visiting Angels is an affordable franchise. In addition, one franchise makes on average $1,256,000 in yearly revenue, that's an excellent 3-4 years payback as per our estimations.
Want to know more? In this article we're looking into Visiting Angels and its latest FDD to find out how much it (really) costs and how profitable the business really is. Let's dive in!
Key stats
| | |
| --- | --- |
| Franchise fee | $51,950-89,950 |
| Royalty fee | 3.5% |
| Marketing fee | 2.0-2.5% |
| Investment (mid-point) | $148,000 |
| Average sales | $1,256,000 |
| Sales to investment ratio | 8.5x |
| Payback period | 3-4 years |
| Minimum net worth | $110,000 |
| Minimum liquid capital | $110,000 |
Source: Franchise Disclosure Document 2023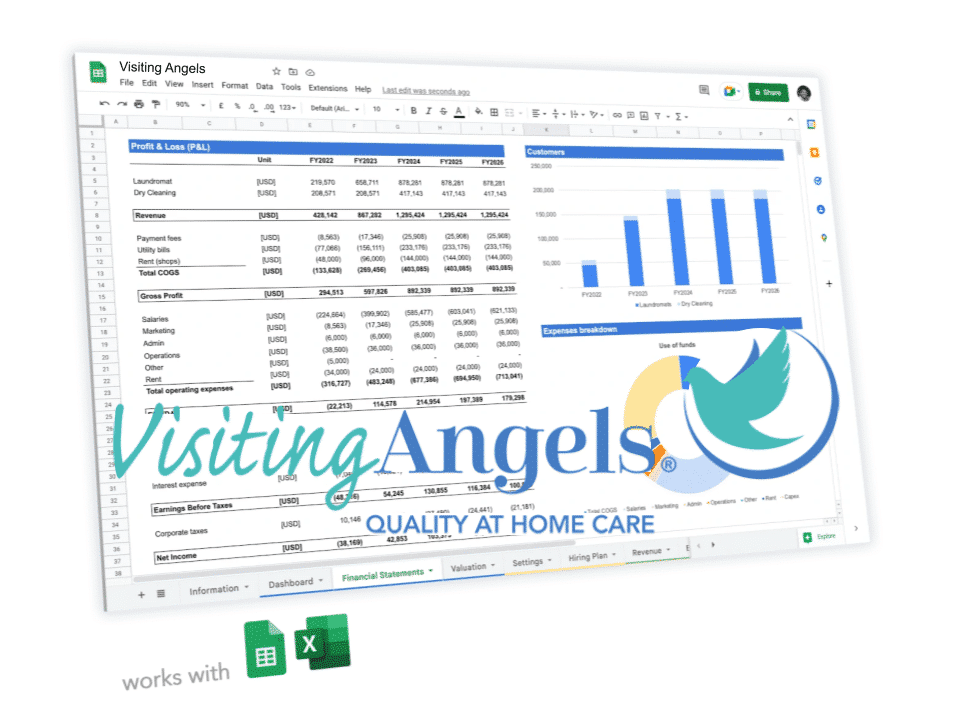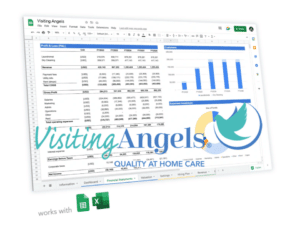 Visiting Angels Franchise Business Plan
All the stats: startup costs, profits, breakeven, etc.
5-year financial projections built with the FDD

Excellent 4.8/5 based on 70 reviews
Excellent 4.8/5 based on 70 reviews

About Visiting Angels
Visiting Angels is a chain of home care agencies located in Bryn Mawr, Pennsylvania and owned by Living Assistance Services. Home care providers offer home care services for the elderly such as personal care, respite care, companion care, etc. on an hourly, overnight, or 24-hour basis.
Visiting Angels was founded in 1992 and began franchising in 1998. By 2020, the chain had grown to 578 locations in the US, with 566 franchised and 12 international locations.
Visiting Angels has continued to offer professional in-home care services to millions of elderly adults, making their lives safer and more enjoyable at home while providing passionate franchise owners with a business opportunity that is equally rewarding and builds meaningful relationships with their clients. As a franchise owner, you also join an important sector of the community, as the home care industry keeps ballooning, with at least 10,000 people estimated to turn 65 years old each year, increasing the demand for the services in the U.S.
Visiting Angels franchise pros and cons
The Pros:
Exclusive territory protection: The franchisor allows its franchisees to operate in an exclusive territory. As long as the franchisees comply with the agreement, it does not allow other franchises to operate or establish competing businesses in the protected territory.
Low staff and inventory requirements: The franchise can be run by a minimum of one staff member and has low inventory requirements, making it simple to operate with minimal operating costs.
Pre-opening training: The franchisor has a comprehensive training program to help franchisees get on board and run their franchisees smoothly. Also, it offers them growth strategies and ongoing training on customer service and operations.
Marketing and public relations: Visiting Angels provides its franchisees with marketing and advertising strategies tailored to help them attract customers and reach a wider geographical coverage. Franchisees get access to co-ops advertising, web development, email marketing, national media and regional advertising programs.
Third-party financing: The franchisor has established third-party relationships to offer franchisees financing. It helps them fund their start-up and ongoing costs.
Site selection: Visit Angels helps its franchisees identify a strong territory for setting up their shops and guidance in developing their franchises.
The Cons:
Not a passive investment: The franchise does not allow for absentee ownership. Franchisees must be actively involved in the decision-making and operations of their franchises.
Not a home-based opportunity: The franchise cannot be run from home or a vehicle. The franchisees must have a fixed office space, retail facility or warehouse.
Not a part-time business: The franchisor requires its franchisees to operate on a full-time basis for at least 40 hours per week.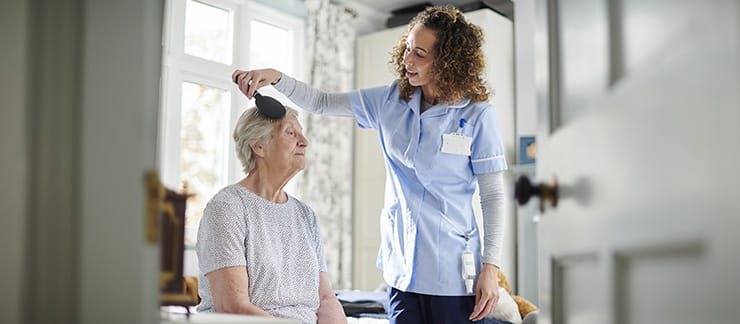 Visiting Angels franchise costs
You would have to invest an average of $148,000 to start a Visiting Angels franchise.
The investment covers all the start-up costs you may need to open a Visiting Angels franchise business. You must pay the franchisor an initial franchise fee of $52,000 – $90,000. In addition to this franchise fee, the investment also covers:
Formulation costs: deposits, insurance, and license leases
Equipment: computer and software
Initial marketing fees: advertising fee plus local ads
Operating costs: printing supplies, workers' compensation insurance, minimum royalty, travel expenses, additional funds for 3 months, etc.
Startup costs
Here's the full breakdown of costs:
| Type of Expenditure | Amount |
| --- | --- |
| Initial franchise fee | $51,950 – $89,950 |
| Formulation costs | $5,000 |
| Equipment | $1,450 – $6,000 |
| Initial marketing fees | $2,075 – $5,325 |
| Operating costs | $63,985 – $64,875 |
| Total | $125,460 – $171,150 |
Source: Franchise Disclosure Document 2023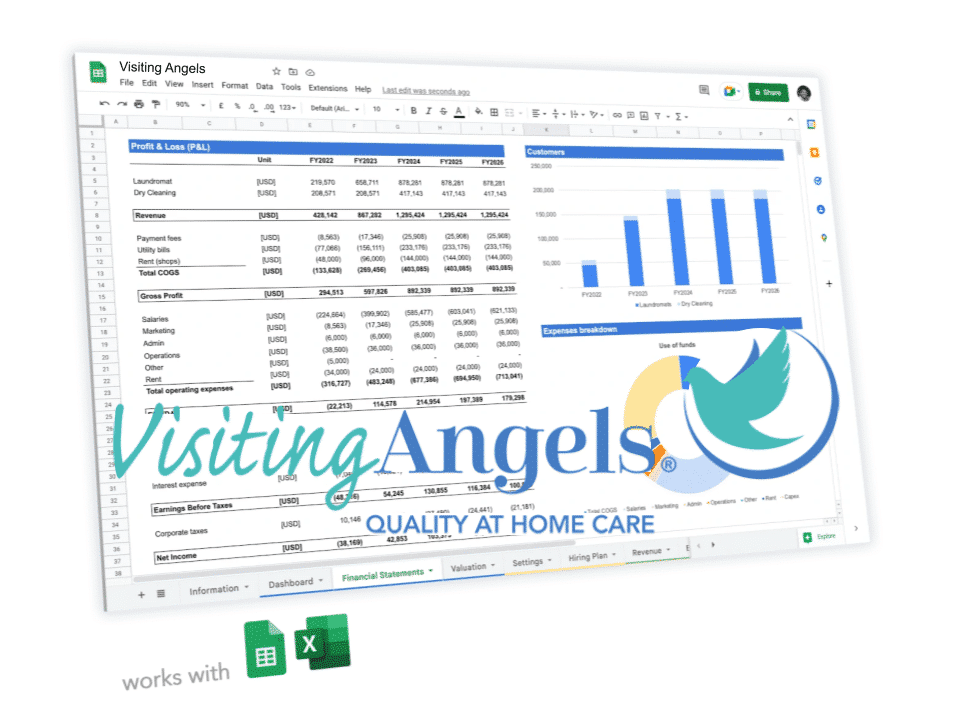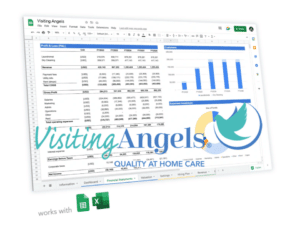 Visiting Angels Franchise Business Plan
All the stats: startup costs, profits, breakeven, etc.
5-year financial projections built with the FDD

Excellent 4.8/5 based on 70 reviews
Excellent 4.8/5 based on 70 reviews

Visiting Angels franchise fees
The initial franchise fee for a Visiting Angels franchise is $51,950-89,950
In addition to the initial franchise fee, you must pay to the franchisor a royalty fee of 3.5% of revenues, as well as a variable marketing fee of 2.0-2.5% of revenues.
Visiting Angels franchise sales
On average, a Visiting Angels franchise made $1,256,000 in sales per year in 2022. This is a +10% increase compared to 2021 ($1,145,000).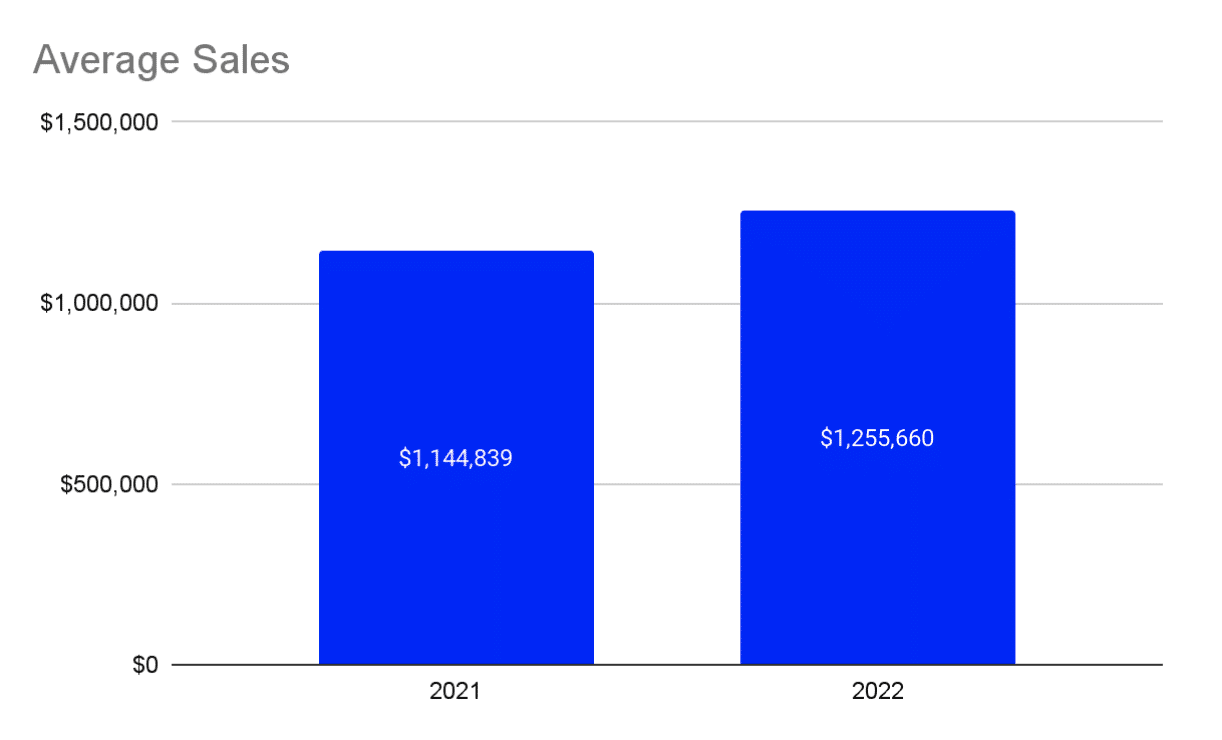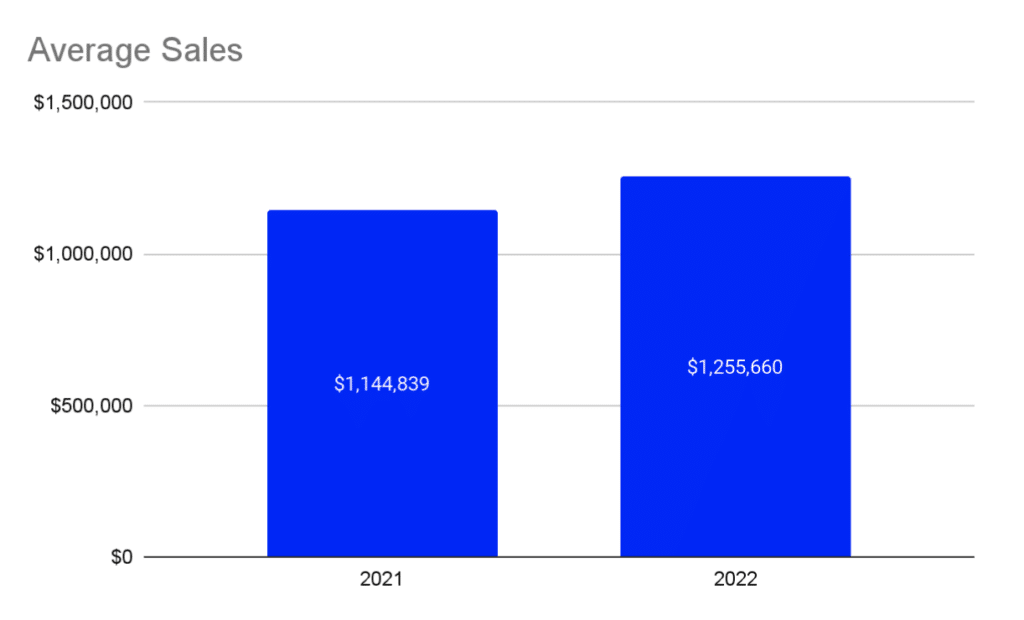 Unfortunately, Visiting Angels doesn't provide a lot of information about the financial performance of its franchises in its Franchise Disclosure Document. Instead, we obtained this number by dividing the total revenue of all the franchises ($673 million) by the number of franchise-owned businesses (536 as of 2022).
Yet, Visiting Angels does provide a distribution of revenue based on revenue tranches as shown below. Note that the franchises in the chart below are franchises that were opened for at least 5 years at time of the FDD (end of 2022).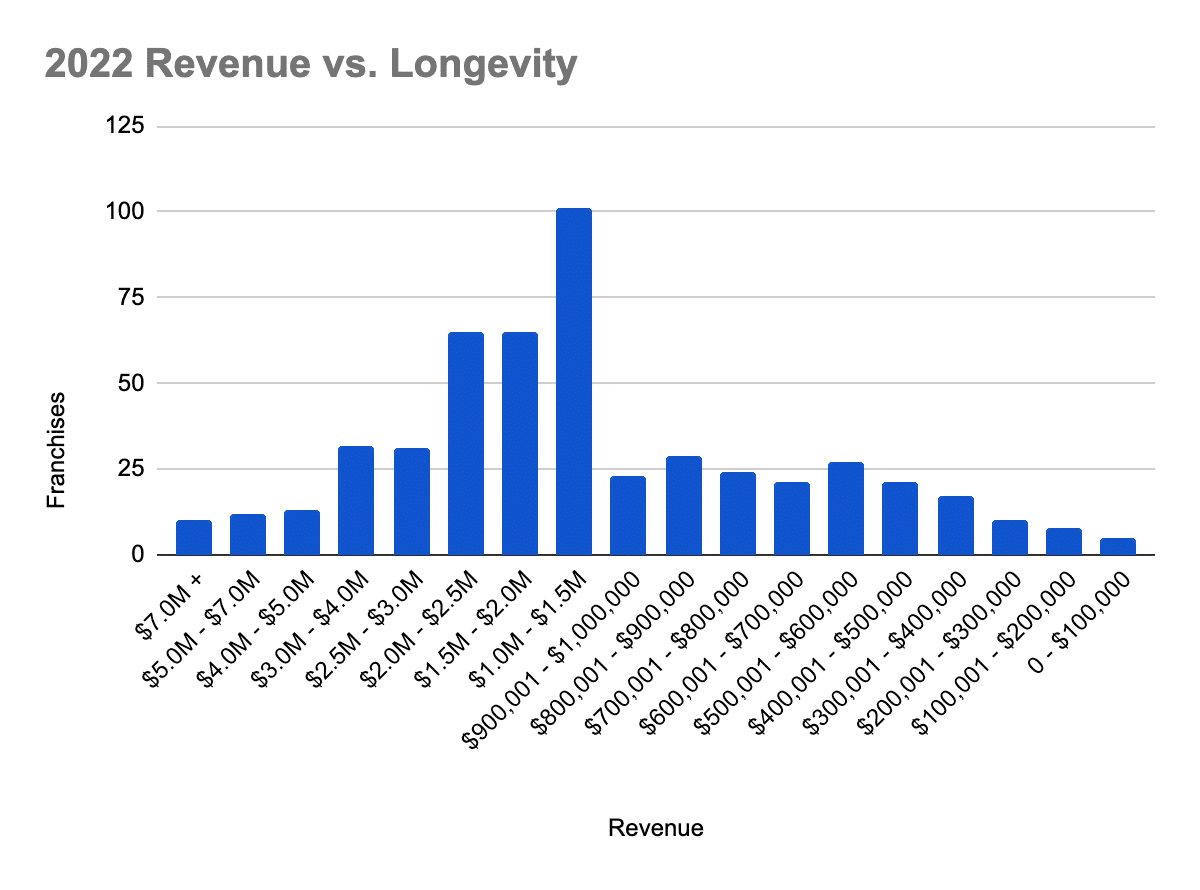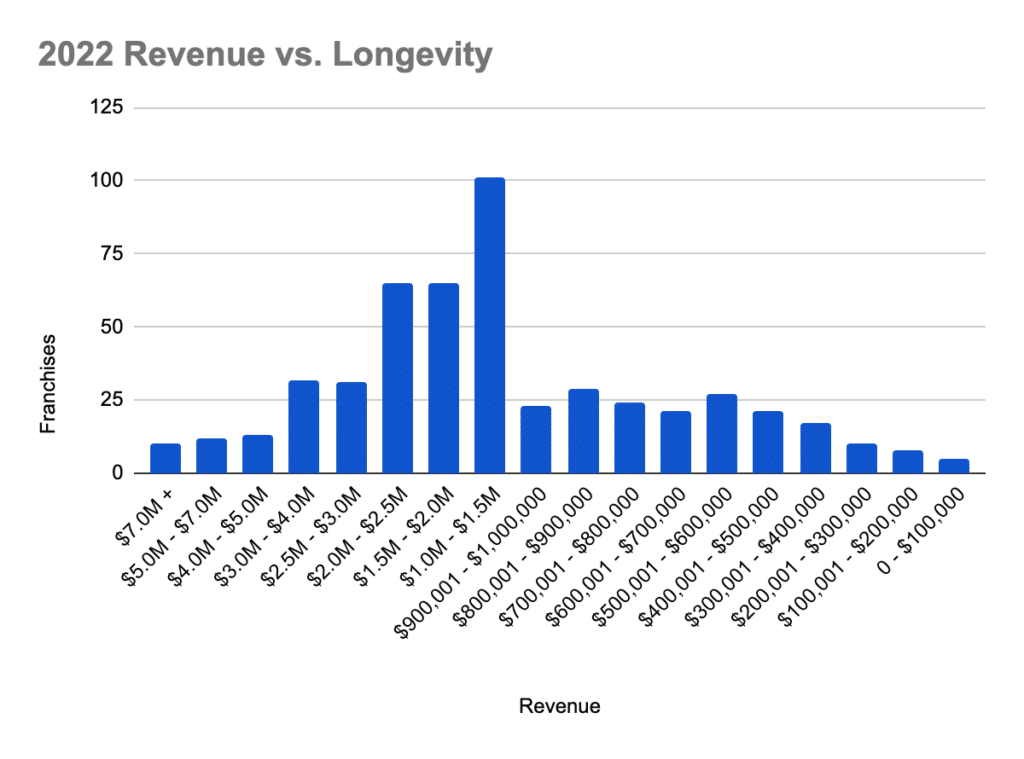 Is Visiting Angels a good franchise investment?
If we were to assume a 10% net profit margin (Visiting Angels does not provide any information on profitability in its FDD), we find that Visiting Angels franchises have a 3-4 years payback on average.
This means that, on average, it would take you 3 to 4 years on average as a franchisee to repay the initial investment cost of $148,000 by using the profits generated by the business itself.
This is an excellent payback and, from that perspective, a great investment.
Note that we factored in a 2 year revenue ramp-up as we conservatively assume you couldn't get to the average revenue of $1,256,000 day 1. Instead, it may take you a few years (probably 5 or so) to get there.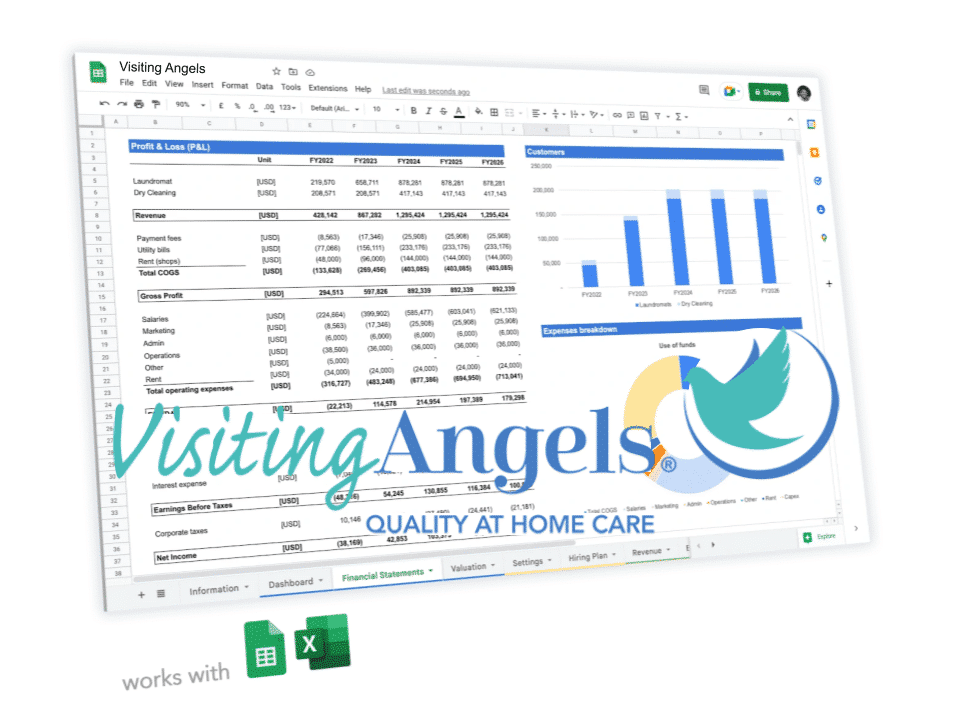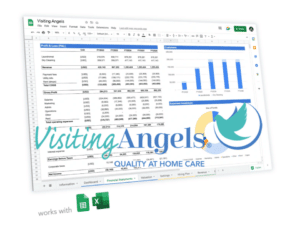 Visiting Angels Franchise Business Plan
All the stats: startup costs, profits, breakeven, etc.
5-year financial projections built with the FDD

Excellent 4.8/5 based on 70 reviews
Excellent 4.8/5 based on 70 reviews

Disclaimer
Disclaimer: This content has been made for informational and educational purposes only. We do not make any representation or warranties with respect to the accuracy, applicability, fitness, or completeness of the information presented in the article. You should not construe any such information or other material as legal, tax, investment, financial, or other professional advice. Nothing contained in this article constitutes a solicitation, recommendation, endorsement, advertisement, or offer to buy or sell any franchises, securities, or other financial instruments in this or in any other jurisdiction in which such solicitation or offer would be unlawful under the franchise and/or securities laws of such jurisdiction.
All content in this article is information of a general nature and does not address the detailed circumstances of any particular individual or entity. Nothing in the article constitutes professional and/or financial and/or legal advice, nor does any information in the article constitute a comprehensive or complete statement of the matters discussed or the law relating thereto. You alone assume the sole responsibility of evaluating the merits and risks associated with the use of any information or other content in this article before making any decisions based on such information or other content.