AAMCO Transmission Franchise: Revenue, Costs & Profits (2023)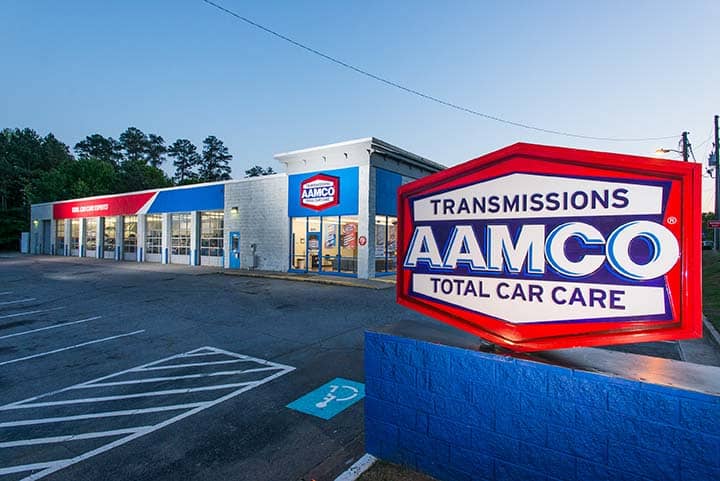 With 600 service centers across the US, AAMCO Transmission is undeniably one of the largest car repair shop franchise in the country. So if you're considering opening a new auto repair shop, AAMCO Transmission might be the franchise you've been looking for.
In addition to a large footprint, there's also a good reason why AAMCO Transmission is so popular among franchisees: it can be a very profitable business.
Indeed, we found that the average investment to open a new location is $277,000 yet one service center makes $713,000 in turnover per year… Not a bad investment.
In this article we're looking at AAMCO Transmission and its Franchise Disclosure Document to find out all you should know about this franchise: how much it really costs and how profitable it really is. Let's dive in!
Key stats
| | |
| --- | --- |
| Franchise fee | $39,500 |
| Royalty fee | 7.50% |
| Marketing fee | $36,400 |
| Investment (mid-point) | $277,000 |
| Average sales | $713,000 |
| Sales to investment ratio | 2.6x |
| Payback period | 6 years |
| Minimum net worth | $250,000 |
| Minimum liquid capital | $65,000 |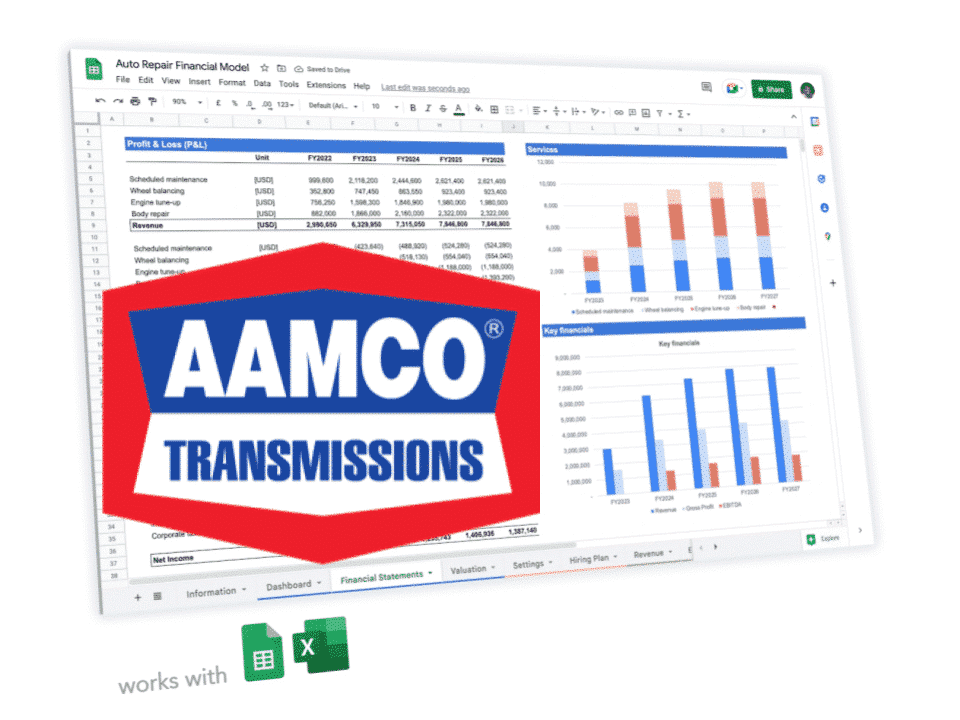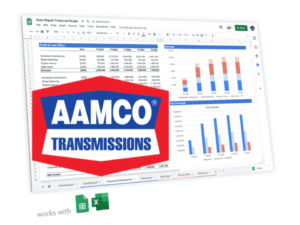 AAMCO Transmission Franchise Business Plan
All the stats: startup costs, profits, breakeven, etc.
5-year financial projections built with the FDD

Excellent 4.8/5 based on 70 reviews
Excellent 4.8/5 based on 70 reviews

What is AAMCO Transmission?
AAMCO Transmission is an American chain of transmission repair shops owned by the Icahn Automotive Group and based in Horsham, Pennsylvania.
The chain was founded in 1962 by Anthony A. Martino and Robert Morgan in Philadelphia.
It focuses on transmission services and total car care such as oil and filter changes, brake services, heating and cooling system service, tune-ups, steering and suspension, factory-recommended maintenance and related services on both retail and wholesale terms.
AAMCO Transmission began its franchising journey in 1963 and currently has nearly 600 locations nationwide.
AAMCO Transmission franchises pros and cons
Pros
Pre-opening training: The franchisor provides 300 hours of comprehensive training for franchise owners and technicians at the AAMCO University. It trains them on repair skills, customer service, quality control, key performance indicators, center growth strategies, operations and how to hire, train and retain qualified technicians.
Marketing and public relations: The franchisor has developed stellar marketing strategies to help franchisees attract customers and stay competitive. Franchisees benefit from a strong national brand reputation in the transmission repair industry, national and regional advertising, local marketing pools and online targeted campaigns.
Franchise technology: AAMCO Transmission embraces technology to offer a great customer experience and drive sales. It continues to invest in modern technology to help franchisees remain relevant and improve their profitability.
In-house financing: AAMCO Transmission offers its franchisees financing for the franchise fee. In addition, it has relationships with third-party lenders to finance the franchisees' startup costs, equipment, inventory and payroll.
Passive investment: The franchisor allows for absentee ownership. Franchisees can operate the franchise as they pursue their other obligations.
Extensive ongoing support: It offers franchisees access to growth strategies, professional management support and a network of national referrals.
Site selection guidance: The franchisor helps its franchisees with site selection to identify a suitable location for their businesses in terms of customer demographics and also helps them develop their repair centers.
Cons
Not a home-based business: The franchisor cannot be operated from home or a mobile unit. Franchisees must have an office space, retail facility or warehouse to operate from.
No exclusive territory protection: The franchisor does not allow franchisees to operate in a protected market. They may face competition from other franchises granted by the parent company or brands it controls.
Competition: The AAMCO franchise faces stiff competitors in the industry, such as Christian Brothers Automotive, Wilhelm Automotive and Auto World LLC.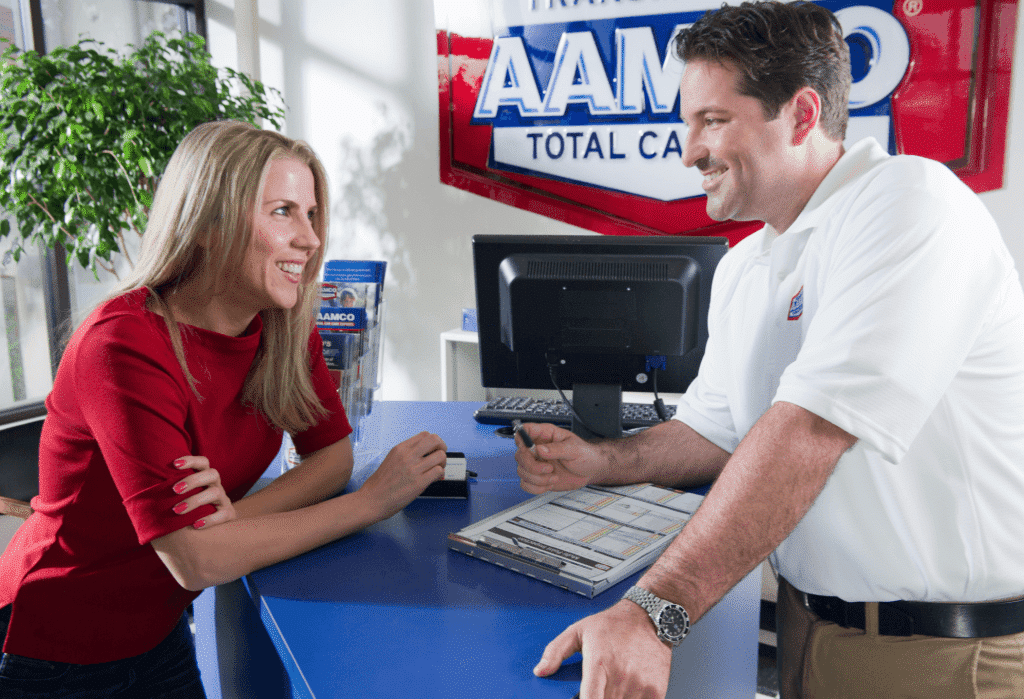 How much does a AAMCO Transmission franchise cost?
You have to invest around $277,000 to open an AAMCO Transmission franchise center.
This is an average; indeed, it varies based on many factors, such as the location of your center and its size.
In addition to the $39,500 initial franchise fee that you must pay to the franchisor, you would also pay for the leasehold improvements, furniture and fixtures, equipment, opening inventory, signs, insurance, etc.
Startup costs
Here's the full breakdown of costs:
| Type of Expenditure | Amount |
| --- | --- |
| Initial franchise fees | $39,500 |
| Leasehold improvements | $8,500 – $12,000 |
| Shop equipment, and supplies | $78,400 – $98,000 |
| Signs | $7,500 – $19,000 |
| Insurance | $1,500 – $2,500 |
| Additional funds -3 months | $30,000 – $50,000 |
| Other | $58,200 – $109,500 |
| Total | $223,600 – $330,500 |
Source: Franchise Disclosure Document 2021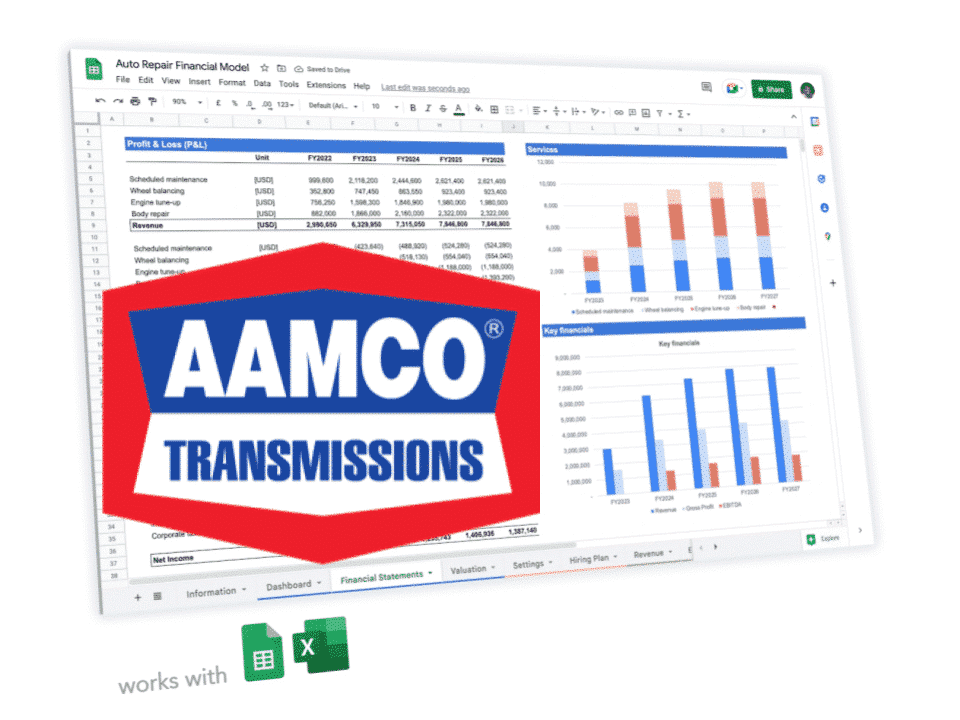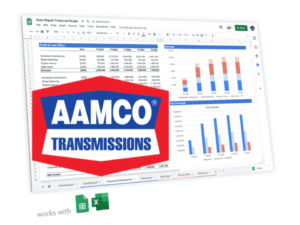 AAMCO Transmission Franchise Business Plan
All the stats: startup costs, profits, breakeven, etc.
5-year financial projections built with the FDD

Excellent 4.8/5 based on 70 reviews
Excellent 4.8/5 based on 70 reviews

How much revenue does a AAMCO Transmission franchise make?
On average, an AAMCO Transmission franchise makes $713,000 in revenue per year.
This is the average sales per service centre for 537 of the 553 franchised centres operating in all of 2020.
How profitable is a AAMCO Transmission franchise?
On average, an AAMCO Transmission franchise makes $133,348 in profits per year. This corresponds to a 19% EBITDA margin.
We calculated this number using the information available in the Franchise Disclosure Document 2021. Fortunately, AAMCO Transmission provides detailed information on the cost structure of its franchised-owned centers as outlined below:
| Profit and loss | Amount | % revenue | Source |
| --- | --- | --- | --- |
| Revenue | $713,092 | 100% | as per FDD |
| COGS | $(176,134) | 25% | as per FDD |
| Gross Profit | $536,958 | 75% | as per FDD |
| Staff | $(165,437) | 23% | as per FDD |
| Royalties | $(53,482) | 8% | as per FDD |
| Building expenses* | $(58,474) | 8% | as per FDD |
| Other operating costs** | $(126,217) | 18% | as per FDD |
| EBITDA | $133,348 | 19% | as per FDD |
* lease, utilities, repair, taxes
** includes marketing
Is AAMCO Transmission a good franchise investment?
So should you buy a AAMCO Transmission franchise and open a new service center? Are the profits worth the initial investment of $277,000 upfront?
We do think it is. Actually AAMCO Transmission is one of the most profitable franchise investment in the automotive industry we found. Let us explain:
Whilst you would invest on average $277,000 to open a new AAMCO Transmission service center, one franchise would gross on average $713,000 in revenue per year. Assuming a 5 to 10% net profit margin, AAMCO Transmission has a 4 – 8 years payback: a great investment.
In other words, you would be able to reimburse investors, any creditors (banks) including yourself within 4 to 8 years only, using the profits generated by your franchise, not bad.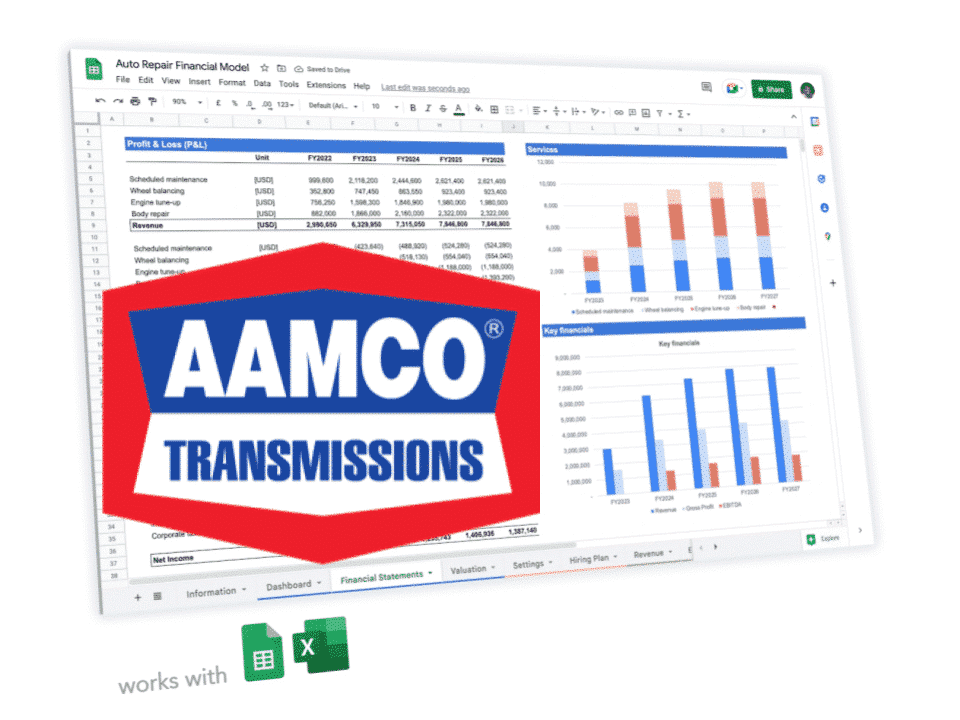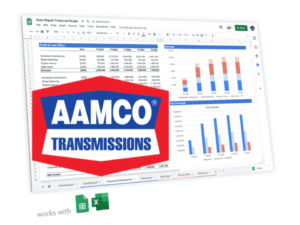 AAMCO Transmission Franchise Business Plan
All the stats: startup costs, profits, breakeven, etc.
5-year financial projections built with the FDD

Excellent 4.8/5 based on 70 reviews
Excellent 4.8/5 based on 70 reviews

Disclaimer: This content has been made for informational and educational purposes only. We do not make any representation or warranties with respect to the accuracy, applicability, fitness, or completeness of the information presented in the article. You should not construe any such information or other material as legal, tax, investment, financial, or other professional advice. Nothing contained in this article constitutes a solicitation, recommendation, endorsement, advertisement, or offer to buy or sell any franchises, securities, or other financial instruments in this or in any other jurisdiction in which such solicitation or offer would be unlawful under the franchise and/or securities laws of such jurisdiction.
All content in this article is information of a general nature and does not address the detailed circumstances of any particular individual or entity. Nothing in the article constitutes professional and/or financial and/or legal advice, nor does any information in the article constitute a comprehensive or complete statement of the matters discussed or the law relating thereto. You alone assume the sole responsibility of evaluating the merits and risks associated with the use of any information or other content in this article before making any decisions based on such information or other content.