Arby's is one of the most popular restaurant franchises in the US: they had over 3,400 stores across the US in 2022..! Yet, if you're considering opening a Arby's franchise, you'll need to invest a significant amount of money, $1,184,975 on average.
With average sales of $1,126,263 per year, do the profits justify the (hefty) investment cost? That's something we look into in this article. Especially we'll look into how much profits you can make with a Arby's franchise, how much it costs, and whether it's a good investment. Let's dive in!
Arby's franchise: key figures
| | |
| --- | --- |
| Franchise fee | $37,500 |
| Royalty fee | 5.1% |
| Marketing fee | 4.2% |
| Investment (mid-point) | $1,184,975 |
| Average annual sales | $1,126,263 |
| Investment to sales ratio | 1.0x |
| Investment payback* | 7.0 years (mediocre) |
| Minimum net worth | $1,000,000 |
| Minimum liquid capital | $500,000 |
* using 15% net profit margin
Arby's: a brief introduction
Arby's is a leading American fast-food sandwich chain restaurant with over 3,400 stores in the US.
The chain was founded in 1964 by the Raffel brothers, Forrest and Leroy, and its first restaurant was in Boardman, Ohio.
It originally served roast beef sandwiches, potato chips, and soft drinks. In addition, it offers a deli-style Market Fresh line of sandwiches, Greek gyros, curly fries, and Jamocha shakes.
Arby's franchising journey began in 1965 with the opening of its first franchise in Akron, Ohio.
Today, Arby's is voted the second-largest sandwich chain store after Subway.
Headquartered in Sandy Springs, Georgia, the Arby's franchise is one of the fastest-growing sandwich chain restaurants in the US. It is operated by Arby's franchisor, LLC, which has 2 parent companies, Inspire Brands and Arby's Restaurant Group Inc.
Arby's franchise: pros and cons
Operating an Arby's franchise, just like any other business, has its advantages and disadvantages.
Pros
Fast-growing brand: Arby's brand has grown rapidly in recent years. It was able to open new stores even during the COVID-19 pandemic. Being a vibrant brand, it gives new franchisees an opportunity to establish themselves in potentially profitable locations.
Wide menu selection: Arby's is well known for its giant stacks of roast beef on soft buns. In addition, they have expanded their menu to include other delicious foods like deli-inspired sandwiches and complementary side items and desserts. Customers can choose from a wide variety and have a reason to keep coming back for more.
Eye-catching design: Arby's constructs its restaurants in an appealing pinnacle design that portrays its famous architectural design. The luxurious designs can fit into any prime location, preserving Arby's tradition and appealing to its customers in any market location.
Different franchise models: Arby's offers investors multiple models to choose from. A franchisee can choose the traditional franchise model, which is either freestanding with full customer service, convenience stores, or a full menu. Secondly, there is the non-traditional model, which means a limited menu, limited size, limited customer service, no or limited seating, reduced services, and reduced space.
Solid training and support: As a new franchisee, you need maximum support to learn the tricks of the market. Arby's offers would-be franchisees the necessary training and on-the-job support to grow their business, whether they have prior experience or not.
Proven operation model: Arby's brand and culture have been in operation for a long time. They have perfected the culture of serving their customers delicious beef sandwiches with simplicity and affordability. They introduce to new franchisees Arby's buying, storage, training, and management processes that have worked.
Cons
Competition: One of the drawbacks of operating an Arby's franchise is that it faces stiff competition from established brands such as Subway. As a new franchisee, you may record low sales and high advertising costs to stay competitive.
No financing: The Arby's franchise does not offer financing to new franchisees. This leaves franchisees with limited financing options. Also, Arby's does not guarantee a franchisee's note, lease, or obligation. One can only opt for an SBA loan to fund their investment or expand to multiple units.
No territory protection: Arby's does not provide exclusive territory protection. It may only offer a specific and limited protected area to a selected traditional franchise restaurant under certain terms and conditions. This leaves room for Arby's to grant other competing franchises permission to operate businesses in a territory occupied by its non-traditional franchisees.
How much does a Arby's franchise cost?
You must invest $1,184,975 to open a Arby's franchise. This includes the initial franchise fee of $37,500.
This investment amount is an estimated average for both free-standing ($637,950 – $2,306,000) and non-free-standing ($628,950 – $1,167,000) restaurants. Thus, the amount you would invest can vary depending on your choice of restaurant type or location.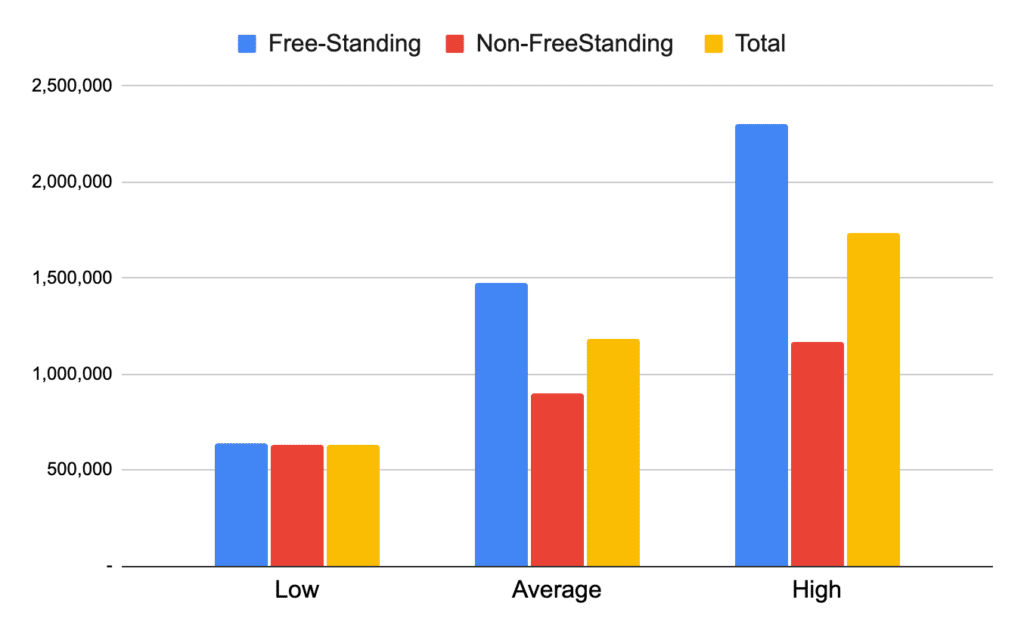 The investment cost covers everything you need to begin a fast-food restaurant. These costs include:
Initial franchise fees: Development fee, license fee and training expenses
Site and real estate: Real estate property, site costs, landscaping
Building & construction: civil & architectural drawings, permitting costs, building costs, equipment, décor, signage & drive thru
Operating costs: Pre-opening wages, opening inventory, insurance, working capital, lease deposits and payments, business licenses, health permits, utilities deposit
The costs vary based on the format of restaurant you choose:
| | Free standing | Non free standing |
| --- | --- | --- |
| Initial fees | $42,325 | $42,325 |
| Site and real estate | $257,000 | $2,000 |
| Building & Construction | $1,028,500 | $709,500 |
| Operating Costs | $144,150 | $144,150 |
| Total | $1,471,975 | $897,975 |
Source: 2022 FDD
What is the turnover of an Arby's franchise?
An average Arby's franchise generates more revenue compared to other similar franchises in the US. Indeed, an Arby's franchise makes $4,924,801 in sales per year on average.
This mentioned figure is the average for both free-standing and non free-standing restaurants' annual sales. As per the latest FDD, a free-standing restaurant ($1,221,853) generates more revenue than a non-free-standing restaurant ($1,030,674).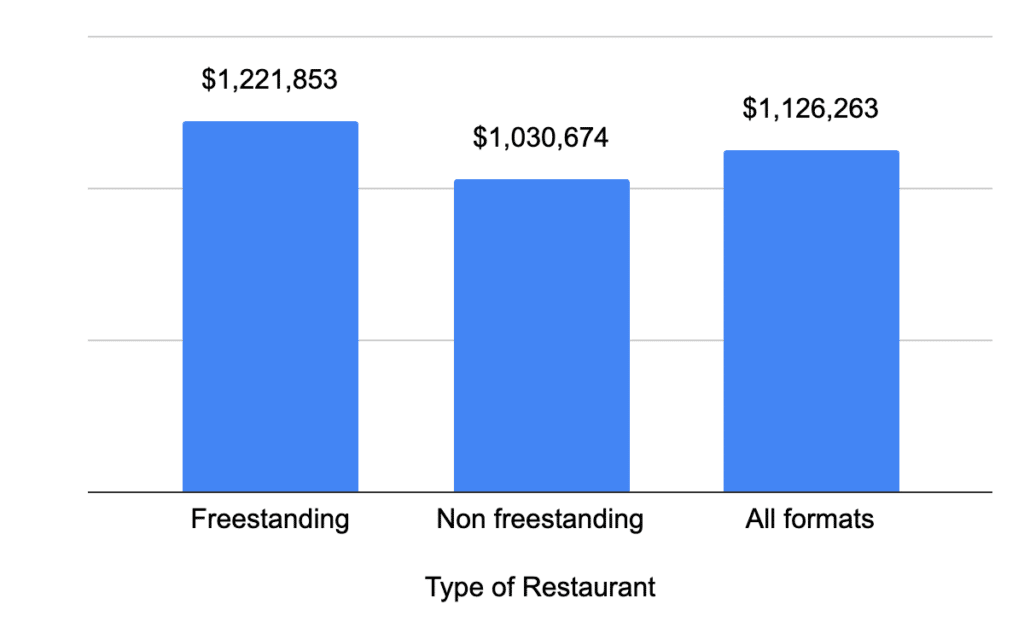 How profitable is a Arby's franchise?
Luckily, Arby's is one the few franchisors that gives a lot of details on the financial performance of its restaurants in its Franchise Disclosure Document. For example, we know that, on average, Arby's restaurants spend 30.8% of their sales in COGS, and 22.80% in labor costs.
This is quite helpful for us to estimate the profitability of Arby's franchises.
As per our analysis, Arby's franchisees make $269,177 in profits per year. This corresponds to a 24% adjusted EBITDA margin (as % of sales).
Note that this adjusted EBITDA doesn't include any other non-operating costs not presented below (else than COGS, labor, rent and fees).
| Profit-and-loss | Amount ($) | As % of sales |
| --- | --- | --- |
| Sales | $1,126,263 | 100% |
| COGS | $(346,889) | 30.8% as per FDD |
| Labor | $(326,616) | 22.8% as per FDD |
| Rent | $(78,838) | 7%* |
| Royalty + marketing fees | $(104,742) | 9.3% as per FDD |
| Adjusted EBITDA | $269,177 | ~24% |
* industry average
Is a Arby's franchise a good investment?
To assess whether you should invest in a Arby's franchise, you must compare the investment cost of $1,184,975 against the profits.
For profits, we will net profit instead of EBITDA here (as it includes all expenses) which we must estimate (as it's not in the FDD). Assuming a 15% net profit margin, we calculated it would take 7 years for a franchisee to reimburse the original investment of $1,184,975.
This number is what we call the payback period: the time it takes for a franchisee to recoup her/his investment. No need to tell you that 7 years is mediocre. For similar businesses, anything below 4 is good.
In other words, opening a Arby's franchise isn't a great investment from a pure financial standpoint, due to the (long) 7 years payback period. But note that this is based on the average performance of all franchises. Therefore, it's possible that your franchise is more profitable vs. the average.
Applying for a Arby's franchise? Download the Arby's business plan template and get your franchise funded.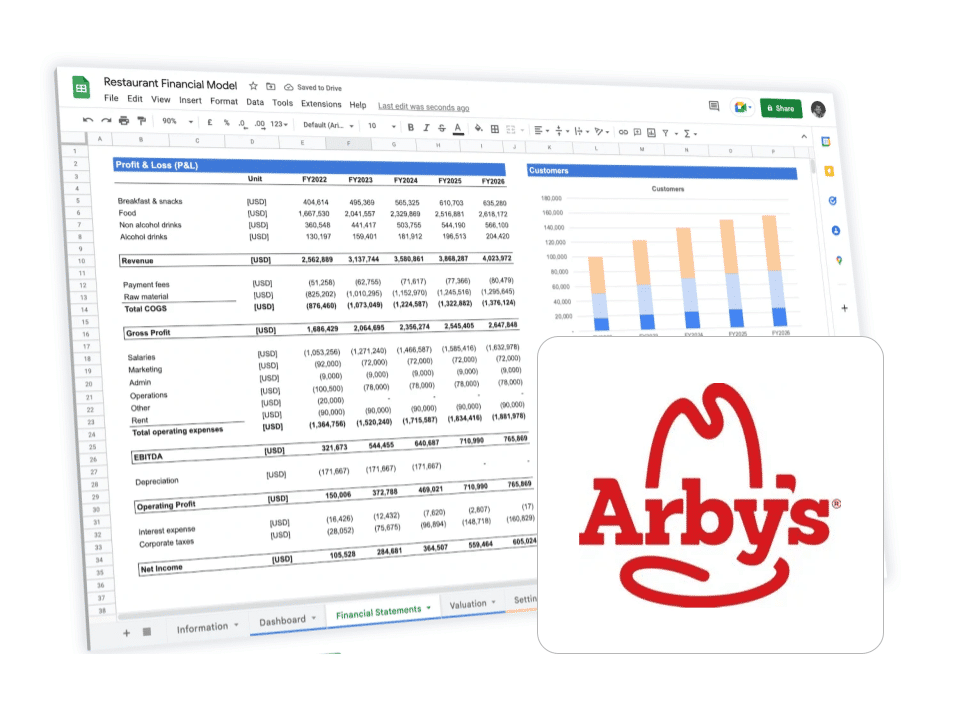 Download the Arby's business plan and get your franchise funded
Including a 5-year financial plan built with the latest Franchise Disclosure Document numbers