Baskin-Robbins Franchise Costs $468K (+2023 AUV & Profits)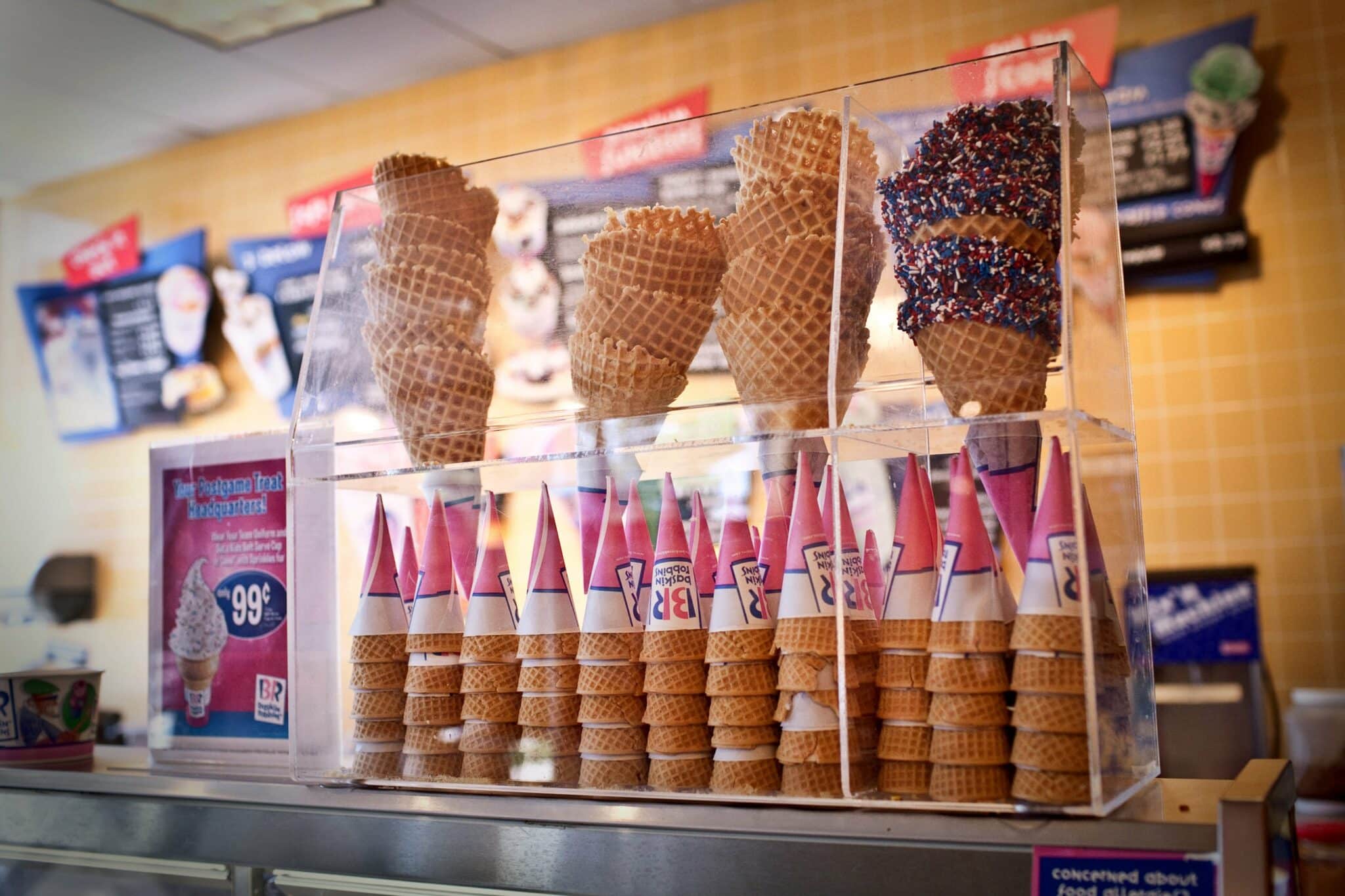 This article was updated with the 2023 Franchise Disclosure Document
One of the most famous ice cream franchise, Baskin-Robbins has over 8,000 stores worldwide. No wonder it's very popular among franchisees and entrepreneurs. Another reason for that is the low investment cost of $468,000 on average.
But is this really a good investment? With an average turnover of $289,000 you would need to wait a few years before you pay back your investment.
In this article we'll looking at Baskin-Robbins and its latest Franchise Disclosure Document. We'll see how much profits you can make with this business, and whether it's a good investment. Let's dive in!
Key stats
| | |
| --- | --- |
| Franchise fee | $25,000 |
| Royalty fee | 5.9% |
| Marketing fee | 5.0% |
| Investment (mid-point) | $468,000 |
| Average sales | $289,000 |
| Sales to investment ratio | 0.6x |
| Payback period | 10 years |
| Minimum net worth | $250,000 |
| Minimum liquid capital | $125,000 |
Source: Franchise Disclosure Document 2023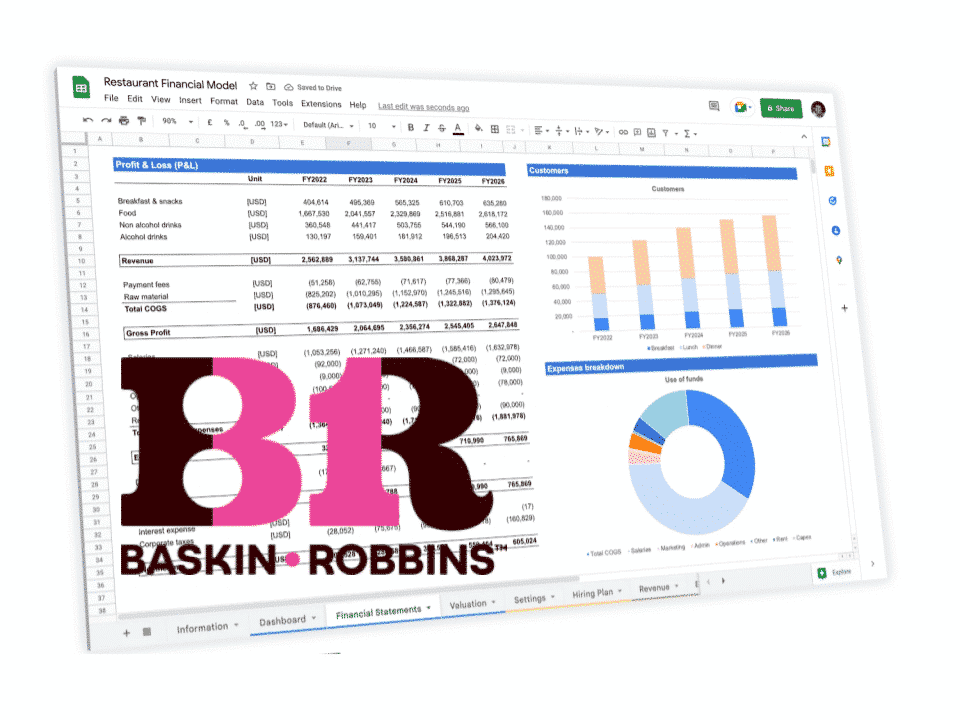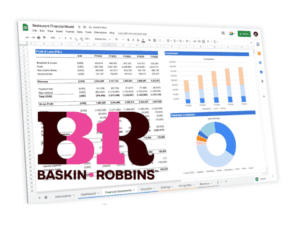 Baskin Robbins Franchise Business Plan
All the stats: startup costs, profits, breakeven, etc.
5-year financial projections built with the FDD

Excellent 4.8/5 based on 70 reviews
Excellent 4.8/5 based on 70 reviews

What is Baskin-Robbins?
Baskin Robbins is a leading American multinational chain specializing in ice cream and cake shops. Burt Baskin and Irv Robbins founded Baskin Robbins in 1945, with its first location in Glendale, California.
Best known for its slogan "31 flavors," the company has more than 1,400 flavors of ice cream and has introduced vegan and non-dairy flavors.
It started franchising in 1950 and it is owned by Inspire Brands, based in Canton, Massachusetts. Today, Baskin Robbins is the largest ice cream specialty chain worldwide, with over 8,000 locations of which 2,500 in the US.
Baskin-Robbins franchise: pros and cons
Just as it is with many franchises, a Baskin-Robbins franchise presents some advantages and disadvantages.
Pros
Strong brand name: In the ice cream industry, the Baskin Robbins brand is well known for its tasty ice cream flavors and cakes. Over the years, it has also established its presence in the US and globally. As a new franchisee, you'll be joining a brand that has a huge customer following and customers who already understand what you offer, so you're guaranteed a lot of traffic.
Variety and rich menu: Baskin Robbins has developed over 1,400 flavors. With vegan as well as non-dairy flavors, it caters to all types of customers. It is a good option for customers looking for diverse options. It also attracts customers to newly launched restaurants to try this diverse menu and discover what is new.
Training and support: The chain offers extensive training and support to new franchisees. The franchisor trains its franchisees on how to produce, merchandise, serve, and package products sold in its restaurants. In addition, it offers franchisees brand training, on-the-job training, and franchise operations to successfully manage their restaurants.
Different franchise models: The chain has different franchise models to cater to different investors. Franchisees can choose traditional or non-traditional locations and choose to operate either the Baskin Robbins kiosk, parlor, or lounge franchise programs
Large target customer base: The chain has developed a wide range of tasty and quality products. As a new franchisee, you can target a very large and unique customer base looking for the best ice cream flavors, cakes, waffles, sundaes, and brownies.
Huge potential for expansion: The brand is growing very fast and has a global presence. This allows franchisees to scale their businesses, and one can expand from one program to another with minimal effort and costs.
Cons
Competition: Baskin Robbins franchise faces a lot of competition in its industry from other competitors like Dairy Queen. So, even with a strong brand name, franchisees need to employ vibrant promotional and advertising efforts to remain competitive.
No exclusive territory protection: The franchisor grants franchisees the rights to operate their restaurants in a specific location. Therefore, it doesn't offer any exclusive territory protection. New franchisees may face competition from franchises granted by the parent company.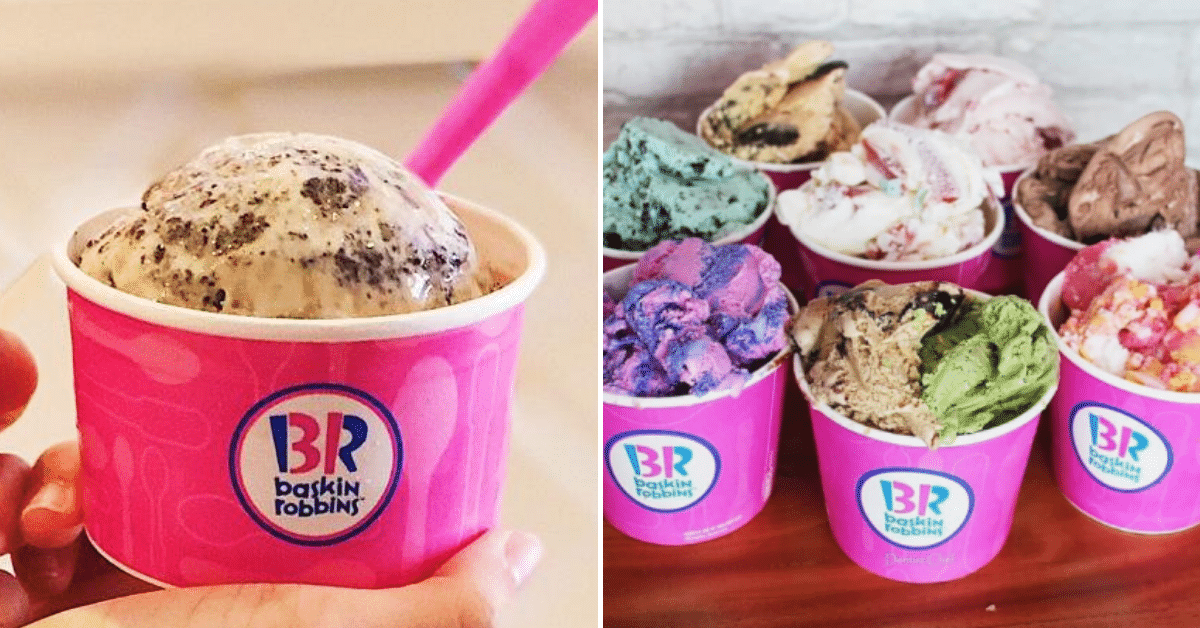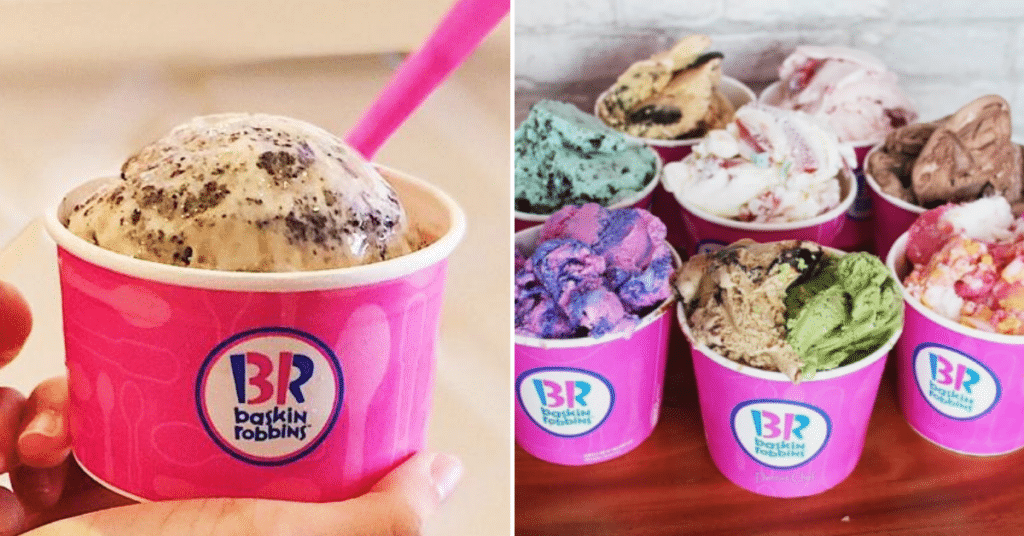 How much does a Baskin-Robbins franchise cost?
You may need to invest $468,000 to open a Baskin-Robbins ice cream parlor.
This amount may vary based on various factors (like location, current market price, etc.). According to the latest Franchise Disclosure Document, the investment range can be as low as $294,000 and as high as $642,000.
The investment amount covers every type of expenditure that may incur during the opening of a restaurant. In addition to the initial franchise fee of $25,000, the investment amount covers:
Build costs: real estate development, equipment, fixtures, signs, restaurant technology system, licenses, permits, fees, etc.
Operating expenses: opening inventory, uniforms, miscellaneous opening costs, insurance, travel & living expenses while training, additional funds for 3 months as working capital, etc.
| Type of Expenditure | Low | High |
| --- | --- | --- |
| Initial franchise fee | $25,000 | $25,000 |
| Build costs | $246,440 | $499,760 |
| Marketing startup fee | $3,000 | $5,000 |
| Operating expenses | $19,400 | $112,600 |
| Total | $293,840 | $642,360 |
Source: Franchise Disclosure Document 2023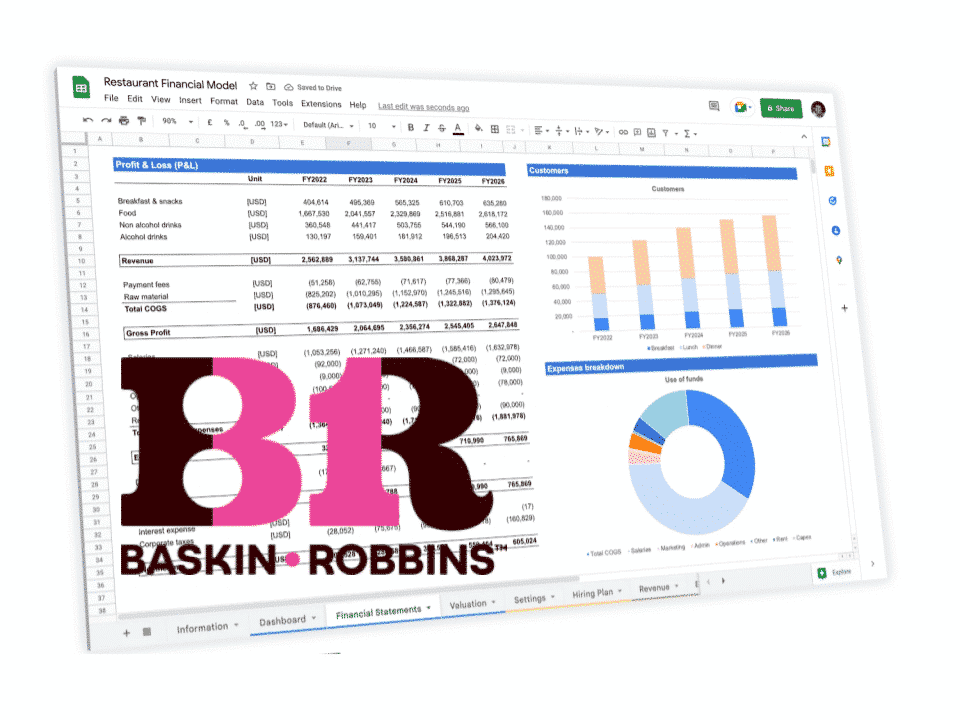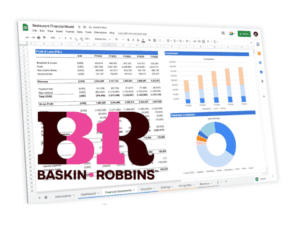 Baskin Robbins Franchise Business Plan
All the stats: startup costs, profits, breakeven, etc.
5-year financial projections built with the FDD

Excellent 4.8/5 based on 70 reviews
Excellent 4.8/5 based on 70 reviews

What is the turnover of a Baskin-Robbins franchise?
On average, a Baskin-Robbins franchise makes $289,000 in sales per year. This number is the average of the 2,012 franchises operating in 2022.
Sales depend on the format of the ice cream shop you wish to open. For example, a single brand restaurant generates 4 times as much turnover than a Combo restaurant. As a reminder, Combo restaurants are Baskin-Robbins stores that share a menu and sitting area with a Dunkin Donuts store.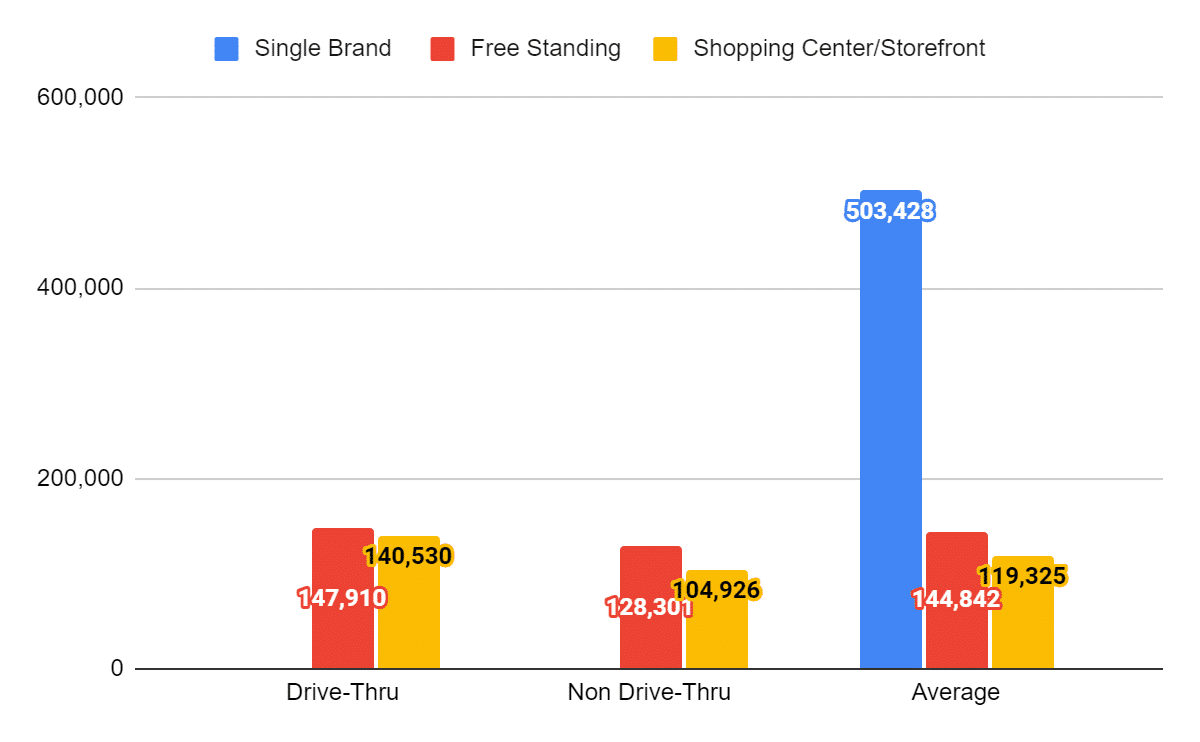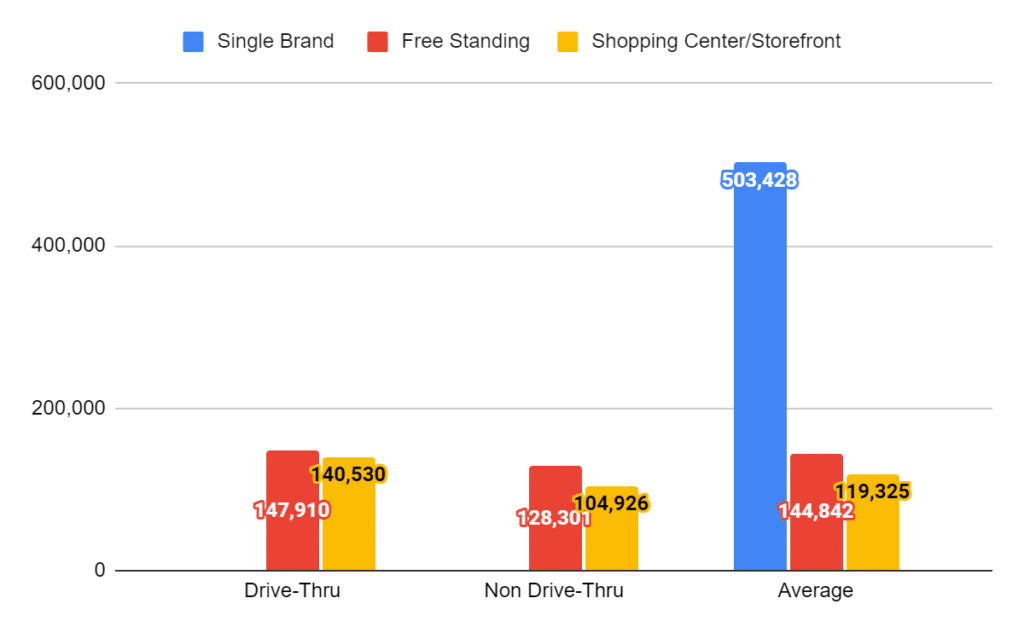 | | Number of restaurants | Median sales |
| --- | --- | --- |
| Single brand restaurants | 848 | $503,428 |
| Combo restaurants (free standing) | 620 | $144,842 |
| Combo Restaurants (shopping center / storefront) | 544 | $119,325 |
| Average | 2,012 | $289,076 |
Source: Franchise Disclosure Document 2023
How profitable is a Baskin-Robbins franchise?
As per our estimates, Baskin-Robbins franchises make $44,000 in profits per year. This corresponds to a 15% EBITDA margin.
Note that Baskin-Robbins doesn't provide any detailed information about the financial performance of its franchises in its latest Franchise Disclosure Document. Instead we had to make assumptions which we have summarized below.
| Profit and loss | Amount | % Sales |
| --- | --- | --- |
| Sales | $289,076 | 100% |
| COGS | $(84,410) | 29% |
| Gross Profit | $204,666 | 71% |
| Labor | $(68,800) | 24% |
| Marketing and royalty costs | $(31,509) | 11% |
| Occupancy | $(26,017) | 9% |
| Other OpEx | $(34,689) | 12% |
| EBITDA | $43,651 | 15% |
Source: Estimates
Is a Baskin-Robbins franchise a good investment?
If you want to open a Baskin-Robbins franchise, you might wonder whether this is a good investment from a financial perspective. In other words, you might want to know whether the profits are worth the initial investment.
Remember, depending on the format of restaurant you choose, you would have to spend on average $468,000 to open a new Baskin-Robbins franchise. In return you will receive profits.
We estimate that a Baskin-Robbins franchise has a 10 years payback: it takes on average 10 years for you to repay the initial investment. Whilst it's not the best in the restaurant franchise industry, it's not bad either.
Of course, this is an average. In order to you to assess your restaurant profits and payback period, make sure to create sound financial projections.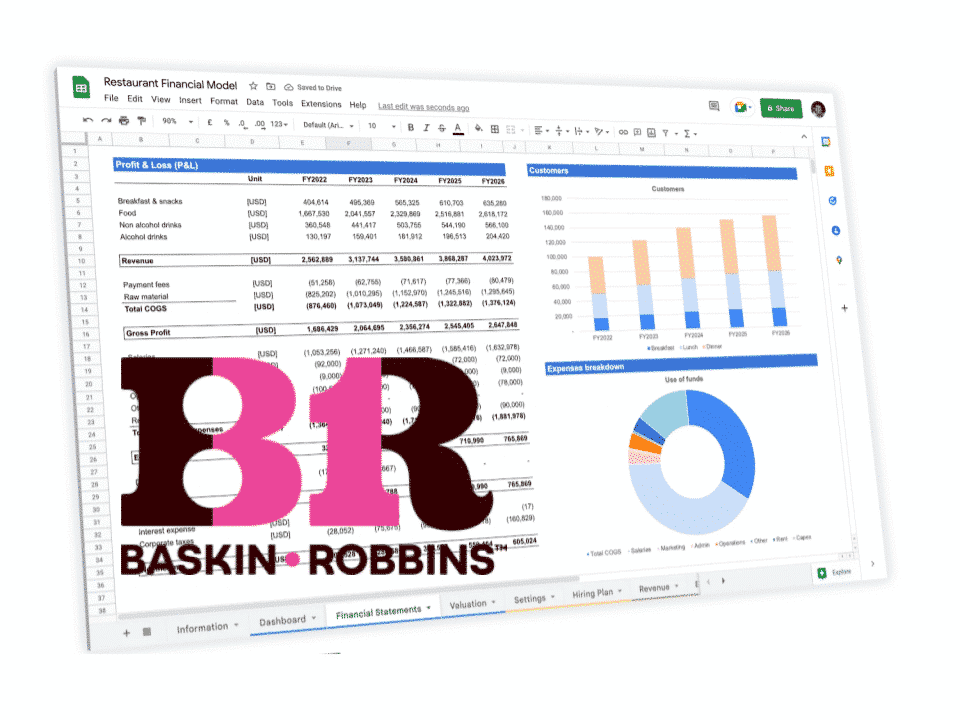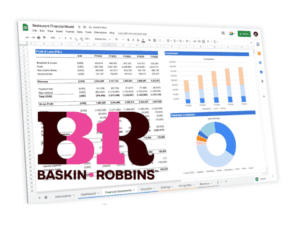 Baskin Robbins Franchise Business Plan
All the stats: startup costs, profits, breakeven, etc.
5-year financial projections built with the FDD

Excellent 4.8/5 based on 70 reviews
Excellent 4.8/5 based on 70 reviews

Disclaimer
Disclaimer: This content has been made for informational and educational purposes only. We do not make any representation or warranties with respect to the accuracy, applicability, fitness, or completeness of the information presented in the article. You should not construe any such information or other material as legal, tax, investment, financial, or other professional advice. Nothing contained in this article constitutes a solicitation, recommendation, endorsement, advertisement, or offer to buy or sell any franchises, securities, or other financial instruments in this or in any other jurisdiction in which such solicitation or offer would be unlawful under the franchise and/or securities laws of such jurisdiction.
All content in this article is information of a general nature and does not address the detailed circumstances of any particular individual or entity. Nothing in the article constitutes professional and/or financial and/or legal advice, nor does any information in the article constitute a comprehensive or complete statement of the matters discussed or the law relating thereto. You alone assume the sole responsibility of evaluating the merits and risks associated with the use of any information or other content in this article before making any decisions based on such information or other content.