Carstar Franchise: Revenue, Costs & Profits (2023)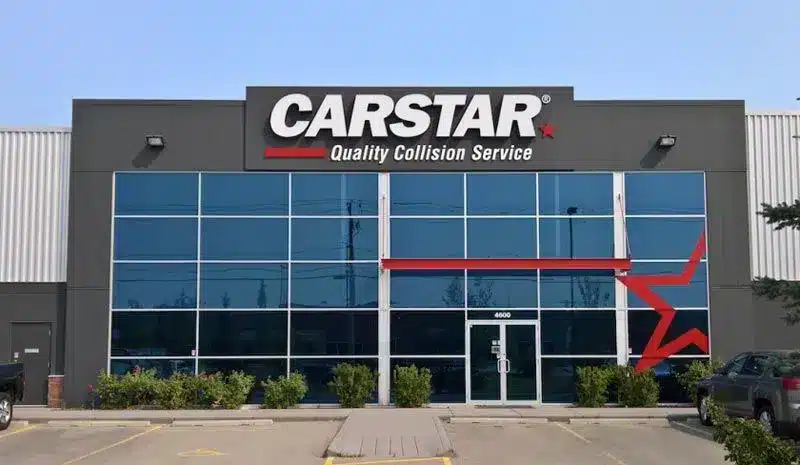 One of the leading car repair shop franchise, Carstar has expanded progressively since 1989 and now has more than 750 shops globally. Of these 750 Carstar service centers, close to 420 are franchises in the US.
With an initial investment of $551,000, Carstar is a rather affordable franchise. But what about profits? Should you buy a Carstar franchise?
In this article we are looking at Carstar and its Franchise Disclosure Document to find out all you should know about it, especially: how much it (really) costs and how profitable it really is. Let's find out!
Key stats
| | |
| --- | --- |
| Franchise fee | $10,000 |
| Royalty fee | 5.50% |
| Marketing fee | 1.00% |
| Investment (mid-point) | $551,000 |
| Average sales | $1,754,000 |
| Sales to investment ratio | 3.2x |
| Payback period* | 6 years |
| Minimum net worth | $500,000 |
| Minimum liquid capital | $30,000 |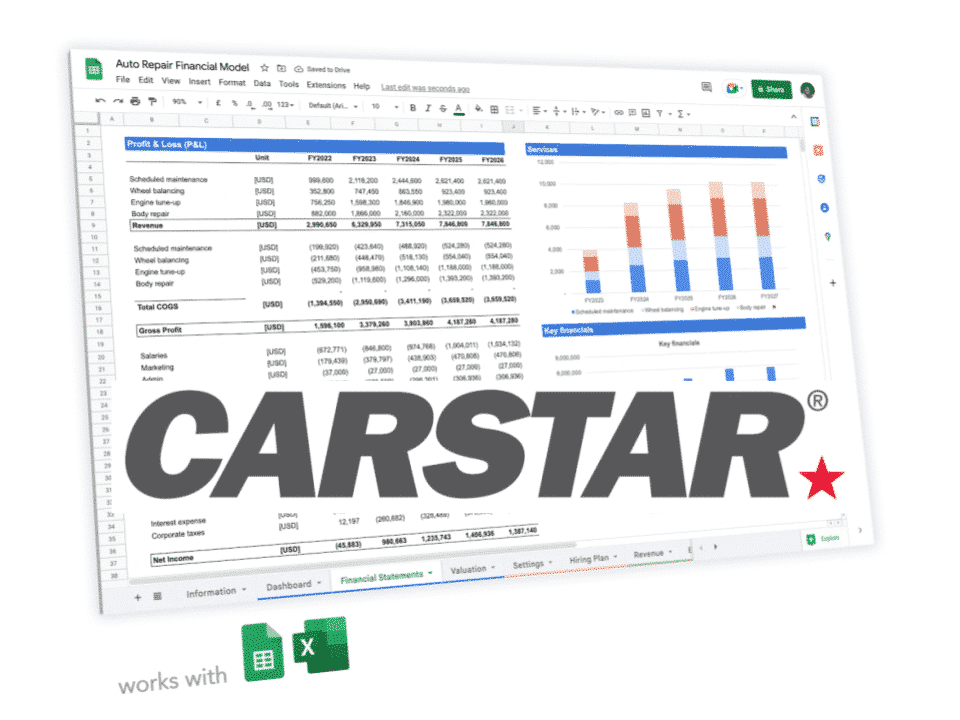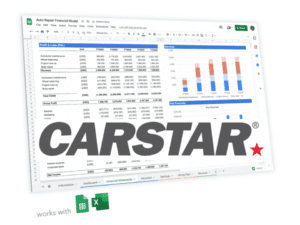 Carstar Franchise Business Plan
All the stats: startup costs, profits, breakeven, etc.
5-year financial projections built with the FDD

Excellent 4.8/5 based on 70 reviews
Excellent 4.8/5 based on 70 reviews

What is Carstar?
Carstar is a chain of collision repair centers owned by Driven Brands and headquartered in Charlotte, North Carolina.
It was founded in 1989 by Lirel Holt.
The franchises offer auto body repair services such as paintless dent repair, storm damage repair, vehicle detailing, accident assistance and financing options.
Carstar began franchising in 1989 and as of today has over 750 locations in the US and Canada.
Carstar franchises pros and cons
The Pros:
Real estate and site selection: Carstar provides its franchisees with real estate assistance to identify the best location considering traffic and competition. It also helps them with the development and lease negotiations.
Comprehensive training: Carstar has a comprehensive training and education program to equip franchise owners and their staff with the skills and knowledge to run high-performing franchises.
Third-party financing: The franchisor has established relationships with third-party lenders to provide its franchisees with financing for the startup costs, franchise fees, equipment, inventory and ongoing costs.
Industry-leading tools: Franchisees benefit from proprietary business management systems and effective solutions that attract customers, meet their KPIs and improve their bottom lines.
Marketing and advertising: The brand provides its franchisees with proven structures, marketing and public relations tools. Franchisees also enjoy the nationwide network of the parent company, regional advertising, social media, loyalty program apps and targeted local campaigns to reach a wider market area.
Consistent revenue growth: The brand has strong relationships with the largest insurance carriers and fleet programs to offer its partners direct repair programs and national-based performance agreements. It also utilizes a central review team to help franchises improve efficiency in writing more accurate estimates and meet their top-line KPIs.
Strong purchasing power: The Driven Brands network provides franchisees with great purchasing power and enjoys discounts and rebates on purchases of paint, technology and equipment allowing them to save more.
Full operational support: The franchisor has a proprietary operational platform, EDGE, to help its partners measure their franchises' performance against industry KPIs. The franchise's field operations managers help franchisees maintain the performance of their collision centers.
The Cons:
No exclusive territory protection: The franchisor does not grant its partners the right to operate in a protected area. They may face competition from franchises or affiliates and brands controlled by the franchisor.
Not a home-based opportunity: The franchise cannot be operated from home or a vehicle. The franchisees must have a fixed office, retail facility or warehouse.
Not a passive investment: The franchise does not allow for absentee ownership. The franchisees must be fully involved in the day-to-day running of their franchises.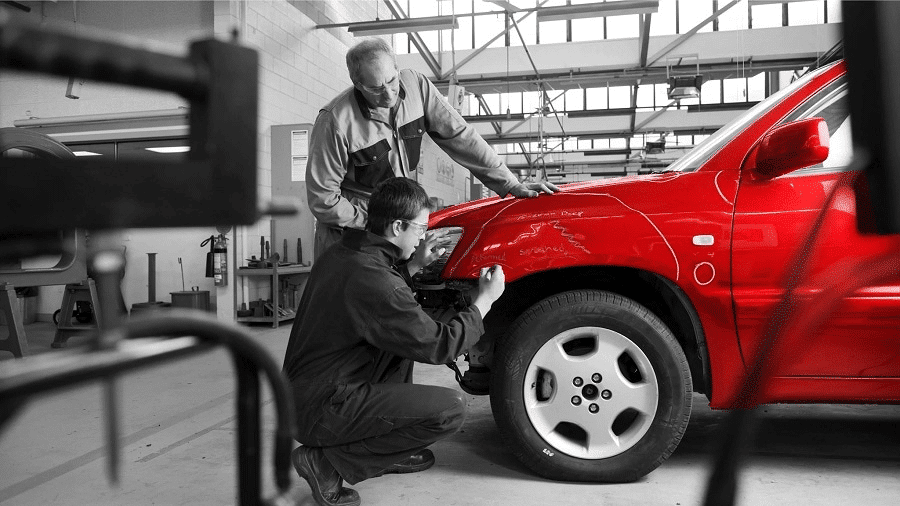 How much does a Carstar franchise cost?
The initial estimated investment to open a Carstar franchise is $551,000 on average, ad includes the initial franchise fee of $10,000.
This investment amount is lower than the average investment required for other automotive franchises, which ranges from $800,000 to $1,500,000. However, note that the investment amount may vary depending on several factors, such as the franchise location, size, and other operational costs.
According to the latest Franchise Disclosure Document, the investment ranges between $298,000 and $804,000.
[remi]
Startup costs
The investment covers all the startup costs you may need to start an auto body shop. You must pay the franchisor an initial franchise fee of $10,000. In addition to this franchise fee, the investment also covers:
Formation Costs: integration fee, facility, furniture, fixtures, equipment, computer system, training expenses, signage, etc.
Operating Costs: initial inventory and the first 3 months of working capital
| Type of Expenditure | Low | High |
| --- | --- | --- |
| Initial Franchise Fee | $10,000 | $10,000 |
| Formation Costs | $273,200 | $660,300 |
| Operating Costs | $15,000 | $134,000 |
| Total | $298,200 | $804,300 |
Source: Franchise Disclosure Document 2022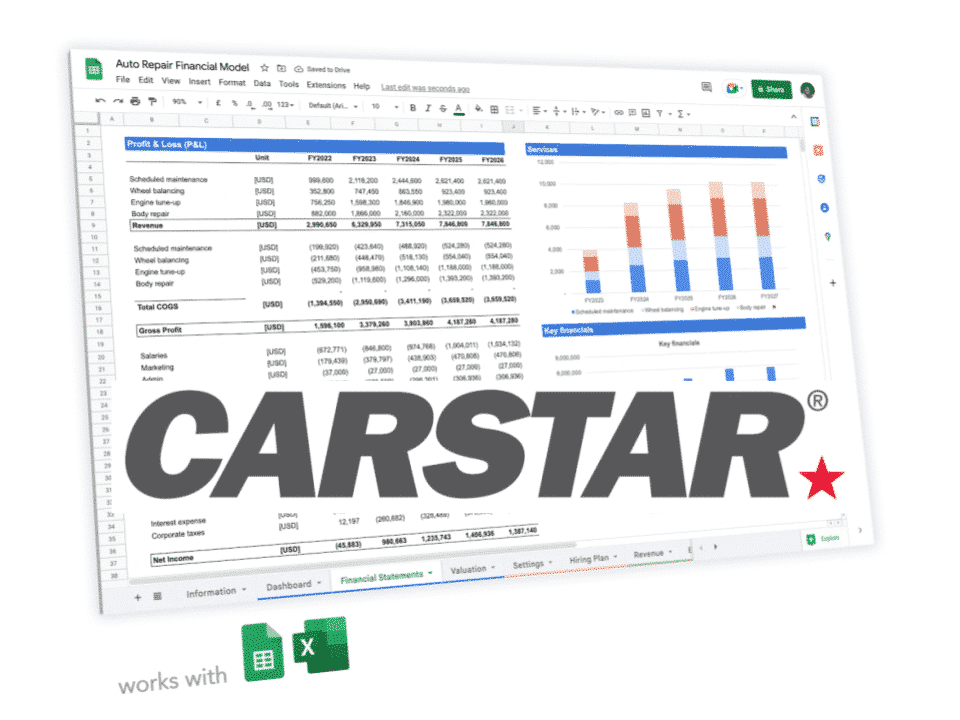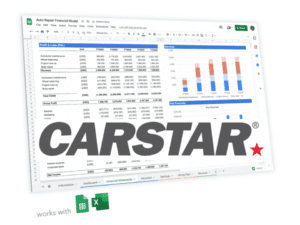 Carstar Franchise Business Plan
All the stats: startup costs, profits, breakeven, etc.
5-year financial projections built with the FDD

Excellent 4.8/5 based on 70 reviews
Excellent 4.8/5 based on 70 reviews

How much revenue does a Carstar franchise make?
On average, a Carstar franchise generates $1,754,000 in revenue per year.
This is purely an average though, as revenue per unit varies significantly from one Carstar shop to another. Indeed, whilst the bottom 50% of franchises had median gross sales of $2,875,000, the bottom 50% had median gross sales of $1,232,000 instead.
Another interesting addition in the Carstar FDD is a chart outlining the ramp up of revenue over time, using as an example 141 franchises. These 141 franchised-owned shops had a median revenue of $1,639,000 the first year, and $2,255,000 the third year.
It's worth noting though that these 141 franchises aren't all of them: they were 419 franchised-owned shops as of 2022. In addition they seemed to be well performing shops as the average revenue by year 3 ($2,255,000) is much higher than the median revenue for all shops ($1,754,000).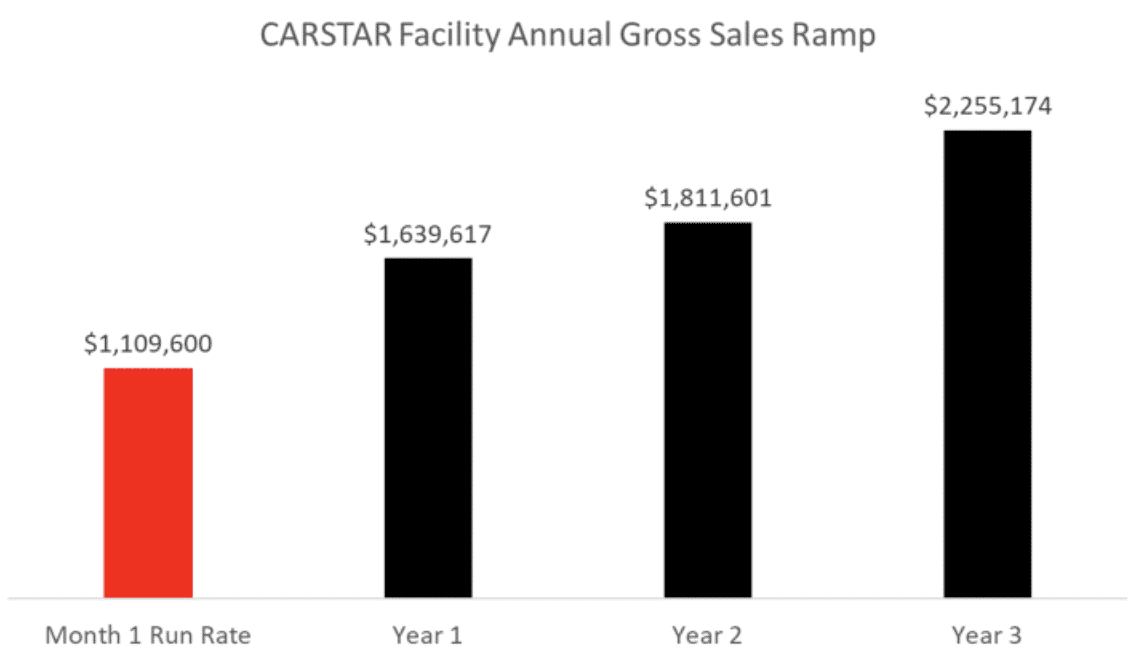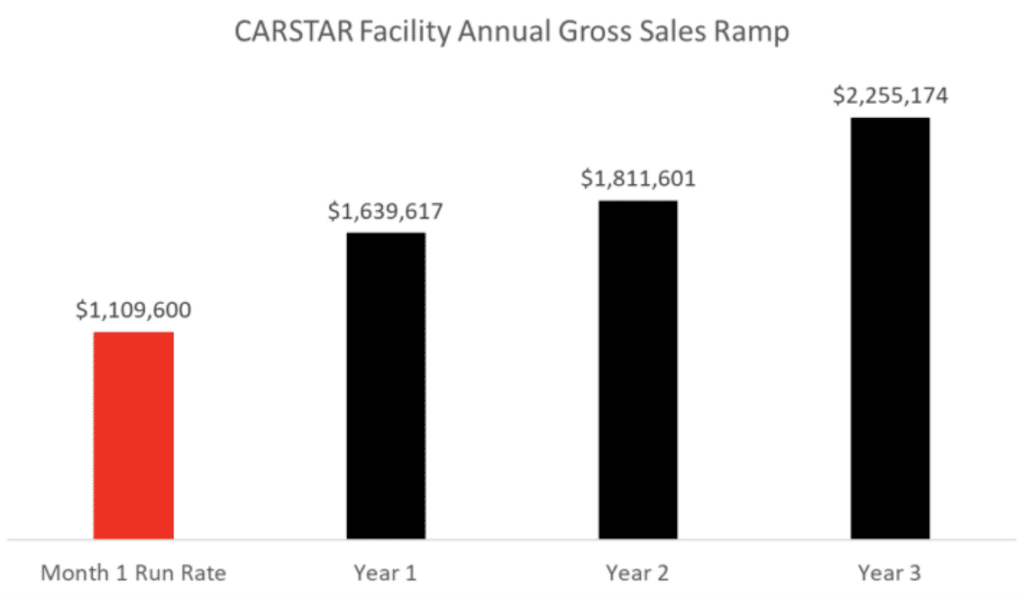 How profitable is a Carstar franchise?
We estimate that the average Carstar franchise makes $202,000 in revenue per year on average.
A Carstar franchise is a profitable business: the 12% EBITDA margin is in line with the automotive franchise industry.
Yet, it's worth noting that these are purely our estimates: the FDD does not provide a detailed profit and loss. Instead, we had to make some assumptions (COGS, labor costs, etc.) as explained in the table below.
| Profit and loss | Amount | % revenue | Source |
| --- | --- | --- | --- |
| Revenue | $1,753,695 | 100% | as per FDD |
| COGS | $(526,109) | 30% | industry average |
| Gross Profit | $1,227,587 | 70% | |
| Staff | $(526,109) | 30% | industry average |
| Advertising | $(87,685) | 5% | industry average |
| Royalties | $(96,453) | 6% | as per FDD |
| Occupancy | $(175,370) | 10% | industry average |
| Other operating costs | $(140,296) | 8% | industry average |
| EBITDA | $201,675 | 12% | |
Source: Franchise Disclosure Document 2022
Is Carstar a good franchise investment?
We have seen that Carstar can be a profitable franchise with profit margins (EBITDA) in line with the industry (as per our estimates). But are the profits worth investing $551,000 upfront (the estimated initial investment)?
We think so. Carstar has an excellent 6 years payback: as per our analysis it would take you only 6 years, on average, to reimburse the initial investment cost of $551,000 with the benefits generated by the business itself.
This is a great payback for an automotive franchise, and as such a great investment. Keep in mind we calculated this payback using a combination of data available in the FDD (revenue per shop) as well as our own estimates (profits). Therefore there is no guarantee your franchise will perform as well.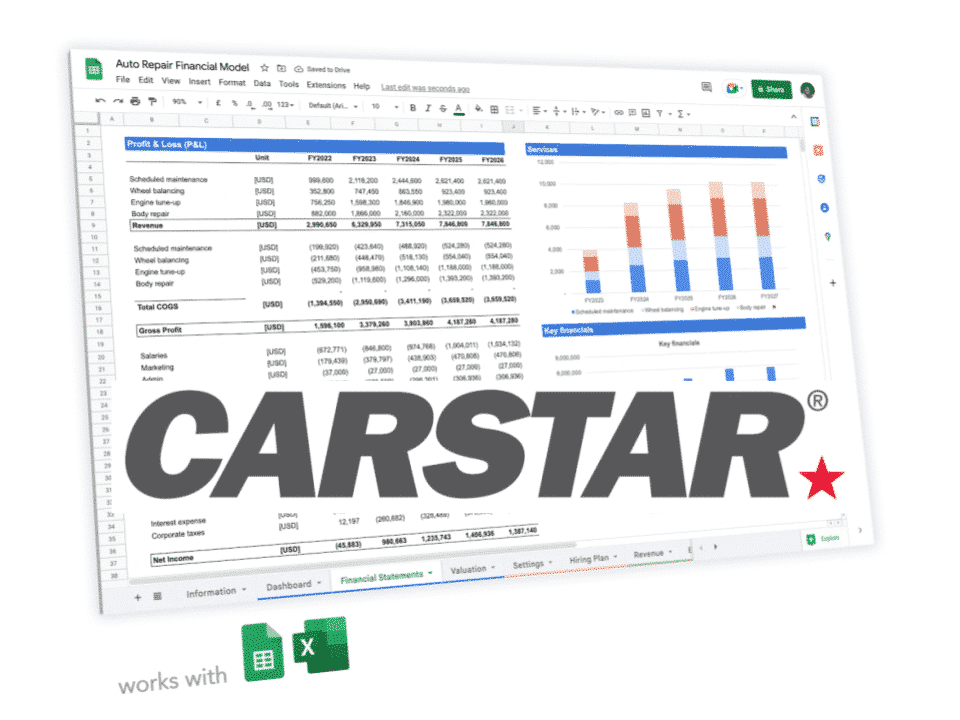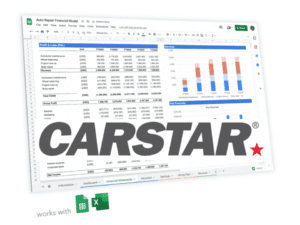 Carstar Franchise Business Plan
All the stats: startup costs, profits, breakeven, etc.
5-year financial projections built with the FDD

Excellent 4.8/5 based on 70 reviews
Excellent 4.8/5 based on 70 reviews

Disclaimer: This content has been made for informational and educational purposes only. We do not make any representation or warranties with respect to the accuracy, applicability, fitness, or completeness of the information presented in the article. You should not construe any such information or other material as legal, tax, investment, financial, or other professional advice. Nothing contained in this article constitutes a solicitation, recommendation, endorsement, advertisement, or offer to buy or sell any franchises, securities, or other financial instruments in this or in any other jurisdiction in which such solicitation or offer would be unlawful under the franchise and/or securities laws of such jurisdiction.
All content in this article is information of a general nature and does not address the detailed circumstances of any particular individual or entity. Nothing in the article constitutes professional and/or financial and/or legal advice, nor does any information in the article constitute a comprehensive or complete statement of the matters discussed or the law relating thereto. You alone assume the sole responsibility of evaluating the merits and risks associated with the use of any information or other content in this article before making any decisions based on such information or other content.