Drybar Franchise: Revenue, Costs & Profits (2023)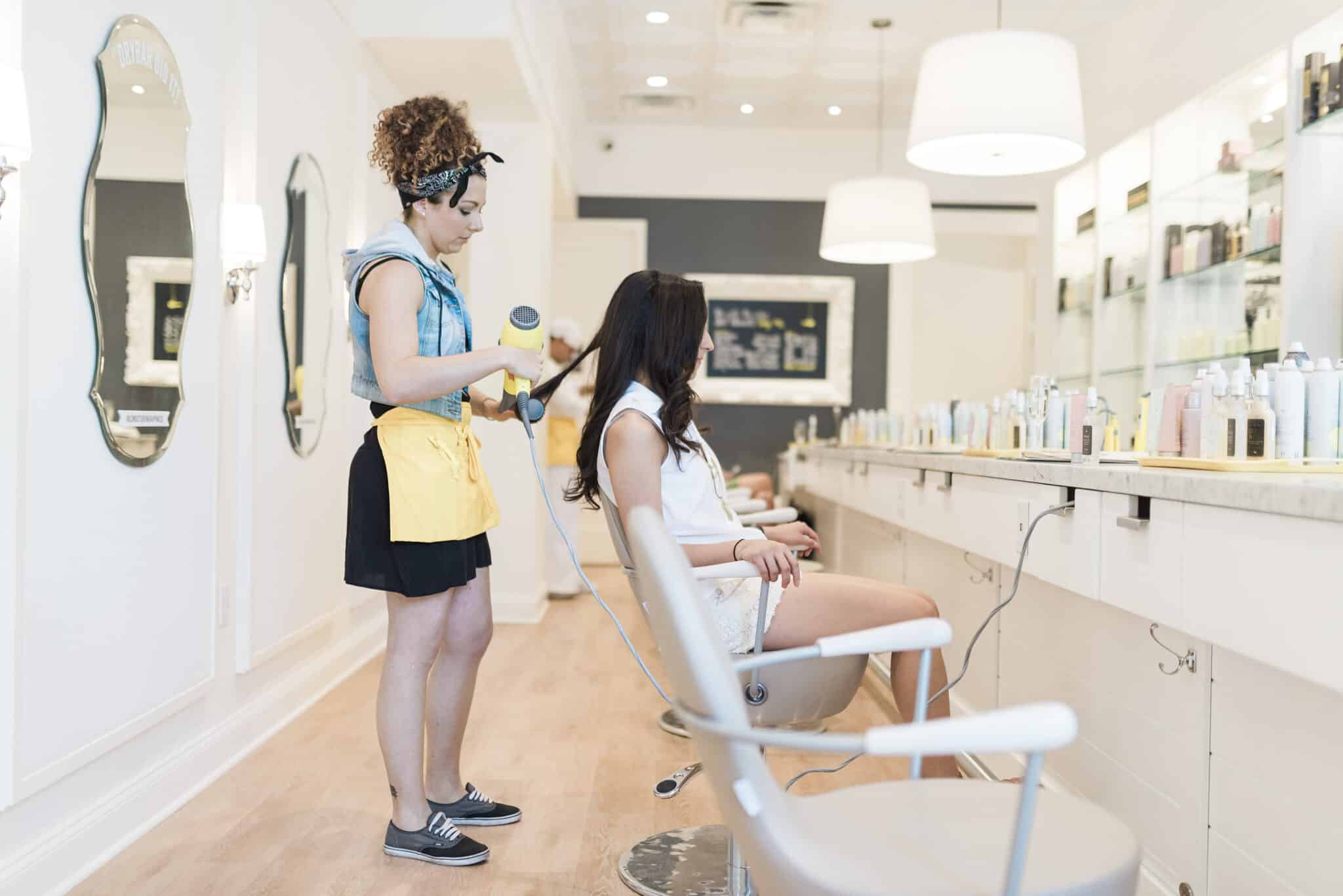 Drybar is a recent success story among beauty franchises: since it started franchising in 2012 the franchise has expanded rapidly and now has 143 salons in the US, of which all are franchised-owned.
There's a good reason for that: Drybar is not only benefits from the fast growing blow dry salon industry, but it's also a very profitable business.
Indeed, with a $809,000 revenue per salon per year on average and an initial investment of just $813,000, it does seems like Drybar is a good investment. But what about the profits? Are they worth investing $813,000?
In this article we are looking at Drybar and its Franchise Disclosure Document to find out all you should know about the franchise: how much it costs, how profitable it really is and whether you should buy the franchise. Let's find out!
Key stats
What is Drybar?
Drybar is an American chain of blow dry bar salons synonymous with hair styling services known as blowouts, based in Irvine, California.
The chain was founded in 2010 by Alli Webb in Brent, California.
Drybar began franchising in 2012 and today has 143 franchised units in the US.
Drybar franchise: pros and cons
The Pros:
Comprehensive corporate and ongoing support: Drybar offers its franchisees growth strategies and ongoing support to build and grow their businesses smoothly. In addition, franchisees get access to the well-developed infrastructure and resources of the parent company, WellBiz Brands, Inc., as well as a network of successful business partners who share business insights.
Pre-opening training: The franchisor provides its franchisees with detailed pre-opening training and support to establish and operate successful Drybar salons. Franchisees get trained on the Drybar's business system, equipment use, hiring and training qualified staff and grand opening.
Site selection and construction: The brand has an experienced real estate team in place to help franchisees establish their salons. It helps with the site selection process to identify a suitable business location. Also, it helps them with space planning, design, construction and support during the construction and lease negotiations.
Third-party financing: The brand has established third-party relationships to help fund franchisees in financing their salons' development. Franchisees get funded for the startup costs, franchise fees, equipment, inventory and payroll.
Simple business concept: The brand embraces a simple franchise concept, just as their tagline states: No cuts. No color. Just blowouts. Franchisees can get started with smart design,little equipment and inventory requirements, then grow into multi-unit spaces.
Integrated marketing strategy: The Drybar franchise offers its franchisees turnkey and effective marketing strategies to promote their locations. These include social media, public relations, direct mail and promotional materials.
Exclusive territory protection: Drybar allows its franchisees to operate their salons in a protected market. Under the agreement, it does not permit any other franchise or operate competing channels in the agreed-upon area.
The cons:
No absentee ownership: The brand does not present a passive ownership business opportunity. It requires franchisees to be actively involved in decision-making and the daily operations of their salons.
Not a mobile or home-based business: The franchise cannot be run from home or a vehicle. The franchisor requires franchisees to operate from a fixed office space, retail facility, or warehouse.
Not a part-time business: The business does not allow for a part-time or side business. The salons should operate full-time.
Competition from other premium hair salon franchises such as Phenix Salon Suites or My Salon Suite to name a few

How much does a Drybar franchise cost?
You have to invest around $813,000 to open a Drybar salon. Note that this is purely and average. Indeed, it varies based on many factors, such as the location of your salon, its size and other factors.
In addition to the initial franchise fee of $50,000 which you must pay to the franchisor, you would also pay for the leasehold improvements, furniture and fixtures, signage, professional fees, insurance, etc.
Drybar franchise startup costs
Here's the full breakdown of costs:
What's the turnover of a Drybar salon?
A Drybar salon makes 676,000 in revenue per year on average.
Note that this is the average revenue per unit (per franchised salon) for 138 salons that were opened for all of 2022.
Indeed, there is a strong positive correlation between the number of years the salon was open and the revenue per unit as shown in the chart below.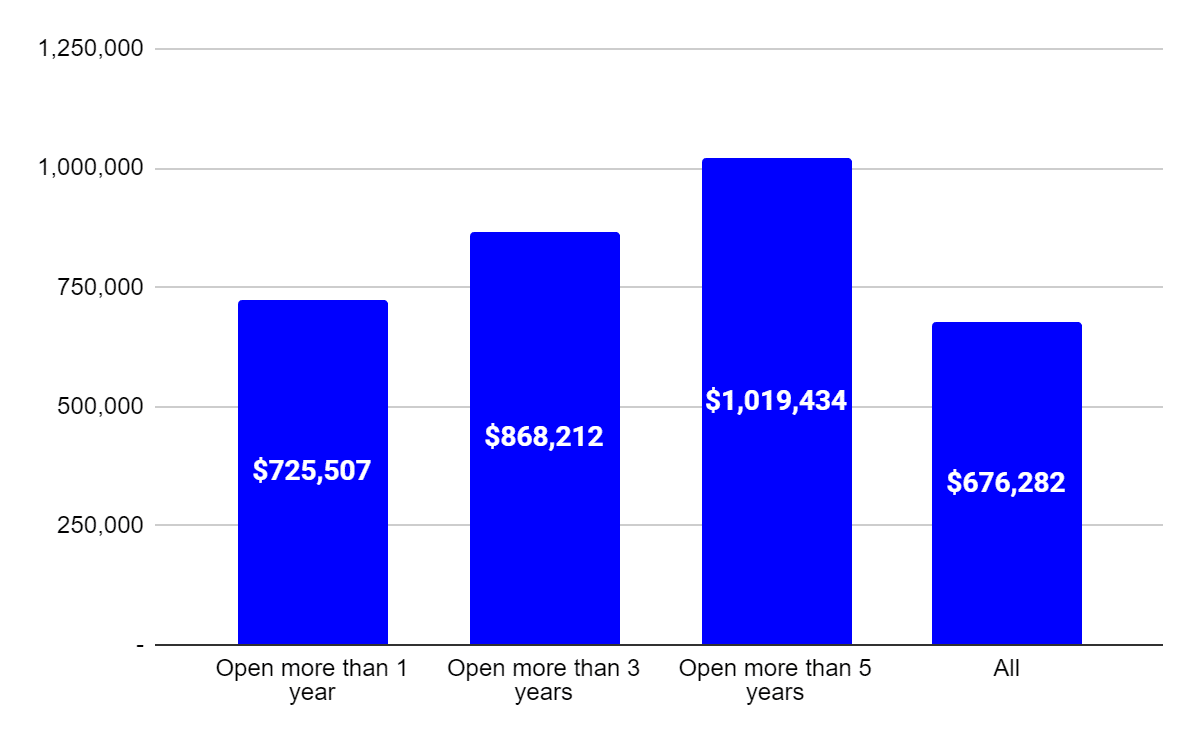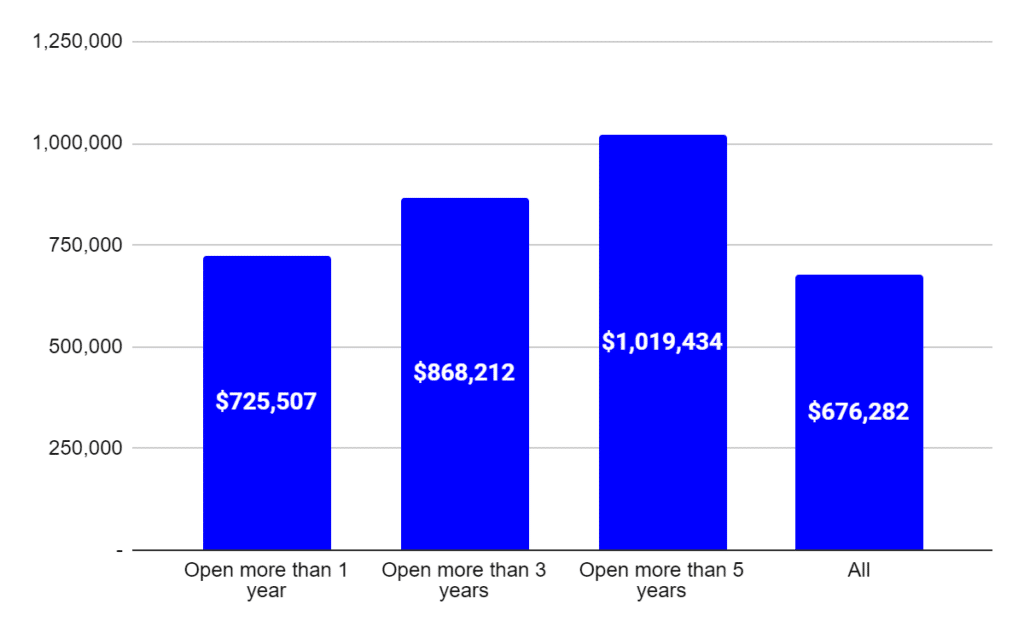 How profitable is a Drybar franchise?
Drybar franchised salons make $247,000 in profits per year. This corresponds to a 31% EBITDA margin.
Drybar is a profitable franchise: the 31% EBITDA margin is in line with the industry (we found salon franchises have 25% EBITDA margin on average).
Note that we estimated EBITDA using the information available in the Franchise Disclosure Document for 2022. Unfortunately, Drybar has not provided detailed information on the cost of goods sold (COGS) and labor costs. Therefore, we used 3% and 40% of sales, respectively, as per our own benchmarks for salon franchises.
Is Drybar a good franchise investment?
So is this a good investment? In other words: are the profits worth the $813,000 initial investment you would have to fund as the franchisee (from a loan, investors and/or your own funds)?
Well we do think so. The payback of Drybar franchises is 7 years as per our calculations: it takes on average 7 years for a Drybar franchise to repay creditors and investors with the profits it generates.
To estimate this number, we compared the initial investment of $813,000 against the net profits (which we estimate at 15% of revenue).
This is a great payback for a salon and therefore a good investment from that perspective. To give you an idea, as per our own benchmarks salon franchises have a 8 years payback on average. Hence Drybar performs slightly better than the industry.
Disclaimer: This content has been made for informational and educational purposes only. We do not make any representation or warranties with respect to the accuracy, applicability, fitness, or completeness of the information presented in the article. You should not construe any such information or other material as legal, tax, investment, financial, or other professional advice. Nothing contained in this article constitutes a solicitation, recommendation, endorsement, advertisement, or offer to buy or sell any franchises, securities, or other financial instruments in this or in any other jurisdiction in which such solicitation or offer would be unlawful under the franchise and/or securities laws of such jurisdiction.
All content in this article is information of a general nature and does not address the detailed circumstances of any particular individual or entity. Nothing in the article constitutes professional and/or financial and/or legal advice, nor does any information in the article constitute a comprehensive or complete statement of the matters discussed or the law relating thereto. You alone assume the sole responsibility of evaluating the merits and risks associated with the use of any information or other content in this article before making any decisions based on such information or other content.