F45 Training: a Profitable Franchise Costing $457K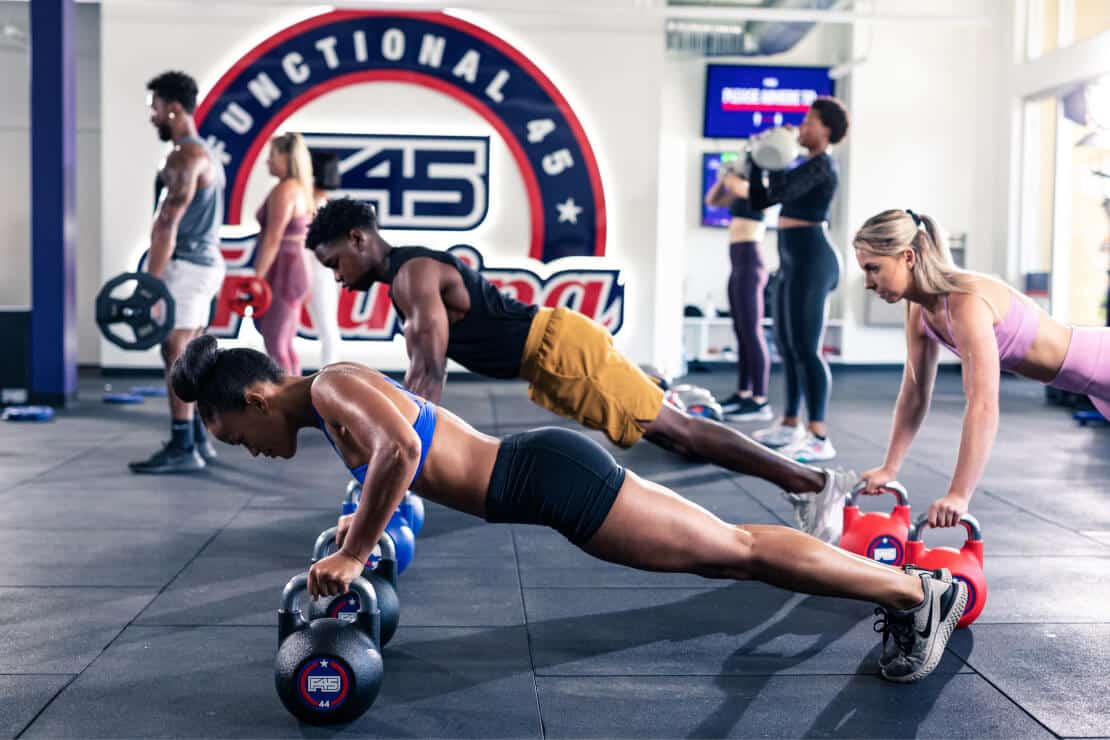 With close to 1,750 fitness clubs globally of which 640 are US franchised owned, F45 Training is arguably the most popular HIT training fitness franchise.
In addition to the hype and a strong growth (250 franchises added over the past 3 years), F45 Training is also one of the most profitable fitness franchises we found.
Indeed, it would cost you $458,000 on average to set up a new F45 Training gym in the US, which would generate a total revenue per year of $633,000. All in all, that represents a 5 years payback, one of the best in the industry.
So if you're considering buying a F45 Training franchise, make sure to read this article. We'll answer all the questions you might have on how much it really costs and how much profits you can realistically make. Let's dive in!
Key figures
| | |
| --- | --- |
| Franchise fee | $50,000 |
| Royalty fee | 7.0% |
| Marketing fee | 2.0% |
| Investment (mid-point) | $458,000 |
| Revenue | $633,000 per year |
| Revenue per square foot | [franchise_value_revenue_per_sq_ft] |
| Sales to investment ratio | 1.4x |
| Payback period | [franchise_value_investment_payback] (good) |
| Minimum net worth | $300,000 |
| Minimum liquid capital | $100,000 |
Source: FDD 2022
Find the best franchise
Compare F45 Training vs. 1,000+ franchises on franchiseindx.com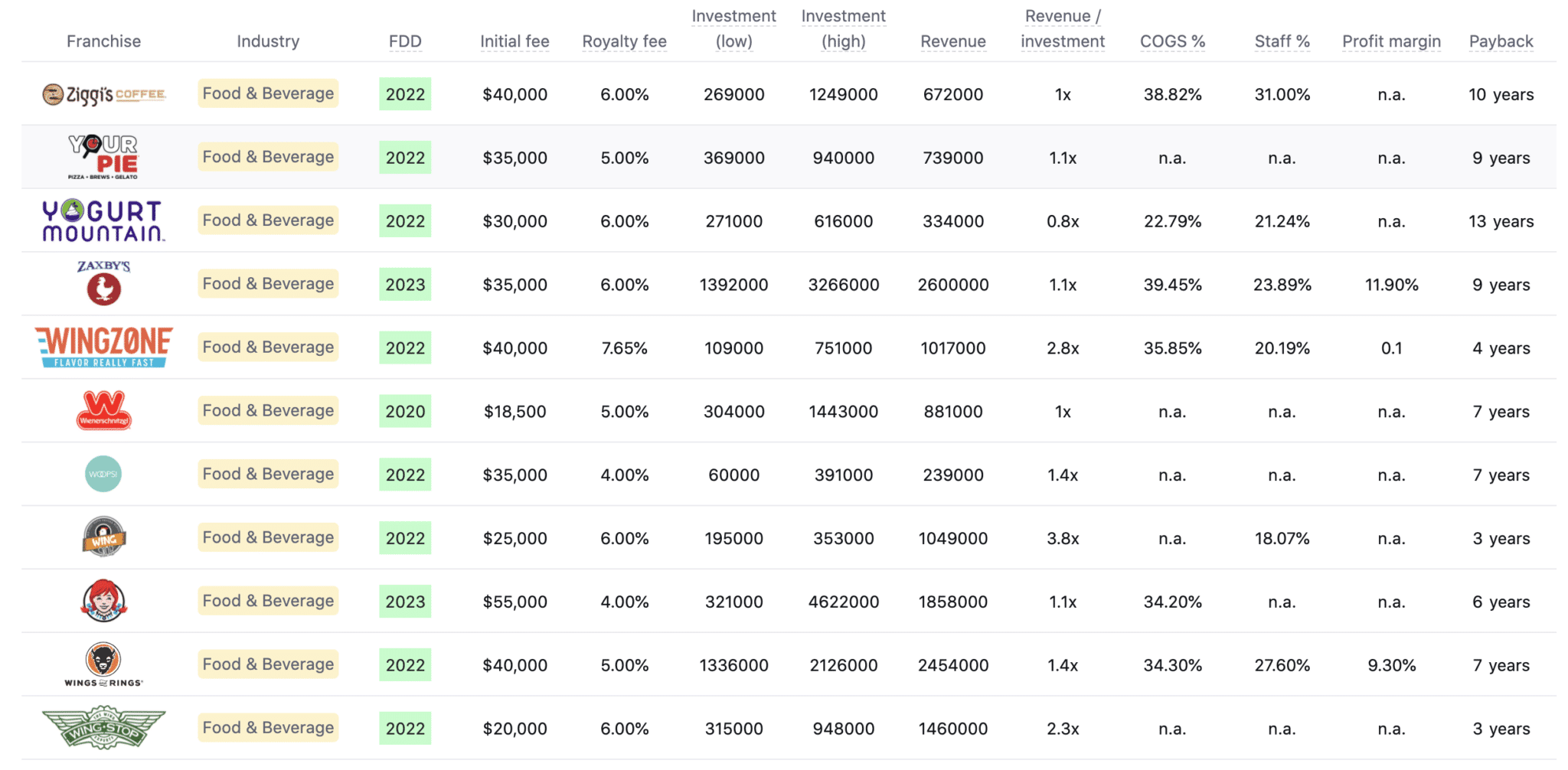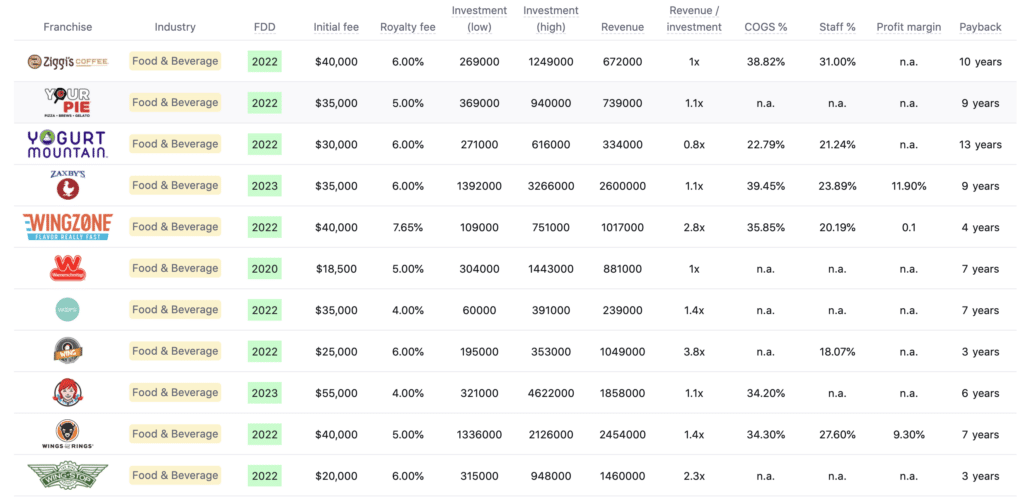 What is F45 Training?
F45 Training is an Australian chain of fitness centers and one of the fastest-growing franchises based in Austin, Texas, United States.
It was founded in 2013 by Rob Deutsch and Adam Gilchrist, the first studio in Sydney, Australia.
F45 stands for Functional training in 45 minutes, meaning the training is a mix of circuit and hiit all to be completed within the 45 minute mark. Each studio follows the same series of exercises and workout format.
It began franchising in 2013, with the first franchise opening in the US in 2015. Currently, F45 training has over 3300 studios sold in over 67 countries worldwide, with 550 in Australia and 650 in the US.
F45 Training franchises pros and cons
The Pros:
Comprehensive training: The franchisor has in place a detailed classroom and on-the-job training curriculum to support its franchisees in establishing and running their studios. Franchisees are trained on the F45's systems, franchise management and training methods.
Marketing and sales: F45 has an aggressive marketing strategy to help franchisees create awareness and drive sales. Franchisees can leverage global presence, national and regional advertising, ongoing marketing, sales training and personalized local studio promotional campaigns.
Motivation: Every F45 studio offers 45-minute group workout training sessions that are designed to foster motivation and encouragement among team members. They are also modified for beginners and experienced franchisees, allowing franchisees to attract different clusters of members.
Solid management support: The franchisor offers its franchisees best-in-class turnkey business solutions and professional network relationships to build and grow their studios. It also provides them with divisional, state and national F45 owners meetings, franchise performance reviews and franchise intranet platforms.
Financial assistance: Franchisees get assisted with one financing program for the initial investment. The franchisor also has relationships with third-party lenders to help franchisees fund their ongoing expenses.
Technology-driven concept: uses a simple and technology-driven concept to help franchisees build and scale their businesses into multi-unit operations. Franchisees can use an internal intranet, a custom-built radio channel, systematized training systems, exercise dongles, an online nutrition portal, training and judging apps, fitness tests and a client CRM.
Site selection and construction: The franchisor helps the franchisees with site selection to identify a suitable gym location. Also, it provides them with the layout, interior designs as well as equipment, music and nutritional programs for their members.
Territory protection: The brand offers its franchisees the right to operate in a designated area. The franchisor does not license any other franchisees or operate competing brands in the area.
The cons:
Not a passive business opportunity: The franchise does not allow for semi-absentee ownership. It requires franchisees to fully take charge of the studios' operations.
Not a part-time business: F45 training is not a part-time or side business. Franchisees must adhere to the parent company's working hours.
Not a home-based business: The franchise cannot be run from home or a mobile unit. Franchisees must have fixed office space, a retail facility, or a warehouse within or near their studios.
Competition: A couple of competitors include Orangetheory Fitness, Burn Bootcamp and Planet Fitness.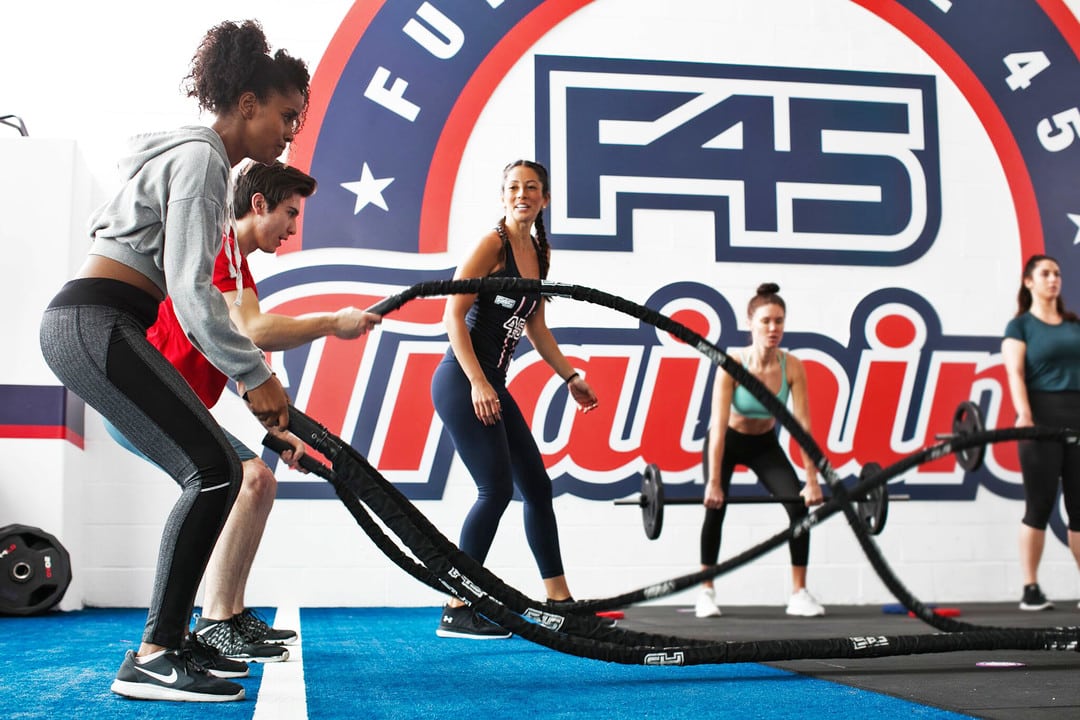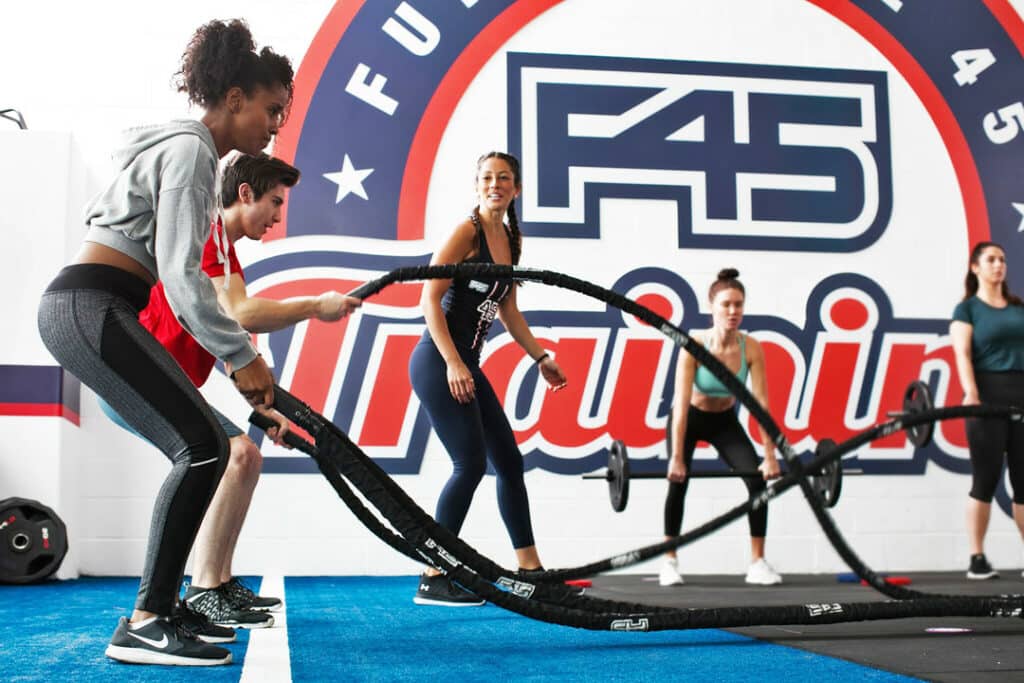 How much does a F45 Training franchise cost?
On average, you may need to invest around $457,650 to open an F45 Training franchise.
The investment amount is an average, indeed, it will change depending on the fitness club's size and location. According to the latest FDD, this amount can be as low as $350,200 and as high as $565,10.
F45 Training startup costs
The initial investment covers all the startup costs you may need to start a F45 Training fitness club.
You must pay an initial franchise fee of $50,000, which is also called the establishment fee. In addition to this initial fee, the investment also covers:
Formation costs: training expenses, leasehold improvements, office equipment, training equipment, furniture, signage, permits, business licenses, architect fees, computer system, music licenses, etc.
Initial marketing: grand opening marketing expenses
Operating costs: rent, insurance, utilities, supply, nutritional supplements, and working capital for first 6 months, etc.
| Type of cost | Low | High |
| --- | --- | --- |
| Initial Franchise Fee | $50,000 | $50,000 |
| Formation Costs | $205,200 | $341,100 |
| Initial Marketing | $25,000 | $25,000 |
| Operating Costs | $70,000 | $149,000 |
| Total | $350,200 | $565,100 |
Source: Franchise Disclosure Document 2022
Find the best franchise
Compare F45 Training vs. 1,000+ franchises on franchiseindx.com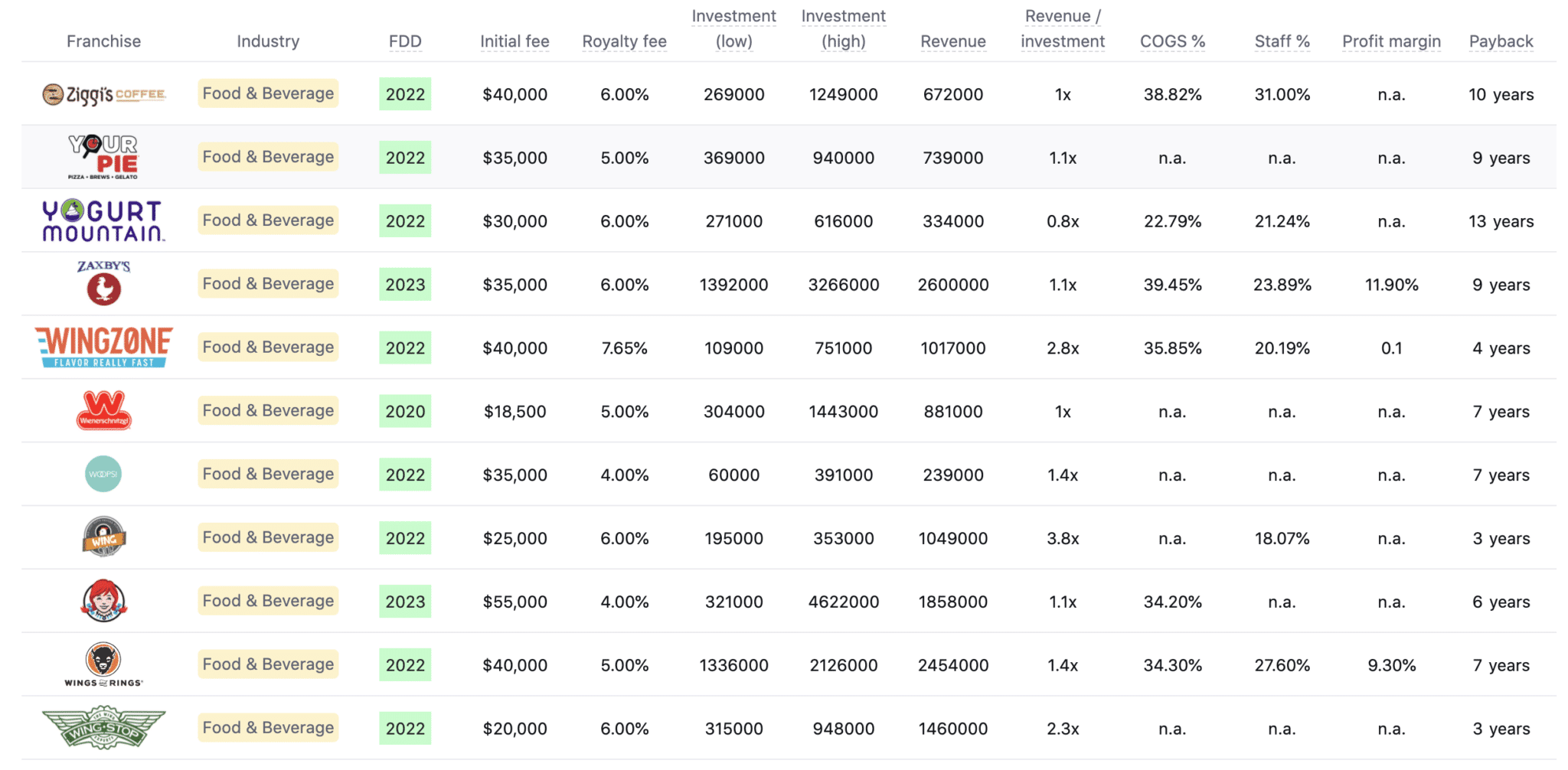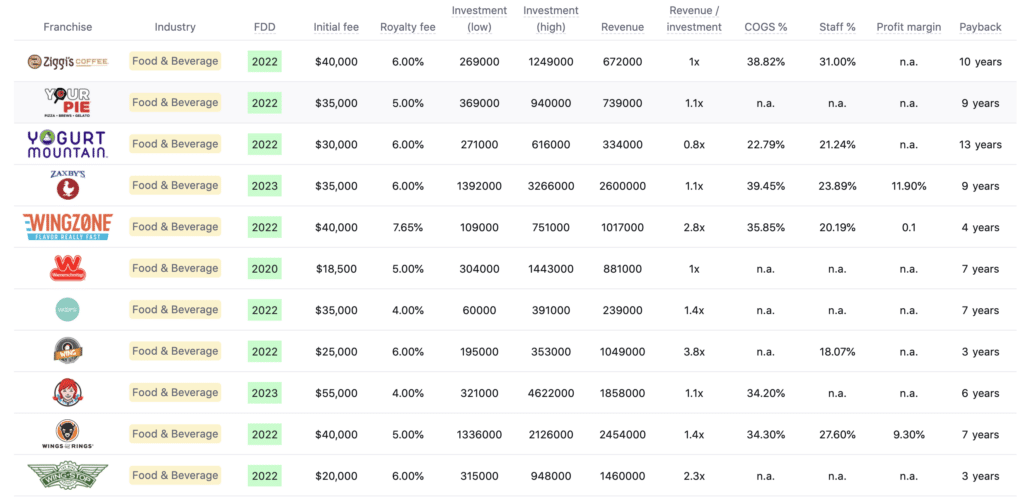 What is the turnover of a F45 Training gym?
On average, an F45 Training franchise makes $632,902 in sales per year.
This number is the average franchise revenue in 2021.
Note that F45 Training does not disclose the exact revenue per unit in its Franchise Disclosure Document. So to estimate this number we had to divide the total sales by the total number of franchises instead.
Despite a low in 2020 due to the pandemic, F45 Training franchises have bounced back in 2021 (+20.4% revenue growth vs. 2020).
As of revenue per square foot, F45 Training franchises make ~$253 revenue per square foot per year, which is on the higher end compared to similar fitness franchises ($80).
How profitable is a F45 Training franchise?
We estimate that an F45 Training franchise makes about $206,326 in profits per year (33% EBITDA margin).
This profit margin is on the higher end compared to similar franchises. Indeed we found fitness franchises have a ~30% EBITDA margin on average as per our own analysis.
Note that F45 Training does not provide any detailed cost information apart from rent and royalty and marketing fees for its franchises in its FDD. Instead, we had to use industry average percentages as described below.
| Profit and loss | Amount | % revenue | Notes |
| --- | --- | --- | --- |
| Revenue | $632,902 | 100% | |
| Staff | $(177,212) | 28% | industry average |
| Rent | $(110,125) | 17% | industry average |
| Royalty fee | $(44,303) | 7% | as per FDD |
| Marketing | $(31,645) | 5% | industry average |
| Other Opex | $(63,290) | 10% | industry average |
| EBITDA | $206,326 | 33% | |
Source: Franchise Disclosure Document 2022
Should you invest in a F45 Training franchise?
In order to answer that question, we must look at the payback period, as in the time it takes for an investment (like investing in a franchised gym) to repay itself with the profits it generates.
F45 Training has a payback period of 4.8 years on average which means you would repay all creditors and investors within 5 years if you were to invest in a F45 Training center as a franchisee today.
For profits, we assumed 15% net profit margin which makes sense given EBITDA is 33% (see above).
This is a great payback period: on average we found fitness franchises are in the 8 to 9 years range. Therefore F45 Training seems like a great investment if you want to get into the fitness franchise industry!
Find the best franchise
Compare F45 Training vs. 1,000+ franchises on franchiseindx.com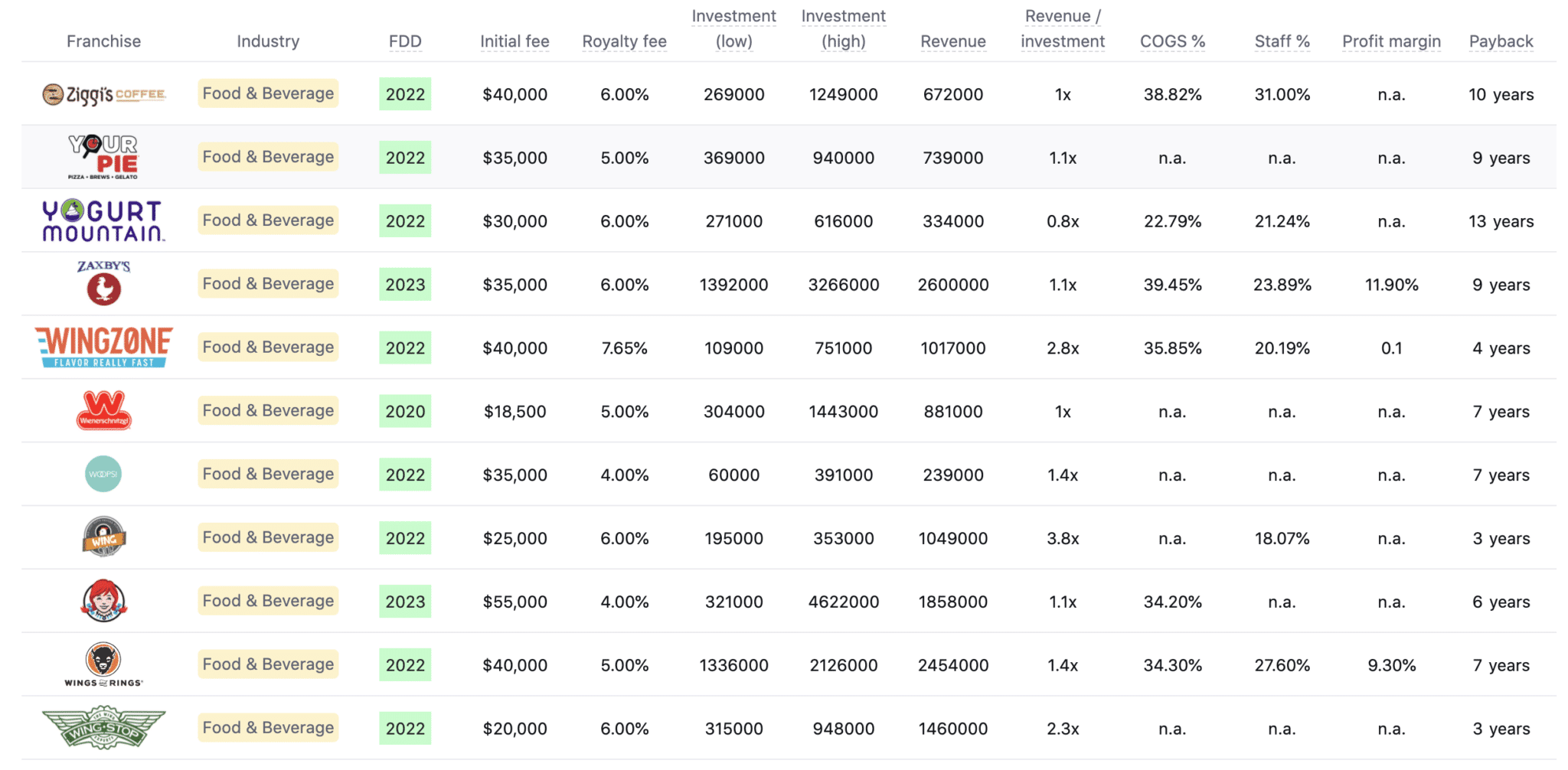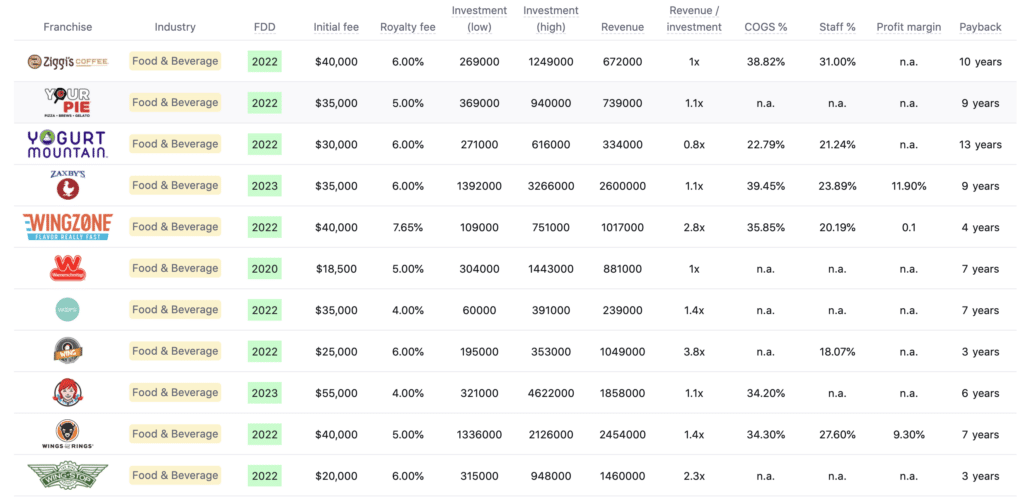 Disclaimer
Disclaimer: This content has been made for informational and educational purposes only. We do not make any representation or warranties with respect to the accuracy, applicability, fitness, or completeness of the information presented in the article. You should not construe any such information or other material as legal, tax, investment, financial, or other professional advice. Nothing contained in this article constitutes a solicitation, recommendation, endorsement, advertisement, or offer to buy or sell any franchises, securities, or other financial instruments in this or in any other jurisdiction in which such solicitation or offer would be unlawful under the franchise and/or securities laws of such jurisdiction.
All content in this article is information of a general nature and does not address the detailed circumstances of any particular individual or entity. Nothing in the article constitutes professional and/or financial and/or legal advice, nor does any information in the article constitute a comprehensive or complete statement of the matters discussed or the law relating thereto. You alone assume the sole responsibility of evaluating the merits and risks associated with the use of any information or other content in this article before making any decisions based on such information or other content.