How to Build a Financial Model For a Gym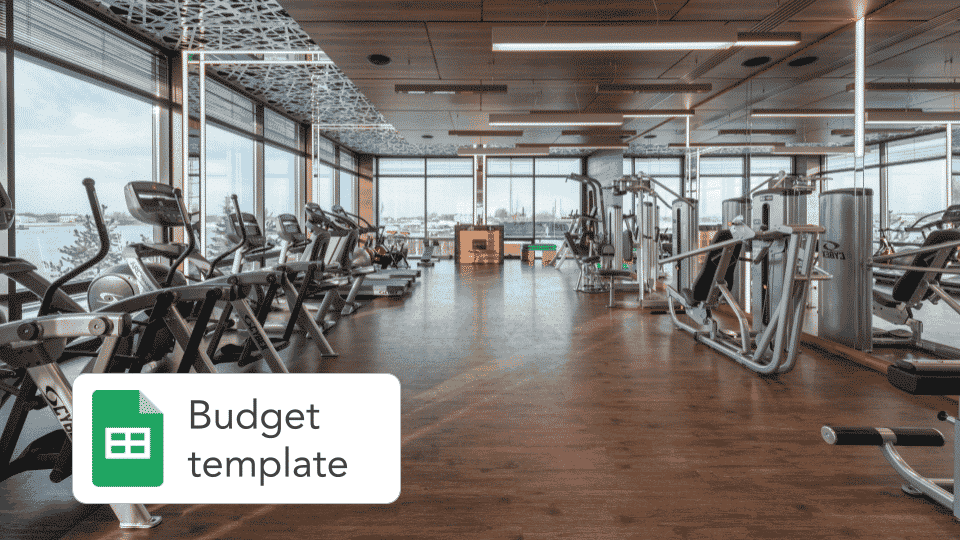 Every business needs a budget. Whether you want to understand what's your breakeven, your valuation or create a financial model for your gym or fitness club business plan, you've come the right way.
In this article we'll explain how to create powerful and accurate financial projections for a gym business.
1. Forecast active members
The first thing you must do is to estimate the number of active members. They are a function of the members you acquire and retain over time. The number of members that leave is also known as churn:
Active members = new members – churn
We strongly recommend you create monthly forecasts. That way, you will be able to take account seasonality (customers tend to sign up to gyms more pre than post summer).
Also, if you have different memberships instead, make an assumption on the breakdown between the different plans. For example, 80% of members would choose the "Basic" plan in average, and 20% the "Premium" plan.
Finally, you should assume a maximum number of active members as the gym is constrained in capacity.
Assuming a gym with 500 maximum members capacity, this is what you could obtain: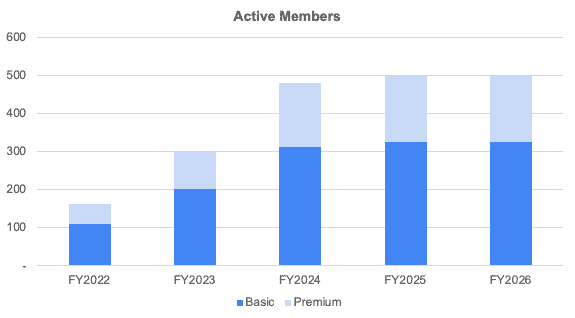 2. Forecast revenue
When it comes to fitness clubs, there are 3 main types of revenue streams:
Membership revenue
Classes revenue
Merchandising
Membership revenue
If you offer subscriptions (instead of classes-only gyms), you should forecast membership revenue simply by multiplying the number of active customers by the respective monthly fee.
Classes revenue
If you offer classes, whether in addition or included within the membership you sell, you must first forecast the number of classes (and the students). This can be done by:
Setting the number of classes per week (say 12)
The capacity per class (say 20 students per class)
The capacity rate (say classes are 60% full on average)
Of course, the number of classes taken must be in line with the number of active members. For example, the following wouldn't make sense:
30 classes per week
30 students per class
100% capacity rate
100 active members
Indeed, this would mean that each of the 100 members take in average 9 classes a week which seems unrealistic.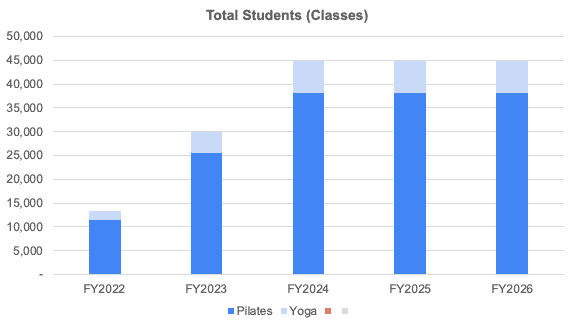 Once you have estimated the number of classes, multiply by the price per class to calculate revenue.
Tip: make sure to take into account any discount that may be part of a subscription. For example, if the "Premium" plan gives 25% discount on classes. This feature is already built in our financial model template.
Merchandising revenue
Most gyms make an extra revenue by selling additional products and services fitness and activewear products (also known as merchandising).
Finally, you should obtain a forecast of your revenues like the chart below. Of course, your revenue streams might be different. For example, you might only offer memberships and your classes are included in the price. Or merchandising might be a bigger part of your income. This is purely for illustrative purposes to give you an idea of how revenue projections might look like.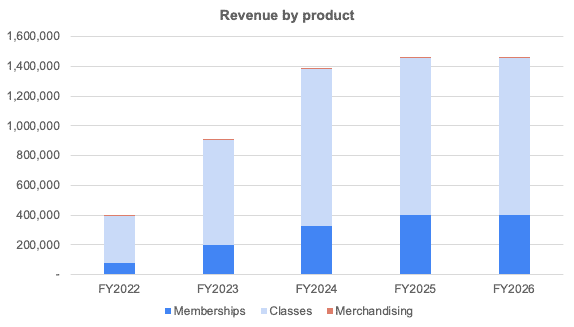 3. Forecast expenses
Now that we have calculated revenue, we need to forecast expenses.
Like any other business, there are 2 main types of expenses for fitness clubs and gyms:
Startup costs: these are all the expenses you must pay for before you open your gym to the public. For example, you would need to pay for the lease deposit if you rent a space, or the price of purchasing the real estate if you buy instead. You would also typically spend money on the machines and the fitness equipment. Finally, there are a few expenses you wouldn't necessarily expect for intangible assets (licenses, legal costs, etc.)
Operating costs: these are the recurring and one-off expenses business owners pay for to run the business after it has opened. For a gym, you would expect here to pay for staff costs, rent, leasing expenses (if you lease the equipment instead of buying it), bookkeeping, etc.
We're including below the cost breakdown of a typical gym in the US. For more information on how much it costs to open a run a fitness club, make sure to read our complete guide here.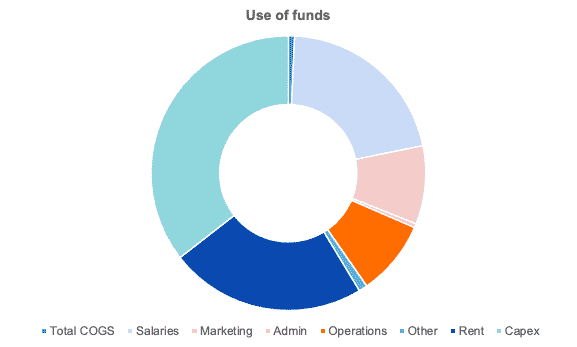 Gym financial model template
If you want to save time, we have prepared a financial model template you can download and use for any type of membership or pay-per-class gym. We have included all the metrics and pro forma financial statements investors asks for.
Want to see more? Have a look at our video tutorial below.
Any questions? We're here to help, contact us and we'll answer your questions within 24 hours.