Are you looking to start your own fashion and clothing online shop? As part of your business plan, make sure to budget for all the relevant costs to start and run a fashion online shop, from inventory to fulfilment and marketing expenses.
In this article we'll go through how fashion online shops actually make money. Also, we'll look into what are the key startup and ongoing expenses you'll have to incur. Finally we'll see how profitable fashion online shops can be. Let's dive in!
Want to know how to build a financial plan for your fashion store? Make sure to read our guide below:
How To Build a Financial Model For a Retail Shop
How Much Does It Cost to Open a Fashion Store?
How To Open a Fashion Store In 10 Steps
8 Strategies To Increase Fashion Store Sales & Profits
How Do Fashion Online Stores Make Money?
Fashion online stores make money in various ways including:
Ongoing deals and discount coupons
Most fashion online stores offer ongoing deals and discounts to attract new customers and even increase customer loyalty. "Buy two get one free" is a classic example of such ongoing deals.
App exclusive deals
Many online stores offer app-only discounts. These are additional discounts over the usual offers. However, the only condition is that the products must be purchased from their mobile applications. The additional discounts not only lure in existing customers but also help to increase the customer base through increased mobile app installations.
People have a tendency to immediately check push notifications on their mobile devices. According to OneSignal, additional discounts and offers through mobile push notifications help to drive revenue and increase customer retention and customer loyalty.
Referral programs
Referral programs are quite common for fashion online stores. Many stores offer a certain percentage discount to the referrer when the referee signs up. These additional discounts often lead to increased sales revenue. Referral programs usually vary from store to store. Some may offer a discount just for a referee sign-up, while others will offer a discount when a referee purchases something for the first time.
Newsletter promos
Some fashion online stores offer additional discounts on certain purchases or every purchase if a customer signs up for the newsletter or mobile text notifications. For instance, Lulus offers a flat 15% off for subscribing to their newsletter and text messages. Such discounts lure customers to spend more.
Limited-time offers
Some fashion online stores tap into the "sense of urgency" by introducing limited-time offers wherein certain products are made available at a discounted rate only for a limited period. Such psychological tricks often drive up sales through increased customer engagement. When intelligently used in conjunction with festive seasons and special events, such offers turn out to be highly profitable.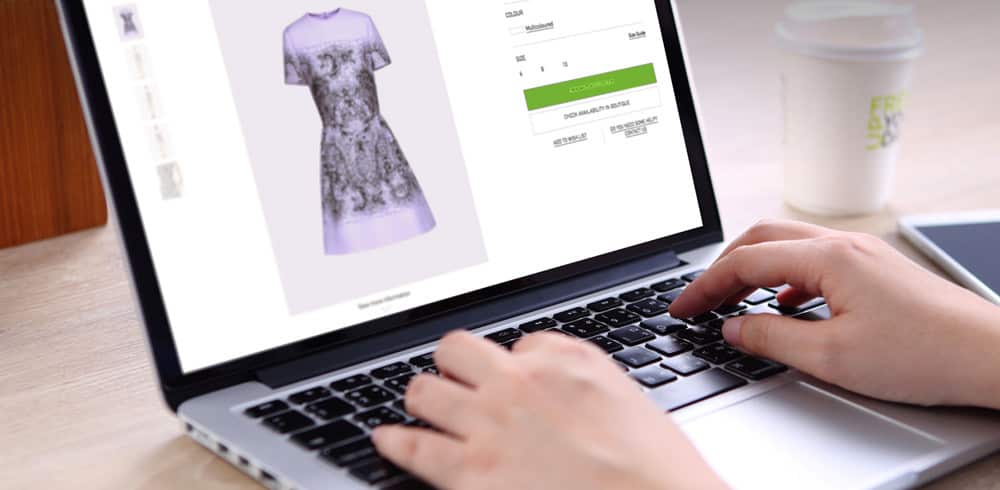 How Much Does It Cost To Start A Fashion Online Shop?
The costs to starting a fashion online shop will depend on many factors including online shop creation, initial inventory acquisition, franchise fee, etc.
Furthermore, there will be recurring expenses in areas of search engine optimization, content creation, distribution & delivery, marketing, shop maintenance, etc. Let's have a sneak peek into the costing structure.
Like any other online shop, fashion online shop startup costs are rather low, if not negligible, vs. brick and mortar businesses. To start a fashion and clothing online shop you must budget costs like:
Domain name
Any online store needs a website. This means you need to have to buy your domain name. A domain name typically costs $12 but the price can reach as high as several hundred dollars to several thousand dollars depending on the domain name and extension, and even its availability.
Website builder & hosting
When you build an ecommerce website, different options are available to you.
Either you create a website using a free website builder like WordPress, yet you will need to spend money into extra features for ecommerce (e.g. Magento) and security (firewall, etc.). In addition to these features you'll need to pay for hosting. Hosting cost can be as low as $5-15 for cloud hosting and small online shops to as high as $1,000+ for dedicated hosting and larger online stores.
Then there are platforms like Squarespace, Shopify, etc. that offer an integrated hosting and website builder technology for building your online store. Although it's pretty much plug-and-play as they take care of all the must haves (payment processing, page builder, blogging, etc.), the downside is that you less flexibility vs. custom code websites.
The pricing for such platforms varies, but they typically start at around $30 a month and can reach up to $400 a month depending on the features you need, size of your business, traffic, and more.
Business license
You will need a business license. No exceptions here. A business license for an LLC startup usually costs $100 on average but it can cost up to $300. It can vary based on your country or residence.
Reseller license
If you plan to buy from wholesalers and distributors and then sell the products, you will need a reseller license or a permit. Some US states give this permit for free while others charge a small fee. You may need reseller permit for multiple states if you plan to source the products from different states. The pricing will depend on your state of residence.
Make sure to check about the licensing requirements in your state by visiting SBA's reference to state licenses and permits.
Franchise fee
If you are going for a franchise, you must pay a franchise fee of approximately $5,000. In case of a franchise model, you will not need a reseller permit.
Initial inventory
If you want to maintain your own inventory, it will cost anywhere between $8,000 to $15,000. However, you can also opt for the drop shipping model where you don't need to maintain any inventory, thereby bringing down the cost to zero.
Plus, if you are going for a commercial inventory storage unit, it will cost extra based on your inventory size.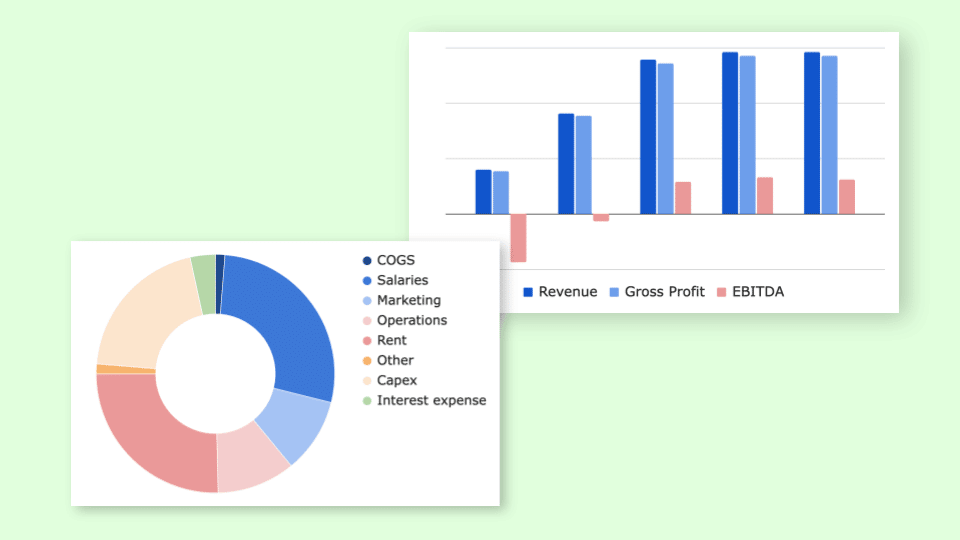 Expert-built templates for tech startups
Investor-friendly

Easy-to-use Excel & PPT templates

CPA-developed financials

30+ charts and metrics
How Much Does It Cost To Run A Fashion Online Shop?
Fashion online shops typically attract the following costs:
COGS (Cost of Goods Sold):
By far the most important cost to run a fashion online shop is the cost to source the products themselves.
As fashion online shops are highly competitive, it is increasingly difficult for sellers to market higher prices. Instead, you'll have to find new, more attractive products to increase your gross profit margin. Therefore, most fashion online shops have gross profit margins (revenues minus COGS) of anywhere between 20 to 50%, meaning they spend more than half their revenues into sourcing the product itself.
Payment processing fees
All online businesses must budget for payment processing fees to service providers like Stripe or Paypal. For example, Stripe charges anywhere from 1.5% (domestic) to 3.0% (international) of your total revenue.
Warehouse
if you decide to maintain your own inventory (vs. dropshipping where your products are sent straight from the manufacturer / reseller to your customers), you will need to pay for inventory storage to a warehouse provider.
3PL
Whether you opt for a dropshipping or inventory model, you will need to have a supply chain in place. Unless you send the products yourself (which might suit side hustle businesses with very low volumes), you will need to resort to a 3PL (short for 3rd party logistics provider).
Sometimes, the warehouse provider also comes with a 3PL offering that takes care of receiving your inventory, storing it and sending it to your customers.Warehouse and 3PL costs are often referred to as fulfilment expenses. In general, according to Ship Bob, fulfilment costs range anywhere between 20-30% of your total sales.
Paid marketing
By far the most important cost (other than inventory) to run a fashion online shop is paid marketing. Indeed, paid marketing is by far the most common form of advertising for online businesses. The 2 main types are:
Paid ads (Google ads, Facebook, Instagram). The amount you'll spend depends on the audience you're targeting and its size. As per our analysis, the average cost-per-click for online fashion shops varies from $1.0 to $2.0 on Google Ads
Email marketing: typically you'll build up an email list (via a newsletter for instance) that allows you to retain, market and upsell products to your customers. Providers like Mailchimp provide these services. Logically, the more emails, the more you'll pay. Although prices start at around $10 a month, for example you'll easily spend $300 a month with a mailing list of 10,000 people

.
Search Engine Optimization (SEO)
You will need search engine visibility for your online store. This will require keyword research, content creation, trend analysis, and more. Assuming that you will perform SEO by yourself using asome SEO software, the average cost per month will be anywhere between $30 and $500 depending on the software and its pricing package you select.
Yet, if you decide to outsource SEO to content writers who take care of writing the articles, you'll need to budget accordingly depending on your posting schedule.
Logically, prices vary depending on the level of specialization of your business and the expertise of the content writer. If you decide to review and edit the articles yourself, you'll likely anywhere from $15 to $50 for generic articles. Yet, if you decide to fully outsource the research, review and editing of highly specialized content to niche experts, be prepared to pay as much as $250 or more.
Bookkeeping fees
Like any other businesses, fashion online shops have to ensure proper bookkeeping. This means using a bookkeeping software (Quickbooks for example) as well as an accountant. Typically, you should expect to set aside anywhere from $75 to $500 a month for bookkeeping depending on your sales volume.
Other recurring costs
There will be some other recurring costs you'll have to budget for which include, among others:
Yearly domain name renewal and other paid features (e.g. firewall, etc.)
Website maintenance cost if you are outsourcing it
Legal expenses: contract drafting & review with your suppliers, any potential lawsuits, etc.
Packaging cost (if you are maintaining your own inventory)
In short, the cost of starting a fashion online shop and running the business will depend largely on the services and tools you are using, your inventory size, marketing strategy, and several other factors.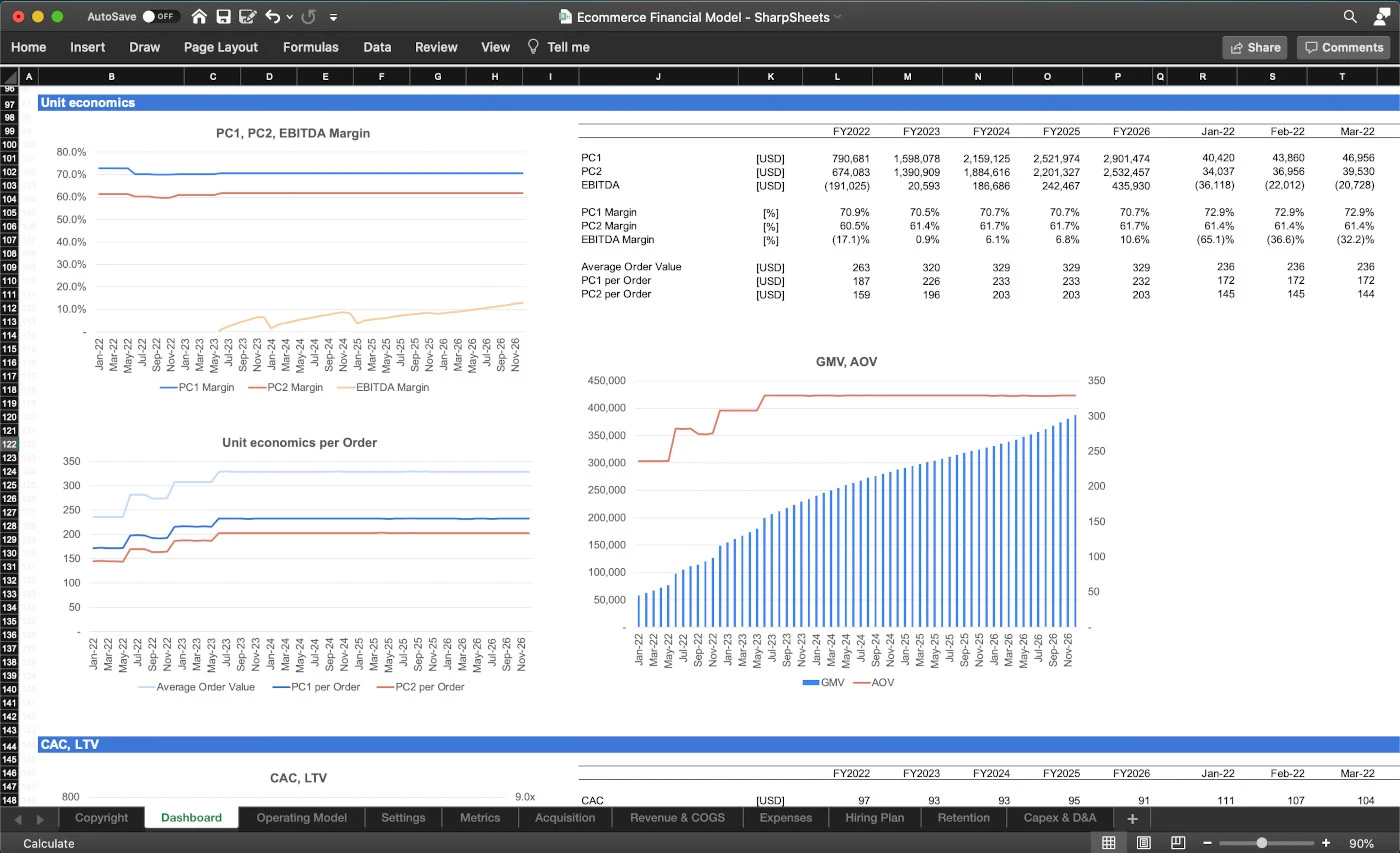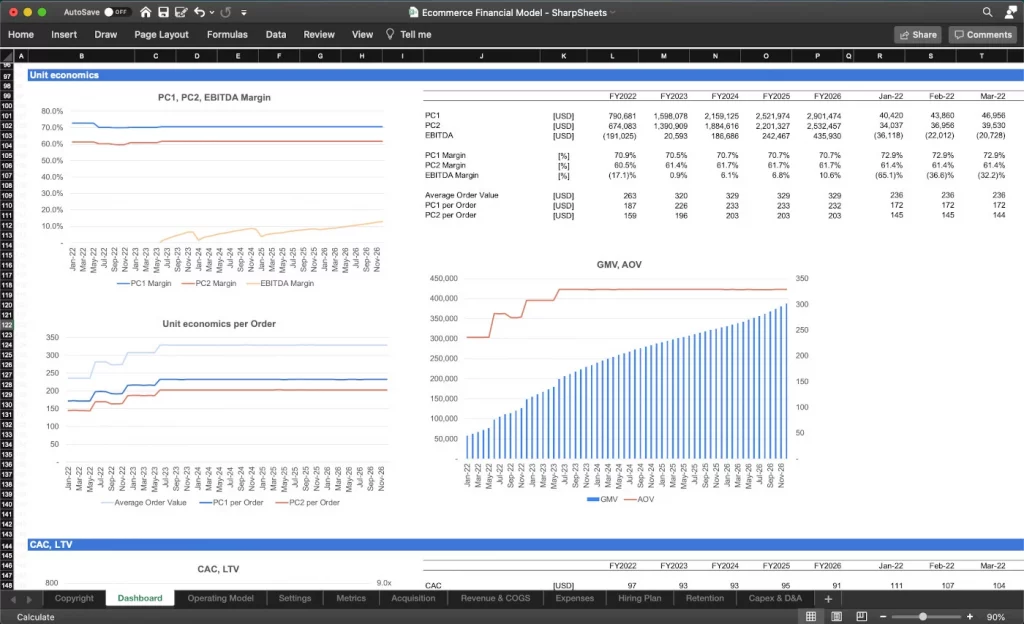 Need an Ecommerce financial model?
Fully editable spreadsheet. 30+ charts & metrics. Free tutorial + how-to video. Free email support
How Profitable Is A Fashion Online Shop?
The profitability of your fashion online shop, like any other ecommerce business, depends heavily on 3 main factors:
The type of products that you sell
The profitability of your marketing campaigns
The business model
The type of products
Indeed, the COGS (the costs to source the products themselves) vary significantly based on the type of product. Logically, selling a product with a 70% profit margin before salaries, marketing and other expenses will be much more profitable than selling a product with a 25% profit margin only.
The profitability of your marketing campaigns
Ecommerce businesses often rely heavily on paid marketing acquisition (or pay-per-click campaigns). Again, the profitability of a store with 80% organic traffic (through SEO or social media) will likely be much higher vs. an online store with only 10% organic traffic (the rest being PPC).
The business model
Finally, an online shop's cost structure will vary based on the type of business model. There are a few examples:
Dropshipping will typically require very little manpower (if at all apart from yourself). Most dropshipping businesses require a full time marketing and customer support person who can either be employed or contractors
Outsourced fulfilment ecommerce businesses are similar to dropshipping in that you don't manage the fulfilment yourself: products are sent to a 3rd party logistics provider that takes care of sending your products to your customers. Here again, you won't likely need more than some support on marketing and customer support (2-3 people max.)
In-house fulfilment online shop businesses are very different as you take care of the warehousing, packaging and shipping to your customers. This will require more people in operations of which the number depends on the volume of sales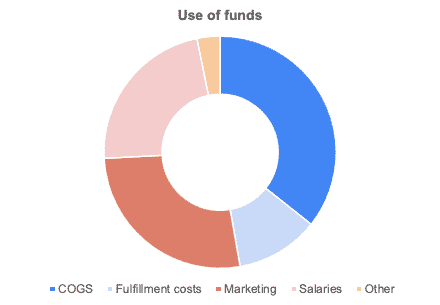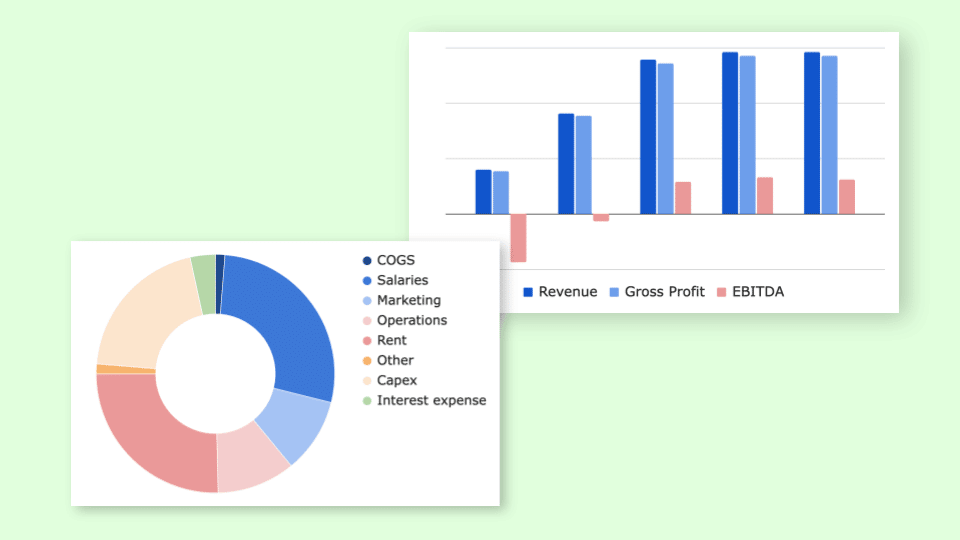 Expert-built templates for tech startups
Investor-friendly

Easy-to-use Excel & PPT templates

CPA-developed financials

30+ charts and metrics