How To Build a Financial Model For a Donut Shop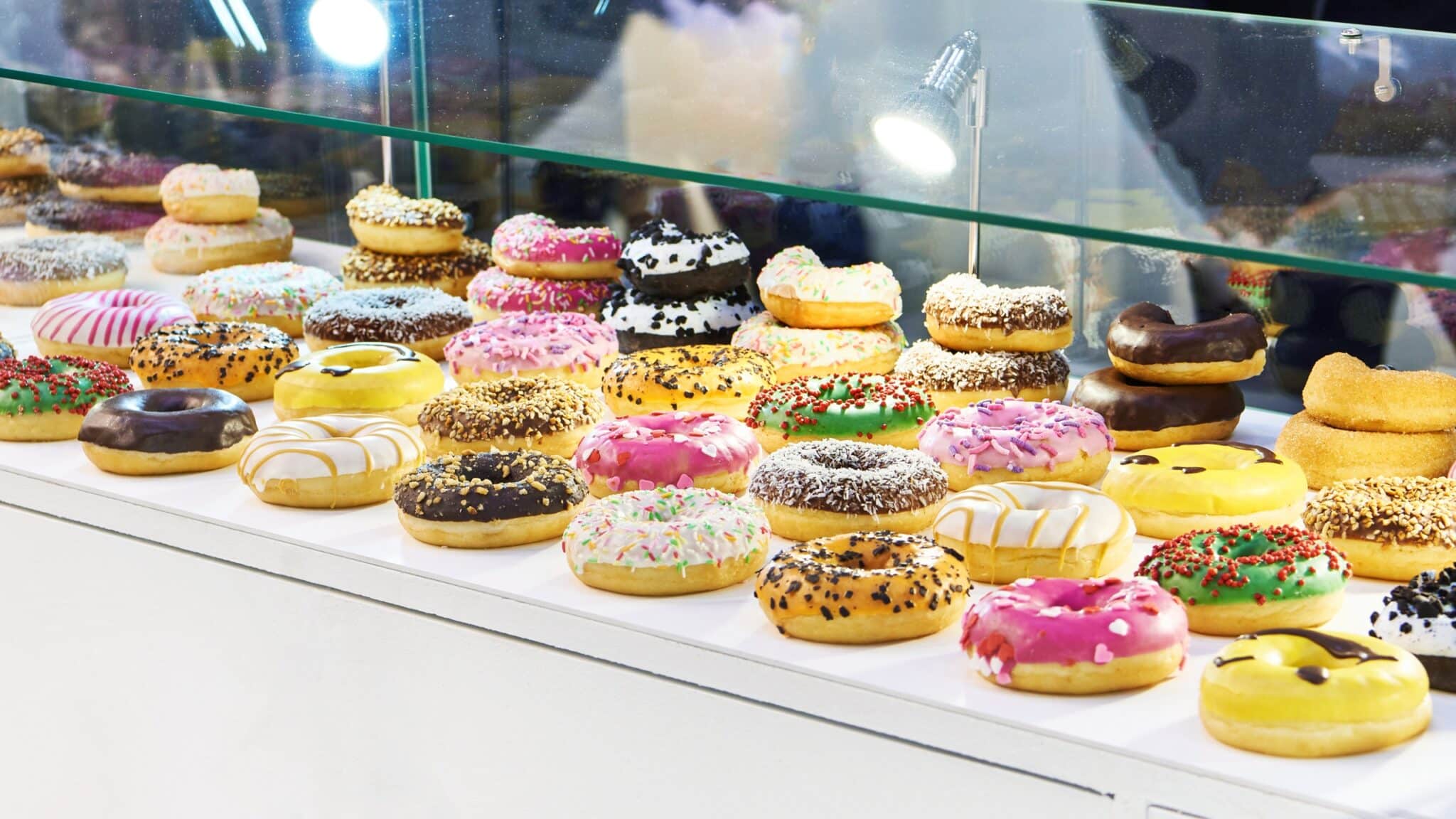 Every business needs a financial model. Whether you want to understand what's your breakeven, your valuation or create a budget for your donut shop business plan, you've come the right way.
In this article we'll explain you how to create powerful and accurate financial projections for a donut shop.
For more information on donut shops, make sure to read our guides below:
How to Write a Business Plan for a Donut Shop: Complete Guide
How to Open a Donut Shop in 10 Steps
How Much Does It Cost To Open a Donut Shop?
1. Forecast Customers
The first thing you must do is to forecast the number of customers who will come in your donut shop. Forecasting customers can be done as follows:
Forecast the number of donut shops you have (as you may add more shops in the future, if you own a chain for example)
Customers on a weekend day instead
Days you are open in a week on average (for example 5 weekdays and 2 weekend days if you are open 7/7)
Tip: the values you enter can be set over time, for example for each year as shown in the example below.

This will allow us to forecast the total number of customers you receive in your donut shop(s) over time as shown below.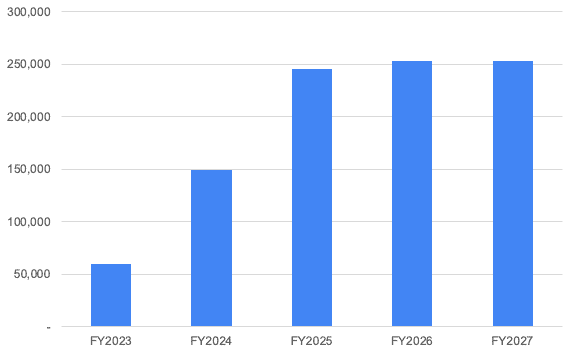 2. Forecast Revenue
Now that we have the number of customers, we can calculate revenue easily.
Yet, before we do so, we must break down the number of customers into the different products they may buy. Indeed, whilst some may buy 1 donut at $1.90 on average, others may buy a 8-donuts box at $12.90, others a coffee at $3.20, and so on…
It's very important to break it down right. Indeed, as you know all these products have very different unit economics (prices and profit margins) you need to forecast accurately. See below an example of a customer breakdown between the different products you sell and their respective prices.


That way, you can now multiply the number of customers for each product by their respective price to obtain revenue.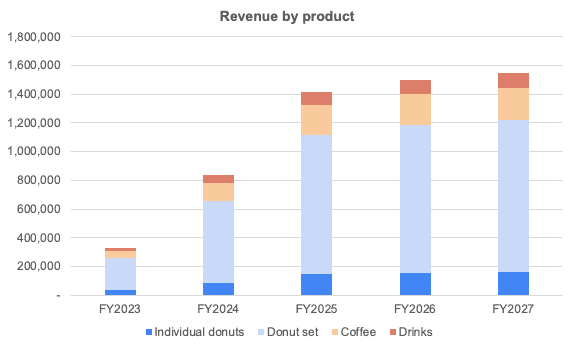 3. Forecast Expenses
In addition to the one-off startup costs discussed here, you must also budget for all the operating costs to run a donut shop.
As an example, we have laid out below the key expenses you can expect to run a donut shop, as well as their indicative amount. Note that these costs are for illustrative purposes and depend on a number of factors which may not fully be relevant to you.
| Operating cost | Amount (per month) |
| --- | --- |
| Raw materials | $12,000 |
| Rent | $5,000 |
| Salaries | $15,000 – $20,000 |
| Marketing | $1,200 – $2,400 |
| Insurance, software & other | $1,000 – $2,000 |
| Total | $34,200 – $41,400 |
The main expenses are:
Raw Materials
Raw materials, along with staff costs, are the largest cost for donut shops. You can expect to pay around 30% of your sales in raw materials (i.e. food items and supplies).
Let's say:
Your team delivers 300 orders per day (donuts, muffins, drinks, etc.); and
An average order value of $5
The total monthly revenue of your mini donut shop would be around $40,000 (if we assume 6 days a week). Hence, you would spend anywhere around $12,000 on raw materials.
Rent & Bills
If you have leased your donut shop, you need to pay the monthly rent. The amount which you need to pay as monthly rent varies depending on factors like the size of the space, location, lease or purchase, and so on.
Using the same Chicago example earlier ($30 per square foot per year), you should expect to pay around $3,750 per month rent for a 1,500-square-foot space.
Apart from rent, you also have to pay for other utilities & bills like electricity, gas, water and internet service which would cost somewhere around $1,000 – $2,000. Hence, the total rent and bills which you will end up paying would be around $4,750 – $5,750 per month.
Staff Costs
Apart from raw materials, staff costs are another biggest expense for donut shops.
The average Donut Shop hourly pay ranges from $9.00 per hour for a Food Preparation Worker to $14.29 per hour for a clerk assistant.
So assuming you hire 4 employees with yourself as the manager, you should expect to spend around $15,000 – 20,000 per month on salaries (including taxes and benefits).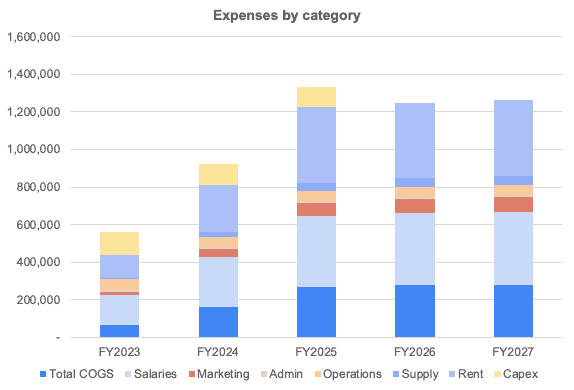 4. Build your P&L And Cash flow
Once we have forecasted revenues and expenses, we can easily build the profit-and-loss (P&L) from revenues down to net profit. This will help you to visualise key financial metrics such as Gross Profit or EBITDA margin as shown below: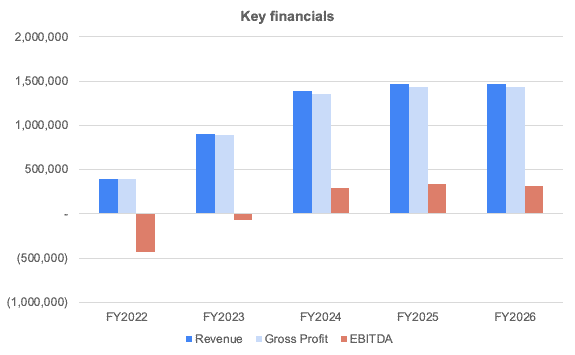 The cash flow statement, in comparison, needs to include all cash items from the P&L and other cash movements such as capital investments (also referred as "Capex"), fundraising, debt, etc.
Cash flow is vital as it will help you understand how much funding you should get, either from investors or the bank (SBA loan for example) to start and run your own donut shop.
In this chart below, we're showing you an example of a typical cost structure a donut shop business would have. Unsurprisingly, salaries, rent and COGS represent about ~50% of total expenses.