Maaco: a Profitable Franchise With a 5 Years Payback (2023)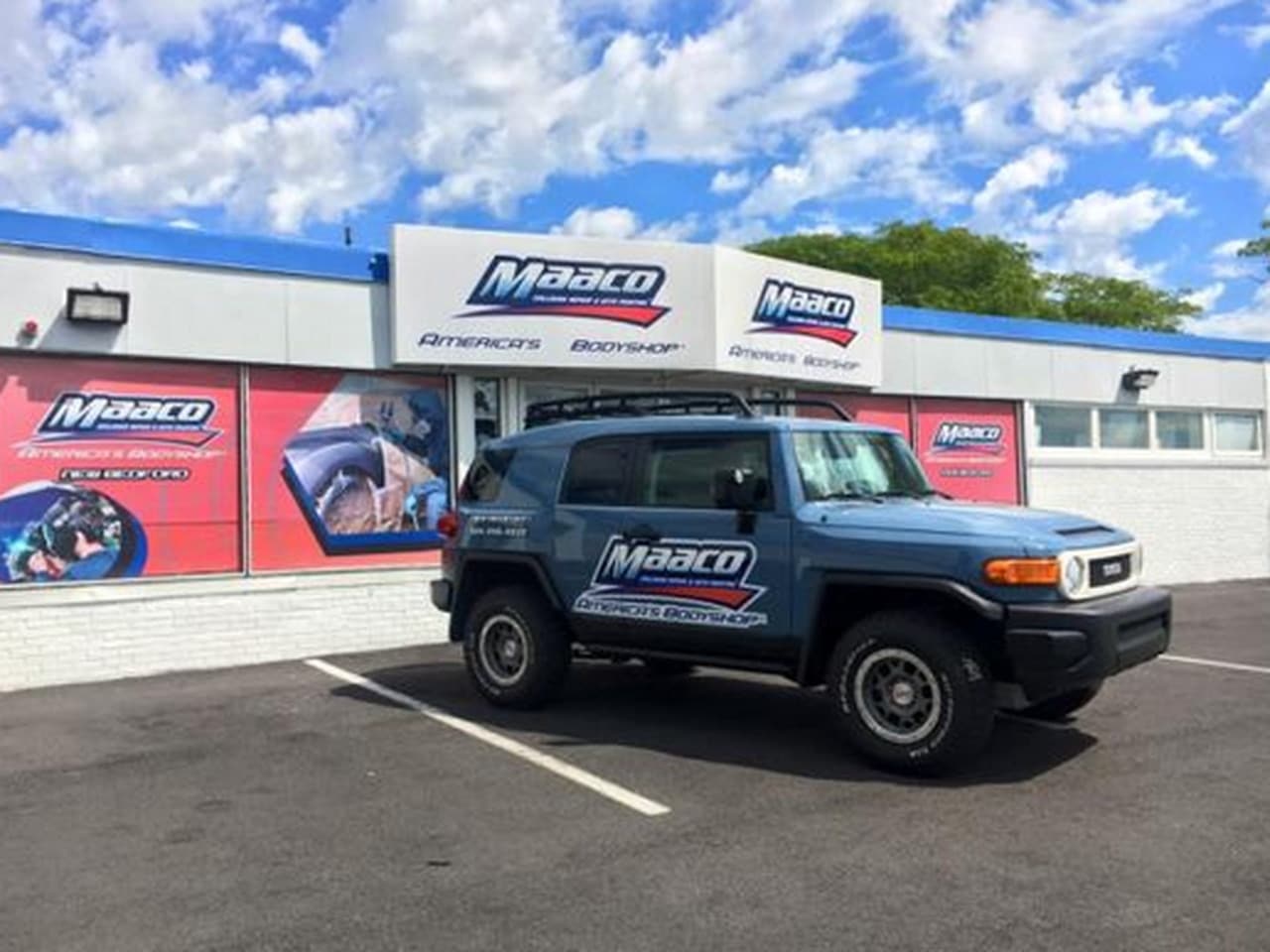 Founded in 1972, Maaco is one of the largest auto painting and collision repairs services franchise in the US today. Even though Maaco hasn't expanded for the past 10 years, the franchise still has one of the largest footprint: 425 centers as of 2022.
Out of these 425 locations, the vast majority is franchised-owned (402). So if you're considering starting your own car body shop, franchising with Maaco may sound like a great idea.
With a $461,000 initial investment, Maaco is a rather affordable car body franchise. What about the profits?
Luckily, we found that Maaco can be a very profitable franchise: with an average turnover of $1 million on average, Maaco's payback is one of the best in the industry.
Want to hear more? In this article we're looking at the latest Franchise Disclosure Document to find out all you should know about Maaco. Let's dive in!
Key stats
| | |
| --- | --- |
| Franchise fee | $40,000 |
| Royalty fee | 9.0% |
| Marketing fee | $52,000 per year |
| Investment (mid-point) | $461,000 |
| Average sales | $1,009,000 |
| Sales to investment ratio | 2.2x |
| Payback period | 4-5 years |
| Minimum net worth | $900,000 |
| Minimum liquid capital | $420,000 |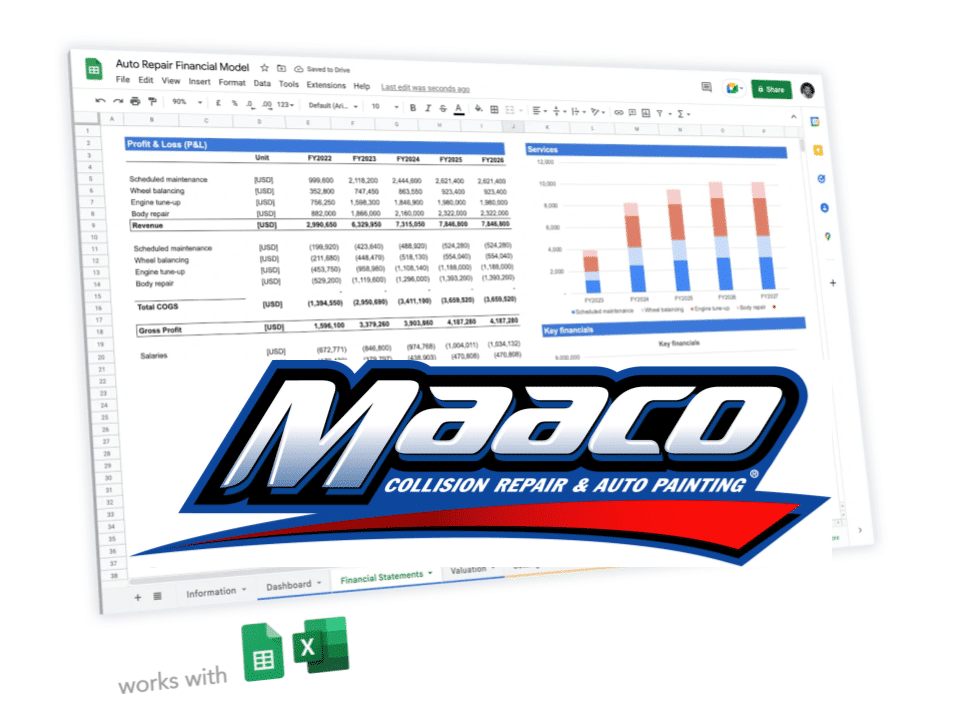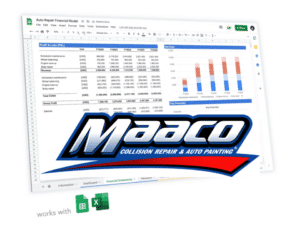 Maaco Franchise Business Plan
All the stats: startup costs, profits, breakeven, etc.
5-year financial projections built with the FDD

Excellent 4.8/5 based on 70 reviews
Excellent 4.8/5 based on 70 reviews

What is Maaco?
Maaco is an American franchisor of auto paint and collision repair centers owned by Driven Brands, with its headquarters in Charlotte, North Carolina.
The chain was founded in 1972 by Anthony A. Martino and Daniel Rhode after selling the rights to AAMCO Transmission Inc.
Its franchises offer a variety of services, such as offering relief from dents, dings and chips to individual vehicles and vehicle fleet operators.
Maaco's franchising journey began in 1972 and it now has 425 locations in the US and Canada.
Maaco franchises pros and cons
The Pros:
Comprehensive training program: The franchisor offers a detailed training and education program to its franchisees in the operation and management of their centers. In addition, it trains them in the best management practices and facilitates their launch.
Extensive ongoing support and assistance: Franchisees get access to continuous professional coaching and a network of successful business partners.
Territory protection: The franchisor allows its franchisee to operate in a protected area. It does not license any other franchise to operate in the agreed location or establish competing brands.
Site selection assistance: The franchisor provides its franchise owners with site selection guidance to identify a viable location for their centers. Also, it helps them with lease negotiations, digital ads, designs and construction.
Financial assistance: Maaco has established relationships with third-party lenders and other financing methods such as SBA loans, equipment leasing, seller financing (conversions), borrowed funds and 401(k) rollovers to provide franchisees with funding.
Marketing support: Maaco provides its franchisees with robust marketing and advertising tools and techniques such as national media, regional advertising, loyalty programs, targeted local market promotions, email marketing and social media.
Flexible franchise designs: The brand allows its franchisees a variety of models to choose from, including building new centers or converting their existing repair centers into Maaco franchises. Franchisees can get started with low costs and improve their profits.
Diverse revenue streams: The franchisor offers its franchisees a variety of revenue streams to attract more customers and improve revenues. These include spot repairs, retail painting and fleet services.
The Cons:
No absentee ownership: The franchise does not present a passive business opportunity. Franchisees must be actively involved in decision-making and the operations of their businesses.
Not a home-based business: The business cannot be run from home or a mobile unit. Franchisees must have an office space, warehouse or retail facility to operate from.
Not a part-time business: Maaco franchises cannot be run as a part-time business or side business.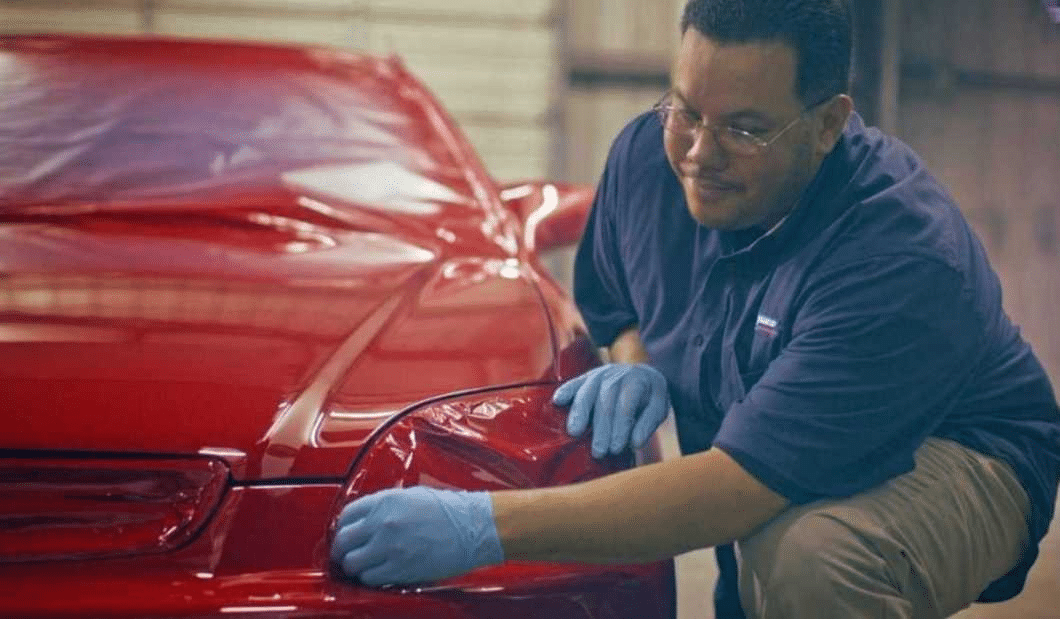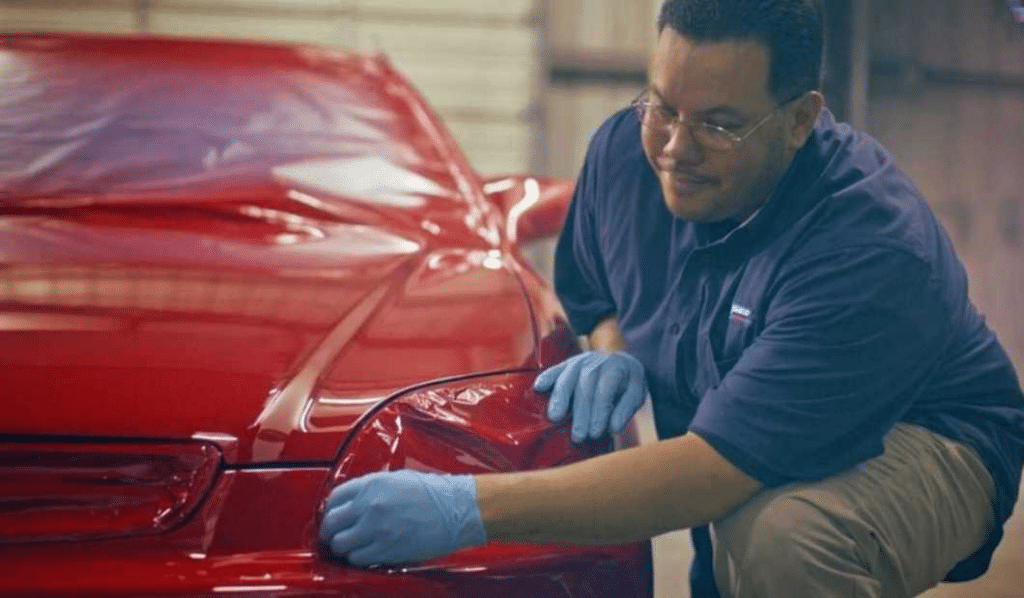 How much does a Maaco franchise cost?
Opening a Maaco franchise requires an initial investment of around $461,000, which includes a franchise fee of $40,000.
This investment amount is significantly lower than the average investment required for other automotive franchises, which ranges from $600,000 to $1,200,000.
Note that the investment amount may vary depending on several factors, such as the franchise location, size, and other operational costs.
According to the latest Franchise Disclosure Document, the initial investment ranges between $301,000 and $620,000.
Startup costs
The investment covers all the startup costs you may need to start a Maaco auto body shop & painting franchise. You must pay the franchisor an initial franchise fee of $40,000. This fee will be $20,000, $17,500, or $15,000 if it is your 2nd, 3rd, or 4th franchise respectively.
In addition to this franchise fee, the investment also covers:
Formation Costs: initial training program, tenant improvements, equipment, construction, design, computer system, signage, engineering fees, office equipment, etc.
Initial Marketing: initial advertising contribution
Operating Costs: opening inventory and supplies, first 3 months' working capital, etc.
| Type of Expenditure | Low | High |
| --- | --- | --- |
| Initial Franchise Fee | $40,000 | $40,000 |
| Formation Costs | $154,585 | $444,918 |
| Initial Marketing | $20,000 | $20,000 |
| Operating Costs | $87,000 | $115,000 |
| Total | $301,585 | $619,918 |
Source: Franchise Disclosure Document 2021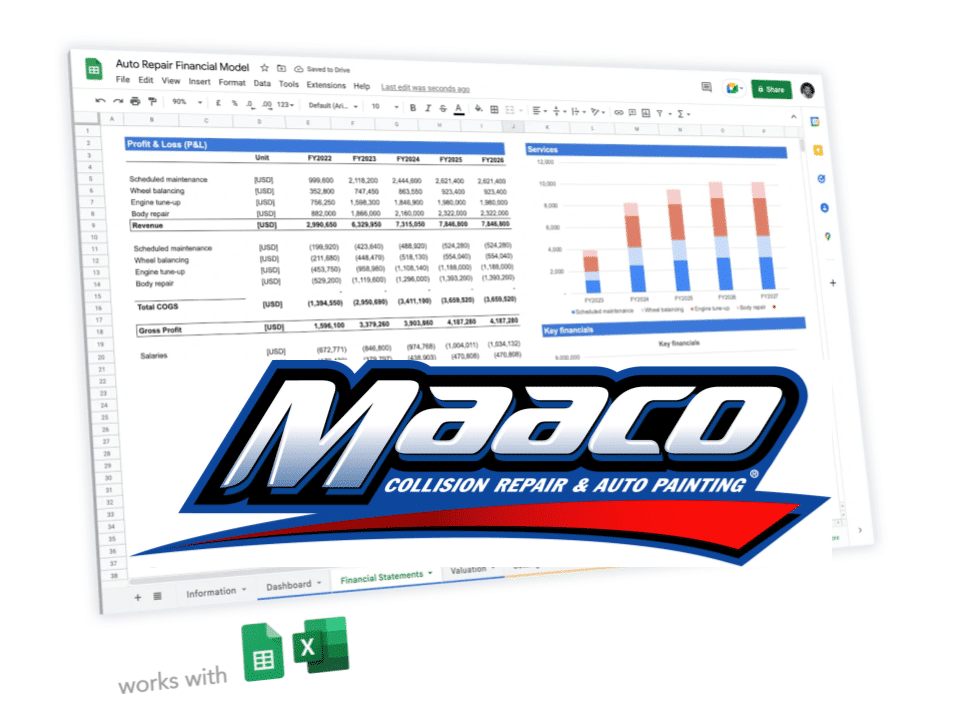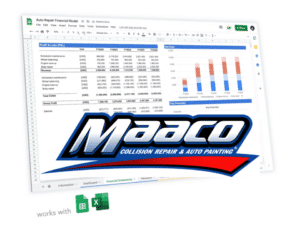 Maaco Franchise Business Plan
All the stats: startup costs, profits, breakeven, etc.
5-year financial projections built with the FDD

Excellent 4.8/5 based on 70 reviews
Excellent 4.8/5 based on 70 reviews

How much revenue does a Maaco franchise make?
A Maaco franchise generates $1,008,000 in revenue per year on average.
It's important to note this is simply the median revenue per shop for all Maaco franchises.
Indeed, revenue vary significantly from one shop to another as you can see in the chart below: the best performing center reached close to $7,000,000 revenue per year in 2020..! Instead, the lowest revenue was as low as $181,000.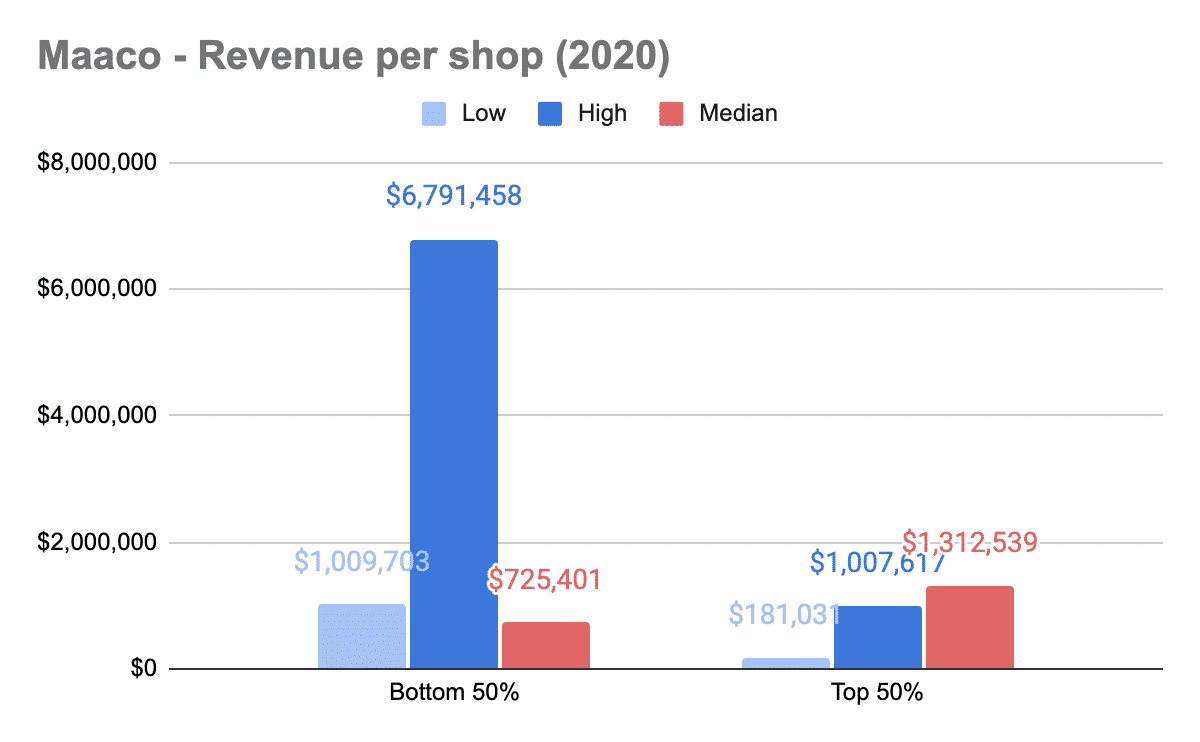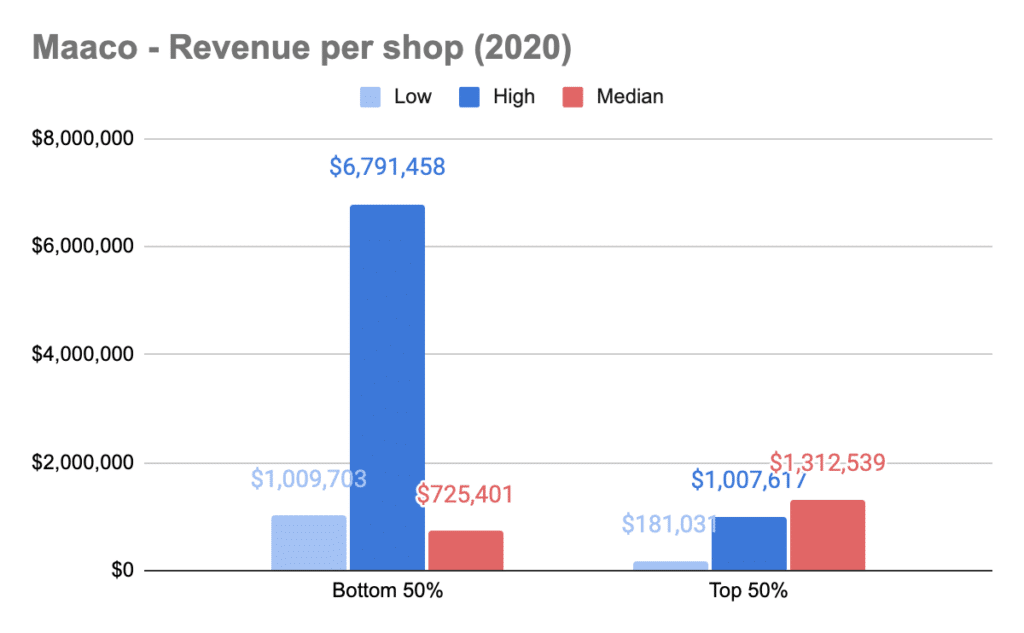 How profitable is a Maaco franchise?
A Maaco franchised center makes $178,000 in profits per year on average. That's a 16% EBITDA margin.
Maaco is a profitable franchise: the 16% EBITDA margin is in line with the automotive franchise industry as per our own benchmarks (12-18% on average).
It's important to note that we didn't invent anything here: fortunately Maaco provides a somewhat detailed profit and loss for its franchises in its FDD, which we are summarising below.
| Profit and loss | Amount | % revenue | Source |
| --- | --- | --- | --- |
| Revenue | $1,081,562 | 100% | as per FDD |
| COGS | $(214,064) | 20% | as per FDD |
| Gross Profit | $867,498 | 80% | as per FDD |
| Staff | $(365,932) | 34% | as per FDD |
| Royalties | $(97,341) | 9% | as per FDD |
| Occupancy | $(86,525) | 8% | assumption |
| Marketing | $(52,000) | 5% | as per FDD |
| Other operating costs | $(87,493) | 8% | as per FDD |
| EBITDA | $178,207 | 16% | as per FDD |
Franchise Disclosure Document (2021)
Is Maaco a good franchise investment?
The great thing about Maaco is its payback: we found it has a 4 to 5 years payback which is excellent for any franchise.
The payback is the time it takes for an investment (like buying a franchise) to be reimbursed with the profits generated by the business itself. In other words, you would repay bank(s) and any investor(s) who invested with you to put down the required initial investment of $461,000 within 4 to 5 years on average. That's a great investment.
The reason for such an excellent payback is rather simple: Maaco has a rather low initial investment ($461,000) compared to the profits it generates (the 16% EBITDA margin).
Of course, this is purely an average of the franchises disclosed in the FDD. There is no guarantee your franchise will perform as well. So make sure to consider all other factors (not just costs and profits) before you choose to buy a Maaco franchise.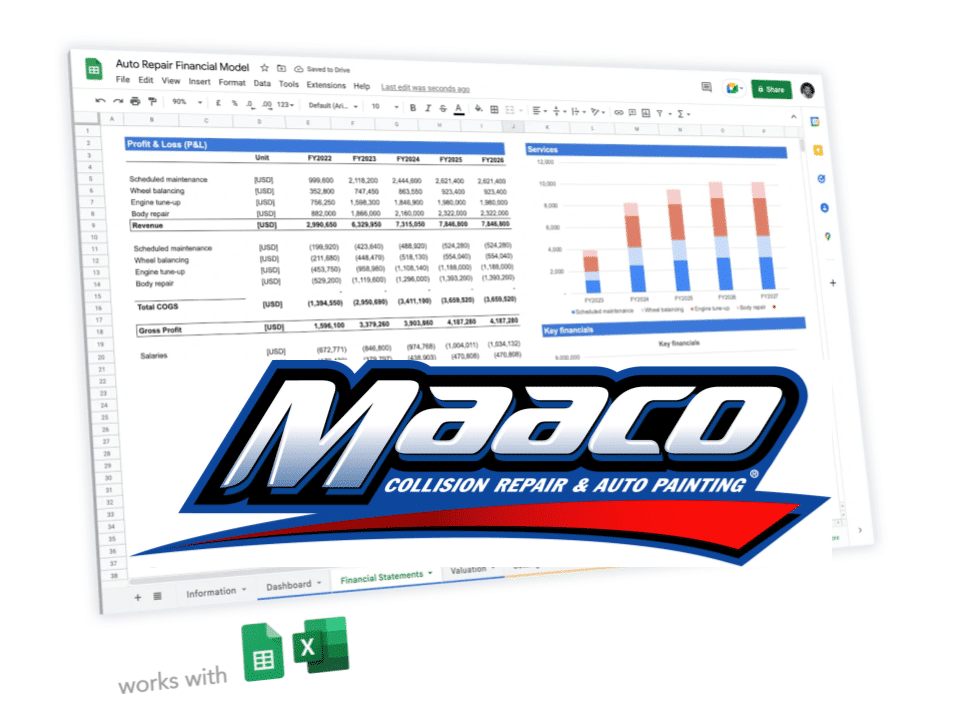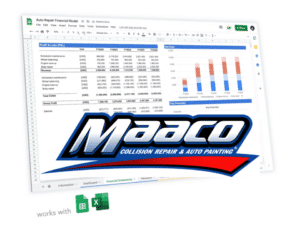 Maaco Franchise Business Plan
All the stats: startup costs, profits, breakeven, etc.
5-year financial projections built with the FDD

Excellent 4.8/5 based on 70 reviews
Excellent 4.8/5 based on 70 reviews

Disclaimer: This content has been made for informational and educational purposes only. We do not make any representation or warranties with respect to the accuracy, applicability, fitness, or completeness of the information presented in the article. You should not construe any such information or other material as legal, tax, investment, financial, or other professional advice. Nothing contained in this article constitutes a solicitation, recommendation, endorsement, advertisement, or offer to buy or sell any franchises, securities, or other financial instruments in this or in any other jurisdiction in which such solicitation or offer would be unlawful under the franchise and/or securities laws of such jurisdiction.
All content in this article is information of a general nature and does not address the detailed circumstances of any particular individual or entity. Nothing in the article constitutes professional and/or financial and/or legal advice, nor does any information in the article constitute a comprehensive or complete statement of the matters discussed or the law relating thereto. You alone assume the sole responsibility of evaluating the merits and risks associated with the use of any information or other content in this article before making any decisions based on such information or other content.