Pizza restaurants are one of the most common fast food franchises, and for a good reason: strong market demand and low operating costs. But with so many competitors (Pizza Hut, Domino's, Little Caesars to name a few), is a pizza franchise like Marco's Pizza a good business?
Marco's Pizza seem like a great investment indeed: with an investment of (only) $437,625 and $895,523 sales per year on average, it's easy to see why Marco's Pizza franchises are very popular among franchisees.
In this article we're looking at Marco's Pizza's latest Franchise Disclosure Document to understand how much you can really make with this business. Read on!
Marco's Pizza franchises: revenue, costs & profits
| | |
| --- | --- |
| Franchise fee | $25,000 |
| Royalty fee | 5.5% |
| Marketing fee | 7.0% |
| Investment (mid-point) | $437,625 |
| Average annual sales | $895,523 |
| Investment to sales ratio | 2.0x |
| Investment payback* | 3.3 years (excellent) |
| Minimum net worth | $400,000 |
| Minimum liquid capital | $100,000 |
* using 15% net profit margin
What is Marco's Pizza?
Marco's Pizza is a leading American restaurant chain that specializes in Italian-American cuisine.
The chain store was founded by Pasquale "Pat" Giammarco in 1978 in Oregon, Ohio.
It serves pizza, subs, wings, salads, Cheezybread, Cinna Squares, pizza bowls, and co-branded Ghirardelli brownies. It offers deliveries or takeout, with other locations doing catering and dine-in.
Marco's Pizza's franchising journey started in 1979 and today, it has over 1,100 stores in the USA, Puerto Rico, the Bahamas, and India. It is now owned by Jack Butorac and has its headquarters in Toledo, Ohio.
Marco's Pizza franchises pros and cons
Pros
Comprehensive training: The brand trains its franchisees to help them establish, build, and promote their businesses without facing challenges. Their initial training consists of approximately 240 hours of on-the-job training and 74 classroom hours. After opening, the franchisor offers the franchisees on-the-job training as well as refresher courses when appropriate.
Solid operations support: Marco's brand supports and guides its franchisees through their franchising journey. Their team of experts helps franchisees with identifying and evaluating site locations and financing options. In addition, they give franchisees IT, safety and security, and operational support to help them execute the brand's operational system efficiently and successfully run their restaurants.
Growth potential: The brand has experienced huge growth, especially in the Bahamas and Puerto Rico. It presents a lot of potential for franchisees looking for international market opportunities. Franchisees can easily penetrate the markets where the brand is seeking expansion, for instance, Canada and Mexico.
Quality menu: The brand is known for its quality, fresh, never-frozen, and original Italian pizza, as well as the handmade crust and flavorful sauce. It also keeps improving its menu to maintain customers' loyalty and meet changing tastes.
Marketing planning and support: The brand gives its franchisees solid marketing and advertising support to create brand awareness and publicize their local stores. It provides national media, social marketing, ad templates, regional advertising, website development, email marketing, and a loyalty program app.
Territory protection: The franchisor identifies an area surrounding an approved franchise store as its area of responsibility. As a result, it does not grant any franchise to conduct business or operate competing channels in the agreed-upon area.
Discounts and incentives: The franchise offers discounts and incentives to selected investor groups such as first responders, military veterans, and multi-unit investors who qualify.
Cons
Competition: Marco's Pizza franchise faces tough competition in the pizza industry from big brands like Pizza Hut and Domino's.
No financing: The franchisor does not offer to finance its franchisees directly or indirectly. Also, it does not guarantee any note, lease, or obligation towards its franchisees.
Not a part-time business: The business must be run on a full-time basis. Also, it requires franchisees to be fully active in the daily operations of their businesses.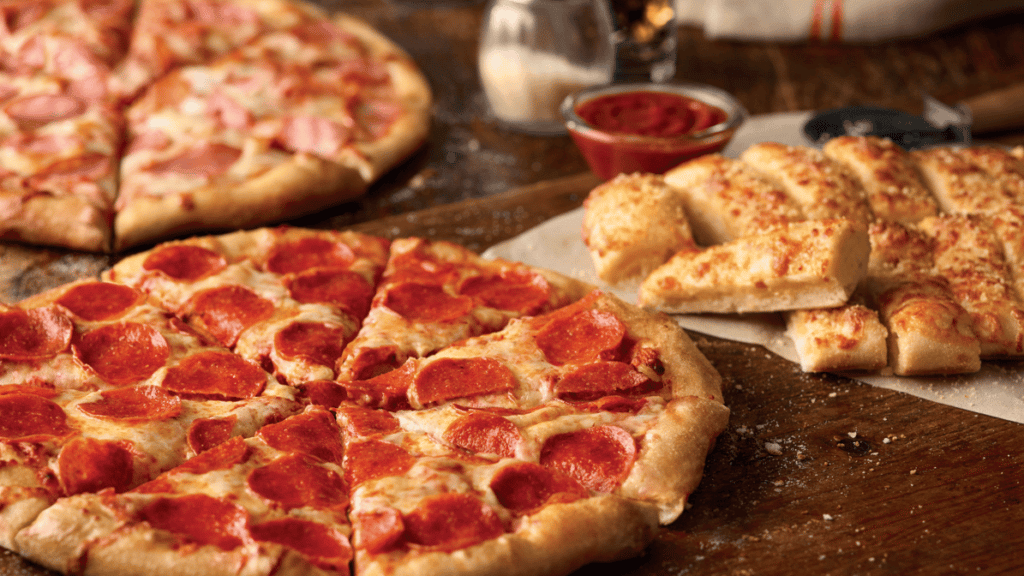 How much does a Marco's Pizza franchise cost?
You would invest around $437,625 to open a Marco's Pizza franchise.
The investment amount can vary as it is an average of the lowest ($242,142) and highest ($633,109) amounts. Generally, the investment amount can vary on the basis of your location, market price, etc.
Why will you pay this amount? Well, this amount covers all the startup costs needed for a restaurant business. To give you an idea, in addition to the $25,000 franchise fee, the investment amount also covers:
Formation costs: real property, point of sale computers, equipment, fixtures, training expenses, signage, leasehold improvements, business licenses, deposits, pre-paid expenses, architectural and engineering, technology fee, delivery area, streets database for POS, and shape files for POS and OLO platform maps, etc.
Initial Marketing Fees: Brand launch program
Operating expenses: Opening inventory, insurance, credit card
processing, supplies, 3 months' working capital, etc.
| Type of cost | Investment amount |
| --- | --- |
| Initial franchise fee | $25,000 |
| Formation costs | $165,801 – $502,934 |
| Initial Marketing Fees | $15,000 – $25,000 |
| Operating expenses | $36,341 – $80,175 |
| Total | $242,142 – $633,109 |
Source: 2022 FDD
How much sales can you make with a Marco's Pizza?
On average, a Marco's Pizza franchise makes $895,523 in sales per year.
This number is the annual median net sales of the 778 franchised restaurants operating in 2021. When it comes to growth, Marco's Pizza franchises are doing well: they increased by +13.4% revenue growth in 2021 vs. 2020. Actually, sales have been steadily increasing over the past quarters:
How profitable is a Marco's Pizza franchise?
On average, a Marco's Pizza franchise makes $240,000 in profits per year. This indicates a 27% adjusted EBITDA margin.
Yet, this adjusted EBITDA does not mean you can keep 27% of the total revenue in your pocket. Rather, you may need to deduct taxes, debt interest expenses, and other costs.
Marco's Pizza has high COGS (30% sales), and high royalty and marketing fees (12.5%), and high rent (8%) whereas relatively labor (26.5%) costs.
Note that we used the industry average for rent and took other information from company-owned restaurant data as Marco's Pizza doesn't provide any financial information on franchises regarding cost.
As a result, the 27% adjusted EBITDA margin is in line with similar franchises as per our intelligence (~25-27% industry average).
| Profit-and-loss | Amount ($) | As % of sales |
| --- | --- | --- |
| Sales | $895,523 | 100% |
| COGS | $(268,657) | 30.0% |
| Labor | $(203,284) | 22.7% |
| Rent | $(71,642) | 8.0%* |
| Royalty + marketing fees | $(111,940) | 12.5% |
| Adjusted EBITDA | $240,000 | ~27% |
Source: 2022 Franchise Disclosure Document
Is a Marco's Pizza franchise a good investment?
So should you start a Marco's Pizza franchise you might ask? Should you invest the required startup cost of $437,625 to reap the profits?
In order to answer these questions, we need to look at the payback period: the number of years it takes for an investment to pay itself. So in other words, you need to know how long you will need to reimburse the initial investment cost of $437,625.
As per our analysis, the payback period for a Marco's Pizza is 3.3 years on average: this is an excellent number, and as such, a great investment from a financial standpoint.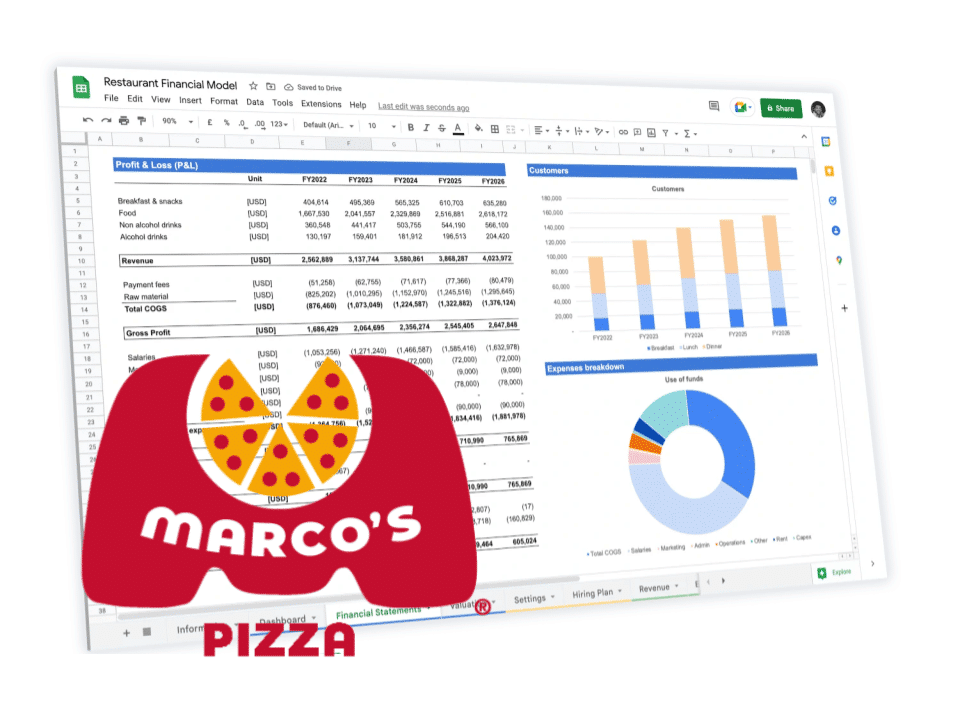 Download the Marco's Pizza business plan and get your franchise funded
Including a 5-year financial plan built with the latest Franchise Disclosure Document numbers