Panera Bread is one of the most popular bakery franchises in the US, and for franchisees too. Indeed, with average annual sales of $2.6 million, Panera Bread isn't your average bakery, it can be a very profitable franchise!
But with an investment cost of $2.3 million and (very) stringent eligibility criteria, are the profits worth the high costs?
In this article we'll look at Panera Bread and the financial performance of its franchise-owned bakeries as per the latest Franchise Disclosure Document. We'll see how much it actually costs, how much you can make, and more importantly, whether it's a good investment.
Panera Bread: key figures
| | |
| --- | --- |
| Franchise fee | $35,000 |
| Royalty fee | 5.0% |
| Marketing fee | 5.0% |
| Investment (mid-point) | $2,290,500 |
| Average annual sales | $2,599,432 |
| Investment to sales ratio | 1.1x |
| Investment payback* | 5.9 years (mediocre) |
| Minimum net worth | $7,500,000 |
| Minimum liquid capital | $3,500,000 |
* using 15% net profit margin
What is Panera Bread?
Panera Bread is an American bakery-café fast casual chain restaurant that offers a variety of baked goods and pastries such as brownies, bagels, croissants, scones, muffins, and cookies.
They also offer artisan breads and have a regular menu for takeout and dine-in including pizzas, flatbreads, pastas, sandwiches, panini, warm grain bowl, etc.
The company was founded as The St. Louis Bread Company in 1987, but its name was changed to Panera in 1997. The company expanded into Canada in 2008. Panera Bread today has 2,164 locations in the US and 11 in Canada.
Panera Bread franchise pros and cons
Owning a Panera Bread franchise is not easy. They have strict requirements. Here are a few pros and cons of Panera Bread franchise that you must know:
Pros
Panera Bread offers territory protection to all franchisees
They have a thorough training program that offers both hands-on and classroom training
They have a royalty fee of 5%, which is less than many other businesses
Franchisees register high profit margins, which can be as high as 15%
Cons
Panera Bread no longer allows single-unit franchise, which means, you must operate multiple franchises, which dramatically increases the capital investment
They have a rather high franchise fee of $35,000
Qualifying as a franchisee will require you to have a net worth of $7.5 million and liquid assets worth $3 million, both of which are extremely high vs. other similar franchises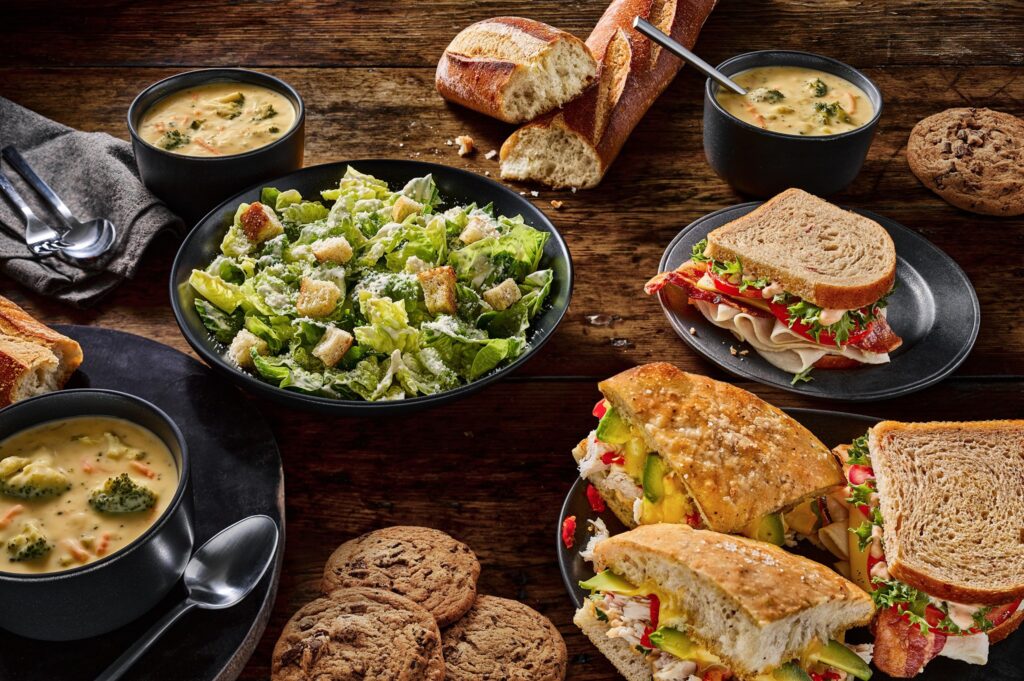 How much does a Panera Bread franchise cost?
The initial investment for a Panera Bread franchise is quite high than most of the others franchises. Indeed, you must invest $2,290,500 to open a Panera Bread franchised bakery cafe.
This estimated average can vary depending on many factors (your location, current market price, etc.). As per the latest FDD, the investment cost ranges between $1,117,000 and $3,464,000.
The investment you are going to make would cover all the initial expenses that arise when a new bakery cafe is established excluding the real estate expenses.
In addition to the initial franchise fee of $35,000, fees include franchise fees, leasehold improvements, equipment, fixtures, furniture, supplies & inventory, signage, 3 months as working capital, etc.
| Type of cost | Investment amount |
| --- | --- |
| Initial franchise fee | $35,000 |
| Formation costs | $888,000 – $3159,000 |
| Operating expenses | $194,000 – $270,000 |
| Total | $1,117,000 – $3,464,000 |
Source: 2019 FDD
How much can you make with a Panera Bread franchise?
A Panera Bread franchise makes $2,599,432 in sales per year on average. This is definitely on the higher side vs. other bakery and even restaurant franchises in the US.
This figure is the average yearly sales of 1,099 Panera Bread franchised bakery cafes. The lowest sales for a store was $1,060,142 vs. up to $5,113,281 for the most successful bakery.
Is a Panera Bread franchise profitable?
With average annual sales of $2.6 million, the average Panera Bread franchisee makes $727,841 in profits per year. This corresponds to an adjusted EBITDA margin of 28%.
We estimated profits by using industry average cost percentages for COGS, labor and rent costs as the Franchise Disclosure Document doesn't provide these numbers unfortunately.
Keep in mind though that EBITDA doesn't include other non-operating expenses, taxes and other costs: as such, EBITDA isn't the profit after all expenses have been paid for, that's what net profit is instead (which we estimate below).
| Profit-and-loss | Amount ($) | As % of sales |
| --- | --- | --- |
| Sales | $2,599,432 | 100% |
| COGS | $(649,858) | 25%* |
| Labor | $(753,835) | 29%* |
| Rent | $(207,955) | 8%* |
| Royalty fees | $(259,943) | 10% as per FDD |
| Adjusted EBITDA | $727,841 | 28% |
* industry average
Is a Panera Bread a good investment?
As we just saw, Panera Bread clearly is a strong business: it records sales of $2,599,432 on average: this is 1.5x higher than the industry average..!
But there's a hiccup, the investment cost is also quite high: $2,290,500 on average.
So is the investment cost worth the profits? That's what we look at when we calculate the payback period: the time it takes for a franchisee to reimburse her/his original investment.
We found out that the payback period for a Panera Bread franchise is 5.9 years: as such it's not necessarily a great investment. Indeed, anything above 5 years is mediocre.
Think about it: it would take you almost 6 years to recoup your investment, and this doesn't even take into account the time value of money (which would easily add another year to our payback calculation).
Yet, do note that this is based on the average of the close to 1,100 Panera Bread franchises. Therefore, your bakery's financial performance may be better (or worse) based on different factors (location, demand, experience, etc.).
If you're applying for a Panera Bread franchise, download our business plan template below and visualize your financials and metrics like return on investment, payback and more.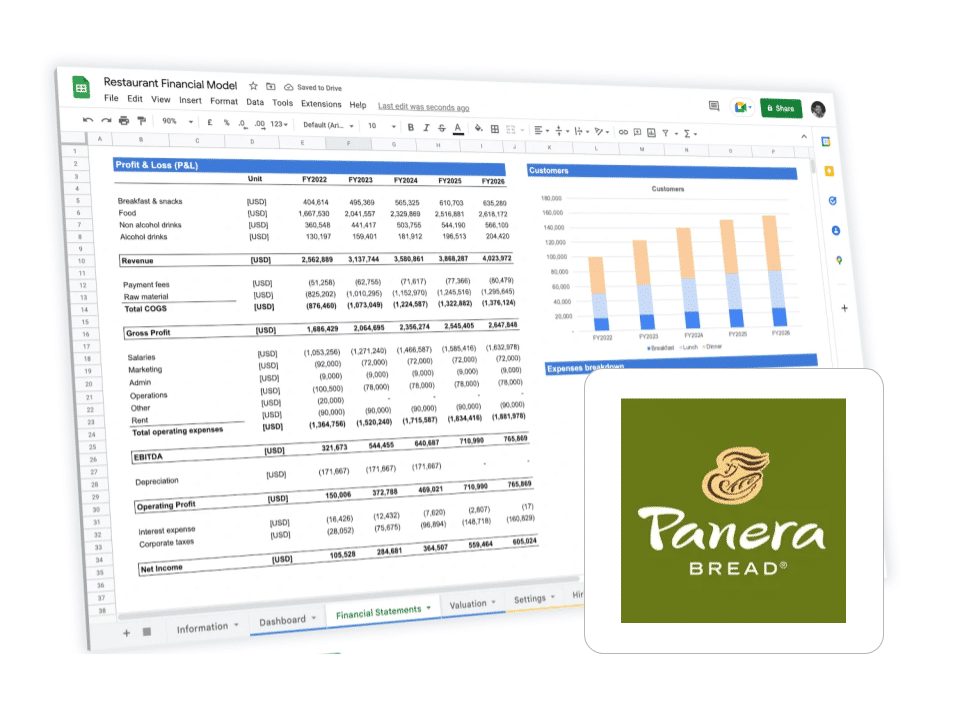 Download the Panera Bread business plan and get your franchise funded
Including a 5-year financial plan built with the latest Franchise Disclosure Document numbers